Drive sales on autopilot with ecommerce-focused features
See Features
Reading Time:
6
minutes
With the holidays fast approaching, there's a lot of noise in the digital marketing space right now. Drowning in the endless sea of "best practices" and "easy tips and tricks," you might be ready to give up on your holiday prep altogether.
Holiday workflows will be a huge part of the 2021 shopping season. Already in Q2, we saw that automation workflows were but 2% of all email campaigns sent through Omnisend. However, automation accounted for 26% of the total conversions earned in that quarter.
What's the best way for you to take advantage of the revenue that automation drives? In this piece, I'll lay out clear practical strategies you can implement today to get your revenue-generating workflows holiday-ready.
1. Focus on the right automation workflows
When it comes to automation, hone your efforts in on the most revenue-driving automated messages—welcome, cart and browse/product abandonment, and the strategies that are going to have the biggest impact on your bottom line.
Welcome: During the holidays, you're going to get a rush of new email subscribers hungry for the best discounts and deals. In Q2 2020, welcome messages had close to a 50% conversion rate, and generated 9% of all conversions. Take advantage of the deal hunt to optimize your welcome messages for maximum impact.
Cart abandonment: It's no secret that cart abandonment is likely the most profitable workflow for online sellers. During the holidays, customers will be using their carts more like a wishlist before deciding to come back and purchase. Get them to commit to the purchase by prioritizing these workflows for optimization—they're too important to set and forget.
Browse/product abandonment: During the holiday season, you'll see an uptick in traffic. A lot of these shoppers will be browsing different products, and might not be ready to add them to the cart. Stay top-of-mind for these window shoppers with relevant, targeted messages containing products they've abandoned, or products from categories they've abandoned. Sending the right message, to the right person, at the right time will help you convert them quicker.
Get started with Omnisend today & drive sales on autopilot with pre-built automation workflows
Start Free Today
2. Focus on your incentive strategy
No matter what your brand is or what you sell, incentives are a huge part of the holiday shopping experience. The increase in discounting from both you and your competitors will impact the incentive strategy in your automated messages.
Sure, while offering 10% in a welcome or cart abandonment message during the year may be enticing for your would-be purchasers, it won't mean much if you're running 30% off site-wide holiday sales. Consider either creating stackable discounts, or increasing the offer in key automations—keeping in mind you can set a minimum spend to qualify for it.
While for most, incentive reads discount, there are tons of ways to make it more attractive for customers to shop with you this holiday season, such as by offering free or expedited shipping, free gift wrapping, and by using a sense of urgency within your messaging.
No matter what your incentives are this holiday season, use them to make your automated messages more appealing to holiday shoppers..
3. Focus on your value-adds
Everyone will be discounting during the holidays. Your customers will already be looking for deals, so don't be shy with your promotions. However, don't just rely on discounts to win the season—make it easy for consumers to shop with you by focusing on the things that matter most to them.
Here are some of the most critical items:
Value-adds: Focus on what matters most to consumers. This includes the cost and speed of shipping, return and exchange policies, and satisfaction guarantees. With expected shipping delays and consumers purchasing earlier than usual, many return policies may expire before a gift is even given. Extending these return windows can make consumers feel comfortable in purchasing with you.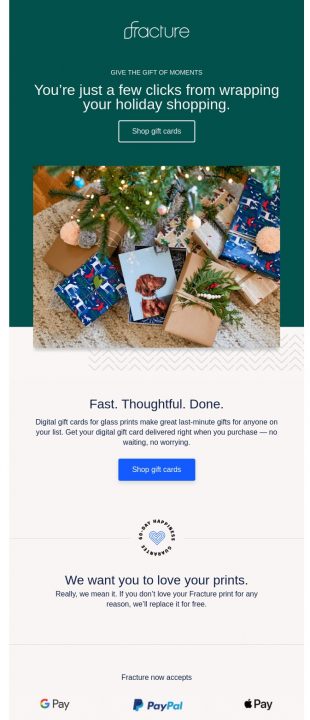 Holiday shopping links: Include holiday items (gifts for him/her, gift guides, stocking stuffers) in your nav bar and as content inside of your automated messages. Also consider items like "customer favorites" or "top gifts for the season." These will all create easy paths for seasonal shoppers.
4. Focus on urgency
Creating a sense of urgency is nothing new for email marketing, but with unpredictable yet expected shipping delays plaguing the season, this strategy will be even more effective.
Add dates/time limits to orders: clearly display when the sale/promotion ends, how long your customer has to order, etc. Society6 took the approach of reserving a customer's cart for a certain amount of time, adding a call to action inciting that customer to claim their discount.
Remind them items won't last: Strongly remind customers that items and sizes won't last long/sell out fast—especially with browse and cart abandonment messages. To put even more scarcity into the message, consider verbiage such as "Get it before it's too late."
Inform for last-minute shipping: Every year, there are always last-minute shoppers. Be transparent about the last day to order for it to arrive on time for Christmas or New Years.
Adding these elements to your automated emails will not only help you generate more revenue, but it will also provide a better experience for your customers.
Get started with Omnisend today & drive sales on autopilot with pre-built automation workflows
Start Free Today
5. Adapt your flows to holiday madness
Your customers' shopping habits change during the holiday season. They shop quickly, often, and are on the hunt for the best deals. While updating the messages you send during the holidays is important, you also have to think of other aspects of your campaigns, like timing, frequency, channels, etc.
Here are a few tweaks to make for your holiday workflows:
Shorten the delays between messages in your series: Urgency is the name of the game, so send your messages a little quicker than you normally would. Sending a third cart abandonment message five days after abandonment is likely too long. Consider shortening a three message series to two or three days.
Add more messages to your workflows: In addition to shortening the overall delay between your messages, add more to keep your products at the forefront of your customers' minds. If you send three abandoned cart messages in the first two days, add a fourth or fifth message on days four or five. This maximizes the chance of securing an immediate purchase as well as keeps those who may have larger baskets or are still price shopping engaged
Shortening your overall workflow time while adding more messages to your workflows will keep your customers' attention at a time when they're more distracted than ever. While you wouldn't normally send daily, it's okay to do so during peak times and important sales, which is what your competitors will be doing too.
From here, you can incorporate other key channels into your holiday workflows, like SMS, to offset any inbox fatigue your customers might be experiencing.
6. Incorporate SMS
If there's any time to begin ramping up your SMS campaigns, the holiday season is it. SMS was already a powerhouse during the holiday season in 2019, boosting conversion likelihood of automation workflows by 47.7%.
In 2020, SMS has taken an even larger role in campaigns. Marketers sent 239% more SMS messages in Q2 over the same time period in 2019. Those messages represented 35% higher conversion rates over 2019 too.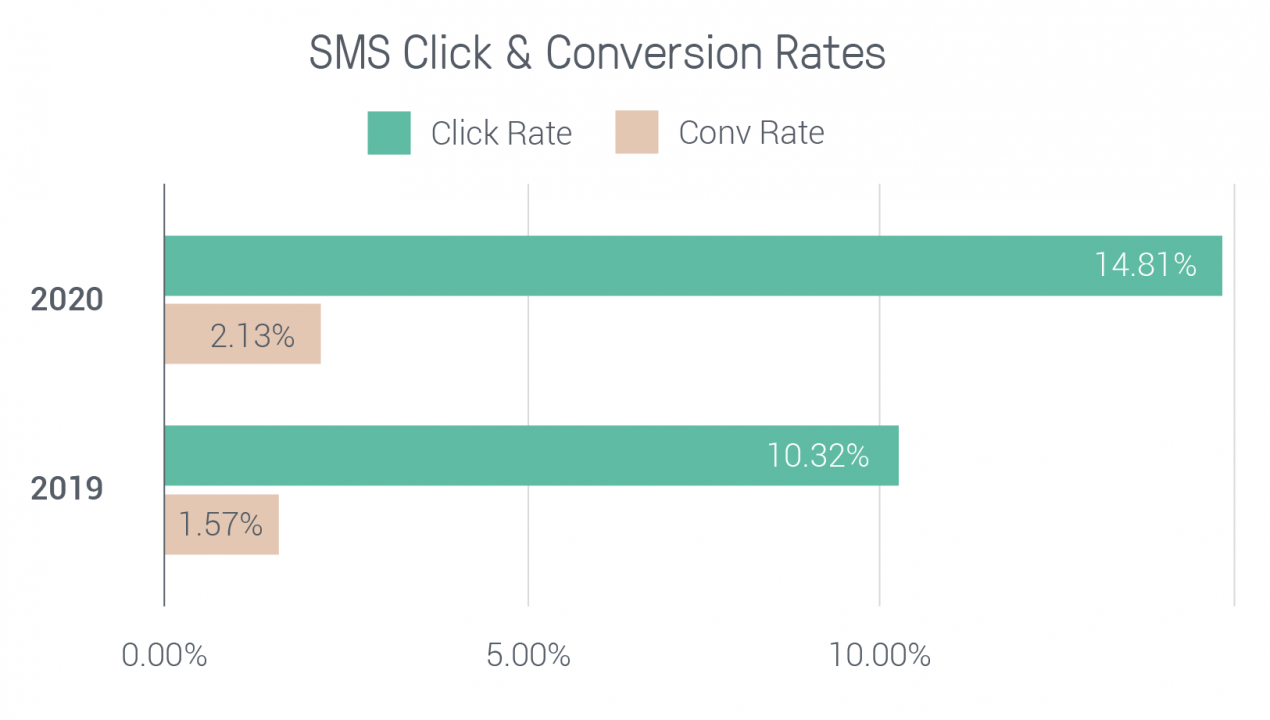 We're already seeing this rise in SMS use and effectiveness, and in a sea of inbox flooding, SMS helps marketers cut through the noise. Combine this channel with email for your holiday campaigns this year.
Begin collecting phone numbers now: Adjust your pop-ups and exit intent forms to ask for a mobile number.
Create SMS exclusivity: Give your customers a reason to sign up for your SMS campaigns by creating and promoting SMS-exclusive discounts and offers.
Use SMS to reinforce urgency: SMS is a more immediate and intimate channel than email. Use this channel for last-minute reminders and flash sales.
Make SMS work with email: Send your customers back to your email campaigns. Follow up the important, urgent information with "Check your email for more information."
Integrate SMS with your normal workflows: If possible, automated messages should be present in each of your workflows, browse and cart abandonment, welcome, post-purchase, etc.
Factor in immediacy: Ninety-percent of text messages are read within the first three minutes. Because of the immediacy, these messages work perfectly for last-chance reminders, such as cart expirations. For more on how to utilize SMS for the holidays, click here.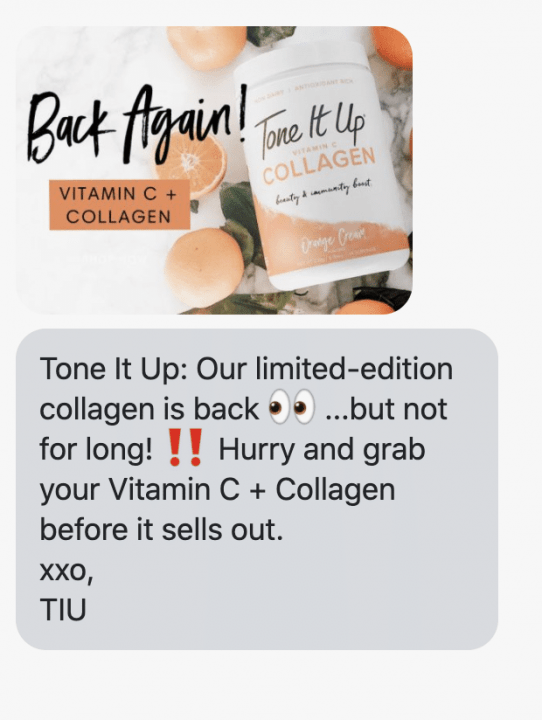 SMS is too powerful a channel not to be a main contributor to your holiday workflows. By leveraging this channel alongside email, you can drive more revenue during this shopping season.
---
With the holiday season around the corner, a few good tweaks and optimization strategies are just what you need to get prepared.
As long as you're bold with your discounts and incentives, communicate them clearly, utilize a sense of urgency, and send often, you'll see results this year. By adding SMS marketing into your mix, you'll set yourself apart from your less-prepared competitors, and offer your customers a better holiday shopping experience.
What are your best holiday workflow optimization strategies? Tell us below!
Get started with Omnisend today & drive sales on autopilot with pre-built automation workflows
Start Free Today
related features
Want more sales?
Omnisend has everything you need to succeed.
Start free now
No Credit Card needed.