Drive sales on autopilot with ecommerce-focused features
See Features
Reading Time:
4
minutes
SMS marketing is a no B.S. way to drive more sales this holiday season. In fact, last Black Friday, SMS hit 7x higher conversions than email-only campaigns.
However, it's 2020 and we might not even have a BFCM as we know it – the holiday rush, sales and prep start now. Meaning: your holiday emails – and texts – need to be ready, too.
That's why we've just reloaded our SMS.
With more SMS power to perform at scale, we've gotten Omnisend all set to help you handle the holidays.
Watch the video and read more below to learn what changed to make your life easier and your performance – even better.
1. Drive more conversions with a newly-available MMS format
Image speaks a thousand words. MMS format speaks 1,600 characters and includes a gif or image (jpeg or png). The beauty of it? Visual messages drive higher conversions than text-only SMS, and we couldn't be more excited to see how it'll help skyrocket your performance, too.
You can use MMS to increase the engagement for your promotional text campaigns or choose to add it into your automations. Texting 'Hey, we missed you!' for automated customer winback is one thing, but showing it in a gif/image takes it to a whole new level – and helps build your brand, too.
Note: MMS format is only available for message recipients in the US & Canada. Contacts not in these countries will receive the text part of the message only.
2. Stay zen sending time-sensitive SMS campaigns at a higher speed
Holiday sales are about two things: discounts & time-limited offers. And even if you're not keeping the best offers till Black Friday this year (and you shouldn't), it's likely that you'll want to promote special offers with certain limitations (e.g. 'special offer valid till midnight EST' / 'discount code valid only this weekend', etc.). Scarcity, after all, is one of the most persuasive principles in selling.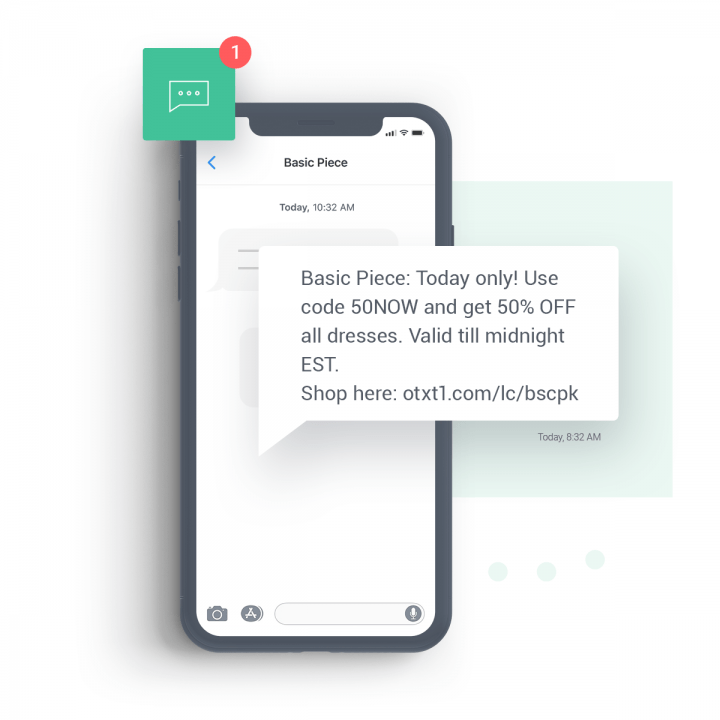 There's one BUT, however – to keep the limited offer valuable, it needs to be sent on time. With some other platforms, sending 1 SMS message in the US usually takes up to 1 second. Increasing the speed or getting the campaign sent in 1 day would mean extra costs for throughput and/or for multiple sending numbers.
With our SMS reload, there's no BUT. At up to 30 messages/sec throughput in the US, an SMS campaign for 10,000 contacts would be sent in 5 minutes without any extra hidden fees.
No more worries that the last recipients of your text will come to your website only to find that the promoted item is long sold-out.
3. Use SMS to drive sales at holiday-scale with no daily sending limits
So you've got the speed – but speed isn't much without the scale. So we're increasing that, too. Reloaded SMS also means you'll no longer have to deal with daily SMS sending limits in the US or buy multiple sending numbers.
Need to send a bigger holiday campaign or have higher-load SMS automation (say, cart abandonment during the holidays?) All of the scheduled text messages will reach the recipients on time, at no extra costs for higher load. Also – you'll be able to build a continuous texting thread with your US customers as all texts (and MMS) will be sent from your dedicated, single US sending number.
4. Save with FREE SMS credits and no extra throughput costs

Could this get any better? Yes. With Omnisend, SMS doesn't mean 'another paid channel to reach your customers'.
We give you free SMS credits – and have no hidden throughput fees – to enable you to text, and drive sales, at scale.
Each customer who signs up for the Pro & Enterprise plan gets free SMS credits equal to the monthly plan price (e.g. $99 plan price = $99 in free SMS credits included). Also, unlike other platforms that have SMS, we do not charge extra for the high sending speed or extra sending numbers – you're in control of what you're spending.
Now's the time
If you haven't tried SMS yet or been using a separate SMS tool – now's the perfect time to start using it on Omnisend. You'll save time, costs and will be able to drive better results by building a consistent, omnichannel customer experience.
In the words of our customers – Omnisend 'is the only app you'll need':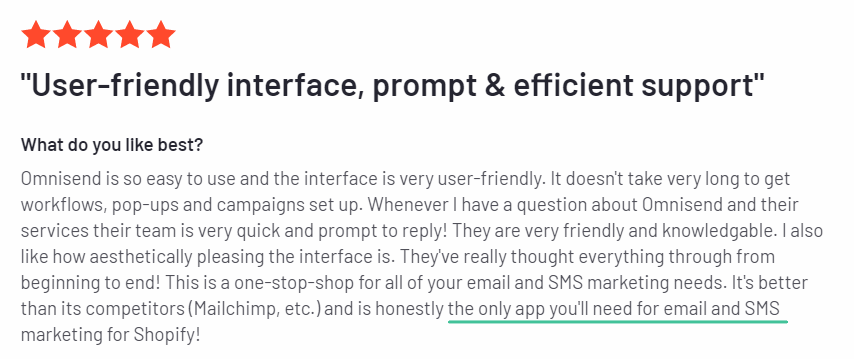 Increase your sales, not the workload with Omnisend's email & SMS marketing.
Start Free Today
related features
Want more sales?
Omnisend has everything you need to succeed.
Start free now
No Credit Card needed.