Drive sales on autopilot with ecommerce-focused features
See Features
Reading Time:
7
minutes
BigCommerce and Magento are two of the most widely used ecommerce platforms in the world. In fact, these two services are behind ecommerce stores for major global brands including Skullcandy, Ben and Jerry's, and Burrow (BigCommerce) as well as HP, Rossignol, and Food Service Direct (Magento).
While both BigCommerce and Magento are extremely powerful and flexible, you shouldn't invest time, money, or other resources into a new ecommerce platform until you've thoroughly weighed your options. Our BigCommerce vs. Magento comparison is a great resource for any vendor that's struggling to choose between these two providers.
Limited time: Get 30% off your first 3 months at Omnisend for BigCommerce stores
Learn more
Features
Both BigCommerce and Magento are full-service ecommerce providers. In other words, they come with everything vendors need to set up a completely functional online store. However, there are significant differences in features between these two platforms.
With BigCommerce, you'll get a drag-and-drop editor and built-in mobile optimization to streamline the customer experience on smartphones and tablets. BigCommerce also offers a WordPress integration that enables store owners to build a digital storefront on top of their WordPress site.
Marketing and sales are two other strengths for BigCommerce. Social selling is particularly helpful for contemporary ecommerce vendors as it allows customers to buy products directly through outside platforms like Amazon, eBay, Facebook, and Instagram.
To minimize abandoned carts, BigCommerce also includes a one-page checkout experience that helps buyers complete their orders more quickly. You can get in touch with their customer support team 24/7 if you run into any technical issues or simply have questions about the platform.
Magento's features are a little more limited, especially for users who stick with the open-source version of the software. According to the website, Magento Open Source is limited to these basic functions:
Mobile-optimized shopping
Global selling
Catalog management
Access to extensions in the marketplace
Instant purchasing
Site search
Page builder
On the other hand, the managed Adobe Commerce service comes with all of those tools plus the following advanced features:
Reusable dynamic blocks
B2B support
Business intelligence dashboards
Advanced marketing tools
Content staging and preview
Customer loyalty tools
Visual merchandising
AI-powered product recommendations
Live site search
Pick-up in store functionality
Gift cards
Additionally, Adobe Commerce Hosted Cloud users get cloud hosting with SLAs guaranteeing availability up to 99.99%, plus associated tools like performance monitoring, CDN access, and a web application firewall.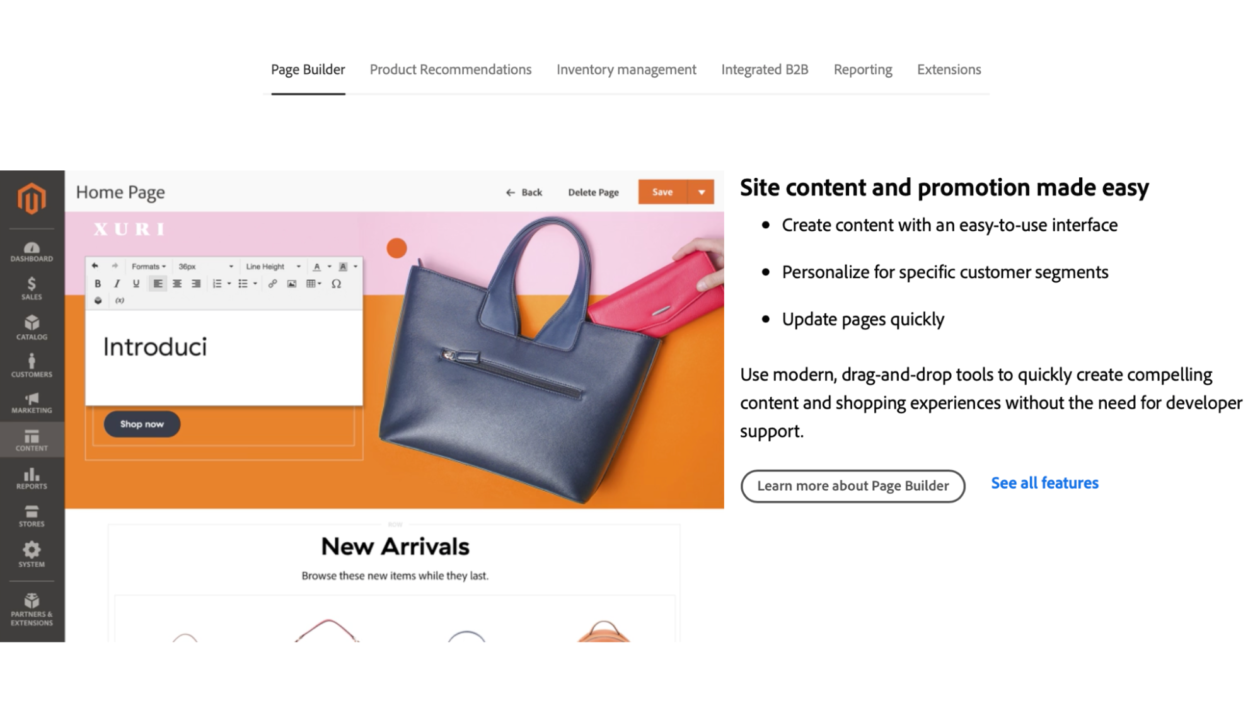 Pricing
After a 15-day free trial of BigCommerce, you can continue with one of three paid plans: Standard ($29.95 per month), Plus ($79.95 per month), or Pro ($299.95 per month). While Plus and Pro come with a 10% discount when paid annually, Standard keeps the same rate of $29.95 per month paid monthly or annually.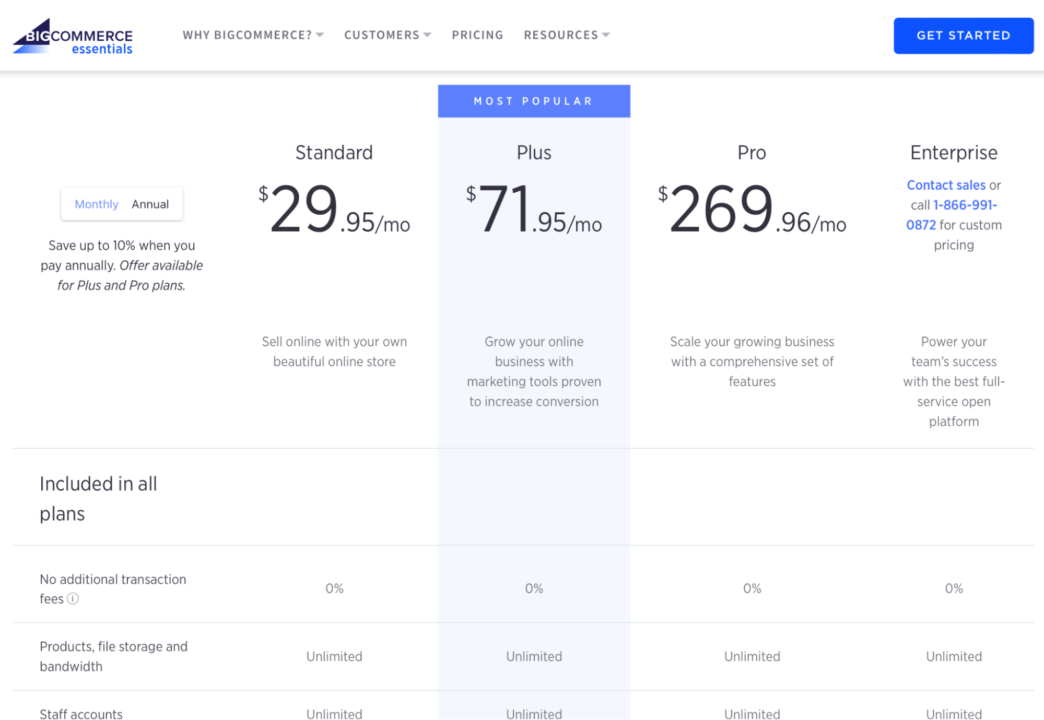 If you need more than any of the pre-set plans offer, you can also talk to the BigCommerce sales team about a custom Enterprise solution with variable pricing based on your needs. Enterprise users gain access to advanced features like price lists, unlimited API calls, and priority support.
BigCommerce doesn't charge any transaction fees of its own, but you'll also have to pay a third-party payment processor. A wide range of payment gateways are supported including Amazon Pay, Chase Integrated Payments, PayPal, QuickBooks Payments, Square, and Stripe.
Magento Open Source is free to access, but that doesn't necessarily mean it will be cheaper to implement in the long run. For example, while every paid BigCommerce subscription includes hosting, you'll need to work out your own hosting arrangement if you decide to go with Magento Open Source.
Furthermore, Magento Open Source doesn't come with the same set of out-of-the-box features that are available with BigCommerce. You may find yourself dealing with a longer time to market as you build your site from the ground up. and you may also need to hire professional designers and/or Magento developers to help you get it running more quickly.
Of course, this isn't to say that Magento Open Source is never a good option. However, you should be aware of the potential short- and long-term costs if you decide to go in this direction.
Like BigCommerce, Magento also offers a managed service for larger businesses. While Adobe Commerce is technically built on the Magento framework, it comes with a long list of additional tools.
Adobe Commerce comes with custom pricing that can run $2,000 or more per month, but you would most likely end up paying for some of the same things with Magento Open Source. For example, Adobe Commerce subscriptions come with technical support and scalable hosting. If you're using Magento Open Source, you'll have to pay a third-party developer and hosting provider in order to access the same services.
Ease of use
BigCommerce doesn't require any coding, so you can make a variety of changes to your site even if you don't have development experience. The familiar drag-and-drop editor should be relatively straightforward for most users, and we also found that BigCommerce offers.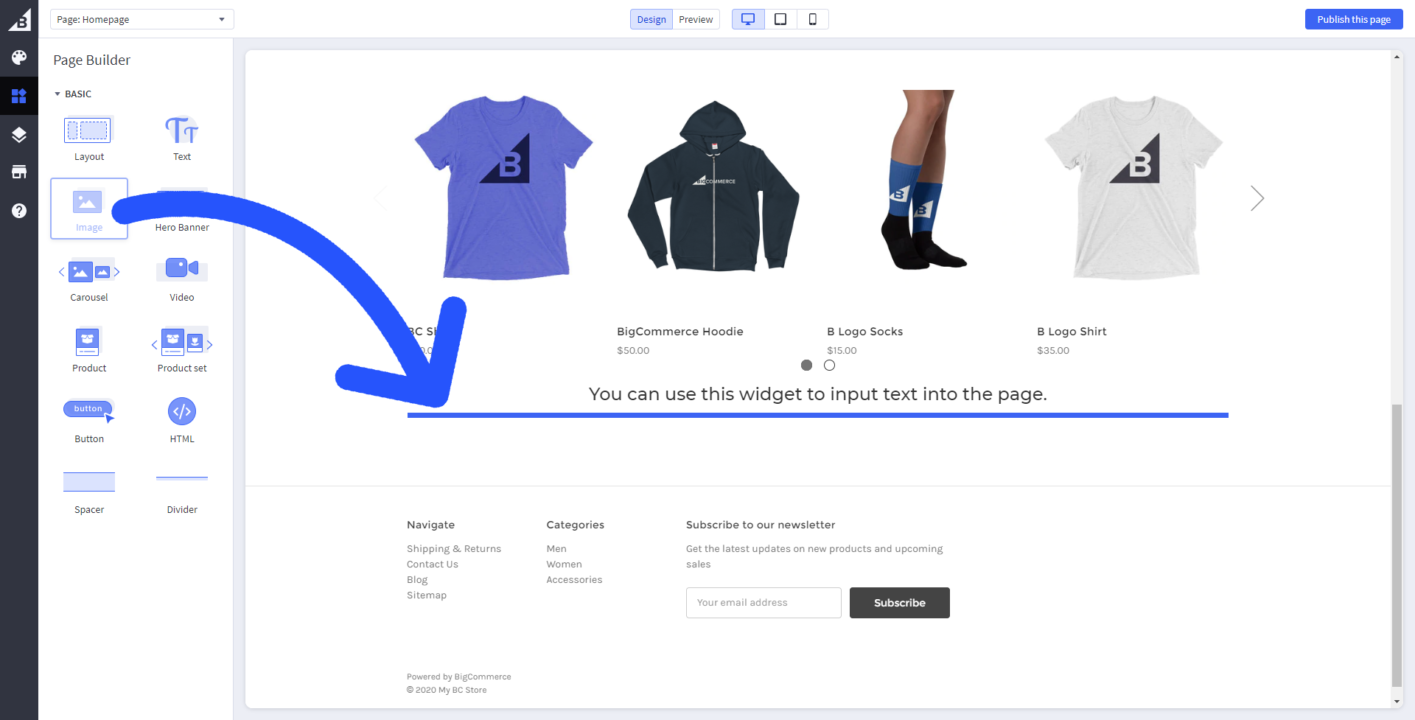 Ease of use is a key sticking point for Magento Open Source, especially if you're looking for an out-of-the-box solution. While Magento gives you all the tools you need to create an unforgettable website, it's up to you to put it all together.
That might not be an issue for enterprise clients who can simply allocate resources to different projects as needed, but it could prove challenging for smaller vendors that don't yet have the capital for an in-house development team or an ongoing relationship with an independent Magento developer.
On the other hand, the managed Magento Commerce service is built from the same underlying platform, but it removes many of the rough edges that make Magento less approachable. With Magento Commerce, you won't need to manage your own hosting, and you'll be able to get in touch with an Adobe representative whenever you need technical support.
Apps, plugins, and integrations
Apps, plugins, and integrations are important aspects of both BigCommerce and Magento. BigCommerce offers a variety of extensions, which can run from totally free to $100 or more per month depending on the add-on in question.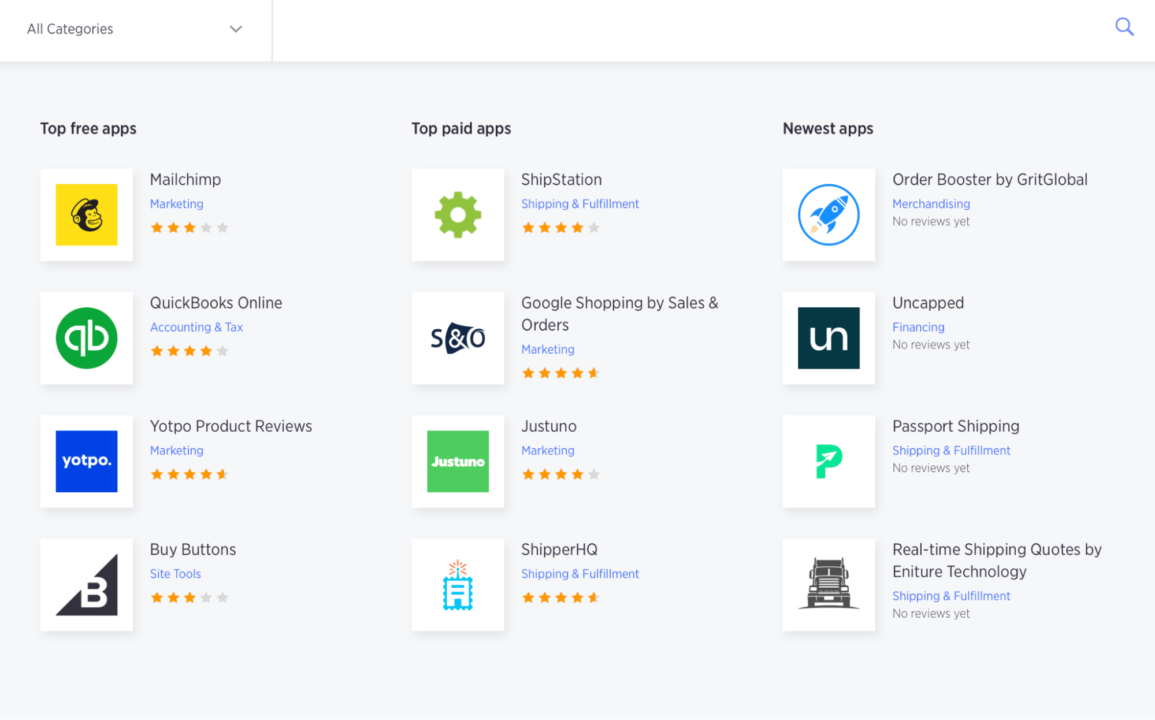 Thousands of free and paid plugins are available for both Magento Open Source and Adobe Commerce. As with BigCommerce and many other ecommerce platforms, the Magento plugins you use will have a significant effect on your site's functionality as well as the overall customer experience.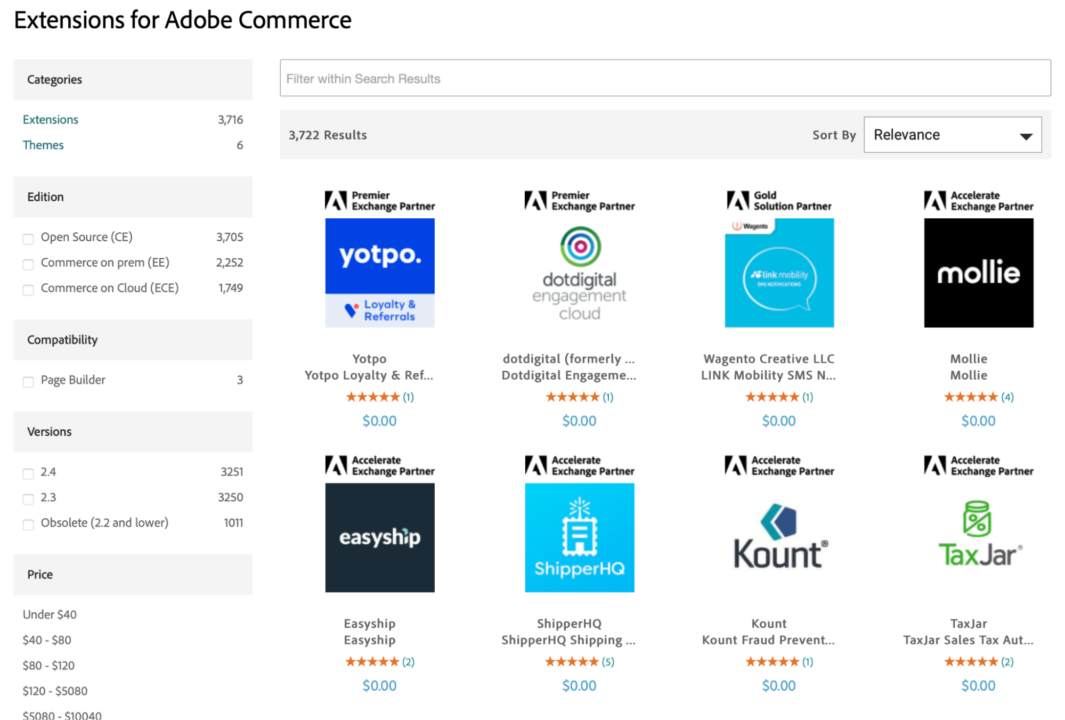 Both platforms provide an impressive collection of add-ons, so it's hard to say whether one stands out from the other in this area. Either way, you'll have access to a variety of extensions that will help you make your site your own.
Omnisend offers plugins for BigCommerce and Magento, helping vendors on both platforms create and analyze sophisticated omnichannel campaigns. Regardless of which service you end up using, don't forget to install the Omnisend plugin and take your omnichannel tactics to the next level.
Themes, templates, and customization
The BigCommerce theme store includes hundreds of out-of-the-box designs, many of which come with multiple style options. If you don't see anything that fits your needs, you can find even more options on third-party platforms like ThemeForest.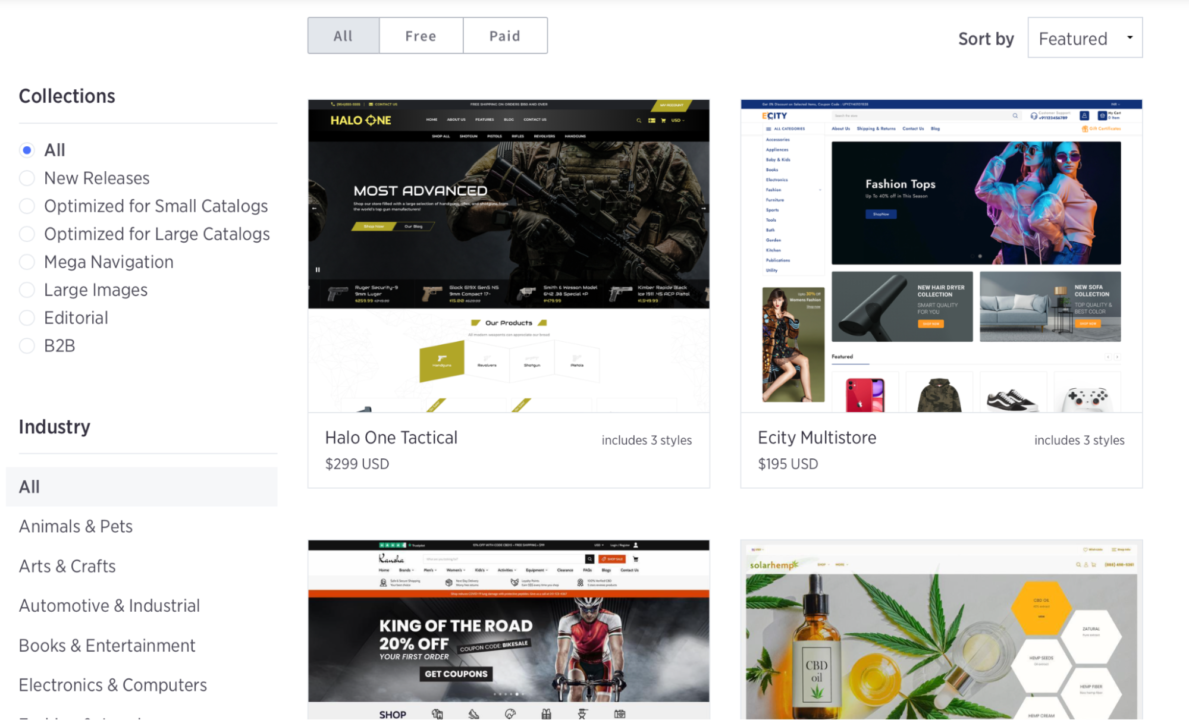 The Magento store currently only lists six total themes, just two of which are free. With that being said, you can find a deep selection of free and paid themes on ThemeForest and other independent marketplaces. Magento is one of the most popular ecommerce platforms in the world, and its active community of third-party creators is a great resource for any Magento vendor.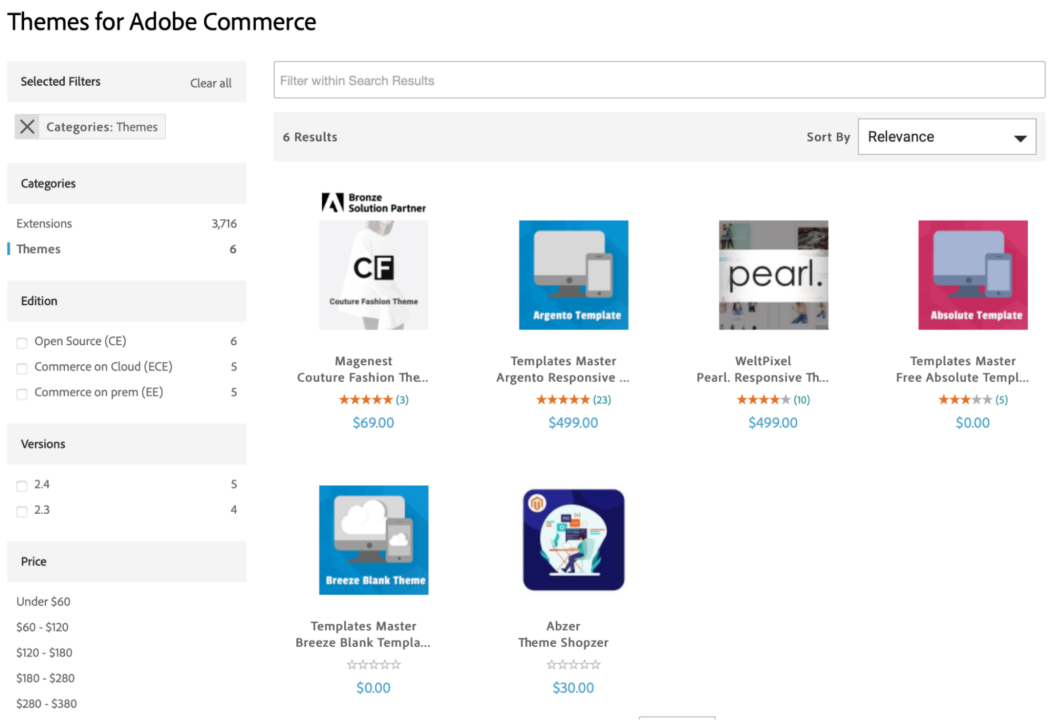 Both BigCommerce and Magento come with deep opportunities for customization, but you'll need someone with development skills to fully leverage Magento. On the other hand, BigCommerce can be customized through a drag-and-drop editor, and Adobe Commerce also comes with a drag-and-drop interface that makes it easier to build custom sites.
Security
BigCommerce is compliant with key privacy regulations including CCPA, GDPR, ISO 27001, PCI DSS, and Privacy Shield. The BigCommerce team has also published security documentation covering their security tactics, network diagram, vulnerability assessments, and other relevant issues.
While we weren't able to find as much public documentation of Magento's security practices, you can trust Adobe along with the larger Magento community that has been active since the platform was independent. Like BigCommerce, Adobe Commerce doesn't present any compliance issues with PCI, GDPR, CCPA, or other major regulations.
Of course, just because these platforms are secure doesn't mean that you can afford to let your guard down. Security incidents often stem from a user error rather than any software issue, so it's important to take basic steps to keep your site safe. For example, using a weak password or a password that has been exposed in a data breach is far more likely to lead to problems than any weakness in BigCommerce or Magento.
Similarly, organizations that require two-factor authentication are more likely to identify and stop unauthorized access attempts before they happen. Whether you end up using BigCommerce, Magento, or another provider, don't underestimate the importance of your own cybersecurity practices.
Final thoughts
You can make an incredible ecommerce site using either BigCommerce or Magento, but it's critical to understand the pros and cons of each solution before committing time or money to either solution. BigCommerce is generally more focused on ease of use, while Magento can be more complex. On the other hand, some users may find Magento to be more scalable—particularly if they're using Adobe Commerce.
With both providers offering a unique set of pros and cons, it's ultimately up to you to decide which one best aligns with your needs. If you have worked with either platform, please take a minute to let us know about your experience in the comments below.
Once you set up your ecommerce store, you need to target your audience effectively. Omnisend automates your marketing campaigns to help increase revenue. Start free to see how it can help increase your sales (but not your workload).
Get started with Omnisend today & drive sales on autopilot with pre-built automation workflows
Start Free Today
related features
Want more sales?
Omnisend has everything you need to succeed.
Start free now
No Credit Card needed.