Just imagine – every client who has got interested in goods online – purchase. Seems like utopia, right? But why couldn't we strive for it? Every year millions of dollars stay in customers' pockets instead of being spent in our full-of-goods, trendy online stores.
According to the surveys, in most of the cases cart abandonment depends on the online store's shipping policy. There are many articles advising on how to improve the purchasing process for consumers determined to buy.
Nevertheless, doubts and indecisiveness take the third place (55%) on the top of the pyramid of reasons not to buy.
How can we handle it and reduce this enormous 68.07% abandonment rate? The solution could be the abandoned cart email campaign.
How does it work?
While a customer (your subscriber) is browsing your store, email service provider's cookies do their job. After he /she has abandoned the shopping cart, a cart recovery feature sets up consumer's order, packs it to the email and sends it ready-made to the client as a friendly reminder to proceed the purchase.
With this action several important things happen:
1. You repeatedly re-engage with the consumer that has abandoned your online store without buying. Statistically, this action helps to increase the conversion up to 25%. You will see it in the examples below.
Either single or a series of 1 to 3 emails help to bring the customer back to the online store and purchase. Be sure that the email contains all important information calling to action: a picture of the items, clear message about the opportunity to refund, shipping price, etc. If the customer has forgotten or has had any doubts about the item – this is an outstanding opportunity to remind and convince him.
Some of the email service providers, including Omnisend, offer to the customers ready-made templates for such emails. So you don't have to worry if you feel a lack of knowledge.
2. You receive an extra data to analyze and get know better your consumer as well as their behavior according to items in the cart, and different circumstances. Using cart recovery solution enables you to deeper analyze the email campaign performance, recovered sale value, customer statistics, etc.
3. Looking at such emails from customers' perspective, they feel that you remember about them, you care. This connection strengthens your brand position in their heads.
Study by Experian revealed that for every $1 spent on email marketing, businesses obtain an average return of $44.25. The thing is that customers expect to receive pertinent information. Cart recovery emails are personalized – customers receive special for them customized content.
An example
Enails.eu sells nail polish for professionals. It has been a client of Omnisend since October 2014. In January 2015 Enails.eu added the Cart Recovery feature. Revenue through their email marketing channel over last seven months has increased on average by 11%.
You can see the variation below.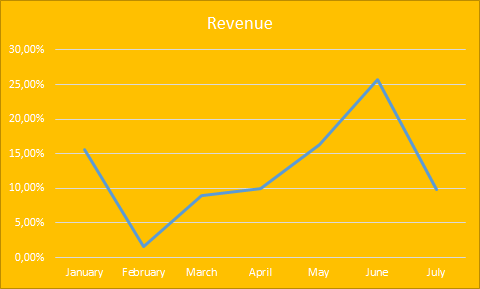 Meanwhile, for  Monabello.com which sells accessories for smartphones,  Cart Recovery feature in April – July period has brought 24% growth for all orders through Omnisend channel and 21% in revenue.
HappyWatching.com – a website for buying movies – in a few months has received 9,6% more orders as well as earned 11,1% more in revenue.
Tip: Offer your subscribers a discount as an extra incentive to complete the purchase.
In the end, I just want to remind the saint truth: people enjoy spending money on goods. So why don't make them happy?
Omnisend support team provide customers with the competent help to set up and try this solution for the online store. More information about Cart Recovery find on Cart Recovery Series page and my recent blog post – 3 case studies of successfully recovered abandoned carts on Shopify.