Drive sales on autopilot with ecommerce-focused features
See Features
Reading Time:
7
minutes
A few months ago when searching for a unique gift for her book-loving brother, Sue stumbled upon a bookworm's dream. Scrolling the online shop unearthed pages upon pages of novelties, from a "Book Nerd" t-shirt to Stephen King socks. She found the perfect gift, and the product met her expectations.
Chances are likely that Sue will return to the site when in need of a book-themed gift again.
In ecommerce marketing, you can't always rely on customers like Sue to keep your online store top of mind. It's crucial to be proactive about retaining customers, so you can drive greater sales.
Cross-selling by offering complementary products is a great way to do just that. Sue may not intend to purchase anything else right now, but maybe you can sway her to tack on a personalized bookmark. Or, you might earn a subsequent sale by continuing to suggest related products post purchase.
In 2020, cross-sell emails sent through Omnisend garnered an average open rate of 31.8%, with an 11.9% CTOR and a remarkable 20.9% conversion rate.

Where do you start with cross-selling, what products should you propose, and when should you propose them? Read on for a full explanation of cross-selling, how it is different from upselling, and some cross-selling examples to spark ideas of your own.
The Difference Between Upselling and Cross-Selling
Upselling encourages customers to buy a similar, yet higher-end, product than the one under consideration. Cross-selling inspires them to purchase products that complement items they have bought or are about to buy.
Both forms of persuasion have the same goal of adding value, by introducing options, and ultimately influencing a buyer to spend more money. But there is a clear difference between upselling versus cross-selling.
Let's say you and your significant other treat yourselves to a night out. Splurging at a steakhouse is in order.
You're leaning toward a New York strip steak, but need some insights about the seasonings before making a final decision. The waiter praises the flavor, before pivoting to his personal favorite.
The waiter wins. He has successfully applied his upselling charms and you take the bait, ordering the buttery and tender (and pricier) filet mignon.
His sales skills persist, moving into the zone of cross-selling strategies. Shrimp—or better yet, scallops—pairs wonderfully. And the extensive wine list? Cross-selling gold.

Cross-Selling for Ecommerce
As consumers, we are surrounded by cross-selling strategies. The cross-selling of products lends itself especially well to ecommerce.
Order anything from Amazon and you'll see how this plays out. One customer (that customer being the author of this article) purchased a balance beam for her aspiring gymnast. Not long after, images of exercise mats, horizontal bars and gymnast-themed nylon bags appeared within the "inspired by your purchases" collection.
Amazon figured someone who has an affinity for physical agility could use some more products to develop her skills, or at least announce her hobby stylishly.
In general, ecommerce retailers embed cross-selling techniques through two primary means:
Directly into on-site shopping experience
Via post-purchase communications
Both ways point customers to additional related products—whether a necessity to make the product useful, or a nice-to-have accompaniment.
We'll dig into both later.
Must-Have Tools for Cross-Selling Products
To excel at cross-selling, a few technical elements need to be in place.
Connecting your ecommerce platform to marketing software is key to facilitating a number of communications-related cross-selling strategies.
Choose marketing software that features the following characteristics, which are essential to enabling the automation that will power efforts:
Captures comprehensive customer data
Employs workflows
Delivers robust reporting
Segments customers based on behavior
Look for a provider that can facilitate an omnichannel customer experience. You want access to not only email marketing, but the option to reach customers through other channels such as SMS, commonly known as text messaging.
Cross-Selling Tips: On-Site Shopping Experience
As previously mentioned, cross-selling techniques often happen before the shopper leaves the online store.
Technically, all of the techniques below appear before a purchase is made, but we'll still count them as cross-selling tactics. Experiment with these cross-selling examples, which are deployed during the purchasing process and can garner additional sales.
1. The Product Page
Scroll past the details of the product you're eyeing and you'll most likely find one or more related recommendations.
For instance, viewing a stroller within Target's online catalog features suggestions of an infant car seat and, for that car seat, a rolling carrier.

Amazon expertly sprinkles in this approach. Cross-selling on product pages fuels 35% of Amazon's sales, via the "customers who bought this item also bought" and "frequently bought together" features.
Propose products that cost less than the main product being viewed; we recommend a range of 10 to 50% of the product price.
There are plenty of apps to enable on-site cross-selling. LimeSpot, for example, easily plugs into Omnisend. It is a real-time AI-powered personalization platform that empowers marketers and e-commerce professionals to create a personalized shopping experience.
Another option might be Candy Rack. This app allows users to easily create upsell & cross-sell offers and display them when a customer clicks on the "Add to Cart" page. AI-powered smart auto upsell feature allows you to display the most relevant upsell offers to your customers.
2. The Checkout Page
Here's another opportunity to catch your buyer's eye before they cash out. As is the case for leveraging the product page to cross-sell, it's generally a good idea to use the checkout page to showcase lower-cost products like a small add-on. Your customer is ready to pay for a winter coat? Display a hat, scarf and gloves to accompany it.
Beauty brands retailer Sephora takes a different approach, highlighting hot-selling products for further enhancement.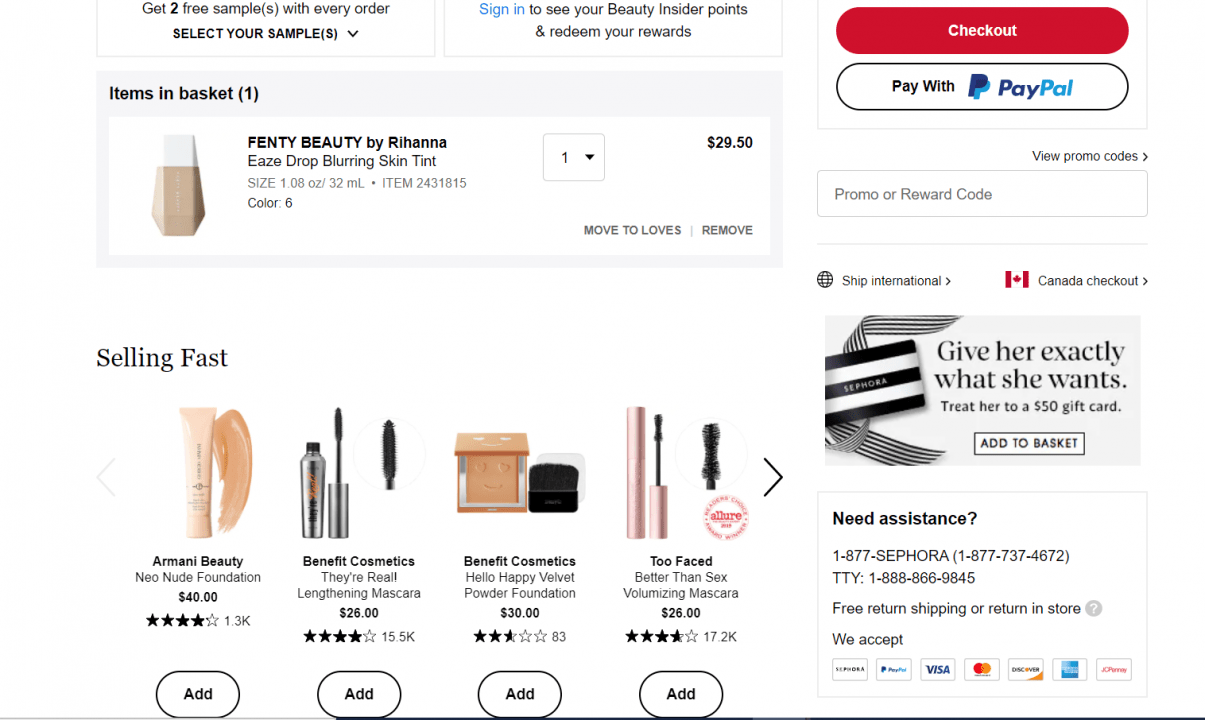 3. Discounted Bundles
If cross-selling products is a way to extend greater value to customers, then bundles are an ideal means to that end.
Bundling comes in different forms and is most fruitful when including a price cut of some kind. The concept is simple: throw in a less-expensive item or two, either a component that is necessary to operating the product or an accessory, to save the consumer money and time.
Or group together harmonious and sometimes pricier products, which can also be purchased individually, at a special rate. Rodan + Fields leans heavily on this buy-more-save-more strategy in promoting all of its skincare lines.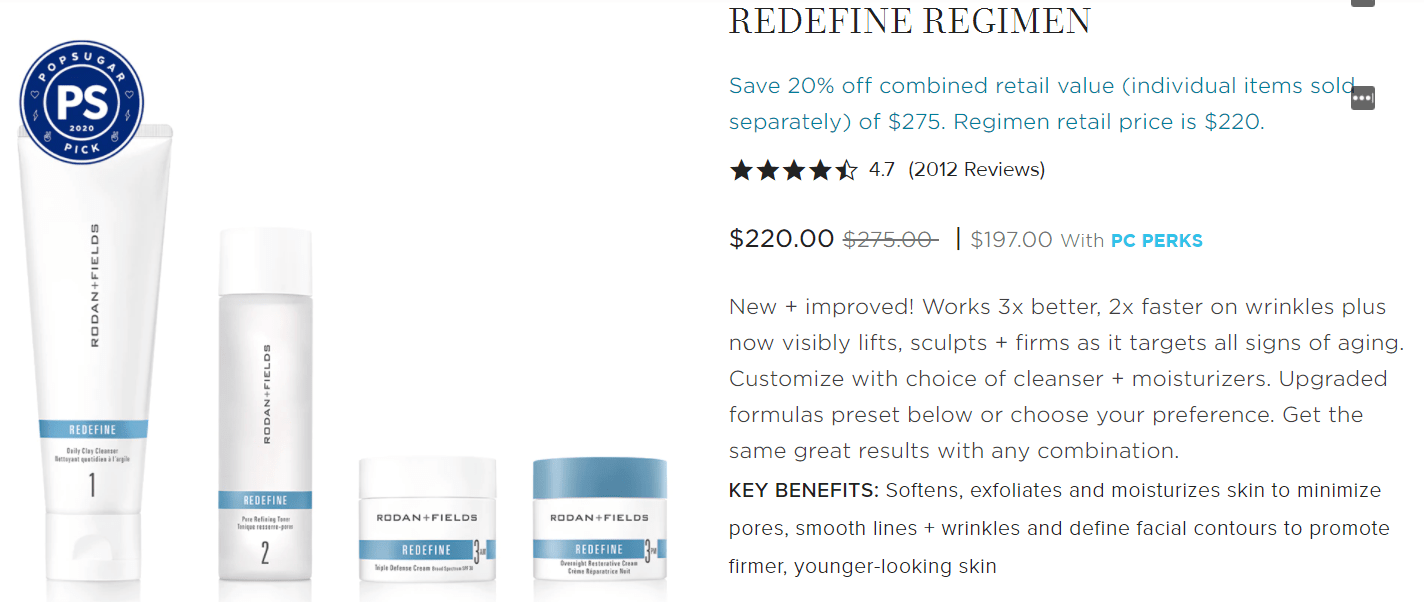 A study from Harvard Business School speaks to the revenue potential of bundling. Researchers discovered that Nintendo sales soared when a bundling option was offered alongside lone products. The addition of a gaming package—consisting of a console and one game—prompted a jump of about 100,000 hardware sales and a surge of more than 1 million video game sales.
4. Order Thresholds
Encouraging customers to spend a certain amount of money to reap a reward does not exactly fit the textbook definition of cross-selling in retail. Although this angle does not involve recommending a specific supplementary product, it motivates consumers to consider them.
Retailer Kohl's is extremely fluent in this incentive model. The frequently offered Kohl's Cash promotion rewards consumers with a $10 coupon for a future purchase when they spend at least $50.

Another common cross-selling example that retailers employ is providing free shipping once a certain spending threshold is met.
Cross-Selling Tips: Post-Purchase
Once an online sale is complete, there are opportunities to encourage consumers to make more purchases. This approach to marketing complementary products requires reliable marketing automation software for the best results.
1. Email Marketing
Exploit the benefits of a powerful marketing platform that collects data and incorporates automation. It's the best way to recommend appropriate products based on your customer's spending behavior.
Here are a few ideas to ponder:
Behavioral segmentation: Nudge customers toward an additional purchase with a personalized recommendation. Depend on the data—what the customer previously bought—to categorize customers into cohorts revolving around similar purchase activity. This is behavior segmentation. Use it to drive product suggestions, then easily build your cache of recommendations with a product recommender tool and trigger emails via a cross-sell automation workflow.

In 2020, cross-sell emails sent through Omnisend garnered an average open rate of 31.8%, with an 11.9% CTOR (click-to-open rate) and a remarkable 20.9% conversion rate.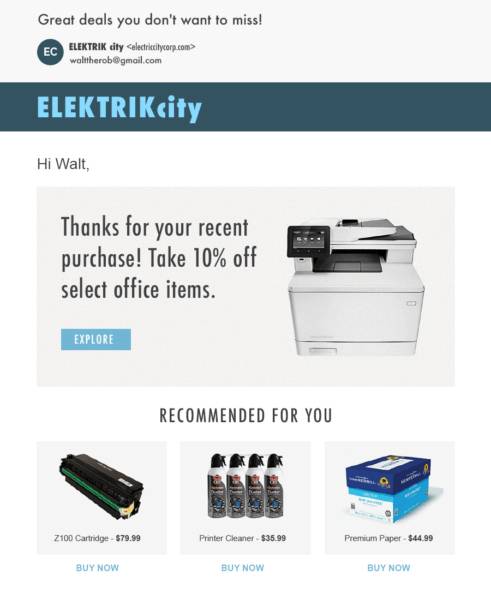 We recommend waiting a bit before hitting up your customer's inbox. Whether a few days or a few weeks, the decision is yours.
Order and shipping confirmation: A subtler way to cross-sell products is by including related recommendations within standard, post-purchase communications. This includes the automated email confirming the original order, or subsequent messages that provide shipping updates.
Think of it as a means for gently hinting that the customer may not have fully thought through their purchase. How, for instance, will your little tykes safely enter and exit the elevated trampoline you just bought?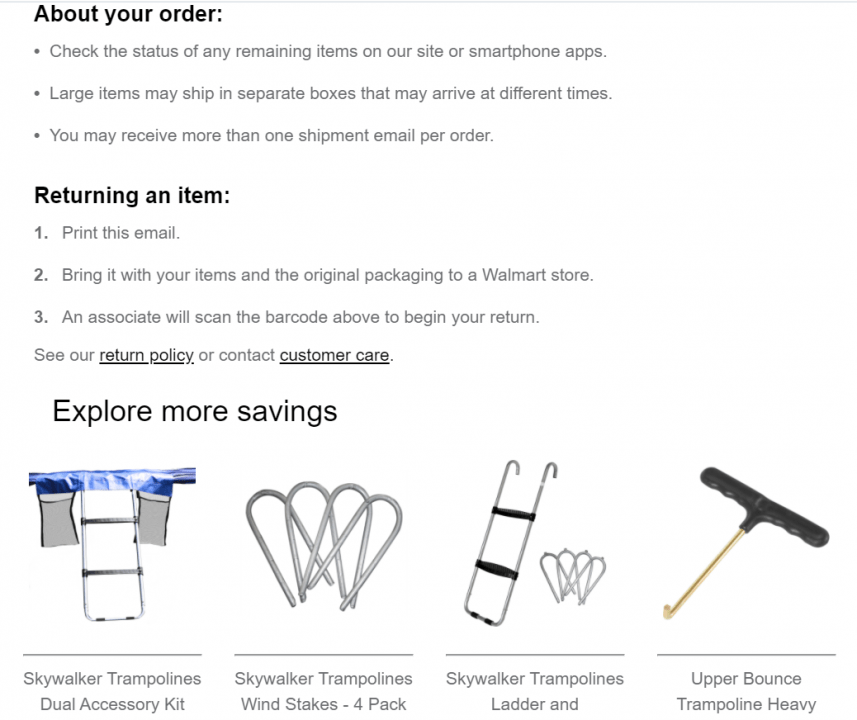 Omnisend data makes a strong case for sliding cross-selling techniques into order and shipping confirmations. In 2020, these two message types produced a combined 55.9% open rate, 27.3% click rate, and 9.5% conversion rate.
Any of these email messages described above can also be amplified with an SMS message.
2. Remarket with Online Advertising
People spend, on average, 6 hours and 42 minutes online every day. Any serious cross-selling effort needs to be dedicated to reaching them. Paid search and social media advertising are the avenues.
Some marketing automation platforms like Omnisend enable you to super-target ads to customers. Their shopping behaviors serve as the code.
Cross-sell products by retargeting promotions to specific customer groups on Facebook and Instagram based on what they've purchased, or even abandoned in a cart. Or, Omnisend's Google Customer Match sync allows seamless retargeting in Google Search, Shopping, Gmail, and YouTube.
With emails or advertising, it's a wise choice to reward your customers with a coupon code or free shipping on their next purchase.
Prioritize the Customer
Deploying cross-selling techniques correctly can improve your sales while increasing loyalty to your brand. You're providing greater value by proposing products that make sense within the customer's buying process and likely match a need. At the same time, you're raising your profile by displaying the breadth of your product lines, not to mention increasing your AOV (average order value).
Whichever cross-selling examples you undertake, always place the customer at the center of your efforts.
Ready to take a leap into cross-selling products? Set yourself up for success. Start using Omnisend for free today.
Get started with Omnisend today & drive sales on autopilot with pre-built automation workflows
Start Free Today
related features
Want more sales?
Omnisend has everything you need to succeed.
Start free now
No Credit Card needed.