Drive sales on autopilot with ecommerce-focused features
See Features
Reading Time:
11
minutes
Just like its place in the email, an email footer isn't something you put a lot of thought into. Mostly, people spend more time writing the subject and message body and pay little attention to the footer. Nevertheless, email footers can conclude your email neatly and professionally.
Trust us when we say crafting the right email footer can improve your marketing campaign. In this guide, we'll highlight the best tips you can follow to create email footers. Plus, we'll showcase some of the best examples you can review for inspiration.
So, let's dive right in.
What is an email footer?
An email footer is content located at the bottom of your email body. You can also consider it your company's email signature–a section where you add your contact details. But the email footer design can be much more than that.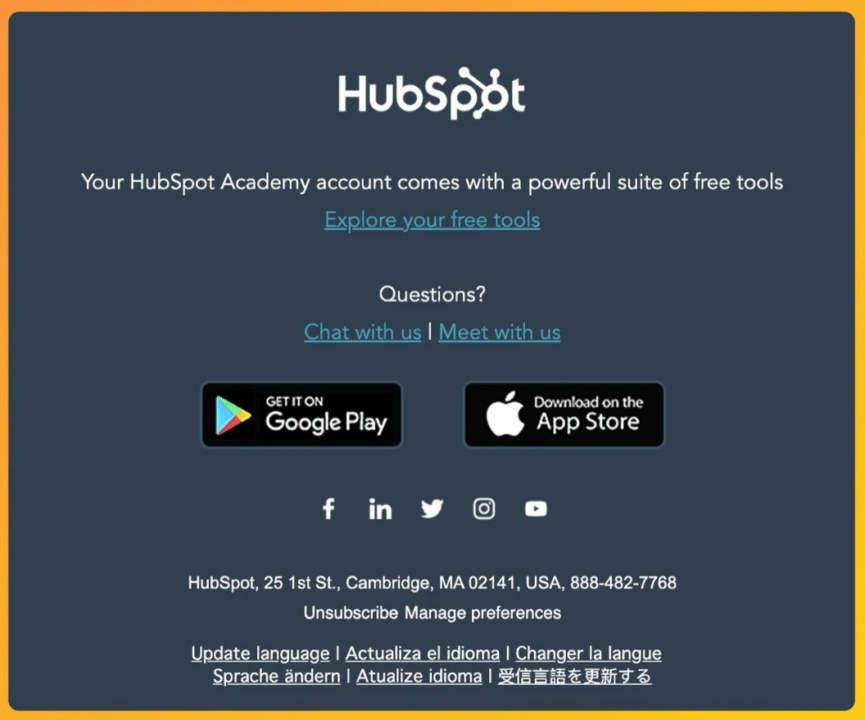 Email footer components: What goes into an email footer
The email footer contains elements you wouldn't normally put in any other email section. For instance, it wouldn't make sense to put your contact details in the message body. With that in mind, let's look at the types of information you can include into the email footer.
Legal and confidential disclaimers.In most professional or business emails, you must've seen specific disclaimers about confidentiality. These are used to protect the contents of the email, as well as the identity of the recipient. They are an essential component for various types of emails, and they are also vital if you are looking to set up email automation.
Company logo.The company logo is one of the best ways to make people recognize your brand. It should also be an essential element of your email footer design. Aside from the logo, you can add other company branding types to the footer of your email. These include your tagline, slogan, or other elements.
Call to action (CTA).The message of your email may be perfectly crafted for your target audience, but your efforts are incomplete unless you add a call to action to the email footer template. Not only does it conclude your emails nicely, but it also gives the recipients something to respond to. Moreover, it scales up conversions and boosts sales.
General sender information. Another critical element of an email footer is general information about the sender, which includes the address or contact number. Although recipients can reach out to you by replying to your email, they may want to call you and learn more about your offerings. This is especially important if you have physical stores and an ecommerce website so potential customers can find you.
Unsubscribe button or link. You may think adding an unsubscribe link or button is counterproductive and will drive away potential customers, but it doesn't work that way. Instead, it helps you filter out your customers, retaining only those who wish to interact with your brand. As per the latest GDPR compliance rules, you must include the unsubscribe link to your email footer. Moreover, if you get your website visitors to subscribe to a newsletter when they visit your website, you should give them an easy and user-friendly method to unsubscribe if they want to do.
Social media or website links. It is a no-brainer that your website and social media pages are the gateways to your brand. They help improve its recognition and visibility significantly. Therefore, they should be an integral part of your email footer design.
Safelist request. A safelist request refers to a link you add to the email footer, asking readers to add you to their address book or safe list. Once they do so, your emails won't go to their spam folder, thus ensuring better email deliverability.
Brand values. Your brand values are important, so it's a good idea to showcase them to your readers through the email footer. A few lines describing your company and what you stand for are sufficient to captivate your target audience, allowing them to get in touch with you.
Thank You note. Most people have thousands of unread emails, most of which are marketing emails and newsletters. However, that shouldn't stop you from designing email marketing campaigns. For those who take the time to read your email, you can add a brief thank you note expressing your gratitude for their time and loyalty to your brand. Not only is this an endearing act, but it also makes them likelier to read your emails.
Manage preferences. Most businesses give their readers complete control over how and when they want to receive emails from them. This is achieved by a link or button titled "Manage Preferences." Making it a part of your newsletter footer empowers your customers, making them more receptive to your marketing efforts.
These are some of the key elements that you can add to your email footer template when designing a marketing campaign, and an email template builder can help you incorporate them effectively.
Some businesses and marketing professionals are aware of these elements but aren't sure where to plug them in. It is pertinent to mention that these elements shouldn't be put into the email signature or the sign-off, which is used to personalize the email and add marketing links.
Best tips to design an email footer
Now that you have a basic introduction to email footers, let's look at some of the best email footer best practices and tips.
Add an unsubscribe link
Building an email subscriber list takes a lot of time and effort. However, not all your subscribers add value to your business. So, adding an unsubscribe button to the footer of your email won't hurt. Although it may cause your subscriber count to drop, it will also help you gauge who your potential and loyal customers are.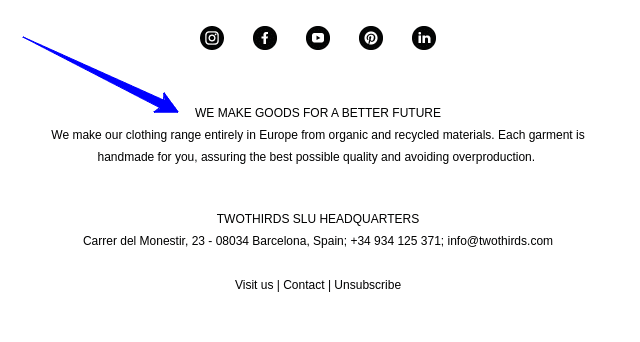 Thanks to modern data privacy laws, companies are mandated to give subscribers an easy way to unsubscribe from their marketing emails. If your business is covered by the General Data Protection Regulation (GDPR), not adding the link to the email footer may result in heavy fines.
Keeping the law aside, it makes sense to add an unsubscribe link. After all, you wouldn't want to retain customers who don't engage with your brand. Moreover, your customers will also sense that you are a responsible and authentic brand and won't send your email to spam. When the reader clicks on 'Unsubscribe,' you can add a personalized message like "We're sorry to see you go."
When designing the email footer and adding the unsubscribe button, you can also add the Manage Preferences section. This way, your readers can choose whether to see more or less of your emails rather than simply unsubscribing to all of them.
You can also add a phrase telling your customers that they can rejoin your email list anytime. Follow up the unsubscribe link by asking the customer why they are going away. You can do so with the help of a list with checkboxes.
Get the best results out of your email marketing campaigns with Omnisend
Start Free Today
Keep your email footer template and content simple
Even though the email footer is an integral part of the marketing email, there is such a thing as stuffing. You don't need to overload the email footer template with a lot of information, icons, or links. Instead, keep the email footer focused. Include only the critical bits of information that may be useful to the reader.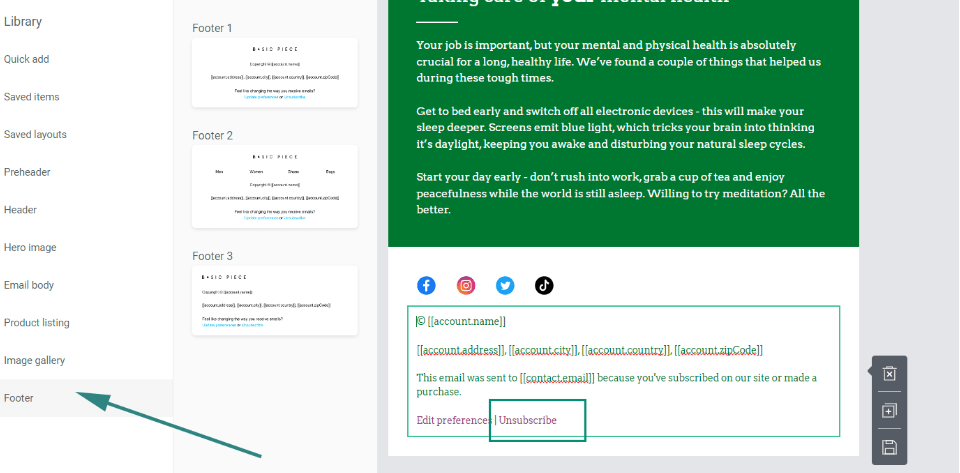 Keep the email footer design as simple as possible, so it becomes easier for the readers to focus on each element one by one. When it comes to designing the footer, you can make use of an email marketing tool like Omnisend. It helps you subtly plug key elements into the footer so that it looks balanced and neat.
Stuffing your email footer topple the balance and won't sit well with your target audience. Instead, only stick to key information that provides value to the reader. For example, include the unsubscribe link, your contact details, and social media buttons.
Make your email footers mobile-friendly
Ecommerce is mainly mobile-based today, and nearly 50% of customers shop for their favorite products on their smartphones. Moreover, 70% of all marketing emails are viewed by recipients on their phones, so you should make your email footers mobile-friendly. Optimizing your email footers for mobile view ensures that they are properly readable.
Once the footer email design is ready, you can make it mobile-friendly. If you use an intuitive and user-friendly email marketing tool like Omnisend, you can do so without hassle.
If you don't optimize your email footers for mobile view, your message may get clipped, hindering your email marketing campaign. Suppose your reader wants to call you, but your contact details aren't properly visible. As a result, you might lose out on a quick sale or a customer.
One of the biggest problems that arise when designing email marketing campaigns for mobile users is that most elements in your email footer aren't clickable. Especially if the content isn't optimized correctly. Due to this, you might miss out on passing critical information to your readers. Therefore, a mobile-friendly footer email design is as important as the contents of the footer itself.
Best email footer examples
We've discussed the email footer best practices. Now, let's look at some more dos and don'ts through the best examples.
We start our list with Omnisend, an advanced and user-friendly email marketing tool that helps you set up your email campaigns in no time. Who better to look for email footer example inspiration than the platform that helps you curate perfect marketing emails? If you look below, the example of a footer is quite minimalistic and has a professional structure.

Omnisend's email footer consists of four key elements: the call to action, social media buttons, address, unsubscribe button and manage preferences. Albeit very simple, this footer serves its intended purpose perfectly.
Over the years, Nike has evolved from simply a sneaker brand to a fitness movement, encouraging more and more people to work out and stay fit through its Nike+ Run Club campaign. As shown in the image below, Nike's email footer example is also quite simple but features a nice and modern design.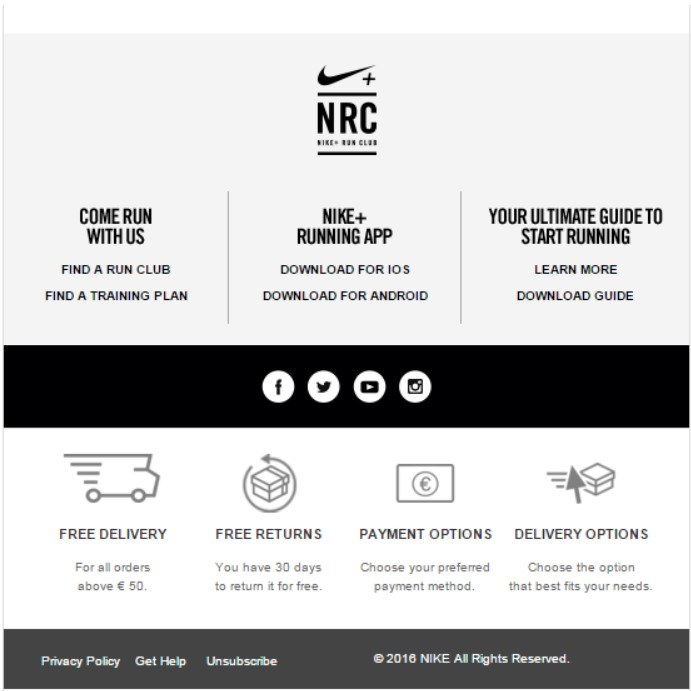 Compared to the previous one, this email footer design has more elements, but it serves the purpose perfectly. From top to bottom, you can spot the company logo, CTAs with important links, social media buttons, key benefits or selling points, and the unsubscribe and help link.
Flaunter tops the list when it comes to beautiful footer design. The company uses a wonderful blend of pink and gray colors to convey its message and reach out to the recipients. The footer starts off with a strong and bold CTA, followed by a button that compels users to interact with the brand.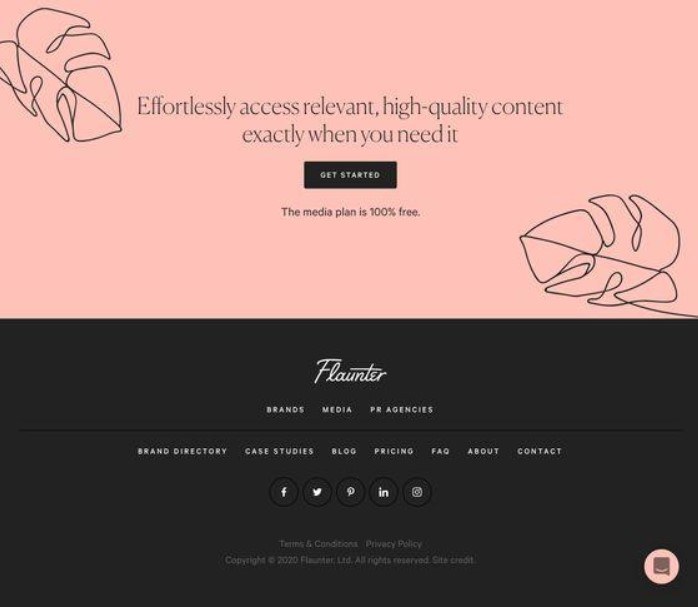 In the bottom section, you can spot the company logo and key links you would want the customer to visit and learn more about you. Next up, you have the social media buttons. Although this footer doesn't have an unsubscribe or manage preferences link, it does the job well.
Adding the privacy policy and terms and conditions link has also become a part of email footer best practices in recent times, and Uber is one of the companies implementing this. The company uses its signature black-and-white theme for the email footer as well. You may notice that this footer doesn't have any CTA, mainly because Uber's services are straightforward, and people already have a certain loyalty towards the brand.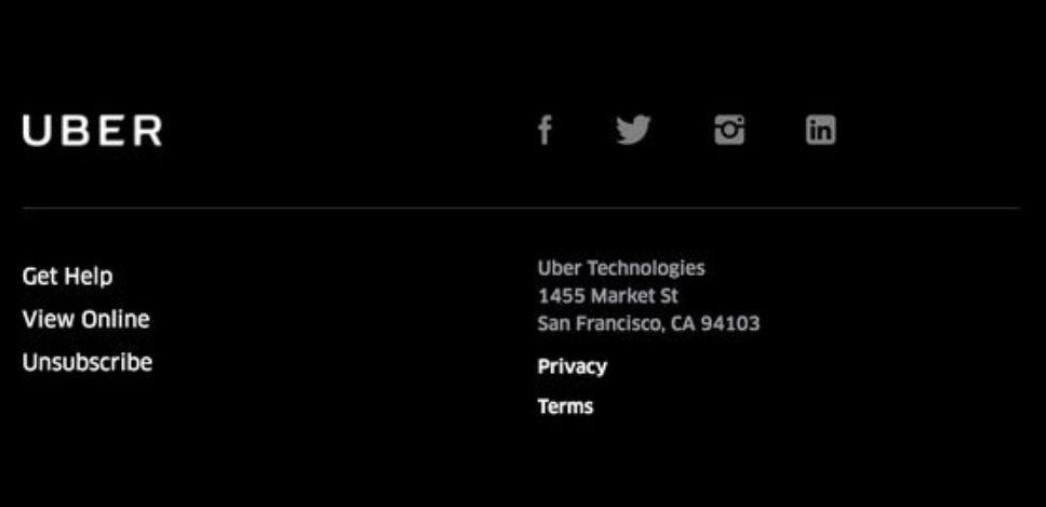 At the top of the footer, you can notice the Uber logo, parallel to its social media pages. Beneath the logo, you have the 'Get Help,' 'View Online,' and 'Unsubscribe' links, and on the right, you get the company address, followed by the Privacy and Terms links. It is worth mentioning that the no-CTA strategy works for Uber, but a new company might not be able to pull this off in the same way.
This Code Academy email footer example shows how companies use only key information and design it in a captivating manner to engage their audience. The footer opens with the all-too-familiar Code Academy logo, followed by its copyright.

Beneath the copyright, you can find the mailing address, which allows people to easily reach the brand. Lastly, there is the unsubscribe link. Although you may think this is too simple or doesn't provide the necessary information, keep in mind that the brand added links to its privacy policy, help center, and mail settings in the message body itself.
The email footer example for Marks and Spencer is quite minimalistic, akin to that of Omnisend. But it manages to put together all the critical information neatly and professionally, aligning with its brand image and voice. As you can see, M&S chooses to place key perks at the start of the email footer, i.e., Free Delivery, Free Store Collection, and Free Returns.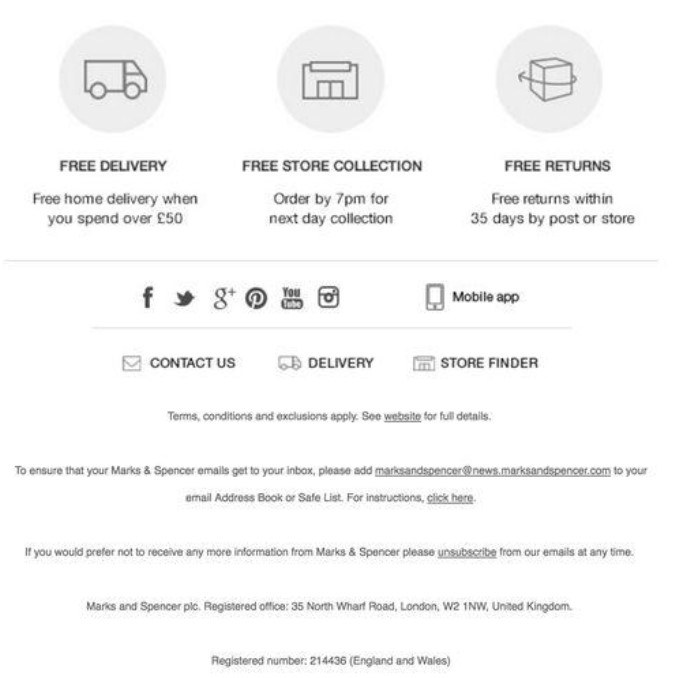 Following this, you can spot the social media buttons and a link to the mobile app, which is a good addition. The app download button allows people to download your app within seconds, thereby increasing the chances of a quick conversion. Going down, you can spot the Contact Us button, a key element. In the end, the company adds its safelist request, unsubscribe link, and address in short, well-spaced lines so that users can see everything.
Apple Music's promotional emails are a designer's dream, and the company invests heavily in visual content integrated seamlessly with the text. The email smoothly transitions from the message body to the footer and features a clear CTA with a responsive title.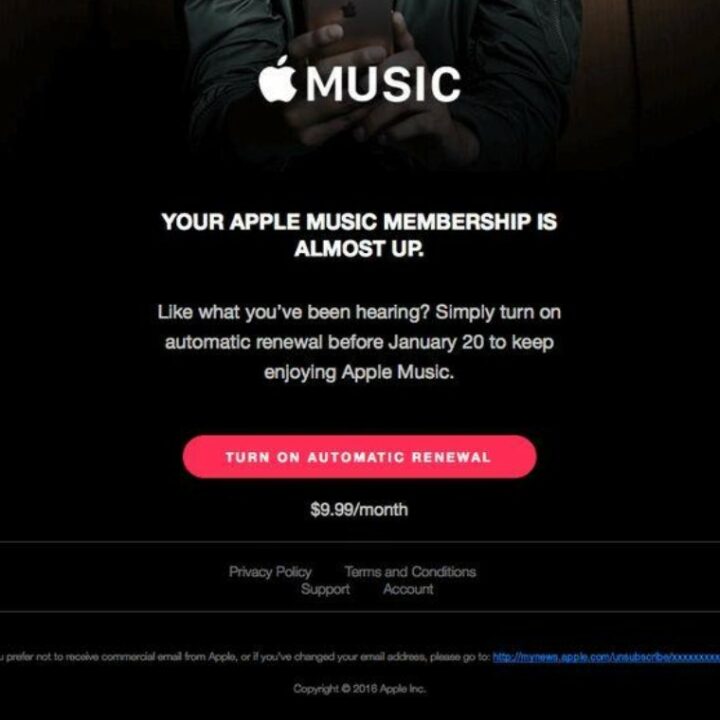 Apple Music's unique all-black email footer template also features links to its Privacy Policy, Terms and Conditions, Support, and the Account page. This is followed by an unsubscribe link, which has become a standard.
Urban Outfitters also uses a black-and-white email footer design, similar to Uber. Its email footer starts with links to its Men's, Women's, and Home products, redirecting readers to its store from the email. Instead of adding the logo, Urban Outfitters adds its signature hashtag, which its customers are familiar with.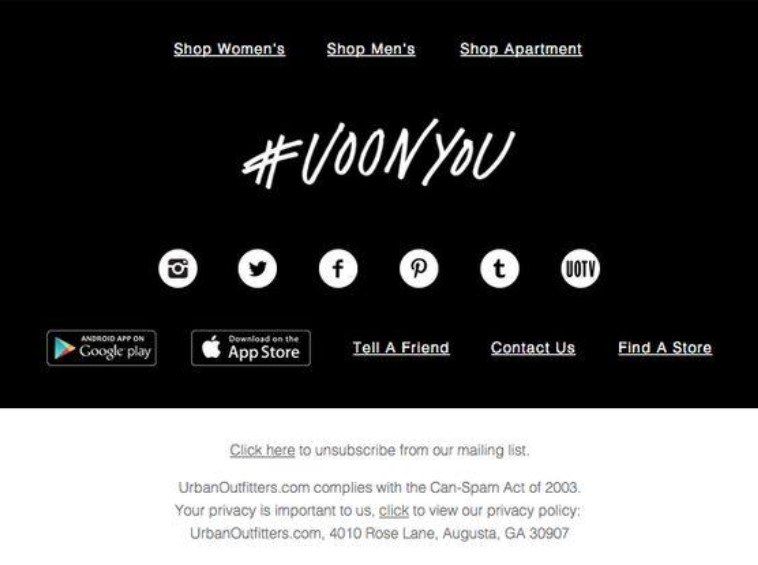 Next in the black portion of the email footer are social media buttons, which have a nice contrast and look quite appealing. You may also have noticed the Google Play and App Store buttons, which invite readers to download the app and interact with the business. The other elements in this footer include the Referral link, Contact link, and Unsubscribe option. Moreover, the white portion of the footer mentions the brand's compliance with the Can-Spam Act of 2003, the Privacy Policy, and the address.
Since Dribbble is a platform exclusively for designers, you can see how well it designs email marketing campaigns. The brand uses soft graphic elements for inspiration and outlines its vital information nicely.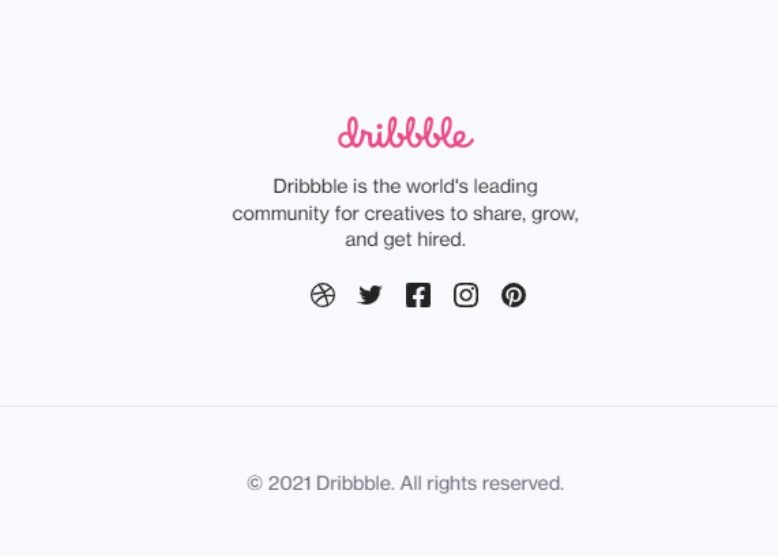 Dribbble uses its logo in the email footer, followed by a small tagline that outlines what it does. The simple footer also contains its social media icons, and you can spot the Dribbble icon among them.
Our final pick in the list of email footer examples is everyone's favorite grammar and spelling check tool, Grammarly. The AI-based app uses its email footer space to convey key information to its readers. The gray-based footer features the brand's social media icons, followed by a bolded CTA that compels users to upgrade to Grammarly Premium.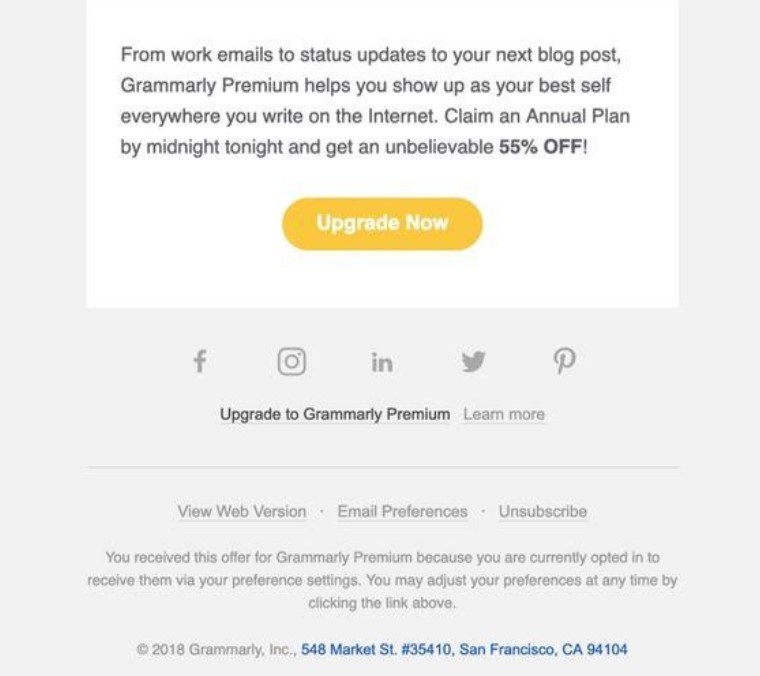 The CTA is followed by links that enable readers to view the email's web version (in case the mobile view doesn't work), set their email preferences, and unsubscribe from future emails. Grammarly tops off its footer with its mailing address, which helps users get in touch with the company.
Wrap-up
We conclude our guide with the best tips for creating an email footer. As mentioned above, email marketing is an effective tool, but it is challenging to captivate your audience with emails, thanks to myriad marketing content and reduced attention spans. Therefore, an email footer is your best shot to keep your reader hooked and make them interact with your brand effectively.
Once you get the hang of email footer design and brush up on the email footer best practices, you won't have to spend too much time thinking about what you should include or exclude. Nevertheless, these practices aren't set in stone, and you can be as creative as you like – provided that your original message reaches through.
related features
Want more sales?
Omnisend has everything you need to succeed.
Start free now
No Credit Card needed.