Drive sales on autopilot with ecommerce-focused features
See Features
Reading Time:
8
minutes
When it comes to an audience list, most marketers and business owners believe that email unsubscribes are a bad thing and a sign of something 'broken'.
But in reality, there are big benefits to email unsubscribes.
In this article, we explore the reasons for email unsubscribes, the benefits of unsubscribers and the best ways to handle marketing campaigns for maximizing your ROI.
Reasons that lead to email unsubscribes
Despite the hard work you put into email marketing, you may be wondering what triggered your recipient to click on the 'unsubscribe' button. We've broken down four such reasons that could lead to unsubscribes:
1. They opted in for a temporary feature (offer, discount, deal, etc.)
Receiving promotional offers, such as exclusive deals, discounts, and coupon codes, is the major reason ecommerce customers subscribe to an email list—which is a good sign.
But on the downside, audience interests can evolve with time. Customers may unsubscribe from your email list once their initial purpose is served or you're no longer able to meet their reason for subscription.
2. You forgot to segment the email list
Email segmentation means grouping your subscribers into smaller lists based on criteria such as user interests, demographics, purchase behavior, etc.
Here are some consequences leading to growing unsubscriptions when you fail to segment your email list:
Generic email messaging that most subscribers cannot resonate with.
Lack of personalization in messaging can lead to the audience losing interest in your brand and what you have to say.
Not responding to customers' evolving needs leads to losing the personal connection with your audience and, ultimately, losing their loyalty.
Irrelevant emails lead to subscribers marking your emails as spam.
So if you're noticing a spike in unsubscribes, email segmentation could be your starting point to fix customer experience.
3. Emails are either sent too often or too infrequently
In an attempt to stay connected with their audience, most marketers may end up spamming them with too many emails in a day or a week. But sending too many emails is the number one reason customers unsubscribe from an email list.
On the other hand, occasional emails could also lead to users clicking the unsubscribe button. Why? Because considering the high competition for the inbox, sending irregular emails leads to subscribers forgetting why they've subscribed to your business in the first place. The low brand recall can negatively impact your campaign results.
4. Emails are sent to the spam folder
Emails landing in the spam folder is every business's worst nightmare. Over-promotional emails or emails failing to pass through the strict spam filters head straight to the spam folder.
And if your subscriber takes notice of this, there's a high chance they will unsubscribe from your communication to keep their spam folder spot free.
Should I worry about an email unsubscribe?
The short answer is no.
Of course, you don't want to see an exodus of subscribers—this might indicate that you're not sending the content that people signed up for.
But unsubscribes are normal, and sending emails to those who no longer wish to receive them can do more harm than good. Uninterested subscribers can impact your open rates and email-driven revenue calculations.
Here are some more reasons why you should stop fearing unsubscribes:
1. Provides list growth baselines
Understanding your current unsubscribe rate is your window to gaining valuable insights into list growth.
For example, suppose you have an unsubscribe rate of 0.3%, or 200 unsubscribers a month. So as a list growth baseline, your target should be to hit at least 200 new subscribers monthly.
2. Reduces email marketing costs
Although many email platforms are free, sending emails comes at a price.
From a cost point of view, sending to uninterested subscribers is an avoidable expense. And each time you send an email, and someone unsubscribes, you should know the next campaign will be more targeted and cost-saving.
If you're using an email platform's free sending tier, unsubscribes leave you more room to grow an active subscriber list with engaged customers.
3. Stops your emails from being marked as 'junk'
Major email providers like Google, Yahoo, and Outlook take spam seriously. Your email deliverability can take a backseat when a subscriber marks your email as 'junk' or 'spam.'
This proves that users unsubscribing from your mailing list are better than marketing emails being tagged as junk or spam.
4. Unsubscribes keep your list clean
Just because someone signed up to your email list at some point does not mean they would continue their loyalty and engage with your emails.
A clean and healthy email list indicates high email deliverability and open rates. Regular list cleaning and removing subscribers who are uninterested in your emails will ensure your marketing efforts reach the ones who are actually looking forward to engaging with your business.
How to unsubscribe on Gmail and Outlook
Email providers like Gmail and Outlook both make it simple for the recipients to unsubscribe from email lists.
Let's look at the steps a user needs to take to unsubscribe from emails.
Unsubscribe from Gmail
The following are the steps to unsubscribe from emails in Gmail:
Log in to your Gmail account on your mobile device or desktop
Find and open an email from the sender in question using the search bar
Click the "Unsubscribe" hyperlink next to the sender's name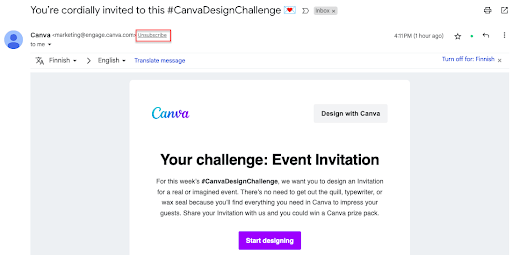 If you're using the Gmail mobile app, scroll down on the message to find an 'Unsubscribe' link to stop future communications from the sender. Confirm your intent to unsubscribe from the email list when prompted

Unsubscribe from Outlook
Like Gmail, Outlook also has a straightforward approach to unsubscribing from unnecessary communication. Here's how:
Log in to your Outlook inbox on the desktop or launch a mobile app
Find and open an email from the sender in question
Click on the 'Unsubscribe' hyperlink next to the recipient name (desktop) or at the bottom of the email (mobile)
Confirm your choice to unsubscribe from the email list
How to add an unsubscribe link with Omnisend
Every online merchant must ensure subscribers are offered a seamless way out of unsubscribing from their email communications.
Omnisend's drag-and-drop email builder has an in-built feature to auto-add and customize an 'unsubscribe' link or a button.
Here's how Omnisend helps you add the much-needed unsubscribe option to all marketing emails:
Omnisend automatically adds a hyperlink to your promotional email's footer that, when clicked, leads recipients to the unsubscribe page.
You are free to change the design of the Unsubscribe button and place it anywhere within the email body.
The unsubscribe link/button is added only to promotional emails, not transactional ones such as an order confirmation.
Omnisend lets you select the preferred language and update link design and position using personalization options.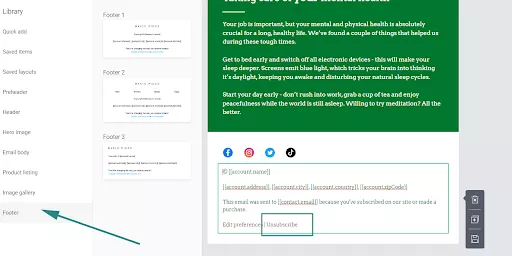 How to unsubscribe from emails without a link
What if the email provider or sender fails to offer a link to unsubscribe? Here are two alternate ways a recipient can use to stop receiving emails:
1. Report spam
Reporting an email as spam will move future emails from the sender into the spam or junk folder automatically. Also, Google receives a report to analyze the sender's behavior to stop potential phishing attacks.
On Gmail, they can search and open the intended sender's email. Next to the reply icon, they can easily click on 'more' and Report Spam. Similarly, they can also select a message on Outlook and click on Junk -> Phishing -> Report to move the sender to the Junk folder.
2. Block sender
Recipients could also 'block' the sender and their future emails if they cannot find an unsubscribe link.
On Gmail, recipients can open an email from the sender they wish to stop seeing emails from. They just need to open the message, and from the top right corner next to reply, click on 'more' to Block the sender. This is another way Google uses to identify or mark a sender as Spam, sending your communication to the Junk folder.
Marketing alternatives for unsubscribers
If your customers are not responding positively to your email marketing campaigns, it may be a sign to try out other effective alternative marketing channels. Here are some we recommend:
1. SMS marketing
In 2022 alone, over 100 million SMS were sent, driving a 23.8% increase in orders from the channel. This is a sign to take the SMS route if your customers stop engaging with your emails.
Although planning marketing campaigns with SMS requires a slightly different approach, we have all the SMS expertise you need.
2. Social media marketing
While not as direct to a customer as email, social media marketing offers unique marketing benefits for ecommerce brands. By using social commerce, you can see increases in your ecommerce revenue, all while decreasing your email costs.
With Omnisend's Facebook Custom Audiences sync, it's possible to automatically move your customers from Omnisend in and out of your Custom Audiences and retarget them on Facebook and Instagram. Because you have a contact's email address and history, you can super-target your ads on Facebook and Instagram based on customers' real shopping behavior.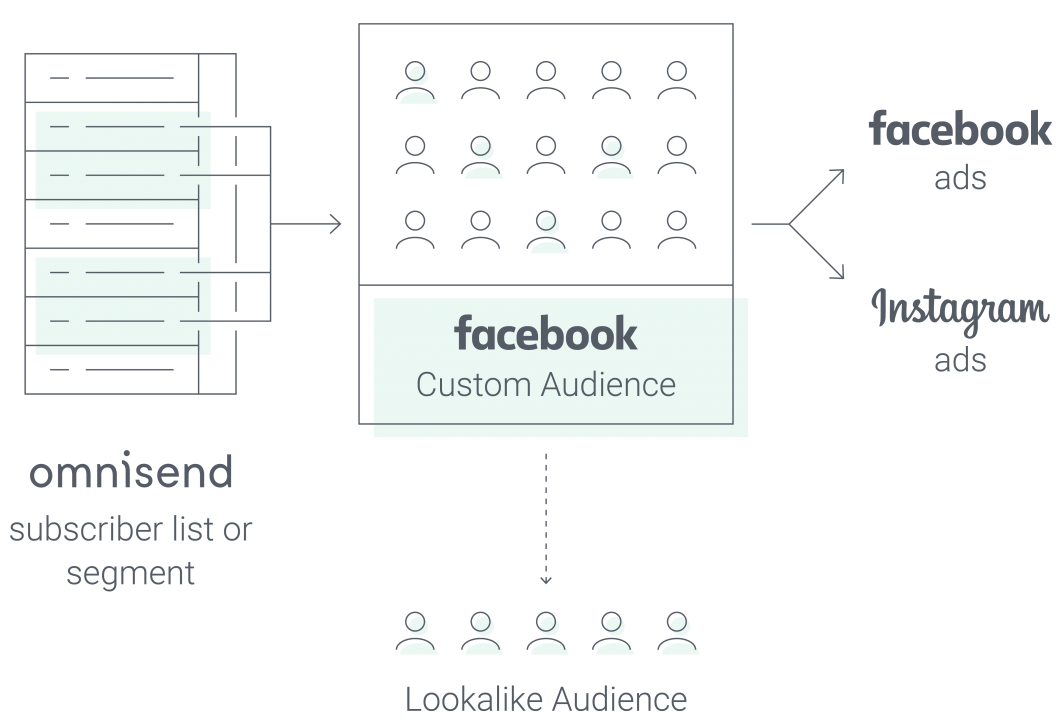 How to handle an opt-out email
Should you or should you not send an opt-out email? If engagement and metrics are your top priorities, you may have to rethink sending those opt-out emails. They barely result in anything other than annoying customers.
But opt-out emails are not always a bad thing. When you truly want a non-responsive contact to go, letting them unsubscribe keeps your email list healthy.
The best way to send and handle an opt-out email is to use an email form as a landing page. Here's how:
The email form must focus on the brand and functionality.
Use a 'manage preference' landing page for unsubscribers, then direct them to a page collecting feedback.
You could also offer them better email subscriber options or collect preferences to receive more tailored messages.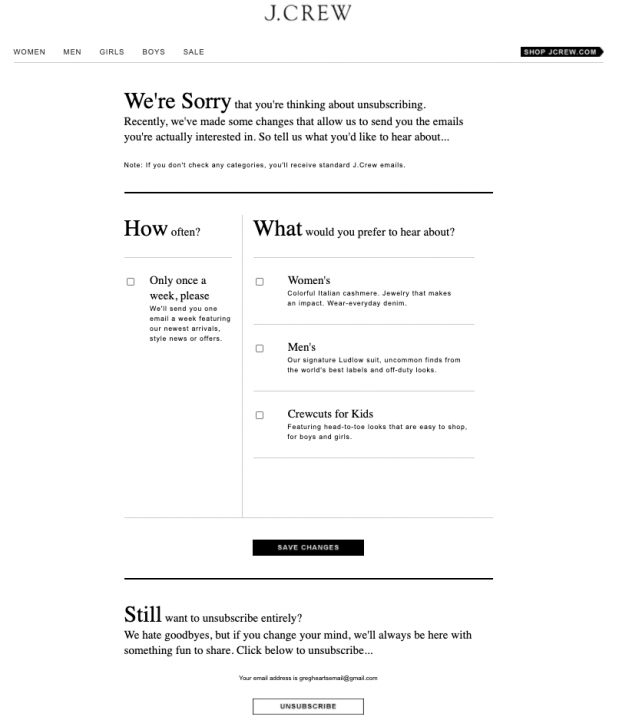 The ROI impact of unsubscribes
If the benefits of unsubscribes don't hit home quite yet, you should certainly consider how they impact your ROI.
An easy way to calculate this is to consider the ROI of unsubscribers with different types of purchase history, such as repeat buyers, one-time buyers, and non-buyers.
How can these help? Suppose a repeat customer unsubscribes from your mailing communication. The damage is clearly much more than a non-buyer.
Here are better ways to understand the ROI impact of unsubscribes:
Calculate the average order value (AOV) and customer lifetime value (CLV) of every unsubscribed contact to analyze the true ROI of your email marketing campaigns (both positive and negative impacts).
Deeply analyze repeat purchasers that leave. Understand the reason behind their unsubscriptions to adjust your strategies better.
Find out if many one-time buyers unsubscribe, which may indicate a poor post-purchase experience or product quality issues.
Finally, non-buyers leaving may be the best way to clear up contacts and focus on interested customers instead.
Email unsubscribe wrap up
Losing hard-earned subscribers can seem like a nightmare. But regardless of how worthwhile a long list of contacts may be, losing subscribers should no longer be feared or ignored.
By focusing on list growth, contact segmentation, alternative marketing channels, and sending hyper-personalized messaging, you will not only embrace the email unsubscribe but use it as a vital tool to increase your email marketing ROI.
Get started with Omnisend to supercharge your email marketing efforts.
Start Free Today
related features
Want more sales?
Omnisend has everything you need to succeed.
Start free now
No Credit Card needed.