Drive sales on autopilot with ecommerce-focused features
See Features
Reading Time:
8
minutes
As shoppers continue to head online, the role of email marketing is bigger than ever. Still delivering by far the highest ROI of any marketing channel, the familiarity and accessibility of email maintains its status as a top marketing channel for consumers and businesses alike.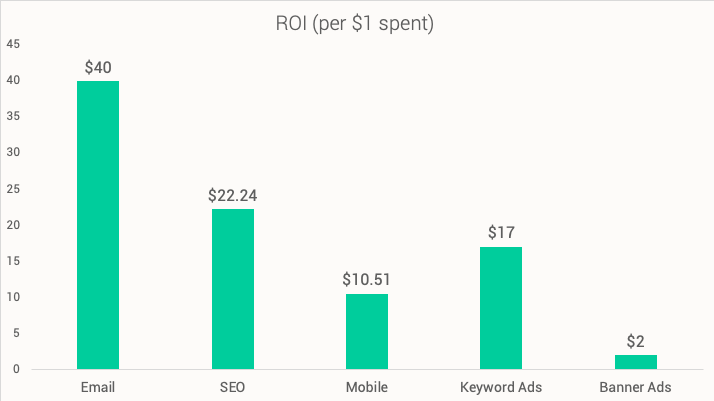 However, with inboxes becoming increasingly crowded with promotional emails, it's never been more important to get your email marketing campaign strategies optimized and perfectly executed.
Email marketing platforms and strategies are continually evolving, so what worked a few years ago doesn't necessarily work today. To stand out and stay ahead of the competition, you need to master the basics of successful email campaigns while making the best use of the latest features and innovations as they become available.
This article will present five email marketing campaign strategies that help you do just that. But first, let's take a quick look at the latest trends and best practices for email marketing campaigns as we head tentatively into a post-pandemic world.
Email marketing campaigns: The current trends
A well-planned email campaign shows great potential for returns, and its effectiveness is only growing. According to our latest data, conversion rates of promotional campaigns are increasing year-over-year, showing that email has solidified its position as the most trusted and sought-after marketing channel.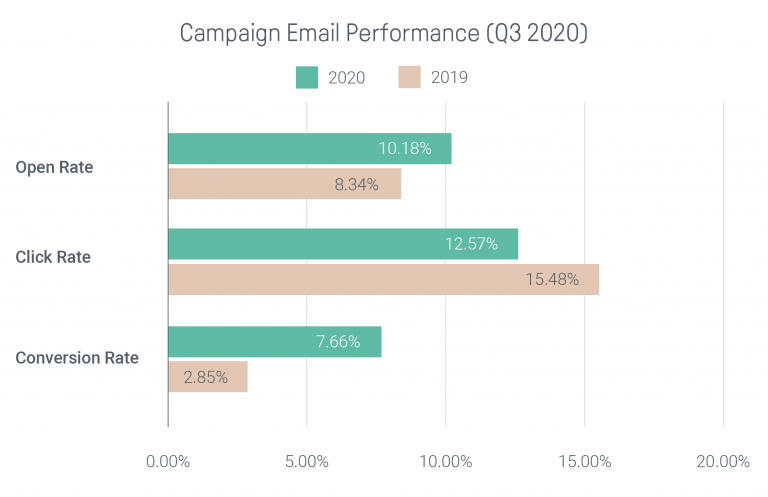 Automation has become the real game-changer for companies, and the data backs it up. Our study shows that automated messages generated a staggering 32% of email conversions during Q3 2020, despite making up less than 2% of total sends.
Ecommerce businesses that aren't incorporating automation into their email campaigns will quickly find themselves falling behind the competition.
Email marketing platforms like Omnisend offer a host of pre-built, behavior-based emails that are sent as customers move through their buying journey. A few examples include:
Marketing automation has become a fundamental feature for online businesses—make sure you're not missing out on this key, revenue-boosting trend.
Before you get started
One of the explanations for email's enduring popularity and trust lies in its permission-based nature. Subscribers have made a conscious choice to receive promotional messages, meaning that they're only receiving content that's relevant to them. This is great for you as an ecommerce business because you have an audience engaged and interested in your brand.
Of course, this means that you need to build a healthy and engaged email list before you can even begin to craft the perfect email marketing campaign. And not just any old list, either.
You'll want to consciously target the right kind of subscribers, which means never taking the easy way out and buying an email list—ever. Not only is this unethical and in violation of legal regulations like GDPR, but it's a complete waste of time and money. Rather than a potential revenue source, purchased lists lead to annoyed subscribers marking your unsolicited emails as spam, earning zero revenue, and ruining your sender reputation in the process.
There are plenty of ways to build and maintain an engaged and revenue-driving email list. Here are a few pointers to get you started:
So you've got a healthy list, full of interested subscribers. What next? Let's check out some effective, easy-to-implement strategies that you can make your email marketing campaigns stand out.
5 Email marketing strategies for better campaigns
1. Make a clear and coherent plan
There are many different types of email marketing campaigns you can run, and your strategy will depend on the desired outcome. You can manually schedule promotional campaigns that promote a sale or event or send automated messages to re-engage lapsed subscribers or welcome new subscribers.
Whatever your ultimate purpose, a few things to think about include:
2. Personalize your emails
This doesn't just mean a friendly "Hi James" at the start of your email—consumers have caught on to this approach. That's not to say greeting your subscribers by name is a bad thing, just that this kind of easy familiarity needs to be earned.
A much more valuable and effective type of personalization comes in the form of recommendations based on a customer's data. Customers respond to personalized, relevant offers and are almost three times more likely to buy items recommended based on their purchase history.
By personalizing your emails to include highly-relevant products to subscribers, you not only stand out above the competition, but you can receive an extra $20 in ROI for every $1 invested.
So show your subscribers that you are personally invested in them by including unique recommendations in your emails. Think about it. It takes very little effort to insert their name in your email. But using customer data in a meaningful way to help your subscribers make informed decisions builds a deeper relationship based on familiarity and trust.

Check your email marketing platform for personalization options when building email campaigns. Omnisend's Personalized Recommendations use your shoppers' order history to predict and showcase the most likely products to be bought by each customer and can easily be added to your campaigns. Start free to test it out for yourself.
3. Segment your subscribers
Another way of sending more relevant and personal messaging is through careful segmentation of your list.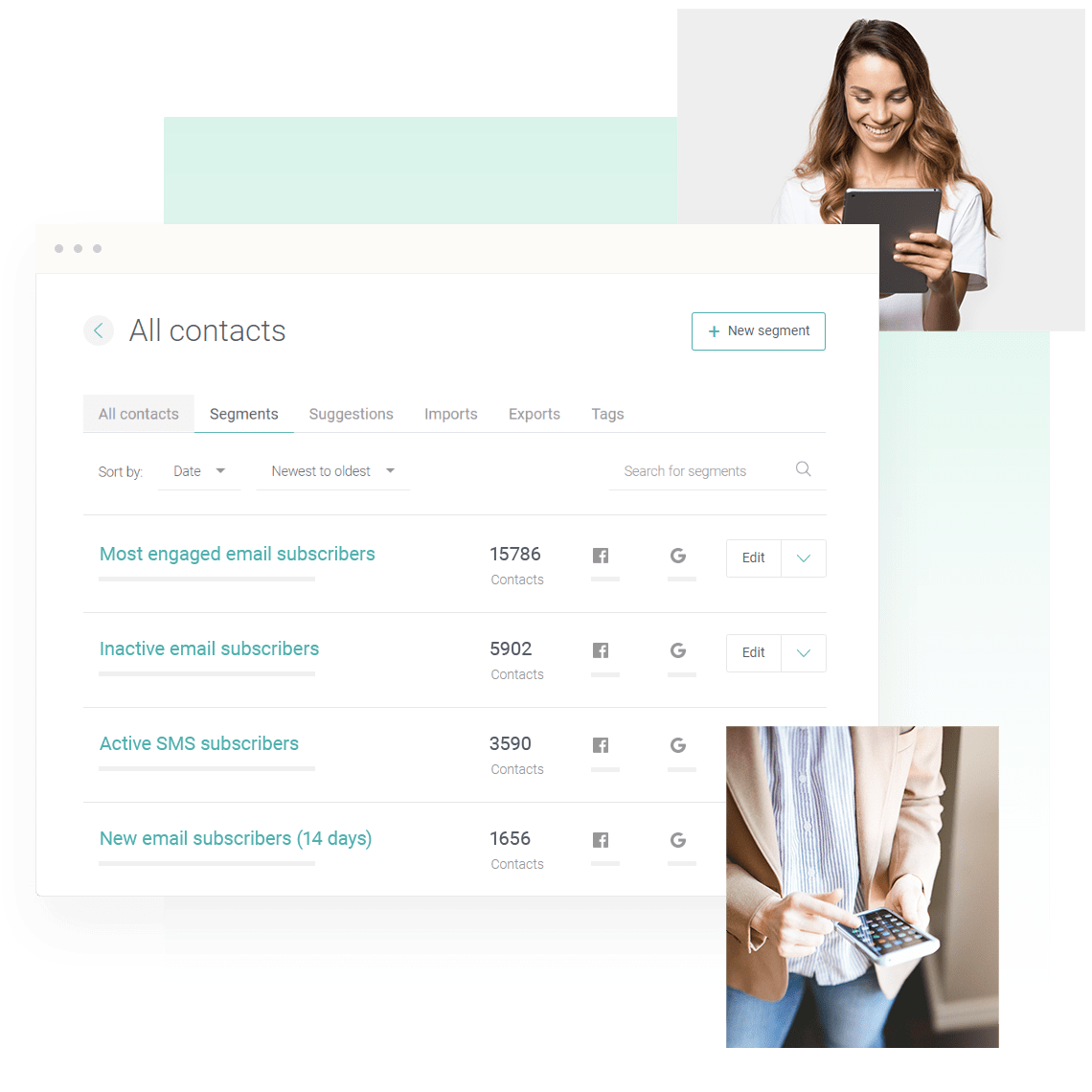 Your subscribers have different needs and interests, and this should be reflected in your emails. By dividing your contacts into various segments and tailoring your content to them, you can expect an increase in click rates, email deliverability, engagement, and revenue. In fact, relevant emails drive an impressive 18 times more revenue than batch-and-blast emails.
While segmentation might seem complicated and daunting at first, with Omnisend, it's actually very easy to achieve. You can combine multiple rules, select various filters, and narrow down your targeting to specific contacts who will find your messaging most relevant.
Let's take a brief look at some of the most popular and useful ways to segment your audience:
These are just a few of the ways you can choose to segment your audience. You can also consider simpler options like age, gender, location, interests, shopping behavior, preferred channel, etc. The only limit is your imagination!
4. A/B testing email campaigns
You'll never know which of your strategies are working best without a thorough testing regime, and email A/B testing is an effective and popular way to do this.
A/B testing allows you to send out two variations of a particular metric (subject line, for example) to a percentage of your recipients so you can see which one performed best.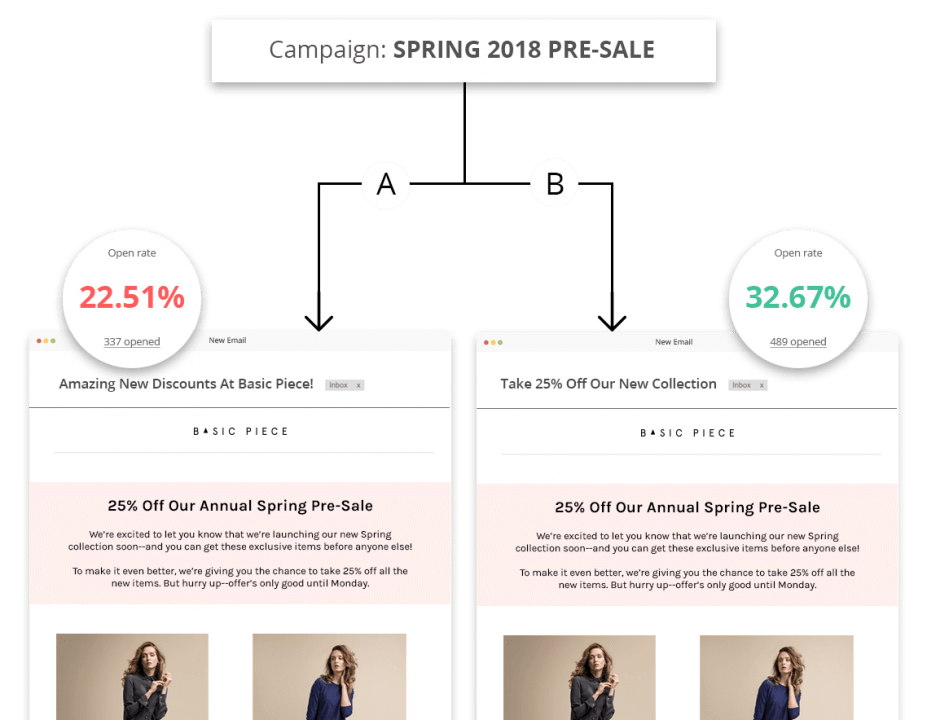 Sender name and subject line are the most common variables to test, as they are the first thing that the email recipient sees. If these aren't tested and optimized, you'll never know whether you're leaving money on the table. Check out our blog for tips on how to write killer subject lines.
Try various subject lines and sender names to get your open rates up to the highest possible level before moving on and making your automated messages even more powerful. Omnisend offers the possibility for thorough testing of your automated workflows, so you can get unparalleled insights into your audience's preferences and tailor your messaging accordingly.
5. Analyze and measure your email marketing performance
If you can fully leverage the valuable data that your campaign produces, you can use it to refine your strategy going forward.
Omnisend produces detailed revenue and engagement reports for each campaign you run, giving you insights into what's working and what needs adjustment. You can't improve what you don't measure!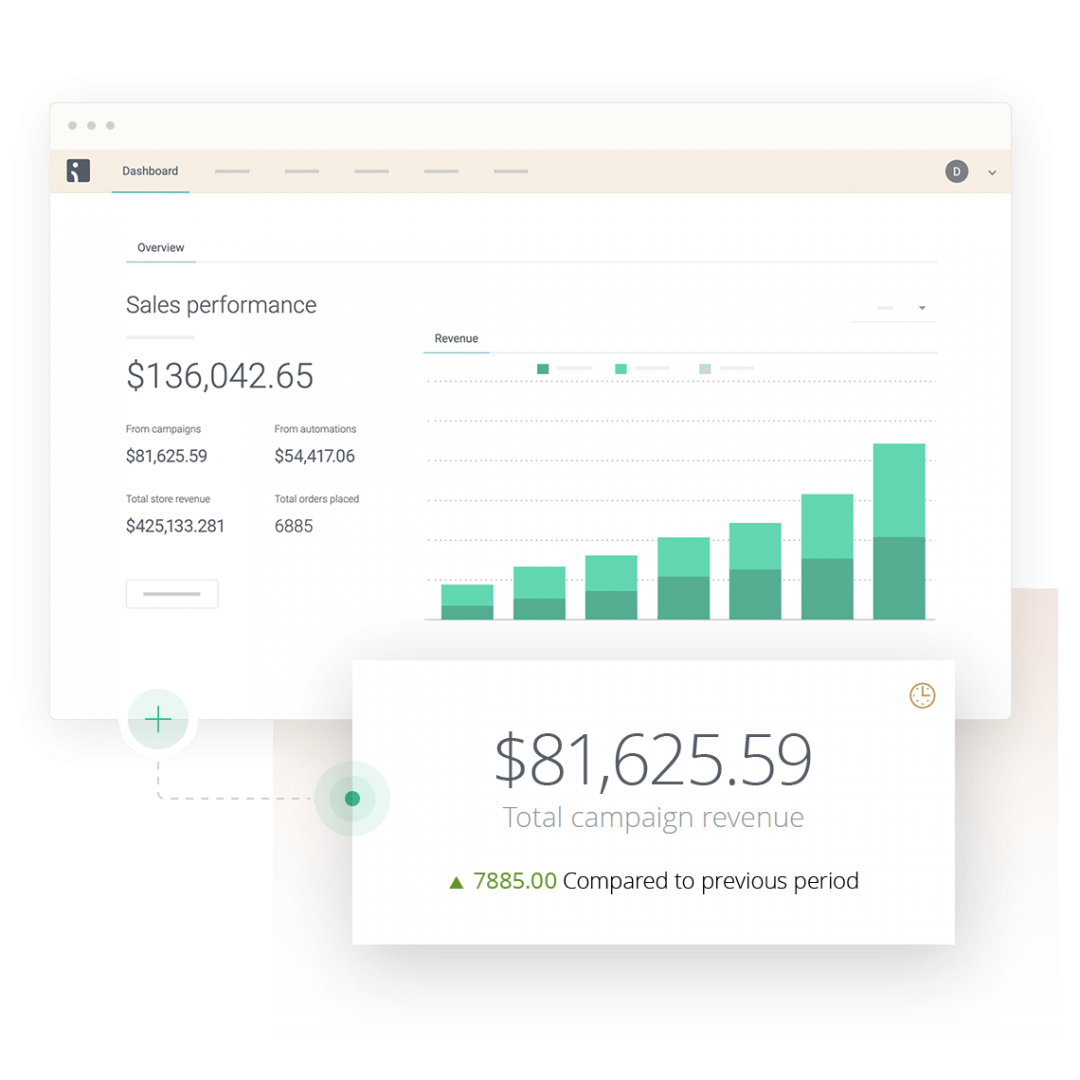 Make use of your analytics reports to adjust your campaign, keep track of your subscriber sign-ups, monitor your open and click rates, and see where your subscribers are clicking most frequently in your emails.
With this information, you'll be able to build better, higher-converting emails by including the products and content that your subscribers respond to and appreciate.
Email marketing campaign strategies: Wrap up
Email marketing continues to grow, evolve, and deliver an incredible return on investment if done right. However, with the added complexity of higher customer expectations and new features comes the need for a more nuanced strategy. Sending generic email blasts of uninspired content no longer cuts it.
Targeted, highly-relevant messaging is a must nowadays, and you'll quickly find yourself falling behind the game if you can't find a way to implement this into your strategy.
Test out some of these tips for yourself, and find out what works for you. Keep on top of the latest trends and be open to trying new things. Your subscribers will show their appreciation with increased engagement, and you'll be rewarded with increased sales!
Get started with Omnisend today & drive sales on autopilot with pre-built automation workflows
Start Free Today
related features
Want more sales?
Omnisend has everything you need to succeed.
Start free now
No Credit Card needed.