Drive sales on autopilot with ecommerce-focused features
See Features
Responsive Email Quick Guide: Your Gateway to Better Email Campaigns
Reading Time:
7
minutes
Many people check their emails through mobile devices. You should keep this in mind when planning your email marketing strategy.
After all, if you don't make it look good on their phone, then you risk losing 46% of your audience, as this is how many users have reported they check emails on their phone. This number of users seems all the more important when considering how 4 billion people use emails, which is just under two thirds of all people on the planet.
Keep in mind that you should make use of multiple statistics to further support your responsive email design. It helps you to increase conversions, reach more customers, and continue to adapt your email marketing strategy to your customers and their needs.
As you use responsive emails, you can appeal to more users and turn them into customers.
If you struggle with sending well-formatted marketing emails to different mobile devices, then you will be missing out on a wide audience. To address this, you should use responsive emails to overcome this problem.
We're here to teach you about responsive emails and how to use them effectively to benefit your business with this responsive email quick guide.
What is Responsive Email?
A responsive email is an email that automatically adjusts according to the device a person views it on. For example, whether a subscriber opens your email on a phone or laptop it will render appropriately based on the screen size.
This means that responsive emails adjust their format, style, font, margin, and size based on the screen a person uses. These changes can build up customers' trust in your omnichannel marketing efforts, as they will see that you can work effectively through different marketing channels.
By using marketing emails that adapt to the devices of your subscribers, you can ensure that your emails reach your audiences in a clear and effective way.
Some may wonder why they should use responsive emails. After all, do people really care about how an email displays on their device? In so many words, yes.
Responsive Email
You may be surprised to learn that the way your marketing email displays could affect customers' perception of your business. If you don't take the time to adjust them correctly, people will feel like your business is lazy or careless for overlooking the details. When you focus on details and make things correct, you leave strong impressions on your customers.
You show that you value the customer experience
You show that your business wants to provide them with the best services possible
When you demonstrate these qualities to your customers, they begin to feel loyalty towards your company. They'll be more likely to support a business that pays attention to the fine details. It shows that you care enough to provide an excellent experience through responsive email design. By creating responsive marketing emails, you show these qualities to your customers.
To further support using responsive email design, let's look at some statistics.
Different Email Devices
While many people access their emails through laptops and their phones, you need to think about the devices they use for emails. Nowadays, there are many ways to access emails. Knowing about those devices should help shape your responsive emails.
For example, if you adjust your email to only fit mobile devices, then it will appear too small for other users. However, when considering different devices, catering to mobile devices should be seen as a necessity. This is because mobile devices account for approximately half of worldwide website traffic.
You need to consider how it displays on other devices and how to approach it— Something many ecommerce brands struggle with. The solution to this problem is responsive emails.
The Time Emails are Sent to Devices
Another important factor to consider when using responsive emails is the time that your audience usually check them. If you don't cater to different devices, you risk losing your audiences' engagement as they may go from device to device throughout their days.
The table below shows when people check their emails, varying from being at their desk at work or even when they're lying in bed. This means that they'll go from laptop to mobile device, which makes responsive emails vital.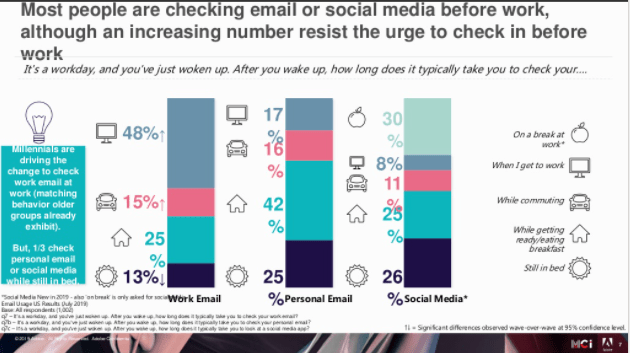 Responsive Email Templates
With responsive email templates, you need to consider the different ways that your email design will display. While this includes screen size, you also need to consider different email websites and apps. Some may support responsive emails, but others won't.
Make sure to do the proper research to find out which apps or websites will support your responsive emails.
You can use a different email design to adjust your emails for your subscribers. Companies can use an email design based on the following three templates:
Scalable
A scalable layout keeps things simple and easy. You create a single column for your emails and you have the size of the column change depending on the device that a person uses when they look at it. It provides the simplest fix, but it might not provide you enough variety to make your emails stand out from competitors.
Fluid
A fluid approach has your emails adjust the size based on percentages. This means that the images and buttons in your email will adjust by a percentage based on the size of the screen. However, this template makes it so that some people may have empty whitespace on the margin of the emails.
Responsive
With responsiveness, you have the best options available. You set it up so that it displays the email in a specific way based on the device that the subscriber uses. In the above example, people on a desktop get a different view than those using a mobile device. However, the style and information stays consistent.
While it requires more work, responsive email templates give you the most flexibility and freedom with your email design.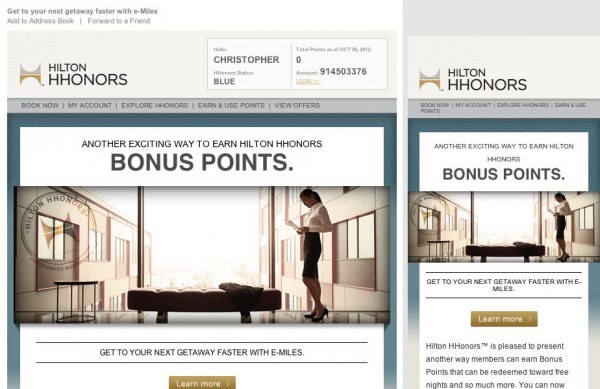 Responsive Email Design
Some platforms require Hypertext Markup Language (HTML) and Cascading Style Sheets (CSS) understanding for responsive emails. This means that you need to use these computer languages to let the browser know what to do with your emails. For example, if someone uses a mobile device, you can use HTML and CSS to make the display zoomed in and adjusted for the screen.
However, this knowledge can be specialised or inaccessible for some. At Omnisend, all of our email templates are automatically fully-responsive. Not only do they look good on any device, they also feature additional visibility control for both mobile and desktop devices.
Look at your demographics
Whenever you create responsive emails, you need to look at your demographics.
Find out what types of devices your subscribers.
Create responsive emails for them.
Consider the most and least used mobile devices.
Try to cover as many options as possible.
Run tests
You should always test your emails, do so by sending emails to different employees.
Have each person open your email on different devices.
Ensure the email displays correctly on each device.
If you code your own emails, make changes to the HTML and CSS based on feedback.
Omnisend templates are easy to edit and change, which makes these changes simple to execute and experiment with.
Keep the subscriber in mind
Most importantly, always make changes to your responsive emails with your subscribers in mind.
Improving the customer journey helps both your subscribers and new audiences stay happy.
This ultimately leads to conversions and sales.
If you make a change, make one that benefits your audiences.
By tending to your audiences, you'll also improve your email marketing metrics.
Consider your font size
Remember, if your font is too small, it will be difficult to read on smaller screens.
The minimum font size is 13-pt for most mobile devices.
Use at least 13-pt for the main text
Use at least 20-pt for titles.
This makes your newsletter will be readable for users on both desktop and mobile devices. And don't forget to choose a font style that matches your brand.
Keep to a single column layout
Consider keeping things simple with a single column layout.
Max-width of one column means less moving from side-to-side is required.
Layout ensures an easy scroll of your email design.
Margins can fit neatly across all mobile devices.
Target different devices with media queries
By using media queries, you can cover all your bases with responsive design for different devices.
Most mobile devices can be captured with media queries.
The max device width is 640px and max device width is 479px for these queries.
To target a larger range of mobile devices, use special styles and media queries to match them. Consider alternative devices, such as tablets and max-width Androids.
This list of media queries explains more about responsive design for many standard and popular mobile devices.
Optimize your images for mobile phones
Mobile phone screens are generally bigger these days, and have much better screen resolutions.
It's recommended to be cautious with the amount of images used.
Using less images cuts down on load times and increases mobile accessibility.
Consider using background images that let you put live text over images.
Using tools like background images are perfect for email headers.
Customer Feedback
Even when you finish setting up your responsive email design, you need to find out how your subscribers feel about your email campaigns. We suggest getting customer feedback through data and surveys.
You should reach out to customers with surveys. After you send out the emails, ask them about their experiences so that you can see what you need to change. This will point you in the right direction.
Asking questions can help you to know what areas of your responsive emails you can improve on. For example, do subscribers face mobile display issues or not like the email's design? Keep these questions in mind so that you can create effective surveys that will help you improve your responsive design.
Make sure to listen to customers. You can apply their feedback and provide them with well-designed emails that improve their customer experience—leading to increased email marketing revenue.
Final Tips
As a brand, you want to make a strong impression on your subscribers. Creating effective emails with a nice, responsive design and correct displays will help you to accomplish that.
As you use responsive emails, you can make sure that your emails display correctly and meet the needs and wants of your customers.
Omnisend's fully responsible templates take the work out of creating beautiful, mobile-friendly, and customer-pleasing emails.
Start Free Today
related features
Want more sales?
Omnisend has everything you need to succeed.
Start free now
No Credit Card needed.