Drive sales on autopilot with ecommerce-focused features
See Features
Reading Time:
7
minutes
A great email template builder is the cornerstone of any online store's marketing program. After all, once you've built up your email list, you want to communicate with your subscribers and nudge them along towards making that first purchase. (And then, after that, more repeat purchases.)
An email template builder is essentially a tool that allows you to design or build an email template that you can then reuse later. Email templates for ecommerce allow your emails to be more than just "pretty" and on-brand—they can help drive serious sales.
Unfortunately, it's still widely believed that a powerful email template builder that allows you to create professional-looking emails in minutes must be expensive.
Spoiler alert: This isn't true.
Today we'll look at the five best email template builders you'll want to check out, including both email template plugins that you use with different email service providers (ESPs) like Omnisend or Mailchimp, or email builders that are built directly into an ESP.
Easily design better emails that sell with pre-built templates
Start free
Omnisend
Omnisend is an email service provider, like Mailchimp, but focused specifically on ecommerce. It has an email template builder that's incorporated into its email marketing platform, meaning you can use only one service (the ESP) instead of two (a template builder + ESP).
Omnisend is known for being one of the easiest-to-use ESPs on the market, and a big part of that is its email builder that allows beginners or advanced users to create their emails.
Firstly, it has a nice library of ready-made templates that you can edit to your heart's desire. Even better, its new Brand Assets feature means that your branding (logo, colors and fonts) is automatically added to these email templates by default.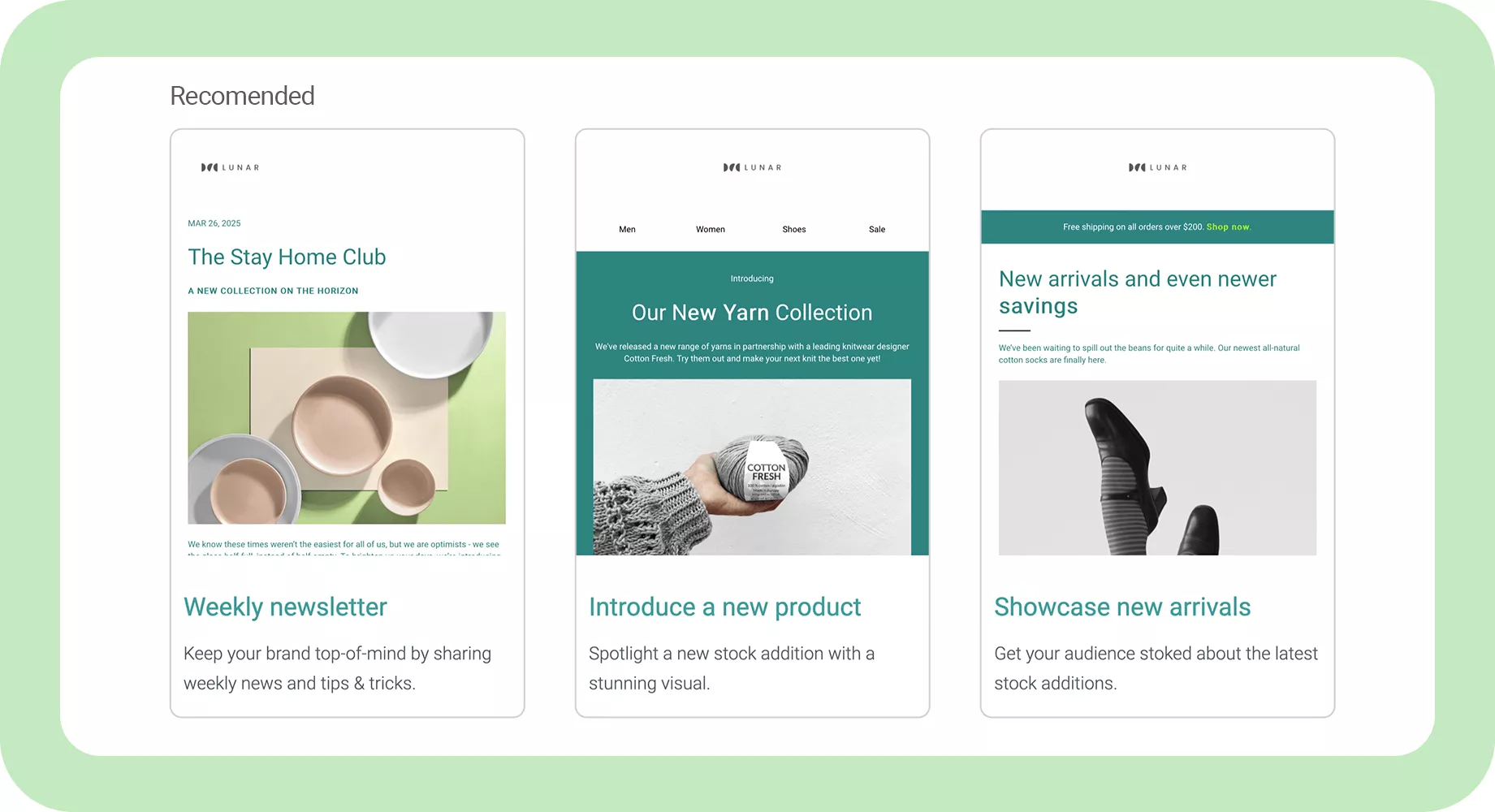 Even without the branding automatically imported into your email templates, you can use the library of templates sorted by different email goals: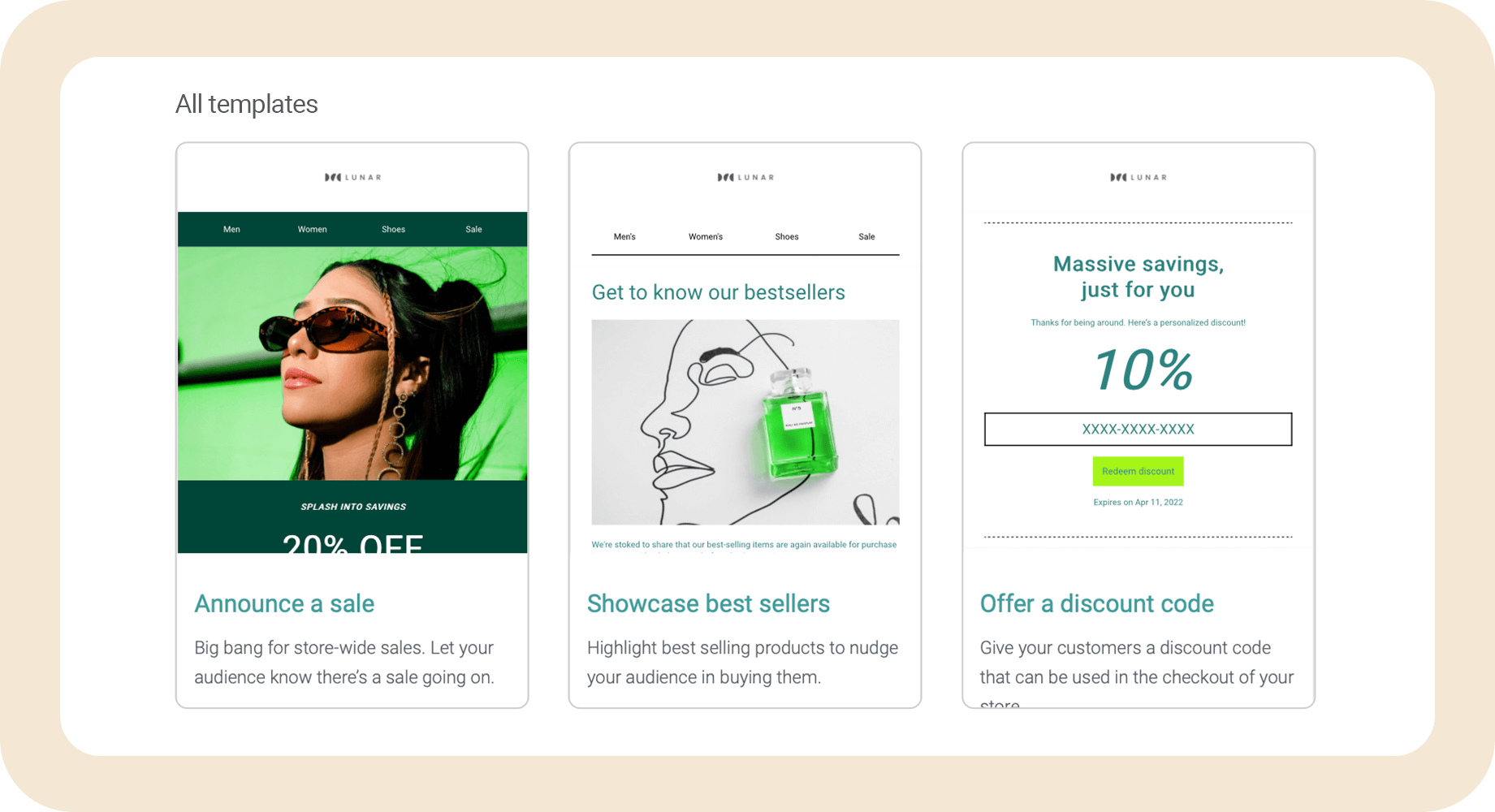 Once you've chosen the email (either a template or from scratch), its drag-and-drop builder makes it easy to customize the emails to create your designs: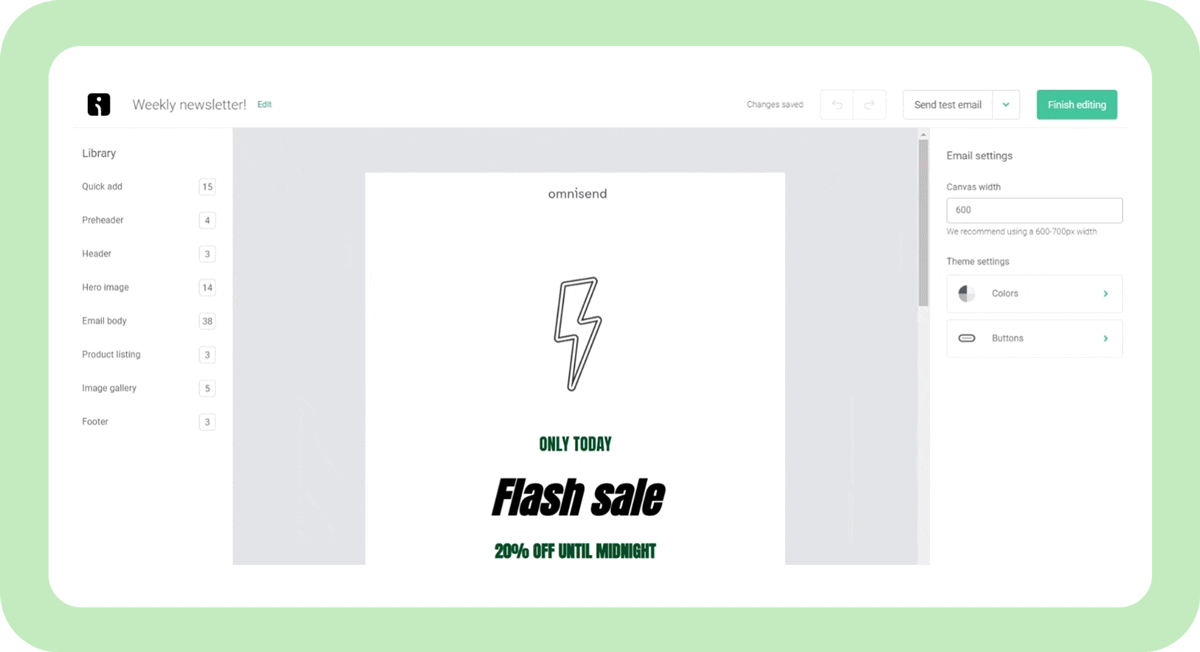 Another feature you'll love is the ability to adapt your design based on device. You can change menu items, images, text, and much more for desktop and mobile: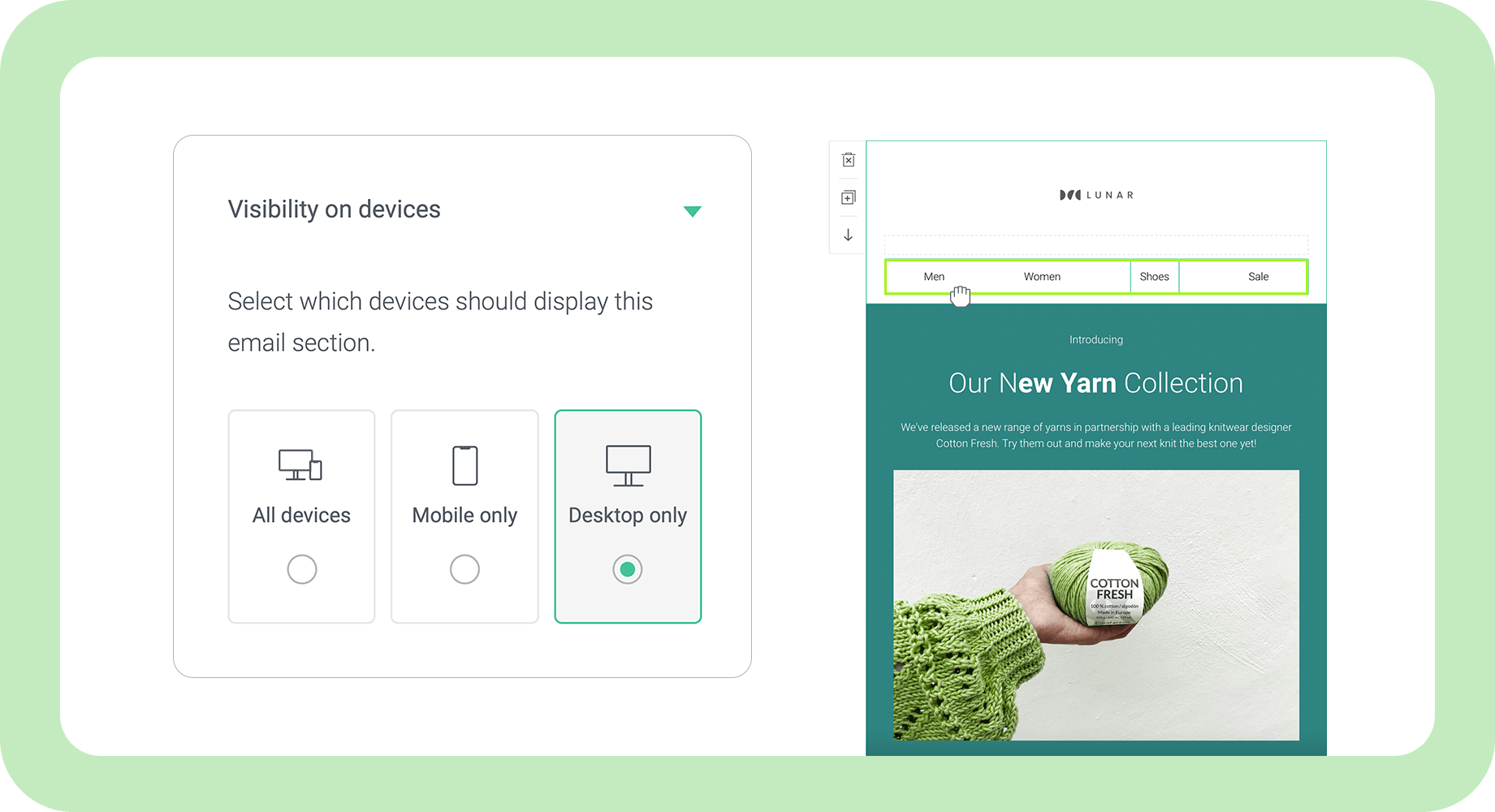 Even better, because it's built for ecommerce, Omnisend's email builder comes with extra goodies like a Unique Discount Codes block to add unique, auto-generated discount codes, and the Product Listing feature that lets you add products directly from your store without even having to leave the email editor.
Omnisend's email builder also allows for HTML content and supports a variety of file formats, meaning more advanced users can customize their emails more deeply. Once you're done designing your email templates, you can quickly save them for later use.
But what's really great here is that you won't have to pay for separate services—one to create the email templates, and a separate ESP to launch your campaigns and in general implement your email marketing strategy. You can get them both together, cutting your price and time in half.
Omnisend's plans—including the free plan—allow you to:
Create signup forms, like exit-intent popups, to collect subscribers
Set up automated emails that generate sales on autopilot
Separate your subscribers into different audiences for better targeting
Add SMS/text messaging or push notifications to your email marketing
Build landing pages to capture more subscribers
Get beginner-friendly in-depth reporting about what works and what doesn't
Again, these features are available on all their plans. You can get started now for free to see how easy it is to build emails and elevate your email marketing.
Pricing
Omnisend has the following plans:
Free plan: send messages to up to 250 contacts per month, with 60 free SMS. Unlimited features included
Standard: starting from $16/month and includes free SMS, a Customer Success Manager and 24/7 chat and live support
Pro: starting from $59/month and includes free SMS, advanced reporting, a Customer Success Manager and 24/7 priority support
Design beautiful emails more easily. Get the ESP rated highest for ease-of-use.
Start free
Mailchimp
Mailchimp is one of the most recognizable ESPs on the market offering one of the most popular email builders. While Mailchimp is not focused specifically on ecommerce, they still offer a suite of features that can help build on-brand email templates.
Mailchimp's email template builder is pretty straightforward, meaning even the most novice of users can figure out how to use it to create their emails: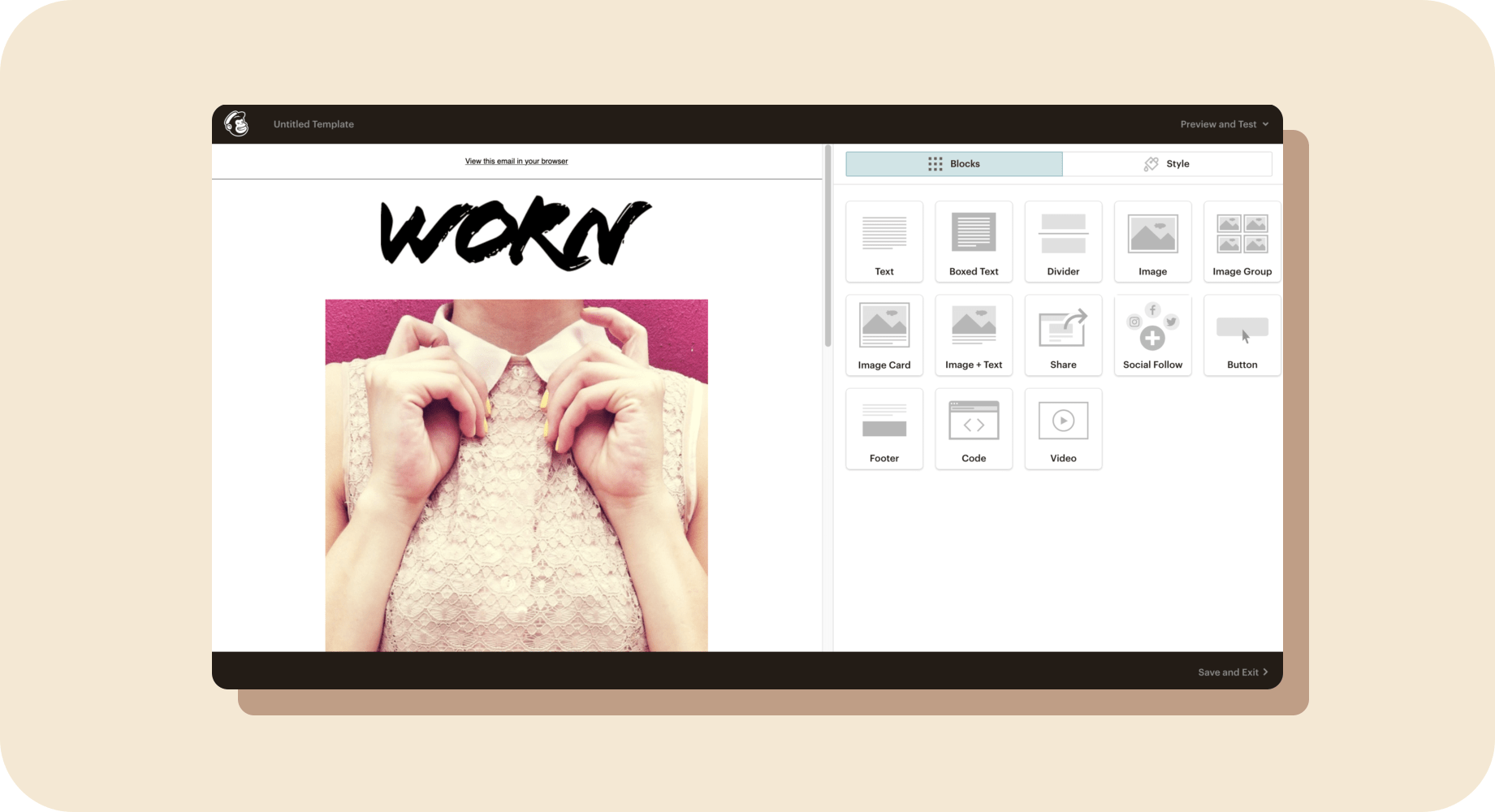 While they don't have the most extensive template library, Mailchimp does offer a good set of templates for beginners that you can use to jumpstart your template creation. Once you're done designing your email, you can save it for later use.
Like Omnisend, Mailchimp is also an ESP, meaning you can both create your email templates and use it immediately in your email campaigns.
Pricing
Mailchimp's pricing has become less clear as it expanded its offerings. When it comes to email marketing, there are a few options for plans:
Free plan for sending up to 10,000 monthly emails. However, their email features are severely limited
Paid plans starting from $11/month, with each tier releasing more email marketing features that you'll need for successful campaigns
Topol
Topol is strictly an email template builder, allowing you to create beautiful email templates—but you will need to import that saved template into your ESP of choice.
While this means that you'll have to pay for—or at least learn to use—two separate tools, Topol's strict focus means that you won't be lost in its tool. If your only goal is to create an email template, then Topol fits the bill.
Because of this focus, Topol has an impressive library of ready-made templates for many occasions and purposes: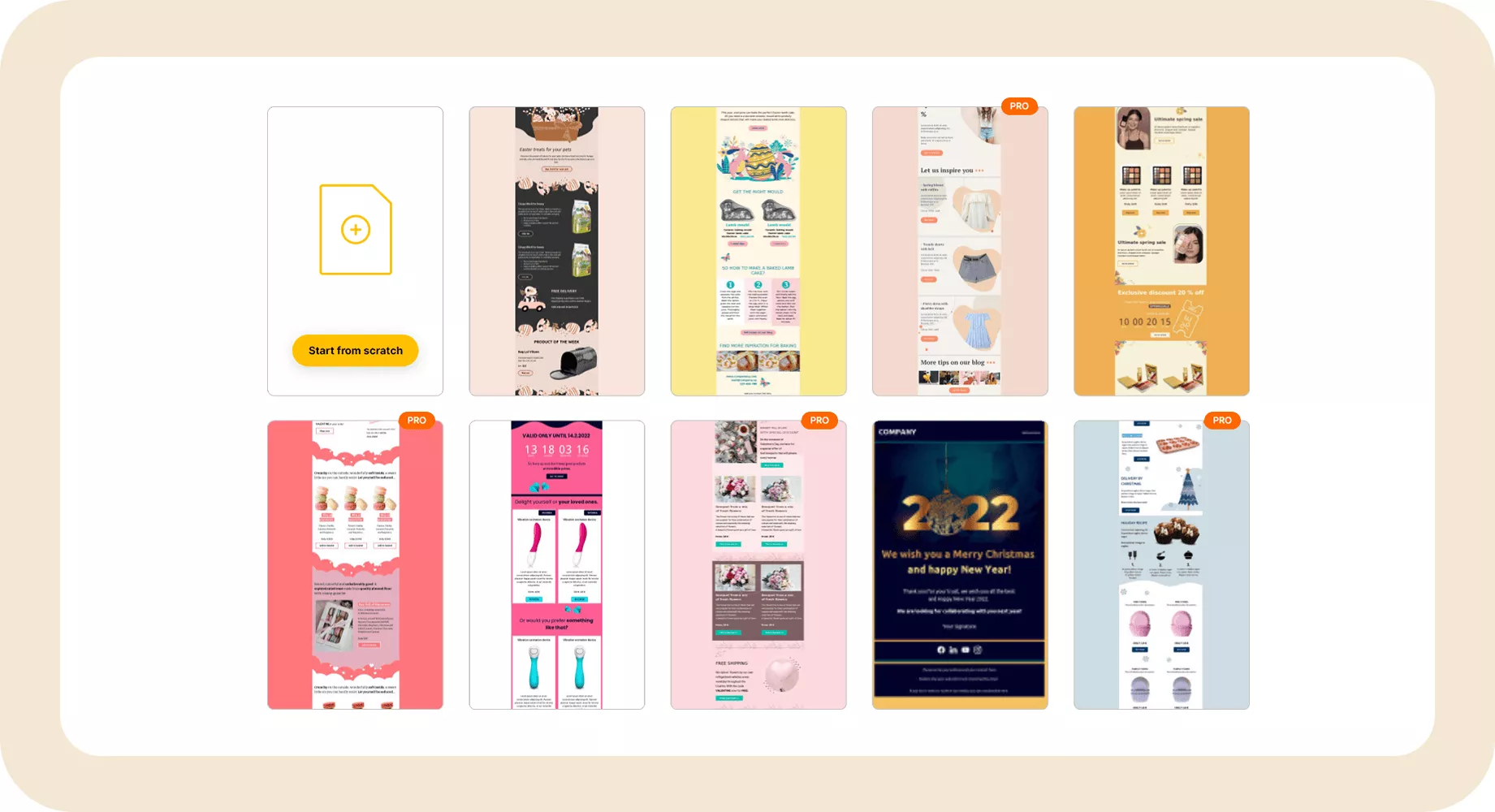 They have a drag-and-drop email editor that creates responsive email templates, an HTML editor, and multiple file support: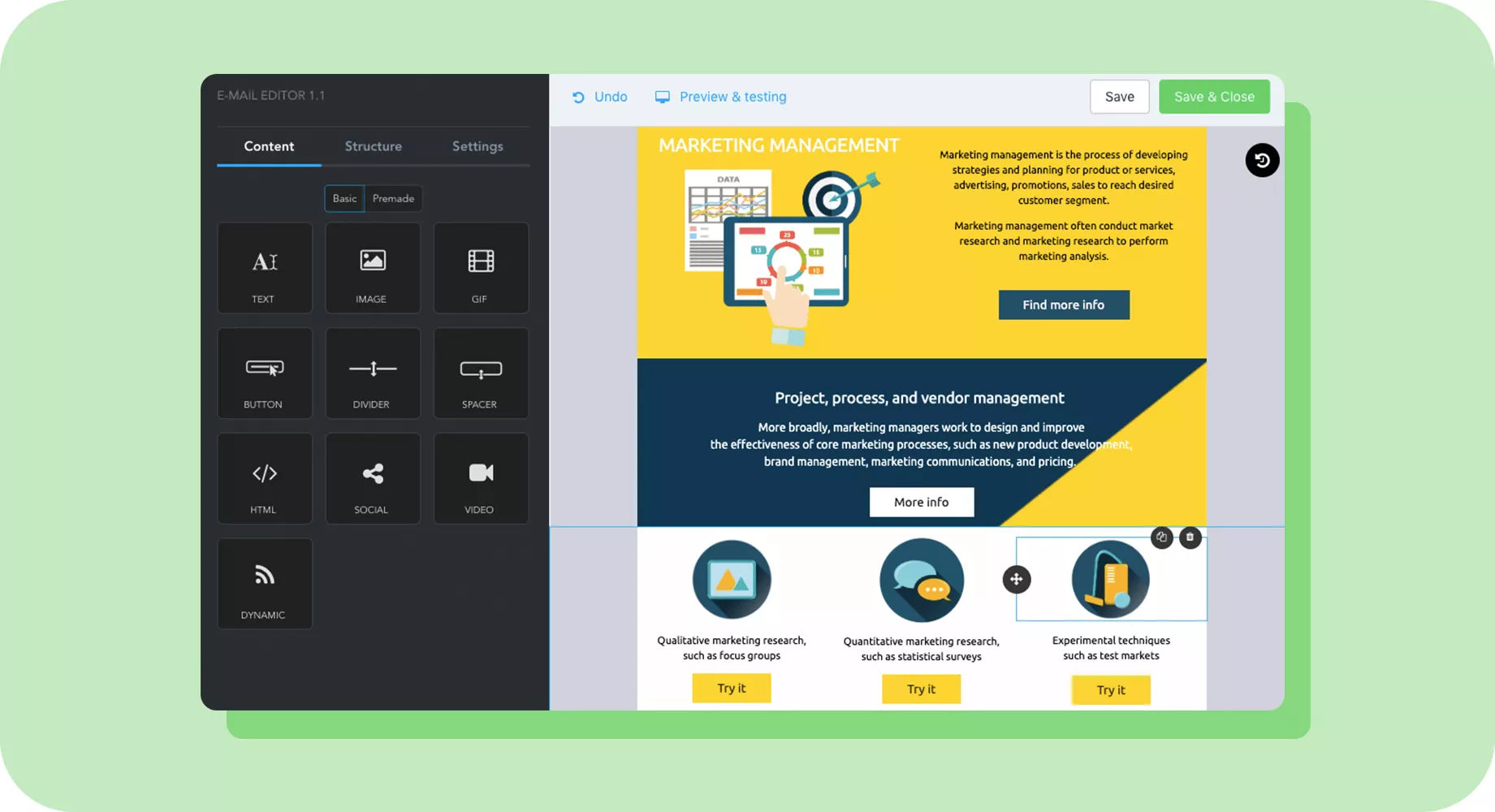 Pricing
Topol offers a 14-day free trial and free plan with limited features. The paid team plan starts from $15/month
Stripo
Much like Topol, Stripo is an email template builder that integrates with ESPs like Mailchimp and Omnisend. It offers more than 1,000 pre-built email templates, an easy-to-use interface and ready-made HTML and CSS modules for more advanced users.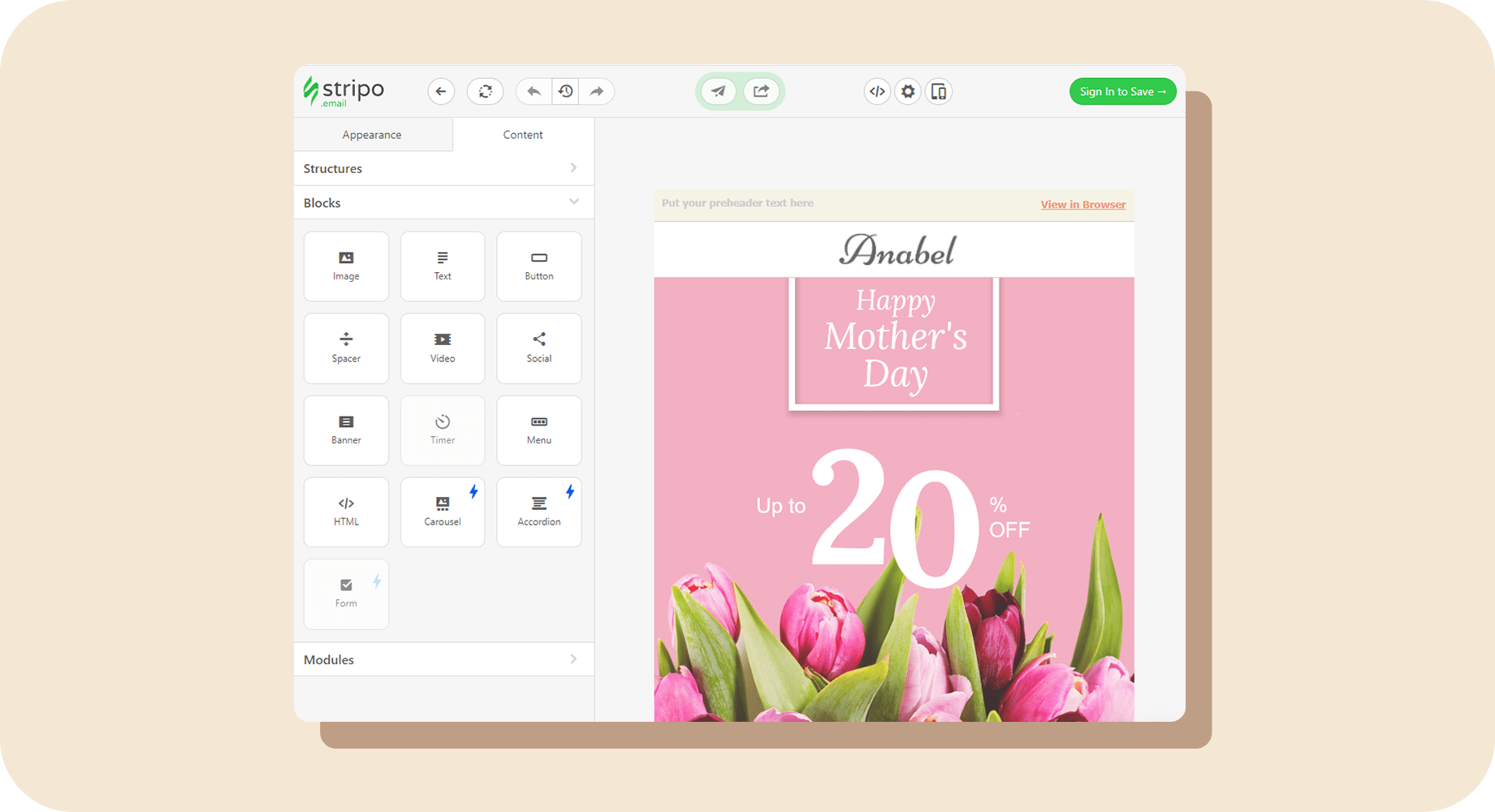 Stripo has a good amount of features that will make creating and exporting email templates much easier:
Drag-and-drop editor that allows anyone at any skill level to create email templates quickly
Various image and content editing tools
Flexible add-ons like custom storage, merge tags and more advanced features
Pricing
Stripo has a lifetime free plan that allows you to create up to 10 email templates and 4 exports per month. Their paid plans start from $15/month when billed monthly.
BEE
BEE originally stood for "Best Email Editor," but now that they've expanded their offerings, they're shooting for "Best Editor Ever"—a relatively tall claim.
But BEE has plenty of features that make it a strong contender for this title:
Nearly 1,200 pre-built email templates to choose from
WYSIWYG email editor that lets you easily create and edit emails
Landing pages and one-page sites for those looking for slightly more than email templates
Easily convert emails into landing pages
Like Stripo and Topol, BEE is intended to be used with another service, your ESP like Omnisend or Mailchimp. It does offer a great export experience, making it easy to design the email templates in BEE and then import into your ESP of choice.
Its email editor is pretty standard, in that it's drag-and-drop and allows you to edit in blocks.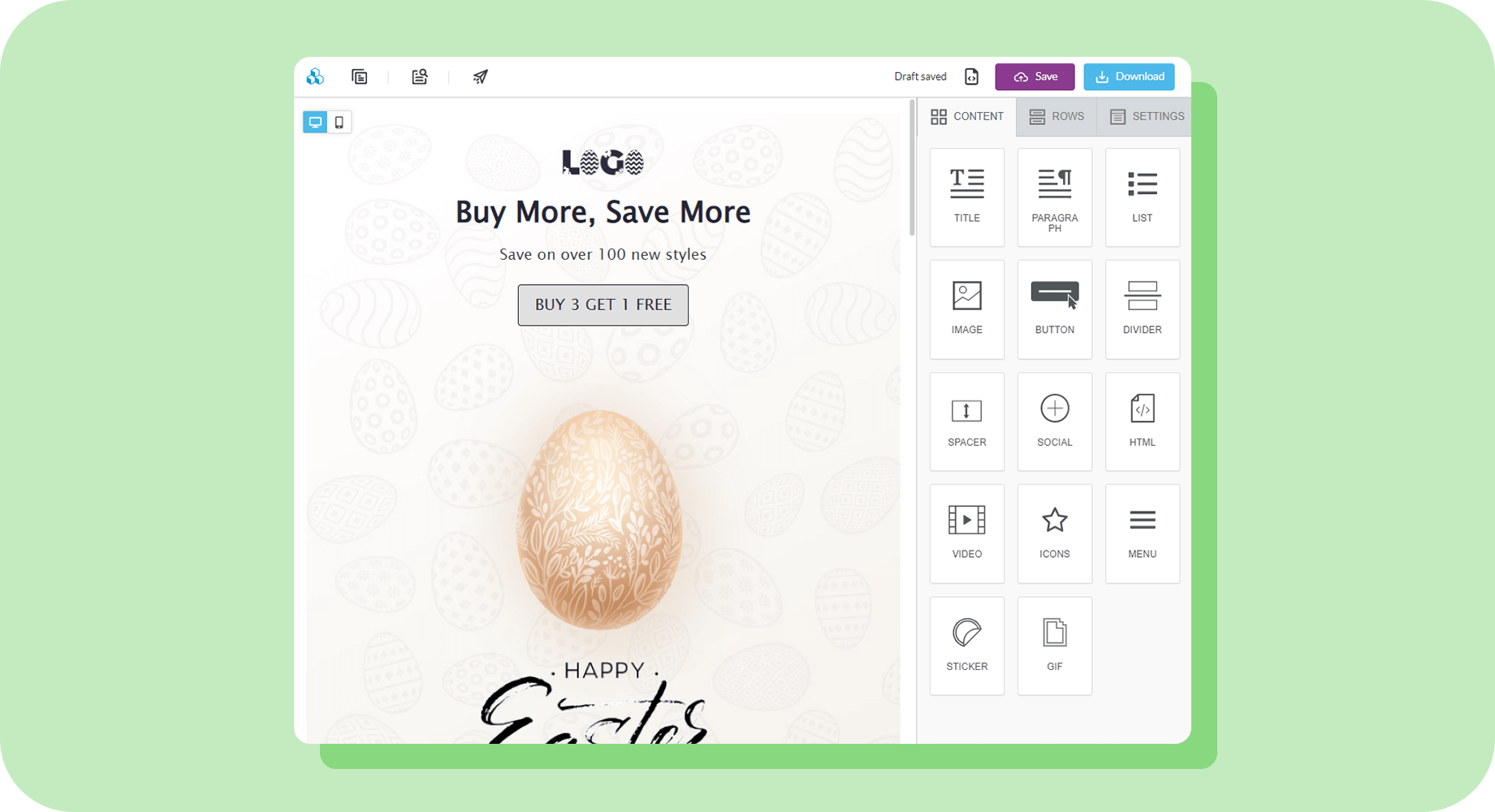 However, that also makes it a strong contender for the "best email template builder" title it so explicitly is seeking—mostly because users new to the platform can easily get started since the editor is so standardized across different email builders.
Pricing
BEE (or specifically BEE Pro) has a free plan that allows for up to 10 emails and pages. But unlike Stripo, it gives you unlimited exports. Its paid plan starts from $30/month, and offers many more features.
Pricing comparison table
Here's a quick look at all the pricing and best features for each email template builder we talked about in this article. You'll also notice whether it needs to be integrated with an ESP (meaning you'd have to pay for both services) or if it's built into their service.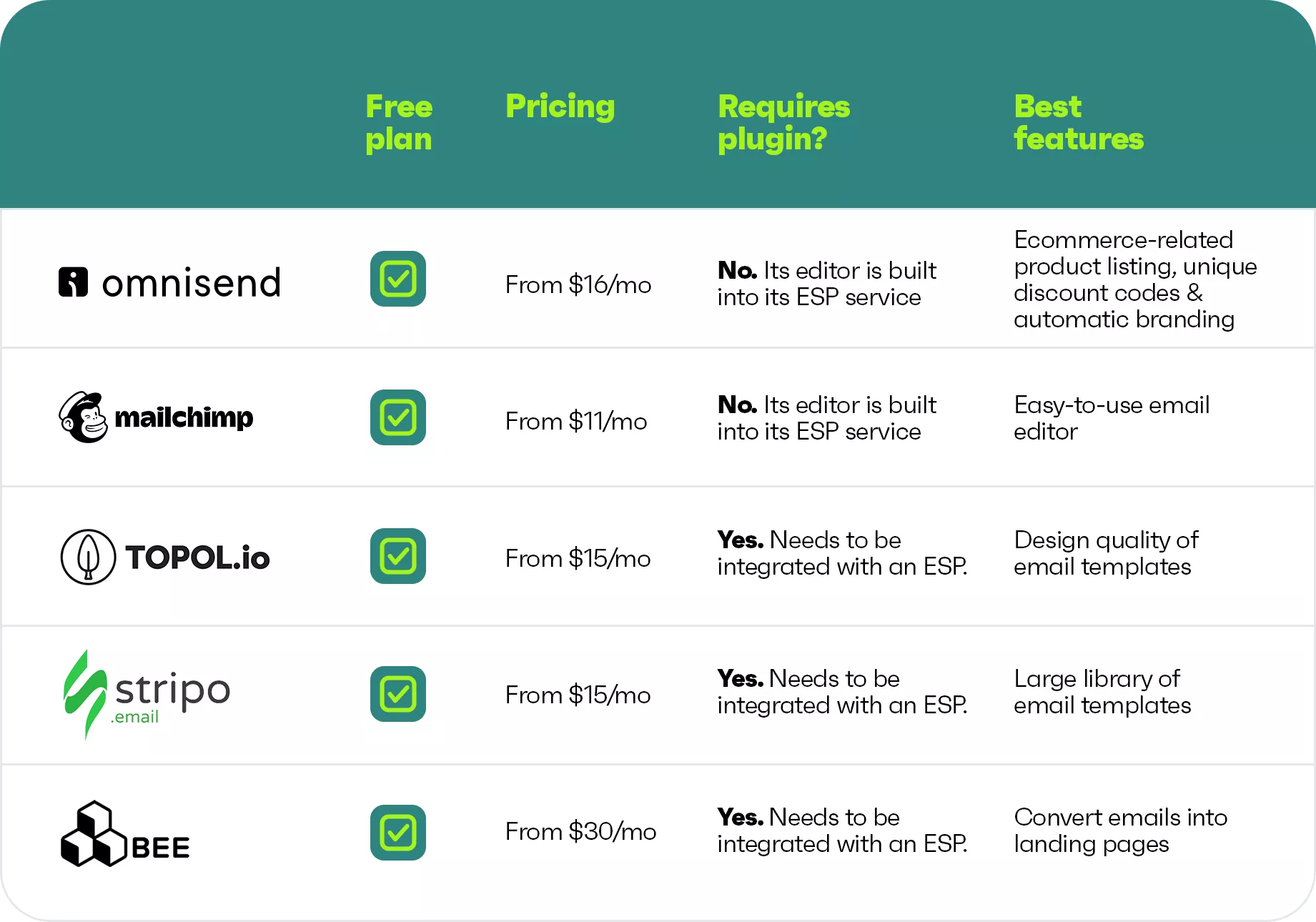 Final thoughts
At this point, it'd make sense for us to declare one of these services as the best email template builder. But, of course (repeat with me): it all depends on what your goals are.
If you want to simply create a few email templates, then any of these email template builders will do. Even better, they all offer a free plan of some kind, and for creating email templates rarely, they will all work out fine.
If you're looking to use these emails as part of your email marketing strategy—that is, to collect your subscribers and communicate with them smoothly, all while saving money—then it doesn't make sense to pay for multiple services. You can use either Mailchimp or Omnisend, since their email template builders are baked into their wider email marketing platforms.
And if you're looking to use these email templates specifically for ecommerce—if you have an online beauty, fashion, gaming, or whatever kind of shop—then Omnisend will be the best choice.
You can then be on your way to not only creating beautiful emails—quickly and easily—but to make sure they generate sales consistently.
Find out how to build beautiful emails that get sales and fit your brand. The free plan offers unlimited features.
Start free
related features
Want more sales?
Omnisend has everything you need to succeed.
Start free now
No Credit Card needed.