Drive sales on autopilot with ecommerce-focused features
See Features
Reading Time:
5
minutes
Right now there's a lot of buzz around SMS marketing across the ecommerce field as customers are showing incredible engagement.
But why? What do text messages offer that other marketing tools don't?
Texts are quick to send: no design needed, short copy.
Texts are quick to read. Over 90% of SMS messages are read within 3 minutes of receipt.
Texts stand out. This channel isn't as highly-saturated as social media or email.
Texts generate revenue.
These are four main reasons why SMS marketing is so attractive to retailers. Let's take a look at how to start your SMS program in four simple steps.
1. Start Gathering Customer Phone Numbers
Collating and creating a list of customer phone numbers is critical as you start your SMS program. There are many online and offline ways of doing this. These are a few examples:
Add an extra field for phone number on your online sign-up forms. This way, you'll be able to collect phone numbers AND emails from your new visitors. To boost registrations, try offering an incentive – a reason for them to do so – as Alastin demonstrates n the example below: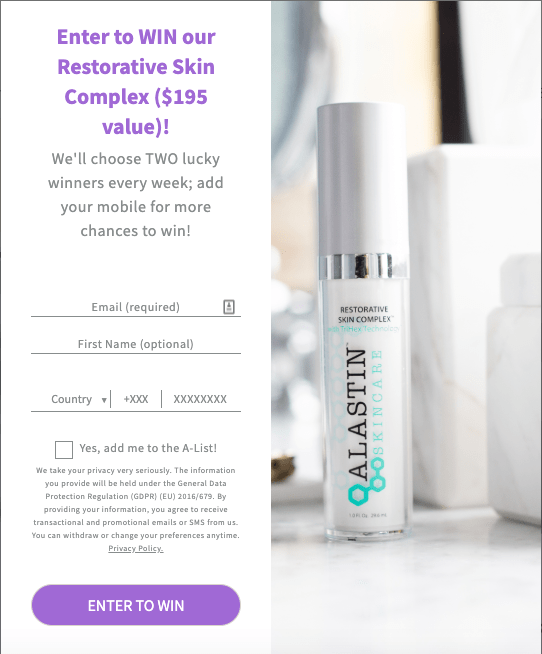 Note: Notice the legal data disclaimer. Be sure to include it in your sign-up form to stay compliant with SMS marketing regulations.
Ask existing customers to sign up for your SMS program.
Reconnecting with an already-engaged audience – like your existing customers – with an email offer in exchange for their phone numbers is also very effective. That's what Brooklinen did just before the holiday season. They offered early-bird access to their biggest sale via email (see below). The email led to a dedicated landing page, where they were asked to leave their phone numbers.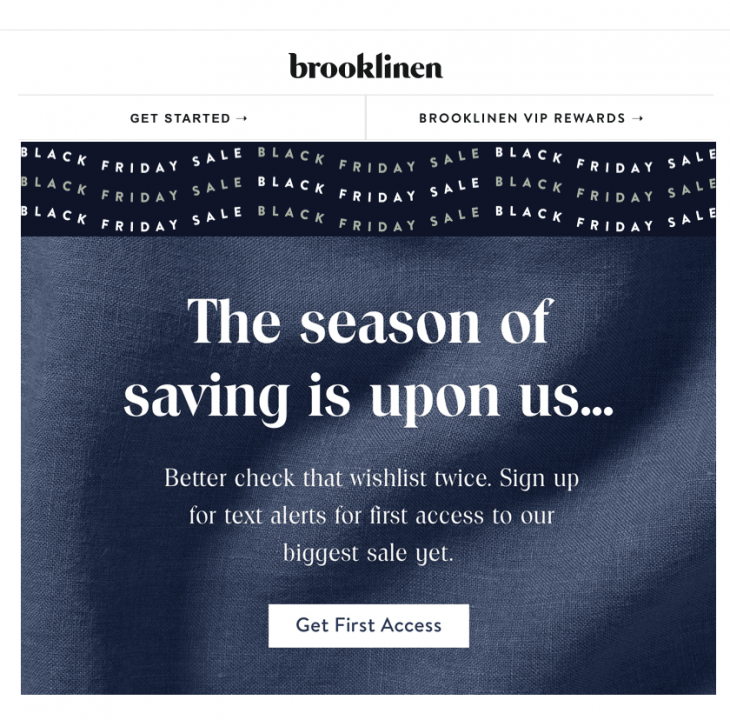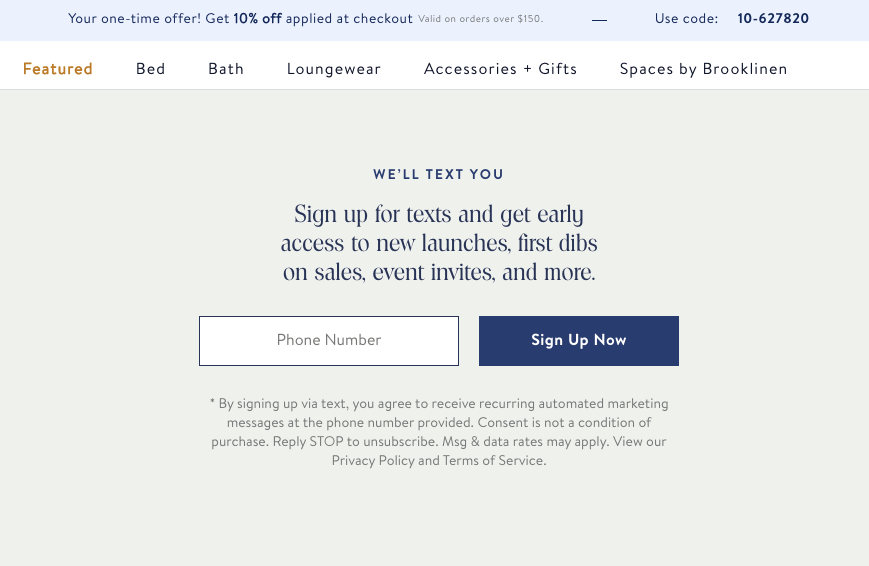 Ask for your customers' number at the on- or offline checkout.
Note: If you're on Shopify, here is how to do that.
Collect SMS numbers at your brick-and-mortar or pop-up shops, such as by using a tablet with a sign-up form for customers to fill out.
2. Send Your First SMS Campaign
You've grown your SMS subscriber list. Now it's time to send your SMS campaigns. Creating an SMS is simple. All you need is a short and compelling message.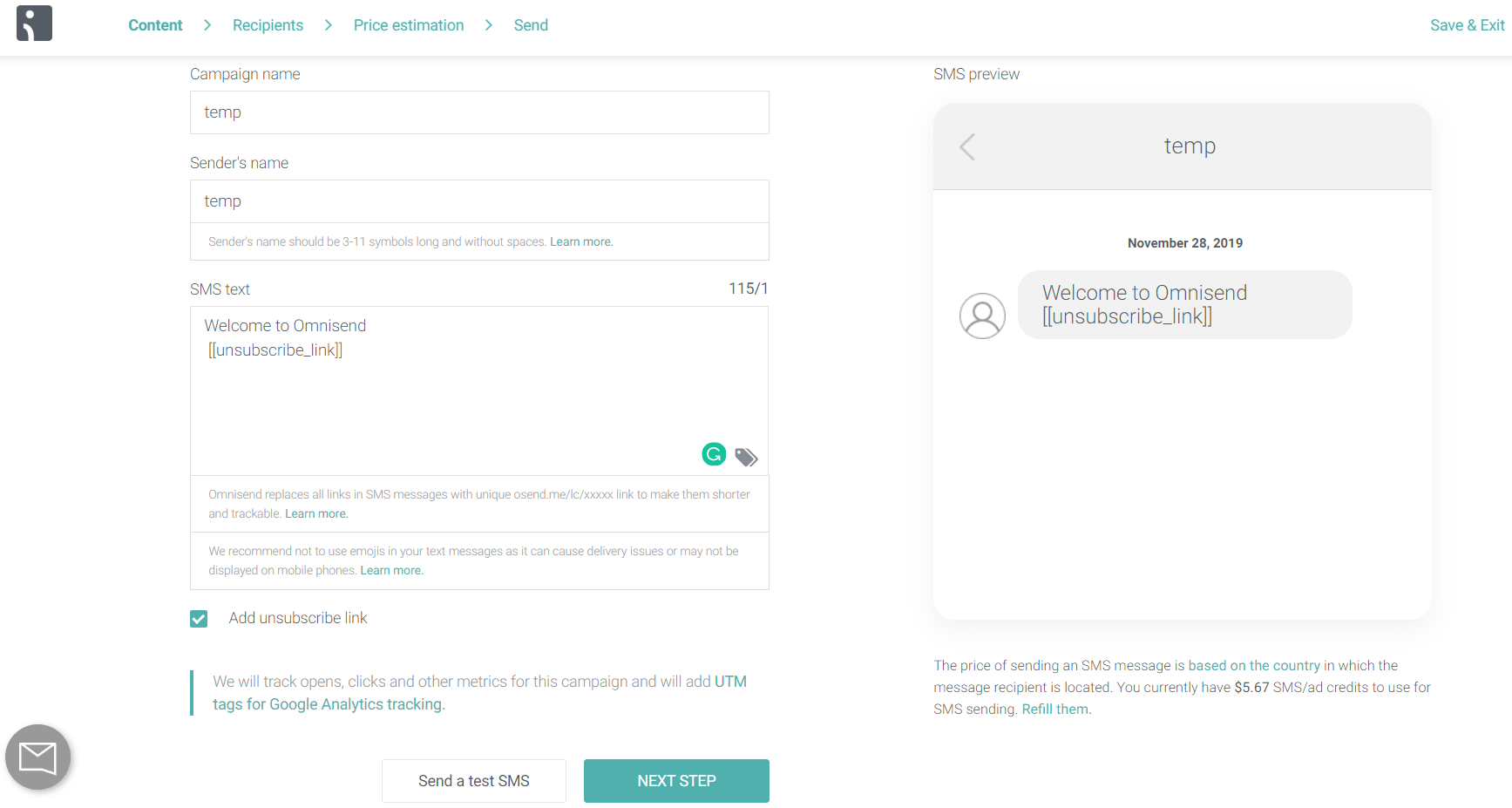 SMS messages are perfect for time-sensitive promotions and reminders, like flash sales or offer expiration reminders, so look for opportunities such as these to send your first message. Of course, how you use SMS is completely up to you.
SMS works as both a stand-alone channel and combined with email campaigns. For example, imagine sending texts to email campaign non-openers two days after the initial message—that could really boost subscriber engagement! Here's how to do it step by step with Omnisend.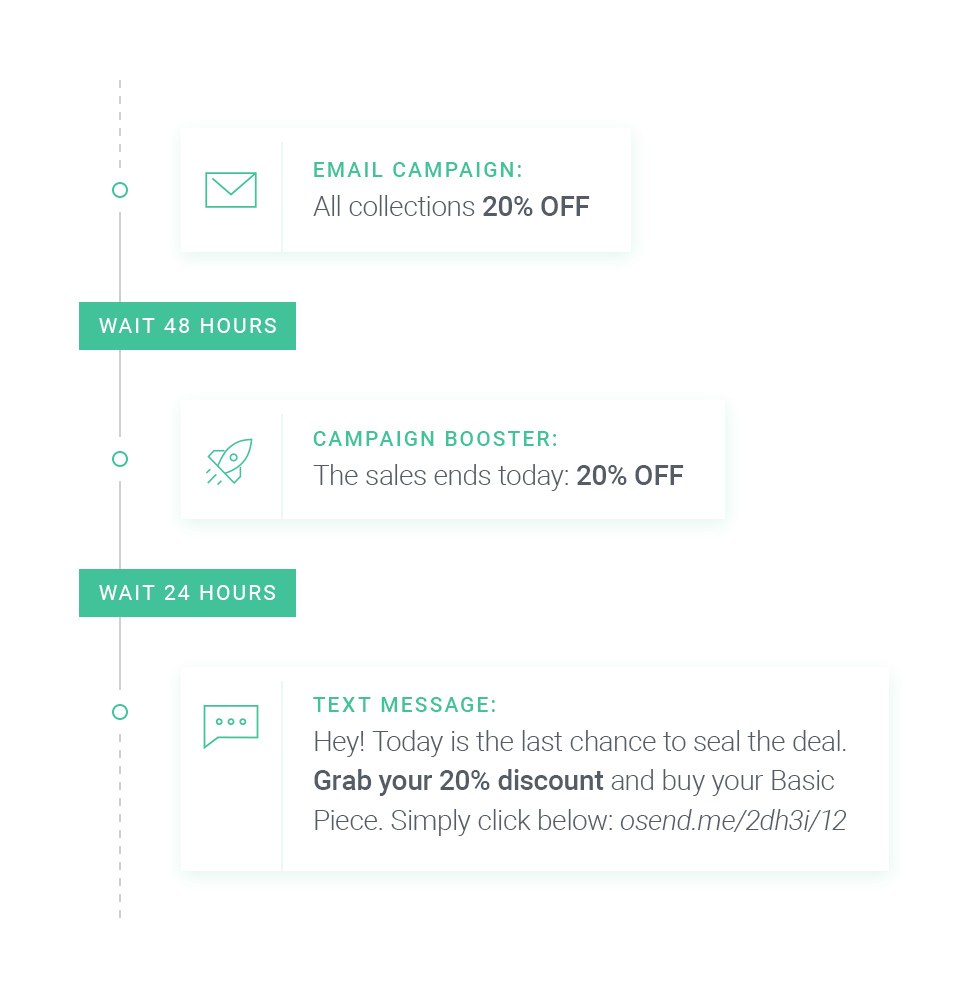 3. Track the Campaign Results
Once your campaign launches you can start tracking your results.
Text message reporting looks a bit different from an email campaign report. For example, in an SMS report, open rates are not visible to SMS providers. However, as you can see in the example below, you'll still see typical message metrics, such as the number of messages sent, click rate, and sales generated.

These detailed reports are highly effective – as one of our customers, Silver Street Jewellers, discovered after launching their first SMS campaign:
"SMS is powerful because you can see a huge traffic jump immediately after you send an SMS campaign."

Laura, CEO, Silver Street Jewellers
Read Silver Street Jewellers full story here.
4. Add Texts to Your Automation Workflows
Another way to use SMS messages effectively is to incorporate them into your marketing automation strategy. Data shows that triggered messages, be them emails or texts, perform up to sixty times better. Furthermore, texts deployed alongside other communication channels – like emails, push notifications, or Facebook – perform even better.
Why? Because they reach the right customers at the right time with the right content via the right channel.
Another great thing about automated workflows is that they decrease your workload. Marketers set up them once, monitor their effectiveness, and make improvements only if needed—all the while they continue to send and generate revenue in the background.
Here are a couple of examples.
A Welcome series to your new subscribers. Let's say, in your welcome email you offer a 10% off incentive for the first purchase. Some customers will use it, others won't. To encourage non-buyers to use the code and purchase something, you could send a reminder via SMS about the offer's pending expiration.
Browse/product abandonment workflows are becoming more and more popular among retailers. A simple reminder of an abandoned product significantly contributes to overall marketing revenue. This kind of message can be a single text, email, or a combination of both. Here's a sample workflow: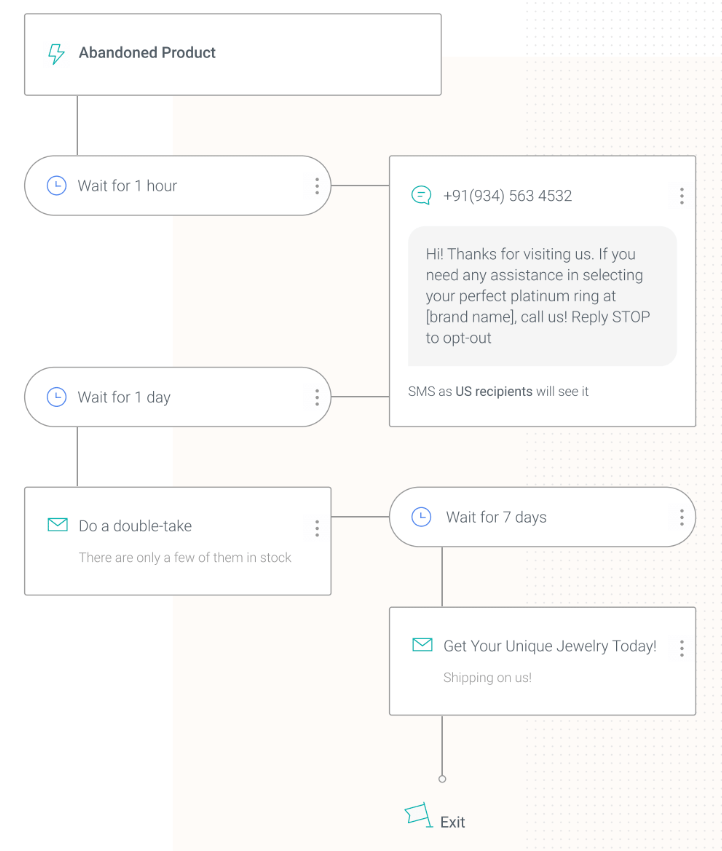 A cart abandonment series can be just as effective – if not more so. This automated workflow is one of the most profitable messages in ecommerce. By setting up a few reminders of items left in the cart you will see a significant spike in your monthly revenue.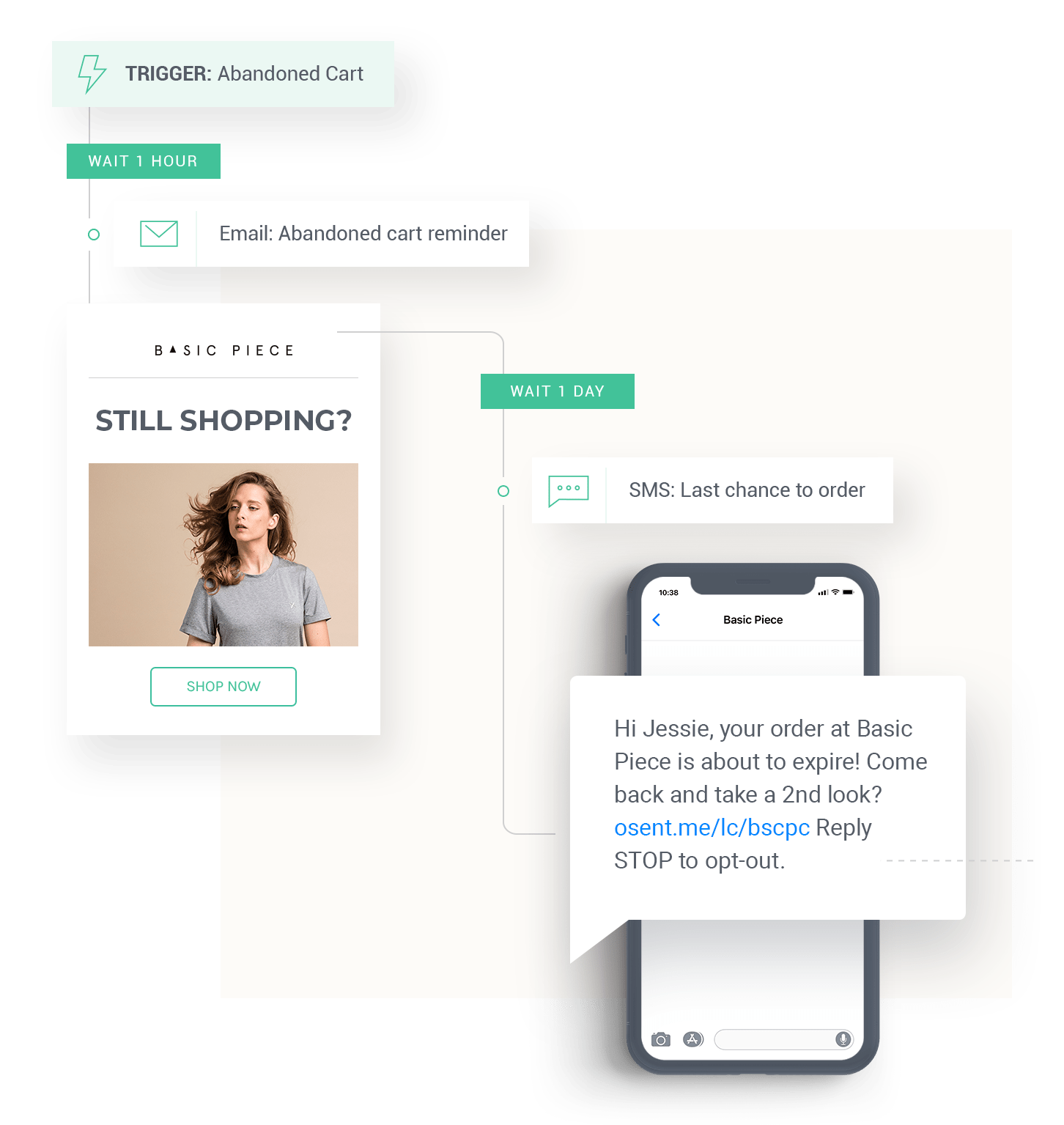 How to integrate SMS in your cart recovery strategy, learn here.
Wrap up
There are lots of opportunities to use SMS effectively in marketing – to drive engagement and sales.
If you're not already using it, it's easy to implement into any marketing strategy – and doesn't require much additional time, effort, or cost. In fact, with Omnsiend's free SMS credits, you can test out SMS at no cost.
Twenty-six billion SMS messages are sent daily, and if you're not using it you're missing a big opportunity. SMS is simple to set up and can help you increase sales — try it and see for yourself.
related features
Want more sales?
Omnisend has everything you need to succeed.
Start free now
No Credit Card needed.