Drive sales on autopilot with ecommerce-focused features
See Features
Reading Time:
6
minutes
If you're an ecommerce brand, you may have noticed the buzz around SMS marketing, especially as customers are showing incredible engagement.
But why? What do text messages offer that other marketing tools don't?
Texts are quick to send: no design needed, short copy.
Texts are quick to read. Over 90% of SMS messages are read within 3 minutes of receipt.
Texts stand out. This channel isn't as highly saturated as social media or email.
On top of that, texts generate revenue. These are some of the main reasons why SMS marketing is so attractive to retailers. Let's take a look at how to start your SMS program in four simple steps.
1. Start gathering customer phone numbers
Creating a healthy list of customer phone numbers is a critical first step as you start your SMS program. Here are four ways to collect numbers efficiently, both online and offline:
Add an extra field for phone number on your signup forms
Signup forms are the best way to collect a customer's phone number and email address. To ensure higher response rates, try adding an incentive to your signup form, giving them a solid reason to drop in their contact details and look forward to your brand's updates.
Here's how B-Wear attracts new visitor signups with an exclusive incentive: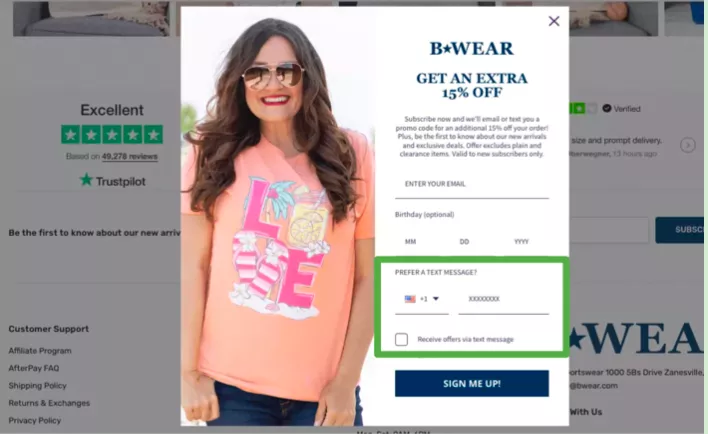 How B-Wear Sportswear shapes marketing strategy with data


A popular sportswear brand on BigCommerce enhanced their promotions with data-driven SMS marketing campaigns using Omnisend. While SMS makes up just 0.85% of messages sent through the platform, the first six months of SMS campaigns pay for almost two years of Omnisend.

👉 Read more
Ask existing customers to sign up for your SMS program
Studies suggest your current customers tend to spend more than new customers. So reconnecting with an already engaged audience with an email offer in exchange for their phone numbers can be a highly effective method for building an engaging SMS program.
That's what Brooklinen did just before the holiday season. They offered early-bird access to their biggest sale via a promotional email which led to a dedicated landing page. This landing page asked customers to leave their phone numbers for early sale access, event invites, and more. Here's the email that they sent:
Ask for your customers' numbers at the online checkout
Customers may leave their phone numbers while completing a purchase to receive order-related updates. So the checkout is a great place to collect your customers' phone numbers and ask them to consent to opt-in for shipping and promotional SMS alerts.
Here's how Divatress collects customer numbers at checkout, and clearly mention how they will be used for order updates and for sending exclusive offers: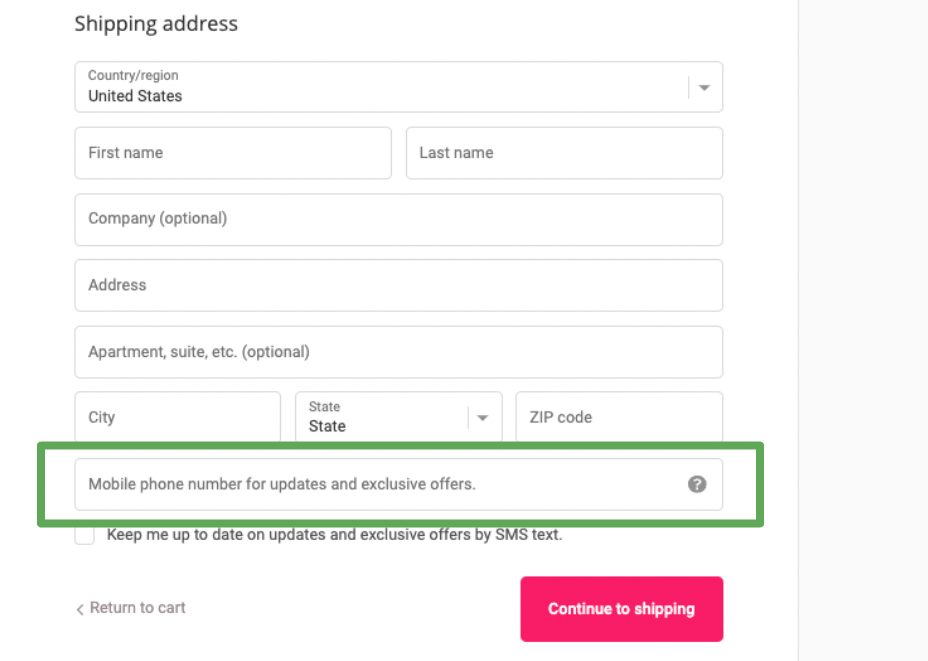 Note: If you're on Shopify, here is how to do that.
How Divatress accelerates sales with the help of SMS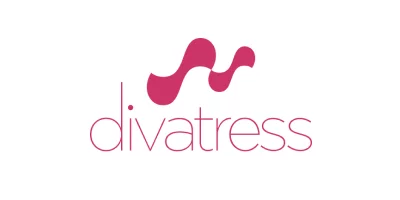 Learn how a beauty brand grew its SMS subscriber base to over 70k within 8 months and saw 54% of Omnisend-generated revenue through automations.

👉 Read more
Collect SMS numbers at your brick-and-mortar shop
In-store shopping offers multiple opportunities to collect your customers' phone numbers, with consent to contact them for marketing or order-related purposes. Here are some ways to approach it:
Designing physical signup forms and letting customers fill them out when they enter the store.
Using a tablet with a signup form for customers to complete digitally.
Sales representatives asking for customers' phone numbers during checkout.
Creating and featuring QR codes across store displays.
2. Send your first SMS campaign
You've grown your SMS subscriber list. Now, it's time to send your SMS campaigns.
Creating an SMS is simple. All you need is a short, compelling, relevant message so customers can take the desired action.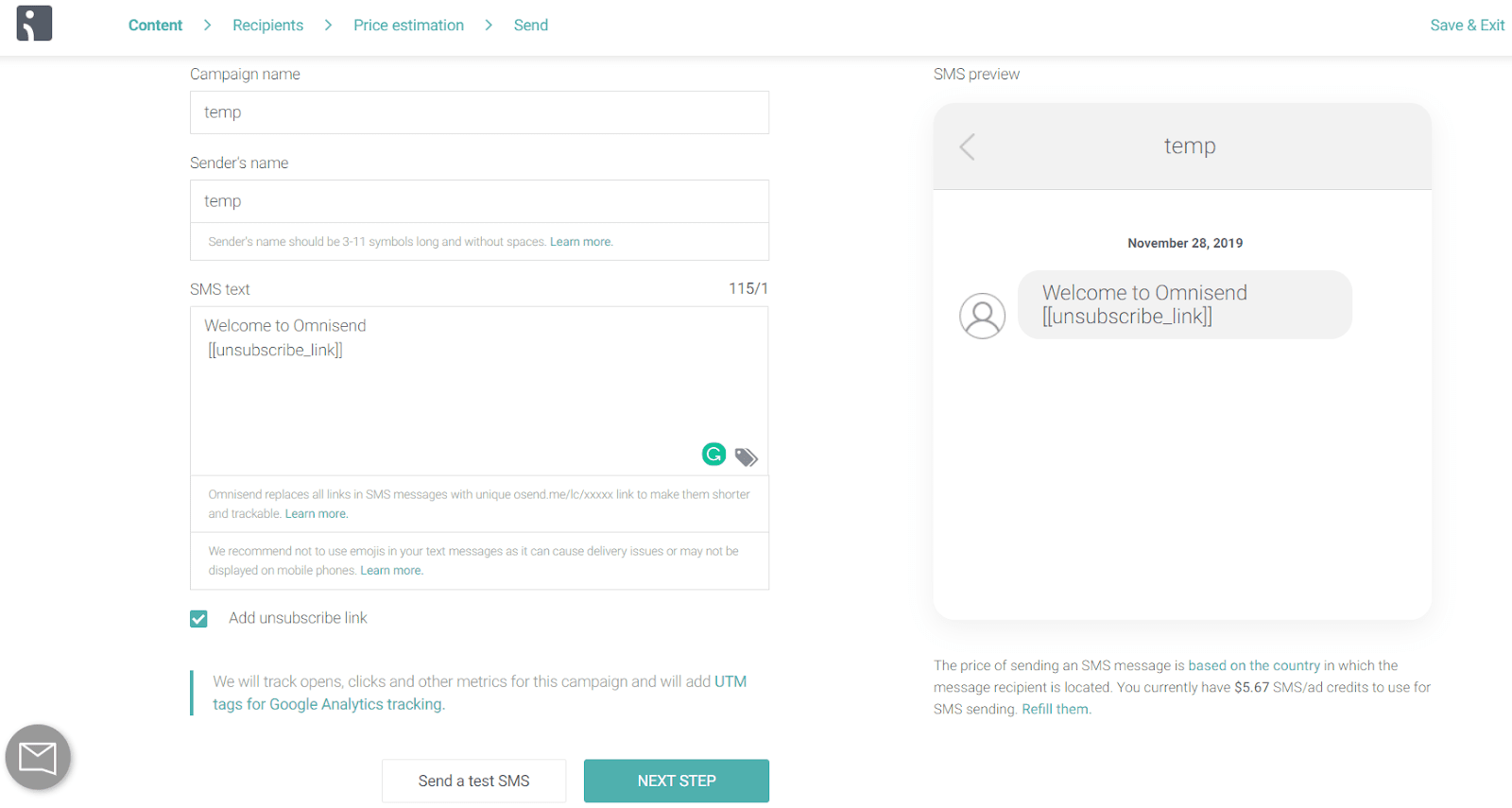 SMS messages are perfect for time-sensitive promotions and reminders, like flash sales or to offer expiration reminders, so look for opportunities such as these to send your first message. Of course, how you use SMS is completely up to you.
Also, segment your SMS subscribers into groups of similar characteristics, such as loyal or first-time customers, inactive customers, etc., to ensure relevant messages reach the right audience segment and reduce unsubscribes.
SMS works as both a standalone channel and combined with email campaigns. For example, sending texts to people who didn't open your latest email. Here's how to do it step-by-step with Omnisend.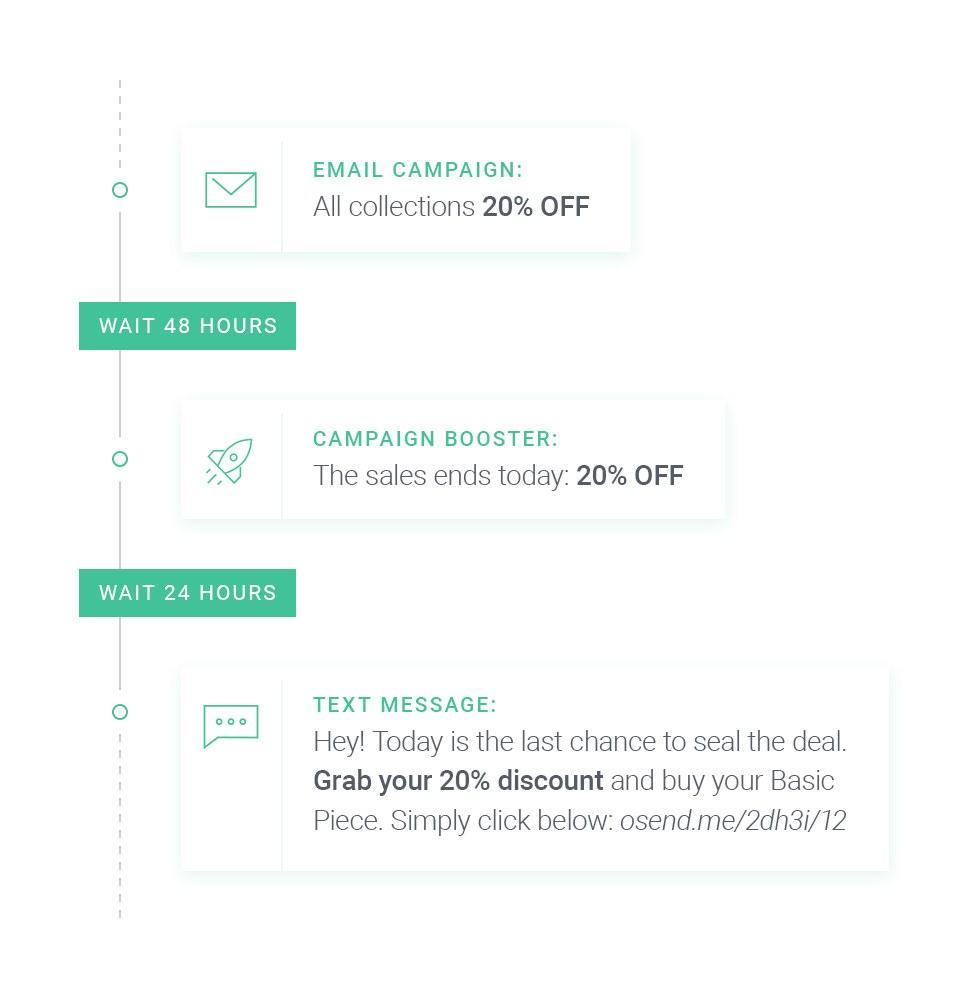 "I started SMS several months ago just to kind of test it out. The ROI on it has just been absolutely insane. So we will continue to do it for our customer base."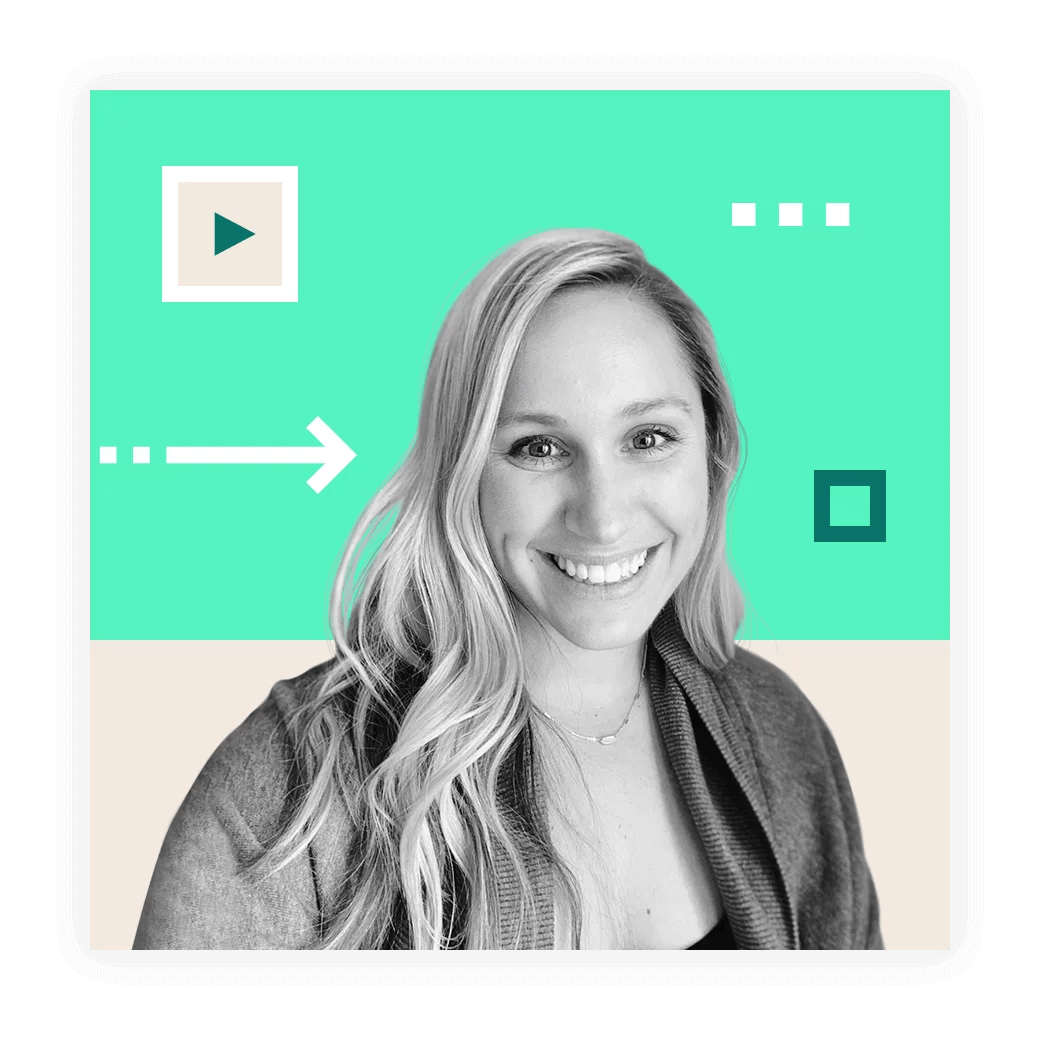 Allison Caufield, Senior Marketing Manager, FiGPiN

👉 Learn about Alison's SMS program
3. Track the campaign results
You can start tracking your SMS campaign results as soon as you launch them.
Some SMS metrics you can track in your campaign performance are:
Delivery rate – A low SMS delivery rate can mean that your contact list has a lot of wrong numbers or customers blocking you, indicating the need for cleaning your list.
Opt-in and opt-out rate – High customer opt-in rates result from effective number collection and targeting. A high opt-out rate means your audience no longer wants to receive your SMS campaigns.
Conversion rate – Indicates the percentage of customers who've taken the desired action through the SMS.
Click-through rate – Indicates the percentage of customers who've clicked on a link within the SMS.
Remember, text message reporting looks different to an email campaign report. For example, open rates are not visible in an SMS report. However, as you can see in the example below, you'll still see typical message metrics, such as the number of messages sent, click rate, and sales generated:

These detailed reports are highly effective as Silver Street Jewellers discovered after launching their first SMS campaign:
4. Add texts to your automation workflows
Another effective way to use SMS messages is to incorporate them into your marketing automation strategy.
Campaigns that use SMS have a 47.7% higher conversion rate than those only using email.
Automated workflows ensure you reach the right audience at the right time, while reducing your workload of manually sending messages.
Here are a few examples:
A welcome series
Let's say that you offer a 10% discount for the first purchase in your welcome email. Some customers will use it, others won't. To encourage non-buyers to use the code and purchase something, you could send them a reminder via SMS about the offer's limited validity.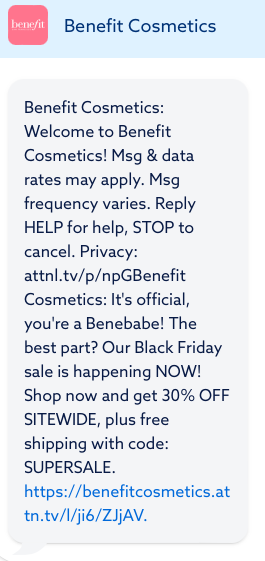 Browse/product abandonment workflows
Browsing or product abandonment workflows serve as reminders, and help to re-engage visitors who showed interest in a product but didn't purchase it before exiting.
A simple reminder of an abandoned product significantly contributes to overall marketing revenue. You could send an abandonment product email along with an SMS to recapture lost conversions.
Here's a sample email and SMS abandonment workflow: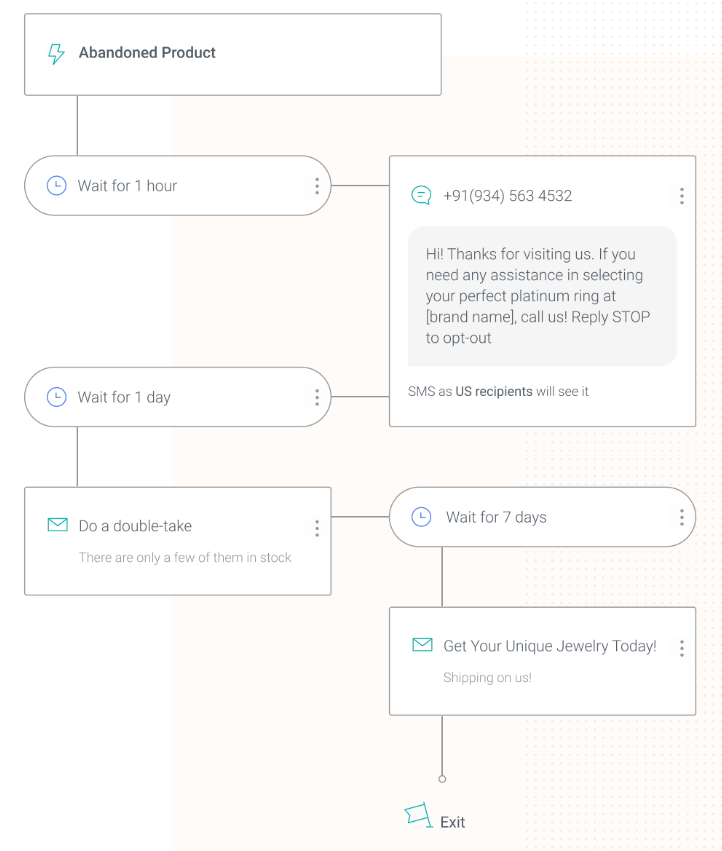 A cart abandonment series
The abandoned cart workflow is one of the most profitable messages in ecommerce. They automatically send messages to customers that added items to their cart but didn't complete the purchase—meaning they're interested in those products, and may just need a reminder or perhaps an incentive like free shipping.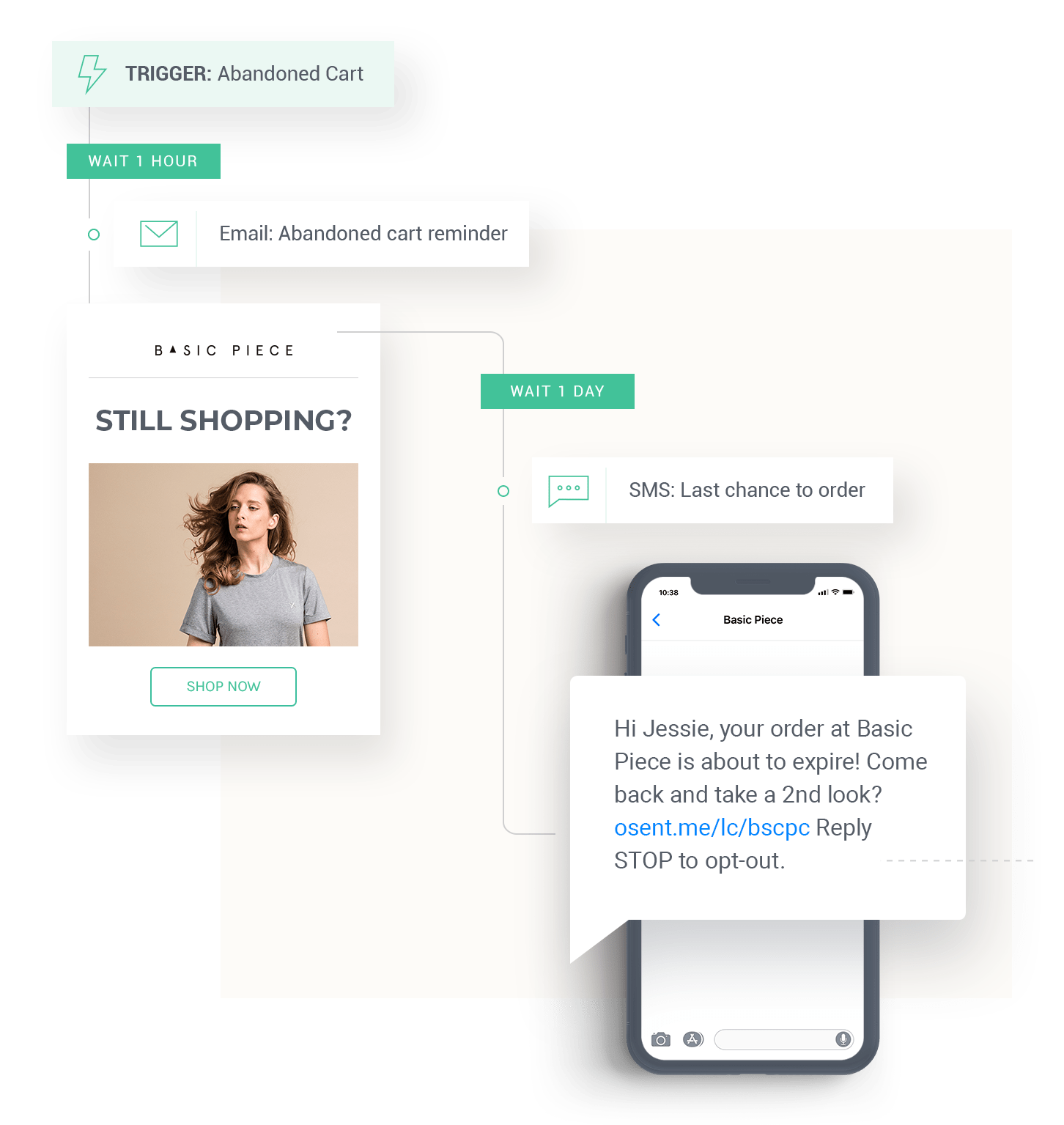 Unlocking sales potential with SMS program
From driving engagement to boosting sales, SMS offers a wide array of opportunities to connect with your customers. If you're not already using it, it's not too late to incorporate an SMS program into your marketing strategy.
With Omnisend, you can send SMS to customers in any country and see the impact on your conversion rates.
Get started with Omnisend today & drive sales on autopilot with pre-built automation workflows
Start Free Today
related features
Want more sales?
Omnisend has everything you need to succeed.
Start free now
No Credit Card needed.