Drive sales on autopilot with ecommerce-focused features
See Features
How ecommerce personalization can increase customer loyalty and boost sales
Reading Time:
11
minutes
Ecommerce personalization is the process of tailoring the content, recommendations, and offers a customer sees based on their previous buying and browsing behavior, demographics and personal data.
As a result, the customer sees more relevant content and offers, while the brands can generate more qualified leads instead of simply driving irrelevant traffic to their sites.
According to a McKinsey study, brands that have mastered personalization earn up to 40% more revenue than those that haven't. So, the benefits of personalization in ecommerce go beyond customer satisfaction and directly impact sales.
But what is personalization in ecommerce? How can you apply personalization in ecommerce? What are the other benefits of personalization in ecommerce? Keep reading to find the answers.
What is personalization in ecommerce?
You'll see ecommerce personalization examples every time you make an online purchase—you just might not realize it. If you're still thinking about what personalization in ecommerce is, here are some ecommerce personalization examples to help you to understand some of the key touchpoints:
Personalized product recommendations
Personalized search results
Redirects to a geographical site and geo-located offers
Homepage or product pages that give personalized detail
Cart-abandonment emails
Personalized ecommerce emails based on user behavior
Onboarding quizzes
Upsells and subscription offers
Reminders to reorder a product
Showing product recommendations and upsells
Delivering personalized offers to returning visitors
Weather-sensitive content (depending on what you sell)
Ecommerce product personalization
Here's an example of ecommerce personalization in terms of personalized product recommendations offered by Target.

Buyers are often looking for a more personal experience that delivers exactly what they need when they shop online. They want it to be convenient, tailored and easy for them to find what they want. By adding the human element of personalization, it adds authenticity and connection to the buyer's journey.
This connection is likely to have become even more important as buyers have missed out on that 'in-person' experience of buying in-store during the COVID-19 pandemic, and that ability to touch and feel products. Personalization can make it feel less computer-driven, and more like there's a human touch in there.
According to the previously-cited McKinsey study, 71% of consumers want personalization and 76% get frustrated when they don't get it.
Let's take a deeper look at the benefits of personalization in ecommerce and the best practices and examples you need to know to make your personalization efforts successful.
Benefits of personalization in ecommerce
Good ecommerce personalization can help you reach your potential customers and connect with them in a way that drives more engagement and conversions. The great thing about personalization is that it isn't one-sided—personalization has benefits to the buyer as well as the ecommerce retailer.
When used correctly, personalization in ecommerce has the following benefits for both parties:
The buyer gets useful content, product recommendations and offers directly
The buyer discovers new products that they want to use or will be useful in everyday life
Cart abandonment emails serve as a reminder to purchase specific items—our lives are busier than ever and it's easy to get distracted mid-purchase
The buyer has a positive customer experience
The retailer can capture the buyer's attention with content that they'll automatically be more interested in
Stop information overload and analysis paralysis with the buyer having too many choices to sift through—you're delivering them the information that you know they're looking for.
Improved loyalty and overall sales
How to collect and prepare data for ecommerce personalization
The first step towards mastering ecommerce personalization is collecting consumer data. You need to understand the different types of customers that you have and understand what drives their purchase decisions.
The key to ecommerce personalization is providing tailored marketing, messages, and offers to different types of customers. Audience research and data collection can make that possible.
Here are some tips to collect consumer data for ecommerce personalization:
Web analytics: Using your website's analytics data, you can identify your site visitors' online behavior, preferred products, and more.
Email marketing software: An advanced email marketing platform like Omnisend can give you detailed information about which customers open your emails and interact with them. You can also find out what email elements and messaging work best for your audience.
Purchase data: Past sales data can provide you with information about customer preferences, which is useful in providing personalized product recommendations.
Popups: Strategically-placed site forms and pop-ups can help you collect valuable information about your customers and prospects, especially demographics and contact information.
Once you have collected customer data, you then need to organize it using ecommerce personalization software like Omnisend.
Essentially, you can use automation—triggered messages that go out when a contact performs a certain action or matches certain criteria—to provide a highly personalized experience.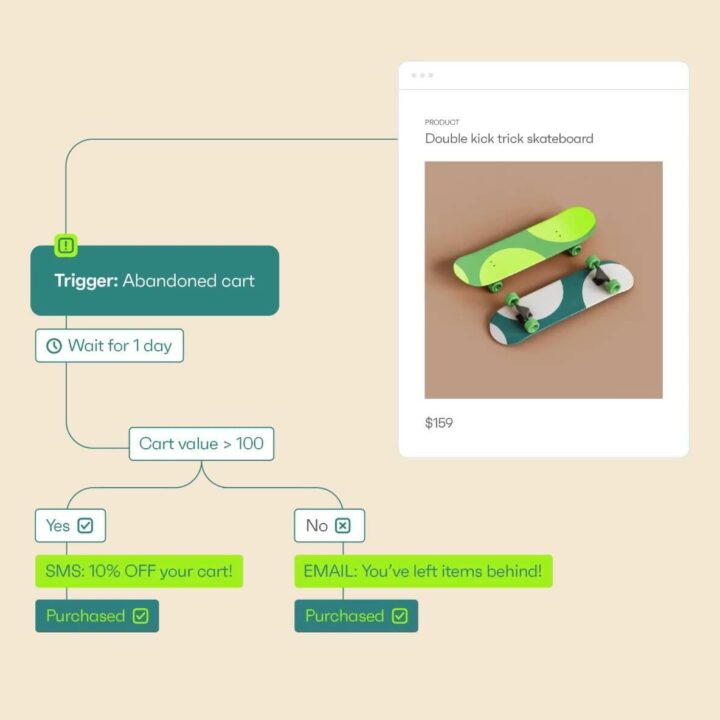 There are lots of touchpoints in the buyer journey where you can choose to personalize your buyers' experience to convert sales. You also want each of these points to work together so that your omnichannel messaging, browsing data, landing pages and recommendations all complement one another, and drive to the same goal.
The main questions you need to ask when you're thinking about ecommerce personalization is:
Where should personalization occur in the process?
What information will you need to create that personalization?
How will you use technology and insights to create this personalization?
Mapping out your buyer journey on site, as well as understanding your buyers and their motivations, can be really helpful to identify the areas where you can incorporate personalization and use it as a conversion tool. Go as detailed and granular as you can to really nail the detail.
One of the most important things when it comes to effective personalization is segmenting your audience appropriately, and then using automation and personalized recommendations (and other communication) more effectively. Let's look at each in turn.
Use segmentation for better personalization
The first step of any sort of personalization—well, real personalization, and not the "First name" kind—is to segment your customers.
When you segment your customers—based on behavior (recommended) or demographics—you are able to better define and therefore better target your audience.
To get really in-depth with how to segment your subscribers, you should read How to use email segmentation for smarter ecommerce.
Use trigger-based communication (automation)
When you've set up your segmentation, you'll next need to decide what kind of messages you'll be sending out for better ecommerce personalization (leading to better engagement and sales).
This is where automation, or trigger-based messaging, comes into play. If you're using the recommended behavioral segmentation, then your messages should go out based on your subscribers' behaviors. So manual campaigns won't work in any practical sense.
You can set up popular automation workflows like the welcome series, order confirmations, post-purchase messaging, cart abandonment and more.
This will send automated emails to prospects for actions they take, like:
Joining your mailing list
Making a purchase
Abandoning a cart
Each of these, based on Omnisend's own ecommerce personalization statistics, have their own proven conversion rates:
2021 automated email marketing conversion rates
| | | | |
| --- | --- | --- | --- |
| Message type | Conversion rate | YoY change % | Lift over campaigns |
| Campaigns | 0.10% | 14.01% | — |
| Abandoned cart | 2.37% | 12.93% | 2299% |
| Birthday | 0.72% | -4.01% | 631% |
| Browse abandonment | 0.90% | -6.51% | 813% |
| Cross-sell | 0.64% | -19.37% | 553% |
| Feedback request | 0.97% | -9.28% | 887% |
| Lapsed-purchase | 0.55% | -20.09% | 460% |
| Product abandonment | 0.98% | -16.65% | 892% |
| Product review | 0.66% | -23.96% | 573% |
| Welcome | 2.81% | -14.06% | 2748% |
| Order confirmation | 2.36% | 53.04% | 2289% |
| Shipping confirmation | 1.48% | 23.95% | 1395% |
From Omnisend's Email, SMS, and push marketing statistics for ecommerce
Offer personalized recommendations
The next best practice when it comes to ecommerce personalization is to use automated personalized recommendations—those recommendations that are based, again, on your subscribers' past behavior.
For this to work best, you'll need to use it within your automation workflows so that it gets to the right subscriber or customer at the right time: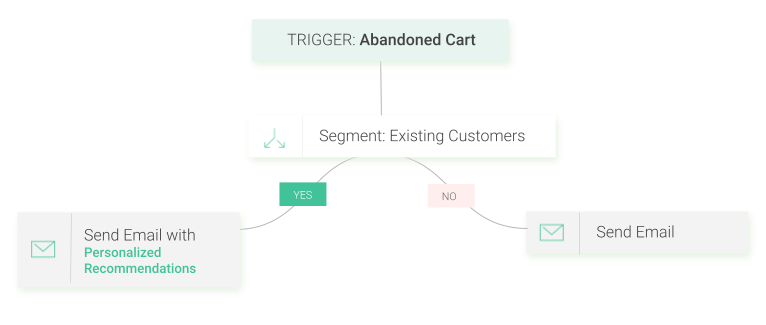 For some marketing automation platforms, like Omnisend, you can even enter a Personalized Recommendation block into your emails right from the Email Builder to make it even easier to deliver personalized experiences: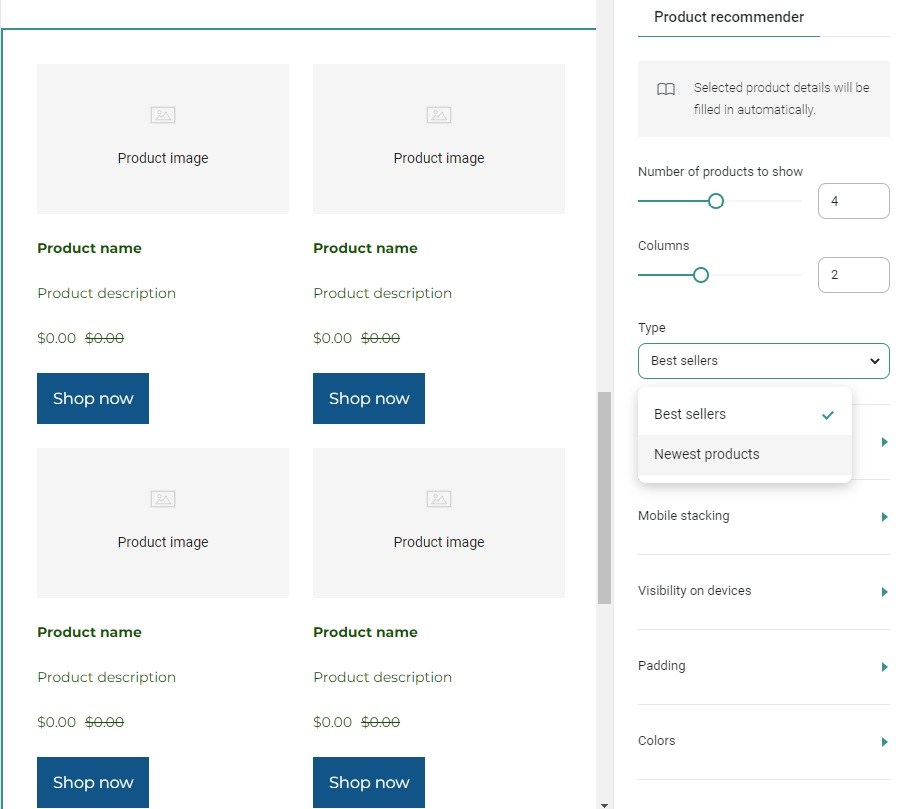 The final thing that you absolutely must do with personalization in ecommerce is to check your analytics, and then revisit your strategy and personalization.
How do your buyers interact with the personalized recommendations and touchpoints along their journey? What interactions convert more consistently than other types? Are there points where you're missing the opportunity to make those conversions?
Ecommerce gives you the benefit of a huge amount of data on your customers and clients, as well as information about their time on your site—make sure that you're using it to make decisions that will benefit your business.
Ecommerce personalization examples and tactics
Let's run through some real examples of where ecommerce personalization is working well and see if you can take any inspiration from some of the best ecommerce personalization examples around.
In this section, you will find some of the best ecommerce personalization examples and tips on how to replicate the strategy for your brand.
1. Make it easier for your visitors by remembering their preferences
Online clothing retailer ASOS is split by gender and product type (as well as geographically). Their site remembers how you last looked at the site and automatically drops you back into the category that best suits your interests.
In the example below, you see a gender-neutral home page, but after you've shown interest in women's clothing, the homepage shows a page focused on women's clothing:

Ecommerce product personalization like this is tough to achieve, but still possible.
This can be done by taking into account demographic information like gender and location when you segment your buyers, and also by correlating with purchase and visit data.
2. Send personalized (and automated) emails based on visitor behavior
Ecommerce giant Amazon does this consistently and extremely well. Their automation follows up with emails based on what you looked at on your site, what you left in your basket, and your most recent purchases.
They're believed to have a 60% conversion rate on product recommendations that they send through to their customers' inboxes. This is extremely easy to do using Omnisend, as it automates the entire process so you can let your automation work on autopilot.
3. Cross-sell and upsell products across your site and marketing interactions
When you're adding products to your website, you can usually select complementary products to cross-sell and upsell to customers. It might be a matching set or something that will help you to use the product you're currently adding to your basket.

Retailer Target does this well on its site—if you search TVs on a desktop, you'll get results for a matching stand or wall mount as a "frequently bought together recommendation." Beauty brand Sephora has a slightly different approach.
It shows similar products to prospective customers and also provides the option to compare products. This takes ecommerce personalization through product recommendations a notch higher.

Here are some more details on How to use product recommendations on your ecommerce site so that your recommendations make sense, are useful to the customer and, most importantly of all, that they convert to more sales.
4. Use ecommerce personalization on your website's checkout page
One of the best examples of personalization in ecommerce is personalizing the checkout page.
Here's how you can do it.
Automatically identify and fill out location information based on users' IP addresses.
Remember details from past purchases and automatically fill out all relevant details on the checkout page, like address and phone number.
Offer one-click checkout to existing customers based on their past preferences and purchase history.
5. Use ecommerce personalization to optimize site search
Have you ever done a site search to find some specific product or recommendation?
Most people have at some point or other used site searches to find exactly what they're looking for. According to a study by Forrester, people who search for products using on-site search boxes are 2x to 3x more likely to make a purchase.
Anyone who makes an effort to find something specific usually has a higher purchase intent. That's why it's important to personalize and optimize your on-site search options.
Here are some things you can do:
Auto-complete search queries based on past data
Provide personalized search results based on a user's location and past purchase and search history
Use tools like Algolia and SearchSpring to provide efficient and personalized on-site search results to your site visitors
OTT streaming platforms like Netflix are great examples of on-site search results personalization. When you search for a genre of movies or TV shows, Netflix will recommend options based on your location and past viewing history.
ASOS, the retail brand, takes on-site search optimization seriously and not just auto-fills search queries but also gives the no. of times people have searched for a particular product.

6. Use personalization to create targeted email campaigns
We've already discussed using email personalization for automated campaigns based on triggers. But there are more ways in which ecommerce brands can use personalization in email marketing.
You can, for example, design different types of emails and campaigns for different customer segments. Use both behavioral and demographic segmentation for this purpose.
Here are some examples of ecommerce email personalization:
Send an email to customers who made a purchase in the last 10 days to ask for feedback on their experience with your ecommerce store.
Send a retargeting email to previous customers who have not interacted with your brand in the last 3 months.
Creating different email copies for people based on their gender, location, age, etc.
An ecommerce personalization software solution like Omnisend allows you to create detailed audience segments based on a variety of criteria to create personalized email campaigns.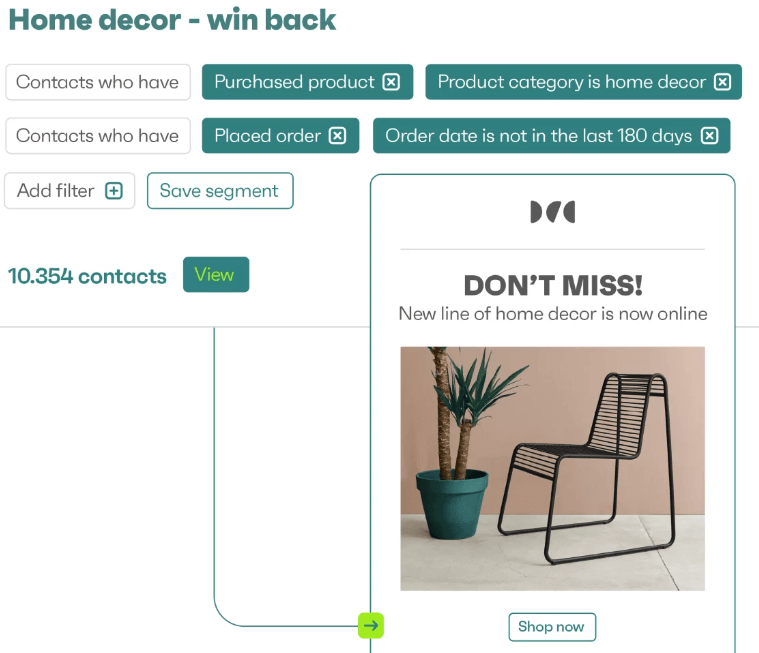 7. Leverage ecommerce personalization in your SMS campaigns
If you use omnichannel marketing to reach, engage, and convert leads from all possible channels, then you need to use ecommerce personalization across all marketing channels.
This means sending personalized text messages to your target customers and running targeted SMS campaigns.
Here are some ecommerce personalization examples you can use to create tailored SMS campaigns: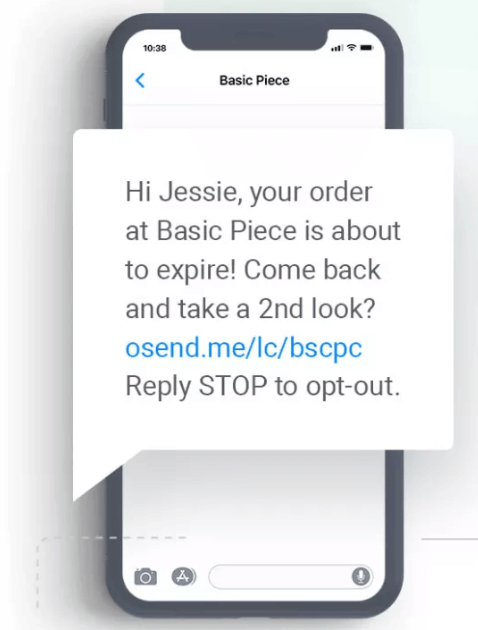 A retargeting text message to get a customer to complete their purchase using a special discount code.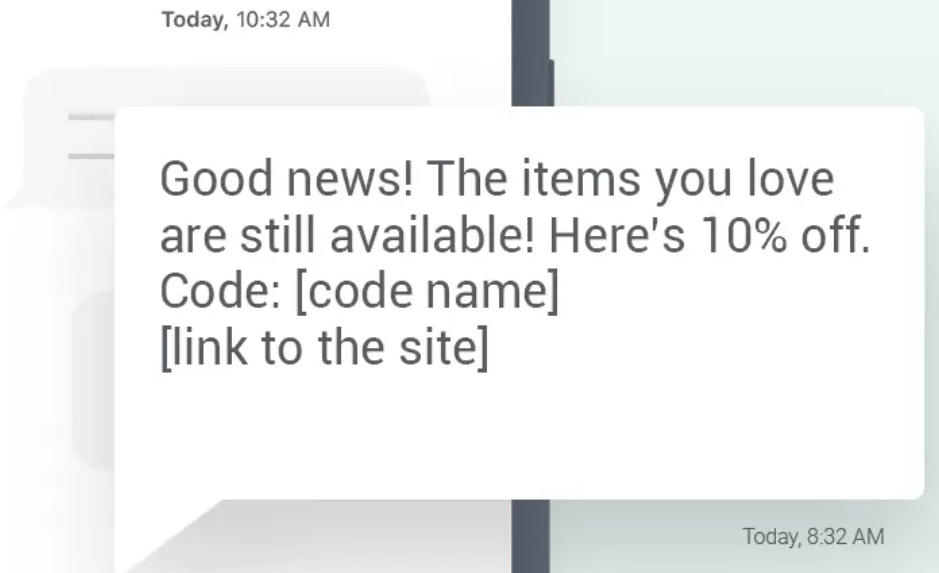 8. Send personalized push notifications
Similar to SMS and email marketing, ecommerce customization applies to push notifications as well.
You can send personalized push notifications to prospective customers based on their location, recent action, preferences, and so on.
Here are a few ecommerce personalization examples using customized push notifications:
Inventory alerts: Send a push notification informing a customer that the product they wish-listed or searched for is back in stock.
Price drop alerts: Alerts about discounts or price drops of items that a user checked out, searched for, or wish-listed.
Upcoming events: Push notifications on upcoming sales, store, launches, etc. sent only to relevant leads and audience segments.
Cart recovery: Send push notifications to people who abandoned their carts with a reason to complete the purchase and a direct link to the cart.
Ecommerce personalization software like Omnisend can help you with your ecommerce customization efforts and enable you to create automated push notifications workflows.
Here's an example of an abandoned cart push notification workflow by Omnisend.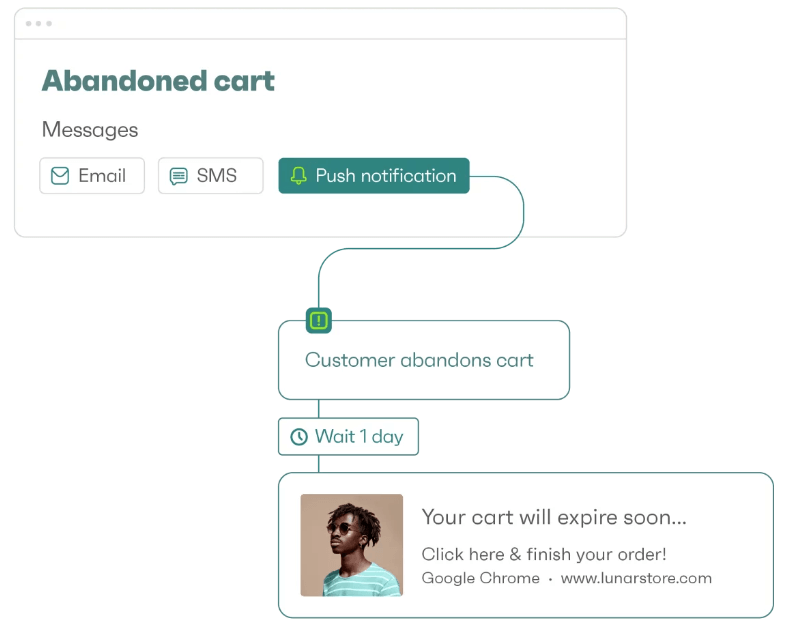 9. Leverage ecommerce personalization for ads and retargeting campaigns
One of the best examples of using personalization in ecommerce is by creating tailored advertising and remarketing campaigns.
You can use dynamic ads or show different versions of an ad to different customers based on their preferences and past online behavior. For example, you can show ads with different products to men and women,
Similarly, you can create retargeting campaigns for prospective customers who abandoned their carts.
How does personalization fit into this?
Show people the products that they left behind and give them direct links to their respective carts. If you want to go a step further, you can give unique discount codes to get them to complete their purchases.
Ecommerce personalization software like Omnisend can help you create personalized and highly-targeted retargeting campaigns and workflows. Here's an example.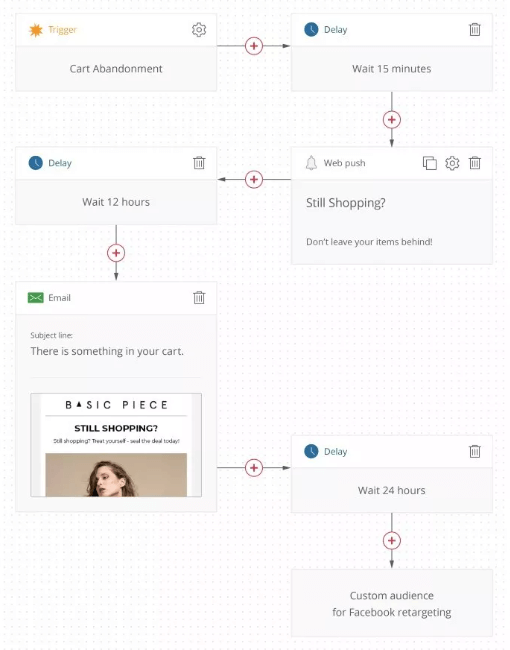 Final thoughts
Ecommerce personalization is a big deal when it comes to engaging visitors, building up a relationship with your customers and converting sales, whether that's through personalized ecommerce email, product upselling or abandoned cart emails.
It makes a real difference to customers, who value ecommerce personalization in a big way, and can even help you to attract visitors to your site through boosting where you sit in search results.
It doesn't have to be tons of extra effort either—you can automate your personalization with Omnisend, so once it's set up you can sit back and see the benefits, like thousands of other ecommerce stores we've worked with to help develop personalized online shopping.
Get started with Omnisend today & drive sales on autopilot with pre-built automation workflows
Start Free Today
related features
Want more sales?
Omnisend has everything you need to succeed.
Start free now
No Credit Card needed.