When you're an ecommerce merchant, you know that you have to use every tool in your arsenal in order to get a great ROI.
That's why we're so excited to introduce you to our new marketing channel: SMS marketing.
This is one of the biggest parts of our What's Next roadmap for 2018, especially since it's the first serious move we're making towards omnichannel marketing.
Get your free copy of '5 Ecommerce Marketing Automation Case Studies' today.
The new SMS marketing feature will allow you to reach your subscribers wherever they are.
As with every new feature that we launch here at Omnisend, we'll show you not just what our new SMS marketing can do, but how you should be using it to maximize your profits.
What is SMS marketing?
SMS marketing is one of the many marketing channels that allow you to reach your customers more effectively.
For SMS marketing, you are able to send different kinds of messages to your customers' or subscribers' phones. Think of it as email marketing by way of text messaging.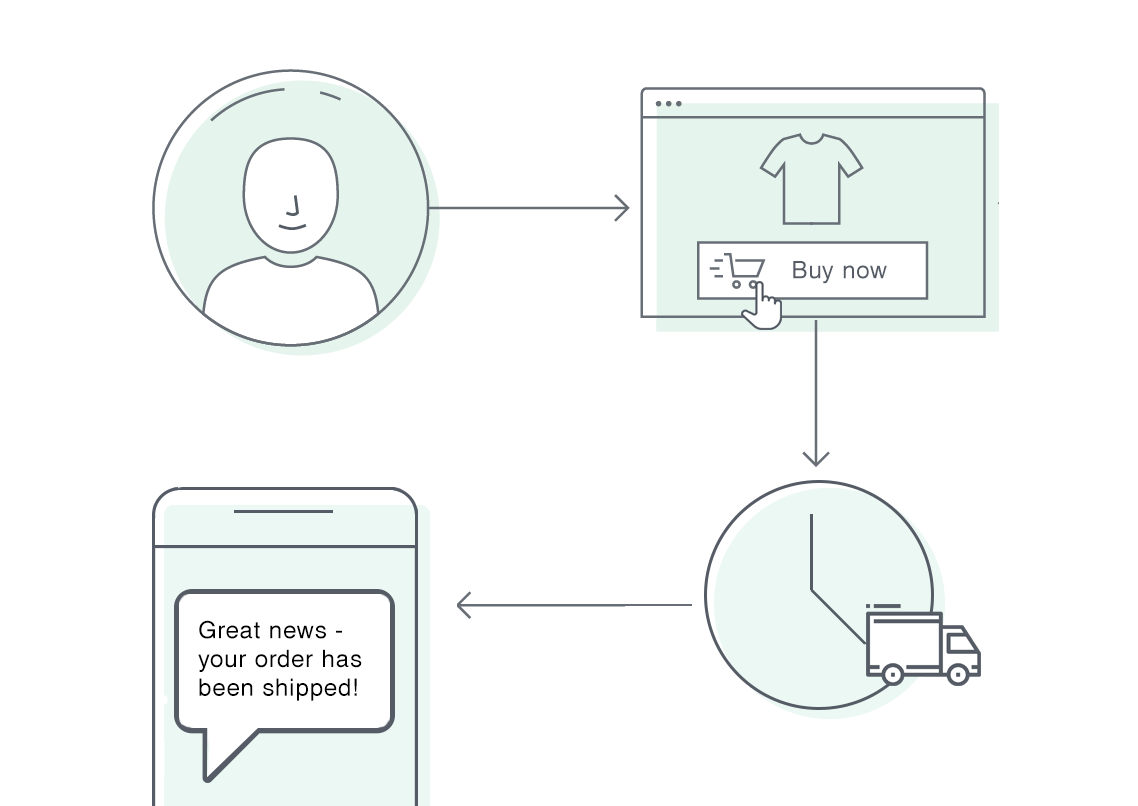 For example, you can use SMS marketing to send automated messages to your customers when their order is confirmed or their package is being shipped.
You can also use SMS marketing to send a welcome message for a new subscriber or a birthday email (with special gift) to subscribers with birthdays.
Because 94% of all SMS messages are read within the first 5 minutes (with a 99% open rate)—and that by 2020 nearly 50 million people will subscribe to SMS marketing—it's a good idea that you use SMS marketing to maximize your sales and customer relationships.
When it comes to order-related communications, you're probably already collecting their phone numbers.
However, it's important to note that while the idea of SMS marketing is similar to email marketing, the unique features of SMS and text messaging have to be taken into consideration when you're creating the messages and the way you're sending those messages.
How to use Omnisend's SMS marketing feature
For more in-depth details on how you can use Omnisend's new SMS marketing feature, you can head over to our Knowledge Base article.
When it comes to Omnisend's SMS marketing, you'll notice just how easy it is to use the feature. 
There are some great aspects of the SMS marketing feature–
Because of limitations in the number of characters you can send in a standard text message, and to save you money, all the links you send will be automatically shortened.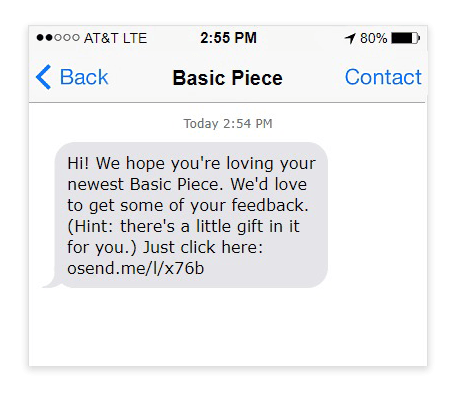 This will not just help you to fit more into one SMS message (especially since all links will have a UTM added to it), but it will also make it easy to track clicks.
That means you'll be able to see which messages are the most popular.  
You'll also be able to play around with the placement of the links—if links in the beginning, middle, end, or a combination of those perform better.
Also, in order to be mindful of your users' privacy, you'll have the option to add in an unsubscribe link to the end of your message.
That way, you can keep only subscribers who are eager to hear from you, meaning higher click rates and better sales conversions at the end of the day.
How to increase sales with SMS marketing
While SMS marketing has a lot of great potential, a large section of ecommerce merchants are not using this feature.
What this means is that competition is low and the opportunity is high.
Let's look at some of the ways you can use SMS marketing to increase your sales.
#1 Time-sensitive promotions
One great way to use SMS campaigns for your ecommerce business is to send it out to your subscribers for time-sensitive promotions.
What do I consider to be a time-sensitive promotion?
Well, there are actually two types:
completely time-sensitive promotions
regular promotions that are about to end.
For promotions that are completely time-sensitive, think of something like a business having a flash sale, or a popup shop. These are events in which users only have a few hours to participate, and it's more effective through SMS.
For the other cases, you can create urgency by sending SMS text messages to your subscribers letting them know that there are only a few hours left until:
a major sale ends
free shipping end
a discount code expires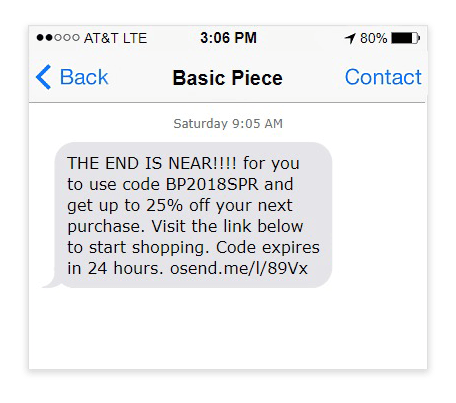 This is especially effective seeing as there is much less competition compared to your subscribers' inboxes, where they're normally flooded with promotional campaigns.
#2 Confirmation emails
One of the most effective ways of using SMS marketing for your ecommerce store is to send confirmation emails.
You can send them an order confirmation as soon as they've placed an order. Just keep it generic so that it's applicable to everyone who buys from you.
You can even add a link that sends them to, for example, yourshop.com/account.
You can do the same with the cancellation confirmation message.
But perhaps the most effective, surprising and delightful confirmation message would be the shipping confirmation SMS.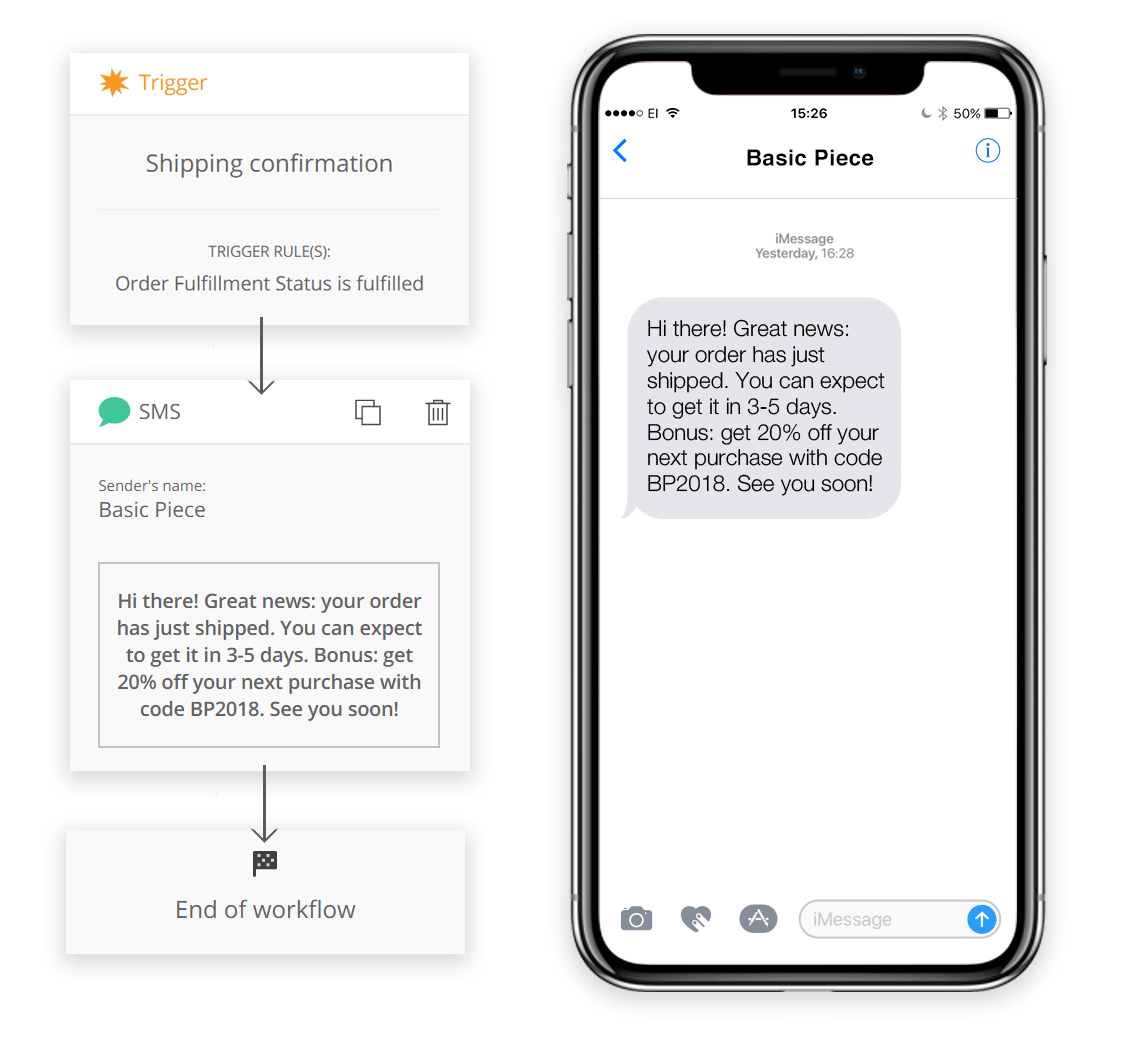 After all, your customers are pretty eager to know when their products are going to arrive. If you have standard shipping times, you can let them know everything they need to know in the message.
Even better, this is a great opportunity to get them thinking about buying from you again.
#3 Cart Recovery
One of the most important automated messages you should be sending to your shoppers and subscribers is the cart abandonment or cart recovery message.
Usually, this is triggered when users add items and abandon their cart, or get to checkout and abandon.
Get your free copy of '5 Ecommerce Marketing Automation Case Studies' today.
(And of course, with Omnisend's Product Abandonment and Browse Abandonment, this is also now triggered when a visitor to your site abandons a product page or any other page.)
An important aspect of successful cart recovery messages is that they're sent at the right time.
If you take too long to contact your shopper–or, more specifically, if it takes too long for them to open and read your message–you've essentially lost that sale.
With the new SMS marketing feature, you can send an automated cart abandonment message to your users at the best time.
Of course, the best part is that with such a high open rate (99%) and 94% opening the message within the first 5 minutes, you'll get better click rates and boost your sales.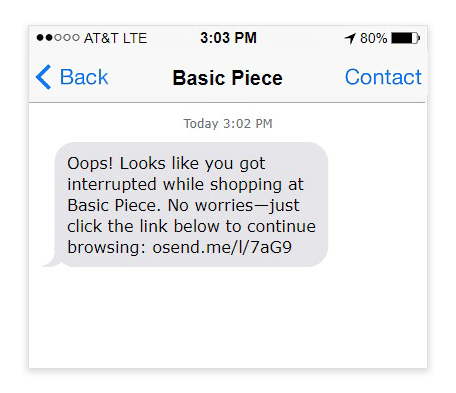 Just be sure to a link to your homepage, category/best seller page, or a page you've created just for cart abandonment visitors.
Like what you see? Get started with a 14-day, no-obligation trial of Omnisend. No credit card needed.
 #4 Birthday
Give your users something great on their special day.
We've mentioned before how important birthday emails is (which is why it's crucial you collect your subscribers' birth dates on signup).
After all, for email we've seen it has great open and click rates.
That's quite understandable, seeing as people are generally in a great mood and it's the perfect time to activate or reactive them.
Just make sure you add in a discount code that will make them feel special and they'll fall in love with your brand (again).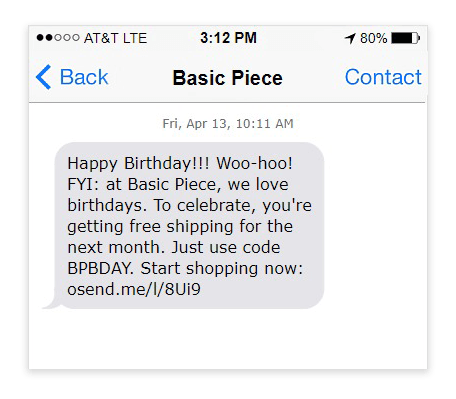 #5 Feedback
Lastly, getting feedback and following up with your customers is really important for your business.
Not only does it help with customer retention and better products and communication, but you will also make your customers feel like they're being heard.
With 99% open rates, reach more of your customers for feedback by sending SMS follow-up messages.
For this one, it's pretty important that you include a link to a survey (after all, your customers can't reply to the SMS).
To increase the incentive, promise an exclusive gift, free shipping or discount code that they'll get when they complete the survey.
#6 Customer reactivation for regularly-purchased items
One other great way for you to use SMS marketing is to send automated text messages for products that are bought at regular intervals.
For example, if you sell cosmetics (including makeup, shampoo, etc.) or different types of food (such as coffee or even cat and dog food), you can use this to your advantage.
This is because you'll be able to figure out what the usual cycle is for your customers to buy these products. For dog food, for example, your customers would be a 13-lb bag about every 30 days or so.
With this information, you can set up automated SMS messages to go out to the customers that have bought that specific product to inform them that it's time to buy that same product again.
You can even include a link that goes to that specific page.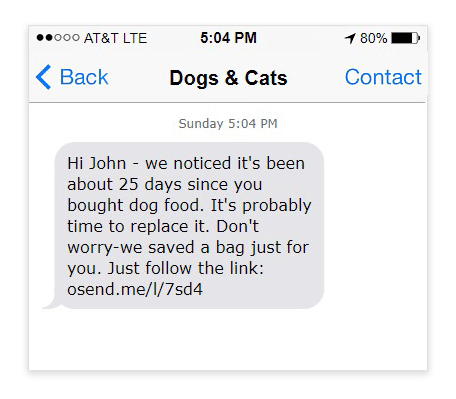 In this way, you'll have to set up a workflow for each regularly-purchased product, but it will be very helpful for your customers. They'll look to it as a sort of reminder, and you'll be the first thing they think about when they need to buy that product again.
Combine email marketing and SMS marketing for better results
SMS marketing is great, but did you know that you can get even better results by combining it with email marketing?
After all, emails still allow you to include much more information than text messaging can. Also, you can include visuals to continue building your brand for your customers.
In fact, you can see this as the beginning of the omnichannel experience: allowing customers and subscribers to get a unified experience across multiple channels.
Not the same message, but different messages that fit together beautifully and strategically.
One way to combine email marketing and SMS marketing for better engagement and click rates is to use it for your birthday automation workflow.
Message 1: SMS
The first thing you want to do with your birthday automation workflow is send an SMS/text message to your subscriber.
This will be a great surprise for the recipient, since it will be the first thing they see from you that day.
We'd even recommend setting it to go out in the morning (after 9am) so that they can have you on their mind during the first part of the day.
Keep it short and sweet, but make sure you allude to the email they'll receive later from you.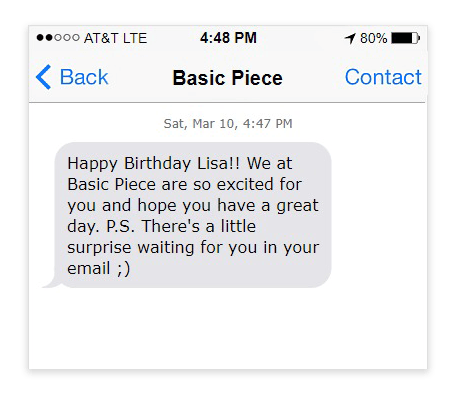 Message 2: Email
Now that you've set up your first message to be a quick SMS, create a second message that builds on the SMS and motivates them to visit your store that same day.
You can first of all set the tone by using celebratory language (words like "congrats," "celebration," exclamation marks, etc.) and images (confetti emojis, birthday candles and cakes, etc.).
Then, make sure to include a great gift such as a discount, free shipping or a coupon code (which expires soon).
Lastly, include suggestions for products so that they'll a) see the discount and b) get an idea of how to use the discount.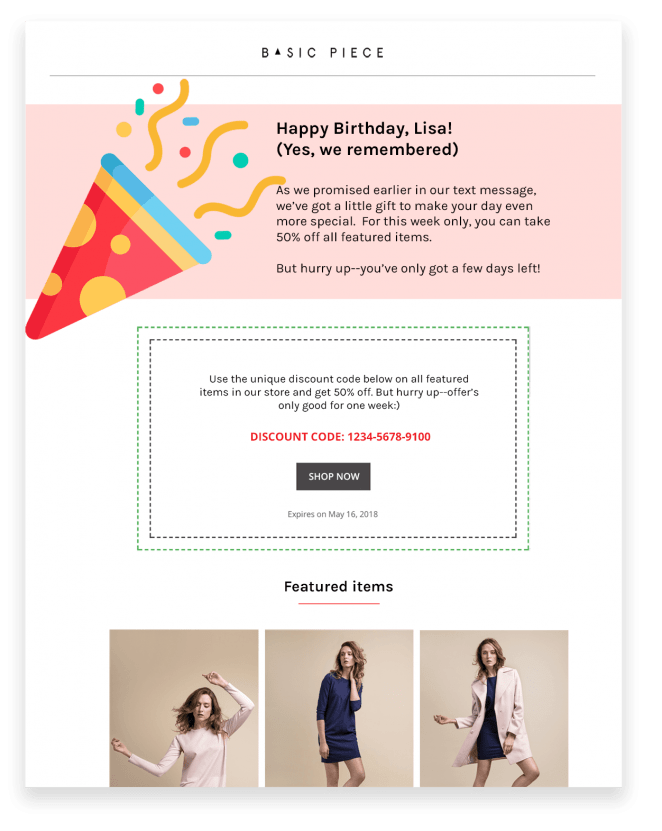 You'll make the day fantastic for them, as well as convert them into a first-time or repeat buyer.
How to get started with SMS marketing for ecommerce
Getting started with SMS marketing is really simple: if you're already using Omnisend, you'll find the SMS marketing feature in the Automation section.
If you're not with Omnisend yet, you'll first need to sign up.
(Don't worry: you can get started with a 14-day, full-featured Pro trial. And the best part: no credit card is required.)
After that, you can start experimenting with SMS marketing automation and see just how powerful and high-converting this channel can be.
Get a personal 1-on-1 demo & superpower your next SMS campaign