Drive sales on autopilot with ecommerce-focused features
See Features
Reading Time:
8
minutes
It's that time of the year — fireworks, family gatherings, and a strong sense of patriotism. Fourth of July is the most popular holiday in America, and brands would be wise to take advantage of this and send out marketing newsletters in line with this theme.
Customers love receiving special content — and July newsletters are a great way to make your brand stand out amidst all the noise.
July is filled with a lot of other popular occasions as well, such as the American Independence Day, Canada Day (July 1st), National Postal Worker Day (July 1st), International Kissing Day (July 6th), and World Population Day (July 11th), among others.
Figure out if any of the following events/occasions are relevant for your brand, and see if you can include a quip or two about these in your July newsletter.
Most popular occasions in July
| | |
| --- | --- |
| Independence Day | July 4 |
| Canada Day | July 1 |
| National Postal Worker Day | July 1 |
| International Joke Day | July 1 |
| National Bikini Day | July 5 |
| National Fried Chicken Day | July 6 |
| International Kissing Day | July 6 |
| Tell the Truth Day | July 7 |
| National Video Game Day | July 8 |
| National Blueberry Day | July 8 |
| World Population Day | July 11 |
| National French Fry Day | July 13 |
| World Emoji Day | July 17 |
| National Ice Cream Day | Third Sunday in July |
| National Hot Dog Day | Third Wednesday in July |
| National Junk Food Day | July 21 |
| National Tequila Day | July 24 |
| National Cousins Day | July 24 |
| National Wine and Cheese Day | July 25 |
| Parents' Day | Fourth Sunday in July |
Take a look at this July newsletter from Bobbi Brown, a skincare and makeup brand, tying their products in nicely with National Kissing Day. Notice how they've mentioned upfront the free shipping offer, and connected the event (National Kissing Day) to smoother, plumper lips. Be as creative as you can!
Most email marketing tools have a quick drag and drop builder that lets you create responsive emails on the go, but you can also try Omnisend's newsletter templates for a ready-made email creation experience.
You can choose from a wide variety of categories such as Fashion, Birthday emails, Accessories, Pets, Health and Beauty, and more. Each template is automatically optimized for mobile and beautiful to look at.
Sign-up today and create engaging newsletters that cut through the noise
Start Free Today
Most popular month-long and week-long events in July
July also dedicates the first week to Deafblind Awareness Week, the third week to Children's Art Week, and the entire month to National Ice Cream Month. It's easy to pick out something fun or symbolic from these themes and craft a beautiful newsletter that catches your customer's attention.
If you're with a food and beverages brand, here's another fun fact for you—July is also National Grilling Month in America. You could share grilling tips and tricks, create a quirky contest around grilling, or encourage readers to post grilling-related stories on their social media. You could also promote more discounts on grilled or grilling-related products and/or food!
The main July newsletter themes
July is also summer season in most parts of the world — and the weather is a unique angle you can place into your next newsletter. Think of summer-themed magazine issues, summer special discounts, summer-based products, and summer feelings like the sun, sand, and the sea.
Here are some newsletter ideas based on the theme of a summery July:
Summer fashion
If your readers live in a typically cold place, they'll have to change their entire wardrobe for the summer. If they live in a place that's almost always hot, you can encourage them to spruce up their wardrobe! It's never a bad idea to send out a summer fashion-themed newsletter listing out your products.
Take a look at this brand advertising airy t-shirts, jeans, and summer shoes, along with a quick message that emphasizes the urgency of these "fresh" summer clothing options.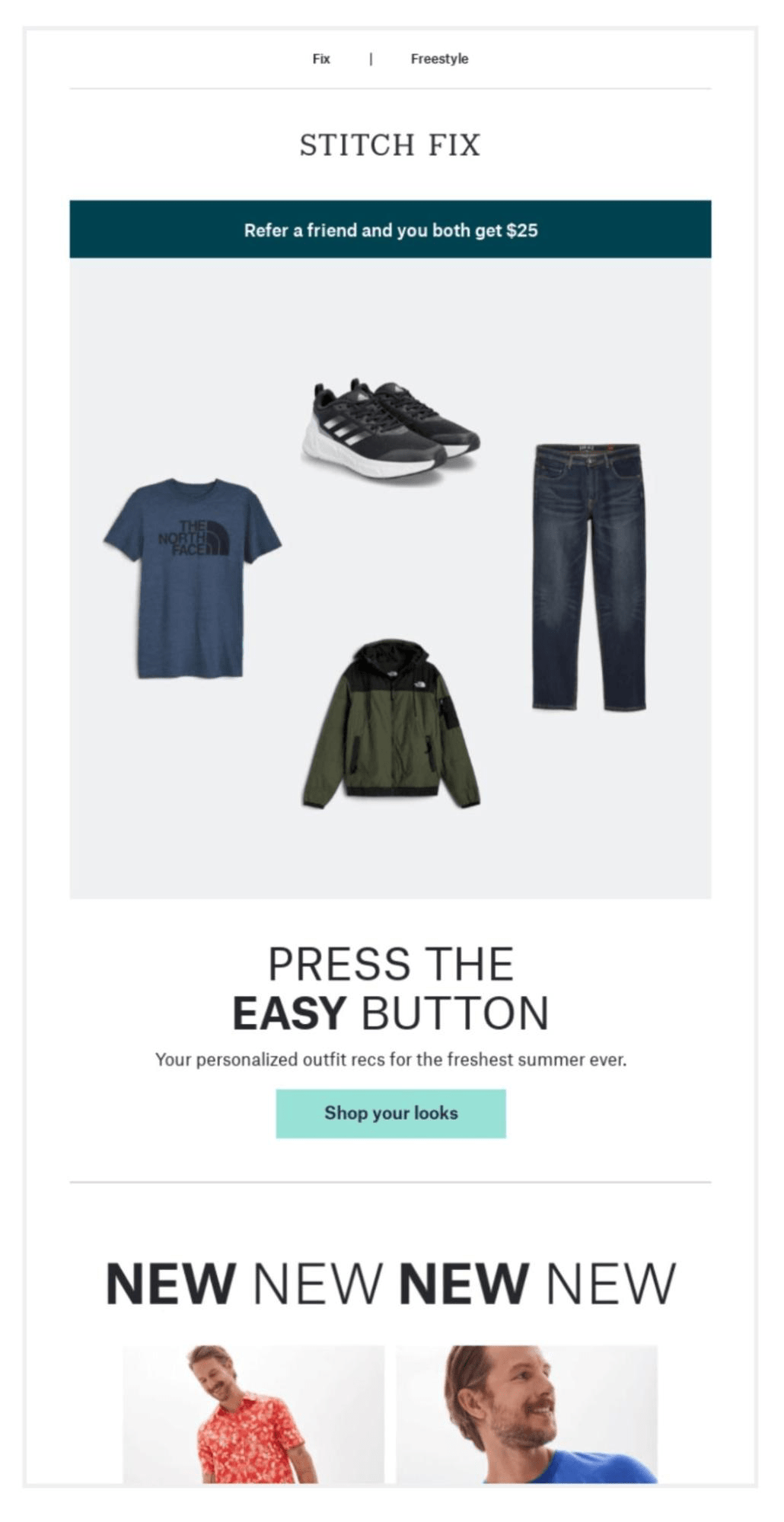 Summer travel
If you work at a real-estate, travel, hospitality, or logistics company, you can emphasize the importance of summer travel. A timely newsletter with discounts on lake-side or beach-side homes, airfare, bus fare, or cab options are a great way to introduce the concept of travel for customers who might not be thinking of these.
Here's a quick screengrab of a travel and hospitality brand advertising their pool-side properties.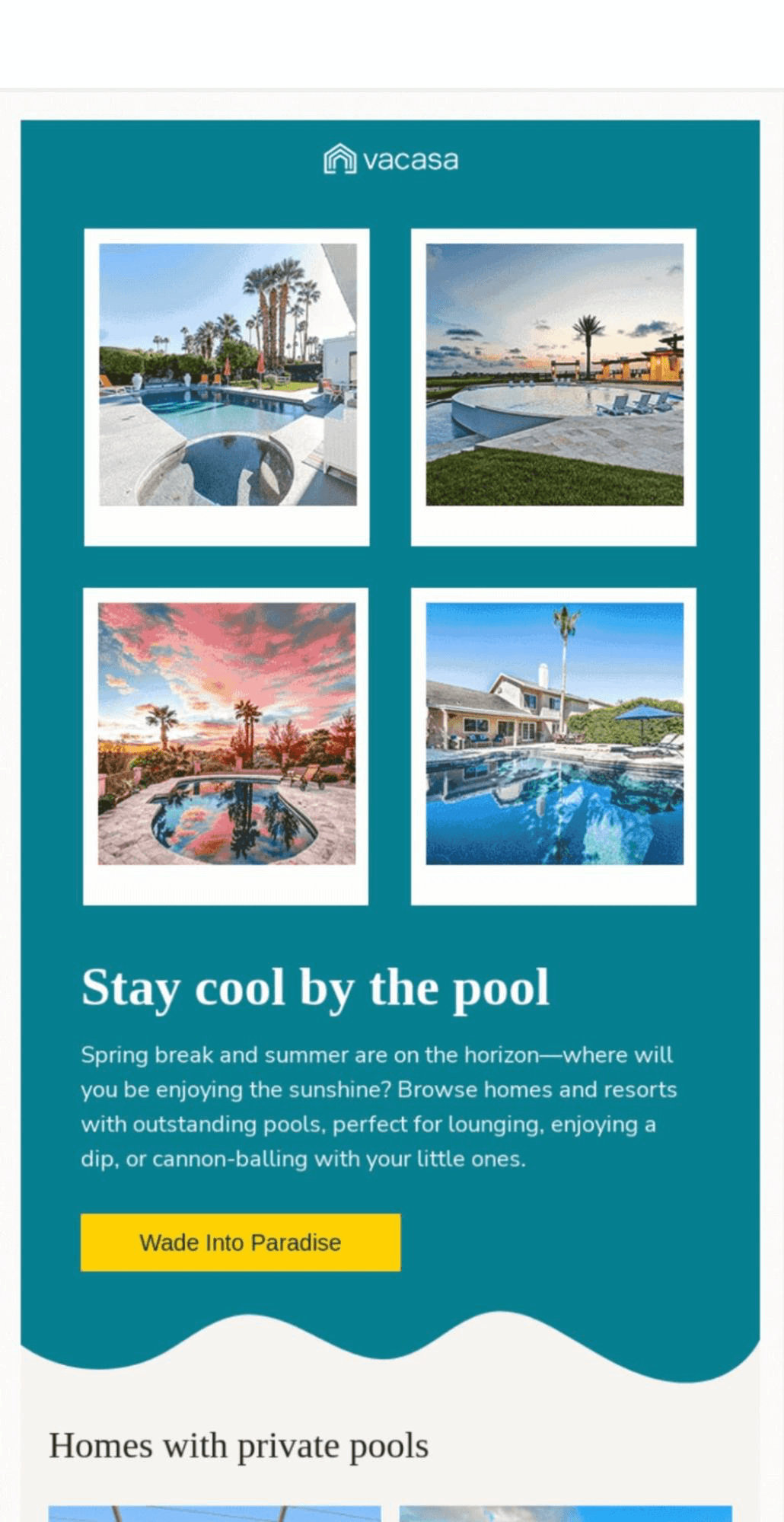 Even the design of the newsletter speaks of summer — with wavy borders, cool blue coloring, and a summer-themed CTA. Think about introducing theme-based designs into your July newsletters as well.
Summer sales
For brands that sell seasonal products, summer is the perfect time to introduce a special sale. Check out this newsletter promoting an End-of-Summer sale, with fresh, colorful imagery and design themes.
The choice of color, the picture of a human holding a summer drink, a book, and sunglasses all add up to the story, and the subtext takes it further and prompts the user to make a purchase.
Notice how they've used even the end of summer to send out a themed newsletter — this shows there are plenty of ways to promote your products and create special sales!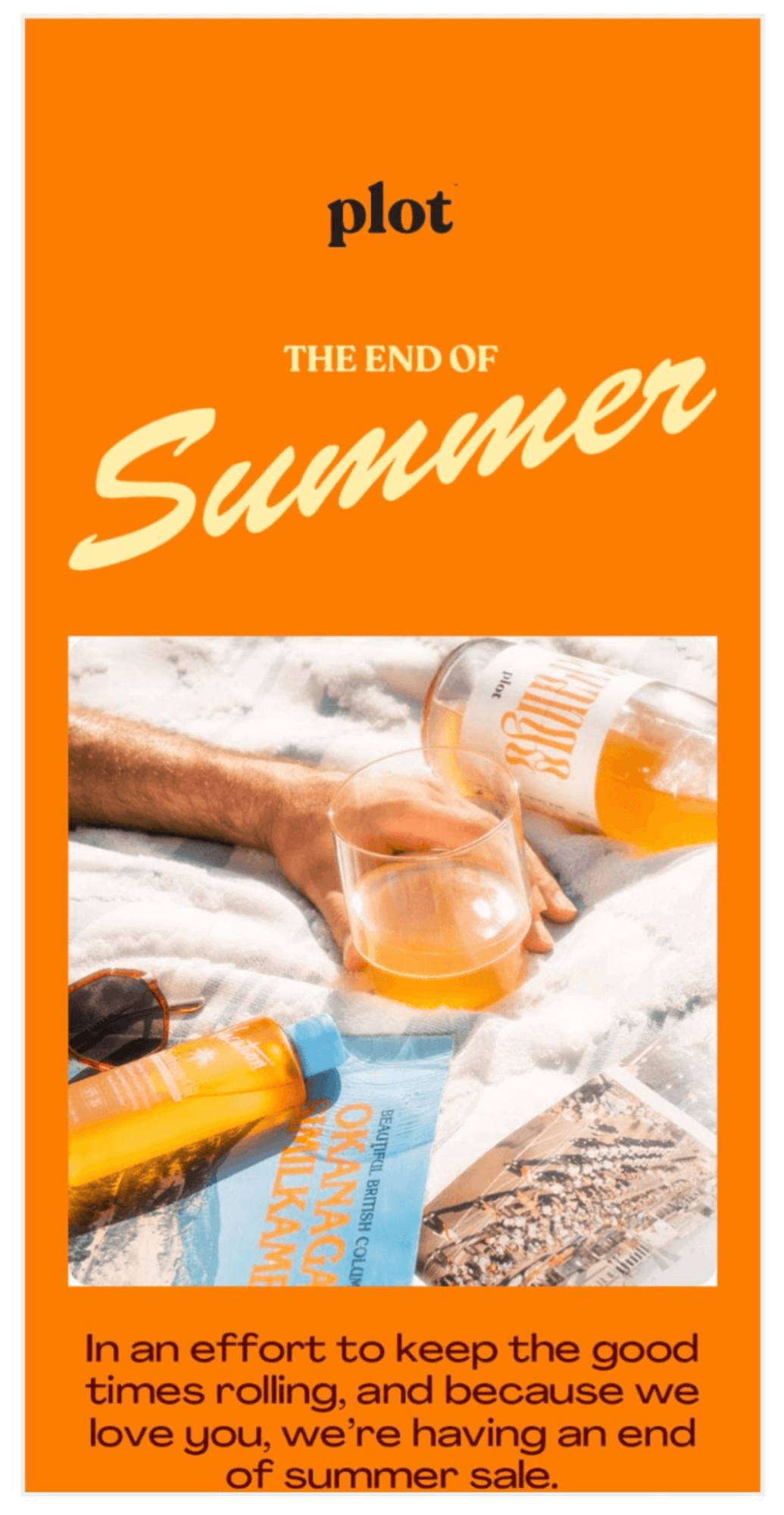 Seasonal tips and tricks
Yet another way to keep the holiday spirit alive is to send out themed tips and tricks. This can work well if you're in the wellness, healthcare, travel, and hospitality spaces.
This can also work in case you don't have any summer discounts or products to promote. It provides a way for you to show customers you care about them, that you're not always trying to promote your brand, and that can play positively in your favor.
The following image shows how Elysium, a fitness and athleisure brand has captured the healthcare and wellness aspect of summer through a thoughtful tips and tricks newsletter.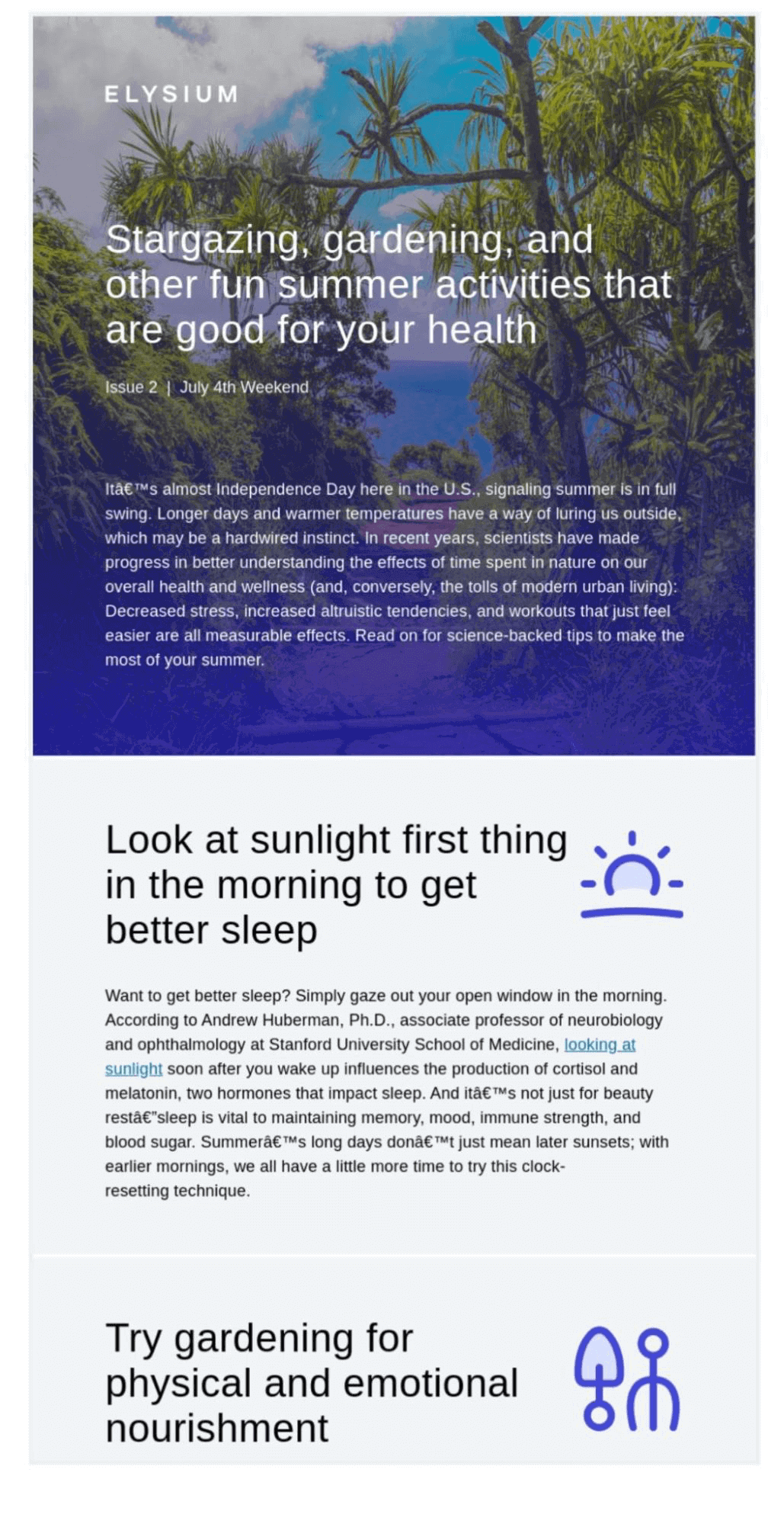 Summer food
For brands that are in the food and beverages space, summer is the best place to promote your cool drinks, juices, and other summer products. Here's a screengrab of a newsletter from Dr. Pepper promoting their Strawberries & Cream flavor.
The design again makes good use of the theme by adding in an umbrella, coconut tree leaves, and a beach-side design, while also maintaining the brand's style and colors.
Summer reading lists
One more way to make the most of your July newsletter is to introduce a themed reading list. This works best if you're in the publishing space, or if your store or website offers books for sale or rent.
Check out this fun summer reading guide from the Spartanburg County Public Library. Who says libraries can't be fun?!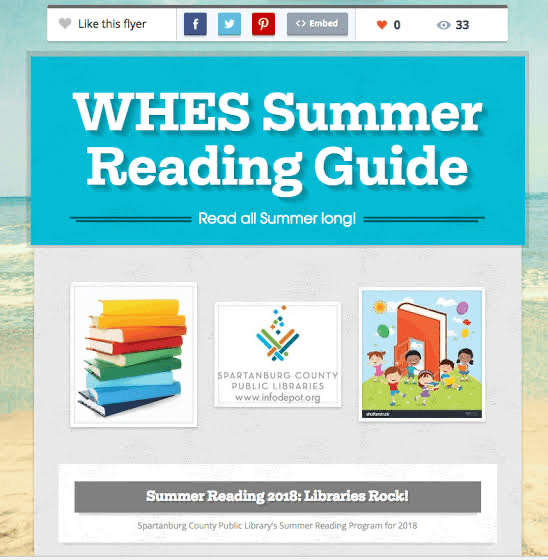 Fourth of July promos
If the majority of your customers are based in America, you can send a timely Fourth of July themed newsletter that evokes a sense of patriotism while also promoting your products (possibly through a discount).
Here's a quick example of how Sunjoy Group leveraged Independence Day to promote a 15% discount on all products, encouraging readers to spend the day outdoors and make "savings" from their sale. The design theme reflects the Fourth of July theme, with the star spangled banner in the background and red and blue colors all around.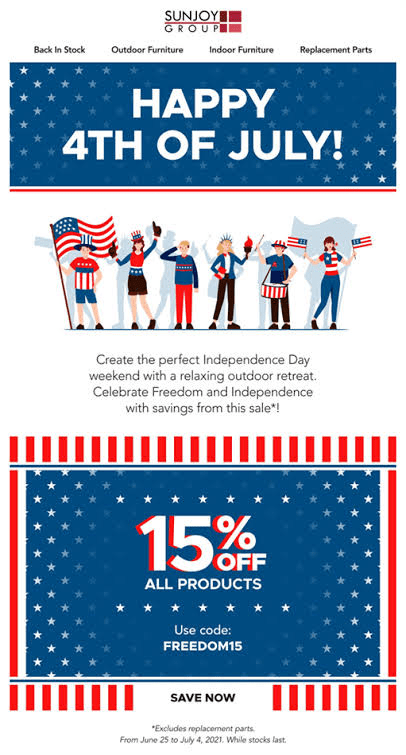 Ideas for July newsletter subject lines
Remember to dedicate enough time in your newsletter planning and creation cycle to the subject line! Subject lines are the first line of interaction with your customers, and this can make or break your open rates.
Emails with good subject lines capture reader interest and encourage them to take action with the email. And on the contrary, emails with bad subject lines might prompt readers to send your emails to trash — and this negatively affects your sender and IP reputation.
If you're looking for some inspiration for your July newsletter subject lines, check out some ideas we've added below (for 4th of July newsletter subject lines, you can try this article):
Independence Day Special
LAST DAY Independence Day Sale | up to 70% Off
Independence Day Bead Deals, up to 70% Off!
INDEPENDENCE DAY SALE!"
Our Savings celebration is a blast
Shop our 4th of July sale
Celebrate the 4th of July with our red, white, and blue deals!
Summer sale: Beat the heat with our coolest discounts!!
Happy Canada Day! Don't miss our special offers for our northern neighbors!
Get ready for National Ice Cream Day with our sweet deals
Celebrate World Emoji Day with our exclusive emoji-themed products
It's National French Fry Day! Treat yourself!
Happy Parents' Day! Show your love with our heartwarming gifts
Keep your skin safe this UV Safety Month
The best National Parks and Recreation Month destinations
Celebrate National Blueberry Month with our delicious blueberry-inspired treats
Get wild with National Zookeeper Week deals
Don't miss out on National Grilling Month deals – fire up the grill!
Happy National Hot Dog Month! Enjoy our sizzling hot dog deals
Time for some Sun, Sand, & Sea! Check out our best summer properties
If you're looking to bounce off some ideas and figure out which subject lines are good and which ones aren't, you can try the Omnisend email subject line tester. You also can use Omnisend's free AI subject line generator for your inspiration.
All you have to do is to type in your proposed subject line, and the AI automatically analyzes it and delivers a score. You also get handy tips on how to improve your score, along with some useful pointers on scannability and an instant preview on desktop and mobile screens.
Wrapping Up
While there's still some time for July left, it's always a good idea to start planning for your newsletters a little bit in advance.
If you're feeling stuck on ideas, go through the list of July occasions and see if any of them can be relevant for your audience. You can try to add in a themed discount, promote your summer special products, or simply give your audience tips and tricks to beat the heat (or the cold, if they're Down Under in Australia!)
You can read this blog for 4th of July newsletter ideas. Remember to spend time on creating good Fourth of July email subject lines that reflect the contents of your email.
And finally, for an all-round email experience, you also need a powerful and flexible email marketing tool. The tool should give you strong email campaign creation capabilities, omnichannel automation, segmentation, personalization, reporting, and analytics.
If you're unsure where to start, you can try Omnisend. There's a free plan for beginners, and paid plans start at $16/month.
And if you're an Ecommerce business, Omnisend is even more perfect for you. The tool is crafted specifically with Ecommerce businesses in mind, and offers capabilities such as Ecommerce templates, a product recommendation engine, cart automations, and more. 👉 Check it out!
Discover ideas for next months holidays:
Get started with Omnisend today & drive sales on autopilot with pre-built automation workflows
Start Free Today
related features
Want more sales?
Omnisend has everything you need to succeed.
Start free now
No Credit Card needed.