Drive sales on autopilot with ecommerce-focused features
See Features
October newsletter ideas to spruce up your next campaign (+ examples and tips)
Reading Time:
9
minutes
It is a widely accepted myth that October newsletters always contain spooky content and Halloween-themed topics.
But the reality is, as fall approaches, marketers have a wealth of ideas to choose from for creating impressive newsletters.
October is brimming with opportunities to reach out to a wider audience without sticking to the cliches of pumpkins and cobwebs.
An impressive newsletter with refreshing ideas can prevent seasonal fatigue among subscribers. Breaking away from the expected themes and ideas is also a great way for your business to stand out in a crowded inbox.
In this article, we'll explore a range of interesting October newsletter ideas and subject lines designed to enhance open rates.

Let's get started.
Where to get newsletter ideas for October
As more and more businesses level up their marketing efforts, creating unique content is getting difficult.
Despite this, creativity can flourish with careful ideation and planning. This is why creating a content marketing calendar is a great place to start, and you can use our email marketing holiday calendar to find ideas.
A content calendar structures your content strategy, detailing the content of your emails and their scheduled delivery. Plus, it lets you tailor your emails to different audience preferences. This way, everyone gets just the right kind of emails from you.
Below are some valuable sources for generating content ideas:
Social media trends
Customer feedback
Trending news stories
Competitor analysis
There's also another trick to discovering October newsletter ideas. Simply take a tour of Omnisend's email newsletter templates. You'll not only get creative ideas but also see how to make your newsletter visually engaging.
Sign up today and create engaging newsletters that cut through the noise
Start Free Today
October holidays 2023
October is packed with occasions, giving you lots of ideas for different audiences.
From the eerie charm of Halloween to the meaningful observance of Breast Cancer Awareness Month and the global significance of World Food Day, the list feels almost endless.
Here's a compilation of popular international and US national holidays in October. A glance through this list is sure to spark fun and meaningful ideas for your October newsletter.
October 1st – International Day of the Older Persons; International Coffee Day; World Vegetarian Day; National Hair Day
October 2nd – International Day of Non-Violence
October 3rd -7th – Humphreys Pyjama Week
October 4th – World Animal Day; National Cinnamon Roll Day; Improve Your Office Day
October 5th – World Teachers' Day
October 6th – World Smile Day
October 7th – World Cotton Day
October 8th – World Octopus Day
October 9th – World Post Day
October 10th – World Mental Health Day
October 11th – International Day of the Girl Child; National Take Your Parents To Lunch Day
October 12th – Columbus Day; World Sight Day
October 13th – International Day for Failure
October 14th – World Hospice and Palliative Care Day; Be Bald and Be Free Day; National Dessert Day
October 15th – Global Handwashing Day
October 16th – World Food Day; Boss Day
October 17th – National Pay Back a Friend Day
October 18th – World Menopause Day; National Chocolate Cupcake Day; National No Beard Day
October 19th – National New Friends Day; LGBT Center Awareness Day; National Get Smart About Credit Day
October 20th – World Osteoporosis Day
October 21st – National Pumpkin Cheesecake Day
October 23rd – Mole Day
October 24th – United Nations Day
October 25th – World Pasta Day
October 26th – Howl at the Moon Night
October 27th – National Black Cat Day
October 31st – Halloween; National Caramel Apple Day
October newsletter ideas
Let's move on to exploring interesting and impressive October newsletter ideas to get the wheels of your fall newsletter turning.
Once you've settled on an idea, you can use Omnisend's email builder to quickly create and send newsletters. It's ideal for both seasoned marketers and beginners.
International Day of the Older Persons (October 1st)
October rightly starts with honoring the wisdom and experiences of our older generations. This day is also about addressing the challenges faced by the senior citizens.
Newsletter idea:
Share heartwarming stories or interviews with seniors who've made remarkable societal contributions. Include insights, valuable advice, or tales from their life that inspire readers.
Alternatively, show your appreciation by offering exclusive discounts or promotions for customers above a certain age. Highlight products or services catering to their needs, making them feel valued.
This is precisely the approach taken by Blurb, a publishing company. They promote a memory book for preserving cherished moments between grandparents and grandchildren.

International Coffee Day (October 1st)
International Coffee Day unites coffee enthusiasts worldwide to celebrate their love for this beverage. This day also serves as an opportunity to support coffee farmers.
According to a Drive Research report, 74% of Americans drink coffee every day. That makes coffee the most preferred beverage in the country. Hence, October newsletter ideas centered on this event are a great choice.
Newsletter idea:
Share the journey of coffee beans from crop to cup. Discuss the origins, brewing techniques, and the art of crafting the perfect cup of coffee. This way, you're not just educating your audience, but also inspiring them to try something new.
Check out the unique approach Chamberlain Coffee takes to celebrate this day.

World Animal Day (October 4th)
October 4th marks World Animal Day, a day dedicated to raising awareness and celebrating the diversity of our planet's animal kingdom. It's essentially a global movement for making the world a better place for animals.
Newsletter idea:
Highlight the journeys of animals finding loving homes and the people who make it happen. This is a great way to encourage readers to support local rescue organizations.
You can provide special discounts on select products and drive sales. Announce that you'll be donating all earnings to an animal charity.
Observe how Winnie Lou subtly advocates for its pet food by emphasizing the significance of nourishing pets with fresh, wholesome ingredients.

World Teachers' Day (October 5th)
World Teachers' Day exists to recognize, assess, and elevate educators worldwide. It's an excellent opportunity to engage with educators, students, and anyone who values the role of teachers in shaping our future.
Newsletter idea:
Share inspiring stories of educators who have made a significant impact. You can even include testimonials from students or parents expressing their gratitude.
Provide exclusive discounts on teacher-favored items such as stationery, books, or classroom supplies. Encourage subscribers to show appreciation by gifting something special to their favorite teachers.
DonorsChoose marks this day by honoring its 'superstar teachers,' individuals who have showcased exceptional performance.

World Smile Day (October 6th)
This is one of those October newsletter ideas that most businesses can leverage. World Smile Day is all about spreading happiness and encouraging acts of kindness.
Newsletter idea:
Encourage subscribers to participate in a "Random Acts of Kindness" challenge. You could suggest a list of easy, heartfelt acts, like giving a compliment to a stranger or buying someone coffee. Share their stories and experiences in a follow-up newsletter.
Check out how FACULTY gives its dedicated customers an exclusive preview of its upcoming tooth gems, making them feel valued.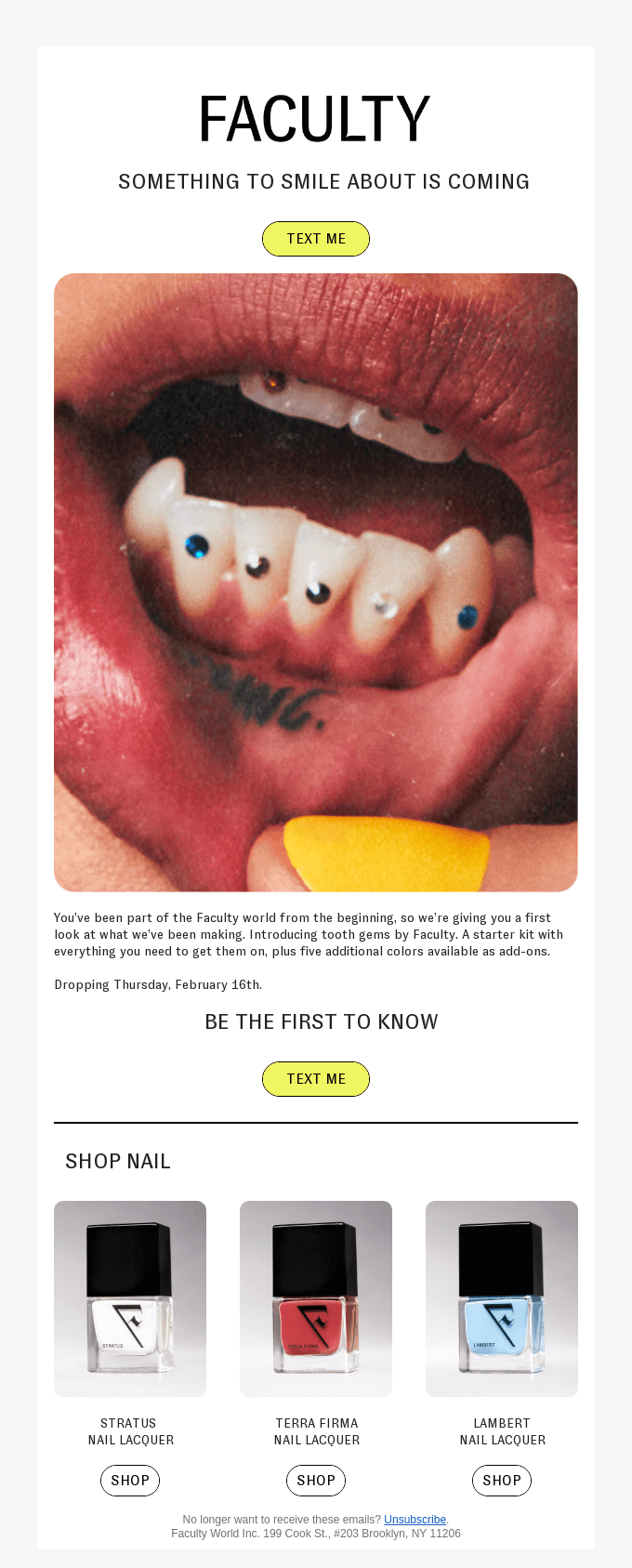 World Mental Health Day (October 10th)
Now more than ever, World Mental Health Day holds significant relevance. This day focuses on raising mental health awareness, education, and advocacy while fighting social stigma.
Newsletter idea:
Encourage readers to prioritize their mental well-being by sharing a list of mental health resources. These could include articles, books, apps, or websites that offer support. You can also share inspiring stories of individuals who've overcome mental health challenges.
Keeps does something similar in its newsletter:

International Day of the Girl Child (October 11th)
Also known as the Day of Girls, this occasion is dedicated to empowering and providing support to girls globally. It also acknowledges their rights and the distinct challenges they encounter worldwide.
Newsletter idea:
One of the best October newsletter ideas is to raise awareness about women-related topics, like menstruation. This is a great way to break down societal taboos surrounding them.
Extend special discounts exclusively to your female customers. This gesture could go a long way in making them feel appreciated.
Here's a great newsletter example from Girlboss: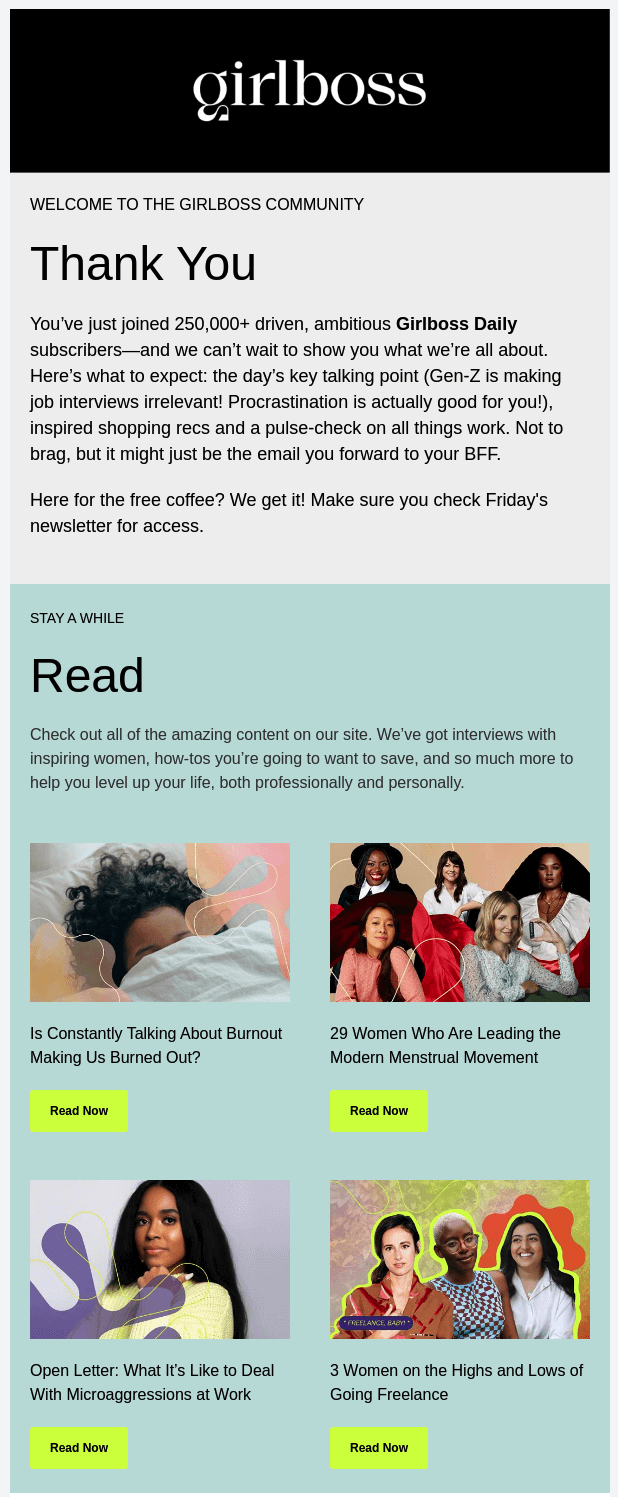 National Dessert Day (October 14th)
October 14th marks a date eagerly awaited by those with a sweet tooth—National Dessert Day. It's a great occasion to engage with your audience's love for all things sugary and indulgent.
Newsletter idea:
Share dessert recipes, whether they're classic favorites or unique creations. Include step-by-step instructions, tips, and stunning visuals, encouraging readers to try these recipes themselves.
Offer exclusive discounts on dessert-related products like baked goods, sweets, or cooking equipment. This is a great day to encourage subscribers to treat themselves!
Check out this example from Something Sweet: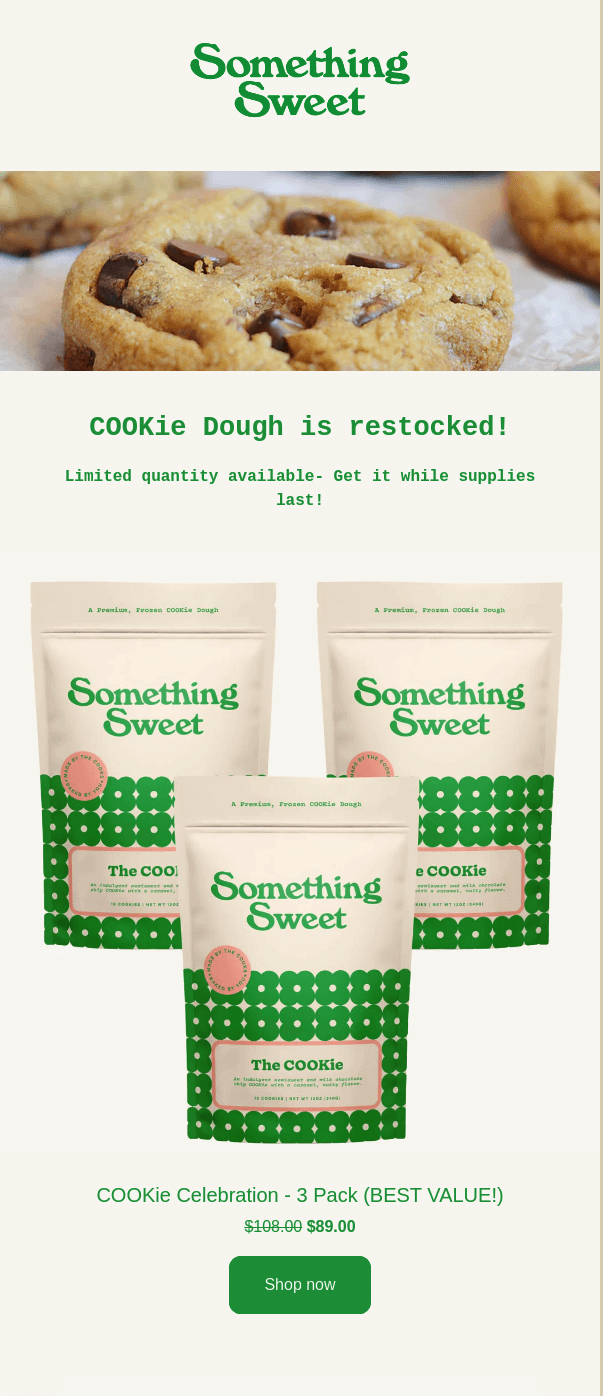 Global Handwashing Day (October 15th)
Next on our list of newsletter ideas for October is Global Handwashing Day. This day emphasizes the role of handwashing in preventing diseases. It's a meaningful event that has been around since before the COVID-19 pandemic.
Newsletter idea:
Take this opportunity to offer promotions on personal hygiene products such as soap, hand sanitizers, or handwashing accessories. Simultaneously, encourage readers to stock up on these essentials while emphasizing their significance.
For non-hygiene businesses, spotlight initiatives enhancing hygiene and clean water access through stories, volunteering, or donation drives.
You can also take this opportunity to introduce a new line of hygiene products, like in the example below by Italic.

Boss Day (October 16th)
This is one of those October newsletter ideas where you can get really creative. Boss Day is all about showing appreciation for the leaders and mentors who guide us. Similarly, managers have the opportunity to convey their regards to their employees or customers.
Newsletter idea:
Spotlight successful leaders or entrepreneurs in your industry by sharing their leadership philosophies, career journeys, and insights. This not only offers valuable lessons but also inspires future leaders among your subscribers.
To boost sales, curate a selection of thoughtful Boss Day gifts, from personalized items to leadership books.
Here's how BetterBrand uses its newsletter to include the founder's thankful message to the team:

World Pasta Day (October 25th)
World Pasta Day is about celebrating one of the world's favorite comfort foods. In an NPA survey, 73% of the respondents reported eating pasta weekly once or more. Moreover, the U.S. produces 4.4 billion pounds of pasta annually, ranking second globally.
Newsletter idea:
Offer your subscribers a simple homemade pasta recipe. Make sure to include options for vegetarians and those with dietary restrictions. Additionally, share tips on perfecting pasta cooking techniques and offer suggestions for wine pairings.
Here's a very fitting example from ZENB:

Halloween newsletter (October 31st)
Last on our list of October newsletter ideas is Halloween. While Halloween may not arrive until the final day of October, it's one of the most significant events of the month. And it's an occasion relevant to people of all ages. So, let's take a look at some Halloween newsletter ideas.
Newsletter idea:
Share creative Halloween costume ideas for individuals, couples, families, and even pets. Include DIY costume tips and suggestions for using items from your store to create unique outfits.
Alternatively, create a sense of intrigue and curiosity by sharing spooky tales or legends related to your niche.
For more Halloween newsletter ideas, check out this example from Uber Eats:

👉 Get inspiration for Halloween subject lines.
October newsletter ideas: subject lines
Consider the subject line of your October newsletter as the initial greeting in a conversation. It holds substantial importance because it's the first thing your recipients will see, and largely influenes whether that email will get opened or not.
If you struggle to brainstorm creative ideas, there are numerous online tools at your disposal. Take, for example, Omnisend's free AI subject line generator.
All you need to do is input a few keywords and a brief email description. Then, this tool will instantly craft personalized, compelling subject lines for your content.
But what if you've got ideas but aren't quite sure if they'll hit the mark? In that case, you can check out Omnisend's free email subject line tester.
In any case, here's a list of subject lines you may want to consider for your fall newsletter:
Exclusive offers for International Day of the Older Persons
Find your favorite coffee at great prices!
Brand new limited-time cinnamon roll flavor
Get the Perfect Gift for Teachers' Day
Get your smile on with our new arrivals!
Get better mental health with these tips
Daily reminder: Take your parents to lunch!
Join our contest for International Day of Failure
Get 25% Off on all handwashing supplies
Surprise your boss this Boss Day
Brand new pasta recipes for you!
Hurry! Halloween sale ends tomorrow.
Wrap up
With October just around the corner, it's time to start creating your newsletter for the month.
Clearly, the world of October newsletter ideas extends far beyond Halloween and fall themes. By exploring different occasions throughout the month, you can engage with your audience in meaningful ways—just remember to always craft an engaging subject line, and segment your audience for targeted communication.
And don't forget to use a content calendar to stay creative and organized.
Get started with Omnisend today & drive sales on autopilot with pre-built automation workflows
Start Free Today
related features
Want more sales?
Omnisend has everything you need to succeed.
Start free now
No Credit Card needed.