Drive sales on autopilot with ecommerce-focused features
See Features
Reading Time:
3
minutes
Companies today are in a constant battle for consumers' attention—but getting that attention isn't easy. As consumers are increasingly being exposed to generic marketing and distraction only a fingertip away, marketers need to find ways to stand out from the crowd and provide relevant, personalized and attention-grabbing messaging.
To do this, retailers often turn to marketing automation to achieve messaging relevance—and for a good reason. Automated messages routinely generate higher-than-average marketing metrics when compared to generic messaging.
But sending automated messages alone isn't always good enough. The ability to combine customer data with behavior-based workflows is what marketers need to deliver relevant messages, at the right time, via the right channel.
Here at Omnisend, we understand this, and that's why we are continually improving the tools we give to marketers to help them create relevant marketing.
This week, we're rolling out a redesigned version of our Automation Editor, giving ecommerce marketers even more power to leverage their data and build precisely targeted high-performing workflows. The new Editor comes with the much-anticipated Splits feature, as well as additional, simplified targeting options for custom-event triggered workflows and audience filtering.
Through these Splits, marketers have greater flexibility to customize their automated messaging and improve the individual customer experience. Let's explore the new Splits functionality and how marketers can use it.
Using Splits to send Personalized Messages and Boost ROI
The much-anticipated Automation Splits feature allows you to get next-level personal by enabling you to send your audience down different messaging paths within the same workflow. By using customer data (e.g., on-site & purchase behavior, profile information), you can customize your workflow and send hyper-personalized messages that are more engaging and more likely to lead to conversion.
For example, let's say you are sending abandoned cart messages but only want to offer an incentive for specific audience segments (e.g., new customers, higher-value cart abandoners). You can easily split your audience by their abandoned cart value and offer a higher discount to one group and send a non-incentivized reminder message to another.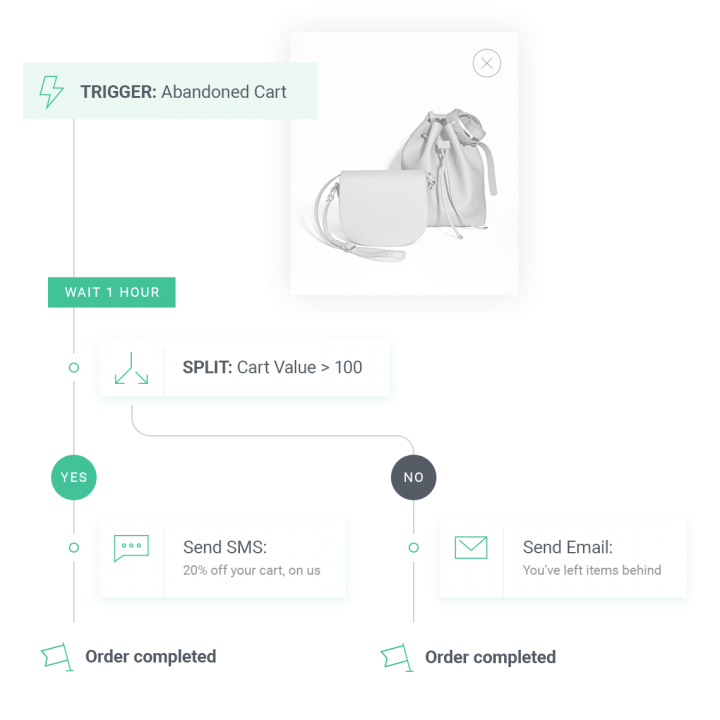 While there are countless ways to use them, here are a few examples of ways to use Splits to personalize your messaging and boost your ROI:
Split your audience by their abandoned cart value to determine whether they qualify for an incentive—and if so, the amount.
Deliver a unique post-purchase series based on purchase history (e.g., AOV, total number of purchases).
Split your audience by their purchase behavior (e.g., new customer vs. repeat buyer) and adjust your discounting strategy accordingly.
Send tailored order confirmation emails based on whether they are a first-time or returning customer.
Target dormant customers with higher incentives or alternate messaging inside of other lifecycle workflows, such as in a birthday series.
Split your audience by location to determine whether or not to promote shipping offers or other geo-specific information.
How to use Splits
Splits are available to all Omnisend customers on paid plans. To build a workflow with a Split, simply launch the Automation Editor by clicking "New Workflow," and then choose to create either a pre-built or custom workflow.
In the Automation Editor, you'll see the option to choose a Split action from the left sidebar. You can add it after any workflow step, set a delay before or after, define the Split conditions, and drag & drop the messages under each of the Split's paths (Yes/No).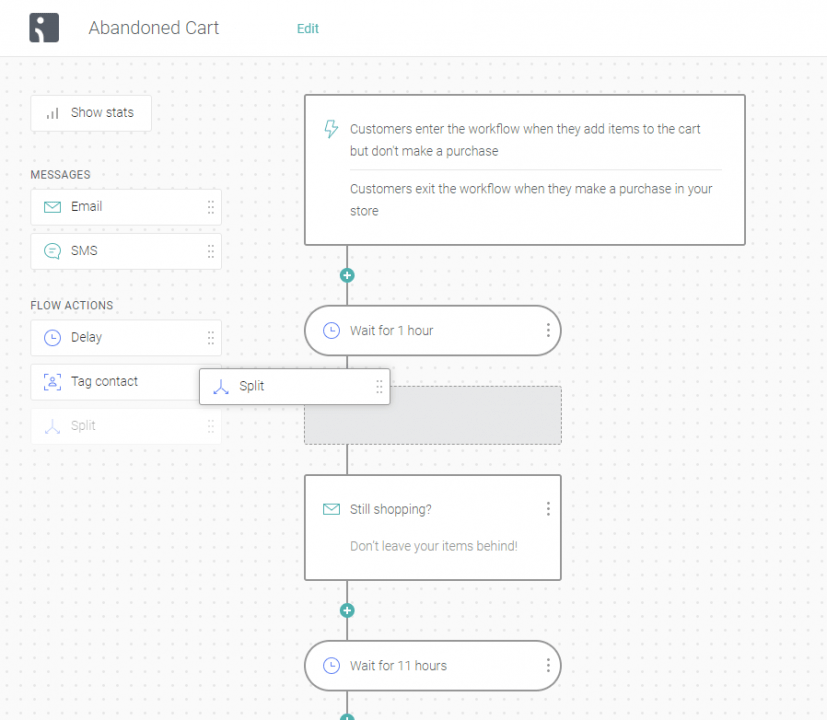 For more information on building workflows with Automation Splits, take a look at the detailed article here.
What's Next?
Newly introduced Splits, among other upcoming features with the updated Automation Editor, further demonstrate our commitment to helping ecommerce businesses use Omnisend to personalize their marketing—and we're not done.
We're continuing to work on more Editor enhancements that will give you a greater ability to optimize and seamlessly track your workflows. Here's what we're working on:
More power to optimize your workflows with Splits for A/B testing.
Seamless performance reporting with integrated real-time workflow reports.
Extended ability to drag & drop your workflow elements within the Automation Editor.
Leverage Your Data to Build Powerful, Personalized Automation
The updated Automation Editor is available to everyone on all Omnisend plans. Not an Omnisend customer yet? Join more than 70K ecommerce brands already using our platform to drive more sales with omnichannel, personalized marketing automation.
Get started with Omnisend today & drive sales on autopilot with pre-built automation workflows
Start Free Today
related features
Want more sales?
Omnisend has everything you need to succeed.
Start free now
No Credit Card needed.