Drive sales on autopilot with ecommerce-focused features
See Features
Reading Time:
9
minutes
Omnisend and Campaign Monitor are both popular email marketing tools that offer powerful campaign capabilities, SMS marketing, personalization, segmentation, analytics, and marketing automation features. But which one is better? Which should you choose for your brand?
The choice of an email marketing tool is crucial to your brand's marketing strategy. It can make or break your brand's perception in customer's minds, directly contribute to conversions and retention, and nudge customers to stay engaged and happy.
Email is a direct mode of communication that gives brands a way into customer's inboxes, a place where you have high attention spans and high intent. So it is critical to make the right choice for your email marketing tool.
In this article, we examine both Omnisend and Campaign Monitor from a feature-by-feature lens to see which one offers more robust capabilities, what these features entail, and which one would be more suited for your business. We'll cover the following aspects:
Once you're done reading this article, you should be able to make an informed decision about which tool would work best for your brand. Let's dive in!
First, here's a quick table comparison of the two tools.
Omnisend
Campaign Monitor
Email campaigns
• Drag and drop builder
• Email templates
• Product picker
• A/B testing
• Unique discount codes
• Product recommendations
• Campaign booster
• Drag and drop builder
• Email templates
• Countdown timer
• A/B testing
• RSS feed trigger
• Time-zone based sending
Marketing automation
• Email automation
• SMS automation
• Push notification automation
• International SMS
• Workflow templates
• Automation splits
• A/B split testing
• Conditional content blocks
• Dynamic recommendations
• Email automation
• SMS automation
• SMS within USA
• Custom triggers
Email list building
• Signup forms
• Landing pages
• Exit intent forms
• Pop ups
• Teasers
• Wheel of Fortune-style gamification
• Custom targeting and timing
• TCPA and GDPR consent collection
• SMS opt ins
• Signup forms
• Landing pages
• Add subscribe button
• Embedded form
• Custom branding
• Integrated tools
Segmentation
• Unlimited segmentation
• Customer lifecycle segmentation
• Live view
• Web tracking data history
• Contact tagging
• Real-time segment updates
• Segment suggestions
• Custom data-based segments
• Preference center
• Singular customer view
Analytics and reporting
• Sales reports
• Campaign reports
• Campaign click maps
• Audience growth reports
• Signup form reports
• Automation reports
• Segment reports
• Advanced reporting
• Real-time reporting
• Subscriber growth reports
• Engagement reports
• Worldview reporting
• Interactive dashboards
• Integrated analytics
Pricing
• Free plan available
• Paid plans start at $16/month
• Free trial available
• Paid plans start at $9/month
Customer support
• 24/7 Chat & Email Support, Customer success manager from $400/month
• Email support for all, Phone support for the most expensive Premier plan.
Email campaigns
The most fundamental feature of an email marketing tool lies in its ability to create and send email campaigns. Both Omnisend and Campaign Monitor are great in this area.
Both offer an easy drag and drop builder you can use to craft beautiful emails without any knowledge of coding or software development. You can also choose from hundreds of templates customized for different use cases. These templates are automatically mobile optimized and easy to edit.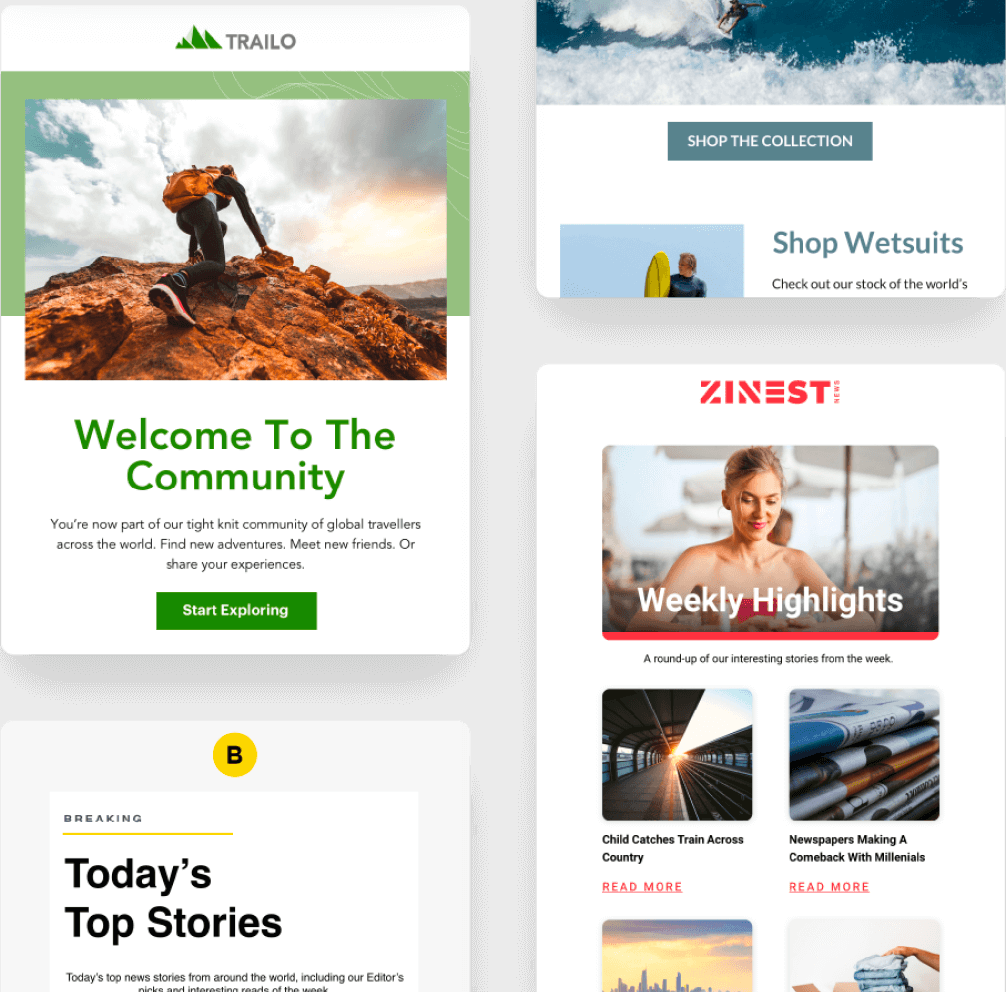 With Campaign Monitor, you can add your website's URL to import your logo, colors, and typefaces into a custom template. You can also code your own HTML template or utilize existing responsive ones. Campaign Monitor also gives you access to millions of Unsplash stock photos for free.
Apart from these features, you can also add a countdown timer, perform A/B testing, set up an RSS feed trigger, and set up time-zone based sending.
Omnisend also offers a library of beautiful templates that are ultra responsive and customized for the Ecommerce vertical. If you want to use the drag and drop builder for customized emails, you can add an inbuilt product picker, unique discount codes, and product recommendations.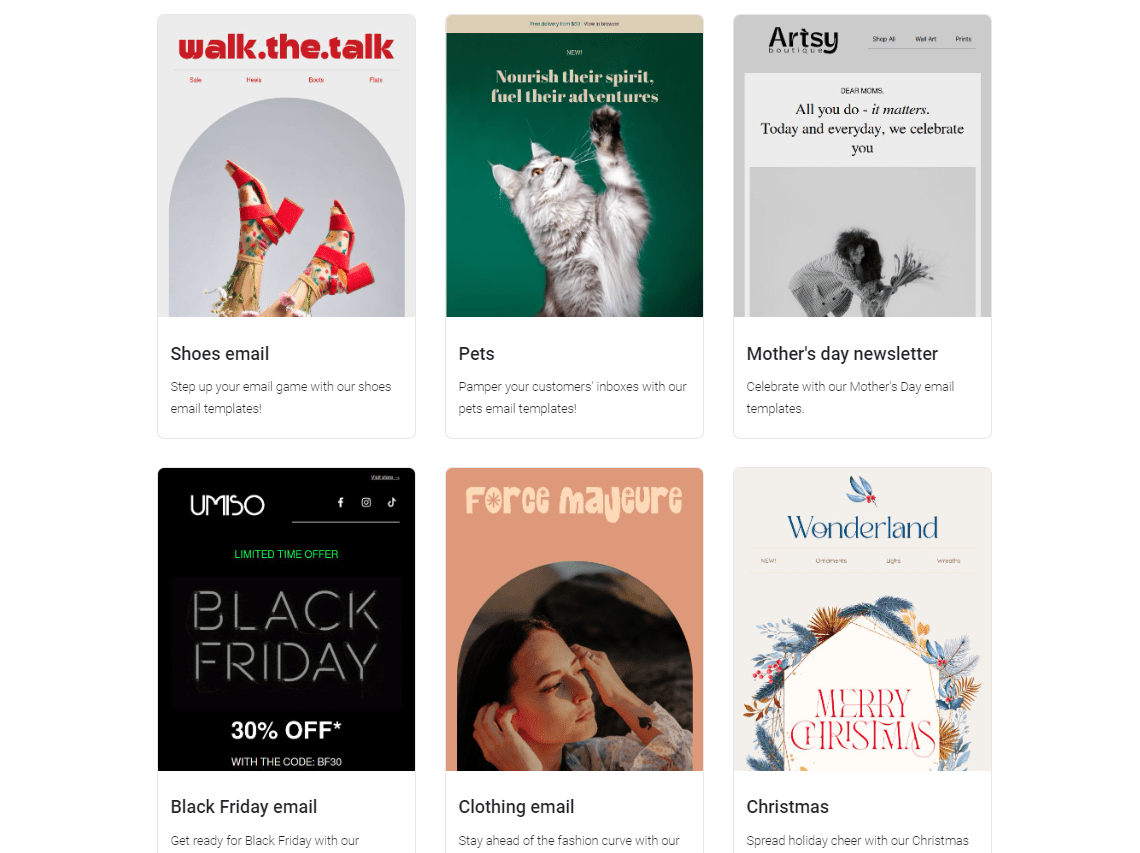 You can set up A/B testing to experiment with multiple subject line options or sender names and learn what works best for each audience. You can also leverage the campaign booster and automatically send a repeated newsletter to customers who didn't open the first one.
Marketing automation
Campaign Monitor and Omnisend both offer powerful automation capabilities across email and SMS channels, but Omnisend goes one step further to offer push notification automations.
In fact, Campaign Monitor's SMS automation is only available to contracted customers sending SMS campaigns within the USA, if they're added to an email plan. Meanwhile, Omnisend enables you to send international SMS campaigns.
Campaign Monitor like other tools lets you set up custom triggers for your email and SMS campaigns, create rules for different aspects of user behavior, and create unique content for each step of the automation.
With Omnisend, you can drag and drop campaigns across email, SMS, and web push notifications into a single workflow. You can also choose from pre-built Ecommerce workflow templates complete with readymade messages, subject lines, and workflow settings. This includes workflow templates for welcome emails, product abandonment, cart abandonment, order confirmation, shipping confirmation, and cross-sells.
You can also add automation splits, A/B split testing, conditional content blocks, and dynamic recommendations.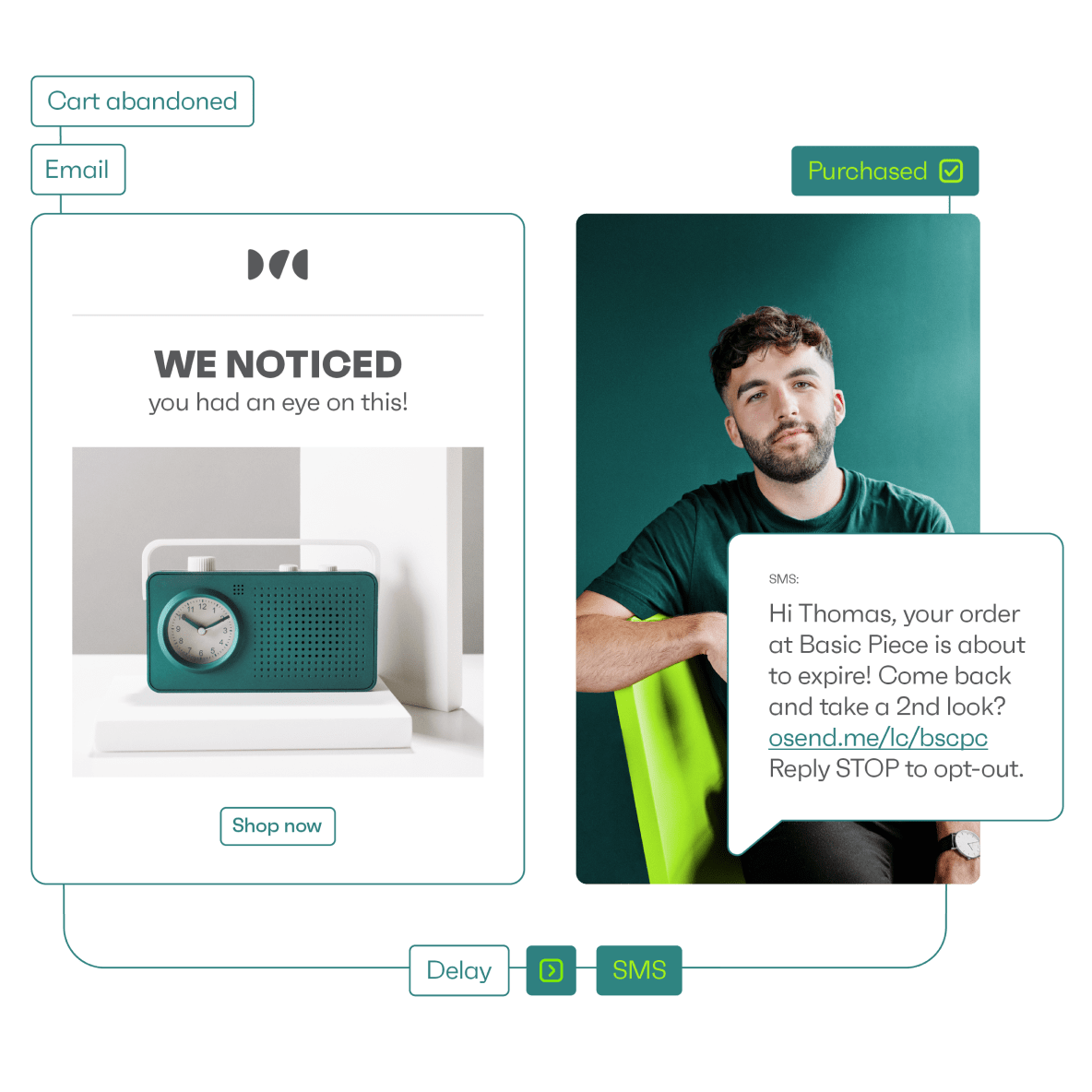 Email list building
There's only one thing you should remember when you're trying to build an email list: never purchase an email list!
Email lists should be built organically, with the user consciously and consensually opting in for your emails. If you fail to do so, you might end up with an email list that contains users who've never heard about your product, users who are uninterested in your emails, or users who are irrelevant for your target market. When these users receive emails, they're more likely to delete the emails, or worse, mark them as spam.
When users mark your emails as spam, your domain and sender reputations take an instant hit. This reduces your chances of your future emails reaching a customer's inbox — and ensures that you never reach the primary inbox.
Get started with Omnisend today & drive sales on autopilot with pre-built automation workflows
Start Free Today
To prevent being marked as spam, you need to set up list building forms across multiple touchpoints where users can consensually opt in for your emails. This way, you can make sure that your emails are never considered irrelevant or marked as spam. This keeps your domain and sender reputation at a healthy number and increases your email deliverability.
To create such organic email lists, you need a robust email marketing tool such as Omnisend or Campaign Monitor. With Campaign Monitor, you can set up signup forms to bring in new subscribers straight from your website. You can add a subscribe button, landing page, and embedded form with your custom branding. You can also connect with industry-leading tools such as WordPress, SumoMe, OptinMonster, Wufoo, and more to grow your email lists.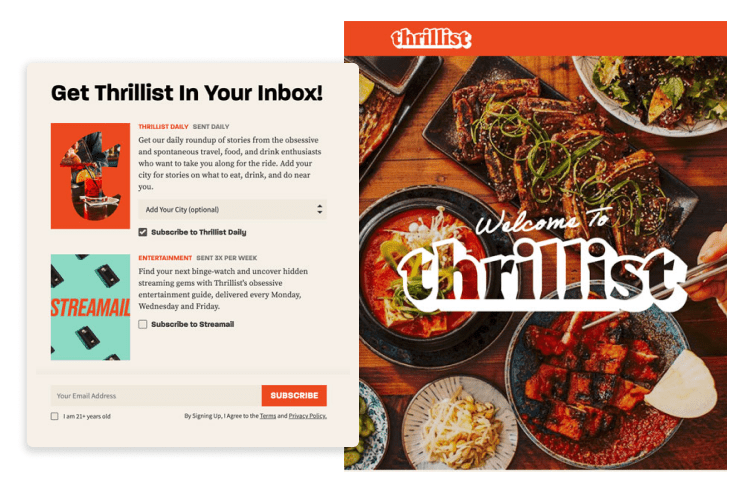 With Omnisend, you get a lot more than just signup forms and landing pages. You also get exit intent forms, pop ups, teasers, and a Wheel of Fortune style gamification option.
You can set up custom targeting and timing for each form, and add TCPA and GDPR consent collection options. Omnisend also gives you SMS opt-in collection options and additional fields in every form.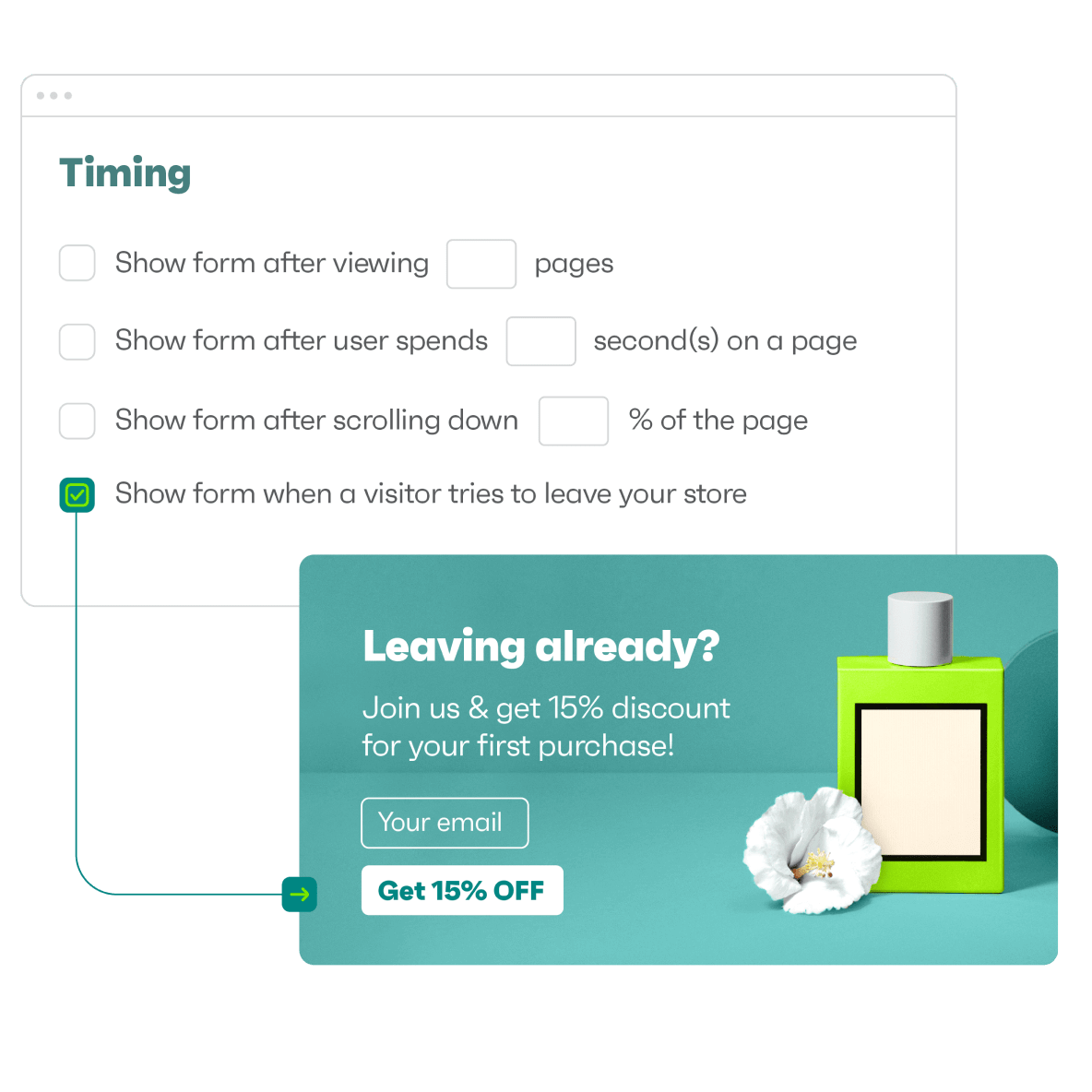 Segmentation
With Campaign Monitor, you can create custom segments based on custom data shared to you by your contacts. You can also set up a preference center where contacts can take control of the data they share with you.
Campaign Monitor also gives you a singular view of every interaction you've ever had with a particular customer, including information about their demographics, geography, and email behavior.
Omnisend gives you unlimited segmentation options even on the free plan. You can set up segments based on customer lifecycle stages to nurture and reactivate your most valuable shoppers. You can also access a live view to see what pages, categories, and items your users are shopping in real time.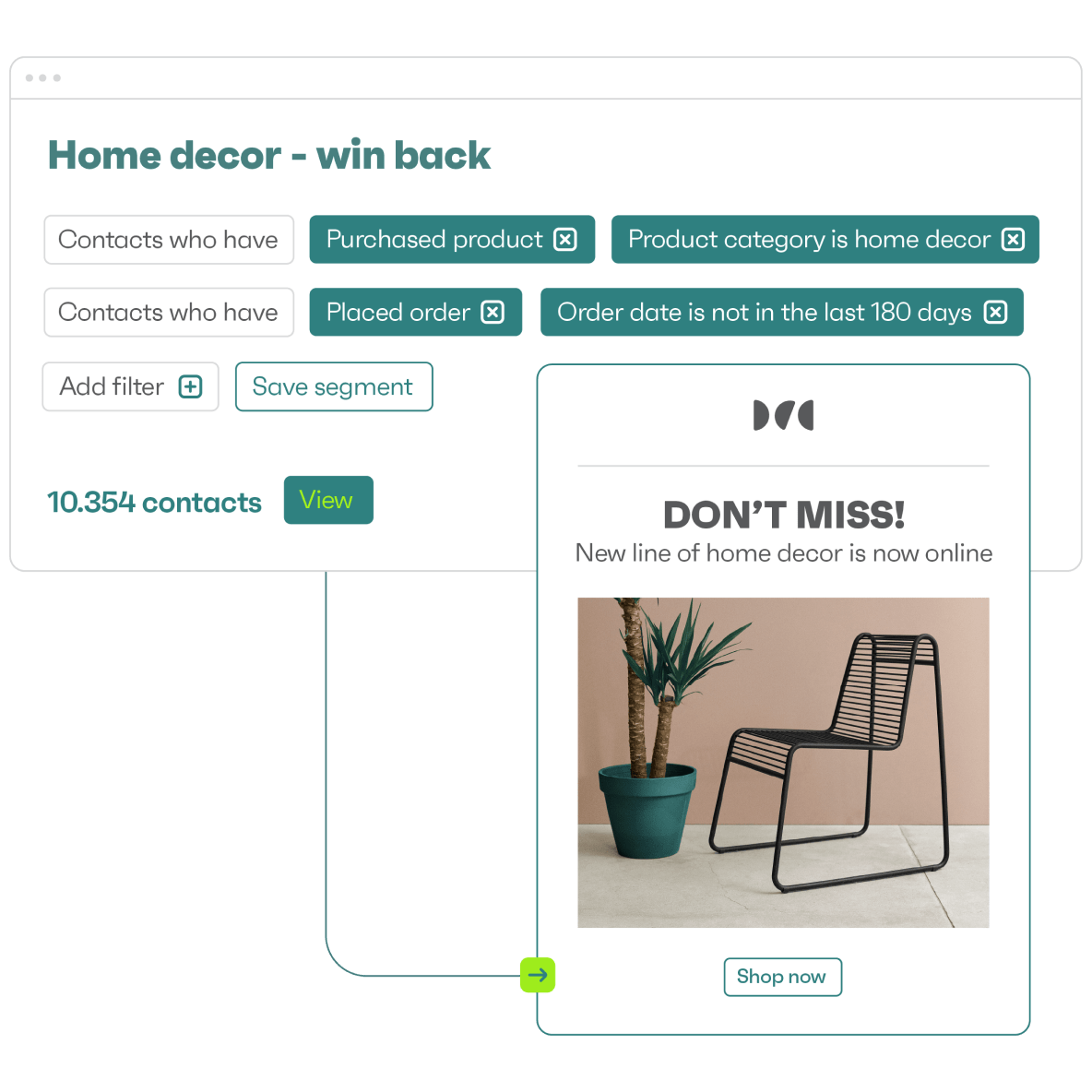 Because Omnisend is designed primarily for Ecommerce businesses, you get focused segmentation options to filter audiences based on different transactional events and purchase behaviors. You can also combine multiple segmentation rules, choose from a variety of filters, and narrow down your targeting to the most granular details.
Additionally, Omnisend gives you web tracking data history, and contact profiles to see the browsing details and history of every known and anonymous user. You also get segment suggestions, real-time segment updates, and contact tagging for an additional layer of personalization.
Analytics and reporting
Omnisend offers a wide variety of reporting capabilities. Sales reports help you keep track of the revenue each campaign, channel, or automated workflow generates. Campaign reports give you data about campaign performance, such as open, click, delivery rates, and revenue information.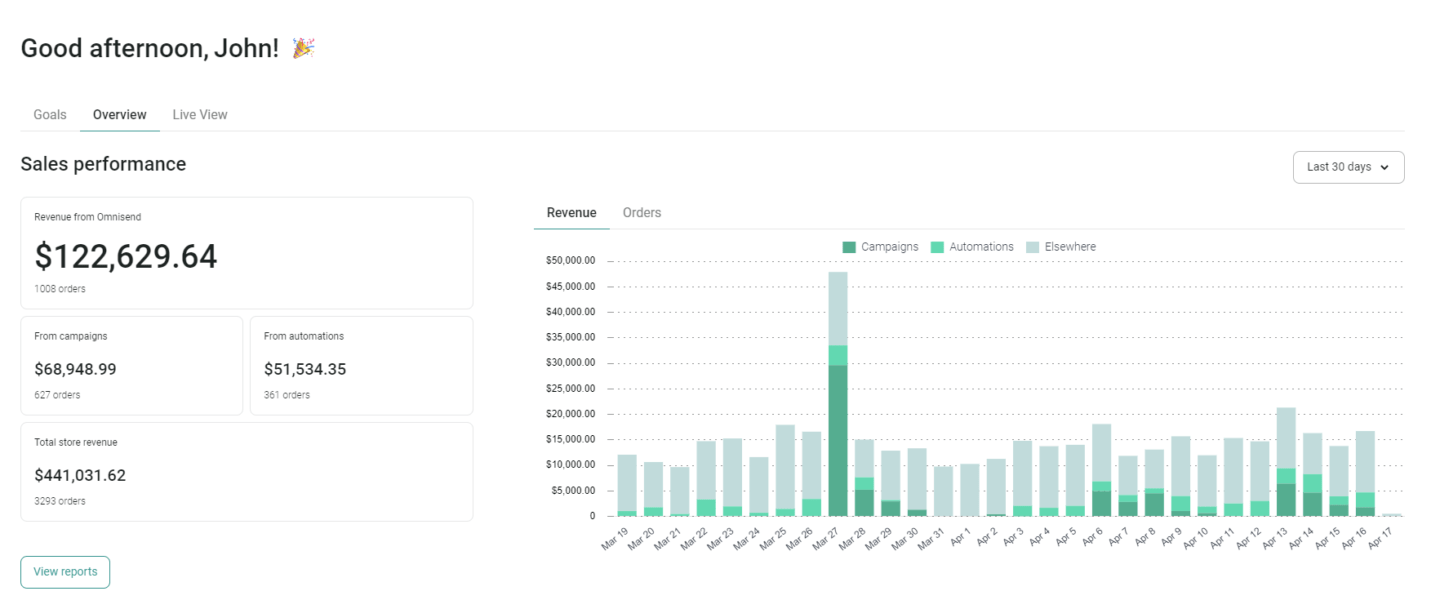 You can also access campaign click maps to see which products and elements your subscribers are clicking on, or audience growth reports to understand how email and SMS lists are growing over time. You can compare audience growth trends with a previous period to see if any time-based factors are impacting your growth.
To check how well your signup forms are performing, you can check signup form reports, and to evaluate the execution of your automations, you can check automation reports.
You can also assess the efficacy of your segments and figure out which segments are performing best using segment reports. Apart from all this, you can leverage advanced reporting in the Pro plan of Omnisend.
Campaign Monitor also gives you real-time reporting with subscriber growth and engagement reports. You also get worldview reporting to give you insights into how subscribers open and click your campaigns, in real-time, across the globe.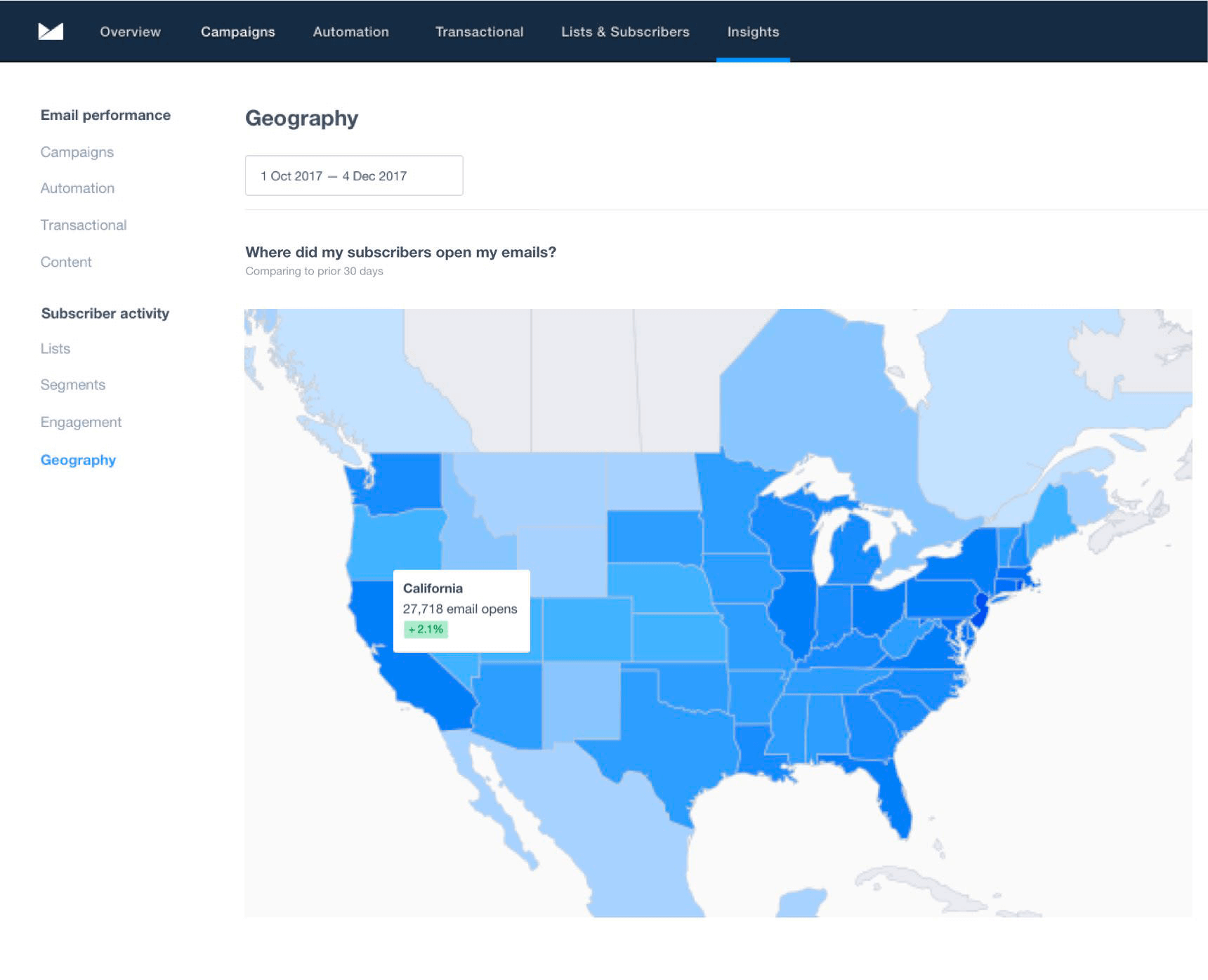 You get interactive dashboards covering email campaigns, automations, and transactional emails. You can also connect your campaigns to third-party analytics tools for a more holistic view of how your users are engaging with your brand.
Pricing
Omnisend offers a free plan with all essential features you need to get started as a small ecommerce business. This includes free 24/7/365 live chat and email support for anyone on any plan. You can upgrade to the paid plan at any time, starting at $16/month.
There are two tiers of paid plans, and the pricing for each is customized according to your needs, depending on the number of people in your user base. The first tier is the Standard plan, aimed at growing and medium-sized businesses, and the second tier is the Pro plan, created for high-volume senders who want to leverage SMS.
With the Pro plan, you get free SMS credits equal to the price of your plan. For example, if you pay $100 for your Pro plan, you get $100 of free SMS credits every single month.
You can also get a customer success manager for an additional fee of $400/month.
Campaign Monitor doesn't have a free plan, but you can take a free trial of most features. The paid plans start at $9/month, and there are three tiers: Basic, Unlimited, and Premier.
Basic lets you get started with core features such as email, integrations, private labeling, custom coded templates, segmentation tools, signup forms, and mobile optimization tools. The Unlimited plan gives you access to unlimited email sends, and the Premier plan offers an additional layer or premium customer support. Priority customer support gets you to the top of the queue so you can get resolutions faster.
The big catch with Campaign Monitor is that the free trial only lets you send a campaign to five subscribers. If you wish to send emails to more than five people, you'll need to upgrade to a paid plan.
Customer support
Omnisend's award-winning customer support capabilities are widely recognized and respected in the market. The tool has won multiple awards, including the Stevie Award for fantastic customer support, and over 4,000 five-star reviews on Shopify.
Support is available 24/7, across all regions of the world, over live chat and email. This is the standard for customers on all plans, including the free plan.
Omnisend's customer support is just as fast as it is excellent — median ticket response time is <3 minutes. You can get quick support over the in-app live chat or email questions for a more comprehensive answer. You can also check the help center or Academy for detailed articles on various topics.
Campaign Monitor also has a help center you can access for support articles on various topics. Apart from this, the tool offers email support for all plans and phone support for the most expensive Premier plan.
Final thoughts: Campaign Monitor vs. Omnisend
Both Campaign Monitor and Omnisend are great choices for an email marketing tool, although Omnisend is more suited for Ecommerce businesses, since most features are tailored for this industry.
Both platforms offer a drag and drop builder and email templates which are mobile optimized. With Omnisend, you get additional Ecommerce features like a product picker, unique discount codes, and product recommendations.
The two tools also offer powerful email and SMS automation capabilities, with custom triggers and A/B testing. Omnisend offers push notification automation in addition, and also workflow templates for easy automation.
Both tools also provide strong segmentation, analytics, and reporting features. In terms of list building, Campaign Monitor offers signup forms and landing pages, and Omnisend gives you these along with a few more options.
On the pricing front, Omnisend has a free plan, and paid plans start at $16/month. Meanwhile, Campaign Monitor's free trial lets you email up to 5 users, beyond which you need to upgrade to a paid plan. Paid plans start at $9/month.
We recommend that you try out Omnisend — if not for its features, then for its award-winning customer support services. Here's a quick link you can access to get a walkthrough of Omnisend.
Get a personal 1-on-1 Omnisend demo that will supercharge your next campaign!
Get my demo
related features
Want more sales?
Omnisend has everything you need to succeed.
Start free now
No Credit Card needed.