Drive sales on autopilot with ecommerce-focused features
See Features
Reading Time:
8
minutes
There's a common misconception that email marketing is time-consuming and expensive for ecommerce businesses.
The increasing competition in the email inbox and the need to understand one's audience before sending an email is really true. But the fact is that actually understanding your subscribers and setting up campaigns across the buyer's journey can be simplified with the help of an email marketing automation tool.
But as you start to look for email marketing automation tools, you may realize the endless options available to you. Two common names that often come up in conversations include Omnisend and Drip.
While both these tools are great for businesses to automate email communication and come with a number of features to scale growth, let's dig deeper into their features to see which one is more suited for ecommerce stores.
Table of Contents:
Omnisend vs. Drip comparison
Although we're going to deep-dive into each of these aspects below, let's give you a quick overview of Omnisend vs Drip for eCommerce email marketing:
| | | |
| --- | --- | --- |
| | Omnisend | Drip |
| Email campaigns | Has an intuitive and user-friendly email builder with plenty of customizations tailored for ecommerce. A/B test campaigns to pursue the high-performing ones. | Has a visual point-and-click campaign builder with pre-made email templates. You can perform A/B and split testing of multiple campaign versions. |
| Marketing automation | Helps you integrate email, SMS, and web-push channels to create well-fueled automation workflows and multiply reach. There is no cap on the number of workflows one account can build. | Helps set up and run powerful email marketing automations for multiple use cases. The tool is limited to email channels. Also, one account is limited to creating only 50 workflows. |
| Email list building | Lets you create customized landing pages, signup forms, pop-ups, Wheel of Fortune, and teasers to grab visitors' attention and build your email list effectively. | Offers pop-ups, teasers, and gamification features to expand your email subscription list. But does not offer landing page forms. |
| Segmentation | Basic and advanced segmentation based on purchase histories and website/email engagement. Plus, segmentation for other channels like SMS and web-push notifications boosts personalization. | Basic segmentation based on website and purchase behaviors, demographics, and email engagement. |
| Analytics and reporting | Actionable, in-depth customer insights to help you identify and pursue the best-performing campaigns. Tracks KPIs like audience growth trends, segment performance, campaign revenue, and ROI. | Offers a bird's-eye-view of key email engagement and revenue metrics, such as emails sent, open rate, CTR, revenue per email, etc. |
| Pricing | Free plan available; paid plans start at $16/month, which is suitable for growing SMBs, too. | Paid plans start at $39/month and are not flexible for eCommerce businesses with less than 2000 subscribers. |
| Customer Support | 24/7 Chat & Email Support for all customers (including free) with a < three-minute response time; Customer Success Manager from $400/month. | Does not offer around-the-clock support. Live chat and email support are strictly between 9 to 5 pm CT. And support is unavailable for free trial users. |
Whether you're someone looking for a Drip alternative or are comparing Omnisend vs Drip to choose the right email marketing tool to get started with, let the comparison below be your guiding light.
If at any point you want more information or an in-depth view of Omnisend, feel free to reach out to us.
Campaign builder
Drip lets you create emails quickly using its visual point-and-click email builder, where you either start from scratch or use a template. You can also create and A/B test multiple versions of your email campaigns.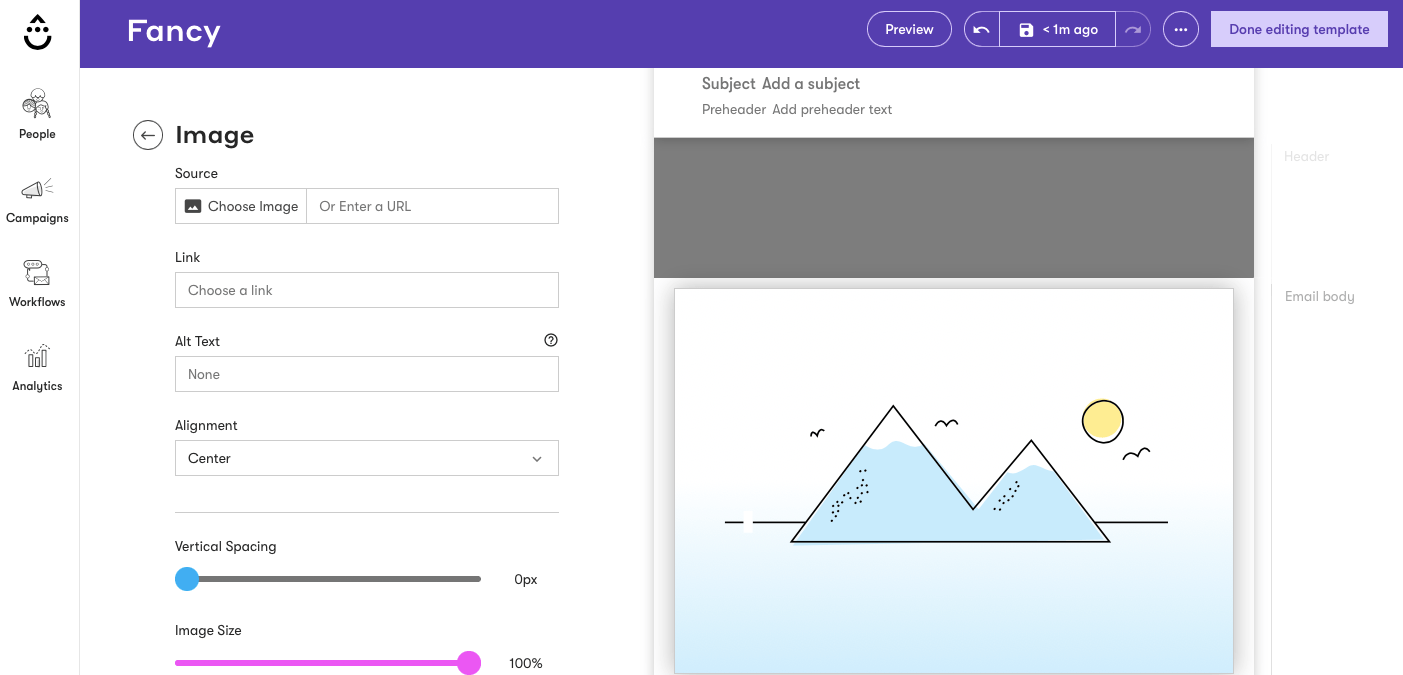 On the other hand, Omnisend's intuitive campaign builder has a lot more customizations and email campaigning features custom-made for ecommerce businesses. The drag and drop campaign builder comes with a number of templates designed for different campaign types relevant to the industry – such as holiday offer emails, sale announcements, product highlights and more.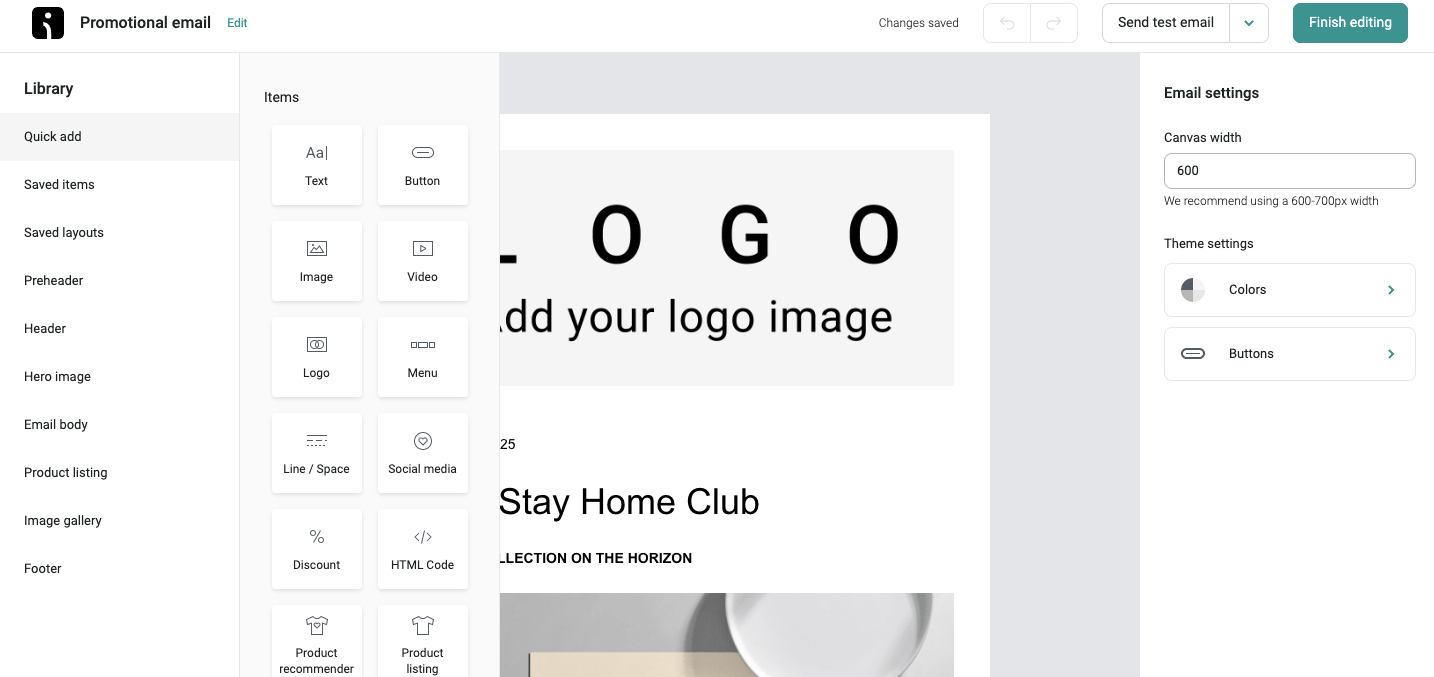 Email campaigns
When it comes to setting up automated email marketing campaigns, both Omnisend and Drip offer competitive features. You can set up trigger-based emails, schedule campaigns or send one-time promotions to your subscriber lists with both the solutions.
But when it comes to ecommerce, Omnisend has built out automation workflows that are tailored to their needs alone. This gives you the ability to create contextual and personalized email campaigns across the buyer journey – right from the point of subscription to purchase, and post-purchase.
Some of the popular campaigns include promotional emails, welcome offers, transactional notifications, order shipping alerts, personalized recommendations, abandoned cart recovery and product review requests. Omnisend uses an AI-power email marketing engine that also helps businesses understand consumer interest and intent at each stage, helping with better personalization.
Marketing automation
For high-ROI marketing automation, just email marketing alone does not suffice for ecommerce businesses looking to tap into vast user demographics.
And this is where Drip takes a back seat.
Although Drip lets you automate and run powerful marketing workflows, it is limited to emails.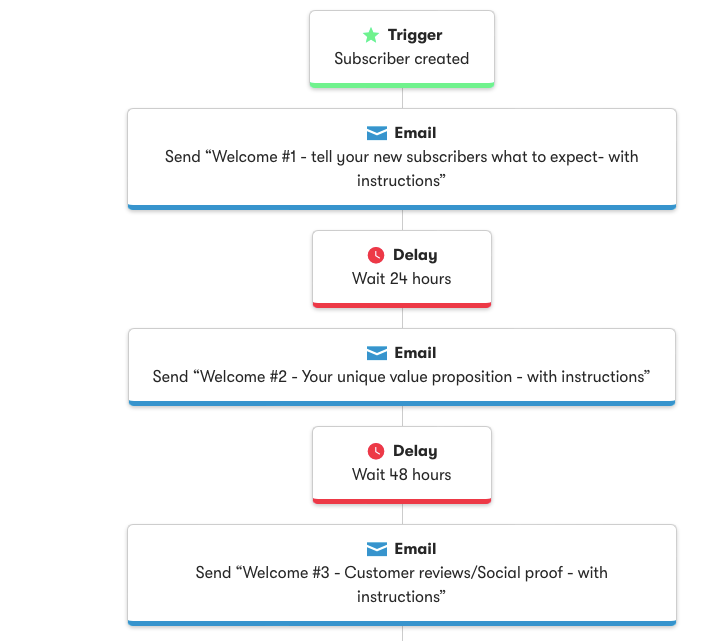 Drip offers 20+ email workflow templates, such as welcome series, cart abandonment, post-purchase, etc., that help you run email marketing strategies on autopilot. However, each account is limited to 50 workflows.
On the other hand, Omnisend is a clear winner for omnichannel eCommerce marketing automation. It lets you build custom workflows with more channels in two — email, SMS and push notifications, making each campaign more effective.
Tying in multiple channels is crucial to offering your customers a hyper-personalized omnichannel experience. It can also increase your reach and conversions as you now have more than one way for customers to notice your message.
For example, abandoned cart recovery. To bring back a consumer to complete the purchase, you cannot just rely on waiting for them to check their email, using SMS alongside can help you reach them faster on a channel they're active on — their mobile chat.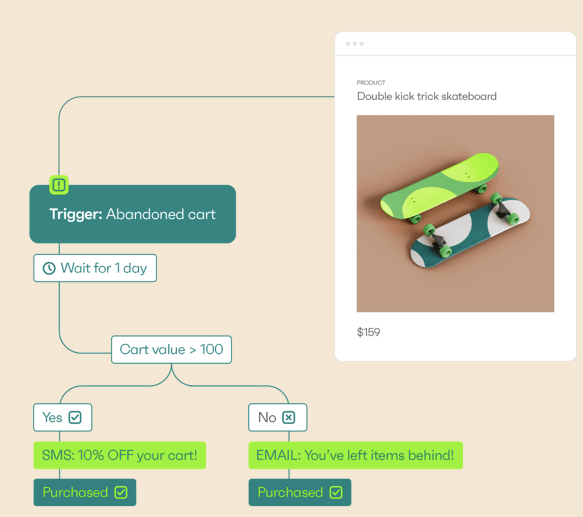 Omnisend comes with pre-made workflow templates that let you build and A/B test marketing workflows in minutes. You can also access built-in performance and other advanced reports to track and analyze results for every campaign workflow you create.
Unlike Drip, Omnisend has no cap on the number of custom workflows you can create.
Email list building
Building high-quality email lists is key to successful marketing campaigns. But as competition grows, it is becoming tougher for brands to convert visitors into subscribers as consumers are becoming skeptical about the spam they receive. This is where it becomes important to create an email list building strategy that taps into the key moments where an online store visitor is more likely to subscribe.
Drip offers features to set up a pop-up, slide-in window or embed a subscription form on your store pages. These can be customized within the drag and drop editor to include custom fields, visuals and offers.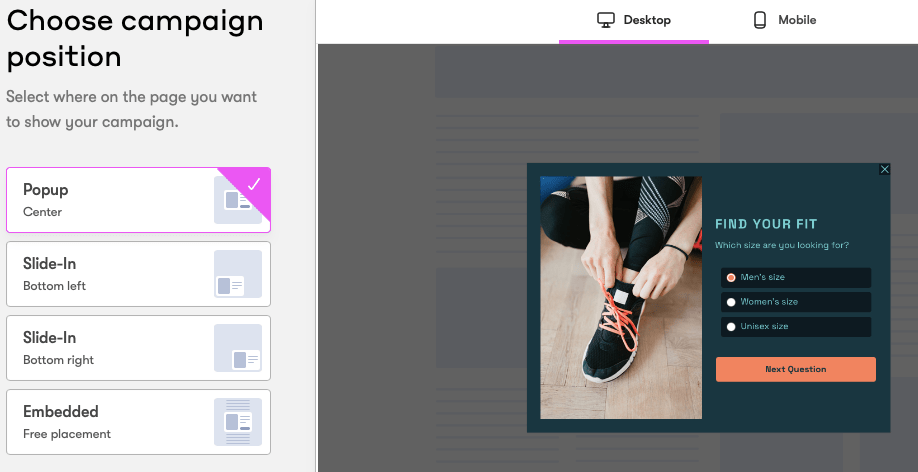 Omnisend comes with more features that can be used to convert shopper intent into subscriptions. It lets you create custom landing pages, signup forms, pop-ups, Wheel of Fortune, and teasers. This gives you the ability to create more contextual touch points to nudge a subscription by offering discounts or engaging them with gamification.
The drag and drop builder of Omnisend also lets you easily brand each of these subscription features with colors, visuals, form fields and more.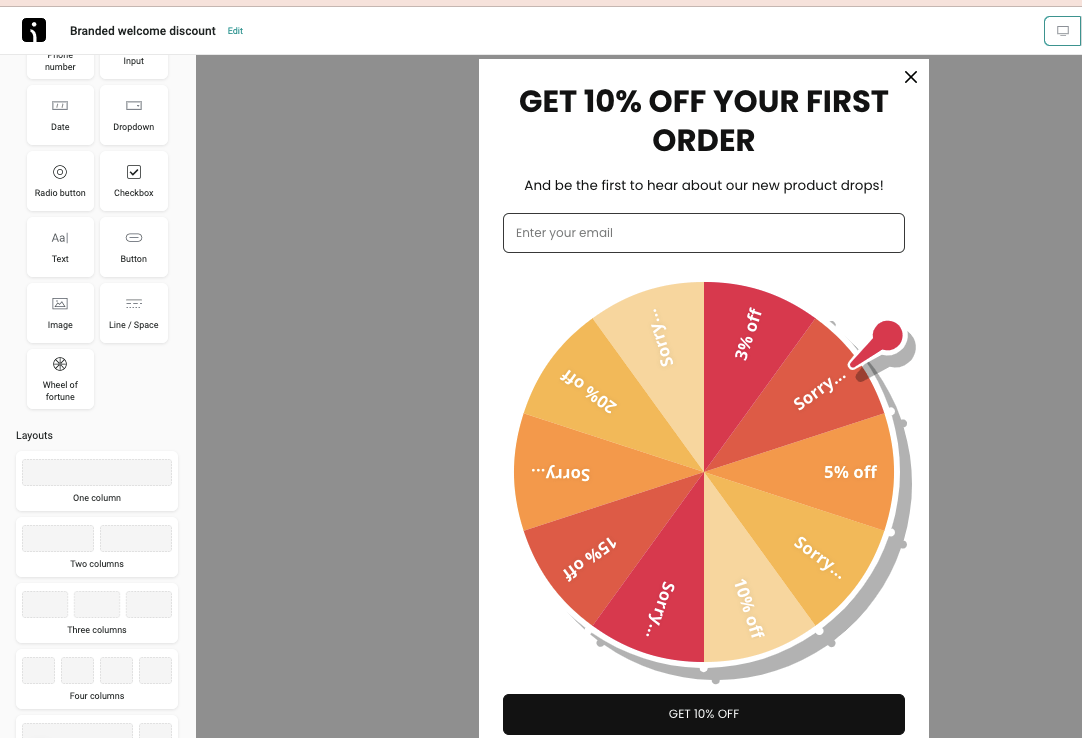 Segmentation
User segmentation is key to delivering the right message to the right set of audiences — at the right time. Overlooking this can lead to an inability to personalize your messages, which results in subscribers feeling spammed by the brand – and we all know how that leads to unsubscribing from lists.
In this case, both Omnisend and Drip offer advanced segmentation options to help you target the right people always. Here are some of the segmentation approaches both tools follow:
Based on past-purchase/shopping behavior
Based on website behavior
Engagement-based segments (most engaged, inactive subscribers, etc.)
Based on user demographics (age, gender, education, location, language, etc.)
Get started with Omnisend today & drive sales on autopilot with pre-built automation workflows
Start Free Today
Although both these tools fare equally with email segmentation, Omnisend has the upper hand as it includes segmentation for other channels like SMS and web-push notifications adding an extra touch of personalization.
Analytics and reporting
Reports and analytics let you capture in-depth customer insights that help optimize your marketing efforts. So choosing a tool that offers advanced analytics and reporting is key to improving your ROI.
Both Omnisend and Drip come with powerful analytics dashboards to help you measure the performance of your campaigns.
Drip offers a bird's-eye-view of key email engagement and revenue metrics, such as emails sent, open rate, CTR, revenue per email, etc.
On the other hand, Omnisend's reports give you more actionable customer insights as it is able to summarize the performance of campaigns across other channels as well.
Here are some top KPIs you can easily track and measure using Omnisend:
Performance of each user segment — open rate, click-through rate, etc.
Automation workflows with the highest open rates
Campaigns with the highest revenue/ROI
Email and SMS audience growth trends
And more
Pricing
Both Drip and Omnisend are priced based on the size of your email list, aka subscriber count and send volume.
Drip's basic plan starts from $39/mo for subscribers up to 2500. So if you're a small/medium-sized ecommerce business with less than 500 or 1000 subscribers, you have no cheaper option.
The biggest drawback, however, is the lack of a free plan. Drip only has a 14-day free trial period.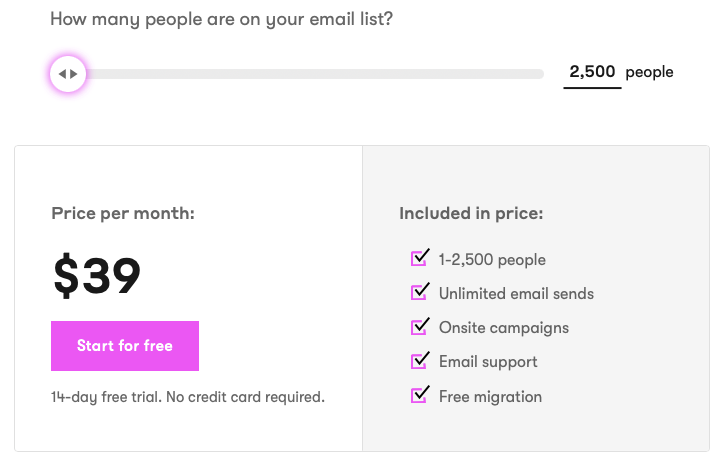 Omnisend has a 'free-forever' all-access plan that lets you reach up to 250 subscribers and send 500 emails a month at zero cost. You also get up to 60 SMS and 500 web-push notifications under this free plan which is a steal.
The plans are perfectly priced to suit ecommerce businesses of all sizes. The lowest plan starts from as low as $16/mo for up to 500 contacts (unlimited contact list size), 6000 emails a month, up to 60 SMS, and unlimited web push, as opposed to Drip's $39 — which is almost 2.5x as much.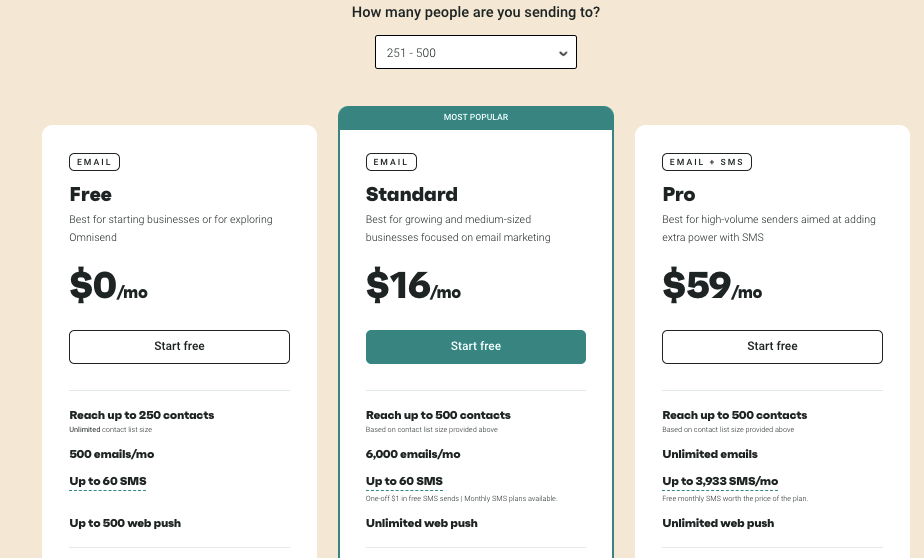 Customer support
Marketing automation can be overwhelming for most businesses. Therefore, before choosing a tool, understand their customer support terms and conditions clearly.
Both Omnisend and Drip offer live customer support.
Drip offers customer support to only its paying customers. Support is limited to their working hours between 9 am to 5 pm CT, Monday to Friday. So their support may not suit customers from different time zones. Also, Drip provides live chat support only to its customers in the 99/mo + pricing range.
Omnisend, on the other hand, has an award-winning customer support team offering 24/7 live customer chat/email support to all its customers (including the free plan users). You could also get a dedicated customer success manager starting from $400.
With a waiting time of not more than three minutes, Omnisend's support agents work around the clock to ensure all your queries about campaigns, workflows, segmentations, etc., are clarified then and there.
So when the questions about the best customer support, Omnisend is a clear winner.
Final thoughts
Omnisend vs Drip has stirred quite a debate online. But remember, while choosing a marketing automation tool, you should not rely on guesswork. You're in for the long game and must ultimately choose a tool that fits your marketing requirements and, most importantly — your budget.
Here are the key takeaways from each broken-down feature discussed above:
Omnisend is tailored for ecommerce businesses and hence offers super specific ready-to-use templates for creating email capturing forms, marketing automation workflows, and email campaigns.
Omnisend has an easy-to-use email editor with prebuilt and customizable email automation workflows.
Unlike most ecommerce marketing tools, including Drip, Omnisend supports SMS, push notifications, and other channels apart from emails.
Omnisend is on the affordable side despite having advanced functionalities.
Omnisend has an all-access, free-forever plan.
Omnisend has award-winning 24/7 live customer support for all customers.
So if you're a growing ecommerce business seeking more ways to reach your target audience in contextual ways, we suggest you try Omnisend.
related features
Want more sales?
Omnisend has everything you need to succeed.
Start free now
No Credit Card needed.