Drive sales on autopilot with ecommerce-focused features
See Features
Reading Time:
14
minutes
Looking to craft pet care emails that are so compelling your subscribers can't resist opening them?
If you're in pet care, you probably know how fiercely competitive the industry is. With thousands of emails vying for attention, how can you create irresistible emails that help your brand stand out and get your customers to engage with your brand?
I know — it's a tough bone to chew.
But to make sure your emails are the top dogs in your customers' inboxes, we've put together ten of the best pet care emails we found on the internet for inspiration. Alongside this, we've also listed five useful tips you should consider to craft captivating pet care emails that actually get opened.
Excited? So are we.
So, without further ado, let's dive straight into the examples.
10 best pet care email examples to inspire your campaign.
We scoured the internet for the best pet care email examples. And here's a list of ten we couldn't resist:
KitNipBox
The Farmer's Dog
PupBox
Wufers
Rowan
BIXBI
Pet Valu
Perky pet
Cat Person
Scratch
Let's touch down on each of these examples and find out what makes them so irresistible.
#1 KitNipBox
Subject: A box full of ha-purr-ness (and catnip) 🙀
Preview text: Get 23% Off Your First Box With Code: NEWYEAR23

KitNipBox's monthly subscription boxes are popular among cat parents looking to treat their cats to special order monthly surprises.
What made me fall in love with KitNipBox's New Year email, apart from its cute design, is the way they present their special offer in front of their subscribers. Rather than burying the discount code at the bottom of the email, KitNipBox has included it in the preview text – which just makes it impossible for subscribers to miss.
The subject line is attention-grabbing as it uses emojis and puns to create a sense of playfulness and excitement.
In addition, KitNipBox's email highlights the unique value proposition (USP) of their subscription boxes – they have clearly mentioned that every single box they send to their subscribers is curated specifically for their individual cats.
They have also showcased examples of products that subscribers can expect, like tasty and healthy treats from Vitakraft or a toy from Nala's collection.
#2 The Farmer's Dog
Subject: Blackie's fresh food plan
Preview text: Don't Wait! Freshen Up Your Dog's Plate

The Farmer's Dog is a pet food delivery service offering fresh, human-grade dog food. They use high-quality natural ingredients and work with veterinary nutritionists to ensure their recipes are nutritionally complete and balanced for dogs.
What made me fall in love with this email is how they supported their claims with the help of statistics. The subject line is personalized with the recipient's dog's name; in this case; it's "Blackie."
Also, the use of the word "fresh" suggests that Blackie's food plan with The Farmer's Dog needs to be different from those highly-processed traditional commercial dog foods – which are jam-packed with preservatives. At the same time, the preview text creates a sense of urgency.
The email clearly communicates the USP of Farmer Dog's meal plans. They have added stats supporting how their personalized and pre-portioned meal plans improve the quality of life of dogs.
With the added charm of an irresistible "Get 60% Off" call-to-action, they have crafted a jaw-breaking email that I couldn't stop myself from adding to this list.
#3 PupBox
Subject: 💰 75% OFF for Scott 🙌🏻
Preview text: New Pet Month coming in 🔥 with Savings! ‌ ‌ ‌ ‌ ‌ ‌ ‌ ‌ ‌ ‌ ‌ ‌ ‌ ‌ ‌ ‌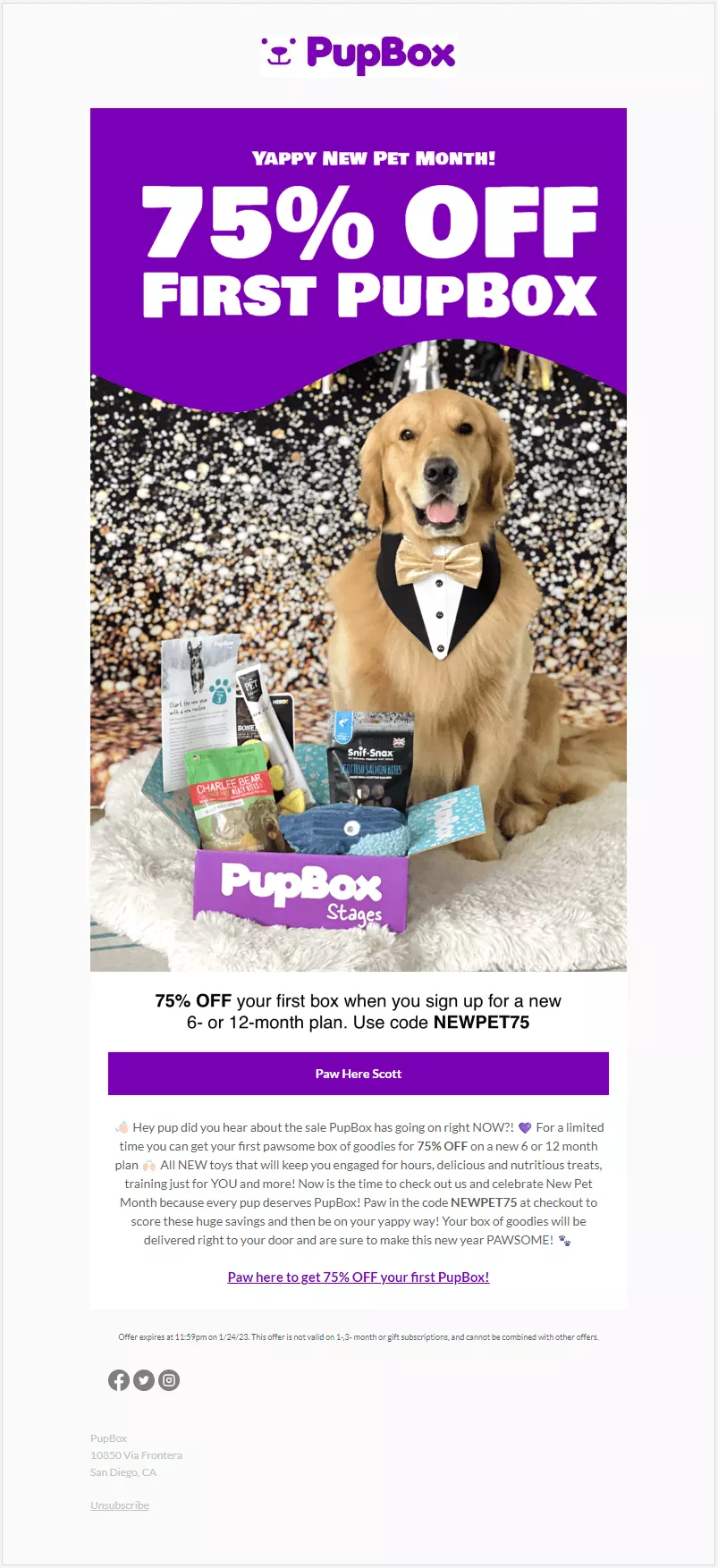 PupBox is a subscription-based service that provides customized puppy products as well as training information to help dog owners raise a happy and healthy furbaby.
The subject line knocks the use of emojis out of the park and presents an irresistible 75% OFF offer, followed by the preview text talking about the new incoming pet month. Also, the subject line is personalized with the recipient's dog's name; in this case, it's "Scott."
Also, the email talks to the dog, not the owner – which makes it so cute. The email's copy comprises engaging and relatable language to promote their offer, like "Yappy New Pet Month," "Hey pup," "yappy way" and "pawsome box of goodies."
Like seriously, how can you not love it?
Alongside the engaging copy, this email comprises a cute picture of a well-dressed dog along with PupBox's subscription box.
Lastly, the 75% OFF offer marked in bold along with the code "NEWPET75" makes me want to click on their CTA – "Paw Here Scott" immediately.
#4 Wufers
Subject: NEW + EXCLUSIVE: 🍔 and 🍺 for your dog!
Preview Text: Like no dog treat you've ever seen.

The best way to stop your dogs from feeling left out of all the fun celebrations and day-to-day moments – Wufer's the answer. Wufers specializes in creating safe, beautiful, and delicious gourmet dog treats made with locally-sourced, human-grade ingredients.
The use of emojis and words "NEW" and "EXCLUSIVE" in the subject line in Wufer's email makes it stand out in a crowded inbox, helping catch the reader's attention. This email is promoting Wufers' new product, "Burgs & Beers" – a dog treat that looks like a burger and a beer. If you're a dog owner on the lookout for a new and interesting treat for your dog(s), this email is likely to catch your attention.
At the same time, they have clearly mentioned that Burgs & Beer is an exclusive dog treat for the Cookie Club Subscribers, acting as a motivation for dog owners to subscribe. Alongside this, they have listed down a few other benefits of subscribing, like access to exclusive boxes and the ability to save money on every cookie box.
Also, I love how the copy is so captivating and attention-grabbing – with the inclusion of phrases like – your dog is going to flip for this, and your pup doesn't have to wait for a burger to fall off the grill. If you're a dog owner, this language is likely to resonate with you and make you subscribe straight away.
#5 Rowan
Subject Line: Your BDF deserves nothing but the best.
Preview Text: PAWSOME NEWS! FREE SHIPPING OVER $50

Rowan is committed to setting new standards in coat care – as the brand is laser-focused on creating naturally-derived formulas made with high-quality, human-grade ingredients that leave fur skin healthy and shiny.
This email is special in so many ways. First of all, the subject line is personalized and attention-grabbing – as it makes the recipient feel that their dog is valued and deserves the best care possible. The email is easy to read and so well-organized, with clear headings and concise descriptions for the different bundles they offer. They have also used relatable phrases for dog owners, like "PAWSOME NEWS" and "Round of Appaws."
The email also straight up presents the "FREE SHIPPING OVER $50" at the top – to catch the reader's attention. Lastly, the inclusion of customer reviews adds to the effectiveness of the email.
I love how well-designed the email is as it targets dog owners who are on the lookout for high-quality, natural products for their furry friends.
#6 BIXBI
Subject: 👻 Paws Off My Treats, Witches. Take 20% OFF Trainers 🎃
Preview text: *Offer valid on all sizes of BIXBI Pocket Trainers and Liberty Trainers.

BIXBI offers treats and supplements made from 100% fresh meat and honest ingredients for both cats and dogs. This email from BIXBI is special because of its Halloween theme and the special 20% discount the company is offering.
The subject line is attention-grabbing, all thanks to the playful tone and the use of emojis – a great tactic for increasing email open rates that makes the recipient want to open the email. The preview text provides recipients with a glimpse of the offer, which increases the chances of the email being opened.
I love how visually appealing the email is – not just because of the Halloween theme but also because of the images of the products added to it. I love how they have added the "Shop Now" CTA below every product mentioned in their email – making it easier for pet owners to shop.
The use of the discount code "TREATORTREAT" is a fun and encouraging way to present the discount in front of the recipients.
I love how transparent they were – as they mentioned that this offer is not valid on active subscriptions. Lastly, they have mentioned that this is a limited-time offer – as it'll expire on 11/02/2022 at 11:59 pm MST, creating a sense of urgency.
Overall, this email utilizes the Halloween theme and discount offer effectively to promote BIXBI's products and encourage purchases.
#7 Pet Valu
Subject: Members get more 💖rewards💖 for their best friends 🐾
Preview text: Become a member today and save as you shop.

Pet Valu is a Canada-based pet store chain with over 40 years of existence. From pet food to treats to toys and accessories, they offer a wide range of products for both dogs and cats.
And they also have a reward program – which they have promoted heavily in this email. The subject line highlights that Pet Valu's reward program is rewarding, encouraging recipients to become members to start receiving rewards and special discounts for their pet purchases.
The email copy clearly communicates the benefits of becoming a member, like earning a free bag of pet food after 12 purchases, getting discounts, and earning free dog washes. Also, it highlights how easy it is to purchase from Pet Valu:
Over 600 Stores Across Canada
AutoShip to Your Store or Home
Buy Online, Pick Up In-Store
Free Shipping on Orders Over $49
Last but not least, they have added their Terms & Conditions at the bottom of the email – allowing them to not only be transparent but also clearly explain how their reward program works.
#8 Perky-Pet
Subject: Discover the Flexport® Advantage
Preview text: Click here to view online Perky-Pet.com

Perky-Pet specializes in bird feeders and accessories for wild bird and hummingbird feeding. This email from Perky-Pet is special as it promotes a new product innovation for bird feeders. This new product innovation goes by the name "Flexport®."
The subject line is "Discover the Flexport® Advantage" – which piques the recipient's curiosity and encourages them to read the email. I'm not a big fan of the preview text, but I love how encouraging their subject line is – it makes me want to click through.
This email clearly highlights the features of Flexport® – being made of soft and flexible rubber, being positioned for better bird visibility, and being 4x shake resistant – along with why recipients should care about these features.
The email also showcases the Flexport® collection, including different types of bird feeders and their specifications. Last but not least, the email sheds light on information about attracting the Northern Cardinal, a famous bird species found in the eastern United States.
The email is also visually appealing – comprising cute birds as well as Flexport® collection pictures.
#9 Cat Person
Subject: How much do you really know about your cat?
Preview Text: It's International Cat Day

Cat Person is focused on whole cat care, aiming to improve lives of cats and their owners through their wide range of high-quality products. This email from Cat Person is so special because it's dedicated to International Cat Day.
The subject line "How much do you know about your cat?" is captivating and intriguing as it piques the recipient's curiosity. It makes the readers wonder – how much do I actually know about my cat? The email copy entertains but, at the same time, educates cat owners by sharing not-so-well-known facts about cats. These include:
Each cat's nose print is unique, much like human fingerprints. Boop!
Have you seen a cat open their mouth after taking a sniff? They do this to study new smells using a special organ in their jaw.
Cats walk like camels and giraffes, moving both of their right feet first, then their left. No other animals walk this way!
Cats have the largest eyes of any mammal relative to their head. Puppy dog eyes got nothing on them.
A cat lover is called an ailurophile. Remember that for your next Scrabble game.
Sharing such information is a brilliant way to make the email stand out from those overly promotional emails we see every day in our inboxes.
However, that doesn't mean the Cat Person team didn't want to turn the recipients into customers. They have smartly implemented a simple and sweet CTA "Shop Now" at the end – without pushing the recipient too much.
#10 Scratch
Subject: Try Scratch without subscription
Preview Text: and see the difference better produce makes

Scratch is an Australian pet food company that offers high-quality, locally sourced, and sustainable dog food that's delivered directly to customers' doors. This email from Scratch is a full house – as it comprises everything from product promotion to their benefits as well as customer reviews.
I loved the email because it addresses potential customers' concerns related to committing to a subscription by offering a low-cost, one-time purchase option. This means – potential customers who want to try Scratch's products without subscribing can actually do it without requiring a long-term commitment.
The subject line – "Try Scratch without subscription," speaks directly to potential customers who know about Scratch but have been hesitant to subscribe. The email further highlights Scratch's seven rules for healthier dog food, helping them build trust and making the recipient feel at ease.
Last but not least, the email further builds trust by mentioning their 5-star average review, and the number of meals served, showcasing that many customers are satisfied with the product. Additionally, it provides an avenue for customers to reach out if they have concerns about their dog's specific sensitivities or intolerances, making the brand appear approachable and invested in customers' experiences.
And these are the ten best email pet care examples I genuinely loved.
Let's move on to a few useful tips that you should consider to craft captivating pet care newsletters.
5 useful tips for creating engaging pet care newsletters
Here are a few useful pet care newsletter tips:
Use catchy and attention-grabbing subject lines
Use high-quality images or videos
Add shoppable videos
Personalize your emails
Segment your email list
Include a clear call to action
#1 Use catchy and attention-grabbing subject lines
It's often said, "Don't judge a book by its cover," but despite the saying, we tend to do it anyway. Considering the fact that an average individual receives more than 100 emails daily, it's natural to be drawn out to emails with intriguing and eye-catching subject lines unless, of course, it's an important email.
Your email's subject line is one of the first things your recipients will see – which means the subject line is one of the deciding factors whether your email will get opened or not.
Boring and dry subject lines will not help you stand out from the pack and will result in low open rates. Hence, it's critical to spend time writing click-worthy (not clickbait) subject lines that your subscribers can't resist but open.
Here are a few tips for creating catchy and attention-grabbing subject lines:
Create a sense of urgency (not fake)
Make your recipients feel curious
Offering a discount, coupon code, or free stuff? Don't be afraid to mention it in your subject line
No two email subscribers are the same – so it makes sense to personalize the emails
A/B test different variations of the same subject line to see which one gets the highest click
#2 Use high-quality images
Most of the emails featured in this blog post had gorgeous, compelling, and high-quality images relevant to the content of the email. Even if you manage to make a high percentage of your recipients click through, if they see a load of text in front of them, it's highly likely they will lose interest quickly.
To keep your readers engaged, I highly recommend incorporating visually appealing and high-quality images complementing the content of your email. To smartly use images in your email, here are a few tips you should consider:
Balance images with text
Choose relevant images that are pertinent to the email's message
Add alt-text to your images
Choose the right image format
Don't be afraid to use stock images
#3 Add shoppable videos
According to a study, including the word "video" in emails is enough to increase email open rates by a staggering 7% to 13%.
If there's one thing we can all agree on, it's the fact that – videos are powerful. People love watching videos. By adding videos to your emails, you can boost engagement, increase click-through rates, and ultimately drive more conversions.
You can take it one step further by embedding shoppable videos in your emails. Shoppable videos allow your audience to click on products within the video itself and purchase them directly, without ever leaving the video player.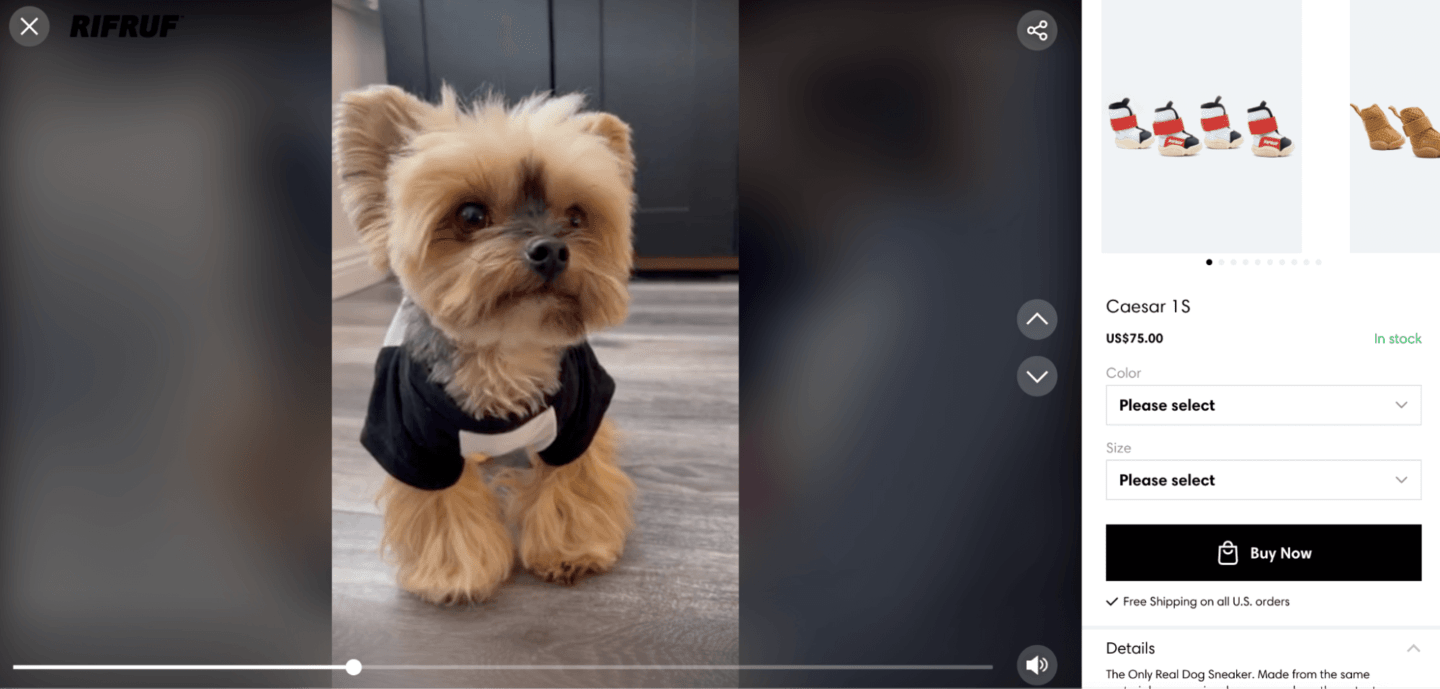 This can be a game-changer for ecommerce pet care businesses, as it offers a seamless and intuitive way for customers to shop your products. This way, you won't have to worry about redirecting your customers to your website or dedicated product pages.
Instead, you can offer a seamless and interactive experience by allowing your customers to purchase products directly from the video itself.
#4 Personalize your emails
Which one of the two are you likely to click through (assuming your name is Jack and your dog's name is Blackie)?
Subject: Spring Sale on Pet Products
Subject: Blackie's Health Check-up Reminder
Dear Valued Customer,
We are excited to announce our Spring Sale on Pet Products! From dog food to cat toys, we have everything your furry friend needs at unbeatable prices. Visit our website or stop by our store to take advantage of this limited time offer.
Thank you for choosing our company for all of your pet care needs!
Sincerely,Company X
Dear Jack,
We hope you and Blackie are doing well! We wanted to remind you that Blackie is due for their annual health check-up. As a valued customer, we know how important your pet's health is to you, and we want to help you keep them happy and healthy.
During their visit, our experienced veterinarian will perform a thorough examination of Blackie to ensure they are in good health. We'll also discuss any concerns or questions you may have about their diet, exercise, and overall well-being.If you have any questions or would like to schedule an appointment, please don't hesitate to contact us. We look forward to seeing you and Blackie soon!
Best regards,Company X
If you're like me, you're likely to open and click through the second one – the one with your and your dog's name.
Personalization matters.
People are bombarded with thousands of non-personalized emails each week. And while so many companies personalize their emails as well, it's important to make sure you're doing too.
Otherwise, you'll be putting a bad impression in front of your recipients. Personalizing your subject line will help you increase your open rates. At the same time, personalizing your email copy will increase the chances of your customers clicking through.
#5 Segment your email list
If you want your pet care email marketing campaign to deliver great results, you need to put the right message in front of the right people.
For example, if you have a customer who regularly purchases dog food from your store, then you can send them personalized emails that feature promotions about high-quality dog food brands or dog food flavors. However, if a customer has only purchased cat food from your store, it doesn't make sense to send him/her the same email.
Email segmentation helps you make sure the right emails reach the right people. Segmenting your emails can help you increase your open rates, click-through rates, and conversion rates. At the same time, it helps you avoid spam filters and decrease your unsubscribe count.
#6 Include a clear call to action
Your recipients will never know what action they should be taking next if you don't implement a clear call-to-action in your emails.
Want them to purchase one of your products? Or follow your company's social media page? All you need to do is be specific and place clear and relevant call-to-action (CTAs).
For example, if you want them to purchase your products, you can add a "Shop Now" CTA like this: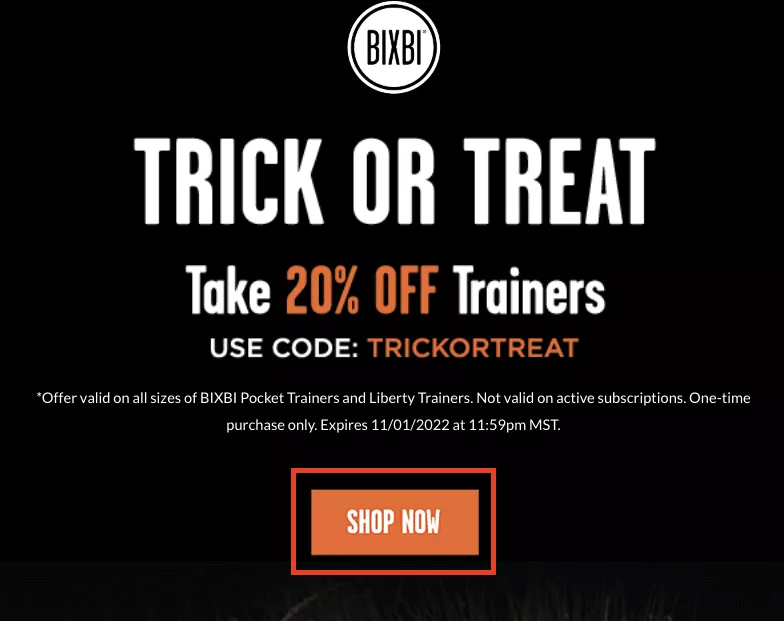 Here are some tips for creating effective CTAs in your pet care emails:
Be clear and specific.
Use action-oriented language like Buy Now, Sign Up
Make it visually appealing
Test different variations
Place your CTAs in prominent locations.
Conclusion
And that's a wrap.
By following these tips and taking inspiration from the examples shared, you can create captivating and effective pet care newsletters that will help you build strong relationships with your customers, boost engagement, and ultimately drive more sales for your pet care business.
With Omnisend's wide library of ready-made templates, drag-and-drop builder, and several other features, Omnisend makes it easy to build personalized, results-driven email marketing campaigns that resonate with your audience and help you grow your pet care business.
About the author
Ankit Vora's superpowers are to ask questions, extract insights, and share the wisdom of industry experts with a journalistic approach. He's a freelance B2B SaaS writer with over seven years of experience, spending his nights gaming and his days writing (because opposite time zones are a thing.)
related features
Want more sales?
Omnisend has everything you need to succeed.
Start free now
No Credit Card needed.