Drive sales on autopilot with ecommerce-focused features
See Features
8 best International Women's Day email examples [+ subject lines]
Reading Time:
6
minutes
The International Women's Day (IWD) is celebrated every year on March 8, and aims to highlight the many achievements of women.
Each year, it has a different theme, and the theme for IWD 2023 is #EmbraceEquity.
There are multiple ways for your brand to take part in IWD celebrations:
Celebrate women and their achievements
Raise awareness and educate your audience
Highlight campaigns to make positive changes that advance women
Fundraise for charities focused on women and girls
Because of the topic, it's a great opportunity to not only promote your products, but also to build loyalty and give your customers even more reasons to fall in love with your brand.
But, of course, in order to send out International Women's Day emails and texts, you'll actually need an SMS or email list to manage.
That's why Omnisend is helping you out with our ready-made International Women's Day popup templates that you can launch in just a few clicks to start collecting your visitors' contact information: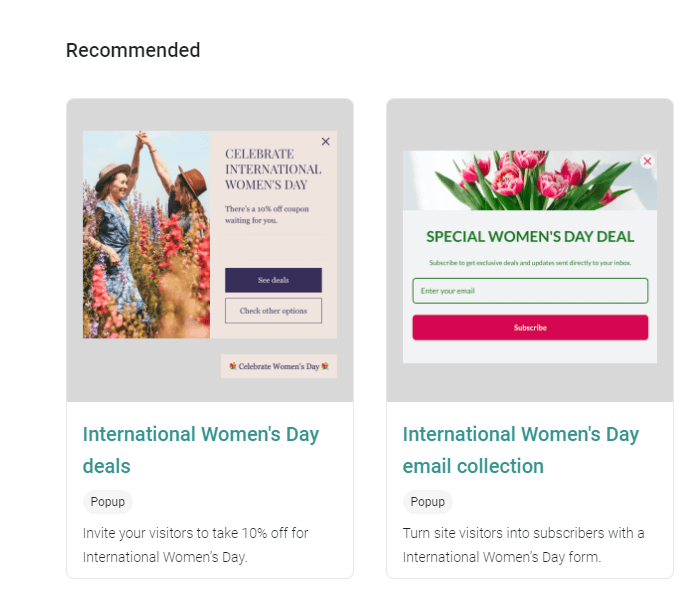 Get started in a few clicks with popups, email & SMS marketing, automation, and so much more for IWD
Start Free Today
International Women's Day promotion ideas
There are a few great ways you can promote your products for IWD:
Time-sensitive promotions: you can provide a discount, free shipping, or other offer that expires after IWD (on March 9)
Product recommendations: this is a great time to recommend products either for your customers or the women in their lives. You can do this automatically with Omnisend, using the customer's own purchase history, your best sellers, or your newest products
Specially designed landing pages: make it a bigger campaign and create a landing page that goes more into more detail. You can highlight how your products are made for celebrating women. Or go deeper and discuss more serious IWD topics.
One important thing to remember is that International Women's Day is not like Valentine's Day or Mother's Day.
It's a day for all women; for that reason, the products or gifts don't need to be romantic or family-themed. Colleagues or managers can also send their female employees gifts to mark the occasion.
That means it's also a good time to use segmentation to personalize your content. For example, if you have gender information, you can send an email directly for women to celebrate themselves or the women in their lives.
On the other hand, you can send a separate email for men to celebrate the women to show their appreciation. Depending on what kind of information you have about your customers, you can also tailor the message for employers, colleagues, etc.
International Women's Day branding ideas
You can also take a larger, more serious approach to your IWD campaigns. Instead of promoting your products (or in addition to that), you can support IWD's larger goals:
Remind your audiences about IWD: without promoting any product, remind your customers about IWD and that they should take a moment to appreciate women
Feature women's stories from their business to inspire others: if you're a woman or have women in your company, you can highlight their stories
Raising funds for charities or awareness of their contributions: you can also take this time to ask customers to donate to relevant charities, or even offer a 1-for-1 matching donation
It's possible to combine both branding and promotional ideas into a larger campaign, but you should consider how to do it in a balanced way.
8 best International Women's Day email examples
Let's look at some great International Women's Day emails from ecommerce brands to help inspire you.
#1 Eat Me Guilt Free: Happy International Women's Day! 💖

The first email comes from Eat Me Guilt Free, and it's purely a branding email.
Here, they're celebrating women by highlighting women's stories to help inspire their audience. A great way to bring customers closer to their brand.
#2 PlayingCardDecks.com: Women's Day 👩 – New Decks, Blog & More

This one comes from PlayingCardDecks.com and they're celebrating IWD by promoting their women-focused playing cards. It's a great way to keep the balance between selling products and celebrating women.
#3 Cate & Chloe: Happy International Women's Day

This beautiful email from Cate & Chloe really finds a wonderful balance between getting sales (a sitewide 22% off with a $60 threshold) while still making it all about women.
We really love the shoutout to their women ambassadors at the bottom, which also counts as strong social proof.
#4 Runway Rogue: Happy International Women's Day

#5 Saucy: it's International Women's Day 💙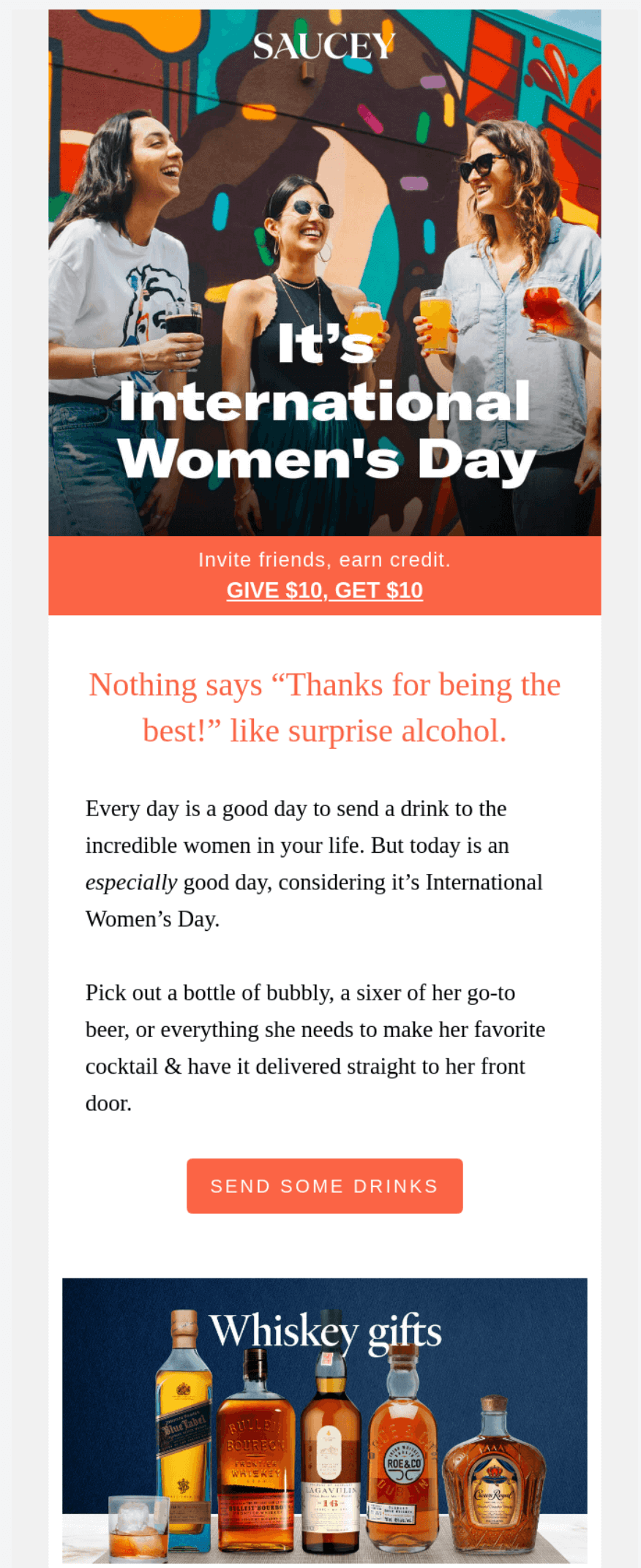 This is a great, fun email that aims to celebrate IWD without being overly serious about it. Here, they're using a Give X, Get X promotion. This email is most likely segmented for men.
#6 Dossier: Happy International Women's Day! ♀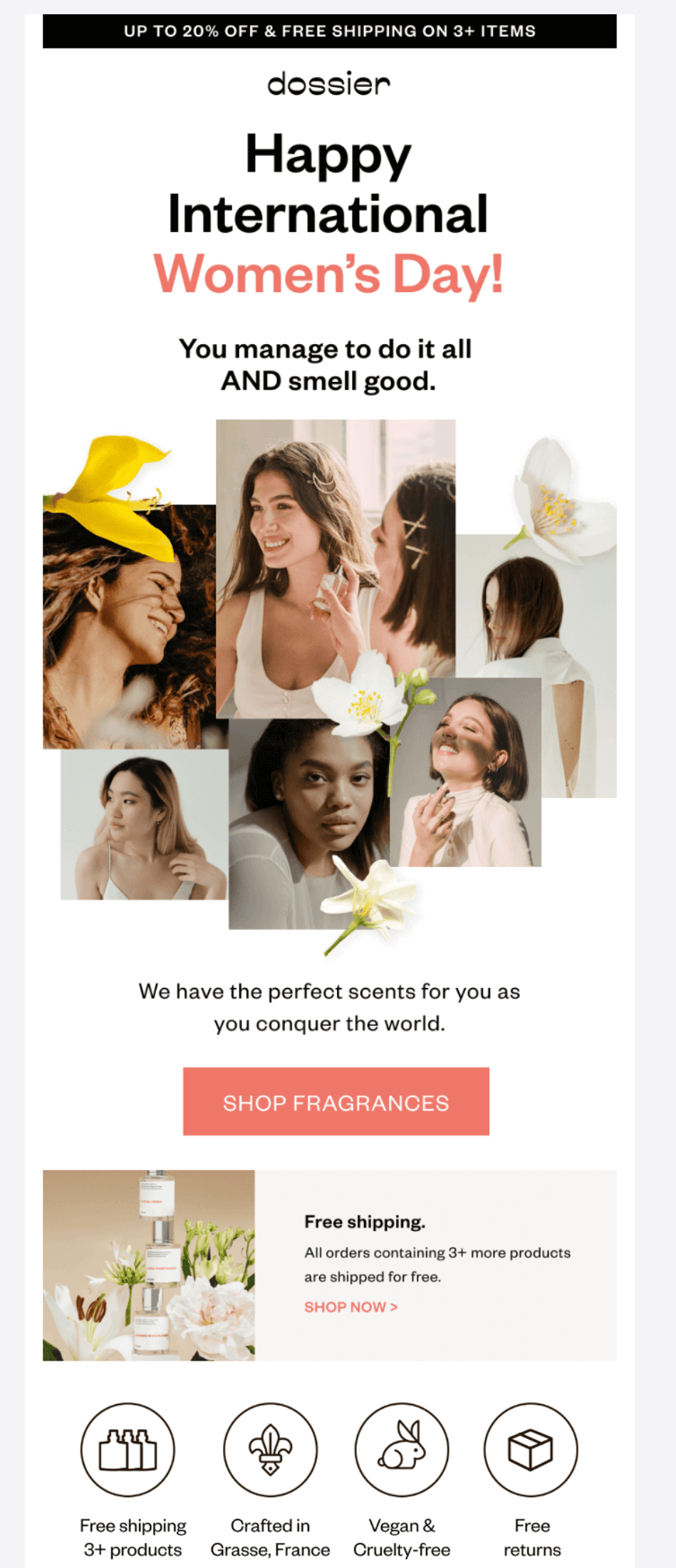 Dossier takes a lighter tone to IWD, managing to celebrate women and make them laugh at the same time. We really like the trust badges at the bottom of the email.
#7 Moment: $5k in Prizes to Celebrate International Women's Day

This beautiful email from Moment not only makes you fall in love with the brand from a design perspective, but also from the idea behind the email.
Its "Behind Every Woman" campaign aims to amplify women's voices during the week leading up to IWD. We also really like the block at the woman, where customers can nominate the most inspirational women in their lives.
#8 Nine Lives Bazaar: International Women's Day with our co-founders ✨

Lastly, we've got a great example from Nine Lives Bazaar.
Using Omnisend's email builder, they are able to create an on-brand email that celebrates the women founders with an interview-style email and supports the 2023 IWD theme of "Embrace Equity".
15 International Women's Day email subject lines that will get engagement
When it comes to promoting your brand or specific products, great subject lines will get your emails opened and clicked.
To help you out, we've gathered some of the best International Women's Day subject lines that you can take outright, or adapt to your brand or offers.
Happy Women's Day! Get 🆓 Shipping on All Orders Today Only 🛍️
I ❤️ IWD: 25% of All Sales Donated to Women's Charity 🫶
🚀 Celebrate Women's Day with 15% Off on All Products 🌟
👭 Empower Yourself and Another Woman with BOGO Half Off 💪
🎊 It's International Women's Day! Enjoy Free Shipping on Your Purchase 🌍
🌟 Shine Bright on Women's Day with 15% Off Sitewide 💫
💝 Buy One, Gift One: Celebrate Women with BOGO Free Gift 🎁
🎁 Happy Women's Day! Get 🆓 Shipping on Your Order Today 🎉
💪 Celebrate Women Everywhere with 15% Off Your Purchase 🚀
Join Us in Celebrating Women: Free Shipping until March 15
🌍 Happy Women's Day! Enjoy Free Shipping on All Orders Today Only 🎊
💫 Empowerment for Women: 15% Off Sitewide 💪
🌟 Celebrate Women Supporting Women with BOGO Half Off 🌍
🎁 Women's Day Sale: Enjoy Free Shipping on All Items 🚀
💪 Women Empowering Women: BOGO Half Off on All Products 🌟
Segmenting for International Women's Day
IWD is a great day to test out segmentation and see which ones make the most sense.
Omnisend research showed that, compared to non-segmented campaigns, segmentation helped:
earn 62% higher order rates
52% more click-throughs
110% more opens
That's because segmenting emails allows you to send specific messages to specific groups of people.
Here are some great segments you can use:
gender
location (city, country or region)
profession
industry
relevant data for your products
whatever you can dream of
You can send out emails to women directly, to celebrate themselves for promotional campaigns. Or you can send IWD emails to women to build your brand and share important stories celebrating women.
You can also send it to colleagues, friends and other people, to encourage them to celebrate the women in their lives.
Wrap up
Here are the most important things to remember for successful International Women's Day campaigns:
When planning your IWD email campaigns, remember to choose a responsive and mobile-friendly email template to ensure that your subscribers can view your Super Bowl email correctly.
Always remember to personalize your emails. This helps make them more effective. Use relevant customer data to promote your products or enhance your IWD campaigns.
Send more than one IWD email. You can mix awareness-raising with product-promotion campaigns
Remember to segment your audience into relevant groups for IWD
Maintain your brand identity. Raising awareness, highlighting women, donating to charities, or even telling personal stories can help increase customer loyalty
Don't miss IWD this year! Get started with Omnisend today and be up and running in minutes!
Start Free Today
related features
Want more sales?
Omnisend has everything you need to succeed.
Start free now
No Credit Card needed.