Drive sales on autopilot with ecommerce-focused features
See Features
How to Use an RFM Analysis to Take Segmentation to the Next Level
Reading Time:
6
minutes
With segmentation and targeting, many ecommerce merchants are shooting in the dark. Enter the RFM analysis—the best, data-driven way to target your customers with the message they need to see the most.
Sure, you can reasonably target based on demographics. You can even segment your customers when they do something consequential, like abandon a cart. However, when it comes to lifecycle segmentation, it's hard to find a concrete approach to use.
An RFM analysis might not be the simplest way to segment your customers, but it doesn't have to be too complicated. In this piece, we'll go over how to create an RFM analysis, what an RFM score means, and what strategies to assign to those scores.
What is an RFM Analysis?
An RFM (Recency, Frequency, and Monetary) analysis classifies your customers into different categories based on how recently they've purchased, how frequently they've purchased, and how much they've spent.
What are Recency, Frequency, and Monetary?
Recency, frequency, and monetary are values that you use to score your customers in an RFM analysis.
Recency: How recently a customer has purchased from your store.
Frequency: How often a customer purchases from your store.
Monetary: How much a customer spends when purchasing.
Quite simply, you assign a score for each of these values, and then combine those scores to create a three-digit number that you assign to a customer. This RFM score tells you which segments of customers are the most valuable, and what kinds of messages these customers need the most.
What Are the Benefits of an RFM Analysis?
An RFM Analysis provides a truly data-driven approach to segmentation. By scoring based on recency, frequency, and monetary, you're able to gather actionable insights that allow you to decide what to do next.
Even more than that, an RFM score:
Helps you focus on and improve customer retention and customer lifetime value.
Helps you lower customer acquisition costs by making the money you spend go further.
Teaches you which of your customers are the most worth retaining, and which you shouldn't spend too much time and budget on keeping.
Helps you understand which of your customers you can't afford to lose, and which are most likely to churn.
That's only some of the things an RFM analysis can help you learn. Once you figure out how to best use an RFM score, you'll know exactly what each segment of your customers needs, and what message to send them.
How to Calculate RFM Scores
Your RFM model will vary in simplicity. This depends on how granular you want your RFM analysis to be. In order to start, you'll need a few different pieces of information.
Average order value (AOV)
Average repeat purchase rate
Look at your purchases over the past year and give your customers a score from 1 to 3 based on recency, frequency, and monetary value. Starting with frequency, let's say that your normal product lifecycle is between one and three months and customers tend to purchase once every six weeks on average.
Customers who purchase once per month would be given a 3.
Those who purchase once per two months would be given a 2.
Those who purchase once per three months or more would be given a 1.
Next, let's focus on recency. If your average purchase cycle for repeat customers is about a month, you'd apply the same process.
Customers who purchase at an above-average rate, so less than 21 days, should be given a 3.
Those who purchase at an average rate would be given a 2.
Those who purchase at a below-average rate, longer than 21 days, would be given a 1.
Finally, let's look at the monetary factor. Let's say your average order value is around $100 per purchase.
Customers who tend to spend $200 or more should be given a 3.
Customers who spend more than $100 should be given a 2.
Customers who spend less than $100 that should be given a 1.
For our purposes, let's create a simple RFM chart to explain the process. It might look something like this:
| | | |
| --- | --- | --- |
| Recency | Frequency | Monetary |
| 3: Purchased within 14 days | 3: Purchases 1x/month | 3: $200+ AOV |
| 2: Purchased within 21 days | 2: Purchases 1x/2 months | 2: $100+ AOV |
| 1: Purchased within 28 days | 1: Purchases 1x/3 months | 1: $100- AOV |
A simple RFM chart
The idea is that you'd end up with different segments based on these characteristics, and the RFM score would indicate the customer behavior needed for that segment. For example, your best customers would have a score of 333. Those who get this score would have purchased the most recently, purchase the most frequently, and spend the most per purchase.
On the other hand, your least valuable customers would fall into 111. Those who get this score would be those who haven't purchased in a long time, don't purchase frequently, and spend very little when they do.
Lapsed-purchasers might have a score of 133, 123, or higher. These are the high-quality customers that you would want to invest time into trying to bring back. You would be wise to consider trying to pull back into your funnel.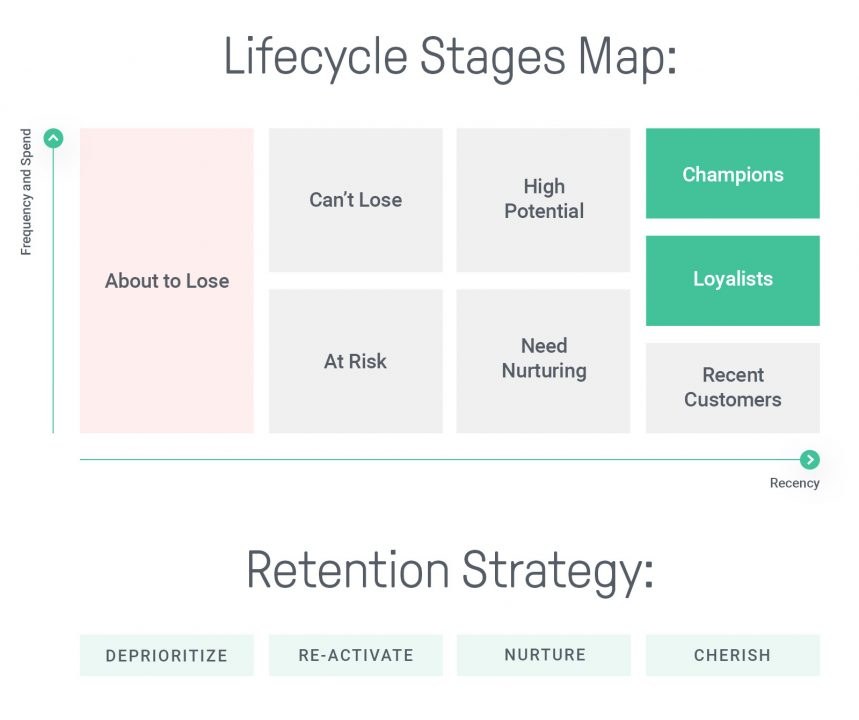 How to Understand an RFM Score
Now that each of your customers has an RFM score, how can you apply that score in a meaningful way?
First, you'll need to understand what these scores are telling you.
Champion Customers: RFM Score 333
Why they're important: These customers are your most loyal base. They purchase often, spend more than average, and have purchased recently. These are the customers you want to keep happy above all else.
These customers should be cherished: Incentivize them to stay. These are your VIP customers so treat them accordingly. Loyalty and rewards, just-because offers, free shipping—whatever you need to do to keep them coming back for more.
Loyal Customers: RFM Score 332, 232, 131, etc
Why they're important: They may not always spend the most, they may not have shopped with you recently, but they always come back. These are customers who love your brand and products and will likely advocate for you.
These customers should be cherished: For your loyal customers, be sure to offer your loyalty program if you have one. They're also more likely to leave positive reviews, so ask for reviews after their purchases. Reward their loyalty often, and you'll be able to transform these customers into your champions.
Your High Potential and Can't Lose Customers: RFM Score 113, 223, 123, etc
Why they're important: They may not purchase often, but these are your biggest spenders. They might also just be holiday shoppers looking for deals. These customers might drop by once a year, but when they do, they make their presence felt.
These customers should be nurtured: These customers already love your products. Be sure to offer product recommendations based on what they've already purchased to drive up their AOV. If they have a low frequency score, send out campaigns with incentives to try to draw them back in more frequently.
Brand New Customers: RFM Score 313, 312, 311
Why they're important: You've done the hard work to convert them the first time, now it's time to nurture that relationship. Retaining these customers can be the best way to find new loyal customers and champions.
These customers should be nurtured: Welcome your new customers properly. Once they've made that initial purchase, put an automation workflow in place that suggests products they might enjoy. You can do this by showcasing products that other loyal customers love. However you decide to proceed, continue telling your brand story.
At-Risk and About-to-Lose Customers: RFM Score 111, 112, 113
Why they're important: These customers are at risk of being lost as they haven't purchased in some time. The 111s might not be worth putting a lot of time and effort into. However, the 112s and 113s might still hold an opportunity for loyalty.
These customers should be re-activated: You might treat these customers a bit differently depending on their monetary score. For example, you might have a lapsed-purchaser workflow in place, but you might split that workflow based on purchase amount. Those who fall into the 111 RFM score might get a light discount while 112 and 113 might get a heftier one.
No matter where your customers fall on an RFM chart, there is a strategy that focuses on them. This is true whether it moves them towards, or keeps them as, your champion and loyalist customers.
Not only does an RFM analysis tell you what to do next, but by identifying your best customers, you can identify what traits they share. This way, you can better target your ads and marketing efforts that increase customer acquisition.
By knowing what your best customers like, and how they respond to your strategies, you'll have an easier time of attracting more customers just like them.
How to Implement an RFM Analysis for Ecommerce
Once you have an understanding of your customers via an RFM model, you can proceed to efficient segmentation. To do so, use your email service provider to create RFM segmentation for each of these different scores.
Let's take a look at an RFM analysis example segment in Omnisend.
First, create a segment by going to Audience then Create Segment. From here, to create your 333 best customer segment, you'd add contacts:
Who have placed order + order date in the last 14 days and
Who have purchased product + times purchased is more than 2 and
Who have placed order + order value is more than $200

Then simply save and name your segment. Now you have a ready-to-go segment prepared with your best customers. You would do this for each score in your RFM segmentation to target them in later campaigns and workflows.
Key Takeaways
An RFM analysis doesn't have to be complicated. Depending on your customers and your ecommerce brand's needs, you can use this simple RFM model to better understand your customer lifecycle. Doing so leads to an increase in customer retention and reduces customer acquisition costs.

A great email service provider might offer automatic customer lifecycle segmentation that will make this process quicker and easier. Try it out for yourself with Omnisend, free for 14 days.
related features
Want more sales?
Omnisend has everything you need to succeed.
Start free now
No Credit Card needed.