Drive sales on autopilot with ecommerce-focused features
See Features
Reading Time:
9
minutes
If you're not already using SMS to push products, nurture leads, and generate interest in your business, you're already falling behind.
SMS marketing for ecommerce allows brands to:
We won't belabor the point.
Thankfully, getting starting with SMS strategy is less intimidating than it sounds. Once you secure some basic tools and match with an automations partner, you'll find that success is more about automation than just physical orchestration.
This article will explore how you can build an SMS ecommerce strategy for your own brand, walking through the steps required, exploring the basic workflow, and showcasing how to measure success with practical KPIs.
Let's dive in.
How to start using SMS for ecommerce: the background work
There are two aspects of constructing an SMS strategy: the backend, and the frontend. While the backend focuses on setup and regulations, the frontend is concerned with bringing the whole picture together.
Before you send your first SMS into cyberspace, you'll need to start with the basics. Here's how to do SMS marketing for ecommerce brands, beginning with the backend strategy.
Collect your tools
Like any great artisan, you'll need the right tools to sculpt the right message — or at least, send SMS messages to customers effectively.
There are three major tools you'll need:
A phone number. If you're on Omnisend, we'll give you one for free.
Automations software. Be sure you can construct one-off and cyclical messages.
Metrics and analytics. More on this later.
Now you're ready to build your first list.
Build your SMS subscriber list
A subscriber list is one of the most valuable marketing tools at your disposal. Not only is it a comprehensive list of all your brand-aligned customers, but it's filled with high-quality leads that may be receptive to ongoing deals.
Like email subscribers, your SMS lists need to be built carefully. You'll need to make sure you're following regulations like TCPA, CTIA, SHAFT, and CAN-SPAM — just to name a few.
With Omnisend, you can build a subscriber list that's automatically compliant with some major SMS regulations. You can also access list building tools like: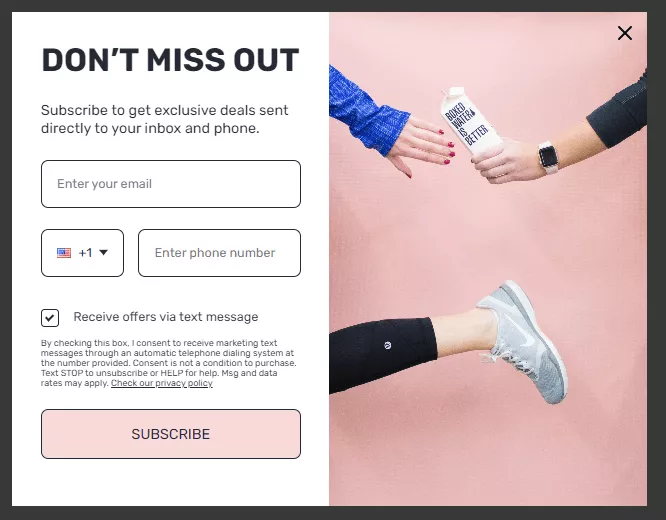 Plus, each of our signup forms are customizable — even with HTML. Change the text or offer to match your brand voice, then pick the perfect timing to capture qualified leads.
Convert existing email subscribers into SMS subscribers
If you're building an SMS list from scratch, odds there will be some crossover from your existing email list.
You can easily convert email subscribers to your newest marketing channel with a simple Text to Join function. Rather than building entire forms or landing pages, simply prompt your email subscribers to join your SMS list by texting a single word to a short code number.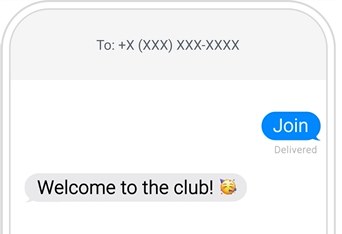 If you want even more leverage, consider using a coupon or special offer that will encourage customers to take the leap. You can use Omnisend's unique discount codes or gift boxes to get started, then try out different incentives to see what gives the best lift for your brand.
How to set up your first SMS workflow: the frontend work
You have a firm grasp of the backend work required to build an SMS strategy. Now it's time to create your very first workflow — and automate the process to take more work off your plate.
But first, let's choose your campaign type.
You'll have plenty to pick from, with the most common including:
Welcome messages: A friendly 'hello' to your newest subscribers.
Birthday messages: A valuable offer and personalized greeting.
Cart abandonment messages: A nudge toward a customer's waiting cart.
Shipping/order confirmation messages: A reminder that your product's on its way.
Testimonial messages: A suggestion to leave a valuable review.
Remember: you can always create custom messages for unique sales or events. The Omnisend library is filled with plenty of templates to get you started, and lots of customization options for creating an on-brand message.
Of course, picking your campaign type is just the first part of the frontend process. Now you need to decide how often your campaign will be sent to customers — either as a one-off message, or as a full-service workflow.
One-offs are exactly what they sound like: single, one-time messages sent to subscribers during a unique event (think Black Friday or the holidays).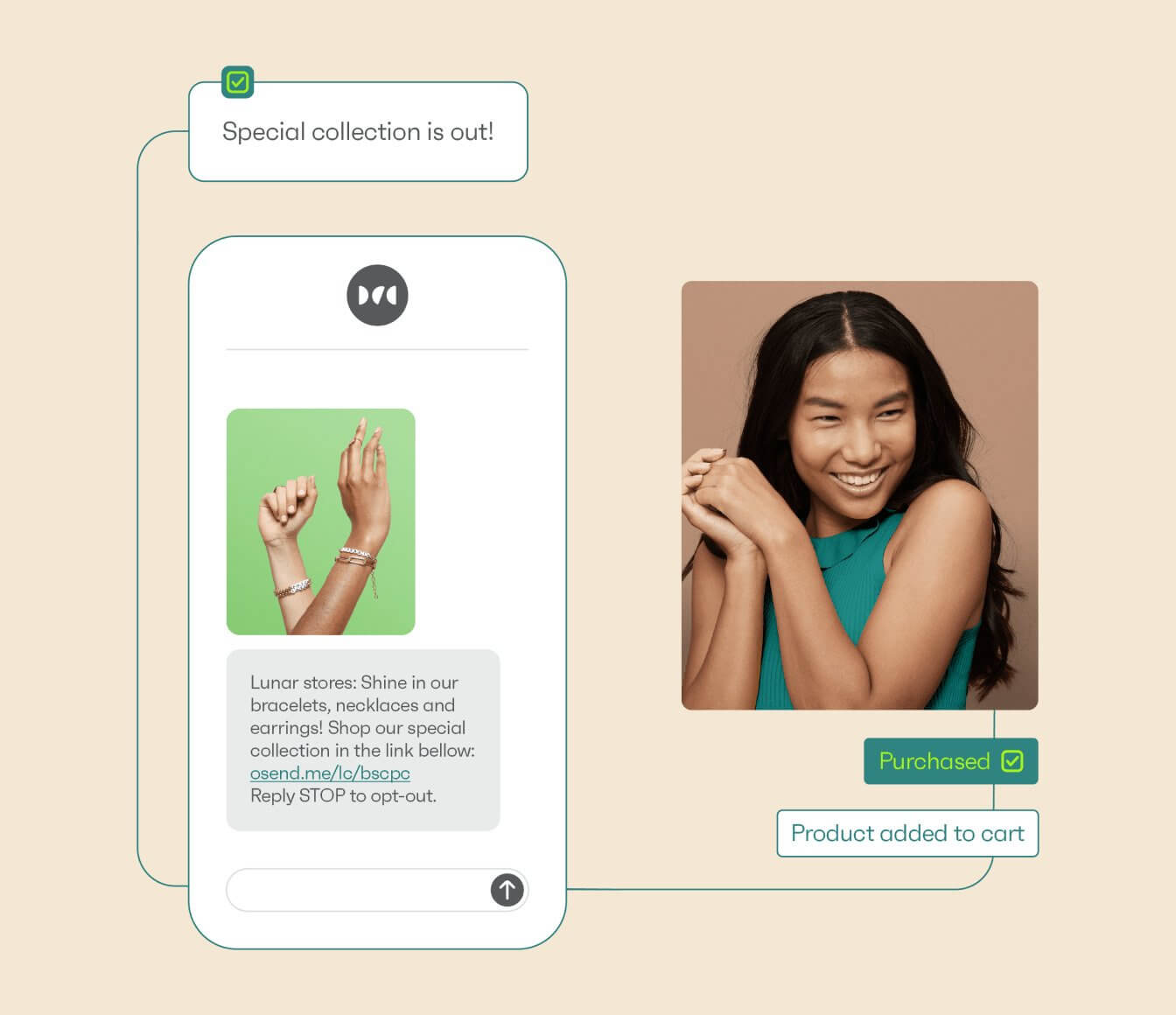 In contrast, SMS workflows are automations that trigger only after specific actions, events, or time periods. This lets you communicate with customers on a more intimate level, nurturing their buyer's journey in a highly personalized way.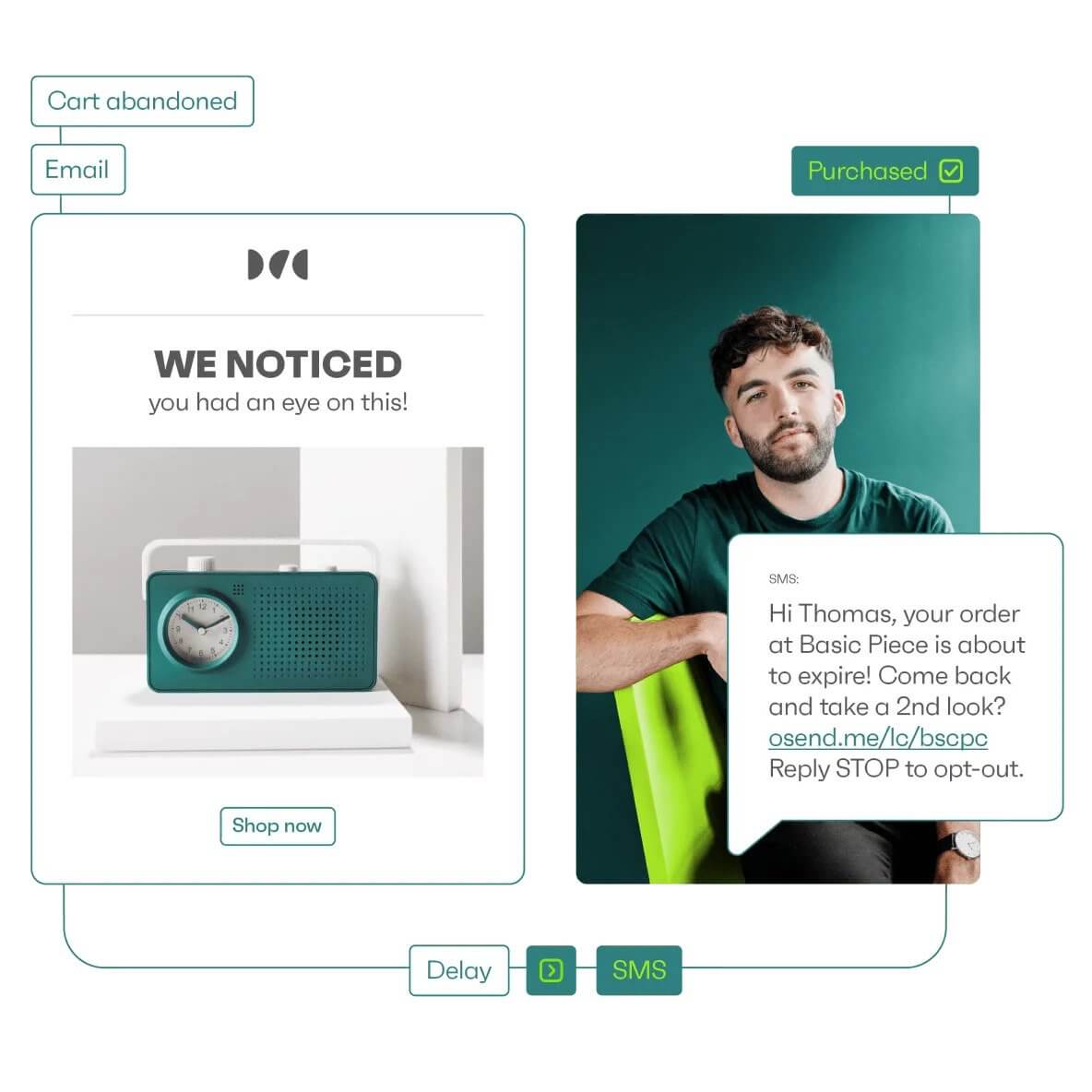 One-off SMS campaigns are pretty straightforward, but full workflows do require a little extra labor. Let's walk through the creation of an SMS workflow, both as a solo channel and as a multichannel sequence.
Option 1: SMS workflow only (single channel)
For brands without an omnichannel strategy, a single channel SMS workflow is relatively simple.
More likely than not, you'll be creating workflows for new product messages or seasonal holiday deals. You may also need to highlight specific events or newsworthy moments, which aren't that cyclical anyway.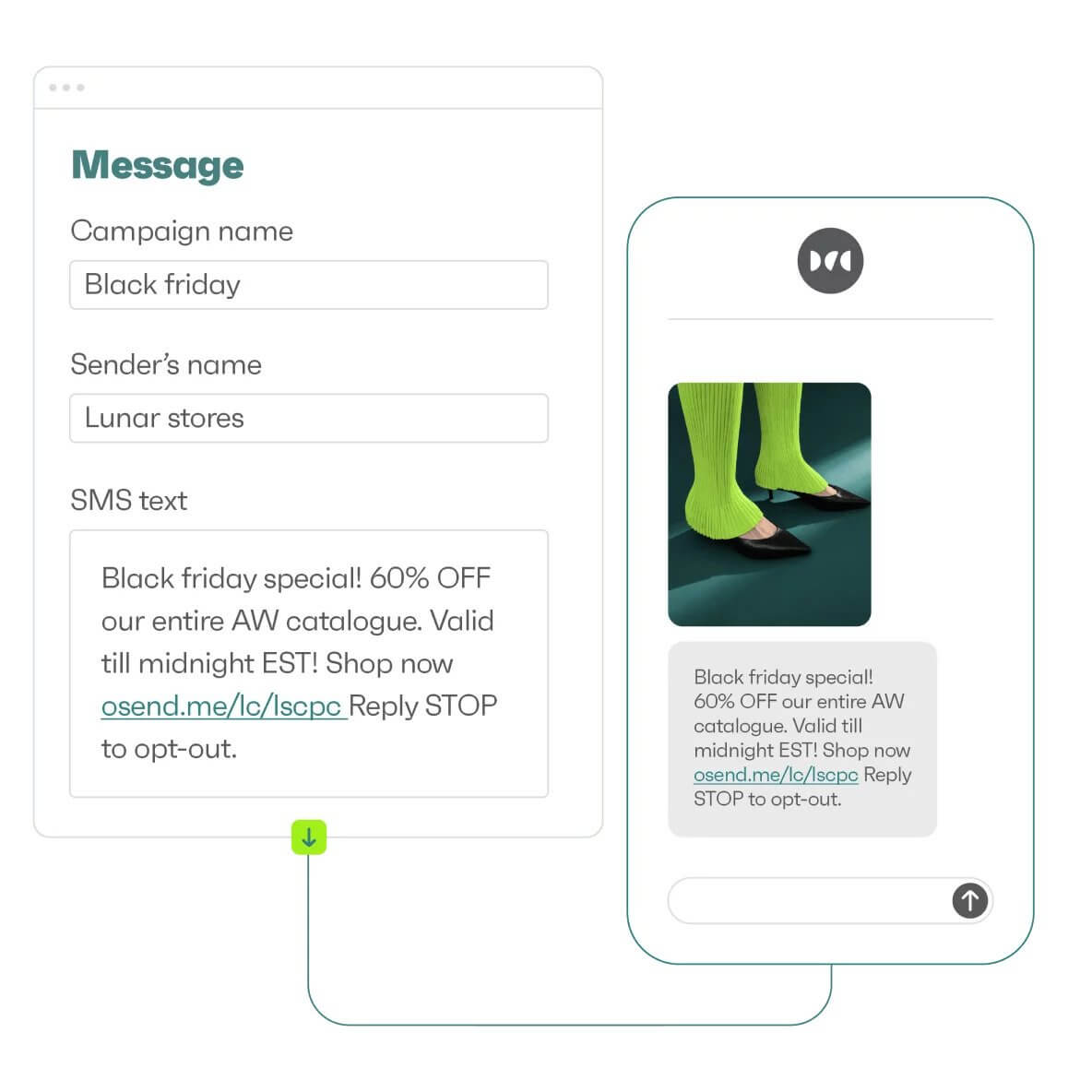 To set up an SMS workflow in Omnisend, you'll need to:
Open the workflow automation portal and select SMS.
Add messages, pictures, personalizations, and links.
Choose your delays, if any are desired.
SMS as a single workflow is extremely powerful — although it should be more of a starting point than a stopping place.
It's highly recommended to pursue an omnichannel strategy for your ecommerce business. Not only do two or more channels lead to a 9.5% annual increase in revenue, but it can retain nearly 3 times the amount of customers than single channel brands.
Thankfully, building a multichannel SMS workflow isn't hard to do.
Option 2: SMS and email workflow (omnichannel)
Omnisend makes it easy to combine multiple channels into a single workflow — including email, SMS and push.
There are so many ways to combine the two effectively. For example, you might want to send upsell messages that show customers what they're missing. In more practical terms, you could send order confirmation orders via email and SMS, which will delight your customers and encourage repeat purchases in the future.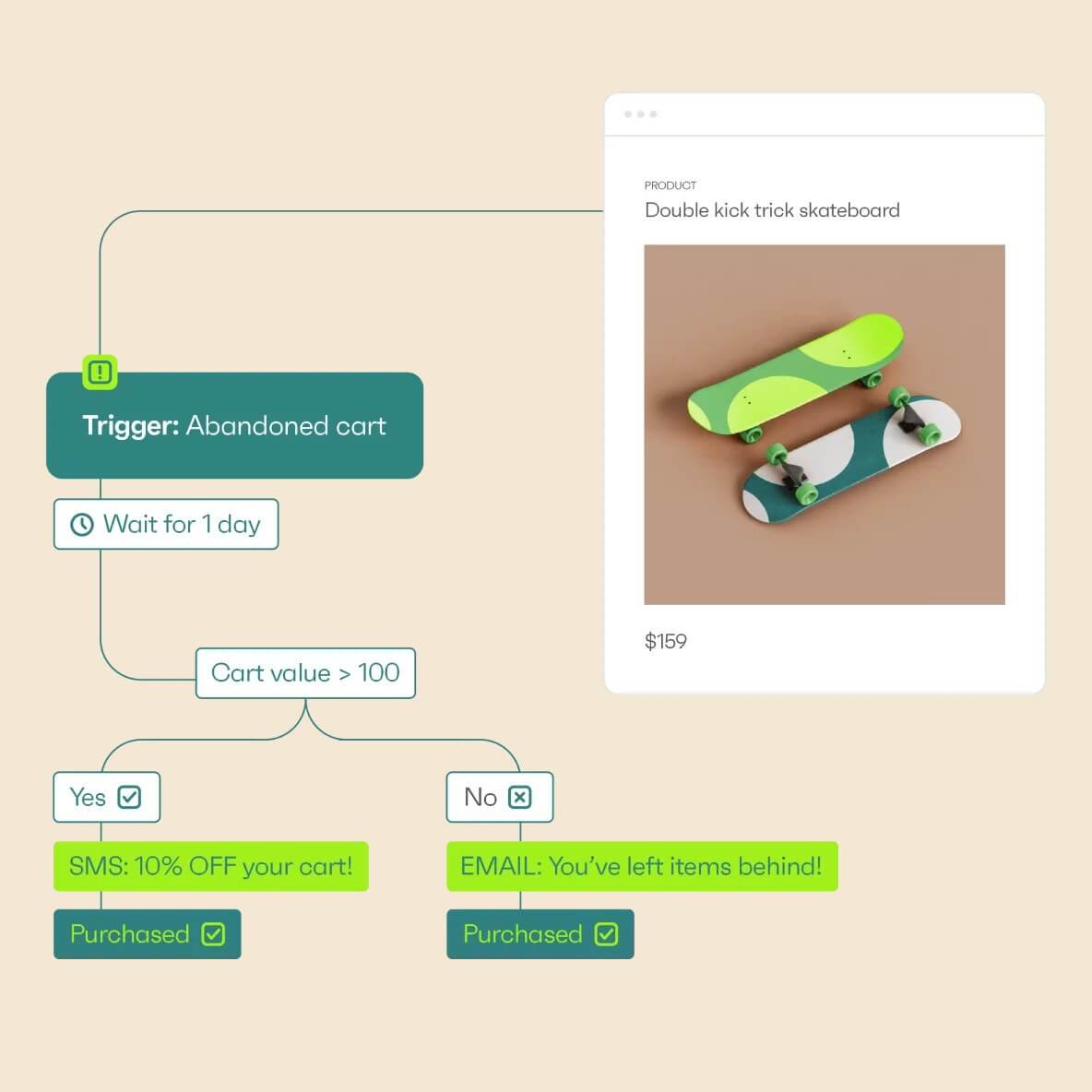 It takes three steps to set up a multichannel SMS workflow in Omnisend:
We offer pre-built workflows in our automations library, many of which allow you to combine SMS with emails. Since these are templated, all you need to do is select the basic workflow, customize it to your liking, then update and activate.
Create an email + SMS campaign that works towards the same goal, or separate your audience into different segments to reach unique needs and demographics.
Report, rinse, and repeat.
As you can imagine, multichannel sequences have dozens of use cases for ecommerce businesses. Just make sure you're measuring the KPIs correctly to optimize the final results.
How to measure and analyze your SMS strategy
Ecommerce SMS strategies won't become moneymakers overnight. In most cases, it requires careful measurement, monitoring, and KPI reporting to turn a promotional text into a profit-making machine.
Predictably, this starts with granular reporting tools.
Basic SMS reporting metrics should cover everything you need to know about the impact of your campaign, including:
The number of SMS messages that were sent to recipients
The number of subscribers that clicked a link in your SMS
How many sales were made from the tracked link in your message
The number of customers who opted out of future messages
The number of customers who didn't receive your SMS (bounce rate)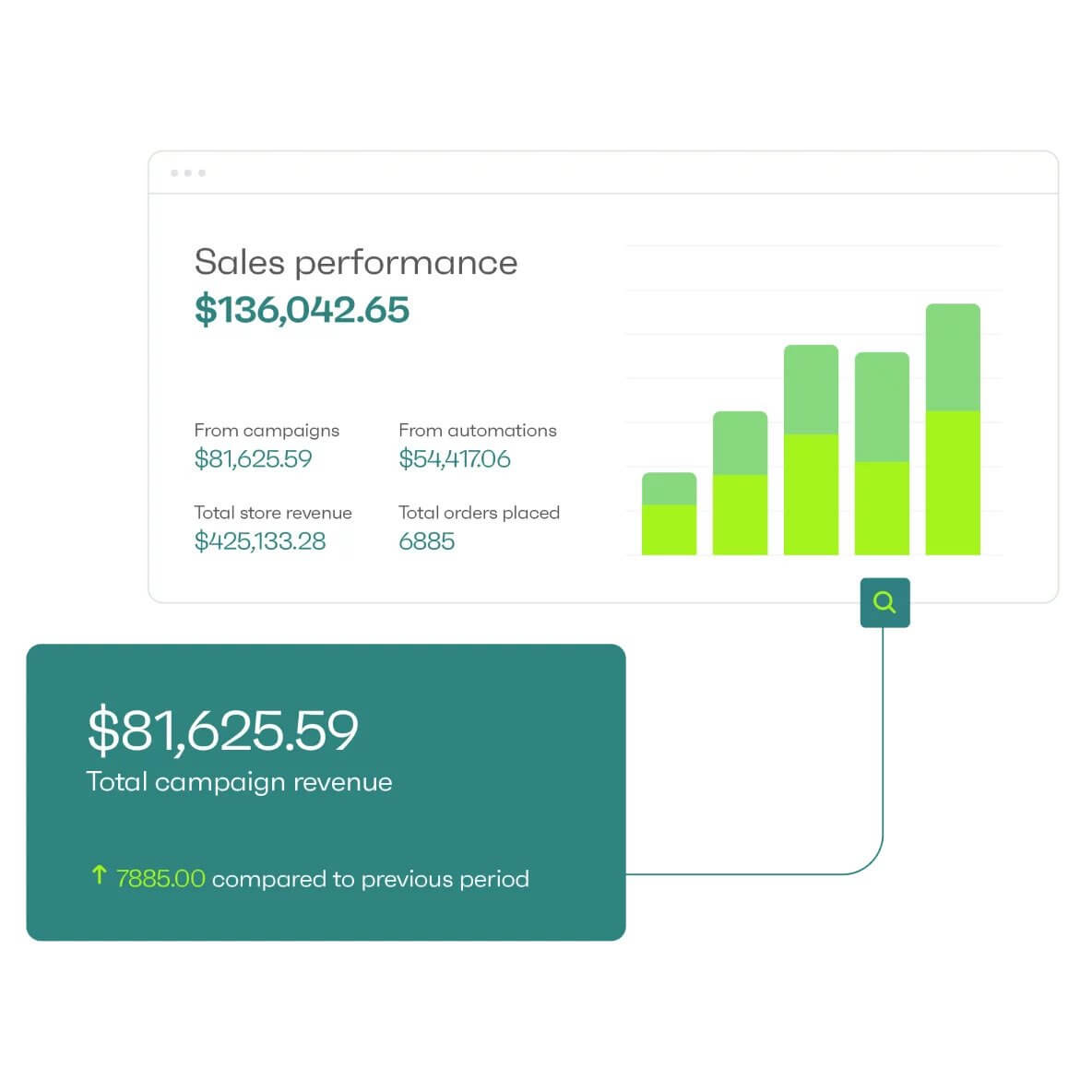 Omnisend offers all these metrics — and plenty more.
Plus, members of our Pro plan have access to advanced reporting tools, which offer additional insights such as performance by audience segment and trend scales.
In either case, be sure to monitor all preferred measurements (sometimes called key performance metrics) throughout the life of each campaign. This allows you to track message performance over time, and provides the best idea of what SMS success and ROI looks like for your brand.
Pay attention to what works and what doesn't, then iterate new ideas with the help of A/B testing. With KPIs, the sky's the limit.
Examples of SMS strategies for ecommerce brands
Every brand should take a personalized approach to SMS — which is why copy-catting isn't always a good approach for making the biggest impact on customers (or your bottom line).
That being said, it can still be useful to look at current strategies and see how they've benefited brands over time.
Let's look at the three outstanding SMS strategies from a strictly ecommerce perspective.
WineText
The wine industry has seen a massive burst of innovation over the past few years, particularly with B2C marketing.
WineText has accepted this with open arms, leading the charge toward SMS marketing with an interesting ecommerce strategy.
Users are prompted to join the WineText SMS list to receive regular offers and promotions. If customers see something they like, all they have to do is respond with the number of bottles they want — the wine will reach their doorstep in a matter of hours.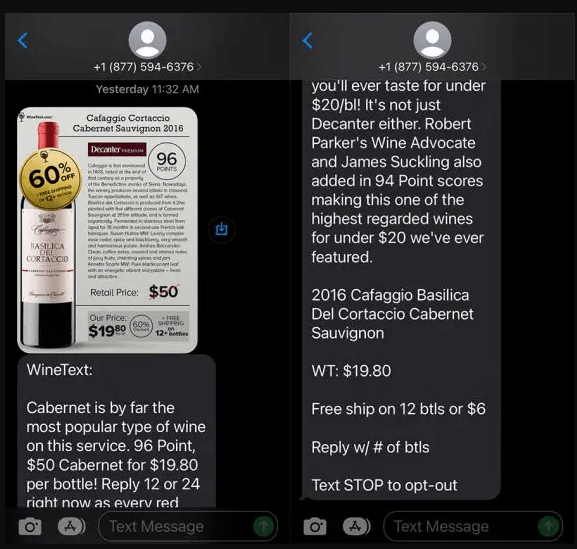 There are two key takeaways here. First, notice that WineText's signup incentive is a lot more than just a 10% discount. If you're going to offer something, be sure it's genuinely valuable.
Second, pay attention to the low-friction, non-pushy way WineText presents its call to action. A CTA doesn't always have to be 'buy now' — feel free to get creative!
Amazon Treasure Truck
Sometimes, the best SMS strategies are the ones that 'get' their branding as much as they get their audience.
This is what the Amazon Treasure Truck does best.
Always on the hunt for something fresh, new, or trendy, Amazon Treasure Truck sends a daily SMS telling recipients about new deals and where they can buy them. The language is fun, peppy, and very on-brand, while the included link helps customers learn more about their potential purchase.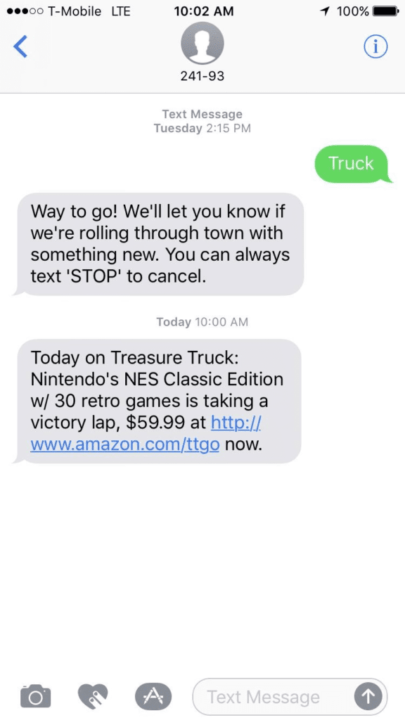 The Amazon Treasure Truck is an incredibly powerful ecommerce SMS, automating every message to reduce workload and increase customer satisfaction. With a strategy like this, the company has sourced millions of subscribers since 2015 — 75% of which check out a deal within 15 minutes of receiving the text.
This is a lovely combination of value and interest, and the perfect flywheel for success.
Decora
Reviews and testimonials are some of the most valuable digital assets for ecommerce brands. However, not every customer will take time out of their day to share their thoughts with others — without a little incentive, that is.
Home decorations brand Decora proposes a value trade as part of their testimonial campaigns. In return for 10% off their next purchase, customers can review an item (and the company) on a public forum. Notice the link embedded directly in the SMS to reduce friction, and the inclusion of a colorful, on-brand image to remind customers of their purchase.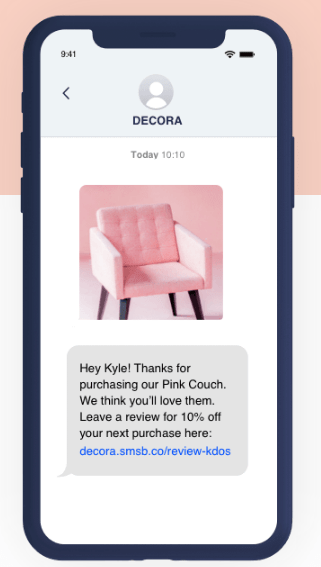 Decora's strategy is extremely well crafted. Not only do SMS messages receive a 98% open rate, but they boast an impressive 80% response rate and 14% clickthrough rate. Combined with a value offer that can increase response rates by an additional 20%, this is a foolproof strategy that benefits buyers and brands alike.
In other words, it's a win-win for everyone.
Putting strategy into practice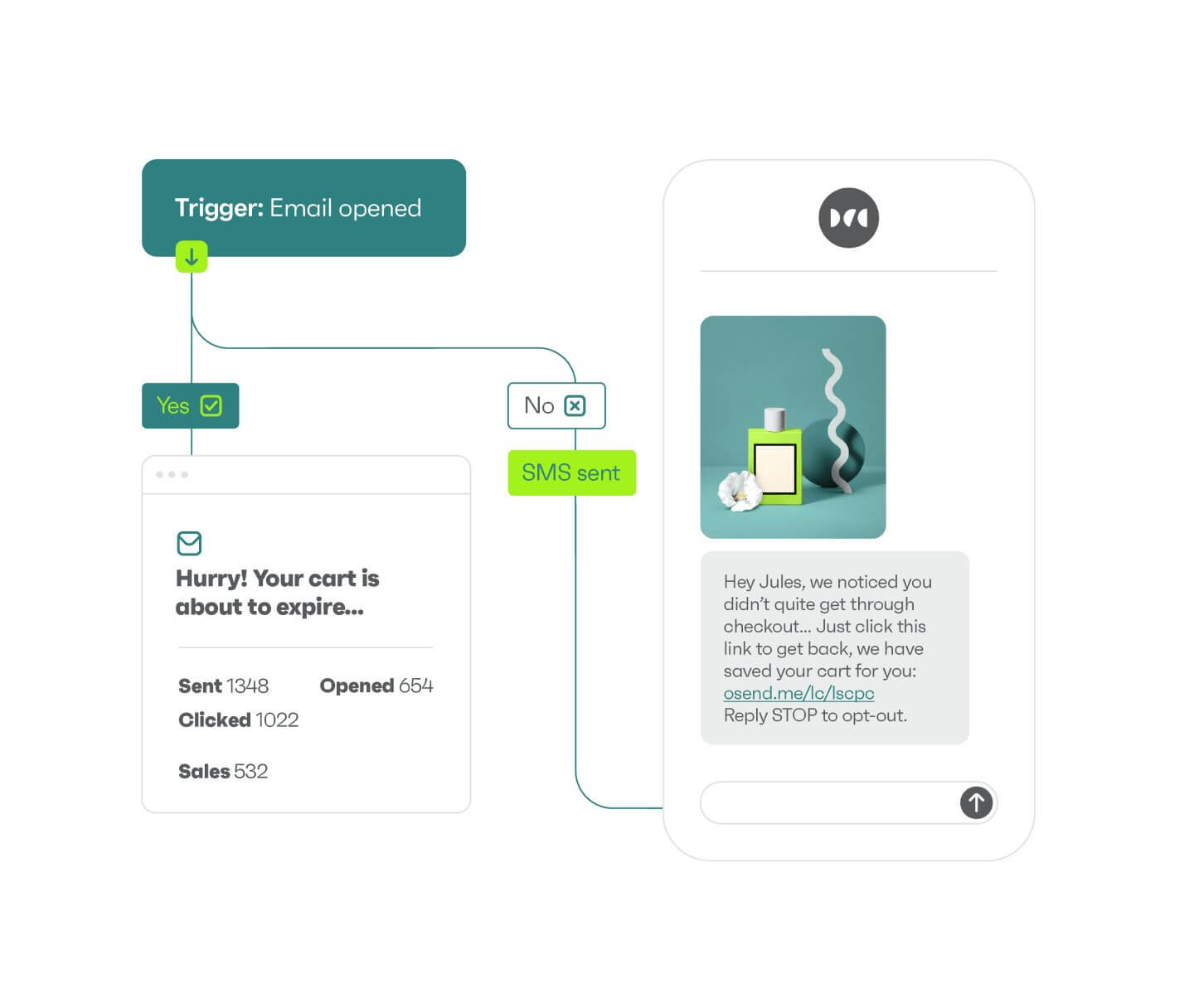 Reading about SMS strategy is one thing, but putting it into practice is quite another. Jumping the gap between theory and reality can be tough, but you'll find it's a lot easier with the right tools — and the right technology partners.
At Omnisend, we make it easy for you to create an SMS strategy at any level of experience. You can pick the perfect number of SMS messages to kick off your campaign, develop custom workflows mapped around user behavior, then automate personalized texts to specific audience segments.
On our Pro plan, you'll automatically get free SMS and MMS equal to the price of your plan. You can easily reach international customers in hundreds of different countries, then use one of our dedicated toll-free US sending numbers to reach customers within regulations.
And best of all, you can always start for free.
Sign up with Omnisend at any time to build an SMS strategy for your ecommerce business.
related features
Want more sales?
Omnisend has everything you need to succeed.
Start free now
No Credit Card needed.