Drive sales on autopilot with ecommerce-focused features
See Features
Reading Time:
6
minutes
SMS marketing services are slowly breaking away from its reputation of being inaccessible to owners of small businesses. Indeed, the availability of SMS-capable marketing software has made it a useful channel not only for commerce behemoths but also for SMEs with limited budgets to reach their customers.
If you use it correctly, text marketing can quickly be your most cost-effective platform for boosting sales and conversions.
Why Use SMS for Small Business Marketing?
Did you also know that SMS enjoys open rates over 90%? Not only is that exceptionally higher than email's 6-20%, but also practically perfect—something you don't get on any other platform.
The success of texting as a marketing medium is due to several factors. For one, text marketing messages reach customers immediately, even when they're mobile, not connected to the internet, or not using smartphones.
Additionally, the SMS inbox on a typical phone is not equipped with a spam filter. But perhaps the most crucial benefit of text marketing is its form. Because they are brief (a single message is only 160 characters), they are consumed quickly, and customers can react immediately.
How to Start Using Text Messages for Small Businesses
Here are some of the most important things you need to launch a text marketing campaign for your small business:
Platform
Technically, you can start text marketing as long as you have a phone and a line. But, for efficiency, effectiveness, and ability to track performance, invest in one of the most powerful SMS marketing platforms that you can integrate into your entire business operations.
Making use of such tools and marketing service will enable you to enjoy the most critical benefits of SMS, but in the most efficient way. In fact, some platforms even offer free text message marketing for small business owners as part of their packages. Of course, those offerings have limits, but it's a good place to start if you're still exploring texting as a marketing channel.
Consent
Just like in email, mass sending is a no-no in SMS. You can't reach customers who have not explicitly subscribed to your SMS service. That means you'll need your audiences to opt-in, even if they had already given you their mobile numbers or even if you have previously reached them via email.
Beyond the legal matters, getting consent before texting your customers is a means to show how much respect you have for them.
Opt-in Forms
Prepare your opt-in forms to describe the purpose of your SMS campaign. Also, show what your customers have to gain by subscribing. You should also give them an idea of how often to expect to hear from your business, as well as any rates they may have to cover.
Lastly, link to your Terms & Conditions as well as your Privacy Policy. Thankfully, most text marketing services and platforms have templates that use all the best practices for opt-in forms.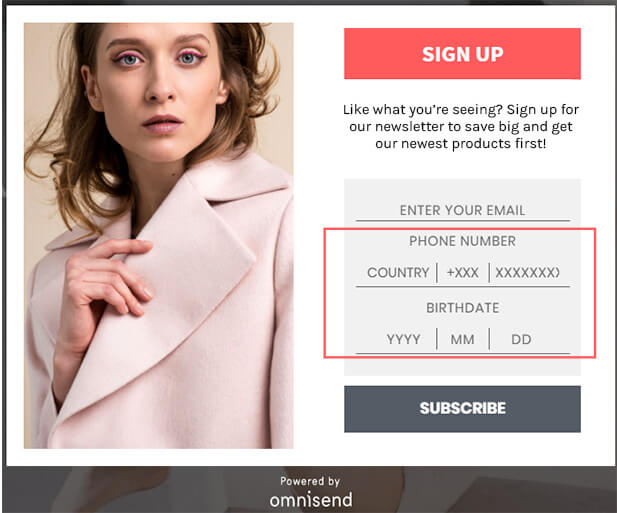 Confirmation
Your first SMS message to a new subscriber should always be a confirmation that they have opted in. For example, explicitly thank them for subscribing or affirm the benefits of their decision to subscribe. Lastly, give them an option to unsubscribe in case they're no longer interested.
All these preparations for an SMS marketing campaign—the opt-in forms and confirmation messages—need not be complicated. Just make sure you select a platform in which these features are already integrated.
How to Make the Most of Text Marketing
Any way you approach it, SMS marketing should improve engagement and ultimately boost your sales. But, there are things you can do to make the most out of this medium.
Know the Best Time to Reach Your Subscribers
Schedule your messages to send between 10 AM and 2 PM or 7 PM and 9 PM, since these are the times the average 9-5 worker is better able to attend to text marketing messages. At the very least, you should make sure you're not texting them in the middle of the night.
Reach Out According to the Customer Journey
Time your business texts according to where the recipient is on the customer journey. Make each message relevant to their exact position in the sales process. Often, a relevant and well-timed SMS is all it takes to boost sales.
Consider Your Business Cycle
Text marketing is perfect for driving immediate sales. So, think of ways it can work in harmony with your business cycle. Take advantage of SMS tactics like time-sensitive offers to stimulate sales during lulls. Often, texting about an exclusive and temporary sale event can re-engage even customers that have been inactive for a while.
Incorporate an Omnichannel Campaign
While text marketing for small businesses is undeniably powerful on its own, it works best when it's part of an overarching campaign that utilizes a variety of channels, including email and social media. Give text messaging its own role, and it'll surely contribute to improved revenues as well as better relationships with your customers.
Set Up Scheduled Texts and Automated Workflows
For ecommerce businesses, scheduled texts work best to encourage repeat buys (e.g., monthly appointment reminders, annual equipment servicing, etc.).
At the same time, texting through automated workflows can help reach specially targeted customers with the relevant messages at precisely the right time, without any extra effort from you. That makes them more likely to purchase or perform a desired action.
How to Determine if Your SMS Campaign is Working
Apart from higher engagement rates, one of the most significant advantages of text marketing is its measurability. Similar to email, SMS marketing for business allows you to easily track your campaign's performance, so you can easily optimize for better results. Among the most important metrics you should monitor are:
List Size – The number of subscribers you have is a clear indicator of positive interest in your brand. With a good enough tool, you'll also be able to see how many are actually active.
Growth Rate – Measure how fast your list grows periodically (weekly, monthly, quarterly, or yearly) and on a per-campaign basis.
Attrition Rate – Opt-outs are normal in any digital marketing campaign. But, if attrition is too high, you need to reevaluate your content as well as your value proposition.
Click-Through Rate (CTR) – A high click-through rate shows that the content you provide through your SMS campaign is relevant and interesting to your subscribers.
Response Rate – Not all text messages for marketing purposes requires a click. (e.g., coupon codes). No matter what response you're looking for, make sure it's measurable, so you know how your campaigns are performing. Of course, a large part of determining the success of a campaign is whether it was worth the money you spent on it. Here are the top metrics to track on that front:
Cost per Acquisition – Measure the total cost of your campaign and divide that number by the number of subscribers acquired by that campaign. To guarantee profit, make sure that this cost is lower than the average profit you get per subscriber.
Return on Investment (ROI) – Measure the total profit you received from your SMS campaign and divide it by the amount you spent on your entire campaign. Always make sure that your ROI is positive.
SMS marketing for small business owners might seem unattainable, but not when you have access to the right tools. Through specialized software combined with the right marketing service, you can gain the benefits of this medium and even incorporate it into a more extensive, omnichannel campaign.
With SMS, you'll enjoy better engagement and, consequently, higher revenues. Plus, you'll be able to achieve all that in a measurable and cost-effective way.
related features
Want more sales?
Omnisend has everything you need to succeed.
Start free now
No Credit Card needed.