Drive sales on autopilot with ecommerce-focused features
See Features
Reading Time:
13
minutes
Wix is one of the top platforms for ecommerce businesses looking to build their online stores. With its customizable themes and drag-and-drop editor, anyone can create a great website without needing any technical skills.
As you'll see in the Wix stores examples listed below, the tool provides a bunch of free eye-catching designs that enable you to build a blog, create logos, and build marketing campaigns
To bolster the tool's ecommerce capabilities even further, you can access additional Wix apps for advanced functionality.
Integrate your Wix ecommerce store with Omnisend's email & SMS marketing, and drive your sales on autopilot.
Start Free Today
Checking these inspiring Wix store examples can help entrepreneurs start their businesses. That's why we've compiled an exhaustive list of Wix ecommerce websites for your inspiration.
Wix stores examples: clothing
Looking for some inspiration for your online fashion business? Here are a few Wix stores examples to get you started.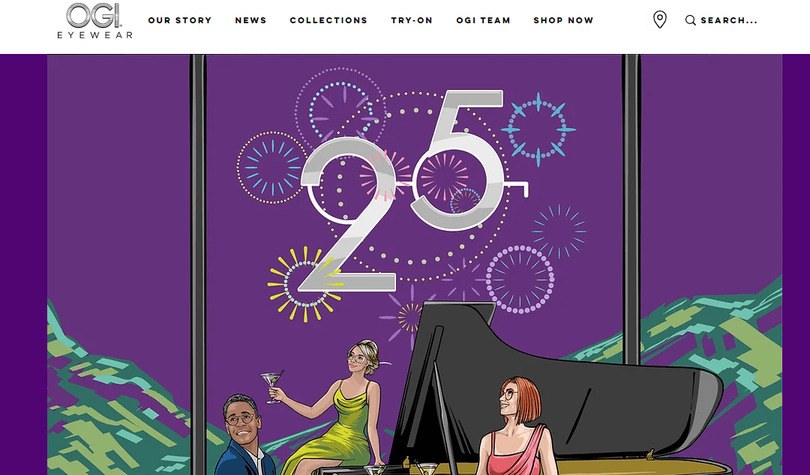 Headquarters: Minnesota, United States
Revenue: $39M
Ogi is a long-running eyewear label known for making trendy eyewear designs since 1997. This Wix online store example combines fashion with optical knowledge to design creative products for the commercial eyewear market.
What they do well: The Ogi Eyewear website features eye-catching colors and a sophisticated yet simple design. It has creatively used animated pictures and videos to showcase its products, making the website more engaging.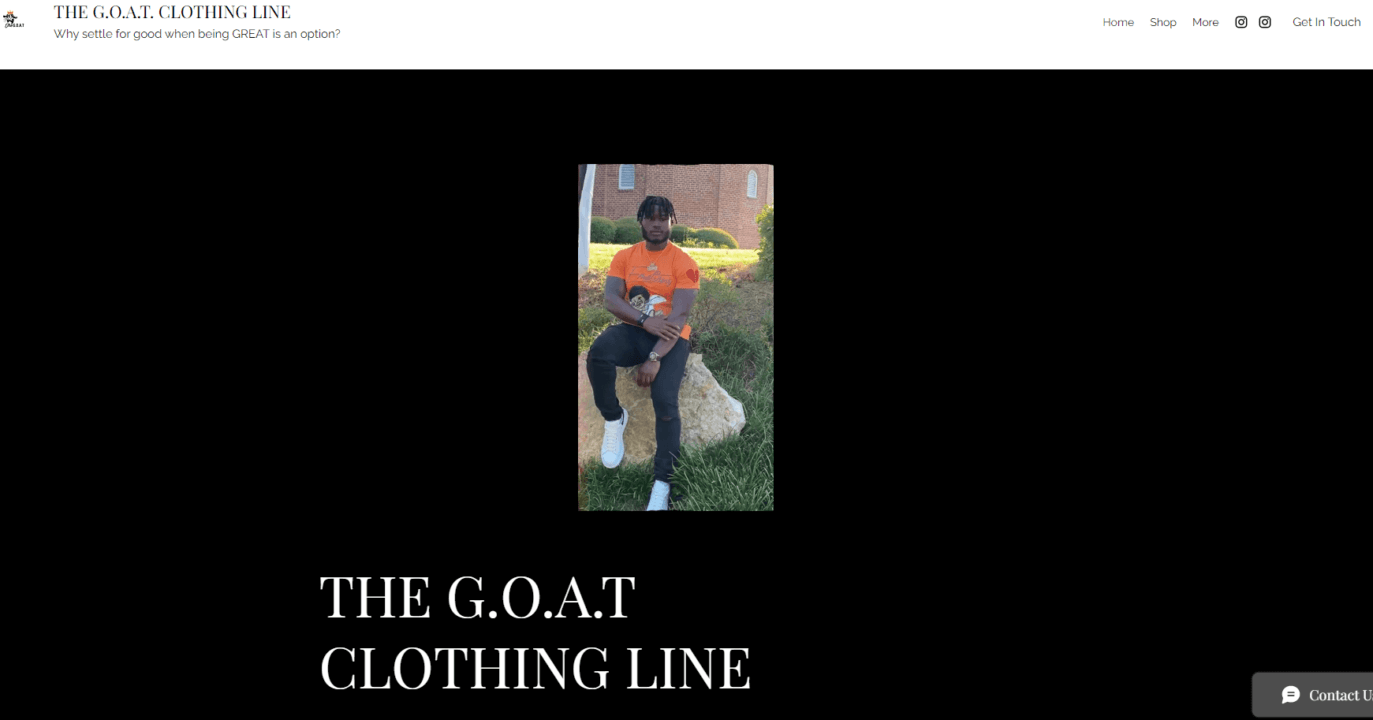 Headquarters: Georgia, United States
The G.O.A.T Clothing Line was established in 2017 as a fashion business selling the latest street outfits to customers in Georgia. Their fashion collection features casual and sportswear, including branded t-shirts, hoodies, shorts, caps, and more
What they do well: This Wix store features a simple design with embedded videos showcasing people of different shapes and sizes wearing the G.O.A.T Clothing Line outfits.
This way, any customer can easily see these outfits look on real people and imagine how they'd look on them before they buy them.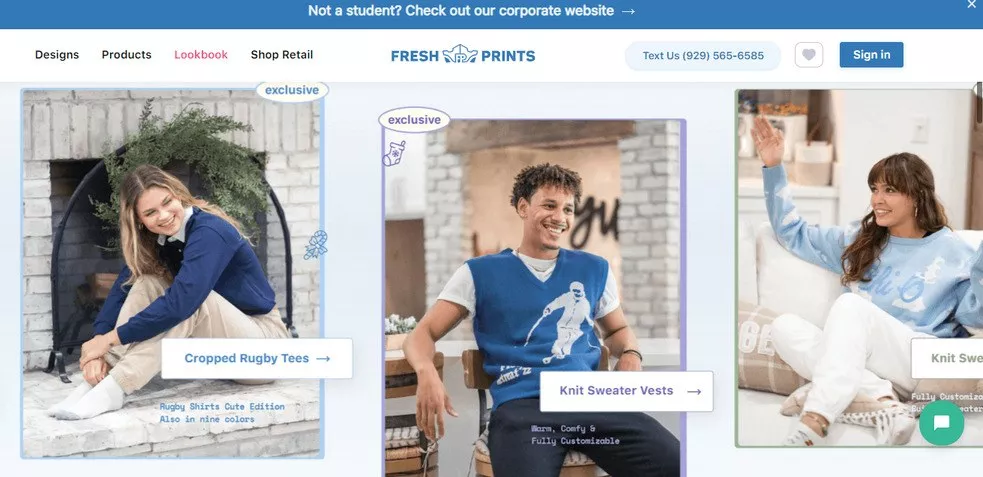 Headquarters: New York, United States
Revenue: $40M
Fresh Prints is a collegiate fashion business that's run by alumni and student entrepreneurs at their respective schools. This fast-growing business makes custom apparel and prints for individuals, universities, student groups, etc.
What they do well: This is a Wix store example where the store has advanced filters that help you find the products you need, by design, price, etc. It also provides detailed design descriptions including apparel recommendations that best fit each design.
Wix stores examples: Jewelry
Here are some jewelry Wix stores examples you can explore to inspire your own include the following.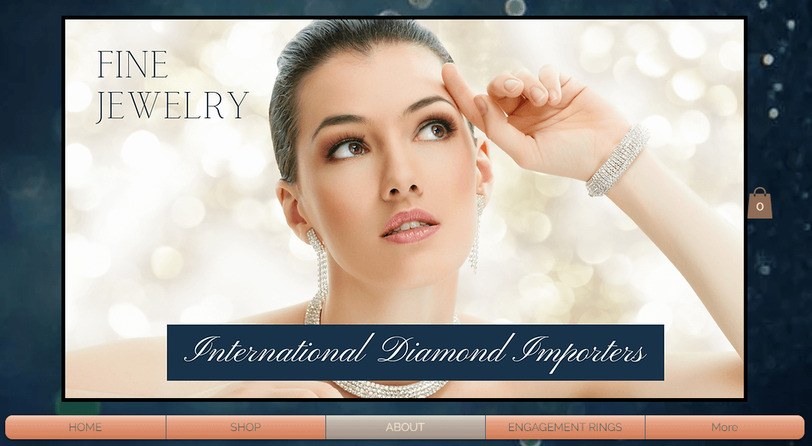 Headquarters: Michigan, United States
Revenue: <$5M
Founded 38 years ago, International Diamond Importers is one of the top-performing sites built on the Wix platform. They customize jewelry designs to their customers' tastes. Products include neckpieces, engagement rings, bracelets, and more.
What they do well: The ecommerce store exudes elegance and class, just like the items they sell.
The homepage has a unique design that features a picture of a person wearing stunning jewelry pieces as the first image—a tactful marketing strategy to engage potential buyers.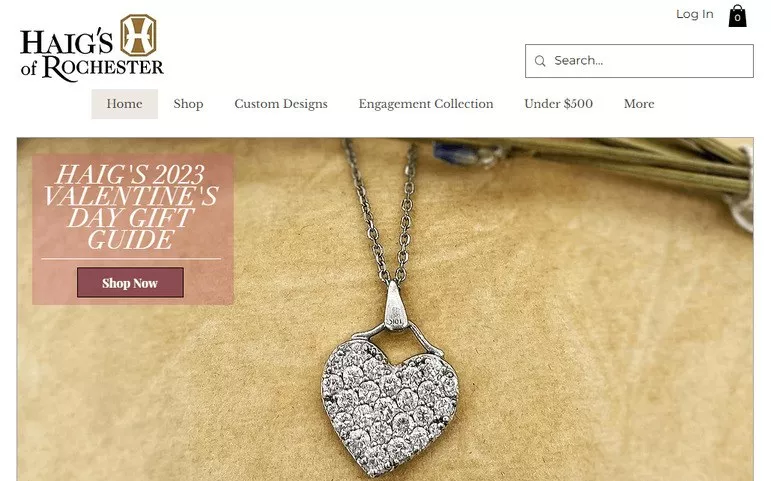 Headquarters: Michigan, United States
Revenue: $9M
Haig's of Rochester sells classy jewelry and antique art pieces and offers repair services for the same. This family-owned store was founded in 1973 and is also one of the most creative jewelry designers in Rochester, Michigan.
If you want to start an antique store for collectibles and classic jewelry, this Wix store example can be your inspiration.
What they do well: This Wix-powered online store displays attractive images of the company's luxurious jewelry items and antique pieces, right from their homepage. This inspires interest and leads prospects to their product page.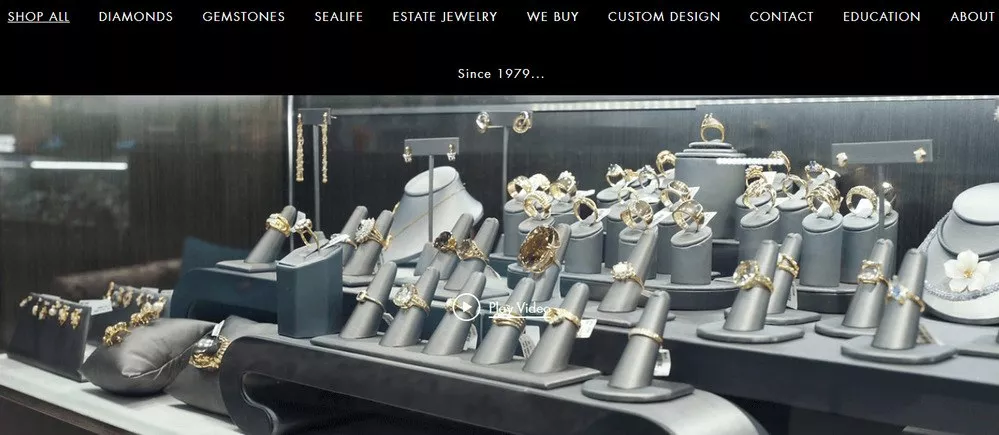 Headquarters: Florida, United States
Revenue: <$5M
Mark Zemil moved from working at a jewelry store to mastering and appreciating the art of crafting fine jewelry. As a result, Zemil Jewelers was born a few years later.
For over 40 years, this store has crafted unique designs both from scratch and from old items like broken watches, etc.
What they do well: Besides having an elegant monochrome color scheme on their site, this Wix store example has lots of embedded informational videos on the education page. It also uses large fonts so you don't have to squint your eyes to read through their content.
One of the many ways to boost sales on your Wix platform is by building a solid email marketing list. Here are a few resources to help you navigate that:

Wix stores examples: groceries and food
Many groceries stores and food outlets are performing well in the digital space, thanks to great website designs and marketing. Here are some Wix stores examples to prove this.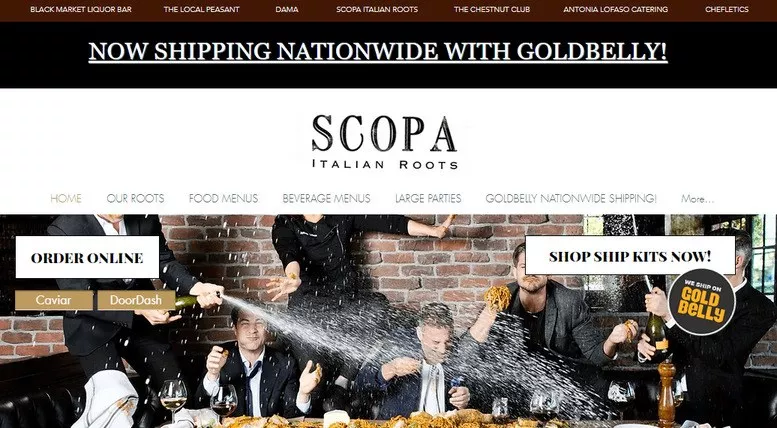 Headquarters: California, United States
Revenue: <$5M
One glance at this Wix store and you can resonate with their goal—to bring the Italian food, culture, and roots closer home. This ecommerce website does a good job of creating a celebratory aura around their store.
What they do well: The site features high-quality pictures of food items you can expect to enjoy when you visit or place your order online. It has extensive menus for both food and drinks.
The site uses a Wix email and booking CTA to create a mailing list for marketing purposes.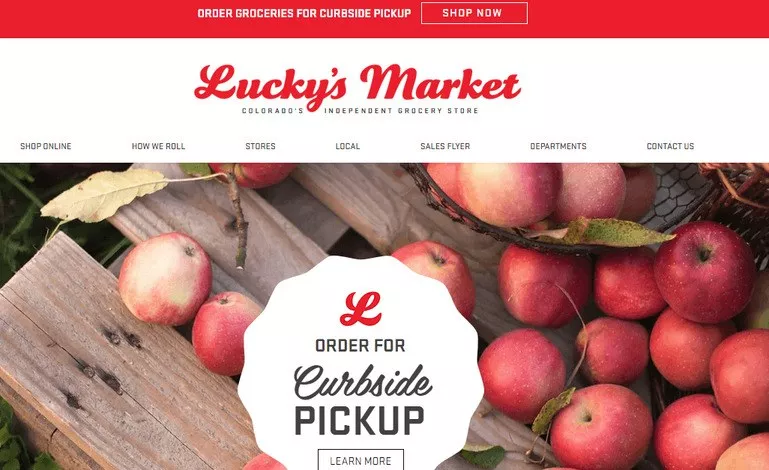 Headquarters: Colorado, United States
Revenue: <$5M
We all share the belief that good food shouldn't be a luxury. This is the one policy Lucky's Market has that endears it to its customers—the fact that they're dedicated to providing natural and organic food at affordable prices.
Through its online and offline outlets, this Boulder-based store provides all sorts of products including groceries, dairy produce, seafood, meat, etc.
What they do well: This is one of the Wix store examples with great aesthetic appeal. And it integrates with pop-up email opt-in promotions to build a mailing list. The website content is also written in a humorous tone and is engaging to read.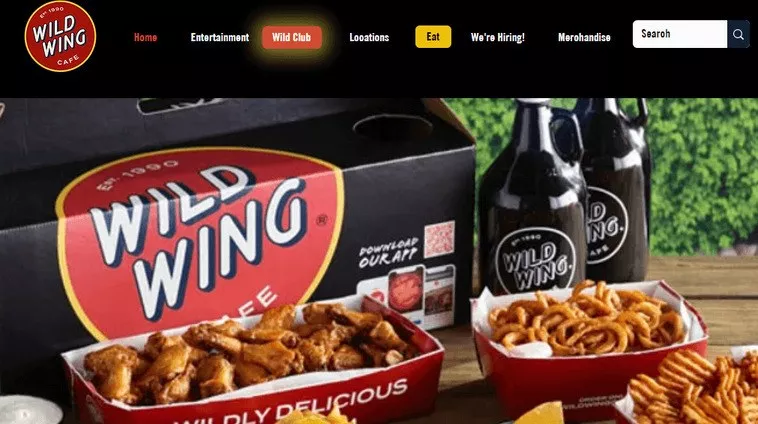 Headquarters: North Carolina, United States
Revenue: $1B
One of the most successful Wix pages in the restaurant category is this outlet. Based in South Carolina, Wild Wing Cafe was started as a place where people could eat and enjoy music.
The restaurant has since grown into a part franchise with over 40 outlets in seven different states.
What they do well: It's amazing how this online store manages to fit every important detail into its homepage. A few seconds into scrolling through their site, you'll get all the information you need. They have used their site to sufficiently advertise their business.
Also, the mouth-watering pictures on the site will have you ordering their hot wings in seconds. Their slogan's catchy too: "hot wings, cold beer, and good times".
Wix stores examples: home decor
In the home decor category, these are some of the best Wix-powered ecommerce website examples that are performing well.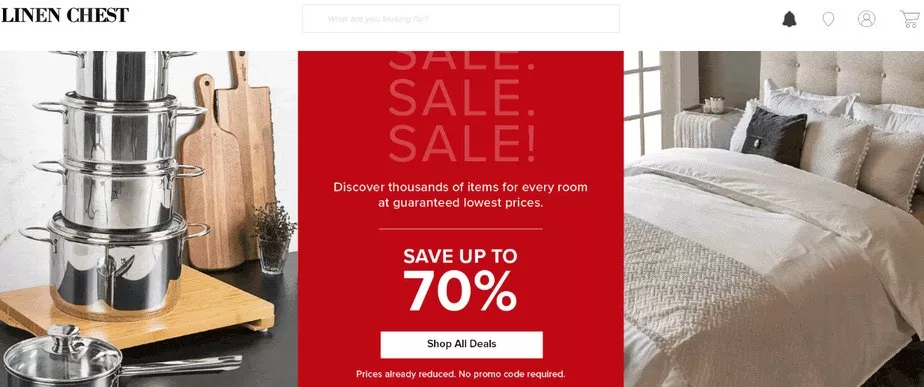 Headquarters: Quebec, Canada
Revenue: $157M
Unlike some previous Wix stores examples, Linen Chest is a one-stop shop for everything related to decor. Whether you want to improve your living room, kitchen, or bathroom, you'll find unique items to suit your taste.
This 60-year-old family business has over 35 outlets in Canada and is known for its wide range of trendy home items.
What they do well: This website has a simple magazine-like layout, with image-filled sections. It also uses opt-in email promotional pop-ups, has an easy-to-navigate website design, and has elaborate product descriptions.
Linen Chest has the option to collect social proof in the form of reviews. This is a brilliant marketing strategy considering that 49% of consumers trust user reviews as much as recommendations from family and friends.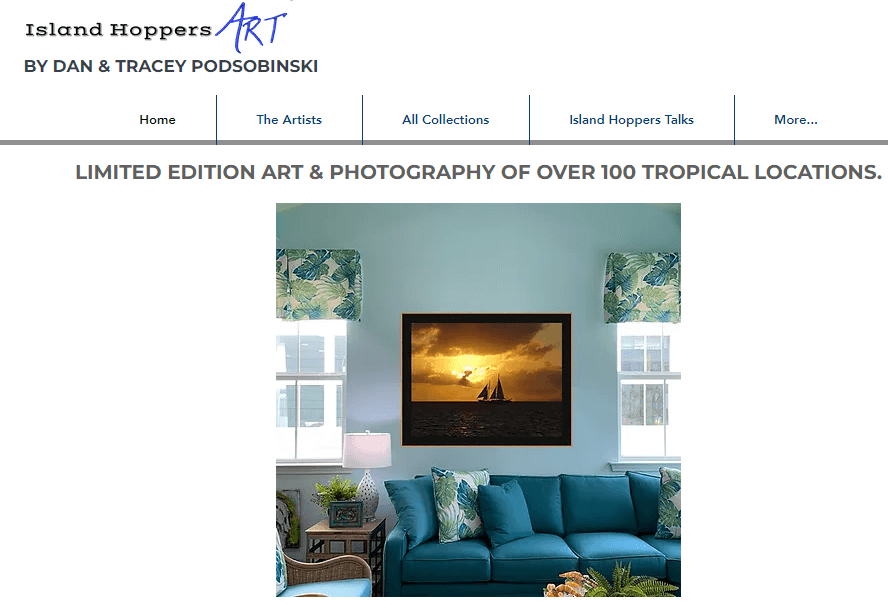 Headquarter: United States
Revenue: <$5M
Just like the name suggests, this is a Wix store example of a site that sells photography and art pieces of tropical locations, islands, oceans, etc. It displays collections from different artists as well.
If you want to tell a story through your art, this website could just be the inspiration you need. Its art pieces exude adventure, tranquility, and beauty and will add a calming flare to your home or office.
What they do well: Aside from posting attractive pieces of art up-front on their site, Island Hoppers works with different artists to create a collection of art and photography by different talented artists.
Island Hoppers works with Sea Conservancy Involvement to protect endangered sea turtles. They use limited-edition promotions to market these limited art pieces and raise funds for the same.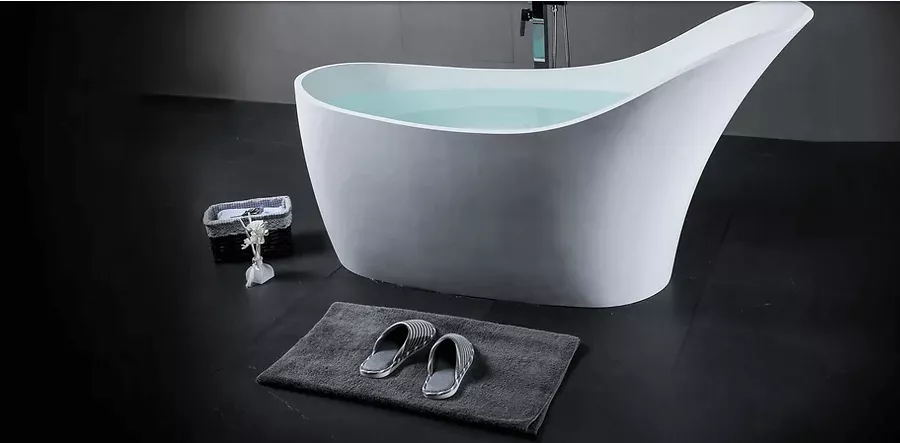 Headquarter: California, United States
Revenue: <$5M
Another Wix stores example from the home and decor category is the Dyconn Faucet. This ecommerce business has been selling beautiful kitchen and bathroom accessories since 2004.
These include uniquely designed faucets, vanity tops, mirrors, and more. Each of these products is displayed on the Wix store using high-quality images.
What they do well: Dyconn Faucet's website features a classic black-and-white color palette with a unique website design.
Rather than having a shopping page, this website redirects you to your favorite online retailer and convenient stores like Amazon and Walmart. This way you can easily shop for their products from vendors you already love.
Wix stores examples: Fitness
For those looking to take their fitness business online and beyond social media, here are successful Wix stores examples for your inspiration.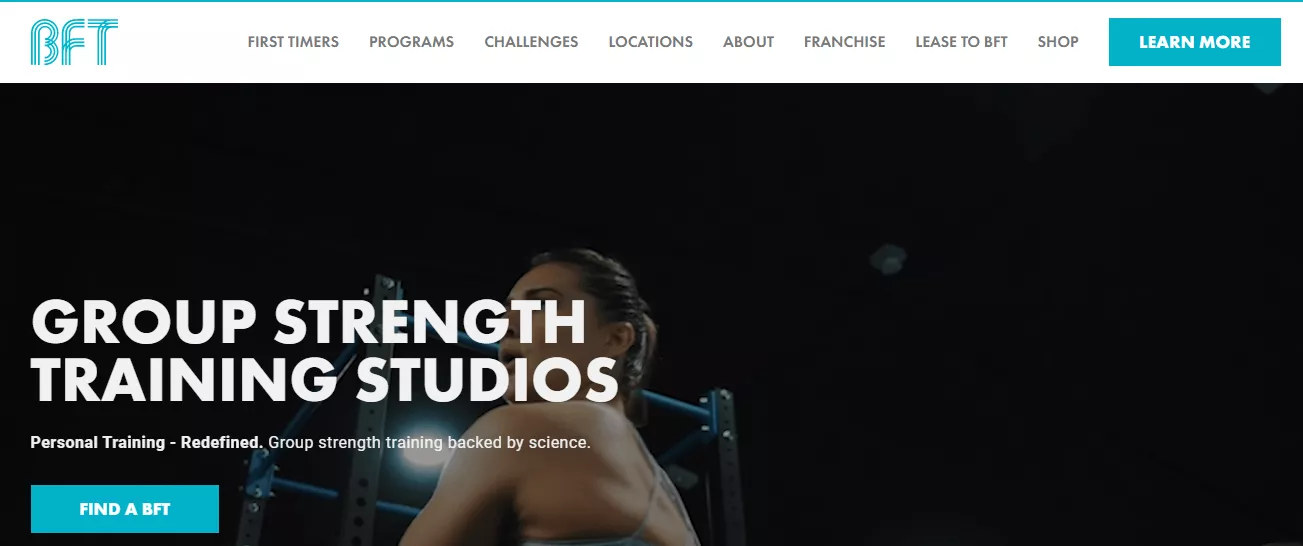 Headquarters: United Kingdom
This is a Wix store example of a brand that offers group strength training. They've managed to create an inclusive aura that hits you as soon as you land on their website.
Body Fit Training also offers a range of fitness programs for different fitness needs ranging from cardio, resistance training, toning, and more.
What they do well: Throughout the website, Body Fit Training shares video sneak peeks into each form of training. This is encouraging for prospects hoping to join the community.
Every program offered is well described so the customer enrolls for a workout session aligned with their goal. You also get to shop for apparel from an experienced fitness store.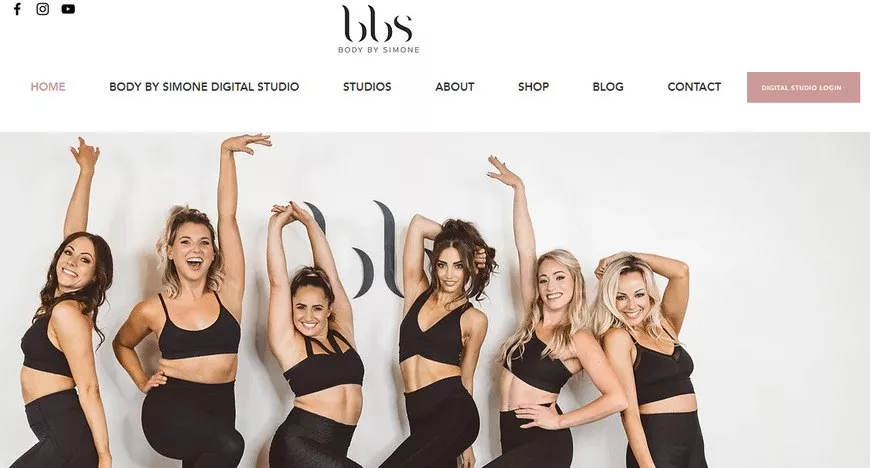 Headquarters: California, United States
Revenue: <$5M
Body By Simone offers fitness training in various forms like dance, Pilates, and strength training. The aim is to bring an element of fun into your workout. Being a former professional dancer and fitness enthusiast herself, Simone, the business founder, knows exactly how to achieve this.
This business offers physical training in its studios in New York and Los Angeles, as well as virtual training through its BBS app.
What they do well: The site is full of engaging content like pictures and videos showing the audience how great their bodies can get with their training programs. They run both social media and email marketing campaigns to drive traffic to their website.
Headquarters: Wisconsin, United States
Revenue: <$5M
This site sells high-performance fitness merchandise and accessories. If you're looking for apparel, waist trimmers, lifting belts, gloves, bags, and so on, Schiek is known for their high-quality products.
Unlike the above Wix stores examples, they don't offer training. Their items are endorsed by athletes and are medically safe for use.
What they do well: Schiek has built a reputation for quality and their products are popular amongs fitness enthusiasts and athletes. Also, their product descriptions are extensive and include a list of the advantages of using the product
Wix stores examples: watches
These Wix stores examples will get you started with building an online presence for your timepiece business.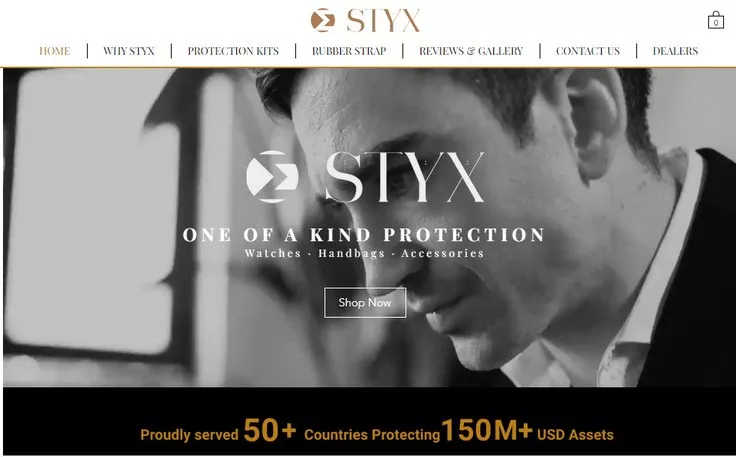 Headquarter: Poole, United Kingdom
Revenue: <$5M
This Wix store example is a business that creates protection kits for luxury watches, bags, and other accessories.
These protection kits are made with precision to fit different watch models and protect them from accidental chips and scratches. They're easy to apply and you can apply them yourself.
What they do well: As soon as you land on their website, you see a video summary of the benefits of having a Styx protective kit. You learn how much you can retain the value of your treasured assets and keep them from wear and tear for years.
This is then bolstered by statistics showing how much money in assets people who have bought these kits saved. It's then followed by a compelling CTA leading you to the products page where you can shop and have your products delivered globally.
This is an effective marketing strategy, and it's the first thing their audience get to see.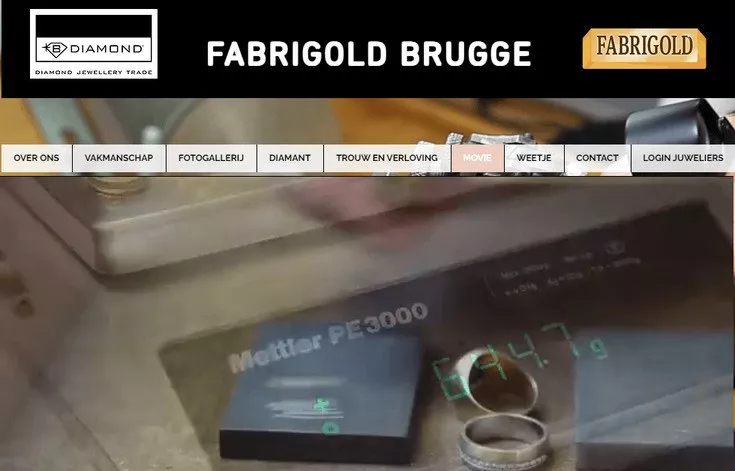 Headquarter: Brugge, Belgium
Revenue: <$5M
This Belgium-based Wix store makes hand-crafted jewelry from gold, diamonds, and gemstones. The website's unique layout consists of a dreamy black static background with shiny diamond pieces, and a scrollable layout on top of it.
What they do well: Fabrigold Brugge utilizes Wix's features to make the most of their website. One such feature is the online contact form for any customer service inquiries.
The site also has a newsletter signup form and a photo gallery page to display its jewelry collection. Most importantly, they have stunning visuals across the website.
Headquarter: United Kingdom
Revenue: <$5M
Another of the many Wix stores examples that sell timepieces is this UK-based online store. About Time Watches sells and repairs quality wristwatches of different makes and models.
This physical and online store sells timepieces for every occasion
What the website does well: The site has a simple yet appealing layout. The product page consists of clickable images leading to more product pictures and detailed descriptions. Furthermore, the site features a blog section, FAQ, and contact pages.
Wix stores examples: kitchenware
Here are some Wix ecommerce examples that sell kitchenware.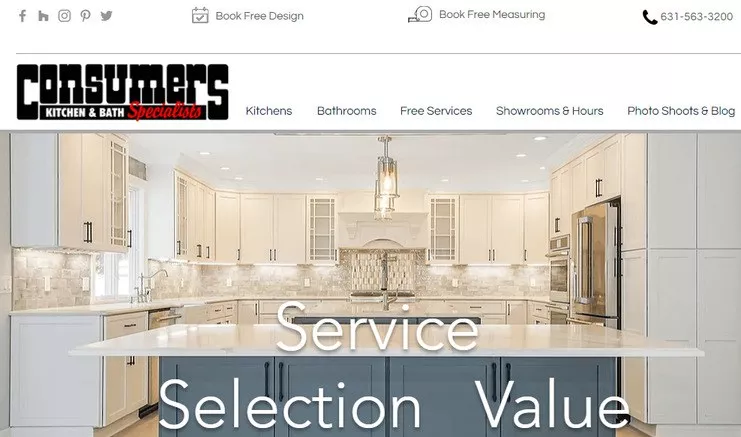 Headquarters: New York, United States
Revenue: $18M
Consumers Kitchen and Bath is a family-owned business that was founded in 1977. While this Wix-powered online website isn't exactly an ecommerce store with a shopping page and all, it promotes the business's services effectively.
What they do well: In this Wix store example, you get to see how you can make your ecommerce website aesthetically appealing with a minimalistic design. The pictures on the site are clear, crisp, and properly organized like those in lifestyle magazines.
There's also an email list newsletter form, a blog section, and a photo gallery showcasing their past kitchenware installations.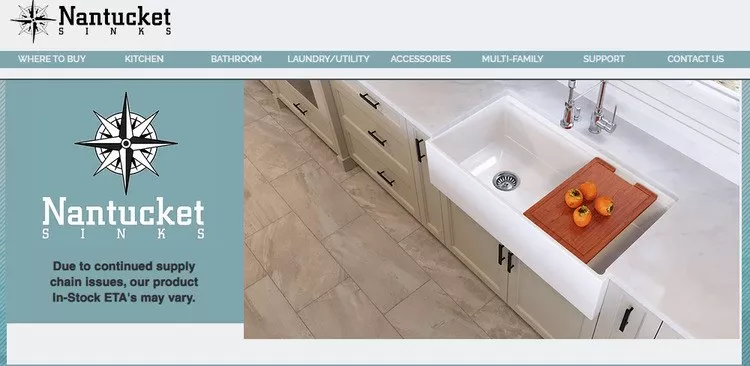 Headquarters: Rhode Island, United States
Revenue: <$5M
Another kitchenware Wix stores example is the Nantucket Sink USA. It is a company that sells a wide range of uniquely designed kitchen and bathroom sinks and other related accessories.
What they do well: This website has a vast visual collection of products that any customer shopping for sinks would enjoy scrolling through. They use Wix Catalogues, to come up with detailed product collections that include pictures, dimensions, etc.
Wix stores examples: Books
Another business category you can trust the Wix website builder with is books. Here are some examples of Wix sites selling books online.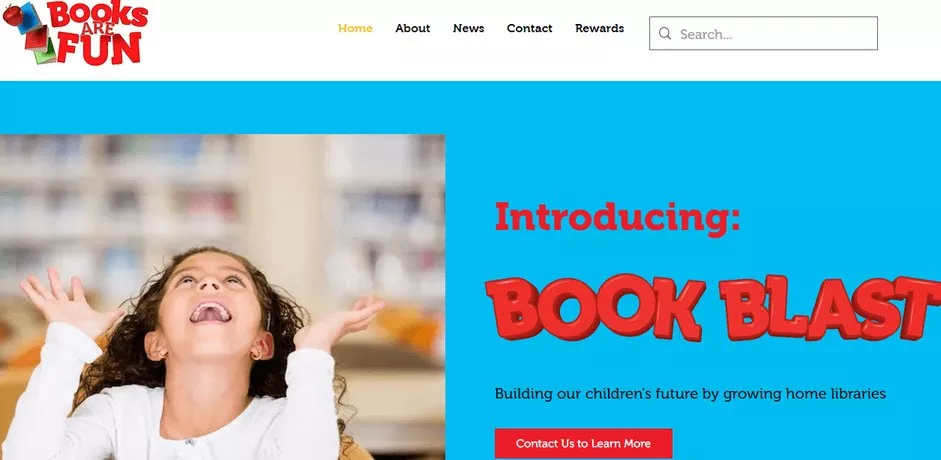 Headquarters: Ontario, Canada
Revenue: <$5M
Books R Fun is a Wix store example that aims to make books easily accessible to kids and adults alike. They work to nurture a lasting reading culture among school-going kids by helping them build their school and home libraries. They bring books to you.
What they do well: While this site is not exactly an ecommerce site, they do a good job of spreading the word. The color scheme on the site is also vibrant, which is attractive to young kids who are a big part of their audience.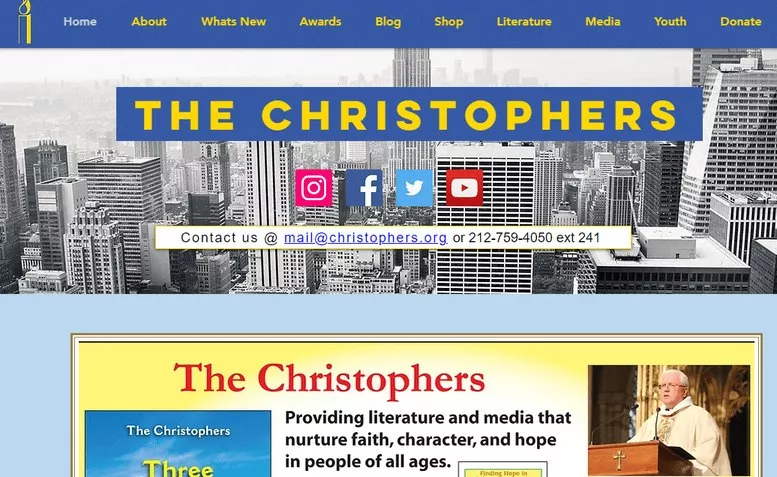 Headquarters: New York, United States
Revenue: <$5M
Another one of the Wix stores examples that sell books is The Christophers. It's a faith-based organization that was founded by Father James Keller over 78 years ago.
This website aims to share literature that nurtures faith, hope, and character in people, empowering them to find their God-given purpose.
What they do well: It's easy to shop for literature sold on this website.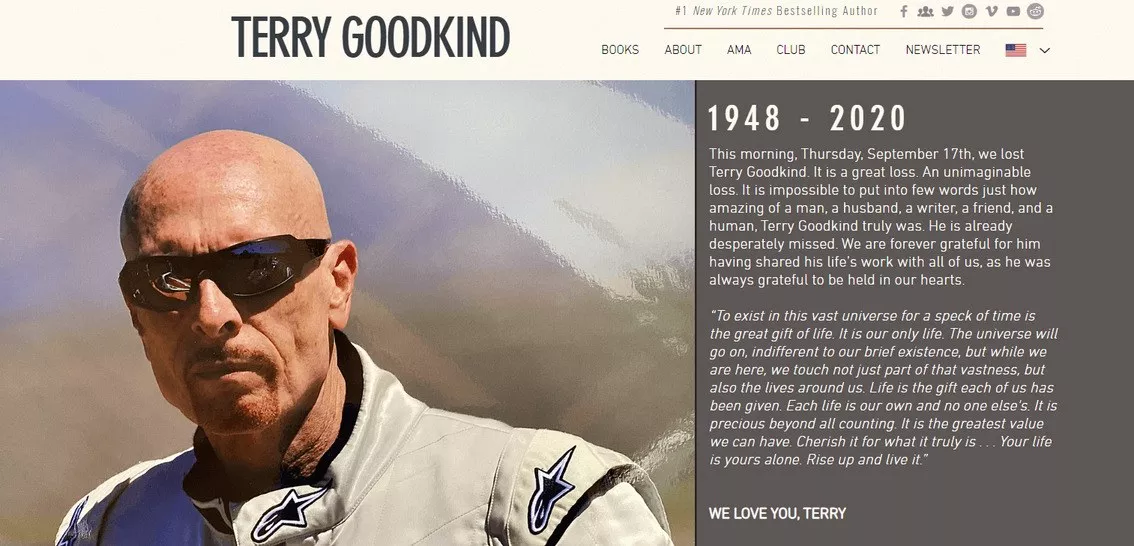 Headquarters: Nevada, United States
Revenue: <$5M
Founded by Terry Goodkind, a #1 New York Bestselling Author, this website promotes and sells his novels. He has written over 30 novels, sold over 26 million books worldwide, and had some of his books translated into more than 20 languages to be distributed globally.
You can shop his ebooks, hardcovers, audo books, and more on Amazon and Barnes and Noble through his website.
What they do well: In most other Wix stores examples you'd have seen separate pages for every section, this one manages to fit it all into one page. The site contains an incentivized newsletter form that's essential for building a mailing list.
Wix stores examples: beauty and health
Beauty and health is another common business category thriving in the ecommerce space. Here are some Wix stores examples that illustrate that.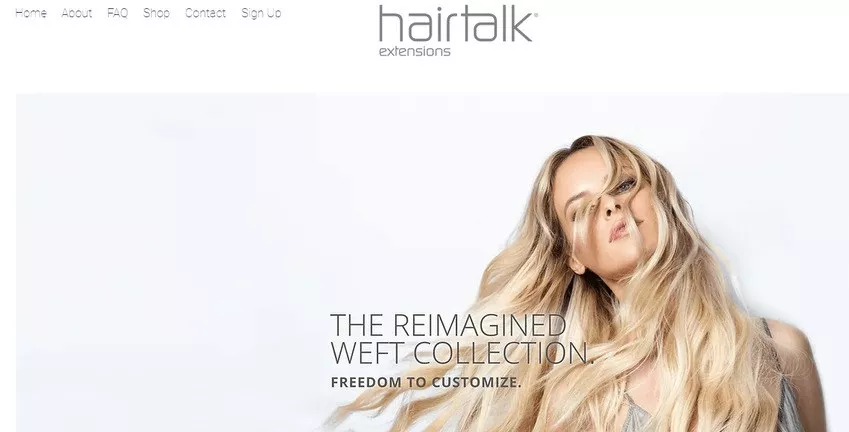 Headquarters: Victoria, Australia
Revenue: <$5M
Hair Talk is a business that sells hair extensions to professional salons in Australia and New Zealand. They're the inventors of the tape-in hair extension technology. They also sell weft and keratin extensions in over 50 color shades.
What they do well: The overall quality of the images on this website resembles those in high-end fashion magazines.
They also encourage their buyers to be a part of their mailing list by having them sign up before they shop from their page. The site contains extensive information about their extensions in both written forms and embedded videos.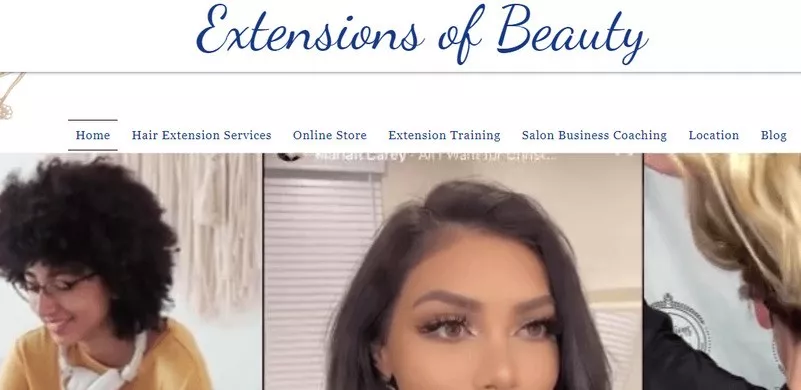 Headquarters: California, United States
Revenue: <$5M
Another Wix store that sells hair extensions is Extensions of Beauty.
You can shop from an extensive range of products on their website. You can also book an appointment to have your extension installed for you.
What they do well: The site employs email marketing tactics through opt-in pop-up forms. They also provide extensive training and salon business coaching, besides selling hair products.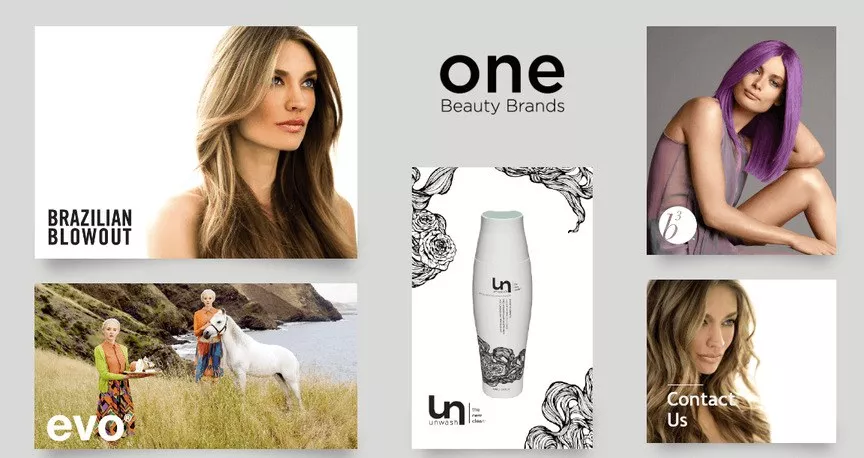 Headquarters: Western Cape, South Africa
One Beauty Brands is a simplistic website that gives you background information on their four major available brands.
The business features:
Unwash: Haircare and cleansing products
Evo: A hair manufacturer brand
Brazillian blowout: Brazillian keratin treatment products
Brazillian bond builder: Haircare products for colored hair
What they do well: The site redirects you to each brand's website for further information and shopping. This way, you don't have to navigate through pages and texts to get to the product you'd like to purchase.
Ready to start building your Wix store?
Wix website builder is easy to use and you can build your dream ecommerce store yourself. Hopefully, the above Wix stores examples gave you a rough idea of how to get started.
When your store is finally up and running, consider email marketing with a tool like Omnisend as part of your omnichannel marketing strategy. From your homepage to your checkout page, this automated tool provides multiple avenues for driving your sales.
It also easily integrates with Wix and other Wix alternatives, to significantly reduce cart abandonment, automate email campaigns, expand your mailing list, and more. All you have to do is register for free and get started.
Get started with Omnisend today & drive sales on autopilot with pre-built automation workflows
Start Free Today
related features
Want more sales?
Omnisend has everything you need to succeed.
Start free now
No Credit Card needed.