Drive sales on autopilot with ecommerce-focused features
See Features
Reading Time:
6
minutes
Many people still believe that if you're looking for an email marketing platform that's affordable, ecommerce-friendly, and easy to use, Mailchimp is the way to go. But this is now more myth than reality.
In fact, an increasing number of small business owners tend to go for more affordable Mailchimp alternatives, such as Omnisend or the Wix email marketing tool.
In this article, we'll look at Wix email marketing vs. Mailchimp side by side, so you know which tool best meets your business needs.
We'll compare Wix and Mailchimp based on their:
Pricing
Features
Customer service
But let's go ahead and cover the basics first.
Why are people interested in Ascend by Wix and Mailchimp?
People who built their sites with Wix are naturally drawn to its email marketing tool—its free, a limited version is already pre-installed on any Wix website, and it lets you get started right away.
Ascend by Wix is mainly appealing for its intuitive UX. Even if you've never created an email campaign in your life, it will be easy to build one as Wix provides useful pointers along the way. Plus, Ascend by Wix goes beyond email—it also offers multiple tools for your SEO, social media, and ad campaigns.
Mailchimp, while a little more complex to use, is one of the most popular email marketing providers. It's cloud-based and offers everything that Ascend by Wix has, and much more. However, it's much more expensive, so it may be a better choice for people who are ready to invest their time and money to create more sophisticated email campaigns.
Mailchimp vs. Ascend by Wix at a glance
Let's quickly look at the comparison chart to get a basic sense of how Wix differs from Mailchimp.
Email Marketing Service
Ascend by Wix
Mailchimp
Pricing
Free up to 5,000 emails/month Charges a flat rate

Basic plan: $10/month (paid yearly)
– 5 marketing campaigns/month
– 9,500 emails per month

Professional plan: $12/month (paid yearly)
– 20 marketing campaigns/month
– 50,000 emails per month

Unlimited plan: $24.5/month (paid yearly)
– Unlimited marketing campaigns/month
– 1,000,000 emails/month
Free up to 10,000 emails/month

Contact-based pricing

Paid plans up to 5000 contacts:
-Essentials: $52.99
-Standard: $79.99
-No premium

Paid plans up to 10,000 contacts:
-Essentials: $7.99
-Standard: $105
-Premium: $299
Features
Mobile responsive
Basic segmentation
Basic marketing automation
Autosave feature
Sync with Gmail and Facebook Messenger
Social post campaigns
Customizable forms
Mobile responsive
A/B Testing
Saveable content blocks
Product recommendations
Signup Forms & Landing Pages
Social posts and ads
Advanced Segmentation
Marketing automation
Customer Service
24/7 email and callback support
24/7 Email and Chat Support with some paid plans
Wix Ascend vs. Mailchimp: Pricing
The main difference between these two platforms is that Ascend charges you a flat rate, while Mailchimp offers contact-based pricing, which means that it gets more expensive as your subscriber list grows.
If you're not willing to commit to a paid plan yet, both Wix and Mailchimp have free plans with limited access to the most basic features you'll need to create your first campaigns.
Ascend by Wix pricing plans
Ascend Basic plan ($10/month if paid yearly)
You can send 9,500 emails and create five email campaigns per month. See all the features below: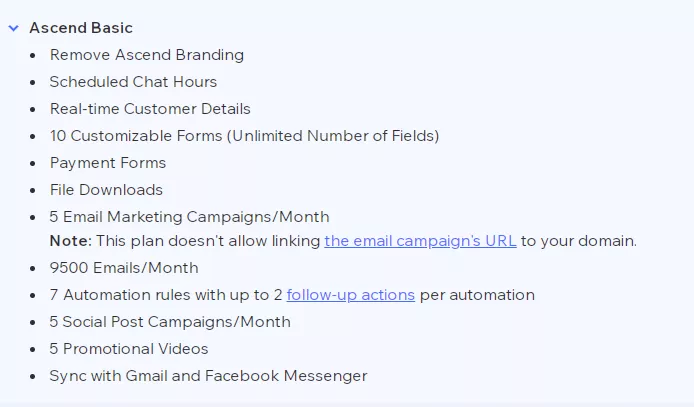 Ascend Professional plan ($12/month if paid yearly)
You can send 50,000 emails and create 20 email campaigns per month. See all the features below: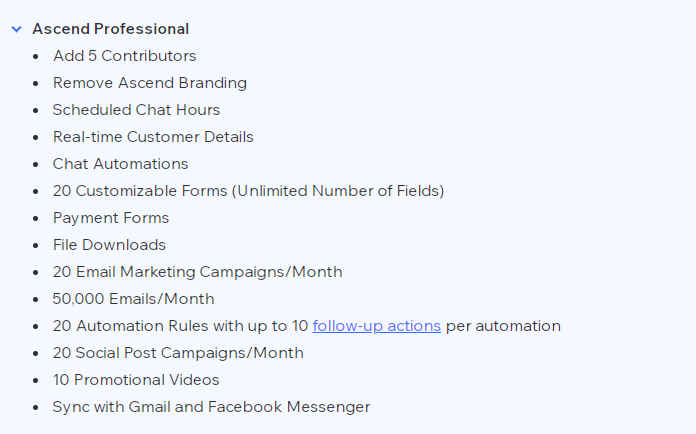 Ascend Unlimited plan ($24.50/month if paid yearly)
You can send 1,000,000 emails and create an unlimited amount of email campaigns per month. See all the features below: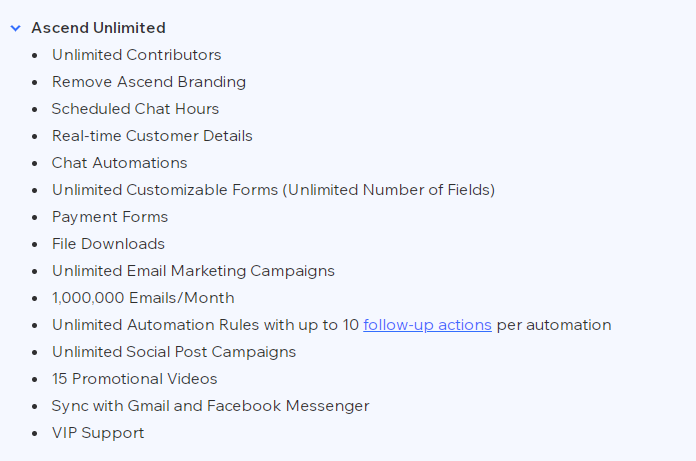 Check our Wix email pricing guide for more details.
Mailchimp pricing plans
Mailchimp Essentials (starts at $9.99/month for up to 500 contacts)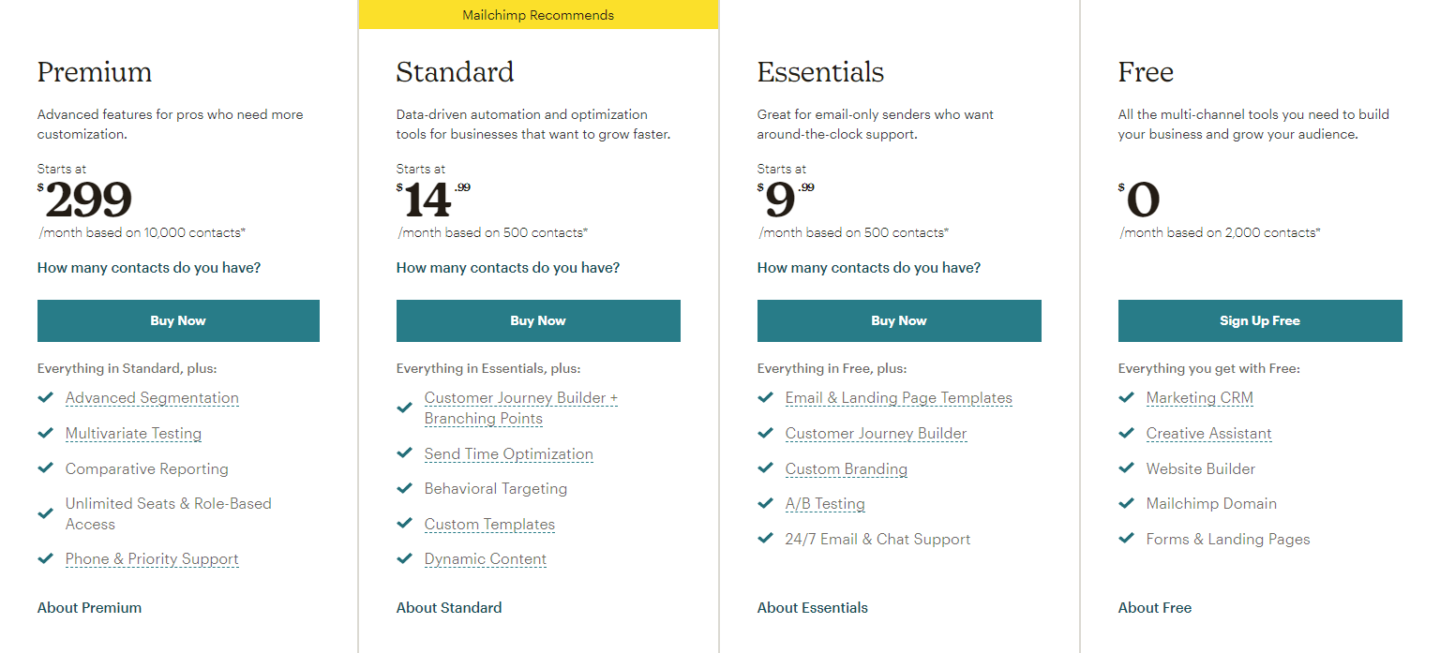 Everything in the free plan plus:
Email & Landing Page Templates
Customer Journey Builder
Custom Branding
A/B Testing
24/7 Email & Chat Support
Mailchimp Standard (starts at $14.99/month for up to 500 contacts)
Everything in the Essentials plan plus:
Customer Journey Builder + Branching Points
Send Time Optimization
Behavioral Targeting
Custom Templates
Dynamic Content
Mailchimp Premium (starts at $299/month for up to 10,000 contacts)
Everything in the Standard plan plus:
Advanced Segmentation
Multivariate Testing
Comparative Reporting
Unlimited Seats & Role-Based Access
Phone & Priority Support
The verdict
Ascend by Wix may be better if you don't have a big budget and just want to send a few basic email campaigns. Mailchimp is a more expensive tool, but it has far more features to take your email marketing to the next level.
If you're ready to invest in Mailchimp, you may as well consider Omnisend—it's just a tad more expensive but offers much more features for ecommerce, such as SMS marketing. Check our detailed Omnisend vs. Mailchimp comparison for more information.
Wix Ascend vs Mailchimp: Features
Email editor
Both email marketing platforms have a drag-and-drop editor where you can customize various templates. They also have an autosave function so you don't have to worry about losing your carefully edited email campaigns.
Templates
Ascend by Wix has about 16 designer-created email templates for multiple types of email campaigns. And while this is a good starting point, Mailchimp is going for the win with over 100 templates and a possibility to code your own template.
Automation
Ascend definitely pales in comparison to Mailchimp when it comes to automation. It offers automations based on transactional workflows and lets you send automated welcome emails, but that's pretty much it.
With Mailchimp, you get about 30 different automation options that allow you to cover your whole marketing funnel. And yet, it still doesn't beat Omnisend on this one.
Omnisend allows you to add in other channels such as SMS, Facebook Messenger, push notifications, and more. You can even use conditional splits to further tailor your workflow around your customers' engagement, demographics, and shopping behavior.
A/B testing
While Ascend by Wix doesn't have A/B testing, Mailchimp lets you test subject lines, CTAs, images, and more.
Segmentation
Ascend by Wix lets you segment your subscribers by their demographics, geography, and behavior. Mailchimp offers all that, plus it enables you to retarget your segmented contacts with ads.
The verdict
Wix's features may be good enough if you're just starting out with your side business. However, if you're looking to scale your email marketing, Mailchimp may be a better choice. Even though it's more expensive, it gives you more automations and other features, such as A/B testing.
And if you want to take your email marketing to the next level, you should consider Omnisend, which has A/B testing, targeted segmentation, Facebook sync, and more.
This email marketing platform also lets you offer smart product recommendations based on your customers' browsing history. Plus, you can automatically integrate discount codes into your campaigns. None of this is possible with Mailchimp or Ascend by Wix. Get started for free here.
Wix Ascend vs. Mailchimp: Customer support
Ascend by Wix
With Wix, you won't have live chat or phone support even if you get their most expensive plan. However, the Unlimited plan offers "VIP support," meaning that Wix will prioritize your requests over others. Also, they have a callback service and a well-oiled email ticketing system.
Mailchimp
Mailchimp offers email support on all their plans. Some of the paid plans also include chat support. If you want to contact them by phone, you'll have to be on their most expensive Premium plan.
The verdict
Both Ascend by Wix and Mailchimp have decent customer support. However, if you want to call them yourself, you'll have to go for the most expensive Mailchimp plan.
In reality, though, neither of these providers' customer support matches Omnisend's. It is arguably Omnisend's strongest aspect, since average response times are roughly 8 minutes. Other providers can often take hours or even days to respond.
Wrapping it up
Ultimately, Mailchimp may be a wiser choice if you want to get more serious with your email campaigns. It's a dedicated email service provider that has been here since 2001 and, with time, expanded its platform with more marketing tools. Ascend by Wix, on the other hand, is a relatively new product from a website builder, launched only in 2018.
Want to take your email marketing to the next level? Check out Omnisend. It costs just about the same and, compared to Mailchimp, its segmentation is much better since it's focused on ecommerce, it offers more sophisticated automation, and it's easier to use than Mailchimp. Get started for free here.
Get started with Omnisend today & drive sales on autopilot with pre-built automation workflows
Start Free Today
related features
Want more sales?
Omnisend has everything you need to succeed.
Start free now
No Credit Card needed.