Drive sales on autopilot with ecommerce-focused features
See Features
Reading Time:
6
minutes
Some of you probably receive our monthly newsletters. We write them and are deeply interested in how they do in your inboxes. I know that you also write yours and you are also deeply interested in how they do in your subscribers' inboxes.
Bunches of emails settle down into our mailboxes every day and are condemned to be deleted without ever being opened, and some business send them without ever learning about newsletter best practices. Why should this be so?
I don't want to give the impression of being a "newsletter purist". But there are some newsletter mistakes that are quite serious and your recipients probably find them difficult to forgive. So what are they?
Mistake #1: Not Using an Email Service Provider (ESP)
I have included this point for several reasons:
Trust me, your newsletter will look more professional than sending it from your personal Gmail, Yahoo, etc.
You can create misunderstandings when, by human error, all recipients are inserted into the "To:" field instead of a blind copy (aka "BCC").
Every subscriber has the right to unsubscribe to your newsletter. It is much easier from a user perspective to click on the "Unsubscribe" button than to write you an email. Also, you will have additional work every time you need to delete unsubscribers from your database.
Different email providers will interpret and show your email differently. Email service providers have solved this issue for you.
You are not able to track the campaign results: how many recipients opened your email, etc.?
By using Email service providers you solve the email deliverability issue. ESP's have a higher email deliverability rate (90-99%). So, definitely more of your emails will reach your subscribers compared to sending from your personal email.
One more important thing about your personal inbox and email address. Since the Gmail, Yahoo and other email clients have strengthened their spam policies, the company email address has become a must if you want your email campaigns be delivered.
FIX: Pick an email service provider that best fit your needs. Analyze the price and features. Take advantage of free trials. Ask customer service for help if you need it at first. Do everything you need to pick the best solution for your business and start sending emails using it.
Mistake #2: A Limping Email List Management
Email list building is one of the most challenging things in ecommerce. All marketers in any ecommerce business have to find their own way through this endless process.
A healthy email list is crucial for the success of your email marketing campaign. Only sending newsletters to people who are aware of you, engaged with your brand and expect a message from you, results in high conversion and sales.
What does it mean to have a "healthy" email list?
All your campaign recipients have signed up for your email list.
Bear in mind that sending your email campaign to the list you purchased, you:
approach people that haven't heard about you, so most of the time they ignore emails or mark them as spam;
approach email addresses that are abandoned and not in use anymore;
get a big bounce rate, spoil your sender's reputation and risk being banned by your ESP;
spend a lot of money on email credits which you need to send your campaign to numerous abandoned inboxes;
Risk being punished by customer laws. In Europe, and much of the wider world, purchasing email lists is illegal.
All of your campaign recipients signed up to your list not earlier than one year ago.
Did you know that 30% of subscribers change email addresses annually. This is one of the reasons the list has to be updated. The second reason is that customer will forget about you and will lose engagement with you if you do not keep in consistent communication with them. To send email to customers that have purchased from you five years ago and expect a positive reaction is pointless. They probably have already forgotten who you are, and how good your service was the last time they purchased from you.
FIX: Clear up you list of contacts that have been inactive for a long time, and ones that have never opted in to your newsletter. Focus on effective list building, and any tools that may help you with that.
Since you are sure that your newsletter has been delivered by ESP to the subscribers that are highly engaged with your brand, your newsletter performance should dramatically increase. These two points are central to email marketing campaign success. However, the following tips can improve your newsletter even more.
Mistake #3: Poor Email Design
At this point, I'm not talking about plain text emails. I'm talking about HTML newsletters with a great possibility to be visually attractive.
Keep your design simple. Let your newsletter correspond to your brand identity.
Do not use too much text – it is not the place for an essay with hundreds of words. Even if you have lots of great products for sale, feature only those that are relevant for your subscribers. Do not overload your newsletter with content, thinking recipients will select what's interesting; just show them what they need to see.
Make it simple to skim. Group information with clear bold section headings, make easily digestible paragraphs, use bullet points, etc.
FIX: Building high quality email design is a time-consuming and knowledge-based task. If you have doubts how to make it beautiful, follow our rules on newsletter design best practices.
Email newsletter tools including Omnisend, have ready-made, smart newsletter design templates. They are a big help, especially for beginners.
Mistake #4: Newsletter Timing and Frequency
When was the last time you sent a newsletter to your customers? Do you do it regularly?
Consistent communication enables you to build strong relationships with your audience. You make them feel like they are getting to know you better and better every time.
Recently, Omnisend has provided research based on our clients email marketing results. Believe it or not, newsletter frequency and the day of week have quite a serious influence on the campaign results. For example, the fact that a conversion rate is the highest when you send two emails per month. If you send your campaign only once per month, you leave your money on the table.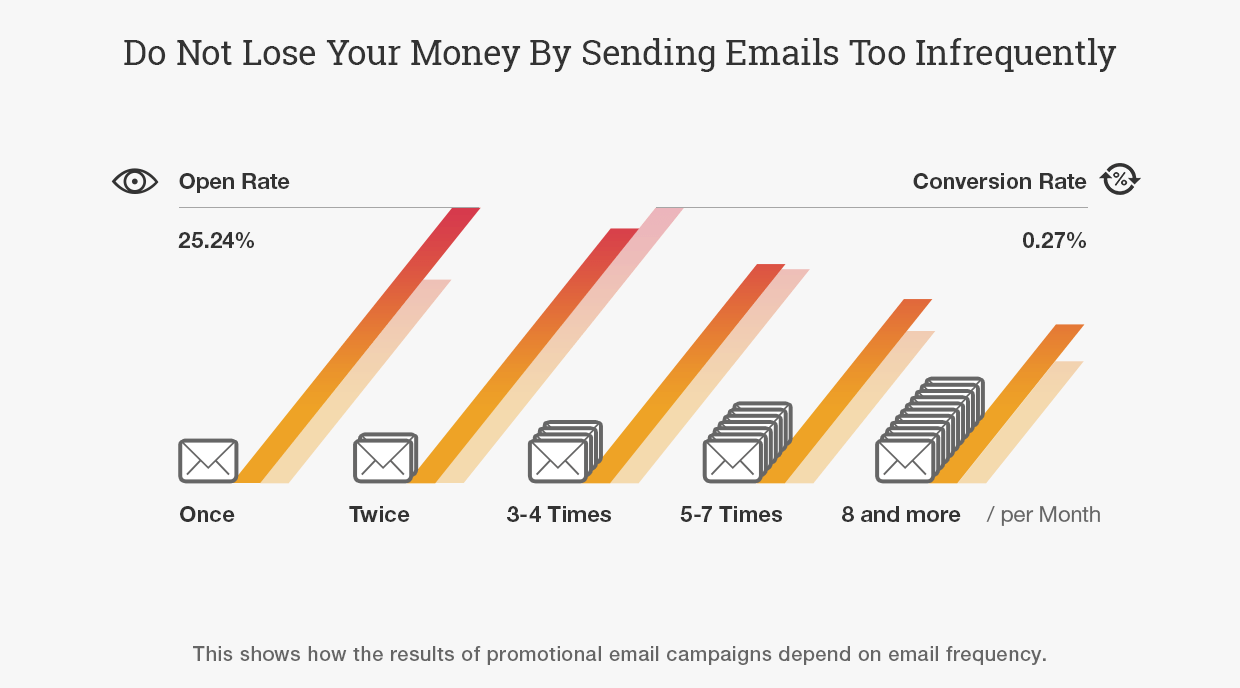 FIX: Be consistent; send a welcome email to your new subscribers. If you are still not happy with your newsletter results, try to vary the day and frequency of your emails to find what best fits your business. You will find tips on how to do that in in the latest articles here:
The Best Email Frequency for Small Business Marketing
The Best Day to Send Email Marketing Campaign
Mistake #5: Subject Line Not Working
No matter how amazing your newsletter content is, a bad subject line will spoil everything and will never get good open rates. Use something interesting/eye-catching that attracts your subscribers to open an email and check what's inside. You can check these 10 best email campaigns and their subject lines. Also, I recommend this article inspiration: The Ultimate list of Email Subject Lines.
FIX: Omnisend has an awesome feature called Campaign Booster. By using it, you can experiment on the same email by sending it with different subject lines. Resending your email campaign can improve its performance by up to 30%.
Mistake #6: Most important things left until last
People have a short attention span and you should bear this in mind when adding content to your newsletter.
FIX: Picture your newsletter like an inverted pyramid, which starts with the most important information at the top with less important information as you go down. Show your best products, greatest deals or special offers at the top. This way you will be sure that they will get noticed.
Mistake #7: No call-to-action button
When you have your newsletter beautifully designed and filled with great content, it is time to think about the call-to-action (CTA) button. Do you have one? Does it clearly reflect what your recipients expect? Is it bright and in a convenient position?
FIX: Make your CTA buttons short, simple and bright. One more tip, don't use too many. Currently, many marketers put the big CTA at the top of the email and then repeat the same button at the end. I think that should work well. You may wish to try the same strategy.
Mistake #8: Typos and Misspellings
There is not much to say. Not everyone notices them, but some of the people may get irritated by finding ones in the text.
FIX: Be patient and read the text carefully before setting it live.
Mistake #9: Missing Social Buttons
I have noticed that some of our clients, as well as brands I subscribe to, are missing out the opportunity for the recipient to interact repeatedly with the brand through social media or email.
FIX: Don't forget to include the well-known icons to your newsletter. Take an advantage of them!
Mistake #10: Not Tracking the Campaign Results
Guys, what's the point in trying to do something without knowing how it is doing? When choosing an email marketing service, inquire what metrics you will be able to get in the reports. It is useful to measure the percentage of recipients opening, clicking and bouncing, identifying the most popular elements they click on, etc. So you will know what works and what doesn't. This is the open gate for improvements and better rates.
Learn what reports are provided by Omnisend here: Understanding the Rates in the Reports
Instead of conclusions I wish you many successful experiments and discoveries with your newsletter campaigns! Don't fall into the same mistakes you've found here.
You may also be interested in my recent post about the bounce rate – one of newsletter deliverability issues.

related features
Want more sales?
Omnisend has everything you need to succeed.
Start free now
No Credit Card needed.