99 Email Marketing Resources – The Ultimate List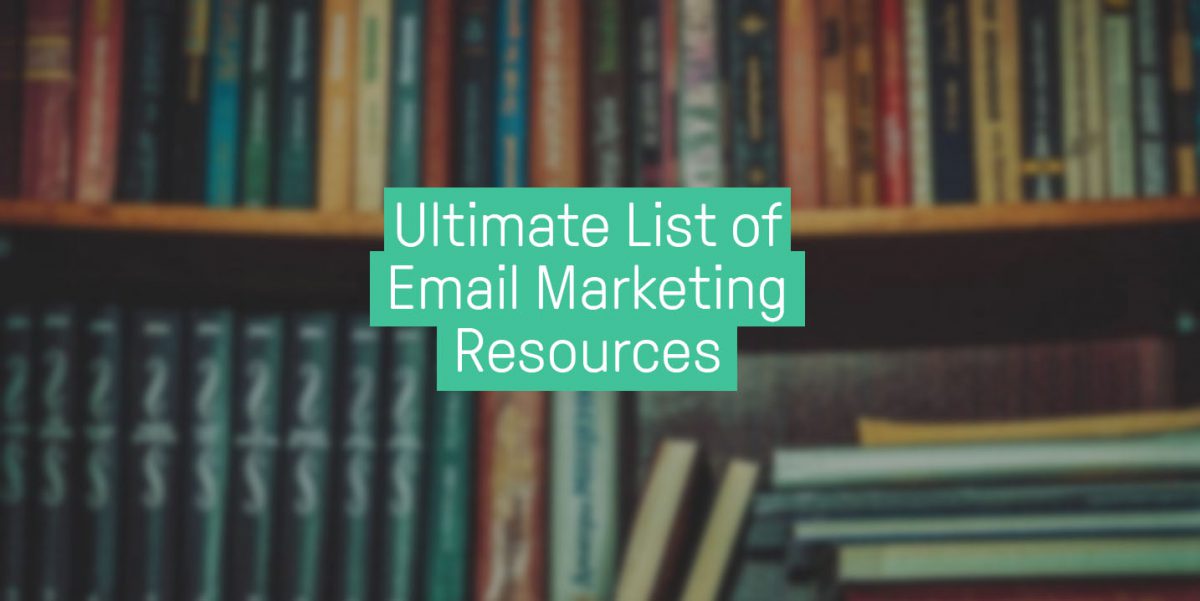 Reading Time:
14
minutes
Updated: November 15, 2018. While developing Omnisend, we've always tried to learn something new related to email marketing (and still do). Our teammates read numerous blogs, and we follow experts on social media to find and share new insights.
That's why we'd like to share our list of 99 really useful ecommerce email marketing resources we found on the web.
Everyone should find something useful here, regardless of their level of expertise. This list is a must-read if you match at least one rule below:
You're new to email marketing and want to know "What is email marketing?"
You're not sure whether email marketing cois right for you
You own an online shop and want to know how to drive traffic and increase sales
You own a blog or other website and want to increase traffic
You're already doing email marketing and want to improve
All email marketing resources are split into the following categories:
For those who don't believe in email marketing
Email marketing basics
How to grow your mailing list (using social media, popups, landing pages, etc.)
How to get your newsletter opened and clicked (best email subject lines, email preheaders, timing, call-to-actions, etc.)
How to increase online sales with email marketing (segmentation, best performing offers, automation, etc.)
How to avoid spam filters (what are spam filters, email deliverability, etc.)
Cool email marketing campaign ideas/designs
Email marketing metrics (what metrics are the most important)
The legal side of email marketing (what is CAN-SPAM and other anti-spam laws)
Uncategorized resources (Infographics, awesome stats, etc.)
The future of email marketing
Email marketing fails
Full guides/reports/case studies
Bonuses
Get your free copy of 120+ Email Marketing Resources
FOR THOSE WHO DON'T BELIEVE IN EMAIL MARKETING

These email marketing resources cover the following topics: what is email marketing, what are email marketing benefits, email marketing statistics, etc.
1. Email is not dead – Fresh facts why email is far from being dead and how is it changing.
2. Top 25 Benefits of Email Marketing & Why Every Business Should Be Using Email Marketing by Lyfe Marketing. To name a few: your customers check their email every day, email marketing is easy to track, automated emails help increase conversions of abandoned carts.
3. 33+ Email Marketing Stats for 2020 & 2021 by HostPapa showcases the data behind this marketing tactic as it applies for CTAs, Open Rate, Subject Lines, and several other aspects of email.
4. 6 Reasons Why Email Marketing Is Important For Your Internet Marketing by Inbound Rocket.
We hope these email marketing resources helped you decide to start using email in your marketing campaigns. Let's move on.
Bonus
Cold email is not spam : Here is the complete guide on cold email that you can refer.
EMAIL MARKETING BASICS

These email marketing resources cover the following topics: email marketing basics, email marketing checklists, cheat-sheets.
5. Email marketing dictionary – Jeanne Hopkins has prepared a great dictionary which contains the definitions you need to know and even more. Don't get lost in the email jungle.
6. MUST READ – [Download] Email Marketing pre-launch Checklist, found on Email Monday. This list will help you successfully launch your email marketing campaigns, prevent common mistakes, and manage email campaigns more effectively.
7. 5 ways to pick an Email service provider – Not sure which one to choose? This email marketing resource should help you.
8. Email Marketing 101: A Cheat Sheet for Email Marketing That Works – An extensive guide that covers email marketing basics and includes an email marketing cheat sheet.
HOW TO GROW YOUR EMAIL SUBSCRIBER LIST

These email marketing resources cover the following topics: lead magnets, popups, exit-intent forms, giveaways, list building on social networks, etc.
9. 41 tips how you can grow your email list – BlogTyrant has created a vast list full of ideas including content marketing, popups, and more.
10. Actionable Tips on How to Build Your Email List – Find out the most important reasons you should have and build your email list, with great examples.
11. 20 Exit-Intent Popup Examples for Small Online Businesses – In one of our experiments here at Omnisend, exit-intent popups resulted in a 19.03% conversion rate. Almost one-fifth of all new subscribers converted into customers with a single popup! Sounds cool, doesn't it?
12. 25 Simple Ways to Grow Your Email List including online contests, social media, cross-promotion campaigns, etc.
13. A Step-by-Step Plan to Grow Your Email List When You're Starting From Zero – A definitive guide showing you the ins and outs of effective lead generation.
14. 14 List Building Hacks to Grow Your Email Database Fast including viral competitions, scroll box, content strategies, etc.
15. Lead Magnets Explained: (Almost) Everything You Need to Know to Turn Strangers into Subscribers & Devoted Fans – The guys behind Leadpages are sharing invaluable insights into how to create an irresistible lead magnet that will grow your email list in no time.
Get your free copy of 120+ Email Marketing Resources
16. The 20 Best Lead Magnet Examples To Help You Convert Leads Like Crazy – If you're still hungry, here are more ideas that can help you catch more email addresses.
17. How to Grow Your Email List By Tying These 9 Killer List-Building Tactics into Your Content Marketing – Julia McCoy shares her tactics for how to combine content marketing with list building.
18. 9 Quick Ways To Grow Your Email List Using Social Media – Have you ever considered combining social media with your email marketing?
19. How to Use a Giveaway to Accelerate the Growth of Your Email List– By using King Sumo, Viralsweep or other contest/giveaway tools, you can unlock a real treasure chest.
20. MUST READ – How We Got 1,000+ Subscribers from a Single Blog Post in 24 Hours – The guys behind Groove (Help Desk Software) share their story of acquiring 1000+ subscribers in 24 hours.
21. MUST READ – Lead Magnets: Ideas and Examples to Grow Your Email List – Peep Laja shares his thoughts and ideas on how to get the best results of lead magnets.
22. How I Got 532 Subscribers in 43 Days Using Cheap Facebook Ads and with a budget of $227 (that's $0.42 per lead).
23. How to Grow Your Email List with Instagram – An easy-to-read guide about how to make use of your Instagram account in order to grow an email list.
24. How to Use Facebook Ads to Grow and Monetize Your Email List – An in-depth, step-by-step guide on how to integrate Facebook Ads into your list-building strategy.
HOW TO GET YOUR NEWSLETTER OPENED AND CLICKED

These email marketing resources cover the following topics: best email subject lines and preheaders, calls-to-action, interactive elements (video, scratch cards, etc.), list hygiene, etc.
25. MUST READ – How to Write the Perfect Email Subject Line – Have you ever hesitated whether or not to open an email just by the subject line? O,f course you have! Everyone has. That's why subject lines are so important for email marketing. Oli Gardner from Unbounce gives his thoughts on this topic and shares a great infographic from Litmus.
27. 70+ examples of how email preheaders drive opens – René Kulka gives a huge list of examples of how preheaders (aka annotations) can work for you.
28. Call-to-Action Button Copy: How to reduce clickthrough rate by 26% – After subject lines and preheaders are mastered, your next target should be call-to-action (CTA) buttons. Daniel Burton shares a few insights on how not to screw up your clickthrough rate.
29. The Ultimate Guide to Email Image Blocking – Another great email marketing resource from Litmus.
30. MUST READ – 557 email subject line hacks to get you noticed in the inbox – Crazy Egg posted a huge list of tips for how to increase your open rate (it's a collection of various blog posts with actionable tips).
31. How To Write Absolutely Irresistible Drip Campaign Emails – Neil Patel explains what drip campaigns are, how they can fit into your overall marketing campaign, and more.
32. Improve Your Email Click-Through Rate With These 14 Simple Tweaks – Where should you place Calls-to-Action? What kind of layout should be used? All answers to these and other questions can be found on the Kissmetrics blog.
33. How to Write Email Subject Lines That Will Increase Your Open Rate By 203% – Once again, Neil Patel shares his experience on how to increase email open rates. Solutions include timing, curiosity, and more.
34. 14 Ways to Kickstart Your Mobile Email Marketing Campaign, including optimization for mobile devices, writing compelling email copy, etc.
35. How Your Customers Actually Read Your Emails – No matter whether you run a blog, a SaaS business, an ecommerce store or any other company that sends emails you will definitely learn something from these tips and apply them to your own email marketing strategies.
36. MUST READ – 8 Ways To Keep Your Email Engagement Alive & Lucrative – According to digital marketing firm Lyris, you should expect to lose 30% of your email subscribers every year. There are mainly two reasons for this: either they change their email address, or your content is no longer relevant to them, so they stop opening emails or just unsubscribe. In this full-of-case-studies guide, you'll find solutions on how to keep your audience alive and engaged.
37. Video Thumbnails Increased Our Emails' Click-Through Rates. We Tested It – Wistia's marketers created 7 separate A/B tests to confirm/deny the hypothesis of whether or not Using video thumbnails in marketing emails will increase our emails' click-through rates.
38. A Guide to Animated GIFs in Email – What is a GIF? Why use a GIF in email? What are the pros and cons of using animated images in email? These and other questions are answered in a Litmus blog post.
39. The Best Email Frequency for Small Business Marketing [Omnisend Research] – Email frequency is one of the many aspects that we analyzed in our recent Omnisend research based on our customer data. This time, we focused on the open and click rates by looking at the frequency of the email campaigns our users are sending out.
HOW TO INCREASE ONLINE SALES WITH EMAIL MARKETING

These email marketing resources cover the following topics: email segmentation, email automation, email personalization, conversion funnels, etc.
40. Email segmentation and targeting options – learn from 6 layered targeting options used by online retailers. They can be applied to any business.
41. 30 Ways to Slice & Dice Your Email List for Better Segmentation – still not enough segmentation ideas? How about 30 of them?
42. 9 Proven E-mail Templates to Add to Your Conversion Funnel – Eric Siu shares the list of 9 email templates you can add to your conversion funnel. To name a few: Case Study, Quick Tip, Q&A, Live Training, etc.
43. MUST READ – The Ultimate Guide to Email Sequences – In this guide, you'll learn what an email sequence is, why you should use it, and, most importantly, how to get the best results.
44. MUST READ – How to Segment Email Lists for More Opens, Click-Throughs, and Conversions – Each of your customers has a unique background, set of interests, and level of experience with your brand. So don't send all of them the same emails—with list segmentation, it's easy to personalize your message based on the recipient's interests, demographic information, and purchase history. When you provide more relevant content, everybody wins.
45. The 20 Best Product Launch Emails That Re-engage Users – The thing that all 20 emails havoue in common isn't apparent at first glance. It's not the copy, or the tone, or even the call-to-action. In fact, it's not visual at all. Knowing your users and the ability to find the right moment is the key to success.
46. How to Generate More Sales From Your Email Marketing Campaigns – Yet another awesome data-driven blog post showing you the ins and outs of growing your sales with email marketing.
47. MUST READ – 7 Ways to Increase Sales with Transactional Emails – You have just sent your promotional newsletter to your subscriber list. There's only a 20% chance that it will ever be opened. Actually, the open rate is often even lower. In the meantime, the average open rate of transactional emails is around 50% of all recipients. See what you're missing? Looks like you need to revise your strategy.
48. The Advanced Guide to Promotional Emails That Convert – Promotional emails don't have to be spammy, annoying and quickly deleted. They can be genuinely valuable and profitable if you're willing to put in the work and this guide shows you how to do just that.
Get your free copy of 120+ Email Marketing Resources
49. Getting Started with Automated Email Marketing – Email marketing is one of those pivotal, game-changing facets of online marketing that nearly every serious marketer needs to not only know how to do — but do successfully. As you've learned to grow your business, you no doubt have come across email marketing jargon such as segments and drip feeds. But what does it all mean? Better yet, how can you automate it so that every email practically sells itself?
50. How to Make Your Confirmation Emails Not Suck (and Make Money) – Confirmation emails may be the least developed customer touchpoint. These standard, expected emails are often as delightful as your typical in-store receipt (read: not at all delightful). In fact, confirmation emails have average click-through rates from 12 to 20 percent, approximately five times the rate of bulk emails. Uninspired confirmation emails are a missed opportunity to upsell and provide great customer service.
51. 6 Ways To Re-Optimize Your Email Auto-responder Campaign To Improve Opens, Clicks, and Sales – Test everything: open times, subject lines, calls to action, etc.
52. Making Money with Email Marketing and an Autoresponder Series – A 5-step-guide which teaches you how to create efficient email series with email autoresponders, and how to set up and grow your email list.
53. 5 Secrets to Attracting More Clients with Automated Drip Email Marketing – When you build an automated email marketing machine, you can shave hours off your workweek, take back your freedom, and choose which clients are appealing to you. In this guide, Rob Walling explains how to do that.
54. Email marketing must be mobile, automated & personalized to deliver ROI – According to a recent Econsultancy report, marketers feel that email marketing delivers better ROI than any other digital channel. Here are three ways brands can capitalize by taking their email marketing to the next level.
55. The Ultimate Email Prospecting Guide: In this guide you will learn how to master the art of email prospecting. Follow these 7 email prospecting best practices if you want to get the best results possible from your outreach campaigns.
Bonus: Welcome New Members Right with These 9 Email Tips (+Template) – Check out this article if you want to learn how to keep new members and subscribers to your email list coming back for more.
Feeling tired? You can always bookmark this list of email marketing resources and come back later.
HOW TO SAVE YOUR NEWSLETTER FROM THE SPAM FOLDER

These email marketing resources cover the following topics: email spam filters, email blacklists, email deliverability, etc.
55. A Marketer's Guide to Getting Past Email Spam Filters – No matter how legitimate of an email marketer you are, there are a host of things you may not even know about that can prevent your email from ever reaching someone's inbox.
56. MUST WATCH – All About Deliverability: Webinar with Al Iverson [Webinar] – In this webinar on email delivery, Al Iverson explains how spam filtering has evolved from a content-based system to one that weighs dozens of factors, often without human oversight
57. Check if your domain is blacklisted.
58. Top Tips to Avoid Spam Filters When Sending Emails – the guys over at Sendgrid share their tips on how to keep your email deliverability at a high level, including double opt-in, monitoring engagement metrics, regularly cleaning your lists, etc.
59. How to Make Sure Your Emails Land in Gmail's Primary Inbox – If you've been looking for answers on how to get around Gmail's Promotions tab and you're wanting to see your open rates increase, check out some of these tricks from fellow bloggers and marketers.
COOL EMAIL MARKETING CAMPAIGN IDEAS/DESIGNS

60. 7 Clever Email Campaigns That Get Customers Buying Again. If you have a great product, customers will probably want to buy from you again. But that doesn't mean they'll always remember to. People are busy. Which is why email remarketing campaigns are great ideas for those who have purchased (or almost purchased) from you in the past!
62. HTML Email Gallery – a gallery for newsletters where you can catch new ideas.
63. Top Email Design Trends for 2018 – Chad S. White from Litmus shares the top 10 email design trends for 2018 that you should keep in mind while preparing your next email campaign.
64. Email Newsletter Design and Examples Gallery – Inspirational newsletters created by online marketers who used Omnisend (previously Soundest).
65. 910 best Email Design Inspiration images on Pinterest – A huge board of email design inspiration.
66. Envisioning Top 7 Email Design Trends for 2018 – Email Monks gave their best guess for what should be trending in 2018.
67. 16 Best Email Design Examples – Trends come and go but style always remains. Find your own style in email marketing and you'll easily improve your conversions.
68. Black Friday / Cyber Monday Design Recap – Since BFCM is the largest sales-driving time of the year, email marketers should always try to craft their best emails in order to get even more sales. Here are some of the most eye-catching designs from the craziest week of the year.
EMAIL MARKETING METRICS

These email marketing resources will give you the answer which are the most important email marketing metrics that really matter.
69. The Essential Email Marketing Metrics You Should Be Tracking, including Clickthrough rate, Bounce Rate, and 4 others.
70. A Practical Guide to Email Marketing Metrics – A guide that goes beyond opens and clicks.
71. 4 Important Email Marketing Metrics To Monitor – Spoiler alert: Open rate isn't one of them.
LEGAL STUFF – ANTI-SPAM POLICIES, GDPR, CAN-SPAM, ETC.

These email marketing resources cover the following topics: GDPR, CAN-SPAM, CASL, double opt-in, international laws that email marketers should be aware of, etc.
72. MUST READ – GDPR for Ecommerce: The Definitive Guide to Getting Ready [+Free GDPR Checklist] – The General Data Protection Regulation (or GDPR for short) is set to take effect soon and impacts anyone who handles EU citizen and resident personal data. Looking at the GDPR for ecommerce especially, there are lots of questions and concerns that merchants have at the moment.
73. An Email You Should Never Send – Quote from the article: If you write an email that says "you can unsubscribe if you want to," you probably shouldn't be sending that email.
74. 5 Things You Must Know about Email Consent under GDPR – Litmus' take on the GDPR.
75. CASL Compliance: Essentials Every Marketer Needs To Know – Another regulation that email marketers should take into account.
Get your free copy of 120+ Email Marketing Resources
76. Beginners Guide to the Can-Spam Act [Infographic] – Is all this legal information is too difficult and overwhelming for you? Take a look at this infographic and get started.
77. The Ultimate Guide to International Email Law [Infographic] – Keeping up with international anti-spam laws is hard! Practices that are completely legit in one country could be absolutely off-limits somewhere else and might result in hefty fines. The Litmus team has put together this overview to help you navigate international email requirements.
78. GDPR Impact for Non-EU Companies – Think that GDPR doesn't apply to your business because you're located outside the EU? Think again.
79. How to Master International Opt-In Requirements – In this post, the author touches on international permission requirements and provides advice on how to design an opt-in process that fits both your organization's goals and any local requirements of your subscribers.
OTHER EMAIL MARKETING RESOURCES

A bunch of uncategorized email marketing resources that did not fit (in our humble opinion) any other category.
80. Email Marketing Best Practices from a $42 Million Email Company – Noah Kagan shares a really actionable guide filled with Youtube videos and podcast recordings.
81. PNG, GIF, or JPEG? Which is the Best Image Format for Email? – A technical guide about which image format you should use in your email campaigns.
82. Email Design Podcast – A must-hear top-notch content by Litmus. Although a lot of episodes are tailored to technical email marketers, even the most non-tech-savvy people will find and learn something useful here.
83. 35 Face-Melting Email Marketing Stats for 2018 – This article includes statistics from various fields: B2C email marketing, B2B email marketing, email marketing device & demographic statistics, etc.
84. 10 Tips on How to Identify a Phishing or Spoofing Email – Not everything about email marketing is good. Some aspects, actually, are really dangerous. In this blog post, Return Path's specialists will teach you how to identify malicious phishing emails that can do harm to you or your business.
THE FUTURE OF EMAIL MARKETING

Are you interested in what is/will be trending in 2018 and beyond in email marketing space? These email marketing resources are exactly what you're looking for.
85. 4 ways AI can improve email marketing – Artificial Intelligence (AI) is the single biggest change to email marketing that will drive personalization like never before. The methods mentioned in this article are a testament to how AI can make email marketing even more powerful.
86. 2018 Email Marketing Forecast: Data, Micro-Moments, and Intelligence – What will email marketing look like in the near future? Business2community thinks it will be more data-driven, will increasingly hone in on micro-moments and that content will be smarter than ever. This article is a deeper dive into those predictions.
87. Email marketing trends for 2018 – 6 emerging email and marketing automation trends to help inform your 2018 email marketing communications strategy.
88. The Future of email marketing. 2018 edition – How can you stay on top of the ever-changing environment known as the inbox? To be honest, the future is already here, it's just not distributed evenly. Take a peek at what is coming up in 2018 and beyond.
89. [DOWNLOAD] Email Marketing in 2020 – Litmus people asked 20 experts from email service providers, agencies, consultancies, and research and education firms to share their vision of what email marketing will be like in the year 2020.
90. The Importance of Email Marketing by 2020 – In this article, the author discusses the top reasons brands need to develop an email marketing strategy and why it will be even more necessary by 2020.
EMAIL MARKETING FAILS

It's always better to learn from the mistakes of others.
91. 3 Happy Birthday Email Marketing Fails From Brands
92. How To Get Your Email Marked As Spam
93. The Anatomy of an Awful Marketing Email
95. 5 Embarrassing Subject Line Mistakes to Avoid – Subject lines are incredibly powerful. Despite all of the (mostly justified) power attributed to subject lines, this line of text is a hotbed of mistakes that can distract and confuse subscribers and be embarrassing for the brand.
FULL GUIDES/REPORTS/CASE STUDIES


96. MUST READ – A Guide to Ecommerce Email Marketing for Small Businesses
97. The 2018 State of Email Report: Data, Trends, and Innovations Shaping the Email Industry
98. How Organic Aromas Boosted Newsletter Signups by 150%
99. The 2017 Email Client Market Share [Infographic]
BONUSES
Before you start conquering the world after reading these email marketing resources, relax and have a good laugh. Here are few collections of hilarious GIFs for marketers. Enjoy!
13 Funny Animated GIFS about Email Marketing [Part 1]
13 Funny Animated GIFS about Email Marketing [Part 2]
EMAIL MARKETING RESOURCES: FINAL WORDS
Nice! You made it to the end! We understand—there's a lot to go through, so we recommend you bookmark this list and come back when you feel hungry for new knowledge or just want to find new ideas.
Did you find any invaluable email marketing resources that gave you new insights or ideas on how to improve your email marketing efforts? What are your marketing team's priorities in the coming months? Let us know in the comments below.

Get a personal 1-on-1 Omnisend demo that will supercharge your next campaign!
Get My Demo