Drive sales on autopilot with ecommerce-focused features
See Features
Reading Time:
5
minutes
Personalized, relevant marketing is a top priority for over half of today's digital marketers, with 89% of digital businesses investing in personalization tools to provide a unique customer experience. When it comes to email marketing and email automation specifically, message personalization is unquestionably the number one tactic used to improve performance.
However, creating messages that resonate and are relevant to your audience is so much more than using their [first_name] and adding abandoned items to their cart recovery email.
To build, optimize, and scale a successful marketing automation program that is not as much about over-selling as it is about building an authentic relationship with your customers, you need to know more.
What kind of messaging does this segment prefer—brand-driven or discount-focused? Do they need a second reminder about their abandoned carts or do three messages across multiple channels work best? Well, now there's no need to second-guess anymore.
Following our recent Automation Editor upgrade, Omnisend is introducing yet another set of features designed to help you optimize your automations and make your marketing more relevant. You'll now be able to A/B test your workflows and seamlessly view their performance with built-in reporting available in the Automation Editor.
Optimize Your Workflows with A/B Testing
No more guessing how high of a discount to give: you can now test the content, length, timing, channels, and more aspects of your workflows by simply building parallel messaging paths as test variations. This way, you'll be able to find a combination of automated messages that best resonates with your target audience.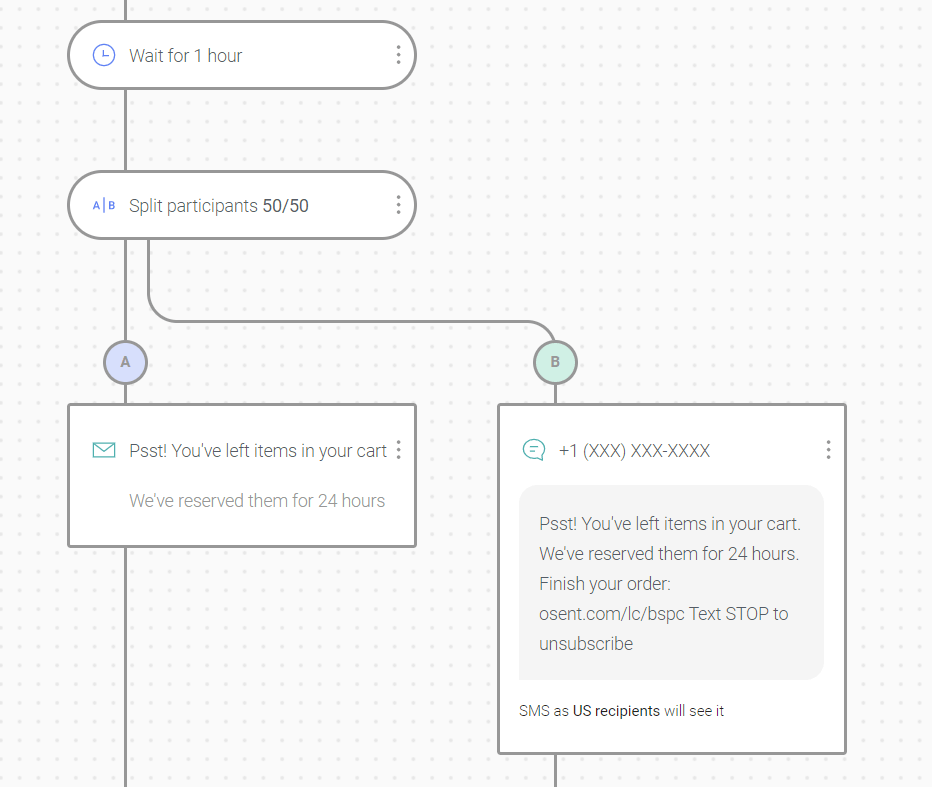 To give you complete control of your A/B test setup, we've added the flexibility to adjust the audience split for your test and to choose your preferred path that should keep running once you identify a winner.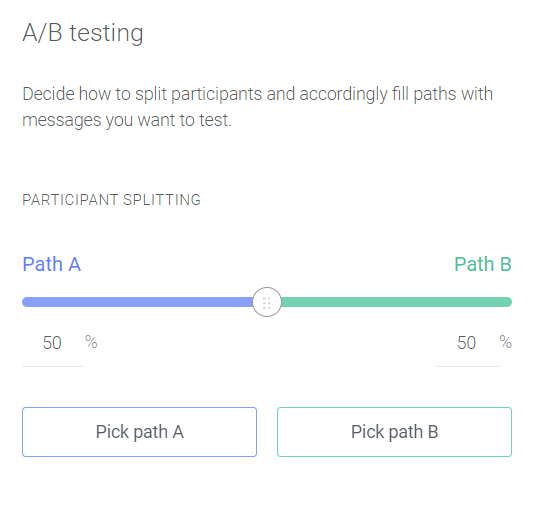 Seamlessly Track & Adjust Your Automations with Built-in Message Reporting
Fewer tabs to keep open: the performance reports for each of your workflow messages are now available within the Automation Editor. This means you can keep track of message performance and seamlessly make the necessary adjustments within the same view. This will be especially handy if you're running Splits or A/B testing and want to easily compare the performance across different paths in your workflow.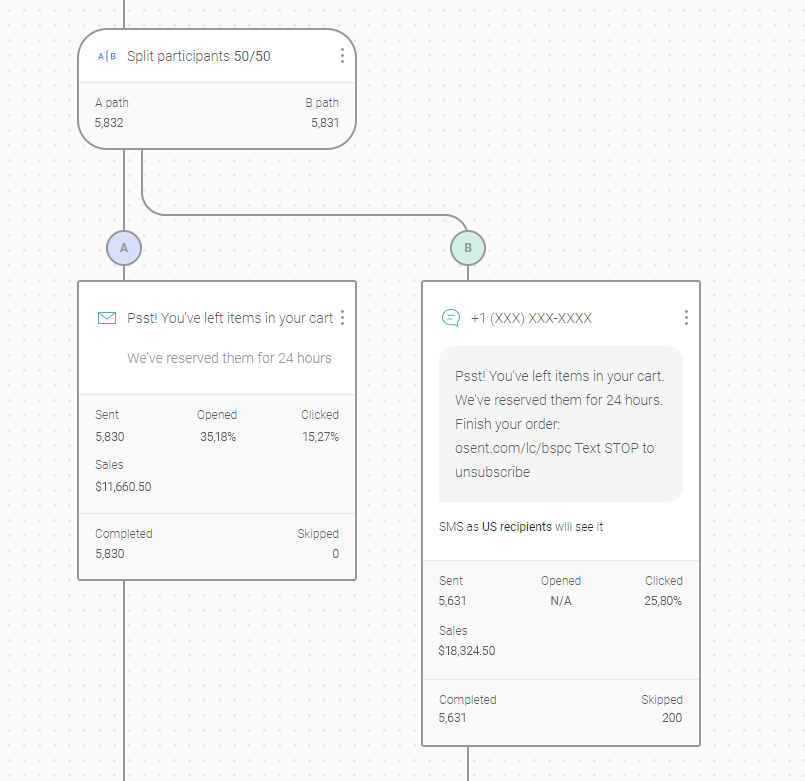 5 A/B Testing Ideas to Create More Relevant Automated Messages
While there are so many aspects to a successful workflow, it's always good to start by testing the basics. Our advice: test, track and optimize your essential automation workflows first. Here's where to start.
1. A/B test the messaging in your welcome series.
In most cases, the customers joining your newsletter list are the ones that you know least about. Therefore, it is worth seeing what it is that makes them engage with your brand: is it brand-building messages or sales-oriented emails that work best? Try both using A/B testing and adjust your messaging accordingly to the results.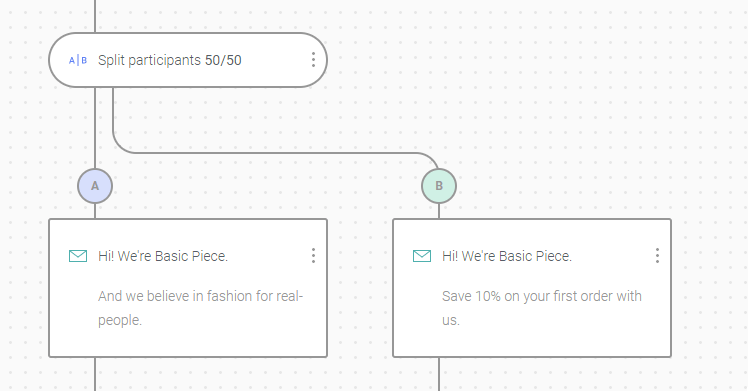 2. A/B test the delay of your abandoned cart messages
Setting the delay time for your first cart recovery email or SMS can often feel slightly confusing: should it be 30 minutes or 2 hours? When is it too soon and when is too late to be relevant? Well, now you can simply test it. To ensure a proper A/B test, be sure to keep the other variables (like channels, subject lines, etc.) the same across the messages you're testing.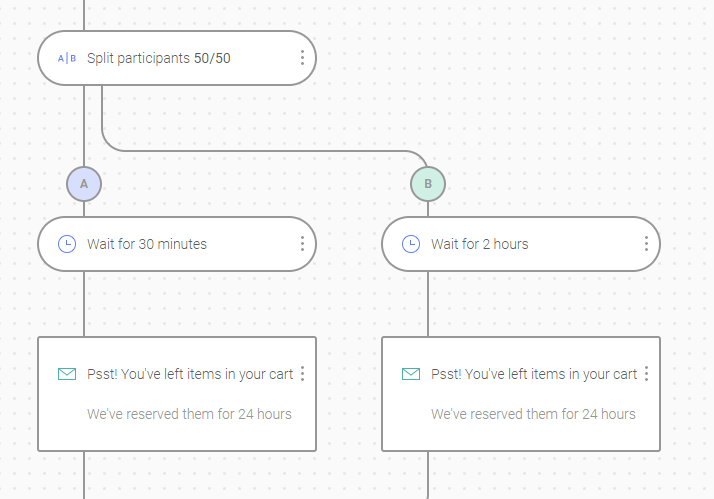 3. A/B test the length of your abandoned cart sequence
How many abandoned cart messages is the right amount to send—one, two, three, four? Now you can test the number of messages you send and make a data-backed decision when it comes to optimizing your abandoned cart strategy and increasing your cart abandonment revenue.
4. A/B test incentives in your abandoned cart series
Sometimes all it takes to recapture an abandoned cart is a gentle reminder, yet marketers often resort to incentivizing customers to come back and complete their orders—negatively affecting their ROI. Now you have the ability to test which message you deliver the incentive (maybe it's enough to leave it to the third email of your series?), whether advertising it in the subject line impacts performance, or whether to use one at all.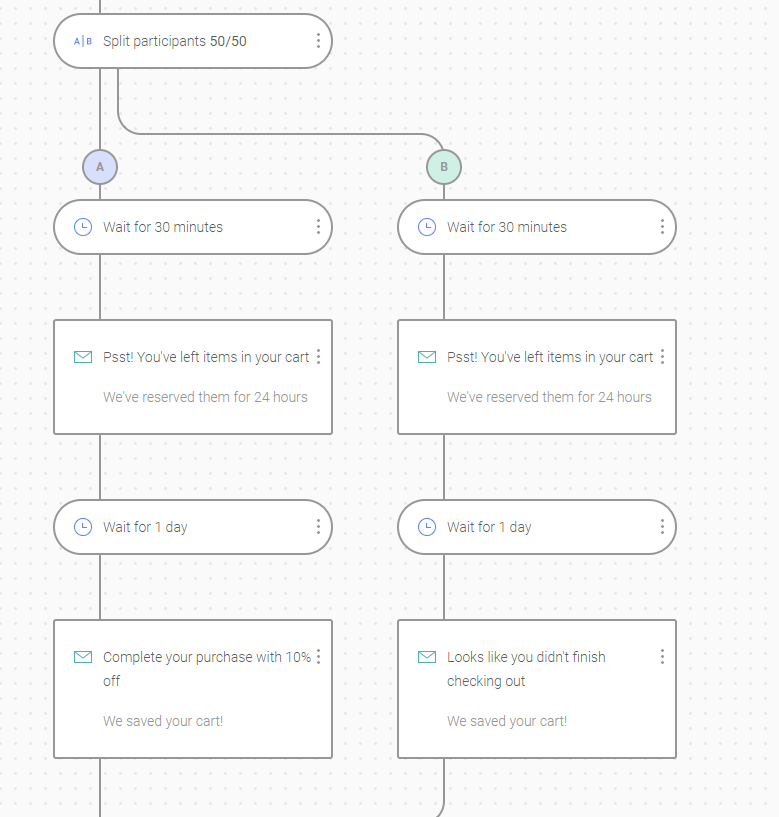 5. A/B test the best channel for browse abandonment
Browse abandonment automation is different from cart recovery: these consumers have shown less buying intent (as they haven't made it to the cart yet) & are less invested in making a final decision. Therefore, being too late with a reminder, or choosing the wrong channel, could make-or-break the sale. Try testing if the more 'instant' channels like push notifications or SMS work better than your regular browse abandonment emails.
How to Use A/B Testing and Built-in Reports?
A/B testing for automations and built-in message reports are available for all Omnisend users on Standard, Pro, and Enterprise plans.
To add an A/B test into a workflow, simply choose the "A/B testing' flow action from the left sidebar and drag it into your workflow. You can add it after any workflow step and set a delay before or after.
Choose your audience split for the two test variations. The default split will be set to 50:50.
Decide what you want to test (or follow our previously mentioned suggestions), and drag and drop messages under each of the A/B test paths.
Switch the "Show Stats" toggle in the upper left corner to show the built-in reporting for each of your workflow messages.
After you identify a winner, you can simply pick the winning path to remain the default variation for your workflow while the other one is automatically turned off.
For more information on how to build automation A/B tests, read a more detailed article here.
Track & Optimise Your Workflows to Always Be On-Point
Make your automated workflows more relevant by A/B testing your messaging to see what resonates best with your customers. Join more than 50K ecommerce brands already using our platform to drive more sales with omnichannel, personalized marketing automation today.
Get started with Omnisend today & drive sales on autopilot with pre-built automation workflows
Start Free Today
related features
Want more sales?
Omnisend has everything you need to succeed.
Start free now
No Credit Card needed.