5 Key Points for a Bullet-Proof Email Marketing Strategy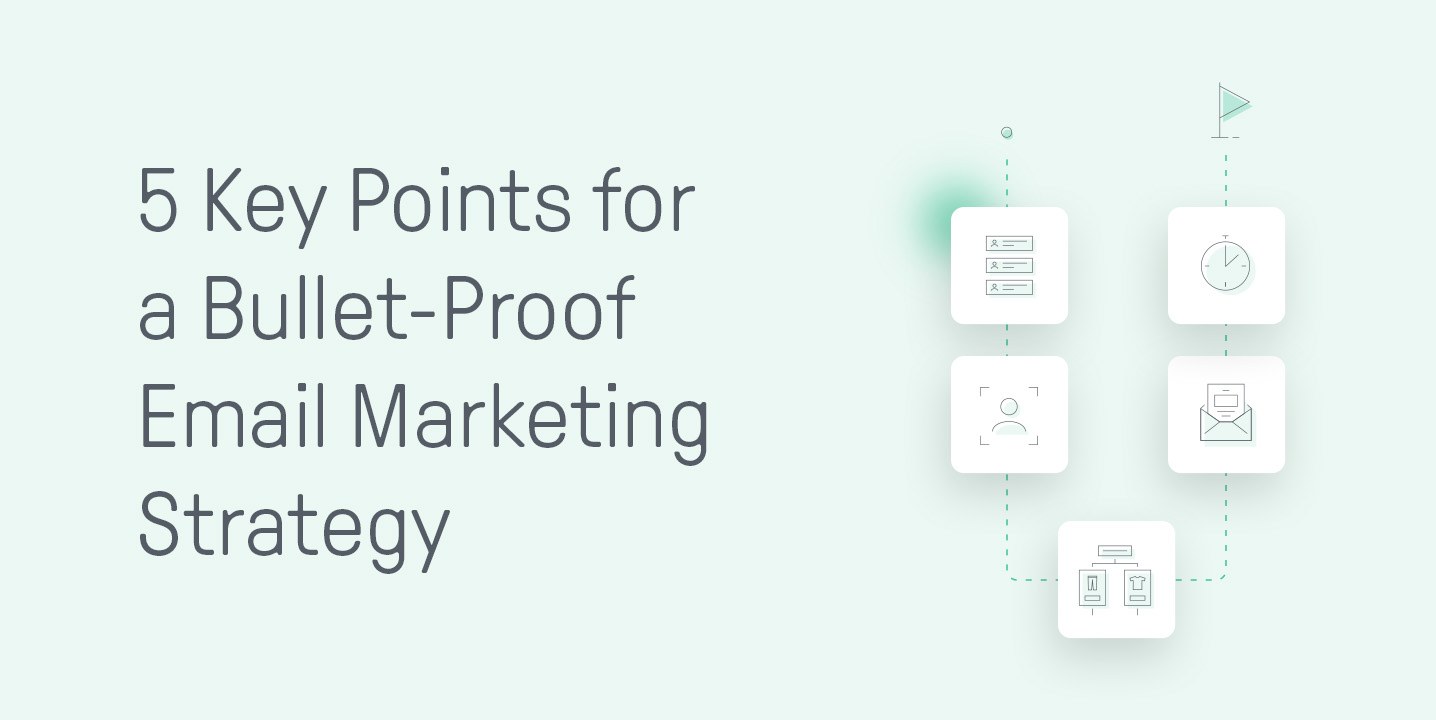 Reading Time:
8
minutes
Email marketing is the most profitable and most versatile instrument any retailer can use to build up their business.
You can use email marketing campaigns for branding, customer acquisition, retention, reactivation, direct sales, referrals, and so on. Based on your main goal, your email marketing strategy may vary.
That's why before starting to send bulk emails to your random subscribers, you should identify what you want to achieve with your email marketing activities. The more precise your goal, the easier it will be to build your strategy, as well as targeted, highly effective email campaigns.
The following checklist will help you to figure out what the key points you need to define. Regardless of your industry, you can get ready and build a bulletproof email marketing strategy for conversion that appeals to your customers.
The 5 Key Elements of Your Email Marketing Strategy
1. A Decent Contact List
Before implementing an email marketing strategy, you have to have a list of contacts who would like to receive your emails. These are your potential customers. .
0It should be built organically, using the signup forms, landing pages or other online or offline methods.
Please don't buy an email list just because you want to launch your email strategy sooner. Getting subscribers this way is illegal in most of the European countries. Moreover, buying email contacts results in many negative side effects that I've discussed in this article about the methods to build an email list.
A decent contact list of potential customers means a list of engaged subscribers that are aware of your brand and they want to receive your emails. This confirmation they give you by signing up for your newsletters or at the checkout. It doesn't matter whether you have 10 or 10,000 subscribers, you can start approaching them with your emails.
To make your list grow faster you can use interactive signup forms, small discounts, or free shipping. These attractive elements aim to increase conversions, increase click through rates, and naturally incentivize new signups.

Looking a few steps forward, next to their email addresses, ask your new subscribers for additional information. Information such as their phone number, gender, date of birth, what product categories they like, etc.
These are the customer statistics that help you understand your customers more and lead to greater conversion rates.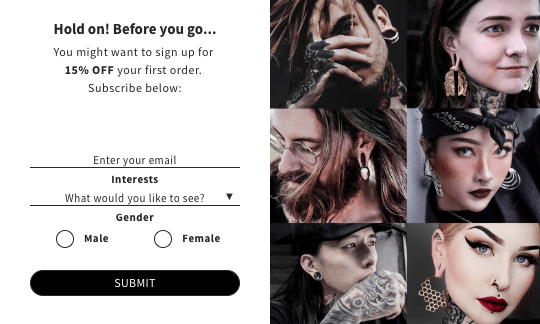 Later, this information will empower you to implement the following activities:
To better segment customers and subscribers to identify their interests at a larger scale.
To start sending automated emails.
To implement an omnichannel approach and be capable of providing your customers an uninterrupted, superior shopping experience.
To understand engagement rates and statistics.
All these actions will lead you to more targeted and timely messaging as well as a higher rate of customer loyalty. No matter what industry you are a part of, understanding these statistics will surely lead to higher conversion rates.
Start a free 14-day trial & drive sales on autopilot with pre-built email templates in Omnisend!
Start my free trial
2. Defining Goals
Every single email should have a single key goal. And that goal should have a clear call-to-action button.
Emails that are long, contain a lot of different blocks, and ask readers to click on many different buttons perform worse than those that have one bold CTA button and only one idea at the time.
So ask yourself what you want to achieve with your email marketing activities and then the idea of what emails should be sent will come out.
For example:
If you want to increase brand awareness your emails should have more storytelling elements, offer a referral program or main CTA button should invite to follow you on social media.
For more direct sales, you would probably use a promotional email with a coupon code.
For customer retention, automated re-activation email is the best option.
You've got the point.
So define your goals what you want to achieve and then plan the email content accordingly.
One more thing, your KPI's that measure the success of email campaigns also should be different.
In one case, counting sales would be the most proper KPI, in other cases – an increase in social media followers or a number of returning visitors might best indicate your success. So you should also plan what they can be and how you will measure your email marketing efforts.
3. Targeted Email Content
The time when retailers were sending bulk email campaigns with generic content to all subscribers has already passed away. Nowadays, a customer expects to receive only relevant messages. Only this kind of content has a future. So use the following trump cards to assure your emails are opened and read.
1. Personalization
There are a few different ways you can personalize your emails.
First of all, you can add subscribers name at the beginning of the email "Hi [name]". The study shows that this kind of personalization can boost your email marketing results six-fold.
Though, in my humble opinion, this way of personalization isn't that effective for retailers. Sometimes, it even looks creepy to see your name, because you understand that email is automatic.
Instead, I would recommend trying to personalize messages based on previous purchases or behavior. For this, you will need to implement segmentation and, in some cases, marketing automation.
All in all, personalization is something difficult to implement if you don't have enough customer data. That's why you should consider adding extra fields into your signup forms when collecting email addresses.
2. Segmentation
Segmentation is one more trump card in your hands that allows you to craft relevant messages to your audience.
Segment your subscribers based on criteria most relevant to your business. Segments might be according to countries, cities they live in, their gender, age, shopping history, the scale of engagement, etc.
Again, it strongly depends on the data you have about your contacts. The more information you have, the more there are possibilities for accurate segmentation.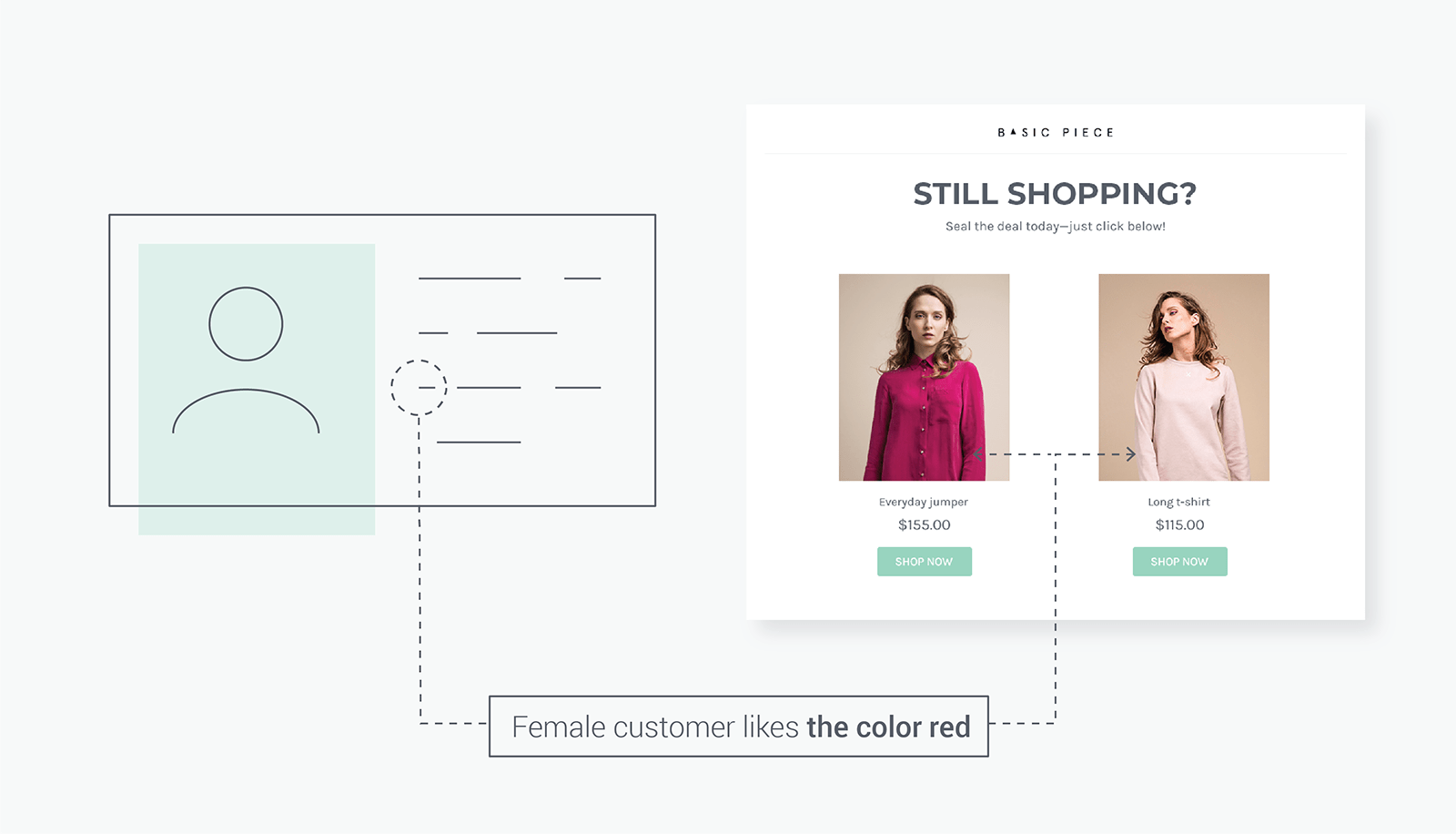 Usually, retailers start to segment their audience when reaching a significant (at least 1000) number of subscribers. Otherwise, the time spent on designing email campaigns for different segments won't pay off.
3. A/B testing
A/B testing is something you should do constantly. Test your subject lines, sending address, the sender's email address, etc. These insights might help you figure out what content for your audience works better.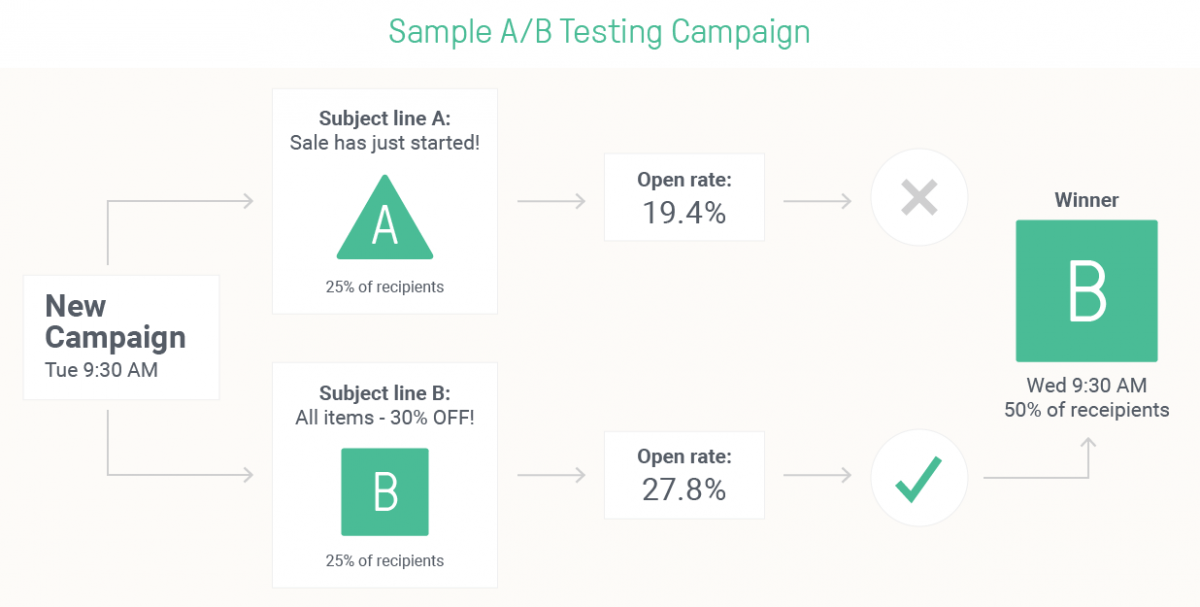 These are a few ideas about what you can test:
Test the subject lines with a discount mentioned and without.
Test different discounts – % and $ – to know which one works better for your business.
Test the subject lines with emojis and without them.
Test if personalization including subscriber's name works for you.
Test different versions of subject lines, ones indicating the limited time offer and ones without it.
I believe that email content is one of the most difficult parts of the email marketing strategy. However, this part has very clear KPI's you can measure and evaluate your work.
For example, the open rate indicates whether your subject lines are engaging. The click rate and unsubscribe rate, usually, show whether the content itself is relevant to the recipients. Email conversion rate might reflect many factors. In particular, the time of sending the campaign, the copywriting, the deal offered in the email, etc.
All in all, make sure your emails are consistent, tell your unique brand story and create the real value to the subscriber.
4. Email Design that Leads to a Better Conversion
There is no "one fits all" rule when it comes to hard-to-define things like beauty. That's why I'm sharing with you common recommendations for an effective email design rather than something that is "objectively beautiful."
For professional looking email, a company logo of high quality is a must. This part should always look perfect.
Email templates should be simple and responsive. Fancy, asymmetric email templates aren't always mobile-friendly and look nice only for desktop users.
Pick your brand colors or go with a neutral white. Your emails are a part of your brand's bigger picture. They shouldn't stand out with a totally different look.
Avoid mixing many different blocks of content. Instead, focus on one, two or three things and clearly define sections by using spacing and lines. Emails with a clear focus perform better than the ones that contain multiple topics.
Avoid mixing a lot of different fonts and colors.
Use only high-quality images for your newsletters. If you use the product listing, the size and style of images should be the same. Not blurred or too dark.
If you lack great photos, you can use nice typography instead.
Don't place your email elements too close too each other. Give them some room. Design always look better this way.
Make sure your CTA buttons look bold. Buttons perform better than a hyperlink on the words.
5. Email Timing & Frequency
Although the best time for emails is an automated sending, triggered by customer behavior, it fits not in all the cases. Occasional emails or company newsletters are the ones that usually we don't automate but send when they are needed.
Yearly report of Omnisend (2019) reveals that it's most important to send the campaign during the first 10 days of the month. The beginning of the month brings the best results in both – email engagement as well as conversion rates.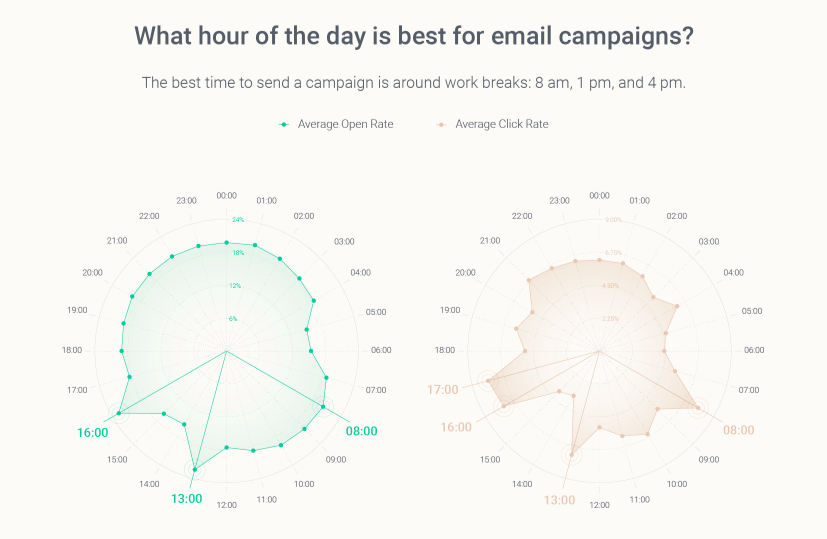 Also, for apparel, small electronics, books retailers the best hours to email subscribers remain the same as several years in the row: 8 am, 1 pm and 4 pm. Simply put, these are the times when people have breaks before or after work hours.
Find more about the email timing in this article: The Best Time to Send Emails (Omnisend Research 2019)
Speaking of the frequency of email campaigns, you should be consistent and keep the same pace. Your emails should be expected rather than popping out of the blue.
How often you should send your email campaigns depends on your customer lifecycle.
For example, retailers selling apparel can send emails every day. Their customers repeat purchases very often and even if they don't, they enjoy scrolling and "hearting" the goods.
But for household goods or electronic devices that frequency might be too often. First of all, it would be difficult to prepare so much great content for emails. Secondly, people rarely read about electronic devices if they aren't going to acquire one.
So, before defining your email cadence, identify your goal. If it's bigger traffic and more sales – go for more frequent and regular emails.
Email Marketing ROI Calculator
One final thing to remember when creating your email marketing campaign strategy is to consider your return on investment (ROI). Naturally, with email marketing, the higher ROI is the ultimate goal. To help reach this, you need to understand how to calculate ROI.
We've talked about email marketing ROI calculators in the past. However, there's one key takeaway with ROI to remember—the average ROI. The average ROI in email marketing is $40 to $1 spent—learning how to calculate your ROI helps merchants to shoot for this impressive conversion rate, or even to exceed it.
Using ROI, statistics, and comparing with others in your industry helps merchants craft better email marketing strategies—particularly data-driven email strategies.
What to take away from this is that regardless of which email marketing campaigns you choose to use, there are certainly many different ways to approach your strategies.
Wrap Up
I hope you've got the idea of what email marketing strategy is and what you should think of to start implementing it.
Start a free 14-day trial & drive sales on autopilot with pre-built automation workflows at Omnisend!
Start My Free Trial