Drive sales on autopilot with ecommerce-focused features
See Features
Reading Time:
11
minutes
Email marketing is one of the most profitable and versatile instruments an ecommerce retailer can use to build up their business.
You can use email marketing campaigns for anything from branding to customer acquisition. This includes retention marketing, reactivation, direct sales, referrals, and so on. Naturally, your email marketing strategy can vary—depending on your main goal.
You should identify this before starting to send bulk emails to your subscribers. You need to know what you want to achieve with your email marketing timeline.
After all, the more precise your goal, the easier it will be to build your strategy.
Get started with Omnisend today & drive sales on autopilot with pre-built automation workflows
Start Free Today
The 5 Key Elements of Your Email Marketing Strategy
A well-developed email campaign plan is essential. You'll need this for the kind of targeted, personalized email campaigns that consumers now expect.
Our email campaign checklist will help you to figure out the key areas to consider. You can use these email marketing strategy examples when putting together your email marketing strategy plan.
With them, you can use these to build bulletproof campaigns that appeal to your customers—regardless of your industry.
1. A Healthy Contact List
First thing's first, you need an active and engaged list of contacts before implementing an email marketing strategy plan. Above all else, your list should always be built organically. This is achieved using signup forms, landing pages, or other online or offline methods.
Remember, you should never buy an email list. Even if you want to launch your email strategy sooner, these bought lists often do more harm than good.
Getting subscribers this way is illegal in most European countries. After all, buying email contacts results in many negative side effects.
A healthy contact list of potential customers hopefully translates to a list of engaged subscribers—contacts aware of your brand that are interested in what you have to say.
Remain confident that this is the case, as they'll have given you consent to be a part of the list. This'll have happened organically, either by signing up for your newsletters or at the checkout.
It doesn't matter whether you have 10 or 10,000 subscribers—you can start approaching them with your email marketing plan.
To help your list grow faster, you can use interactive signup forms, small discounts, or free shipping. These attractive incentives aim to increase conversions, increase click-through rates, and naturally incentivize new signups.
Looking a few steps forward, you can also ask your new subscribers for additional information added to their email addresses. Consider asking for things like their phone number, gender, date of birth, preferred product categories, and more.
This valuable customer information helps you better understand your customer preferences. It also opens up the possibility of implementing other marketing channels that complement your email campaigns, such as SMS marketing.
However, make sure you balance your requests for additional information by how willing your customers are to provide it—asking for too much can turn customers off from signing up altogether.
2. Defining Goals
Every email you send should have a single key goal. That goal should have a clear call-to-action button.
There are many pitfalls merchants fall into. For example, emails that are long, contain a lot of different blocks, and ask readers to click on many different buttons. These perform far less successfully than those that have one bold CTA button and one goal.
Users prefer an easy, clear read that gets to the point quickly—one that tells them exactly what their next step should be.
Ask yourself what you want to achieve with your emails and create an email marketing timeline based on your priorities. This way, you keep things focused and logical—with one email campaign goal leading smoothly into another.
Let's take a look at a few examples to clarify:
For Direct Sales
Make use of elements that customers will always find alluring—discount codes and attractive offers. To truly elevate a promotional email, make use of prominent coupon codes.
By highlighting the time-sensitive nature of a sale, you can conjure a sense of urgency. Combine this with an attractive offer, and you'll likely see much more engagement than usual.
Your brand or store may often send out promotional discounts. For example, enticing subscribers with a discount for signing up. That, or frequent small discounts with each promotional email marketing strategy.
However, to see great results with an email marketing strategy, consider a more impactful discount code. Let's say you often provide 10% discount codes—consider higher ones, like 25% off everything, or BOGOF offers.
To Increase Brand Awareness
Craft your emails to have more storytelling elements. This can generate interest to follow you over time.
A prime example of making the most of this is offering your referral program in these emails. Pair this with CTA buttons that invite users to follow you on social media.
This is a type of email marketing strategy that clearly prioritizes brand awareness. It doesn't appear pushy as it rarely features products or prompts to purchase. Instead, with the intention to increase brand awareness, it offers your list the opportunity to engage with your brand—and nothing more.
For Customer Retention
If you have 'at risk' customers that you're afraid of losing, make use of automated re-activation emails.
Offering them tempting incentives provides them with the perfect opportunity to return as customers and complete a purchase. This firmly puts them back into the 'recent customers' category of the customer lifecycle.
If you're unclear as to whether a customer is at risk, put some time into considering the lifecycle stages. Not only is this a useful and actionable retention feature, it also helps you focus email marketing strategies on your best customers.
With the lifecycle stages map, you can prioritize your marketing efforts toward those who need it most. Along with the advantages it brings to focus on your best customers, it makes your business more efficient and profitable.
3. Targeted Email Content
The time of retailer marketing, where sending bulk email campaigns with generic content was the norm, is long gone. Nowadays, a customer expects to receive only relevant messages.
Only this kind of content has a future. Consider the following, to ensure that your emails are opened and read:
1. Personalization
There are a few different ways you can personalize your emails.
First of all, you can add the subscriber's name at the beginning of the email. For example, "Hi [name]", but remember to make sure you have a back-up. If, for whatever reason, you don't have a contact's first name, an odd and off-putting "Hi ," will appear.
This easy and rather 'impersonal' kind of personalization can give your email marketing results a slight boost. However, many consider it an overrated option.
Sometimes, it looks odd seeing your name on the top of a generic-looking email. The receiver often knows that the email is an automatic one, with just a minimal effort put in to make it seem personal.
Instead, consider trying to personalize messages based on previous purchases or behavior. For this, you will need to implement advanced segmentation. This will break your audience down into smaller, more specific categories and target them with timely marketing automation.
Personalization is difficult to implement if you don't have enough customer data. This is another reason why you should pay close attention to your ecommerce analytics reports. Consider adding extra fields into your signup forms when collecting email addresses.
2. Segmentation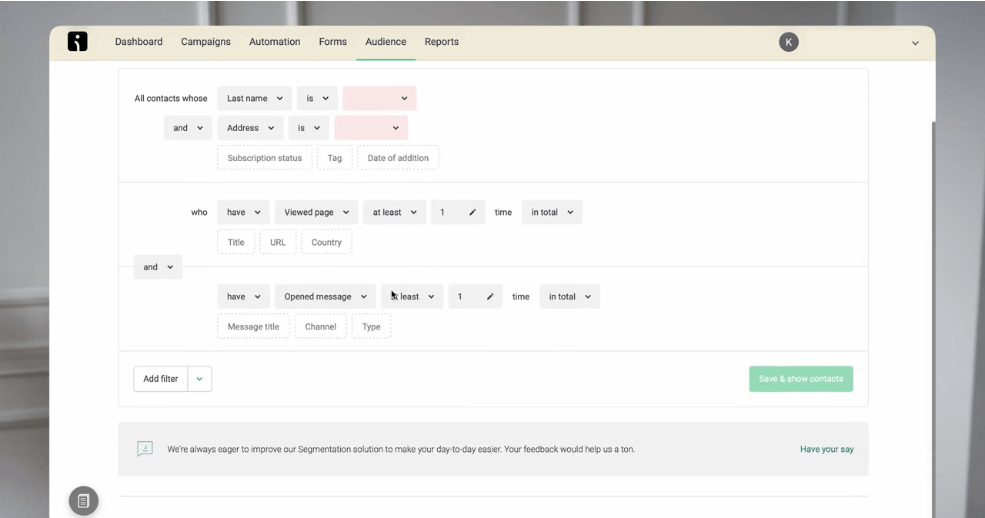 Segmentation allows you to craft relevant messages to your audience.
You can segment your subscribers based on the criteria most relevant to your business. For example, a contact's:
Location
Gender
Age
Shopping history
Their scale of engagement
Their stage in the customer lifecycle
And more…
It's worth remembering that this depends largely on the data you have about your contacts. With this in mind, gathering more information on your contacts is potentially incredibly useful.
After all, the more information you have, the more possibilities you have for accurate segmentation.
Usually, retailers start to segment their audience when reaching a significant number of subscribers. This is usually around 1,000 subscribers. Otherwise, your time spent on designing email campaigns for different segments won't really justify the results.
3. A/B testing
You should constantly strive to A/B test your emails. Test your subject lines, sending address, the sender's email address, and so on.
These insights can help you figure out what kind of content works best for your audience.
Here are a few ideas about what you can test:
Test your subject lines with a discount mentioned and without
Test different discount denominators, such as % or $, to know which one works better for your business
Test the subject lines with and without emojis
Test if personalization including the subscriber's name works for you
Test different versions of subject lines, ones indicating the limited time offer and ones without it
Email content is difficult to nail for any email marketing campaign plan. However, this part has very clear KPIs that you can use to measure and evaluate your work.
Your click rates and unsubscribe rates are a good indication of whether your content is relevant to recipients. Your email conversion rate though can reflect many factors. For example, the timing of when you sent the campaign, the effectiveness of your copywriting, and the type of deal offered in the email.
In terms of content, much of it comes down to your own creativity. Just make sure that your emails are consistent, you tell your unique brand story, and create real value to the subscriber.
4. Email Design that Leads to a Better Conversion
There is no "one size fits all" rule when it comes to hard-to-define, subjective things like aesthetics. That's why these common recommendations offer effective email design, rather than something that is "objectively beautiful."
Stay professional and consistently use company logos.

Establish your brand colors early, or stick with a neutral white. Remember that your emails are a part of your brand's bigger picture.

Avoid mixing many different blocks of content. Keep your focus on one, two, or three things and clearly define sections by using spacing and lines. Emails with a clear focus perform better than the ones that contain multiple topics.

Avoid mixing a lot of different fonts and colors.

Use only high-quality images for your newsletters. If you use the product listing, the size and style of images should be the same.

If you lack great photos, use nice typography in their place.

Don't place your email elements too close to each other. Give them some room and avoid a feeling of clutter.

Make sure your CTA buttons are bold and colorful. Buttons perform better than a hyperlink on the words.
Your email marketing platform should provide a drag-and-drop email builder for the easy creation of hyper-relevant campaign emails. With this, you can seamlessly add things like personalized recommendations, coupon codes, and more.
5. Email Timing & Frequency
The most effective timing for emails is automated sending triggered by customer behavior. However, this isn't suitable for every scenario. Occasional emails or company newsletters are the ones that aren't automated, but sent when they are needed.
Omnisend research reveals that it's most effective to send your campaigns during the first 10 days of the month. The beginning of the month brings the best results in both email engagement as well as conversion rates.
Keep this in mind when creating your email marketing strategy template.
For apparel, small electronics, and books retailers, the best hours to email subscribers have remained static for several years in a row now. These are 8 am, 1 pm, and 4 pm which, simply put, are the times people often have breaks before or after work hours.
These insights don't need to be industry-sensitive. Consider this kind of behavior for your store or brand and whether it can apply to you.
Speaking of the frequency of email campaigns, you should be consistent and keep the same pace throughout. Your emails should become an expected routine, rather than popping out of the blue.
How often you should send your email campaigns depends on your customer lifecycle. For example, retailers selling apparel have been known to send emails every day. Their customers make repeat purchases often.
Even if they don't, they enjoy browsing and window shopping for new releases. However, this varies from industry to industry. For household goods or electronic devices, that frequency is way too often.
First of all, it would be difficult to consistently prepare great content for so many emails. Secondly, people rarely read about electronic devices if they aren't going to acquire one.
Before defining your email cadence, think about your product range and carefully identify your goals.
If it's more engagement that you're looking for, then go for more frequent and regular emails based on relevant and attractive content. To keep it sales-focused, consider sending emails only when you have great offers or new releases that you know will resonate with your audience.
Bonus Tips
There's always more to learn and consider with your email marketing strategies. With this in mind, consider a few more insights to take into account when planning your email marketing campaigns.
Choose the Right Email Marketing Platform
Think carefully about the particular requirements of your business. Choose the email marketing platform that has the tools that you need.
Look for features such as pre-built automated workflows, advanced segmentation, and reporting. It's all the better if it features tools for omnichannel functionality, intuitive, drag-and-drop email builders, and a well-stocked library of templates to choose from.
Luckily, Omnisend offers all of these—and much more.
Optimize for Mobile Users
More users are opening promotional emails on mobile with every passing year. With this in mind, you're missing serious sales opportunities if you're providing a seamless experience.
Make sure that your email marketing platform provides responsive email capabilities. These automatically adapt your emails to comfortably appear on any mobile device.
Use Campaign Boosters
Campaign Boosters automatically resend your unopened email campaigns. This way, you can easily reach those who missed out the first time around.
It works by identifying the subscribers who didn't open your original email and resending it 48 hours later with a new subject line. This is an easy way to increase your engagement and sales without having to recreate a whole new email.
However, it's worth noting that new techniques and creative thinking might need to come into play in this post-iOS 15 world.
Closely Monitor and Analyse Your Campaign Performance
You can't improve with you don't measure. Make use of advanced reporting tools to keep an eye on your performance.
You'll be able to track key metrics such as campaign ROI, click-through rates, and conversion rates—as well as compare the performance of your various channels.
Advanced reports help you to identify trends and patterns in your customers' shopping behavior. All while allowing you to make data-driven decisions with confidence.
Email Marketing ROI Calculator
One final thing to remember when creating your email marketing campaign strategy is your return on investment (ROI). Naturally, with email marketing, the highest possible ROI is the ultimate goal.
To help reach this, you need to understand how to calculate ROI.
We've talked about email marketing ROI calculators in the past. However, there's one key takeaway with ROI to remember—the average ROI. The average ROI in email marketing is $40 to $1 spent—learning how to calculate your ROI helps merchants to shoot for this impressive conversion rate, or even to exceed it.
Using ROI, statistics, and comparing with others in your industry helps merchants craft better email marketing campaign plans—particularly data-driven email strategies.
Wrap Up
We hope that the tips and ideas in this article have given you a better idea of what a good email marketing strategy entails. With any luck, you'll be inspired to start putting together your own email marketing strategy template.
If you're looking for an email marketing automation platform that provides you with all the tools that you need to implement your ideal email marketing plan, consider Omnisend.
Omnisend has all of the tools and features mentioned above to help you come up with effective and targeted email campaigns. Get started for free today and reap the benefits of ecommerce-focused, personalized email marketing with advanced automation features.
Get started with Omnisend today & drive sales on autopilot with pre-built automation workflows
Start Free Today