Drive sales on autopilot with ecommerce-focused features
See Features
How to make an email marketing strategy (case studies, expert tips)
Reading Time:
9
minutes
Many email marketers believe that simply having an email list is enough to maximize returns. In reality, it takes more than a mere collection of addresses to convert and sell.
You need an effective email marketing strategy to elevate your email campaigns to new heights and achieve your business goals.
With the right email marketing strategy, you can streamline each stage and can captivate your audience, boost engagement, and maximize returns.
If you're unsure where to start, don't worry. We have compiled everything you need to create a successful email marketing strategy for your business.
In this article, we're going to cover:
How to plan email marketing strategy
How to plan your email marketing strategy
Planning your email marketing strategy is crucial for achieving success in your campaigns. To get started, you need to understand your target audience and their needs.
Based on who you're targeting, set clear goals, create compelling content and distribute it in the most effective manner.
Let's dive deep and understand how to plan an efficient email marketing strategy.
Clear goals
Setting clear goals for your email marketing strategy is essential. They provide a roadmap and direction for your efforts right from the start.
Here are some typical goals to consider for your email marketing strategy:
Increase conversion rates and drive sales
Boost engagement and nurture customer relationships
Grow your subscriber base and expand your reach
Enhance brand awareness and visibility
Drive website traffic and encourage click-throughs
Reduce customer churn and improve retention rates
Gather valuable customer feedback and insights
Specific goals will help you focus your efforts and tailor your messaging. Plus, you'll be able to effectively measure your email marketing campaign's success.
Email list
Your email list is a valuable collection of email addresses for individuals interested in your brand.
Maintaining and growing your email list is crucial, so you can engage with potential and existing customers, as well as build relationships and drive conversions.
Regularly adding new emails to your list ensures a continuous stream of prospects. This widens your reach and maximizes the potential for successful campaigns.
A robust email list forms the backbone of an effective email marketing strategy.
A reliable email marketing app
Using a reliable email marketing app offers several advantages that can significantly speed up and streamline your email marketing efforts.
A powerful email marketing app can help you:
Create visually stunning and personalized emails with customizable templates and drag-and-drop editors.
Effortlessly manage, segment, and grow your email list with powerful list management features.
Gain valuable insights through comprehensive analytics and reporting.
Enjoy smooth integration with other tools and scalable capabilities for enhanced productivity.
Provide intuitive tools for efficient campaign management, scheduling, and automation for seamless execution.
If you need help finding the best email marketing software, don't worry. Check out this comprehensive list of the best email marketing software for 2023.
With a G2 rating of 4.5, Omnisend is one of the best email marketing platforms available.
Email marketing strategies
Here are the important strategies we'll cover in this section:
Create signup forms
Make must-have automated campaigns
Segment customers by lifecycle stage
Make every email worth opening
Write engaging subject lines
Send your emails at the right time
Optimize emails for viewing on mobile
Monitor your performance
Do email list cleaning
Use A/B testing to get better results
1. Create signup forms
Building your email list and continuously adding new emails is a critical part of your email marketing strategy. Here are some ways to capture emails and engage your visitors:
Popups: You can provide a welcome popup that offers a special discount.
Landing Pages: Design landing pages with a persuasive call to action that offers freebies. This is to entice visitors to share their email addresses with you.
Teasers: You can provide teaser signup forms that offer a sneak peek of exclusive content. The content should need access to their email address.
Spin-to-Win Wheels: Creating a spin wheel can gamify your signup process. To enter a product giveaway visitors must submit their email address.
Not sure how well your signup forms are performing? Check out this article on how to optimize your signup forms using built in reports.
Here's an example of a popup form from B-wear offering a special discount when you sign up: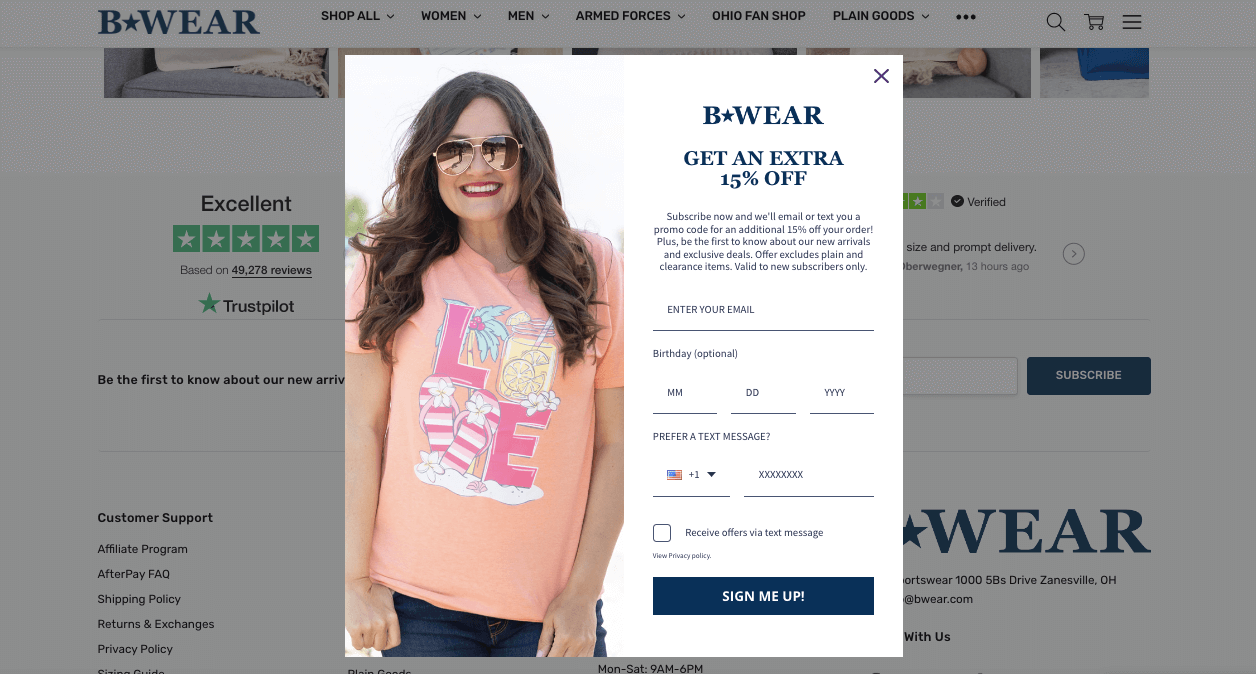 If you'd like to know more about each type of signup form and how to make one like an expert, don't miss this video:
2. Make must-have automated campaigns
Automated campaigns play a crucial role in your email marketing strategy. These email marketing campaigns are triggered by specific actions, making them highly relevant. For example, in 2022, Omnisend's automated emails generated 31.5% of all email sales and only 1.8% of sends.
Here's a list of essential automated email marketing campaigns:
Welcome emails: You can send a personalized welcome email to each new subscriber.
Cart abandonment recovery emails: You can send personalized emails to customers about their abandoned items.
Discounts and sales emails: You can send automated emails with exclusive discounts, and promotions.
Birthday and anniversary emails: You can send emails to your customers on their birthdays or anniversaries.
Reactivation emails: You can re-engage inactive subscribers with targeted emails, reminding them of the value you provide.
For example, B-wear achieved an impressive 66% conversion rate and a revenue-per-email of $2.37 with only two emails in their welcome series. Here is the full success story.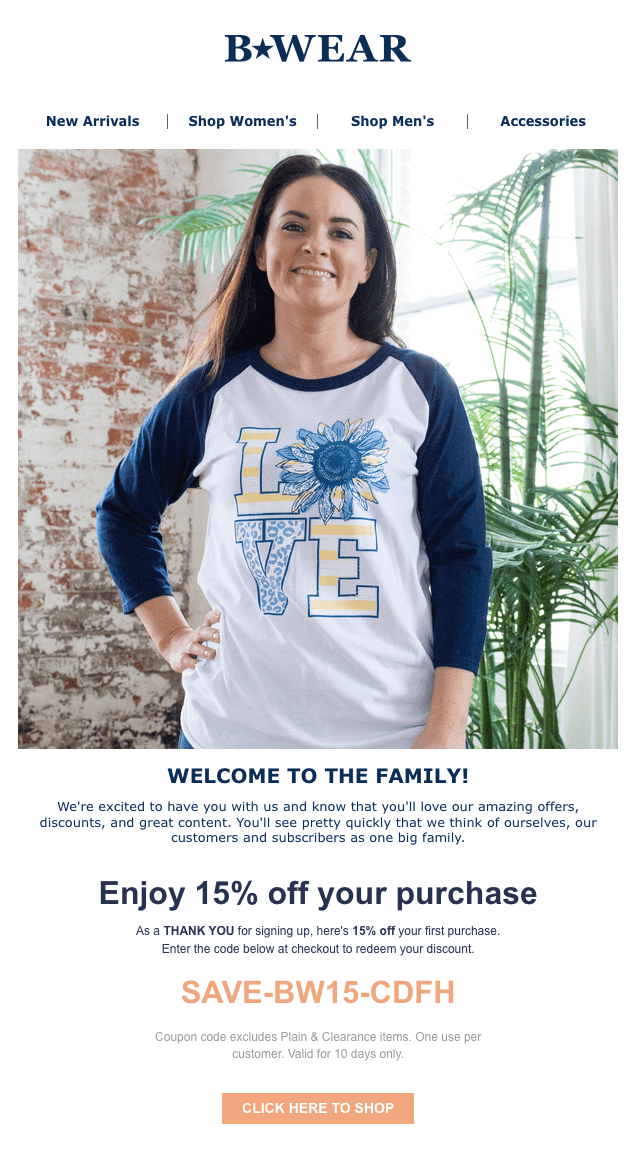 3. Segment customers by lifecycle stage
Email segmentation is a powerful strategy to personalize your email marketing efforts. It allows you to deliver targeted content that resonates with each segment's specific needs and preferences.
A lifecycle map helps identify where each subscriber stands in their relationship with your brand.
The lifecycle map considers factors such as buying frequency, recency of the last purchase, and typical spend amount to determine the stage of each subscriber. By understanding their stage, you can engage subscribers effectively:
High potential: Welcome them and provide introductory offers to encourage first-time purchases.
Need nurturing: Nurture their loyalty with personalized recommendations and exclusive rewards.
At-risk customers: Win them back with targeted re-engagement campaigns and special incentives.
Can't lose: Rekindle their interest by reminding them of your value proposition and offering enticing promotions.
See how Omnisend's AI-assisted lifecycle segmentation can help you reduce churn and find more high-value customers.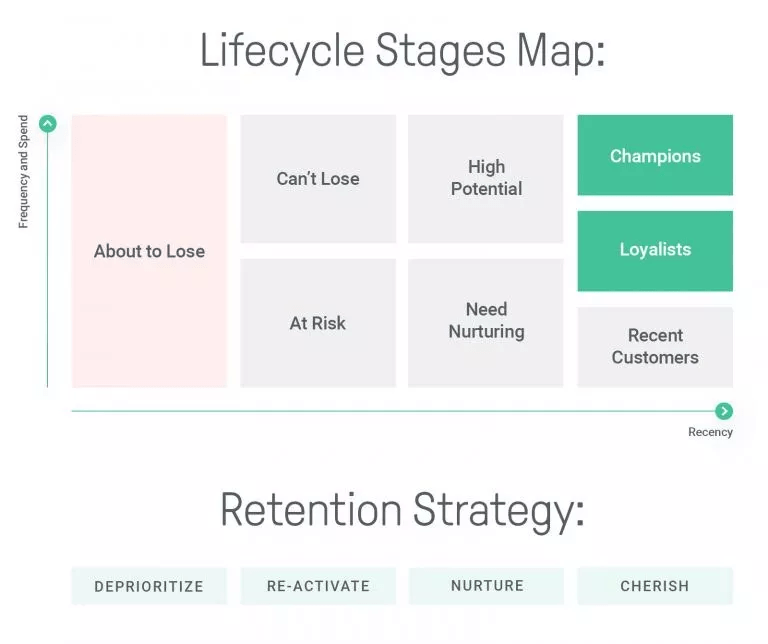 "The lifecycle stage map is an incredible opportunity for a small business. This is the kind of thing that, otherwise, takes a marketing team to be able to do. It's a simple way to see our customers' shopping or purchasing habits in one place, and it's really helped us to be able to target different groups."

Angèl Foster, Co-Owner of Island Olive Oil Company. Read the full interview here.
When Island Olive Oil wanted to step up its ecommerce strategy, it turned to Omnisend. By targeting specific customer lifecycle segments like 'at risk' and 'can't lose' using email automation, they achieved 39% revenue growth.
If you'd love to learn more about the lifecycle stages of email marketing, check out this video:
4. Make every email worth opening
When crafting your emails, ensure that each one offers something valuable to your subscribers. You can add more value to your emails by providing the following:
Personalized product recommendations: You can tailor your suggestions to each individual's preferences. This makes them feel understood and cared for.
Sales on specific product categories: You can highlight discounts and promotions on items that align with their interests.
Discount codes: Surprise your customers with exclusive codes, rewarding their loyalty and making them feel special.
Early access to new arrivals/sales: Help people feel valued by being among the first to explore new products or take advantage of upcoming sales.
Helpful content like masterclasses and how-to guides: Offer insightful content that enriches their experience, empowering them to learn new skills or overcome challenges.
Here's an example of an email that provides value to its customers by urging them to learn new skills:

Omnisend's automated emails make up 33% of Baking Steel's email revenue while accounting for only 2.3% of email sends.
👉 Read the full success story.
5. Write engaging subject lines
An email subject line is the first thing your subscribers see in the inbox. It plays a crucial role in determining whether they'll open it. Here are some diverse examples of engaging subject lines, along with their corresponding open rates:
3D Moon Lamp 😍 50% OFF (7 Days Shipping) — Open rate: 41.58%
LAST CHANCE for Cyber Monday! Make the most out of it! — Open rate: 35.8%
Labor Day Sale and product arrivals — Open rate: 39.8%
Mother's Day GIVEAWAY Winners! — Open rate: 51%
50% OFF or Free Shipping (YOUR CHOICE) ☺️ — Open rate: 22%
These subject lines show why you should craft compelling emails that resonate with your audience. Experiment with different approaches, whether it be creating urgency, offering value, or appealing to their interests. This can help drive higher open rates and increase the effectiveness of your email campaigns.
6. Send your emails at the right time
Sending emails at the right time can significantly impact their effectiveness and engagement. According to Omnisend research, here are the key findings that can help you optimize your email timing:
The best days to send emails: Tuesday tends to have high open rates, while Friday shows higher conversion rates.
The best days of the month to send emails: The beginning of the month, specifically the tenth for open rates, the second for click rates, and the first for conversion rates can yield better results.
The best times to send emails: Consider sending your emails at 8pm, 2pm, or 5pm. These time slots have shown positive engagement.
Here's a comparison of different days of the week and their open rates—but remember that your audience may have its own preferences, so experiment to see what works best:
7. Optimize emails for viewing on mobile
Ensuring that every email you send is optimized for viewing on mobile devices is crucial. More people are accessing emails on their smartphones, and you could exclude a significant portion of your audience.
Omnisend's email templates are all designed to be mobile-friendly. This ensures a seamless viewing experience for your recipients. These templates are free and customizable to match your brand's unique style: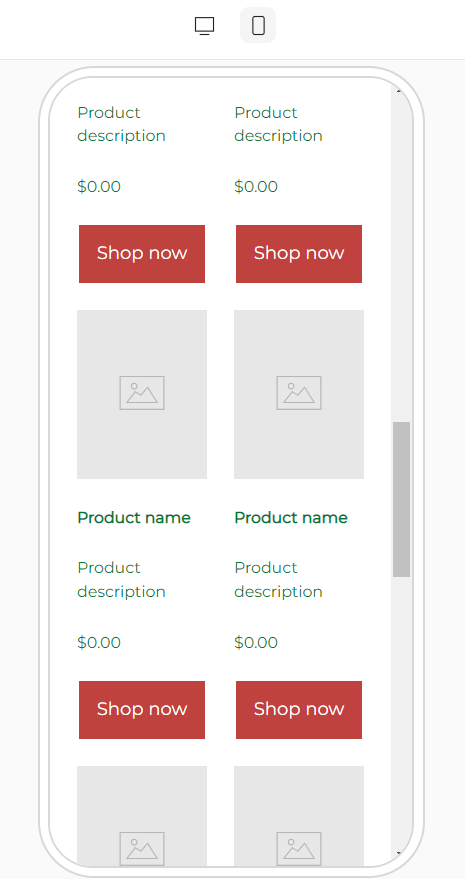 8. Monitor your performance
Tracking the performance of your emails is vital for optimizing your email marketing strategy. Here are key metrics to monitor and their importance:
Open rate: The percentage of recipients who open your emails. This indicates the effectiveness of your subject lines and generates interest.
Conversion rate: This metric measures the percentage of recipients who take the desired action. This reflects the effectiveness of your emails in driving meaningful outcomes.
Bounce rate: The percentage of undelivered emails. It highlights potential list quality or deliverability issues.
Sales tracking: This tracks the revenue generated directly from your email campaigns. It provides insights into their impact on your bottom line.
Customer profile: It includes subscriber data like preferences, behavior, and purchase history. It enables targeted and personalized email campaigns.
As you can see here, Omnisend provides detailed customer profiles that give valuable insights into your audience preferences, behavior, and purchase history: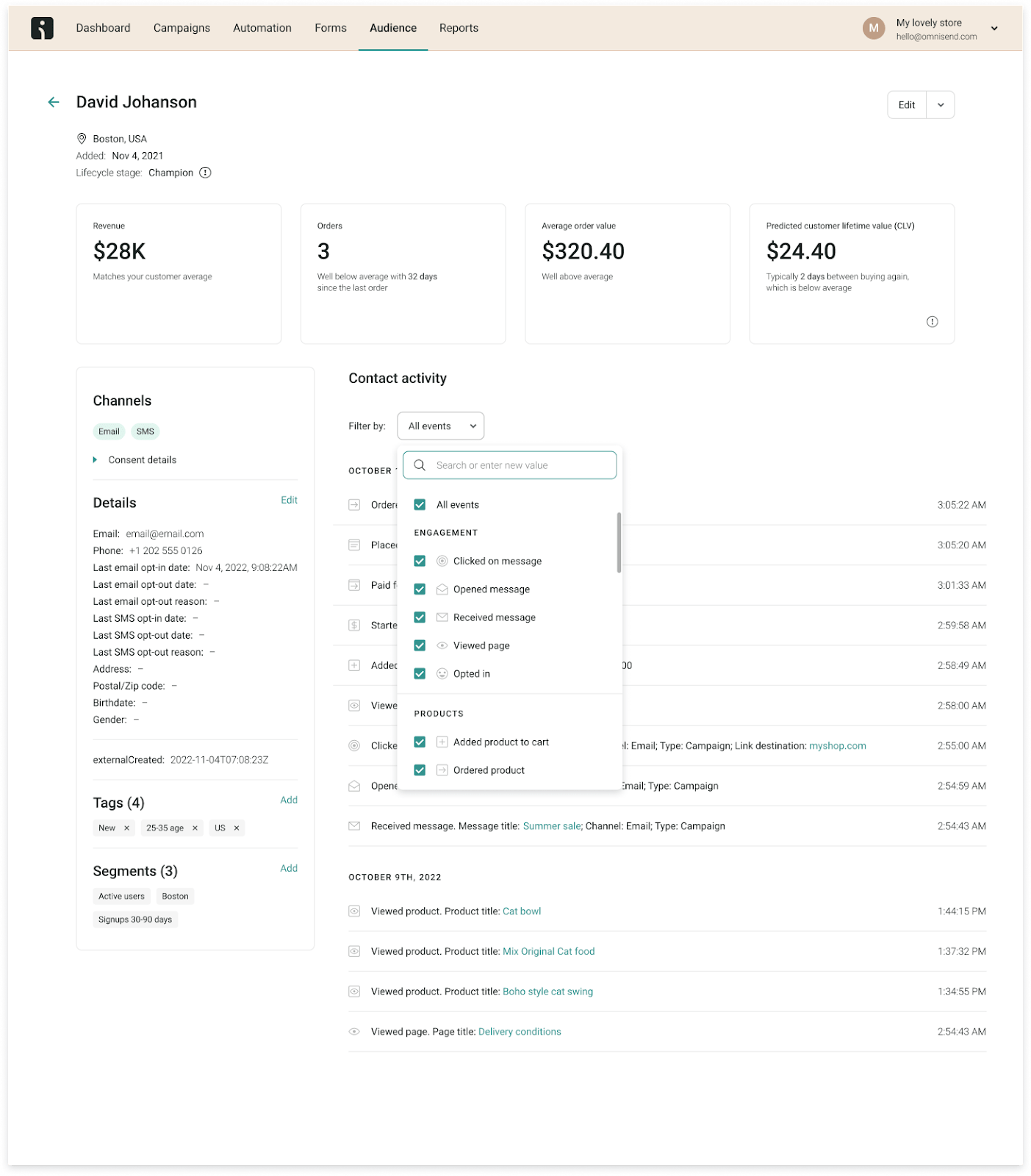 9. Do email list cleaning
Email list cleaning involves the process of removing inactive, invalid, or unengaged email addresses from your subscriber list. It ensures that you are targeting an audience genuinely interested in your emails.
Cleaning your email list helps to maintain a healthy sender reputation, improves email deliverability and increases engagement rates.
A general rule of thumb is to clean your list every three to six months with an email verification tool, such as Omnisend's.
The following image shows example results of Omnisend's list cleaning: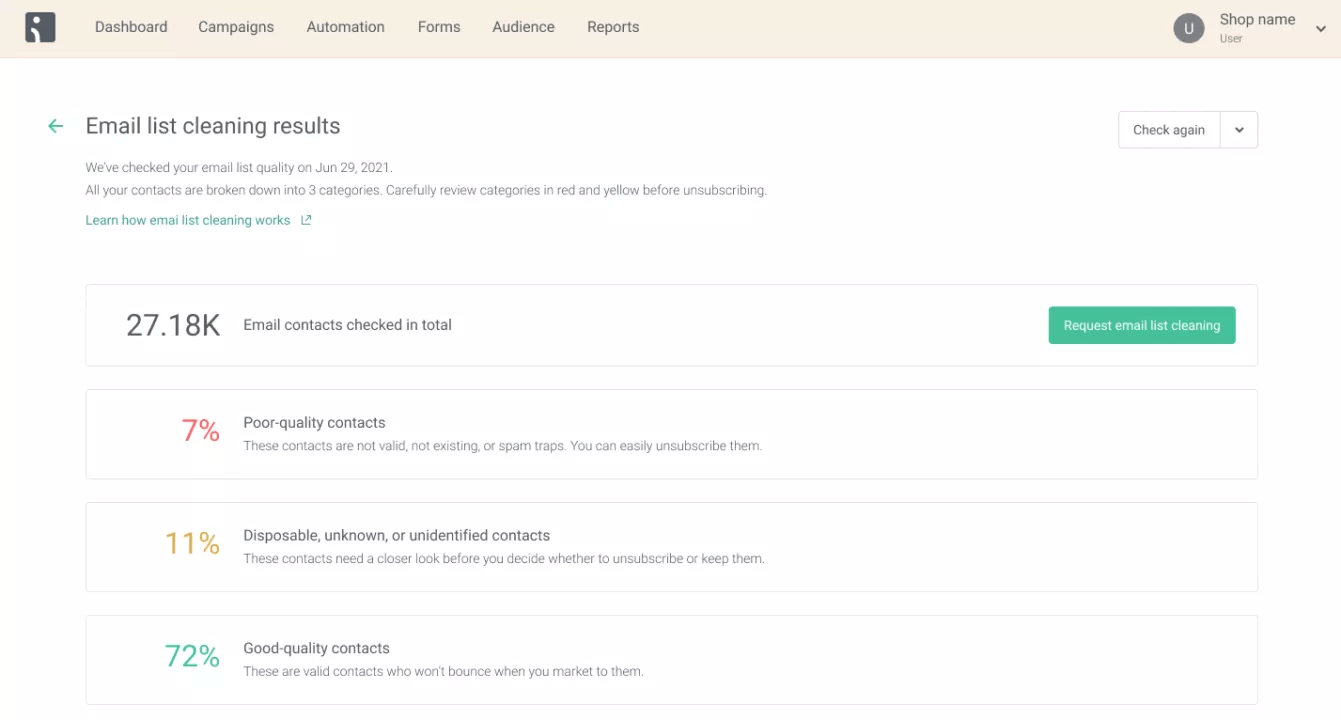 10. Use A/B testing to get better results
A/B testing plays a vital role in optimizing your overall email marketing strategy. Whether it be subject lines, content, CTAs or send times, it can help you understand what resonates best with your audience.
By conducting A/B tests, you can make data-driven decisions. You can also refine your email campaigns for maximum impact.
Take SM Global Shop as an example. They extensively tested their abandoned cart series over a period of six to seven months. Through careful experimentation, they achieved impressive results: a 5% improvement in open rate and an average monthly increase in sales of about $5,000.
"It may not make a huge difference when you're starting out building your list. But once you have hundreds of thousands of customers in your database, even a .2 or .3 percent increase in any of your metrics can drastically have an improvement on your revenue overall."

David Sung, former Digital Marketing Director of SM Global Shop. Read the full success story here.
Final thoughts
Crafting a successful email marketing strategy requires careful planning, thoughtful execution and continuous optimization.
By following the steps outlined in this guide, you can create a strategy that resonates with your audience.
It's important to set clear goals and build a quality email list. You can leverage automation, personalize your content, and track performance metrics.
With the right email marketing strategy in place, you can establish a strong connection with your subscribers.
Try Omnisend's advanced email marketing features to see how it can help your ecommerce business grow
Start Free Today
related features
Want more sales?
Omnisend has everything you need to succeed.
Start free now
No Credit Card needed.