Drive sales on autopilot with ecommerce-focused features
See Features
Reading Time:
17
minutes
Do you want to perfect your email marketing strategy? Great thinking!
With an estimated ROI of $40 for every dollar spent, email is one of the most cost-effective ways to reach and engage your target audience.
But simply having an email list is not enough. You need to have an effective email marketing strategy in place to maximize your return on investment.
The right email marketing strategy will help you to achieve your business goals by helping you streamline each stage of the process.
The best email marketing strategy includes detailed plans that help you:
Identify your target audience
Determine your email marketing goals
Segment your customer base by their interests, behavior, and demographics
Communicate regularly with customers through emails
Optimize the design of your email marketing campaigns to achieve your goals
Share content that is relevant to the recipients of your emails
Track your email marketing campaign performance and fine-tune your email marketing strategy
If you're not sure where to start, don't worry–this article will give you everything you need to create a successful email marketing strategy for your business.
Supercharge your marketing campaigns with Omnisend's robust email marketing features.
Start Free Today
1. Choose the right email marketing platform
Think carefully about the particular requirements of your business. Choose the email marketing platform that has the tools that you need.
Look for features like pre-built automated workflows, advanced segmentation, and reporting. It's all the better if it features tools for omnichannel functionality, intuitive, drag-and-drop email builders, and a well-stocked library of templates to choose from.
Luckily, Omnisend offers all of these—and much more.
2. Set the goal for your email marketing activities
The first step for creating an effective email marketing campaign strategy is to set clear goals for your email marketing campaigns.
Think about what you want to achieve with your email marketing campaign:
Do you want more leads or drive traffic to your website?
Do you want to target customers who have bought from you before?
Are you trying to build awareness of your brand?
Do you want to increase sales of a specific product?
Every email you send should have a single key goal. That goal should have a clear call-to-action button.
There are many pitfalls merchants fall into when they ignore the importance of crafting a solid email marketing strategy. For example, emails that are long, contain a lot of different blocks, and ask readers to click on many different buttons. These perform far less successfully than those that have one bold CTA button and one goal.
Users prefer an easy, clear read that gets to the point quickly—one that tells them exactly what their next step should be.
Here's an email marketing example that focuses on just one CTA that is specific and easy to understand.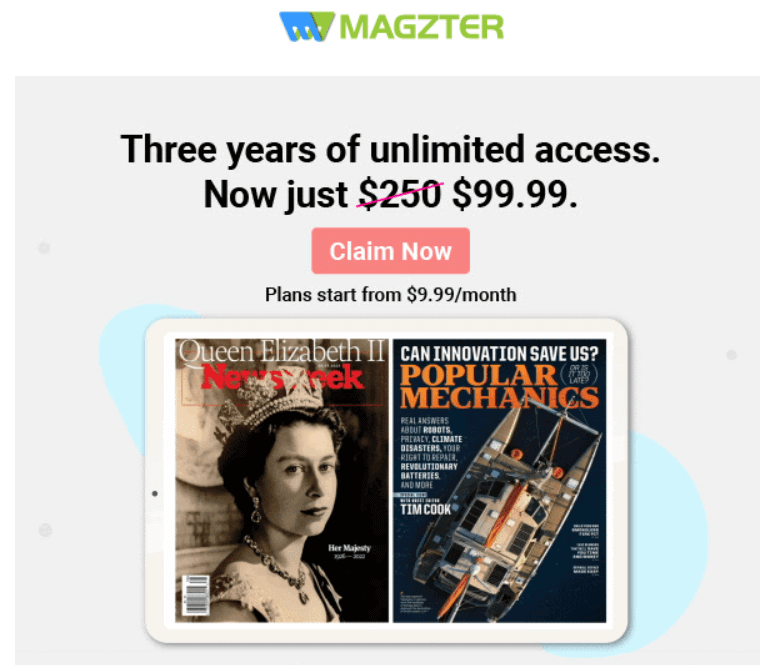 Ask yourself what you want to achieve with your emails and create an email campaign timeline based on your priorities. This way, you keep things focused and logical—with one email marketing campaign goal leading smoothly into another.
Let's take a look at a few examples to clarify:
For direct sales
Make use of elements that customers will always find alluring—discount codes and attractive offers. To truly elevate a promotional email, make use of prominent coupon codes.
By highlighting the time-sensitive nature of a sale, you can conjure a sense of urgency. Combine this with an attractive offer, and you'll likely see much more engagement than usual.
Your brand or store may often send out promotional discounts. For example, enticing subscribers with a discount for signing up. That, or frequent small discounts with each promotional email marketing strategy.
However, to see great results with an email marketing strategy, consider a more impactful discount code. Let's say you often provide 10% discount codes—consider higher ones, like 25% off everything, or BOGOF offers.
This is an email marketing example from Funfit that leverages promotional discounts in its email marketing strategy.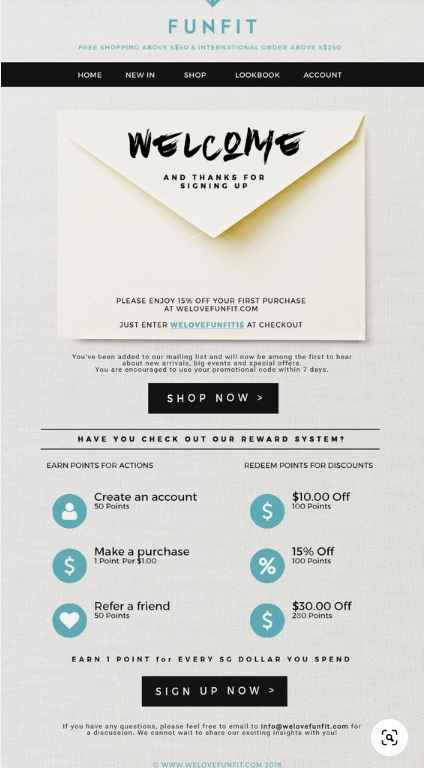 To increase brand awareness
Craft your email marketing strategy to ensure your emails have more storytelling elements. This can generate interest to follow you over time.
A prime example of making the most of this is offering your referral program in these emails. Pair this with CTA buttons that invite users to follow you on social media.
This is a type of email marketing strategy that clearly prioritizes brand awareness. It doesn't appear pushy as it rarely features products or prompts to purchase. Instead, with the intention to increase brand awareness, it offers your list the opportunity to engage with your brand—and nothing more.
Here's an email marketing example from Patagonia, an outdoor lifestyle brand, that aims to increase brand awareness. Instead of a hard sell, the email marketing strategy is to focus on creating brand affinity by welcoming readers to the Patagonia family.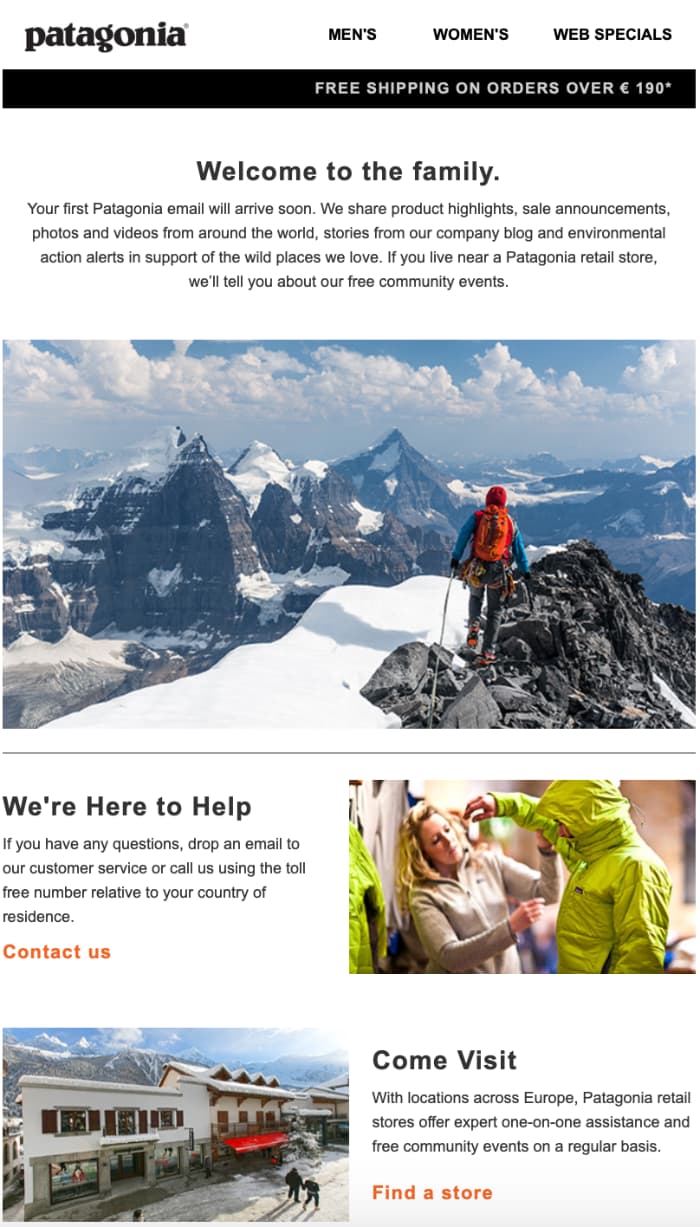 You can also craft your email marketing strategy to create awareness by giving your readers a behind-the-scenes (BTS) view.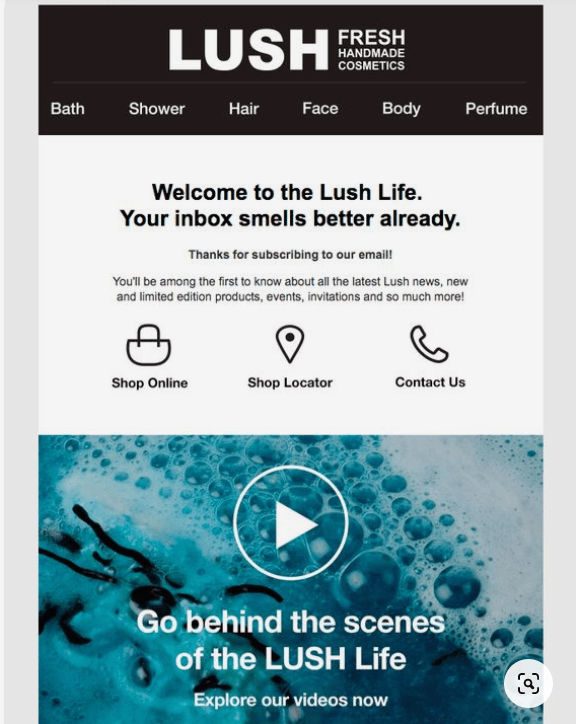 For customer retention
If you have 'at risk' customers that you're afraid of losing, make sure your email marketing strategy incorporates automated re-activation emails.
Offering them tempting incentives provides them with the perfect opportunity to return as customers and complete a purchase. This firmly puts them back into the 'recent customers' category of the customer lifecycle.
If you're unclear as to whether a customer is at risk, put some time into considering the lifecycle stages. Not only is this a useful and actionable retention feature, it also helps you focus email marketing strategies on your best customers.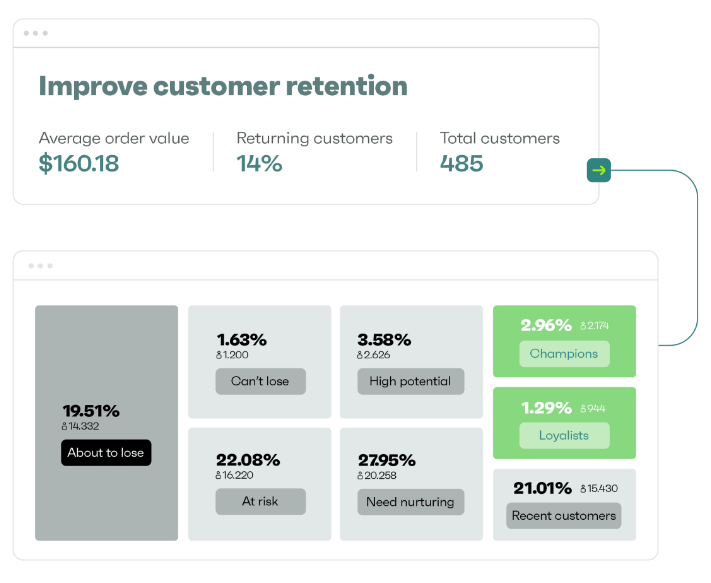 With the lifecycle stages map, you can prioritize your marketing efforts toward those who need it most. Along with the advantages it brings to focus on your best customers, it makes your business more efficient and profitable.
3. Build a healthy contact list
One of the most important aspects of a successful email marketing strategy is having a high-quality email contact list.
A well-built email list ensures that your marketing messages will be delivered to the right people, and it also allows you to track the effectiveness of your campaigns.
Above all else, your list should always be built organically. This is achieved using signup forms, landing pages, or other online or offline methods.
There are a few different ways to build an email contact list, and the best method depends on your business goals.
Remember, you should never buy an email list. Even if you want to launch your email strategy sooner, these bought lists often do more harm than good.
Getting subscribers this way is illegal in most European countries. After all, buying email contacts results in many negative side effects.
A healthy contact list of potential customers hopefully translates to a list of engaged subscribers—contacts aware of your brand that are interested in what you have to say.
The first step in building a contact list for email marketing is to identify and define your target customers. It's essential to know who you are targeting and why, in order to build a successful campaign.
To help your list grow faster, you can use interactive signup forms, small discounts, or free shipping. These attractive incentives aim to increase conversions, increase click-through rates, and naturally incentivize new signups.
You can also:
Collect emails from social media channels like LinkedIn
Find emails from websites using email extracting tools
Use gated content on your website and ask users to sign up to access to high quality content
Offer lead magnets that require website visitors to provide their email address.
Here are some lead magnets you can leverage to build your email contact list:
Whitepaper
Ebook
Infographic
Course
Checklist
Webinar
Case study
Tool
Looking a few steps forward, you can also ask your new subscribers for additional information added to their email addresses. Consider asking for things like their phone number, gender, date of birth, preferred product categories, and more.
This valuable customer information helps you better understand your customer preferences. It also opens up the possibility of implementing other marketing channels that complement your email marketing strategy, such as SMS marketing.
However, make sure you balance your requests for additional information by how willing your customers are to provide it—asking for too much can turn customers off from signing up altogether.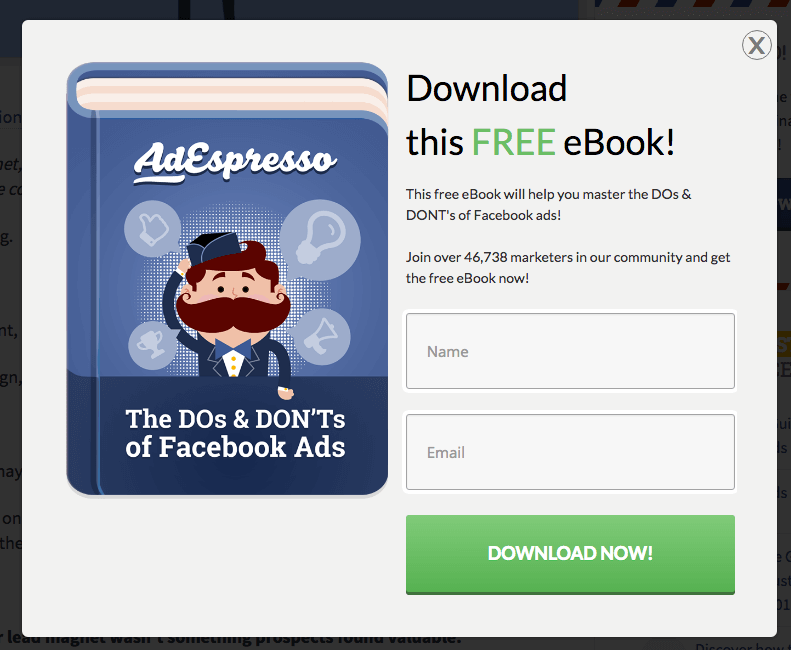 4. Plan email time and frequency
The most effective email campaign timeline is one that uses automated emails triggered by customer behavior. However, this isn't suitable for every scenario. Occasional emails or company newsletters are the ones that aren't automated, but are sent when they are needed.
Omnisend research reveals that it's most effective to send your campaigns during the first 10 days of the month. The beginning of the month brings the best results in both email engagement as well as conversion rates.
Keep this in mind when creating your email marketing timeline and email marketing strategy template.
For apparel, small electronics, and books retailers, the best hours to email subscribers have remained static for several years in a row now. These are 8 am, 1 pm, and 4 pm which, simply put, are the times people often have breaks before or after work hours.
These insights don't need to be industry-sensitive. Consider this kind of behavior for your store or brand and whether it can apply to you.
Speaking of the frequency of email campaigns, you should be consistent and keep the same pace throughout. Your email marketing timeline should ensure you send emails on an expected routine, rather than popping out of the blue.
How often you should send your email campaigns depends on your customer lifecycle. For example, retailers selling apparel have been known to send emails every day. Their customers make repeat purchases often.
Even if they don't, they enjoy browsing and window shopping for new releases. However, this varies from industry to industry. For household goods or electronic devices, that frequency is way too often.
First of all, it would be difficult to consistently prepare great content for so many emails. Secondly, people rarely read about electronic devices if they aren't going to acquire one.
Before defining your email cadence, think about your product range and carefully identify your goals.
If it's more engagement that you're looking for, then go for more frequent and regular emails based on relevant and attractive content. To keep it sales-focused, consider sending emails only when you have great offers or new releases that you know will resonate with your audience.
5. Plan what type of campaigns and automation you will use
There are many different types of email campaigns that you can use to strengthen your email marketing strategy and get your message across. Here are some types of email campaigns that you can use:
Welcome email campaign: This is a great way to introduce your company as well as the products and services you offer.
Thank-you email campaign: Send this to new customers when they make their first purchase or sign up for your newsletter. Including thank-you emails as part of your email marketing strategy will also give you an opportunity to ask them if they would like follow-up emails from you in the future.
Product announcement campaign: Announce any new product or service offerings by sending out an email with all the important details about it, including how people can sign up or make a purchase.
Cart abandonment campaign: This email campaign is usually triggered when a customer abandons their cart before completing the purchase. The goal of this type of email campaign is to get customers back on your site and convince them to purchase.
Birthday email automation: Sending birthday wishes through emails is a great email marketing strategy that allows business to show customers that they are valued.
Seasonal campaign: Your email marketing strategy can include seasonal email campaigns to keep in touch with your customers during the holiday season or any other time of year. It will help you create excitement and anticipation for upcoming events by reminding them of what they can expect from your company in the future.
Post purchase: You can include targeted post-purchase campaigns in your email marketing strategy that can include a thank you note, an offer, or content related to the product purchased.
Newsletter campaign: Create a newsletter by sending out one email a week or month, with the latest and most important information about your company.
Cross-selling campaign: Your email marketing strategy can include email campaigns to promote related products or services.
Referral program campaign: Ask your current customers if they know anyone who might be interested in what you have to offer, and offer them a reward for referring someone new.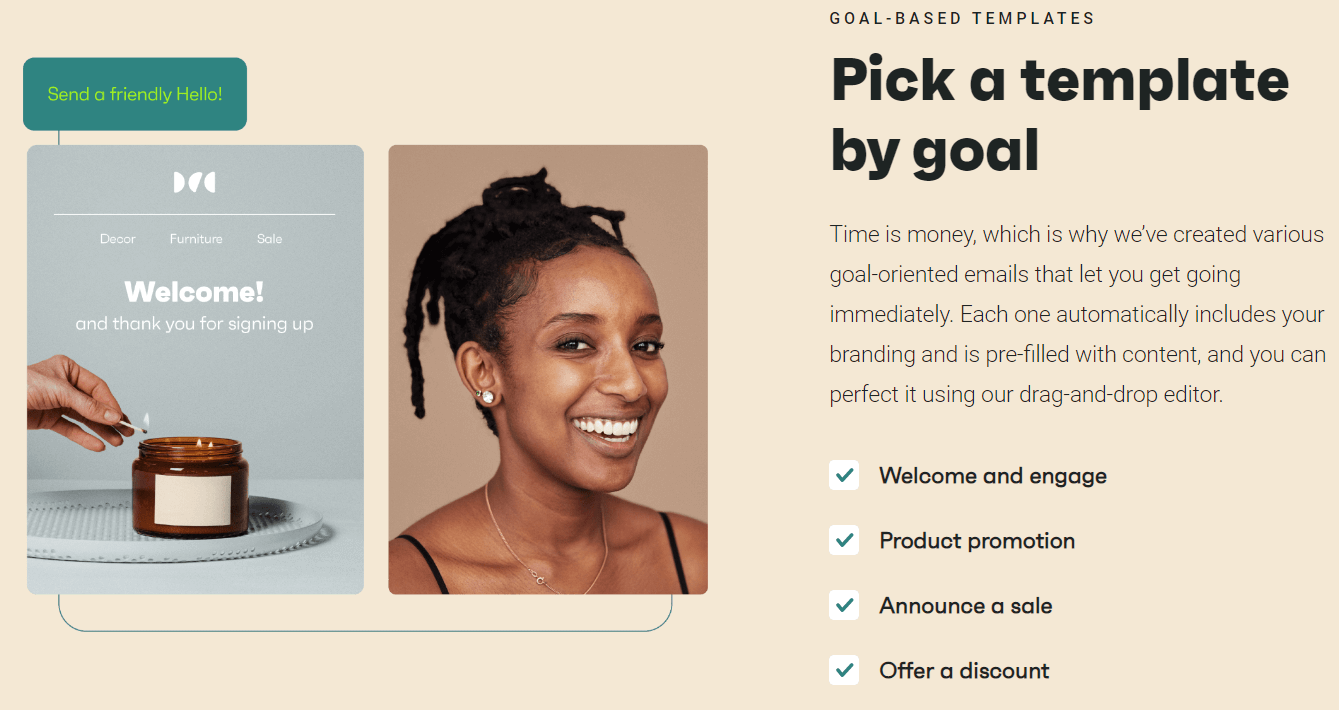 Omnisend's library of templates and campaign targeting features make it easy for you to create impactful emails.
Start Free Today
6. Start segmenting and targeting your audience
Segmenting your email marketing audience is a crucial step to take in order to personalize your messages and improve the effectiveness of your email marketing strategy.
Segmentation
Segmenting your audience allows you to craft relevant messages that are vital for the success of your email marketing strategy.
You can segment your subscribers based on the criteria most relevant to your business. For example, a contact's:
Location
Gender
Age
Shopping history
Their scale of engagement
Their stage in the customer lifecycle
And more…
It's worth remembering that this depends largely on the data you have about your contacts. With this in mind, gathering more information on your contacts is potentially incredibly useful.
After all, the more information you have, the more possibilities you have for accurate segmentation that allows you to optimize your email marketing strategy.
Usually, retailers start to segment their audience when reaching a significant number of subscribers. This is usually around 1,000 subscribers. Otherwise, your time spent on designing email campaigns for different segments won't really justify the results.
Personalization
There are a few different ways you can personalize your emails.
First of all, you can add the subscriber's name at the beginning of the email. For example, "Hi [name]", but remember to make sure you have a back-up. If, for whatever reason, you don't have a contact's first name, an odd and off-putting "Hi ," will appear.
This easy and rather 'impersonal' kind of personalization can give your email marketing results a slight boost. However, many consider it an overrated option.
Sometimes, it looks odd seeing your name on the top of a generic-looking email. The receiver often knows that the email is an automatic one, with just a minimal effort put in to make it seem personal.
Instead, your email marketing strategy should focus on personalizing messages based on previous purchases or behavior. For this, you will need to implement advanced segmentation. This will break your audience down into smaller, more specific categories and target them with timely marketing automation.
Personalization is difficult to implement if you don't have enough customer data. This is another reason why your email marketing strategy should pay close attention to your ecommerce analytics reports. Consider adding extra fields into your signup forms when collecting email addresses.
A/B testing
Use A/B Testing to find the perfect results for your subscribers.
You should constantly strive to A/B test your emails. Test your subject lines, sending address, the sender's email address, and so on.
These insights can help you figure out what kind of content works best for your audience.
Here are a few ideas about what you can test:
Test your subject lines with a discount mentioned and without
Test different discount denominators, such as % or $, to know which one works better for your business
Test the subject lines with and without emojis
Test if personalization including the subscriber's name works for you
Test different versions of subject lines, ones indicating the limited time offer and ones without it
Email content is difficult to nail for any email marketing campaign plan. However, this part has very clear KPIs that you can use to measure and evaluate your work.
Your click rates and unsubscribe rates are a good indication of whether your content is relevant to recipients. Your email conversion rate though can reflect many factors. For example, the timing of when you sent the campaign, the effectiveness of your copywriting, and the type of deal offered in the email.
In terms of content, much of it comes down to your own creativity. Just make sure that your emails are consistent, you tell your unique brand story, and create real value for the subscriber.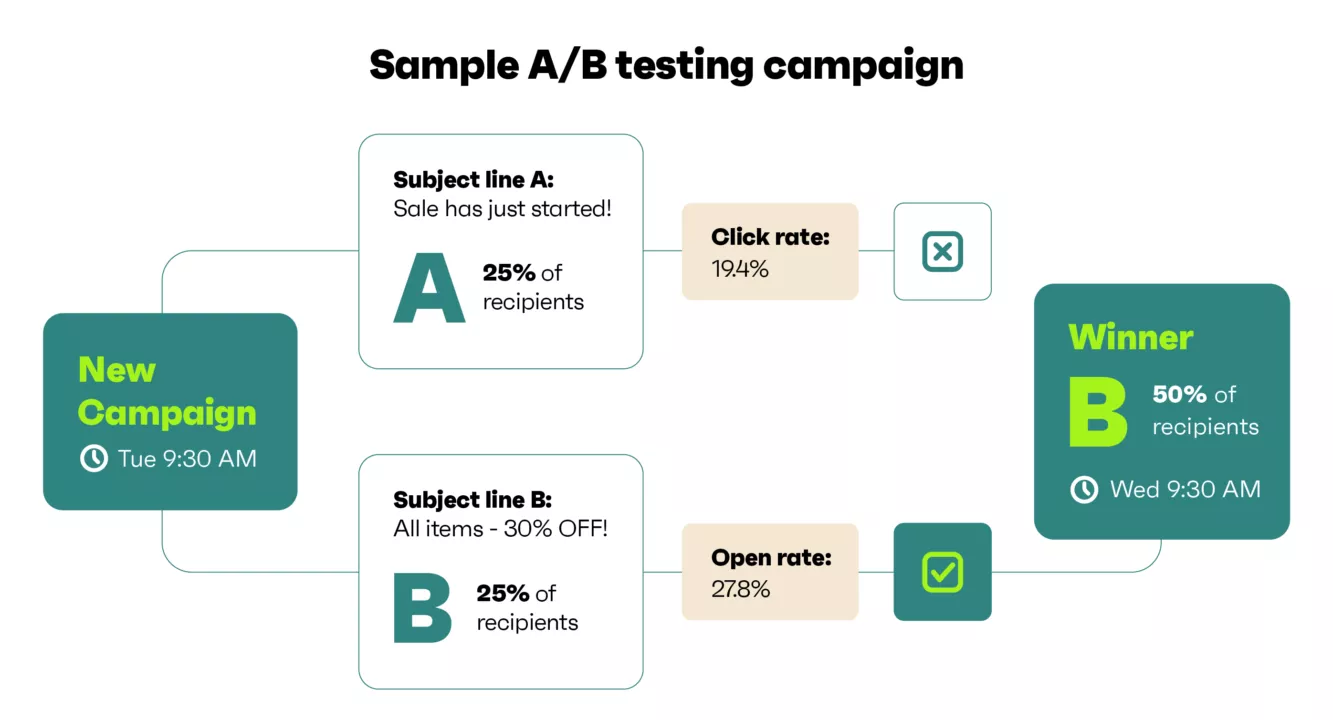 7. Format email newsletter content and design
There is no "one size fits all" rule when it comes to hard-to-define, subjective things like aesthetics. That's why these common recommendations offer effective email design, rather than something that is "objectively beautiful."
Stay professional and consistently use company logos.
Establish your brand colors early, or stick with a neutral white. Remember that your emails are a part of your brand's bigger picture.
Here's an example of an email marketing strategy from Adobe where the email design is in sync with its brand colors.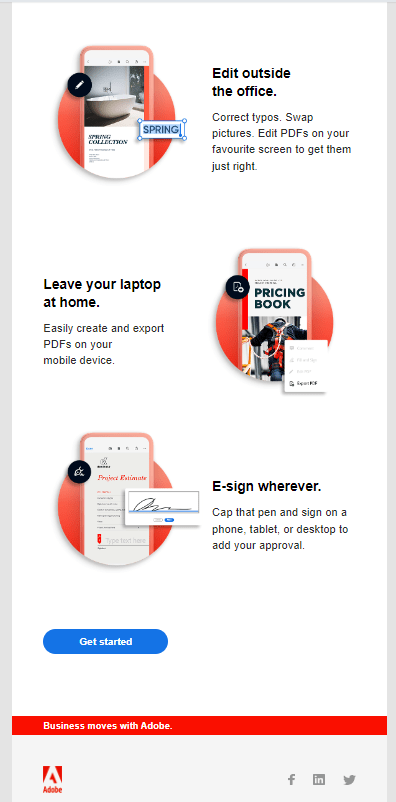 Avoid mixing many different blocks of content. Keep your focus on one, two, or three things and clearly define sections by using spacing and lines. Emails with a clear focus perform better than the ones that contain multiple topics.
Avoid mixing a lot of different fonts and colors.
Use only high-quality images for your newsletters. If you use the product listing, the size and style of images should be the same.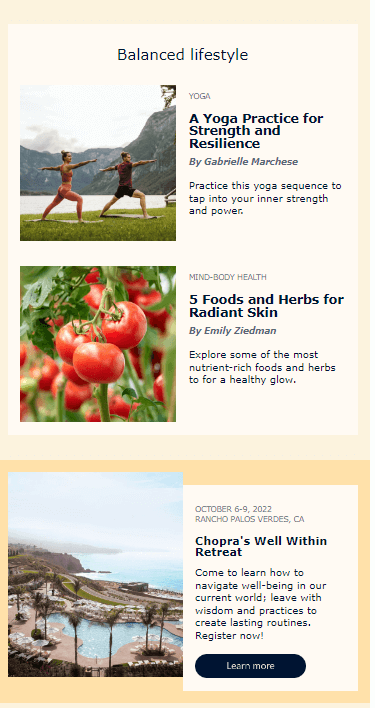 If you lack great photos, use nice typography in their place.
Don't place your email elements too close to each other. Give them some room and avoid a feeling of clutter.
Make sure your CTA buttons are bold and colorful. Buttons perform better than a hyperlink on the words.
Your email marketing platform should provide a drag-and-drop email builder for the easy creation of hyper-relevant campaign emails. With this, you can seamlessly add things like personalized recommendations, coupon codes, and more.
8. Use catchy subject lines and CTAs
A catchy subject line and call to action can make all the difference to make your email marketing campaign a success. They not only help you stand out from the crowd but also help you get more clicks, opens, and conversions.
How to optimize subject lines
Here are some tips for writing compelling email subject lines that will help you ace your email marketing strategy:
1. Keep it short and to the point
Our research on 100,000 abandoned cart emails shows the top-performing emails have subject lines that are short and to the point.

So, how many words or characters should the subject line have?
Desktops display 60 characters while mobile devices show about 30.
An Omnisend analysis of 229 million Black Friday emails showed that subject lines of This study shows subject lines with up to 7 words have the highest open rates.
Here are a few more examples of short and concise subject lines:
10% Storewide – December 1-12
Enjoy 25% off + Free shipping ✈️
Get ready for Christmas with [brand]
10 Steps to Accelerate Business Growth
Tax Tips Webinar @4pm on Monday
2. Personalize it
Personalize your subject line so that it speaks to the specific recipient. Include their name, company, or other information that will make them feel that the email is specifically designed for them.
Here are a few examples of personalized email subject lines:
Name, are you all set for our welcome wagon?
[Name], did our case study help?
Another great resource for you, [Name]!
"You won't believe this [Name]"
3. Use numbers or percentages
Adding percentages and numbers can help boost open rates by 53.2% according to a Yesware study. Here are some examples:
Grammarly: The countdown has begun—save 45% off!
Time: "Autumn Sale: Save 70% on Digital Access."
Digital Marketer: "28,507 Subscribers In 45 Days."
Eat This Not That: "9 Disgusting Facts about Thanksgiving"
4. Ask a question
Questions spark curiosity and, according to the previously-cited Yesware study, increase open rates.
The study found that subject lines that have questions like " are you ready?" and " "Why [brand]? And why now?" generated 85% open rates.
Some more examples of question-type as subject lines are:
Flixbus: Do you prefer to sit at the window or the aisle?
DocuSign: "What are your customers saying?
Magzter: "Are you ready to save BIG?"
5. Clearly highlight the benefits
Tell your audience what they'll get if they open and read your email. Here are some examples:
Adobe: "Join us at virtual MAX - register for free."
Just Add Ice Orchids: "Get Your August Watering Calendar!"
Luxury Escapes: "Spain & Morocco Small-Group Tour w. Madrid, Casablanca & Marrakech Visits."
Dreamstime: "How to Create Podcast Cover Art That Gets Listeners."
6. Use humor or sarcasm if appropriate
Using humor helps your email subject lines stand out in an inbox and get more opens.
Here are some examples:
Manicube: "*Don't Open This Email*"
Refinery29: "10 bizarre money habits making Millennials richer"
Thrillist: "What They Eat In Prison"
The Hustle: "A faster donkey"
7. Create a sense of urgency or scarcity
The 'Fear of Missing Out (FOMO)" will make the person reading feel like they need to act on it right away. Chekc out these examples:
Time: 🕛Today Only: 80% off 1 Year Digital Access
Plum Goodness: Clock's ticking ⏲
Uber: Up to €10 off won't be here long
Warby Parker: "Uh-oh, your prescription is expiring"
How to optimize CTAs
There is no one-size-fits-all approach to email CTAs. In addition to setting clear email marketing goals, you need to understand your audience and what they want from you to create a powerful CTA.
The first thing you need to do is figure out what you want your CTAs to accomplish. What do you want the reader to do? Identify the goal.
For example, if you want them to sign up for a free trial then your CTA should say "sign up for a free trial" or "get started now".
If you just want them to read more content then make the CTA something like "read more" or "continue reading".
If you are looking to acquire leads with a free e-book or guide, you can use a clear CTA like this one from ComputerWeekly.

It's also important not to overwhelm readers with too many CTAs. Omnisend's research shows that emails that use 2 to 3 CTAs have the highest click-through rates (CTR).
And, this is exactly what Time has done in this email marketing campaign:

The most effective CTAs use action words such as 'shop now,' 'order now,' or 'Act now'. But, this direct approach can stress out your readers. Some brands avoid this by using more approachable words that offer readers something in return.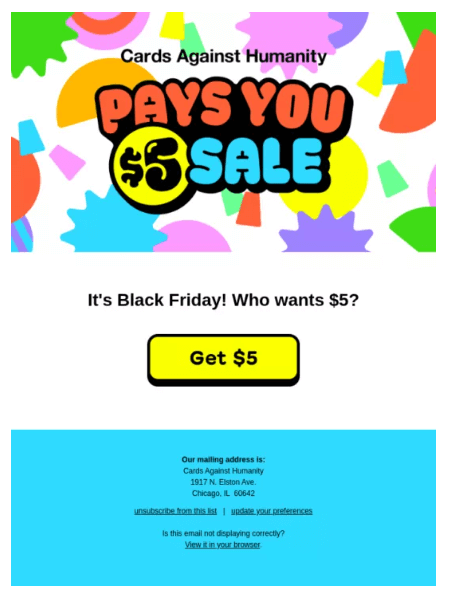 And don't forget to use contrasting colors in your CTA buttons.
Ensure the CTA button's color does not clash with the text and background colors. You'll need to attract attention to the CTA button while achieving a cohesive email design.
9. Start upselling & cross-selling
Upselling and cross-selling can be great way to boost your sales and revenue, but only if it is done correctly. To get the best results from your email marketing campaign:
Target the right customers: You should only target customers who have already purchased from you, or who are likely to purchase from you in the future.
Use segmentation: Segmentation allows you to send different emails to different groups of people, based on their interests and needs.
For example, if you sell products for different types of businesses, you could segment your list into different groups, such as small businesses, medium businesses, and large businesses. This way, you can send each segment different emails that are relevant to them.
Personalize your emails: You can also use other information that you have about the person, such as their location, purchase history, and name.
Here's how a fashion brand crafted their email marketing strategy to upsell and cross-sell: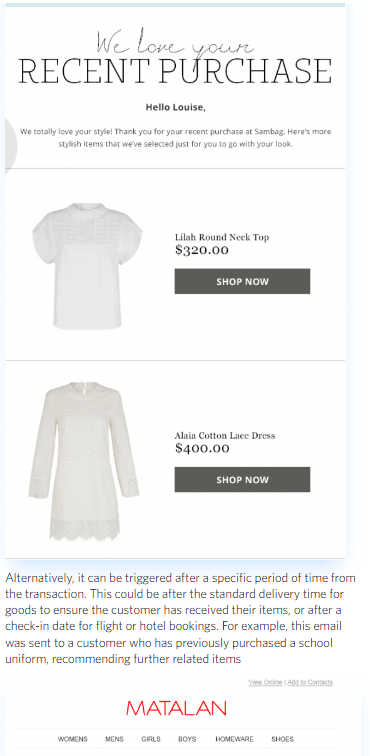 Send relevant emails: Ensure you are sending emails that are relevant and useful to your customers.
For example, if you sell products for dogs, your email marketing strategy should focus on emails about new dog products, tips for taking care of their dogs, or special offers on dog products. And you should send these emails to people who have dogs or else it won't be of any use to them.
Send timely emails: Another important email marketing strategy is to send emails when your customers are most likely to be interested in what you have to offer.
For example, if you sell a product that is only available during the holiday season, you would want to send your customers an email about it a few weeks in advance.
Your emails can also be triggered by a specific action such as completing a free trial or checking into a hotel or booking a flight.

Grammarly has perfected its email marketing strategy to target users on a free trial with such emails: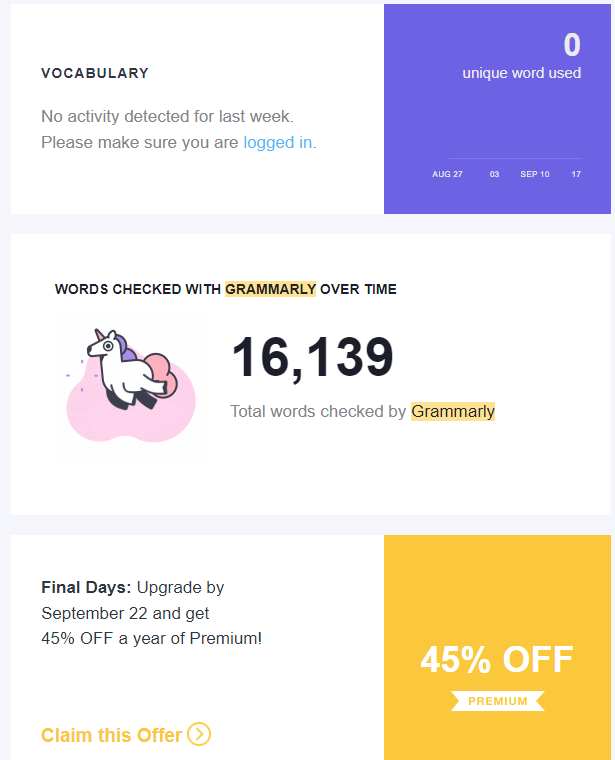 10. Optimize for mobile users
More users are opening promotional emails on mobile with every passing year. With this in mind, you're missing serious sales opportunities if you're not providing a seamless experience.
To optimize your email for mobile users, you need to take a few things into account when drafting your email marketing strategy:
Develop responsive templates that are compatible with all devices
Use short subject lines
Divide the content into short paragraphs
Make sure that you include a clear call to action in every email
Optimize images to improve loading speed
Make sure that your email marketing platform provides responsive email capabilities. These automatically adapt your emails to comfortably appear on any mobile device.
11. Use campaign boosters
Campaign Boosters automatically resend your unopened email campaigns. This way, you can easily reach those who missed out the first time around.
It works by identifying the subscribers who didn't open your original email and resending it 48 hours later with a new subject line. This is an easy way to increase your engagement and sales without having to recreate a whole new email.
However, it's worth noting that your email marketing strategy may need to include new techniques and creative thinking in this post-iOS 15 world.
12. Closely monitor and analyze your campaign performance
You can't improve your email marketing strategy if you don't measure the performance of your email campaigns. Make use of advanced reporting tools to keep an eye on your performance.
You'll be able to track key metrics such as campaign ROI, click-through rates, and conversion rates—as well as compare the performance of your various channels.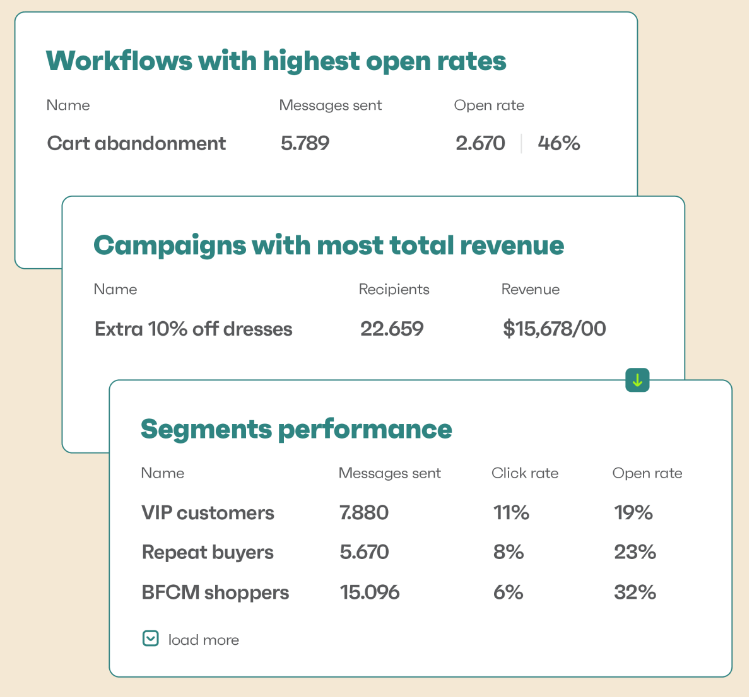 Advanced reports help you to identify trends and patterns in your customers' shopping behavior. All while allowing you to make data-driven decisions with confidence.
There are other metrics you should analyze in order to get a comprehensive understanding of your email marketing campaign performance. These include things like email bounce rate, unsubscribe rate, and more.
By analyzing your campaign data, you can identify strengths and weaknesses, and make necessary changes to improve your performance.
Final thoughts
As you know now, email marketing can be a great way to generate leads, boost sales conversions, and engage your customers.
However, it's important to create a robust email marketing strategy that helps you achieve your goals and get the best possible return on investment.
The best way to streamline your email marketing strategy is to use a tool like Omnisend that has all of the features you need to succeed. This includes email templates, email automation, popups, forms, and much more.
Get started for free today and see the benefits for yourself.
Get started with Omnisend today & drive sales on autopilot with pre-built automation workflows
Start Free Today
Get started with Omnisend today and create a profitable email marketing strategy in less time.[/cta2
related features
Want more sales?
Omnisend has everything you need to succeed.
Start free now
No Credit Card needed.