Drive sales on autopilot with ecommerce-focused features
See Features
Reading Time:
8
minutes
Companies were once reluctant to take strong positions on social issues, but contemporary consumer preferences have totally changed the calculus when it comes to supporting causes as part of your ecommerce marketing.
An incredible 86% of consumers expect CEOs to make public statements about the problems and questions facing our society.
Cause marketing, or cause-based marketing, is a powerful tool that allows modern businesses to support meaningful causes while leveraging their philanthropy to improve public relations. In this article, we'll take a look at some prominent examples of cause marketing and how this strategy can help you improve your brand image while increasing sales and advancing causes you truly believe in.
What is cause marketing?
In general, cause marketing involves socially responsible business practices as well as various kinds of marketing campaigns that focus on social issues that may affect your customers or those they care about. These social issues can focus on charity, giving to those less fortunate, injustices, needed improvements, or marking a difference in their communities. More specifically, it refers to marketing strategies that connect a charitable cause to a benefit for the business, typically in the form of a marketing and/or public relations campaign.
It's important to note that cause-based marketing requires both support for a social issue and a marketing element that seeks to capitalize on that support. For example, if you use sustainable business practices but don't convey that information to customers your social responsibility doesn't necessarily involve any cause-related marketing.
Why is cause marketing important?
Cause marketing is crucial in 2021 for businesses that want to stay relevant and build a better reputation. In fact, customers cite social responsibility and environmental consciousness more often than price when it comes to their purchasing decisions.
The reality is that modern consumers view their purchases as an extension of their beliefs and values. In fact, 73% of global consumers say they'd likely change their buying habits to reduce their carbon footprint. It's expected that by this year, American consumers will spend $150 billion on sustainable products.
It's therefore no surprise that more and more businesses are leveraging cause marketing in order to boost their public relations. Customers want to believe that their purchases are making a difference and cause marketing gives you the opportunity to demonstrate your commitment to shared values.
On the other hand, these types of campaigns can sometimes backfire. This can happen when they are carried out by brands that don't have the requisite level of audience trust or fail to meaningfully engage with the cause they claim to support. For example, Pepsi was forced to pull an incredibly expensive ad that was widely perceived as them trying to cash in on social justice.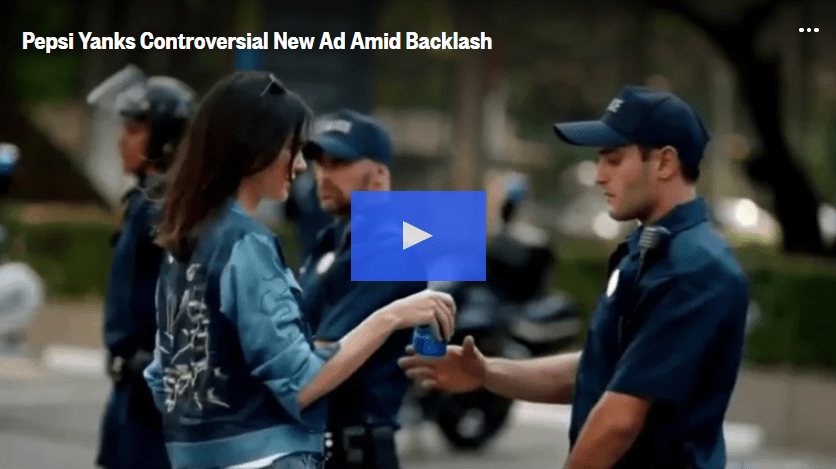 For consumers, the ad felt tone-deaf and the message that "Pepsi could make it all better" contrasted against the sense of urgency and alarm that many communities were facing.
Of course, every cause marketing campaign needs to avoid that perception in order to improve their brand image. The challenge is finding ways to increase your bottom line through cause marketing without creating content that comes off as cynical or tone-deaf to people who are genuinely invested in the cause you're trying to support.
How do you tell customers about the causes your brand supports? One great example is by telling your brand story, including the causes you support in your welcome series. JIGGY Puzzles, a jigsaw puzzle DTC brand selling frame-able puzzles with designs created by up-and-coming female artists, tells their brand story in a three-part welcome series.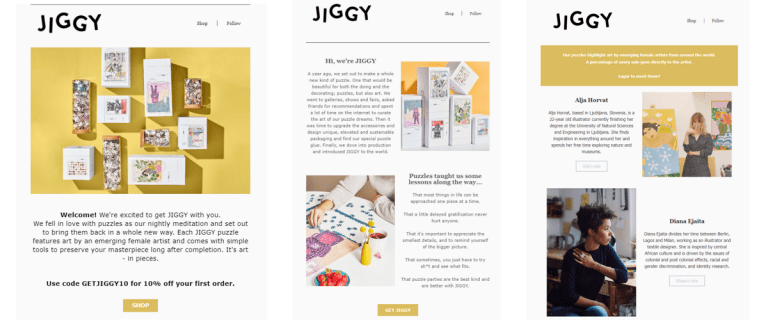 This welcome series (which earns 64% of their total email-generated revenue) aims to introduce the artists they work with to their customers. This works wonders as it simultaneously promotes their own products as well as the work these artists are doing. According to the Ecommerce Statistics Report 2020, an automated welcome series already has the highest conversion rate of any other automation workflow, which can be amplified by the brand-story and cause marketing you include.
How to create a cause-based marketing strategy
There's nothing wrong with making a profit while supporting a charitable cause, but it's easy to fall into the same trap that caused trouble for Pepsi and many other businesses. Their campaign primarily failed due to the perception among audiences that they only created the ad to take advantage of social issues for their own branding.
Unsuccessful cause marketing examples often provide important information for other brands—and this case is no exception. Any company that wants to build its credibility through a cause marketing campaign has to genuinely be credible. It isn't enough to simply use language or symbols that people associate with charitability—your audience expects you to show a deeper level of commitment.
This becomes even more relevant if the issue is important to your audience or it involves a level of controversy that might be complicated for a brand to step into. The Pepsi ad is a perfect example of a company trivializing the very social issue that they're claiming to support.
With that in mind, you should always be very attentive to the substance of your campaign and how it will be perceived by people who are personally invested in the cause your brand is promoting. Overall, the cause that you're promoting should make sense for your brand. You should show what concrete things your brand is trying to do in order to raise awareness or fix the problem.
Love Cocoa is a chocolate and confection brand that focuses on providing sustainable chocolate—and is a great example of genuine cause marketing.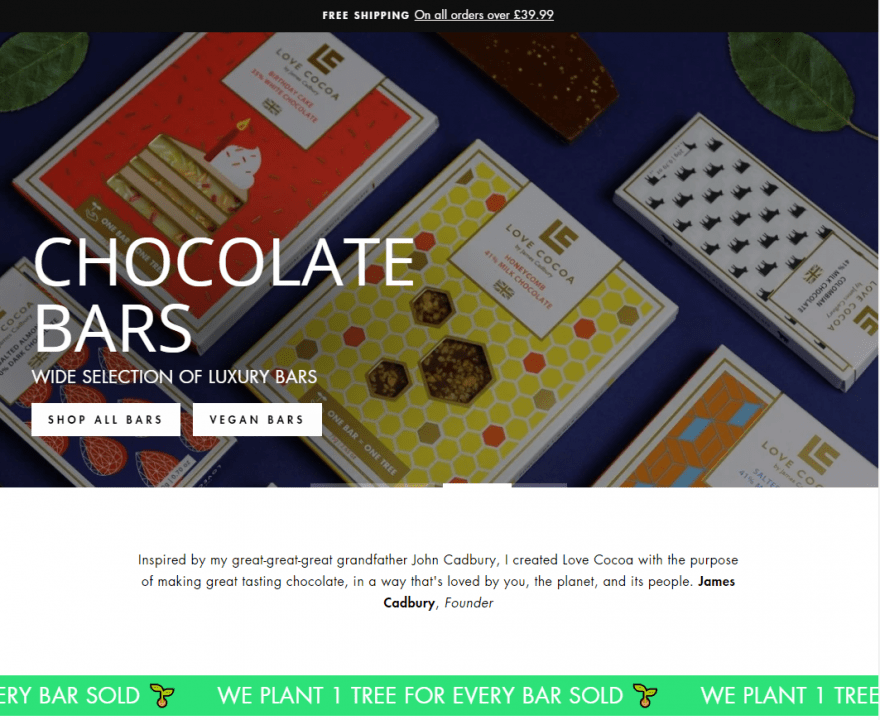 Founded by James Cadbury, the brand prides itself on a tradition of sustainability and ethics, donating 10% of profits to rainforest conservation and planting a tree for every bar of chocolate sold. To learn more, listen to our podcast with Love Cocoa's James Cadbury here.
6 examples of cause marketing for ecommerce
For cause marketing to work, you have to be genuine. There are several ways to approach cause marketing which can vary based on what makes the most sense for both your brand and your customers.
1. Transactional campaigns
In transactional campaigns, brands typically pledge to donate to a particular cause when their customers take a specific action. This can include following their social profiles, sharing their posts on social media, or making a purchase on their online store.
This is an easy way to align your interests with the needs of the cause you're supporting. Furthermore, these campaigns are often cost-effective since you're essentially replacing the usual cost of lead generation with the cost of donations, which will themselves drive more customers to your business.
2. Point of sale donations
Soliciting donations at the point of sale is a straightforward option, but it runs the risk of appearing less charitable—customers want to see that you're taking action rather than simply asking them to take action.
If you take this approach, consider matching donations either in full or in part to show your solidarity with the cause. These decisions alone are usually worthy of promotion and serves as a sign that you stand side-by-side with your customers. You can always set a matching limit to avoid being stuck with a massive bill at the end of the campaign.
3. Message campaigns
In general, message campaigns focus on raising awareness of a particular issue and encouraging customers to get the word out. They're often difficult to monetize on their own, but they can also be incredibly effective when it comes to developing your credibility as a socially conscious business.
Take Ben and Jerry's, for example. They developed a special flavor called Empower Mint leading up to the 2016 presidential election. Rather than focusing on monetary donations, they used the flavor to spread awareness of the role of money in elections as well as the importance of participating in the electoral process.
4. Portion of purchase
Portion of purchase campaigns allow your customers to support a cause through shopping with your brand. This strategy offers a good middle ground between asking customers for donations and making the donation yourself since the donation will be subtracted out of the sale price, rather than added at the end of the purchase.
These campaigns provide the additional advantage of scalability given that your total donations will depend on the success of the campaign—every extra dollar you donate comes from an additional sale. You can run a portion of purchase promotion at nearly any scale as long as you set up sufficient margins at the beginning of the campaign.
5. Buy One Give One (BOGO)
'Buy one, give one' campaigns are similar to the aforementioned portion of purchase campaigns, with the difference being that you'll be giving something concrete rather than cash. Even if the donation is equivalent to a certain amount of money, it's easier to demonstrate the benefits of an in-kind donation.
While the donated and purchased items may be the same in some cases, this doesn't always have to be the case. For example, some companies plant a tree every time their customers buy a particular product.
TOMS was a pioneer of the buy one get one model, donating one pair of shoes for every pair purchased. This approach allows them to monetize their cause marketing campaigns without asking customers to make an extra donation since the cost of producing a second pair is included in the price of the first one.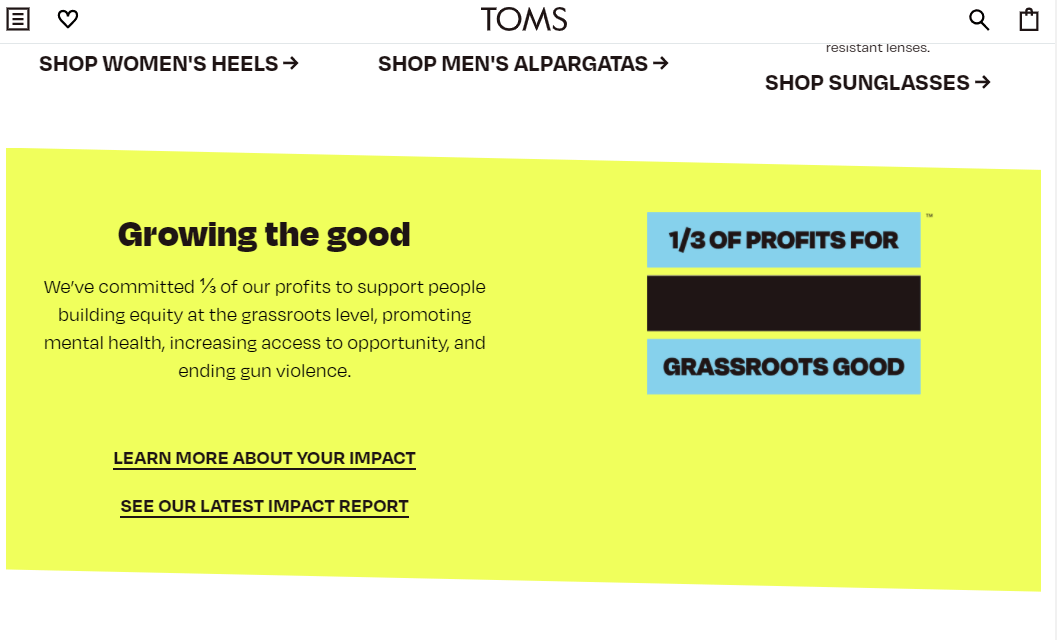 While buy one get one has many positive effects, TOMS went the extra mile by commissioning an independent study to determine the full impact of their donations. When that study called some aspects of their approach into question, they quickly changed their strategy to support charitable causes more effectively. This gave them even more credibility and showed that they really wanted to make a difference.
TOMS goes a step further by implicating their customers into their cause marketing. They emphasize the customer's role in supporting their cause through shopping by using the CTA on their site "See your impact." Not only does this show customers that they can influence this campaign, but it ties the customers emotions to the brand and what it stands for.
Charitable giving is generally motivated by emotions rather than analytical thinking. It can be surprisingly difficult to conceptualize or visualize the impact of a monetary donation. Customers are more likely to respond to a donation that has a quantifiable impact.
To demonstrate that distinction, consider the difference between saying:
Your campaign planted a specific number of trees: "Thanks to your help, we've managed to plant 10,000 trees; that's one tree planted for every tree torn down from deforestation!"
Your campaign raised a certain amount of money to support reforestation: "Thanks to your help, we can now fund reforestation efforts!".
Even if they have the same effect on the environment, monetary donations are far more abstract and difficult to connect to an emotional response.
6. Partnership conations
Another effective method of cause marketing includes brands who partner together for the purpose of giving back. For example, a small brand who is genuinely attached to a cause might partner with a larger brand who would donate capital to the cause for the partnership.
Essence, a magazine focusing on WoC (women of color), partnered with Pine-Sol on a new Build Your Legacy campaign that focuses on promoting strong female entrepreneurs.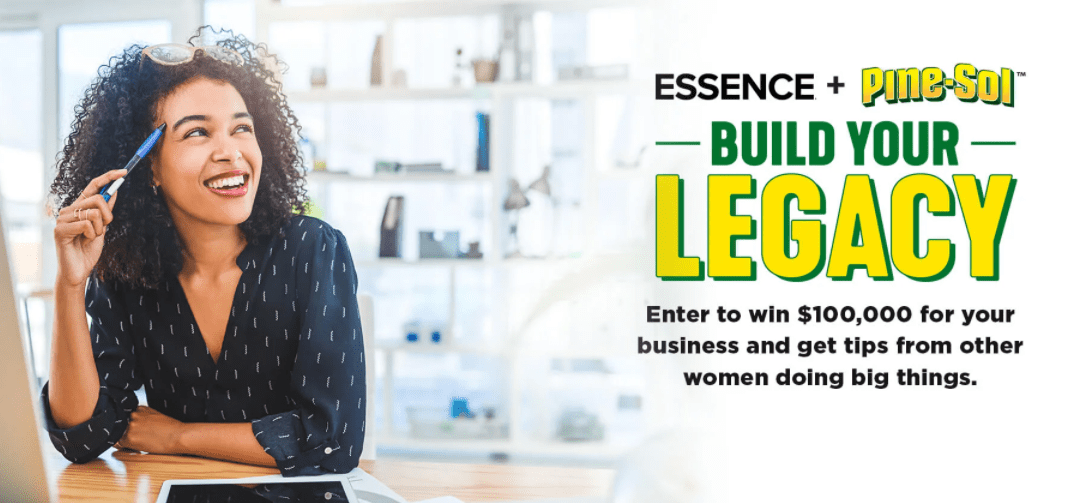 Build Your Legacy was an contest that gave entrepreneurs the chance to submit an application for funding. In 2020, Essence and Pine-Sol donated a total of $250,000—$150,000 to the grand prize winner, $15,000 each to two semifinalists, and $10,000 to seven other entrants.
This example demonstrates the power of cause marketing when the cause aligns with the brand's image, values, and audience. While applicants can choose to opt into promotional materials from Pine-Sol, this isn't necessary to submit an application.
Conclusion
Cause marketing can come off as cynical or opportunist when poorly thought out, but it often gives businesses the chance to contribute more than they would have been able to without a cause marketing strategy. For example, if you pledge to donate 10% of revenue, your sales could increase dramatically as more customers move to support your brand.
With that in mind, there doesn't have to be a conflict between your bottom line and your desire to make a difference. These tips will help you craft more thoughtful cause marketing campaigns that connect with your audience, increase sales, and make a difference for people in need.
Incorporate cause marketing into your automation strategy today: start Omnisend for free today!
related features
Want more sales?
Omnisend has everything you need to succeed.
Start free now
No Credit Card needed.