Drive sales on autopilot with ecommerce-focused features
See Features
Reading Time:
12
minutes
What started as a regular social platform, Instagram has now grown into one of the most powerful marketing channels for ecommerce businesses.
It had over 2 billion active monthly users in 2021, making it a rich source of leads for ecommerce businesses.
To strengthen the potential of Instagram marketing for ecommerce businesses, the platform has continued to release powerful analytics and shopping features.
Instagram for ecommerce features, such as adding direct links on Instagram Stories or product tags on posts, allow you to drive traffic to your website.
Building an Instagram store can further help boost your ecommerce sales and help your prospective customers purchase directly from Instagram.
Given these powerful ecommerce integration features and its large number of engaged users, ecommerce businesses need to have a strong Instagram marketing strategy.
Use Omnisend to automate your ecommerce marketing & drive sales with Instagram, Facebook, email, SMS and more
Start Free Today
How to start using Instagram for ecommerce
Start by opening your Instagram account.
If you don't have an Instagram business account, turn your existing Instagram profile into a business account using these steps:
Go to settings and select "Switch to Professional Account".


A page with the question "Which Best Describes You?" will appear. Choose "Business" and click "Next."


Select a category and click "Done."

Add your contact information and check the box next to "Show contact info on profile." It'll make it easier for customers to find and contact you directly. Click "Save."


Select "Done."
Ensure that the website address added to your business account is your brand's verified domain. Instagram may require you to prove that.
Domain verification ensures only you can edit your links and link previews. It prevents rogues from spreading wrong information about your business or misusing your domain.
Ensure your bio is clear and gives the audience a reason to follow you. It should:
Be short and accurate, and clearly mention what your business does.
Use emojis to add some personality and draw attention to important details.
Have a CTA that encourages people to click on your link.
The next step for using Instagram for ecommerce is to create an Instagram store.
How to add a store to Instagram
Before learning how to add a store to Instagram, ensure you're eligible to use Facebook Commerce features by meeting the following eligibility requirements:
Comply with Meta's and Instagram's policies, terms of service, and community standards.
Include product listings in your Instagram business account that are available for followers to buy.
Add your website link in the bio of your business's official Instagram account.
Your Instagram account must be located in an available or supported market for you to tag products. Here is a list of the currently available markets
Provide accurate information on pricing and product availability.
Display your refund and return policies on your website or Instagram account. Make them easy to understand.
Here is how to make an Instagram store in four steps.
Step 1: Create a product catalog
You can create a catalog using Facebook's Commerce Manager, but you'll need to have a Facebook business page for that.
Then take these steps.
Click on Get Started.


Choose the "create a catalog" option.


Select your catalog type.


Select an upload method and give the catalog a name. Click "Create"


You can add one product at a time or add multiple products in bulk.
You'll need a minimum of nine products in your product catalog to get approval for Instagram product tagging.
Step 2: Submit your Instagram business account for review
Next step, sign up for Instagram shopping by following these steps:
Select Settings and tap on Business.
Tap on Sign Up for Shopping.
Submit your account for review.
Account review will take a few days. You can check your review status under the Shopping tab in Settings.
Here is how to get approved for shopping on Instagram:
Ensure you meet the eligibility requirements for using Facebook Commerce features that are mentioned above.
If you receive a notification requesting domain verification, do it promptly.
Remove any prohibited items from your catalog, such as hazardous substances.
Keep physical goods in your catalog. If your inventory is empty, you're less likely to be approved.
Your products shouldn't show any signs of discrimination.
Ensure your Facebook Business Manager account is connected to your Instagram account.
Ensure your Facebook Business Page is using the Shopping template.
Step 3: Add your catalog to your Instagram business page
Once you get approval, you can start using Instagram for ecommerce by turning on the Instagram Shopping features.
Go to Settings on your Instagram business account, select Business, and tap on Shopping.
Confirm your Facebook business account and select the product catalog you want to connect to your Instagram business account.
Step 4: Start adding product tags to your Instagram online store
To tag products in your feed posts, click on Tag Products.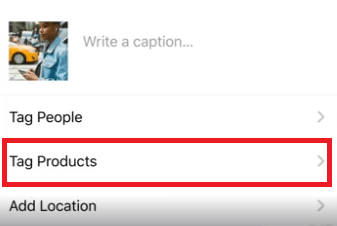 It'll open a tagging menu.
Select a product in the photo you'd like to add product tags to. On your catalog, find the product you want to tag and then select "Done."
Click "Share."
To add shopping stickers to your Stories, tap the sticker icon when creating a Story. It'll be in the right-hand corner. Select the product link sticker.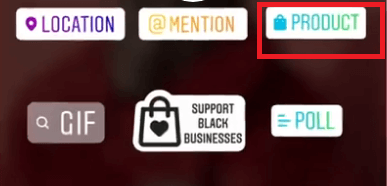 Select the product you want to tag from your catalog. Position the product sticker correctly in your Story and customize its text color. Publish your Story.
You can also tag products in an Instagram Reel. Record your Reel and select "Tag Products."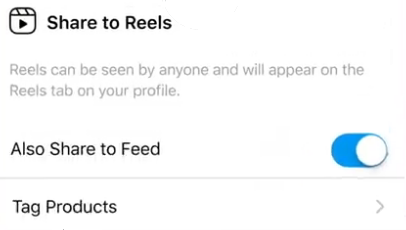 Add the products you want to tag and tap "Done."
Pro tip: To avoid losing your customer's attention, it's best to make the entire ordering process as easy as possible so they don't have to leave the app to make a purchase.
15 tips to use Instagram for ecommerce
Here are some ecommerce marketing tips on how to get the most out of Instagram for ecommerce business.
1. Add clickable profile links
Always add a clickable URL in your profile section that directs people to a significant page on your website.
Here's an example of NA-KD's profile link on their Instagram online store.

It redirects social media traffic to their landing page.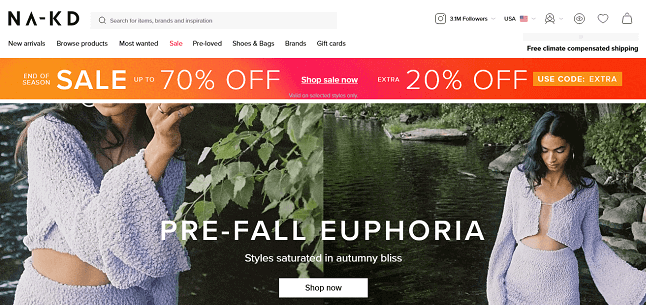 Instagram doesn't allow direct linking in Instagram posts and only one link in bio is allowed.
But it's possible to use tools like SproutLink to send customers to the different web pages and products you want to promote through your link in bio.
Here is an example of how WeWork has done it.

The link leads to a custom landing page that contains direct links to individual web pages.
Each of these images and videos, for instance, represents content WeWork has shared in recent posts and links to their respective pages on their website.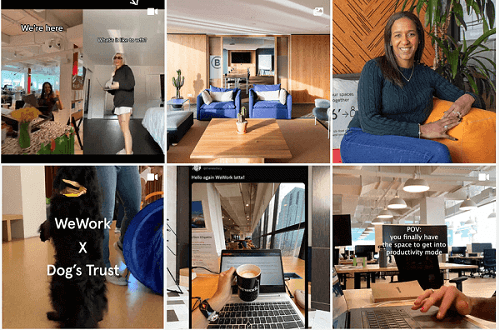 Pro tip: This is a great way to create a product catalog on Instagram, using a single link in the bio. When a user clicks on it, they go to the catalog and can click on a product they like to directly reach the product page on your website.
2. Use Instagram stories
The spontaneity of Instagram Stories makes it an excellent platform to show off your brand's personality and draw interest to your Instagram online store.
It's an opportunity to be fun, colorful, human, and different.
You could also use Stories to tease and build hype about an upcoming product release, event, or sale.
Experiment with different types of content. Studies show that you can publish up to 6 Stories per day and still get a retention rate of over 75%.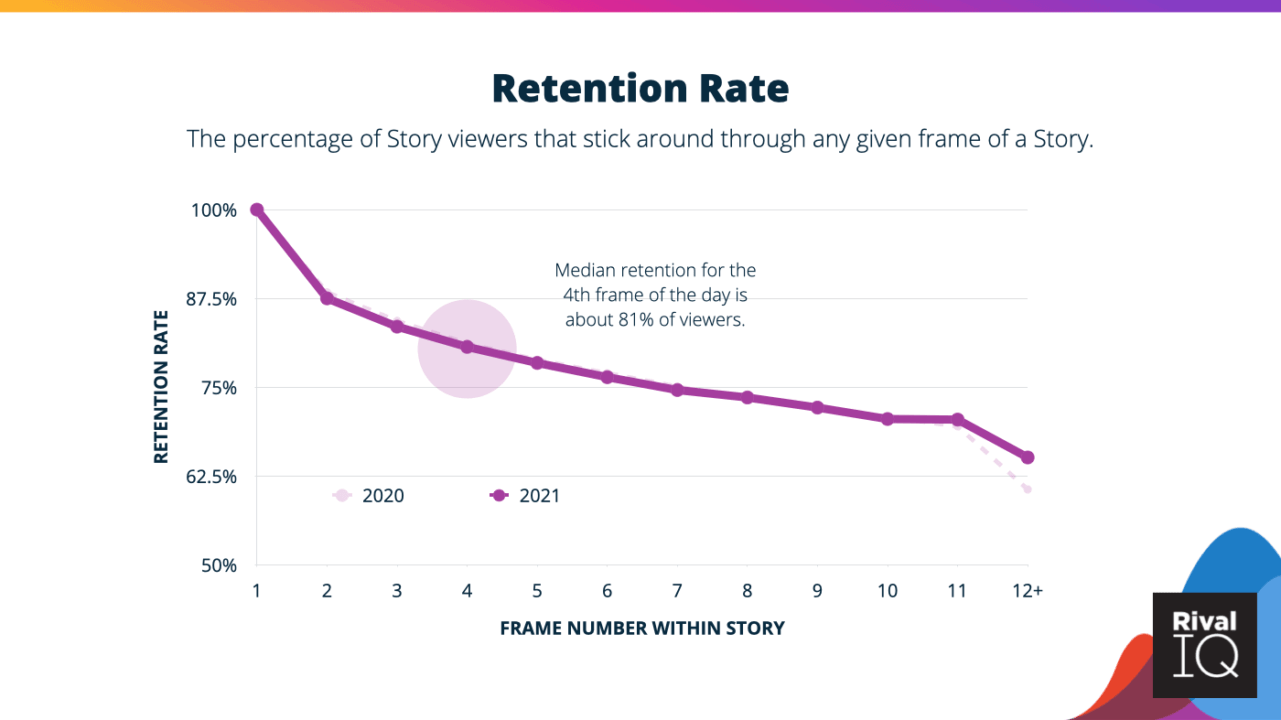 Given that the first frame carries the highest retention rate, use it to hook your audience and share the most important message.
3. Add story highlights
Instagram Stories are great, but they only last 24 hours.
Story Highlights provide a way to group the most important stories into highlights that you can feature on your Instagram profile, below your bio.
You can use Story Highlights to create highlights for different product collections or categories. It makes it easier for customers to find what they're looking for.
See ASOS's Story Highlights below, for instance.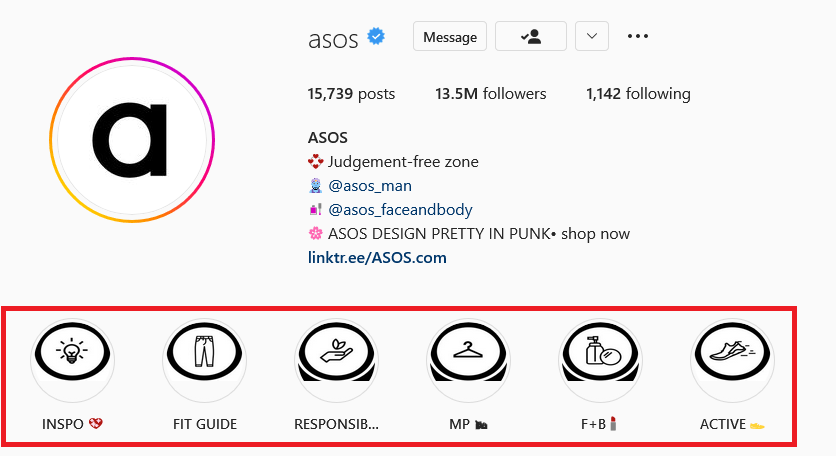 Pro tip: If you add links to your stories, they'll be retained when you create a highlight. So, you can use Highlights as product catalogs with direct links to product pages.
4. Use live Instagram sessions
Instagram live sessions are a great way to build an emotional connection with your audience. Use it to give your brand a human touch and let your brand's principles, values, and personality shine through.
As a business owner, you can interact with your audience in real-time and share an authentic behind-the-scenes video.
Besides, people love watching live videos. With 29.5% weekly users, live videos are the fourth most popular video content type worldwide.
You can hold a live Q&A session, do a product launch live session, or invite an expert to discuss a topic. As an added benefit, a live session will move your profile to first place on your audience's story feed, getting it more exposure.
5. Acquire more followers to boost your trustworthiness
You need to have an authentic and reliable social media presence to gain your target audience's trust. And having more followers is one of the ways to make this happen.
A profile with thousands of followers, for instance, may appear more authentic than one with a few dozen followers.
However, don't buy followers to gain more trust because:
If Instagram finds out, you could get your account suspended or permanently deleted.
Real users will not follow you if you have fake-looking accounts following you.
Instead of buying followers, do the following:
Create high-quality content consistently and frequently.
Use paid ads and contests to promote your Instagram online store.
Use a consistent username across all social media channels to make your account searchable.
Stay on trend with users' evolving tastes and preferences.
6. Use relevant hashtags
People use hashtags to follow topics of their interest. By utilizing hashtags in your posts, you can reach your target audience more easily by showing up in their feeds.
To create a hashtag, type in the hash symbol (#) followed by an unbroken word or phrase, such as #fitness.
There are different types of hashtags you can use:
Branded hashtags – They're unique to your business like Coca-Cola's #shareacoke.
Contest hashtags – This is where you encourage followers to share content using a specific hashtag. Using the hashtag gets the user into the contest, such as GoPro's #GoProSummer.
Niche-specific hashtags – They show where your brand fits in the context of your industry, such as #menswear.
Product hashtags – These are keywords describing your products, such as #handbag.
Add hashtags to your feed posts, Instagram Stories, or profile descriptions as equinox has done.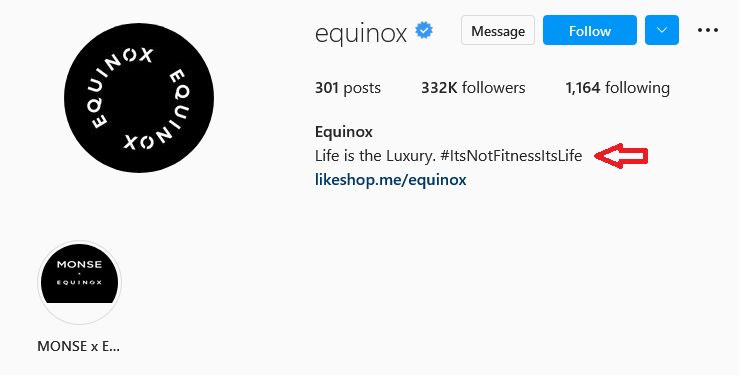 Pro tip: Although you can use more than 30 hashtags in a feed post, avoid using more than 5 to 6 hashtags per post.
7. Share high-quality product pictures and reels
Sharing scroll-stopping, high-quality images, and videos is one way to get the attention of your target audience.
Use clear photos and reels to show users how to use your products and demonstrate the reasons they should make the purchase.
Avoid overwhelming buyers with complex descriptions, keep the posts simple. And ensure that each picture or reel focuses on a single product.
See this image of Nike's Air Zoom SuperRep 3 shoe, for example.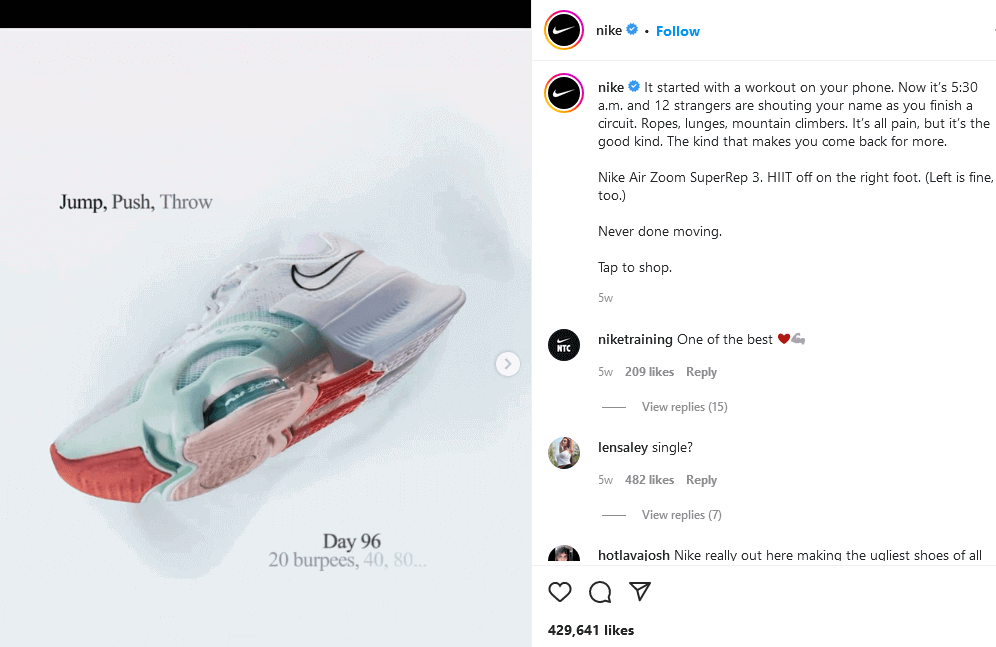 It's a high-quality image that focuses on a single product.
The post is not very promotional either. They use the image to associate their product with positivity and an active lifestyle, which is related to their brand image.
8. Share customer testimonials
About 94% of US online customers say positive reviews about a business make them more likely to buy from it.
Positive customer testimonials about your products build credibility and trust in your brand and drive sales from your Instagam activities.
Customer testimonials also humanize your brand. Your audience will be able to understand your products better when you give them a human interest angle.
Tuft & Needle, for instance, combined multiple customer testimonials into a video and cleverly shared it as a Valentine's day post.
9. Use sponsored Instagram ads to sell more
Instagram ads have a potential reach of 1.45 billion.
This is about 18.3% of the world's population and an opportunity for you to reach the masses and build brand awareness.
Instagram ads allow precise audience targeting and deliver the best ROI, given that you do it right using expert advertising strategies.
It doesn't have to cost much. You can set a budget that works best for you.
Don't forget to add a compelling CTA to your ads to drive ecommerce sales conversions using Instagram for ecommerce.
Pro tip: You can also create shoppable posts with product tags and promote them to allow users to directly click on your posts to buy the products they like.
10. Bring traffic from other sources to your Instagram
Strengthen your presence on Instagram by driving your followers from other social media platforms, website visitors, or email subscribers to Instagram.
Here are some actions you can take:
Add an Instagram icon in the footer of your website or the top bar or sidebar of your landing pages.
Directly promote your Instagram account to your subscribers through email marketing or add a button below your email signature.
Share details of an Instagram contest, giveaway, or event with your email list so that they can participate.
Share the link to your Instagram account, or your latest Instagram posts with your followers on other social media platforms.
11. Bring traffic from your IG page to your website
Instagram has high levels of engagement, which makes it one of the best platforms to expand your email and SMS list.
Attract subscribers from Instagram to your site by adding a link in your bio. Once visitors reach your website, use online forms to collect their contact information. Here is an example of an online form by Omnisend.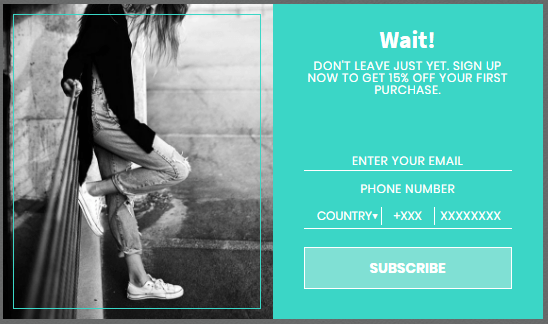 It'll help you send newsletters, automated messages, and other communications that nurture leads and turn them into customers. Look here for more ideas for newsletter templates.
12. Create an omnichannel strategy
Use customers' data from interactions with your brand on your website, Facebook account, or SMS, to retarget them using Instagram ads.
Omnisend can segment these customers based on their shopping history, their customer lifecycle stage, and other variables.
It can sync these customer segments to your Facebook Ads account for easier retargeting through Facebook and Instagram ads. This creates an omnichannel marketing strategy.
Retargeting is an effective way to push your customers to the next stage of the sales funnel and drive repeat purchases.
Use Omnisend to sync contact segments for effective ad targeting on Instagram and Facebook. Find out more
13. Work with influencers
Instagram is used by 79% of brands who engage in influencer marketing.
This popularity is due to its effectiveness as a channel for influencer marketing.
Using influencers in your Instagram ecommerce marketing campaign will help you reach new markets, boost conversions, and build trust with your target audience.
Here are some tips to get you started with Instagram influencer marketing for ecommerce businesses:
Set clear goals and identify KPIs to measure performance on these goals.
Choose influencers who are relevant to your niche, with an audience that matches your target market.
The influencer you choose should have a voice that matches your brand voice.
14. Respond to your audience
Responding to audience comments and DMs is important for several reasons, such as:
Failing to respond to a question can result in the loss of a sale.
Ignoring a negative experience from your customer could cause them to vent elsewhere and possibly cause other customers to develop a negative perception of your business.
A one-on-one conversation with users gives you insight into why they like your product and why they would recommend it to a friend. Understanding these "whys" can drive successful marketing campaigns.
You can convince followers who are unsure of your products to make a purchase.
These conversations will provide insights into your customers' pain points. You can use this information to provide better customer experiences.
It builds a community and creates a real relationship with your followers.
See how Walmart does it. They responded to this follower's comment in minutes.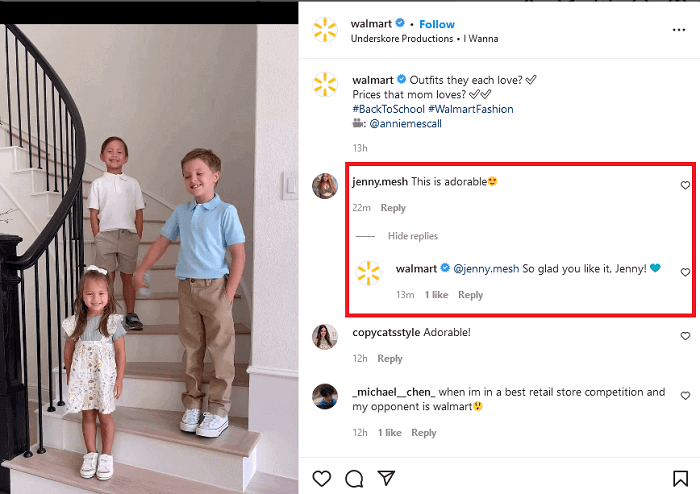 15. Give special offers and deals to your followers
Using incentives like special deals and offers, giveaways, etc. is a great strategy for using Instagram for ecommerce. It's a quick way to boost sales and win new customers.
It's also a great way to build brand awareness as your followers share news about your offers with their friends.
Create conditions that encourage your followers to engage with your content before they can qualify for the offer. Here is an example of how FatFace does it in this giveaway.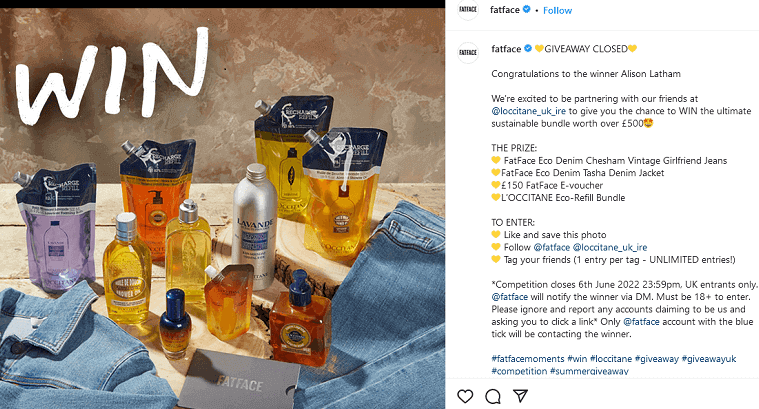 Wrap Up: start using Instagram for ecommerce
Using Instagram for ecommerce enables you to take your business to where your customers are and make it easier for prospective customers to make a purchase.
But Instagram alone is not enough to take your ecommerce business to the next level.
Build an omnichannel strategy that combines channels like email marketing, SMS marketing, web push notifications, and Facebook, Instagram and Google sync for better retargeting to drive more sales.
With Omnisend, you can build an automated omnichannel marketing strategy that reduces your workload while boosting your ecommerce sales.
And your customers will love you for it.
Get better email & SMS marketing with built-in Facebook, Instagram and Google audience sync to drive more sales.
Start Free Today
related features
Want more sales?
Omnisend has everything you need to succeed.
Start free now
No Credit Card needed.