Drive sales on autopilot with ecommerce-focused features
See Features
Reading Time:
10
minutes
Social commerce is on the rise and social commerce sales are expected to reach $79.64 billion by 2025 in the US alone. So, if you're thinking of using TikTok for ecommerce, you're on the right track.
TikTok is one the most popular social media platforms with 1 billion monthly users. This number is expected to reach 1.5 billion by the end of 2022.
That's probably why brands are increasingly using TikTok for ecommerce.
But is it time to include it in your social media marketing strategy? Should you focus on TikTok to not only reach more of your target customers but also boost your sales?
Absolutely!
According to a recent study, 24.34% of marketers regard TikTok as an effective platform for reaching their business goals. These marketers want to reach the 37% of users that use TikTok for discovering and buying new products.
According to the Hootsuite Digital 2022 Report cited earlier, users spend an average of 19.6 hours per month on TikTok, making it one of the most engaging social media platforms.
All these numbers show the potential of TikTok ecommerce marketing. You could simply find your niche, grow an audience, and boost brand awareness.
This article will help you learn how to use TikTok for ecommerce and leverage it to drive sales.
Below are TikTok ecommerce tips and best practices to get you started:
Looking for alternative ecommerce marketing strategies to boost sales? Save time with pre-built marketing solutions at Omnisend. Automatically drive sales across various channels using a single, ecommerce-oriented automation platform.

Get started for free here
How to start using TikTok for ecommerce
In 2020, during the pandemic, TikTok for Business was launched. The launch gave marketers and brands access to more advertising options, analytics, and the ability to add links.
A year later, another product called TikTok Shopping was launched. It allowed merchants, creators, partners, and affiliates to create shops and sell directly on TikTok.
This marked the beginning of TikTok ecommerce. It allowed merchants to sell products through live videos, in-feed videos, and the product showcase tab. The image below shows the TikTok shop tab.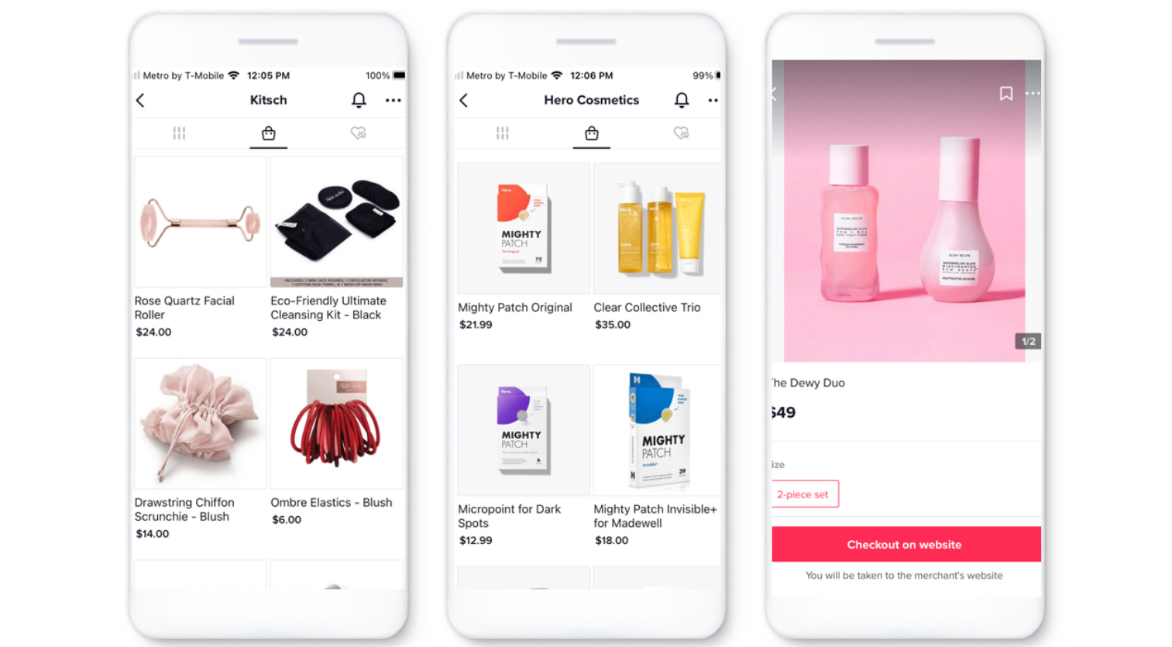 The shopping tab is by far the most significant feature on TikTok for ecommerce merchants. It allows you to launch your TikTok ecommerce business by synchronizing it with Shopify and BigCommerce.
But how do you get started?
You first need a TikTok for Business account. Here are the steps to create one.
How to create a TikTok business account
If you are already on TikTok, you can easily switch your account to a Business Account to get started with TikTok ecommerce. However, if you don't have one, follow these steps:
Download TikTok and launch it
Create a personal account using your email or phone number. You can also log in using your Twitter, Facebook, or Google account.
Once created, click Me, then Edit profile. Add your profile picture (or that of your business), bio, and links to other social media accounts.
Next, switch to a TikTok Business Account. Click on the three dots in the top right corner, then tap on Manage account. Your screen should look like this:

Click on Switch to Business Account.
Next, choose the relevant category that best describes your business, then click Next.


Now add your website URL and email address to your business account
That's all! Your account is ready, and you can now launch your TikTok ecommerce business. Find out how in the next section.
How to launch TikTok ecommerce using BigCommerce
If your business uses BigCommerce, you can easily set up TikTok ecommerce by linking the two platforms.
To start using TikTok for ecommerce:
Install the TikTok for Business app from the BigCommerce Channels Manager.
Click Connect to get started.
Log in to your TikTok Business account.
​Authorize BigCommerce's TikTok for Business app to connect to your TikTok account.
​After connecting, you'll be prompted to connect (or create) your TikTok Business Center. Click Create New after you're done, and tap Connect. This will link your TikTok Business Account to your new TikTok Business Center.
​Next, connect your TikTok Ad account. To create a new TikTok Ad Account, click Create New.
After connecting all these accounts, you'll need to install TikTok Pixel on your storefront. Click on Create New to add TikTok Pixel to your BigCommerce store.
Once done, you can set up your inventory syncing by clicking Create New. Your product catalog will be synced to your TikTok Business Center.
After completing each step, click on Finish Setup.
Once your TikTok for BigCommerce platform is live, you can seamlessly sync your inventory using different ad formats. This allows you to drive more traffic to your BigCommerce shop and boost sales.
You can also access intuitive storefronts, the ability to add product links, and paid features like Spark, Showcase, and Collections Ads.
How to launch TikTok ecommerce using Shopify
If you're running your online store on Shopify, you can launch TikTok ecommerce by following these steps:
Log in to Shopify and launch the App Store
Search for TikTok (the official version from TikTok Inc.) and click on Add App to install.
Open the app, and click Connect to link your Shopify TikTok for Business account with your TikTok Business profile.
Once linked, go to 'Marketing' on your Shopify Admin settings, find TikTok Ads Manager, and click on Connect. Follow the prompts to connect your ad account or create a new one.
Go back to Shopify, and under TikTok Sales Channel, go to Settings.
Scroll to Data Sharing and under Customer Data Sharing, choose Maximum for the Level Selection. This will generate your TikTok Pixel ID.
Click Confirm and you are done.
Once successful, a TikTok Dashboard will appear with a variety of ecommerce marketing and advertising tools.
7 tips on how to use TikTok for ecommerce
There are many ways you can use TikTok for ecommerce and reach new customers. Here are some TikTok best practices for brands to get you started.
1. Add clickable links to your bio – link them to your eshop
One of the easiest TikTok for ecommerce hacks is adding links to your bio to generate leads or traffic. How do you do this?
Click on your TikTok profile, then tap on 'Edit Profile.' Add your link on the 'website' section as shown below:
The 'website' tab is only available for creators and merchants with business accounts and over 1,000 followers.
Simply add a link to your website to drive traffic. When users reach your website, use forms to collect their information or get them to subscribe to your emails.
Here is an excellent example of an online form created with Omnisend that can be used to build an email list.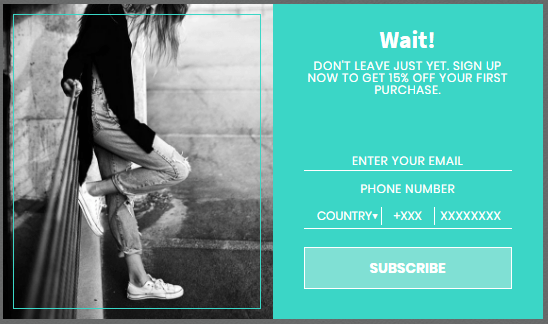 Collecting their emails, for instance, can allow you to generate leads that you can nurture via email marketing.
If you want to grow your email list quickly and ethically, try Omnisend's sign-up forms and integrations. They are easy to set up and can be integrated to your Shopify or BigCommerce stores.

Start using Omnisend today
2. Use hashtags to extend your reach
Hashtags are excellent for enhancing the reach of your content. They're excellent for promoting your brand on TikTok. Adding them to your posts makes it easy for users to categorize your content.
For example, if you use the hashtags #MakeUpIn3Seconds, #Makeup, or #FacialTips, it's easy for the user to guess what you sell.
Similarly, other TikTok users can click on your hashtag and view other products within that category.
Need more reasons to use hashtags on TikTok for ecommerce? Here are a few:
Hashtags extend the reach of your TikTok ecommerce campaigns beyond your followers. People follow hashtags they're interested in and using these hashtags you can show your content to people who're not your followers but follow the hashtag.
The TikTok algorithm uses hashtags to suggest content on the "For You" page.
Hashtags are also a brilliant way of building an online community. You can encourage your followers to use a branded hashtag to popularize your content.
But how do you find the relevant hashtags for TikTok ecommerce marketing?
Easy. Check what your competitors post or browse through TikTok's Discover Tab. Alternatively, you can check the top trends in your region right from your TikTok for Business account.
While using TikTok for ecommerce, it's essential to use a mix of popular hashtags with less competitive ones.
An excellent example of a popular TikTok ecommerce hashtag is #TikTokMadeMeBuyIt, which has over 18.4 billion views as of August 9, 2022. The advantage of using this hashtag is that millions of people search for it. But the disadvantage is there's a lot of competition.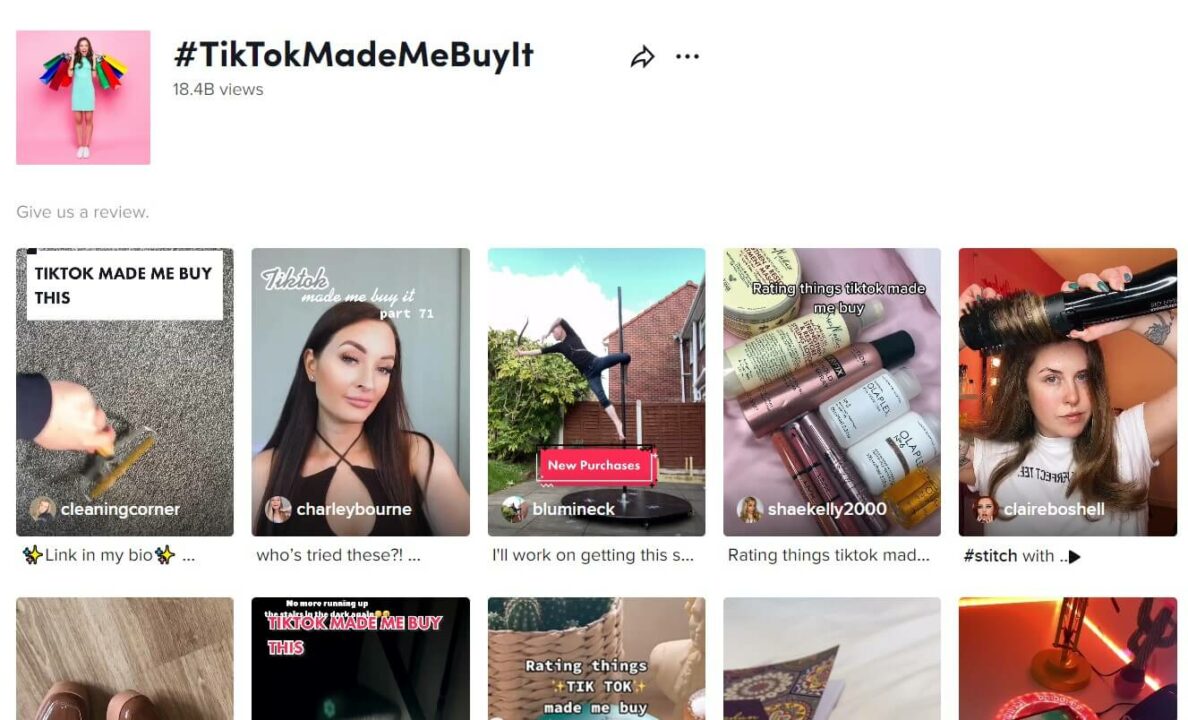 Utilize niche or branded hashtags alongside popular ones to boost your presence on the platform.
3. Run ads and promotional campaigns
According to Hootsuite's Digital Report 2022, Tiktok ads can reach 17.9% of internet users above the age of 18. This means you have the potential to reach 884.9 million people through TikTok ecommerce marketing.
One of the remarkable things about using ads on TikTok for ecommerce marketing is that they blend in seamlessly with the short videos on the platform.
Examples of TikTok commerce ads you can create include:
TopView – These ads are shown when a user first launches the TikTok app. An example is shown below:
In-feed Ads – These are ads by TikTok online stores or brands that appear like regular posts on the app's "For You" page.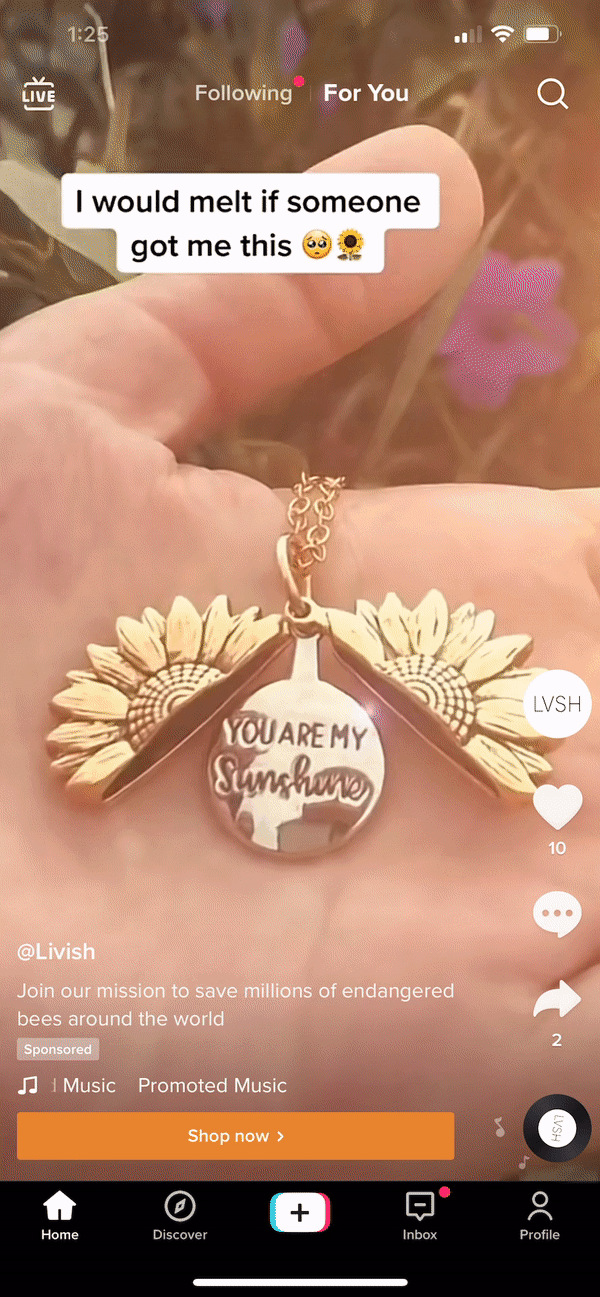 Under these types of TikTok ecommerce ads, you get a variety of formats such as:
Dynamic showcase ads – These TikTok ads for ecommerce utilize your synched catalog to suggest relevant products to users.
Collection ads – In this category, you can combine video ads, full-screen landing pages, and product cards to showcase and sell your products.
Spark ads – This format of TikTok ads allows merchants to leverage organic TikTok posts for product promotion.
Lead gen ads – You can generate leads using forms with these ads. You can also integrate them with your CRM software solution to convert leads.
To begin running ads on TikTok for ecommerce, go to ads.tiktok.com and log in with your TikTok business account. Set a goal, choose your audience, set a budget and schedule based on your objectives, and create your ad.
You can also promote your existing TikTok posts as an alternative to ads. Simply click on the Promote feature in your posts, set a budget and duration, your objective, and then publish.
4. Work with content creators
Working with creators or influencers on TikTok will help generate interest in your brand. Incidentally, the demand for influencer advertising campaigns has been on the rise.
According to a report, 68% of marketers wanted to use TikTok for influencer marketing, a 325% increase from 16% in 2020.
Better still, 35% of users on TikTok discover products and brands from creators. A further 65% enjoy it when these individuals mention products and brands.
Collaborating with influencers, therefore, can help your brand attract new customers as their followers trust their recommendations.
Some of the most popular TikTok influencers include Charli D'Amelio, Dixie D'Amelio, Addison Rae, and Khabane Lame.
You can find TikTok influencers fit for your needs on the TikTok Creator Marketplace.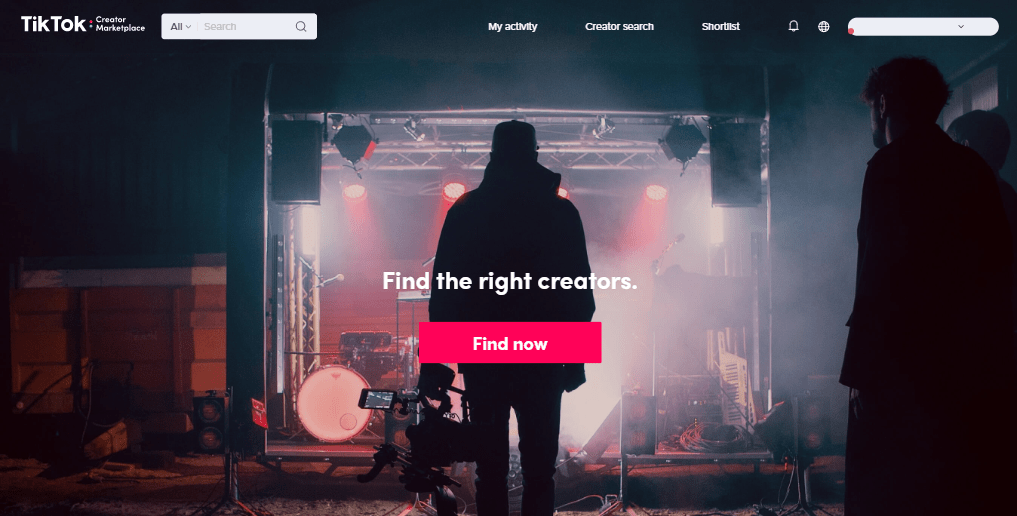 Here's an example of a TikTok ecommerce post by the influencer Carrie Berk marketing a facemask for Farmhouse Fresh.
5. Use live videos to make your TikTok ecommerce marketing interactive
According to a study, 80% of users are interested in how-to videos or tutorials on TikTok LIVE. 74% are interested in Q&As and 72% in product sales.
Do you know what this means? Your TikTok ecommerce business is primed for success if you do it right!
However, live streaming on TikTok for ecommerce marketing requires you to have over 1000 followers.
You can use TikTok LIVE to:
Showcase your products
Hold FAQ sessions with your followers
Demonstrate how a particular product is used or operated
To go live on TikTok, press the 'plus' button at the bottom center of your app. Swipe to choose 'LIVE', set an image, add a description, and click on 'Go Live'.
Here's an image showing you how:
Engaging with followers in real-time creates a sense of connection and familiarity. Responding to their queries and allowing them to air their feedback makes them feel valued.
6. Create fun and entertaining videos for your audience
The success of your TikTok ecommerce marketing videos depends on how creative, fun, and informative they are. Entertaining videos receive more engagement.
Most people come on TikTok to explore, discover, learn, and, most importantly, be entertained.
Include humor in your TikTok ecommerce marketing videos. People love to laugh and are more likely to share a video if they find it funny.
Here are other advantages of using humor for TikTok ecommerce marketing:
If you consistently manage to make people laugh, you'll gain their trust and build a connection with your audience.
Humor triggers the part of the brain memorizing information. A 2021 study found that users are more likely to remember funny clips and share them. Using humor, therefore, could enhance brand recall.
You can also leverage funny, user-generated content to popularize your brand.
Chipotle, for example, reposted a funny video by @jayjones804. In the video, he's seen packing his Chipotle to eat it later, only to open it two minutes later.
7. Host challenges, contests, and giveaways
Hosting contests, giveaways, and challenges on TikTok for ecommerce marketing is a great way to engage your audience and attract new followers.
Many TikTok users like sharing their creative side through videos. Fun challenges and contests can give them an opportunity to show their creative sides, while you get free user-generated content.
You can challenge people to create specific types of videos with a branded hashtag. Have your followers create tons of content and award the top-performing content creator with a prize.
You can also host a giveaway where you ask users to like, share, and comment on your post, and also tag their friends. This will help increase engagement on your account and your TikTok followers.
An excellent example of a contest that used a branded hashtag is the #ReviveconPhotoSi by the Italian company PhotoSi.
It challenged users to recreate photos from their childhood memories and share them. Over 380,000 videos were created, racking up over 1 billion views. Here's an example of a video from the campaign.
Ready to start using TikTok for ecommerce?
TikTok ecommerce is undoubtedly growing fast, and your brand should join the bandwagon.
Regardless of your role in marketing, using TikTok for ecommerce guarantees you some traction, given that you do it right. It's one of the best ways to build strong customer relationships by creating fun, organic, and relevant content for your customers.
When using TikTokfor ecommerce, it's wise to use other marketing channels in conjunction. You can use Omnisend to create omnichannel, automated ecommerce marketing campaigns.
Just sign up and link your ecommerce store to leverage the full power of ecommerce marketing automation.
Get a jump on omnichannel ecommerce marketing to reach your customers wherever they are.
Start Free Today
related features
Want more sales?
Omnisend has everything you need to succeed.
Start free now
No Credit Card needed.