Drive sales on autopilot with ecommerce-focused features
See Features
Reading Time:
6
minutes
Did you know that on average, only 3% of first-time visitors make a purchase?
The other 97% leave—some come back, most are likely to forget about you.
That's why it's important to add sign-up forms to your website. Sign-up forms can be used in various ways: pop-ups, banners, slide-in boxes, landing pages, and our interactive Wheel of Fortune.
Despite the different visual options, they all work in the same way: you request particular information from your visitors (such as an email address, often first name, and birthday) so that you can keep in contact with them. Many businesses offer an incentive to increase the sign-up rate, such as a discount or free gift.
By growing your contact list of people who are interested in your store, you can immediately begin to build a relationship and nurture them to convert into paying customers.
But it's not enough to just build sign-up forms and hope for the best. For maximum performance, you'll need to monitor how effective the forms are.
How can you do that? Enter Form Reports…
What are Form Reports?
Omnisend users have access to a wide range of reports, providing insights that can drive more sales. Form Reports provide a detailed look at how well all of your forms perform. You'll see:
Which forms have the highest and lowest conversion rates
A/B test results to find the best way to resonate with your visitors
How visitors engage with your forms
The location of your subscribers
The devices being used by subscribers
Armed with this information, you'll be able to make necessary adjustments to increase your sign-up rate, grow your email list, and convert visitors into paying customers.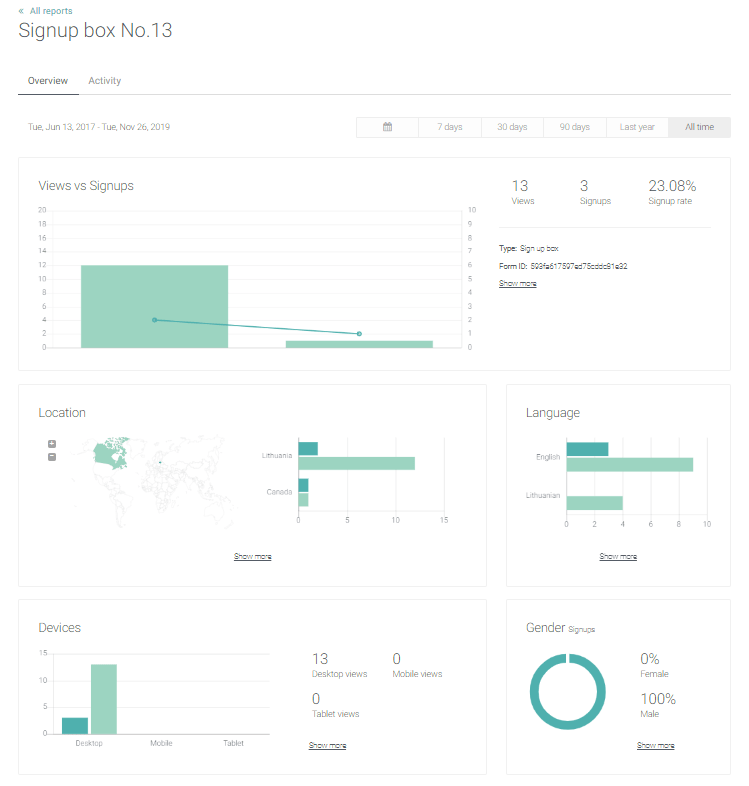 How to easily track the performance of your sign-up forms
Any report is only as useful as the data it presents. That's why Omnisend's reports present analyzed data in a clear, friendly way, making it easy for you to gain a deep understanding of what's happening. Reports are built-in to the platform and available on every plan—including our Free plan.
If you're already using Omnisend, just visit the Reports tab in your account, and then Forms. The Overview tab includes:
Total views and sign-ups
This section allows you to see how many views your forms have had, as well as the sign-ups for the selected period—with these two numbers, you can measure the conversion rate and decide if tweaks are needed to increase performance. You can also adjust the date range to see data for the last 7 days, 30 days, 90 days, last year, all time, or custom. This filtering allows you to measure performance over time, monitor the impact of seasonality or a holiday, as well as compare any changes to forms in specific time periods.
Location-based sign-up information
See which countries your visitors are from, as well as which ones have the highest and lowest conversion rates.
Language-based sign-up information
Based on the language of the visitor's browser, you'll see the language of visitors who have viewed or signed up through a form.
Device report
Learn which devices are mostly used by visitors to your site. This information can help you update your site accordingly, for example making it more mobile-friendly if you receive a lot of visitors using mobile devices.
Custom information
Omnisend forms let you include custom information. Some brands use this to find out the gender of their subscribers, other brands have other requirements. For example, Texas Roadhouse Butcher Shop asks for the visitor's birthday and favorite steak in this example of a newsletter signup form: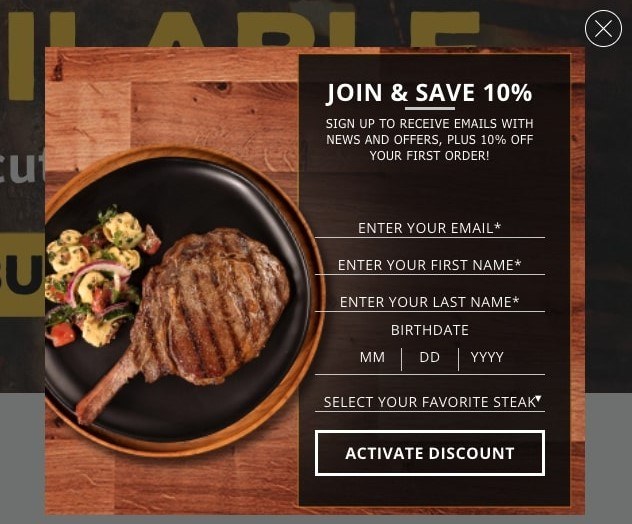 The reports then show you the results of this custom field, helping you find out even more about your audience.
Use form report performance metrics to optimize your conversion strategy
Once you've launched your forms and looked at the performance reports, it's time to think about whether you need to optimize.
For instance, if your sign-up rate has been steadily declining, you will want to make some changes to try and improve it. You could tweak your offer, change the form design, reduce the number of fields so it's quicker and easier to sign up, or change when the form appears. The form reports also provide information that you can apply to your automated workflows, which will help you better nurture your subscribers in a more meaningful way.
Let's take a closer look at the available metrics:
Device splits
Device splits tell you not only the difference in traffic volume between mobile, tablet, and desktop devices, but also the relative behaviors. For example, if your mobile sign-ups are significantly lower than tablet and desktop, that could indicate your site or pop-ups aren't mobile-friendly and need updating.
To ensure this isn't a problem, Omnisend has a preview function for different devices. You can preview how forms will look on mobile devices, and make specific optimizations accordingly.
Omnisend's Form Builder also has visibility settings that allow you to specify which devices see specific forms. Using these settings, you can personalize the experience for users of each device, offering a pleasant and user-friendly website. An additional option is to choose specific URLs for forms to appear, instead of every page. Pro tip: by having forms appear on particular pages, you can tailor the form's messaging or offer to be aligned with the content of that page.
Finally, it's also recommended to make mobile pop-ups smaller than their desktop counterparts. This makes them less obtrusive, which in turn makes them less annoying for your visitors. The Form Builder allows you to adjust the pop-up size, as well as offering mobile-only templates to choose from.
Location splits
See which countries have a higher conversion rate and use that information to create dedicated offers. For example, you could offer free shipping in the sign-up form, or promote special events happening in their country via email and SMS. Unique offers are invariably more popular than generic ones, so it's always worthwhile using report data creatively.
Gender splits
While gender-based messaging may or may not be relevant for your brand, it can have its advantages if you sell different products to men and women. It can also be an effective way to promote special holidays such as Mother's Day and Father's Day.
Language splits
The benefits of communicating with your audience in their own language are obvious, and Form Reports can help you hone in on the right ones. If you learn that a sizable, or growing, segment of your visitors speak a particular language, it's a great opportunity to enhance your marketing efforts and increase your conversions as a result. It also brings the opportunity to find success in international markets.
Views vs Sign-ups
If you find that views are increasing but sign-ups aren't, that's a sign to dig a little deeper and look for ways to boost the number of people subscribing too. Here are some ideas:
Change your pop-up themes seasonally: the retail calendar has multiple holidays, from back-to-school to the big hitters like Black Friday, Halloween, and Christmas. Update your forms to reflect these, with corresponding offers.
Utilize gamification with Wheel of Fortune: your visitors spin the wheel to receive a prize of your choosing when they subscribe. Converting at a whopping 10%, this is a great tool to include if you want to boost your sign-up numbers.
Get creative: Form Builder not only includes pre-made templates to choose from, but also empowers you to change layouts, fonts, colors, styles, and add or remove fields. It's even possible to include your own brand colors, for complete alignment with the rest of your store.
Twerk your timing: Pop-ups don't have to appear immediately. You can set them to show when your visitor has scrolled a certain percentage of the page, spent a particular amount of time on site, or grab them before they leave with an exit-intent pop-up.
Use teasers: if you want to make pop-ups less intrusive but don't want to avoid them completely, teasers are a great option. Use an enticing CTA to compel your visitors to click on the teaser to expand it into the full-sized sign-up form.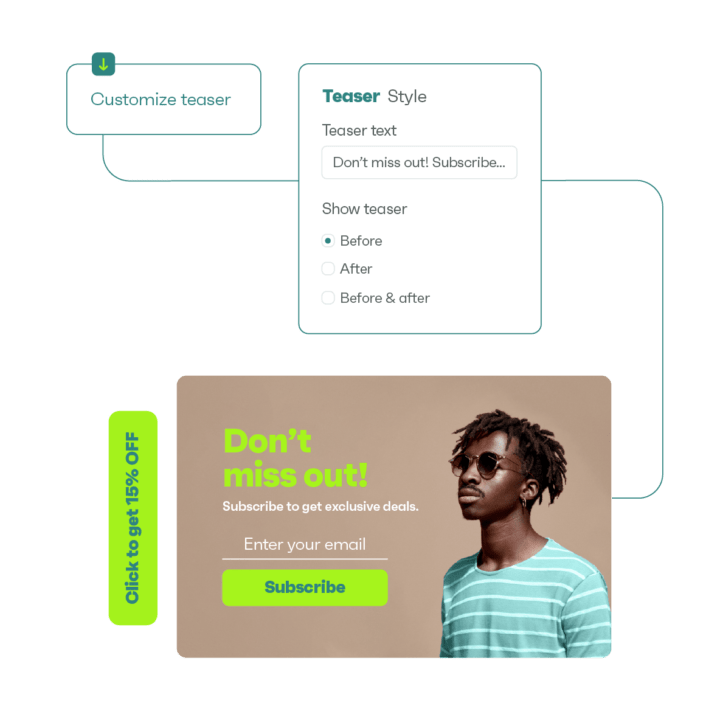 Compare performance of different forms
If you've got a form that's outperforming the others, take a closer look and see if you can spot the reason it's doing so well. It could be related to any of the factors above: timing, appearance, placement offer, number of fields, or something else. Instead of reinventing the wheel for each form, learn from your best performer and try to replicate its winning formula.
Wrap up
Forms help to grow your email list effortlessly and automatically. By spending some time looking at form reports, you can see which are performing well or not so well, and implement changes to turbocharge your conversion rate.
Combining these reports with Omnisend's powerful Form Builder, you have at your fingertips the ability to create stunning, branded forms that consider your audience's location, language, devices, and their interest in your products.
Join Omnisend today and grow your email list with forms that convert
Start Free Today
related features
Want more sales?
Omnisend has everything you need to succeed.
Start free now
No Credit Card needed.