Drive sales on autopilot with ecommerce-focused features
See Features
Reading Time:
5
minutes
You might have heard that a capable email marketing platform can't be cheap, and a cheap platform can't be capable.
This is a myth.
But not all email marketing platforms bust that myth.
If you're looking for a feature-rich platform that won't break the bank, you'll want to pay close attention to Omnisend. Its generous free plan packs features that Constant Contact users don't get until they're on the Premium plan.
But we're getting ahead of ourselves.
We're going to do a feature-by-feature comparison of Omnisend vs Constant Contact. You'll learn all about the main differences between these tools—things that could make or break your marketing strategy and help you to make the right decisions—and see how they'll affect your bank balance.
A Quick Feature Comparison
Here's a feature comparison table to help you quickly find and compare the main features necessary for every nimble marketing team.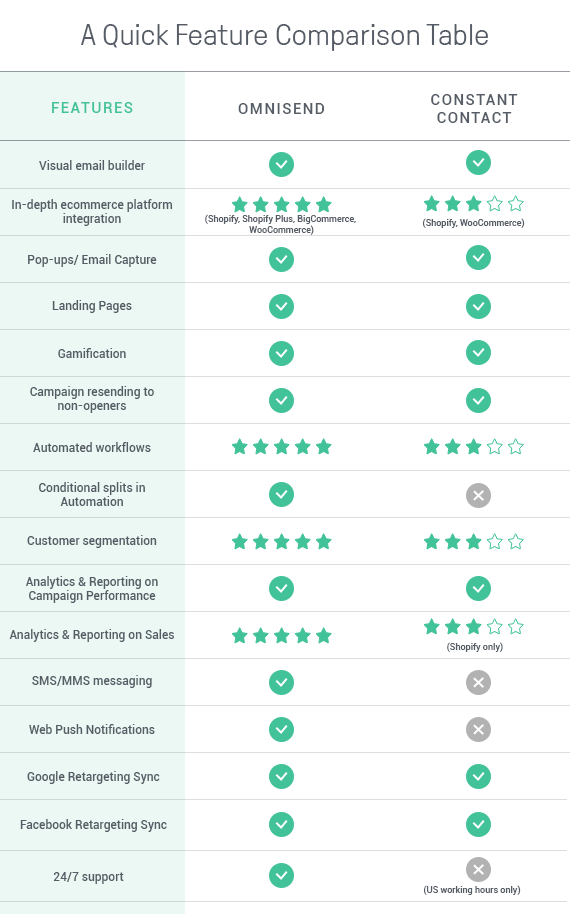 Omnisend vs Constant Contact: Who is Each Tool Built For?
When considering a new email service provider, pay close attention to what purpose the tool is built for. Software providers mainly focus on their primary customer needs and develop features to address these first.
Constant Contact's primary focus is on small businesses, nonprofits, and individuals, with the aim of helping them to work smarter. What does this mean? It means that the tool is mostly tailored for the needs of solopreneurs who have just started their own businesses.
Constant Contact is easy to use, offers a bunch of email templates, some basic automation workflows, and a simple website builder. However, if you want to use automated workflows like a welcome series, or segment your audience, you'll need to upgrade to a higher-priced plan. For these reasons, Constant Contact might be better suited for those just getting started.
Omnisend, on the other hand, was built specifically for ecommerce brands and offers the kind of comprehensive features necessary for both small and already developed ecommerce businesses.
For four years in a row, it was one of the most user-friendly tools in the email marketing automation field. It offers advanced customer segmentation and marketing automation features and additional marketing channels which are critical for growth-led ecommerce businesses—even on its free plan.
This means Omnisend is uniquely flexible enough for companies of all sizes and stages of growth.
Let's take a closer look at what you can expect from each.
Marketing Automation
Our research found that in 2022, automated emails made up 1.8% of sends, but 31.5% of all email sales.
Baking Steel generates even more–33% of revenue comes from automated welcome, cart abandonment, and post-purchase messages. So if you're serious about increasing sales, powerful marketing automation should form a significant part of your ecommerce email marketing strategy.
Omnisend offers automation on every tier, even providing pre-built workflows that you can start using immediately.
Constant Contact's offering is quite limited. The platform offers several options:
Welcome email/series
Birthday email
Anniversary email
Cart abandonment email/series (for Shopify, and WooCommerce only)
Custom email series
However, the Lite plan only offers a welcome email automation, while the rest are restricted to the more expensive plans.
Meanwhile, Omnisend provides one of the most sophisticated marketing automation solutions in the market. You can find:
A long list of pre-built email automation series: welcome, post-purchase, product, browse and cart abandonment, re-activation, etc. (Learn the four workflows every retailer needs)
Robust customer segmentation and personalization for automated messages
Possibility to incorporate emails, text messages and web push notifications into the same workflow.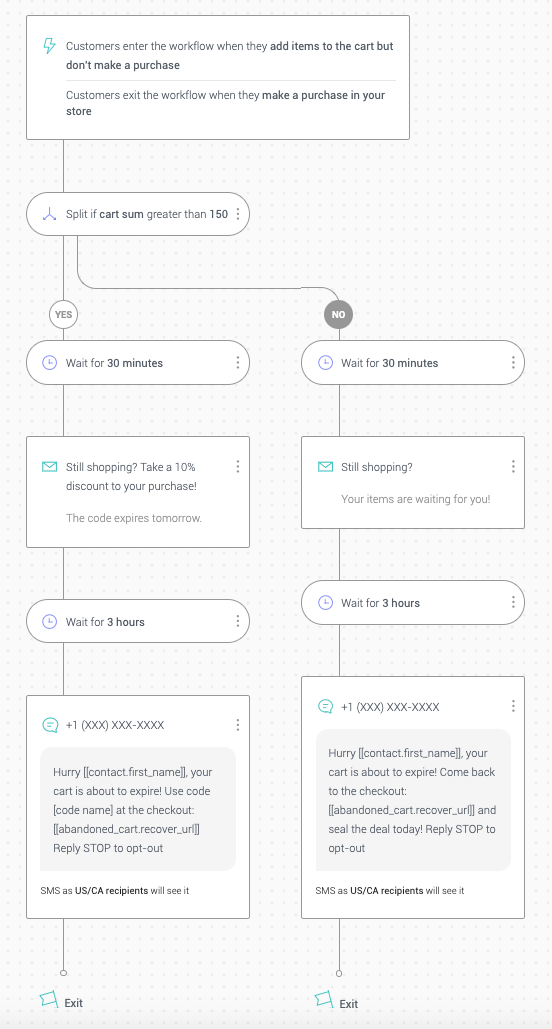 The broad opportunities provided by Omnisend's marketing automation are perhaps the most significant deciding factor when comparing it to Constant Contact. With that said, let's take a look at other important aspects.
Want automation that goes beyond cart abandonment? Try out one of Omnisend's pre-built templates now
Start Free Today
Email Campaigns
Both tools have visual editors that are flexible, intuitive, and offer many email templates that you can pick according to your business style and preferences.
As a result, feature differences between Email Editors aren't as significant as in marketing automation, and it probably won't be a decisive factor while picking your new email marketing platform.
List Building
Both platforms offer very similar email capture functionality: landing pages, popups (exit-intent, time-triggered), in-line forms, and signup boxes.
The main differences are the following:
Omnisend provides more flexible signup form designs that work out of the box.
Reporting on signups is available. It helps you understand how different forms perform.
An in-house interactive sign-up form—a Wheel of Fortune—is available without any additional integrations, and it has a conversion rate of a whopping 10%.
At Omnisend, you can use popups on the free plan. Constant Contact doesn't offer a free plan, so you'd need to pay for these features.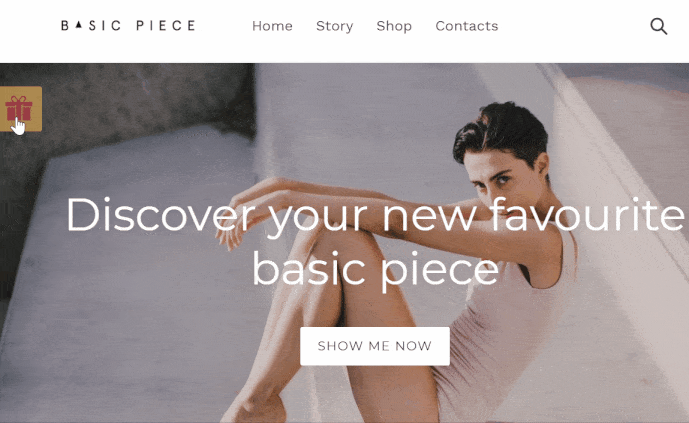 Customer Support
Both platforms have a long list of online resources, as well as the personal touch.
Constant Contact offers live chat and phone support during working hours.
Omnisend's award-winning customer support offers 24/7 live chat and email support on every plan, with an average response time of under 5 minutes. Users spending $400 or more each month are also eligible for a customer success manager, dedicated to helping them get the most from Omnisend and their campaigns.
One important consideration is that you can't sign up on the Constant Contact platform without entering your credit card information and there is no self-service to cancel your subscription. The only way to cancel is to call their billing team and ask. While inconvenient for most, if you are based outside the US it might be even more difficult and expensive.
With Omnisend, a credit card is not required during your sign-up process or the free trial period. And, even if you have entered your card, cancelation is available at any time via self-service or with the help of the customer service team.
Omnisend vs Constant Contact: Price Comparison
Constant Contact has three plans: Lite, Standard, Premium, starting at $12, $35, and $80 respectively. No matter which one you choose, you get the first month for free. However, many features are locked until you become a paying customer. Discounts are available for nonprofits and prepaying.
It's also worth mentioning that the price of Constant Contact can increase quickly as you grow your subscribers, so this tool is a good option if you're at the very early stages of building your email list.
Omnisend offers three plans—Free, Standard and Pro:
Free plan: includes all features, such as SMS, automation, segmentation, reporting, A/B testing and more
Standard plan: starts at $16/mo and allows you to send more messages to more contacts
Pro plan: includes free SMS/MMS credits based on your plan's value, a dedicated Customer Success Manager, and much more, starting at $59/mo
Similar to Constant Contact, Omnisend's price increases as the number of contacts grows. Here's a quick price comparison table:
No of Subscribers
Omnisend
Standard
Omnisend Pro
(+free SMS credits)
Constant Contact
Lite
Constant Contact
Standard
Constant Contact Premium
499
$16
$59
$12
$35
$80
501
$20
$59
$30
$55
$110
5001
$88
$105
$120
$160
$275
25001
$288
$425
$310
$340
$455
35001
$363
$594
$370
$400
$515
Omnisend vs Constant Contact: Wrap Up
Both of these email marketing tools are user-friendly and can be a great choice, depending on your situation and business goals.
However, for more ambitious entrepreneurs and ecommerce marketers, Omnisend is a better option for their more flexible marketing automation and broader possibilities to convey an omnichannel, highly-personalized marketing experience for your customers. Get started with Omnisend for free and see it yourself!
Imagine advanced reporting that spells out your next move. Stop imagining and make it reality! Start with Omnisend now
Start Free Today
related features
Want more sales?
Omnisend has everything you need to succeed.
Start free now
No Credit Card needed.