Drive sales on autopilot with ecommerce-focused features
See Features
Reading Time:
9
minutes
Email marketing is an easy skill to learn but a difficult one to master. It takes an intricate knowledge of the best email marketing practices, strategies, and — most importantly — a good, reliable tool to send out great campaigns. So if you're evaluating an email marketing tool for your business, you're in the right place. This article compares two popular platforms that readers often ask about: Omnisend vs. Moosend. Read on for a feature-by-feature comparison that can help you decide which tool is best suited for your business.
We'll start off with a quick tabular contrast of the two tools, and then evaluate each aspect of a good email marketing platform in detail, such as:
Email campaigns
Marketing automation
Email capture forms
Segmentation
Analytics and reporting
Pricing
Customer support
Omnisend vs. Moosend: A quick comparison
Feature
Omnisend
Moosend
Email campaigns
• Drag and drop builder
• Email templates
• Discount coupon codes
• Product content blocks
• Conditional content blocks
• Personalized recommendations
• Drag and drop builder
• Email templates
• Conditional content blocks
• Personalized recommendations
• Basic and custom-coded templates
Marketing automation
• Email, SMS, push notification automation
• Prebuilt Ecommerce workflows
• Custom workflows
• Custom event triggers
• Automation splits
• Email automation
• Automation templates
• Custom automations
• Page browse triggers
• Product view triggers
Email capture forms
• Active signup forms
• Landing pages
• Additional fields
• Exit intent forms
• Custom targeting and timing
• TCPA and GDPR consent collection
• SMS Opt ins
• Signup forms
• Subscription forms
• Landing pages
Segmentation
• Unlimited segmentation
• Contact profiles
• Lifecycle segmentation
• Live view
• Web tracking data history
• Simple segments
• Complex segments
• Real-time updates
• Endless segment grouping
Analytics and reporting
• Sales reporting
• Campaign reports
• Campaign clickmaps
• Audience growth
• Signup form reports
• Automation reports
• Segment reports
• Advanced reporting
• Real-time reporting
• GA tracking
• Email heatmap analytics
• Geo and device reporting
• Spam analysis
• A/B testing
• Spam testing
• Custom reporting
Pricing
• Free and freemium versions available, paid plans start at $16/month
• Free 30-day trial available, paid plans start at $30/month
Customer support
• 24/7 email and chat support, customer success manager from $400/month
• Email and chat support available
Email campaigns
Both platforms offer strong email campaign creation capabilities such as an easy drag-and-drop builder and hundreds of email templates. Let's take a deeper look at each platform's campaign capabilities.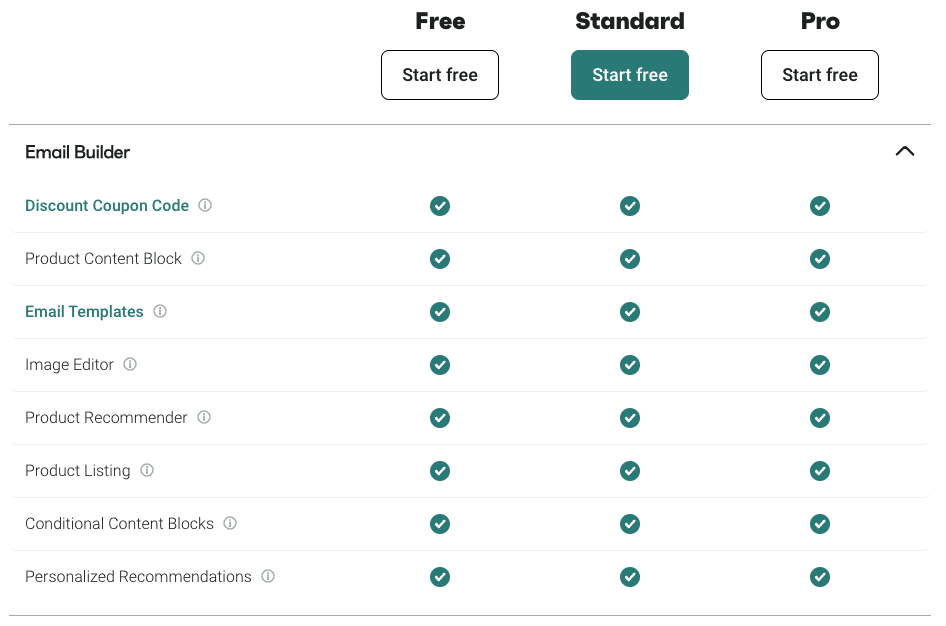 If you're in the Ecommerce space, look no further — Omnisend is the perfect solution for you. The platform is crafted specifically for Ecommerce marketers looking to send out beautiful campaigns that convert.
Omnisend's instant library of templates include some for Valentine's day, Mother's day, Easter, St. Patrick's day, and more. Omnisend offers email campaigns over both, the free and paid plans. You can send out unique discount coupon codes that are auto-generated and synchronized with your store.
The Omnisend email builder also lets you add product content blocks, and both platforms offer conditional content blocks and personalized recommendations.
Moosend, like Omnisend, ensures that email templates are designed in a way to look good over any device. You don't require any HTML or coding knowledge to use these templates, and you can set up and send them with just the click of a few buttons.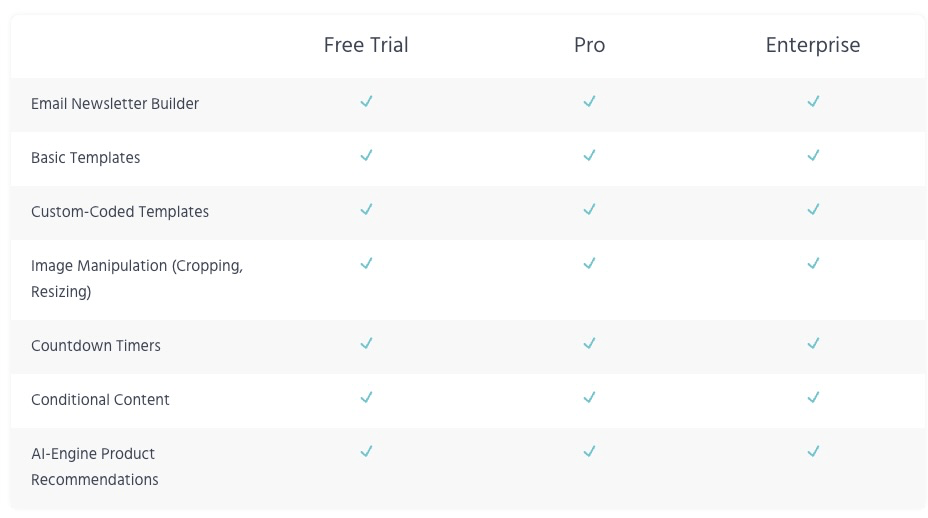 Moosend's email campaigns are available over a 30-day free trial and the paid versions. Notable features include countdown timers, image manipulation, basic and custom-coded templates, and email heatmap analytics.
Marketing automation
As brands grow, email automation becomes crucial to maintain quality at scale. Marketers need to automate campaigns based on specific triggers custom to their use cases, and this requires a robust email automation setup. Let's examine the marketing automation capabilities of both platforms in detail: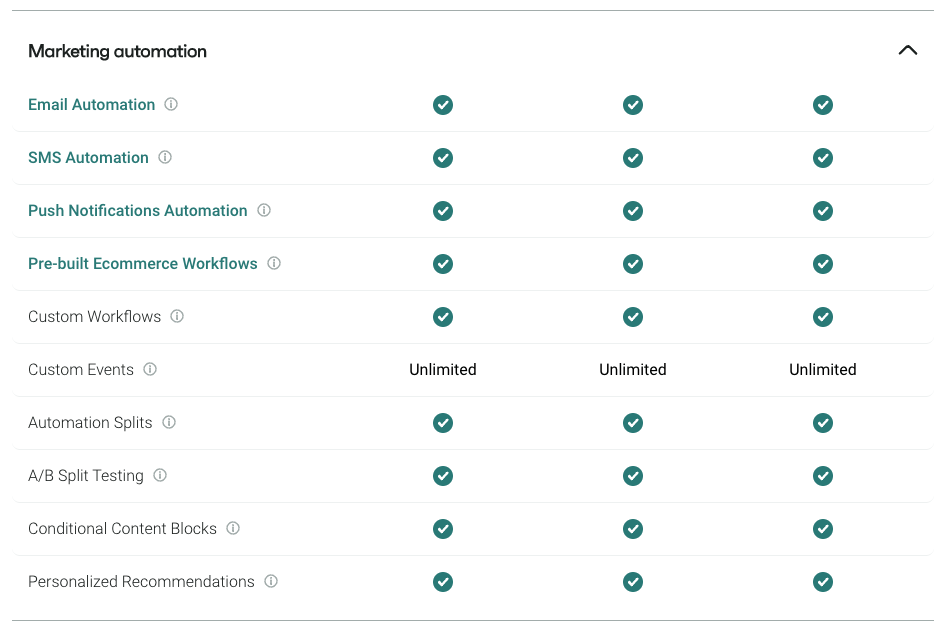 With Omnisend, email automation is available over both, the free and paid plans. You also get additional SMS and push notification automation, along with pre-built Ecommerce workflows and custom workflows.
Omnisend enables you to set up custom events as triggers for your workflows, and personalize your messaging across different paths in a workflow using automation splits. Additionally, the tool offers conditional content blocks and personalized recommendations (which we've already covered in the email campaigns section).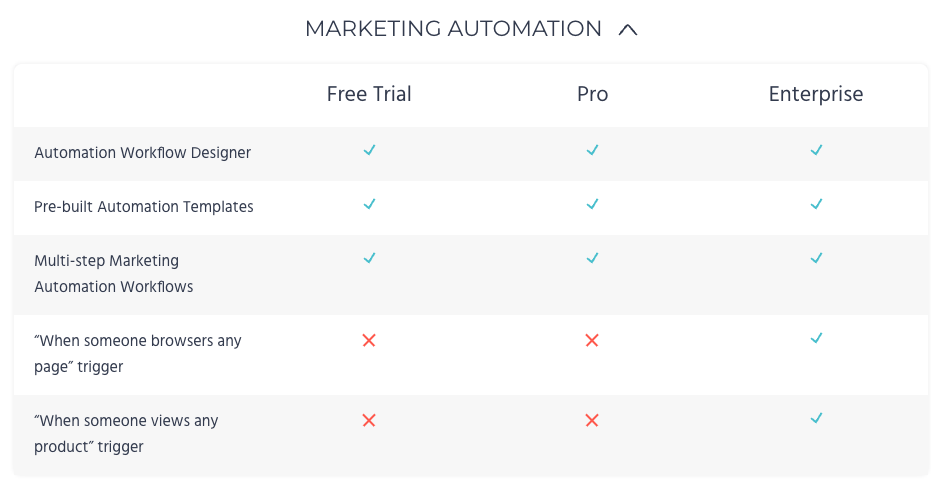 Moosend offers an automation workflow designer with ready-to-use automation templates for different use cases, such as user onboarding, abandoned cart, lead scoring, reminders, and more.
You can set up custom automations with multiple steps in each workflow. Each workflow requires a trigger for it to be sent out, and Moosend lets you set up triggers for when people browse a particular page or view a product of your choice.
Email capture forms
Emails are a great place to capture buying intent and nudge customers to convert. This is why email capture forms are important — they offer an easy, personalized route into your customer's inboxes so you can capture their interest through specific forms, instantly. Here's a Moosend vs. Omnisend comparison of the form-capture features.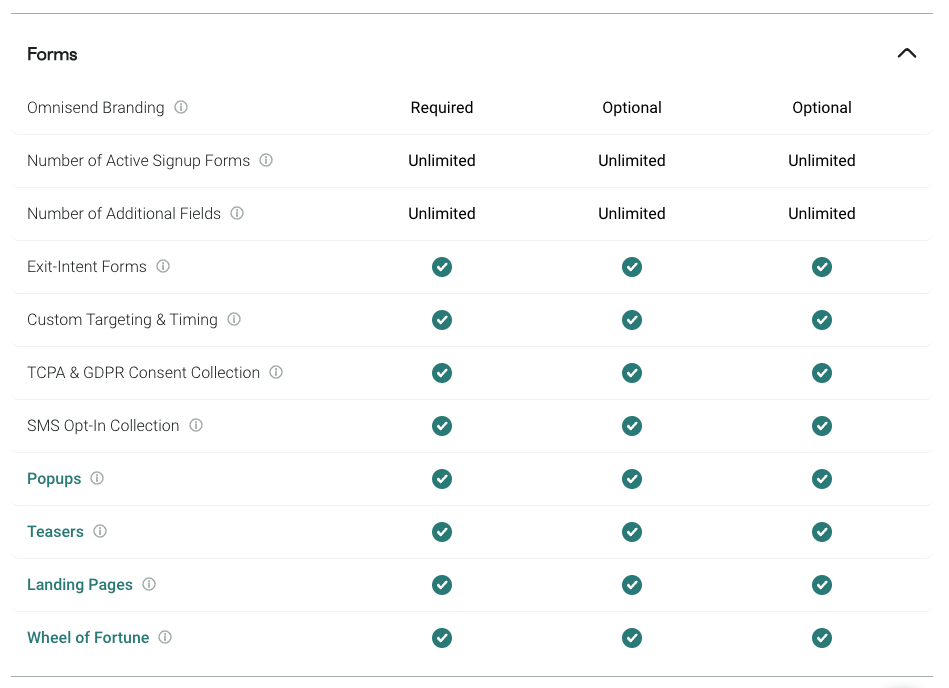 Omnisend offers comprehensive form creation capabilities such as active signup forms, landing pages, and additional fields to collect specific information. You can add exit-intent forms which are displayed to users about to exit your store, and set up custom targeting and timing triggers for signup forms.
All forms have a provision to collect TCPA and GDPR consent, and also SMS opt-ins. You can assign rules to decide which users get a popup invitation, or create a Wheel of Fortune-style gamification to collect email addresses.
Moosend scores a little lesser in this aspect compared to Omnisend. The platform only offers signup and subscription forms, apart from landing pages, as shown in the image above.
Segmentation
No one likes receiving irrelevant emails that are meant for a generic audience. More often than not, this leads readers to unsubscribe from email lists and generates a negative feeling towards the brand. This is why email segmentation is so crucial — it helps marketers ensure that customers only get what they want.
Email segmentation buckets customers into categories based on their past actions, behavior, purchases, and preferences. Marketers can set up different campaigns for each segment. This ensures that customers receive relevant messaging that makes them feel understood at every point in the journey.
Email segmentation is a decisive factor for any email marketing platform, and both Omnisend and Moosend offer excellent email segmentation capabilities. Let's take a look at each one:

Omnisend offers unlimited segmentation options for both, the free and paid plans. You can create contact profiles that track the browsing history of every known and anonymous user.
You can also segment customers by lifecycle stage and send out different campaigns for each stage. This gives you an opportunity to nurture and reactivate your most valued customers.
There's also a Live View option which lets you see what your users are browsing in real time, and a facility to view web tracking data.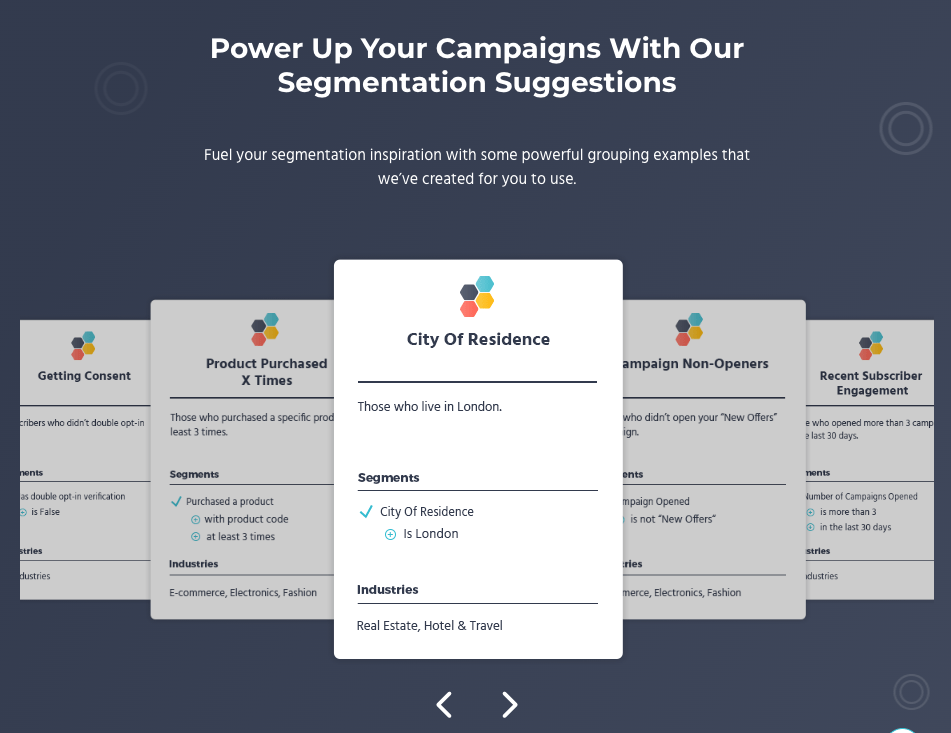 Moosend lets you create simple and complicated segments that capture demographic and behavioral information. You can divide your customers based on segments like past purchase history or products viewed.
Segments are updated real-time so you can make timely decisions about your email strategy. You can also create endless segment grouping using examples available on their website.
Get a personal 1-on-1 Omnisend demo that will supercharge your next campaign!
Get My Demo
Analytics and reporting
Data is the backbone of every good email campaign. Data about users, data about email behavior, open rates, unsubscribe rates, click rates, click through rates…all these data points help email marketers understand the success of a campaign and figure out ways to optimize the next one.
Email marketing platforms like Omnisend and Moosend offer powerful analytics and reporting.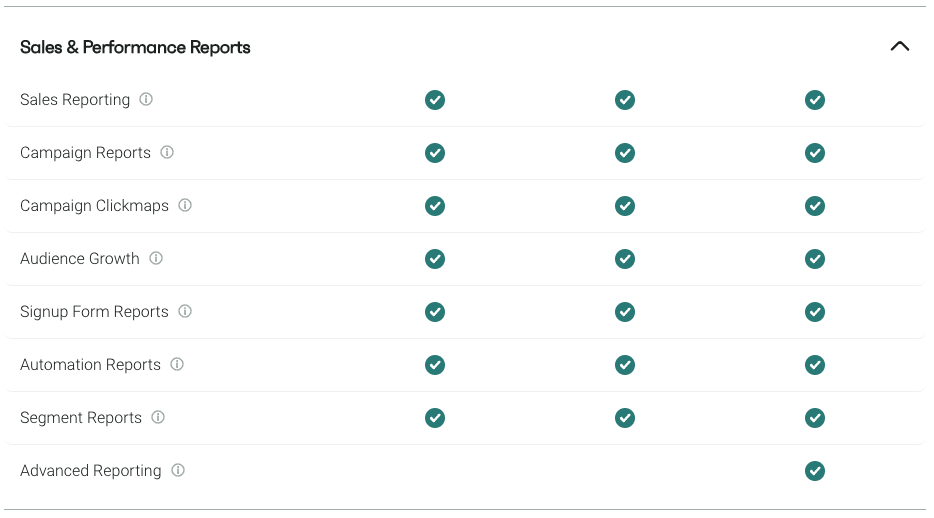 Omnisend generates actionable campaign reports that help you identify which campaigns are working well (and the ones that aren't). This includes open, click, deliverability rates, and more.
You can always keep a tab on the revenue generated by each campaign, channel, or automated workflow using the Sales Reports.
Features such as campaign clickmaps help you see which parts of the email your readers clicked on the most. You can get a bird's-eye view of the growth of your email list over time, and compare trends with previous periods.
Apart from this, you can also access signup form reports, automation reports, segment reports, and advanced reporting.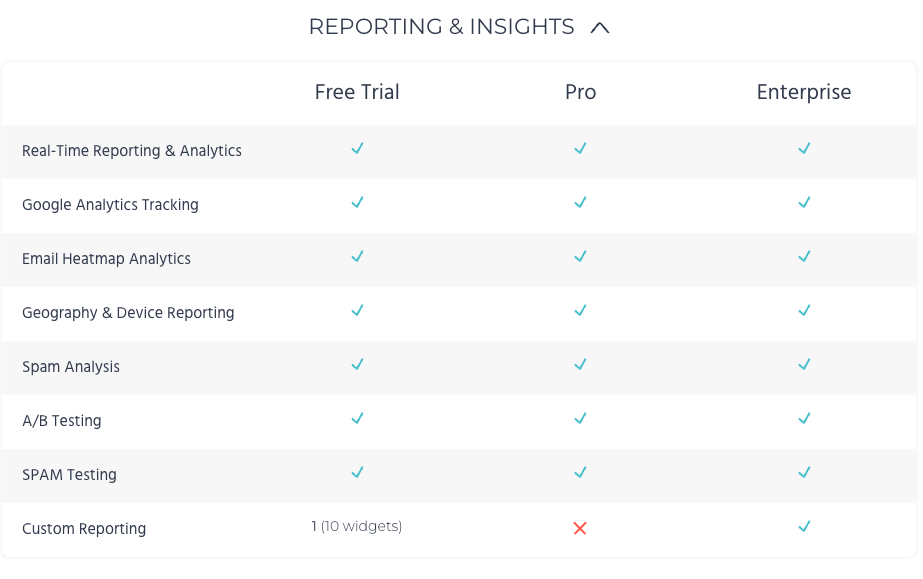 Moosend unlike some other email tools offers real-time reporting and Google Analytics tracking to keep an eye on your GA data. You can analyze email heatmaps to see how your customers consumed an email, and access geography and device reports to see the location and device each email was viewed on.
Additionally, Moosend also offers spam analysis, spam testing, and custom reporting capabilities. Custom reporting is only available in the Enterprise plan, and not the Pro plan.
Pricing
Omnisend offers an exhaustive free plan with an unlimited contact list size, 500 emails monthly, 60 SMS and 500 web push campaigns. The free plan also comes with professional-looking email templates, pre-built automations and workflows, popup and signup forms, unlimited segmentation, sales and performance reports, A/B testing, 24/7 email and live chat support, and more.
Paid plans start at $16/month, and there are two variants: the Standard and the Pro. The Pro plan offers 24/7 priority support in addition to advanced reporting capabilities and (optional) access to a customer success manager. Take a look at the pricing page for more details.
Moosend, meanwhile, offers a 30-day free trial instead of a lifelong free plan. The trial includes access to unlimited emails, one automation workflow, one landing page, a form, and most of the other key features.
Two paid plans are available: the Pro and the Enterprise. The Pro plan starts at $9/month, and offers unlimited emails, automation workflows, landing pages and forms, and access to the SMTP server. The Enterprise plan gives you a dedicated account manager, priority support, SSO & SAML capabilities, and a dedicated IP. Here's a link to the Moosend pricing page.
Customer support
Both Omnisend and Moosend offer customer support over email and chat. Both platforms also have a priority support feature as a part of the higher-tiered paid plan.
It's worth mentioning here that Omnisend has won multiple awards for their customer support — and 24/7 support is a way of life for all customers, even on the free plan. The average response time is three minutes or less, and the team covers all time zones around the clock.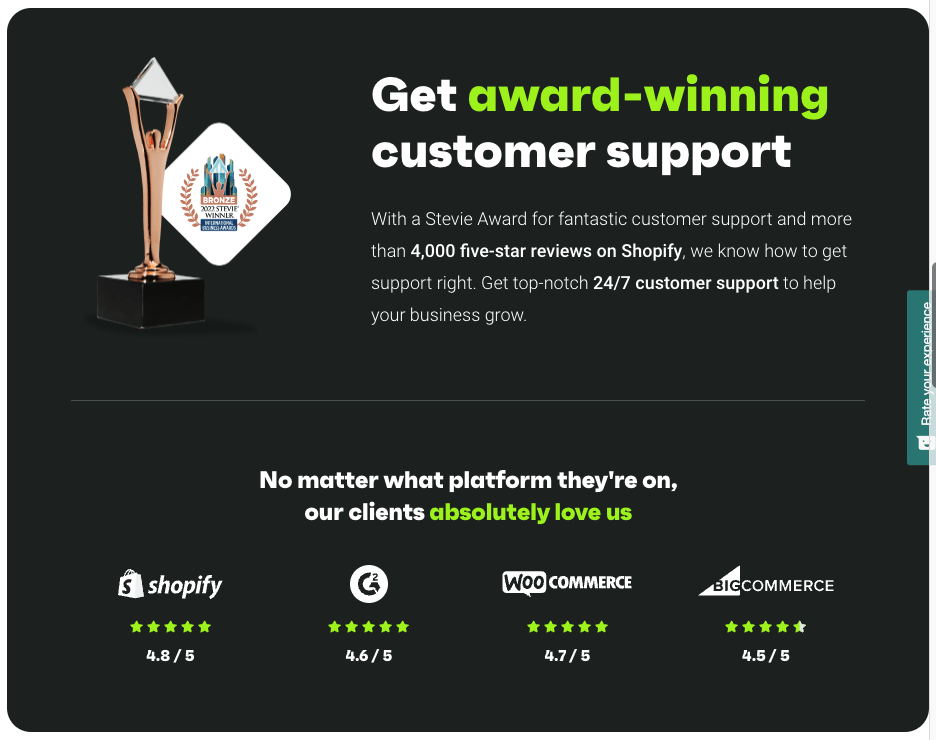 Omnisend has won a Stevie award for fantastic customer support apart from over 4,000 five-star reviews on Shopify.
Finally, Omnisend or Moosend: Which is the better tool?
Here's a quick wrap-up of all the comparisons we've drawn above. Both platforms offer strong email campaign creation features like a drag-and-drop builder and email templates. Omnisend offers product content blocks, and both platforms have conditional content blocks and personalized recommendations.
In terms of email marketing, both platforms have powerful email automation features, but Omnisend also gives you additional SMS and push notification automations. You can also leverage pre-built workflows or create custom workflows with custom triggers.
As for the form capture aspect, Moosend provides signup forms, subscription forms, and landing pages. Omnisend enables active signup forms, landing pages, additional fields, exit intent forms, and custom targeting/timing triggers. You can also add TCPA and GDPR consent, apart from SMS opt-ins.
Both platforms also offer great segmentation attributes that let you divide customers based on demographic and behavioral data. All segments are updated real-time so you can make instant, timely decisions.
On the analytics and reporting front, both Omnisend and Moosend score the same. Omnisend gives you actionable sales reports, campaign reports, clickmaps, audience growth and signup form reports, automation reports, segment reports, and on the Pro plan, advanced reporting.
Moosend offers real-time reporting and analytics, GA tracking, heatmap analytics, geo and device reporting, spam analysis and testing, A/B testing, and on the Enterprise plan, custom reporting.
Both platforms offer customer support over email and chat, and Omnisend has won awards for its commitment to 24/7 support anywhere, any time.
There you have it, folks. All the information you need to select a good email marketing tool between Omnisend vs. Moosend.
Remember, Omnisend is perfect for Ecommerce businesses, so if you're one of them, you must try it out! The easy-to-use email editor, prebuilt and custom email automation workflows, SMS, push notification, and web push channels (apart from email), are tailored for Ecommerce businesses worldwide. Give it a spin!
Get started with Omnisend today & drive sales on autopilot with pre-built automation workflows
Start Free Today
related features
Want more sales?
Omnisend has everything you need to succeed.
Start free now
No Credit Card needed.