Drive sales on autopilot with ecommerce-focused features
See Features
8 Different Ways to Use Email Autoresponders to Boost Ecommerce Growth
Reading Time:
6
minutes
What does it take to boost your online store once you've already implemented email automation into your business? Is there anything else that can give you an edge over your competition? Here's what we found: it is incorporating email autoresponders.
According to Marketing Sherpa, the most common applications of automated emails have been through welcome emails (50%) and thank you emails (48%). Email autoresponders have commonly been used to sequence these emails and continuously engage subscribers after they have received their first automated email. Sounds familiar?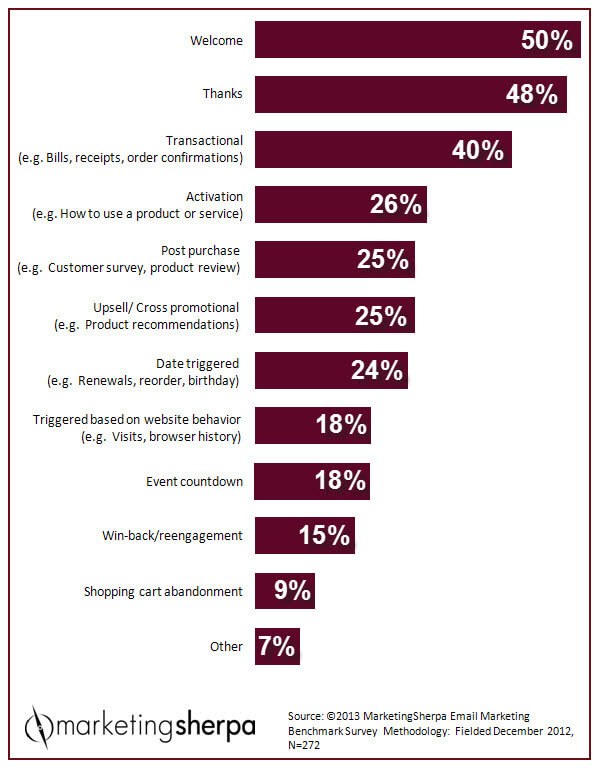 The newest tools today for email automation have incorporated the principles of email autoresponders into the automation workflow. If that should be the case, then everybody should be using it properly, right? Unfortunately, the answer is no.
Let us guide you on how to properly use and apply email autoresponders into your automation workflow. After that, we will also give tips on how you can use these advantages to grow your ecommerce business.
What is an email autoresponder?
Some might be misled because of the term "email autoresponders". Let's discuss what an autoresponder is and what it can do.
Here's a video to provide you with an overview on what an email autoresponder is and how it is used:
A tool used for email marketing in order to maintain engagement and contact with subscribers
A series of emails sent at different intervals in order to provide related information and content to new subscribers
A means of converting interest of subscribers through a call-to-action (CTA)
An Email Autoresponder is NOT:
An autoreply system for all customer queries and complaints
A tool that solves all your problems regarding content and engagement
An alternative to email automation
So why do we still need to use email autoresponders if email automations already exist? It's because there are principles from email autoresponders that we can apply to make our email marketing campaigns even better.
How should email autoresponders be used?
Now that we've distinguished email autoresponders from email marketing automation, let's discuss how we can use these autoresponders to create effective and responsive engagements with subscribers.
Mastering the basic principles of email autoresponders can help you create more engaging email marketing strategies. There are two things to remember when using autoresponders for email: retention of subscribers' interest and constant communication.
1. Focus on content that adds value to subscribers.
You can't just send tons of emails and expect subscribers to enjoy reading through every email. In fact, some subscribers might opt to unsubscribe if the content you provide adds little to no value.
Focus on the quality rather than the quantity of emails you release. It's better to send weekly emails about topics they would love to read rather than provide daily emails that look like spam messages.
It's not even about the length of the emails you create. Keep your autoresponder emails short, simple, and engaging to read. It can even be a simple photo that contains all the information your subscribers need to know.
Like these emails online course platforms like Udemy would use.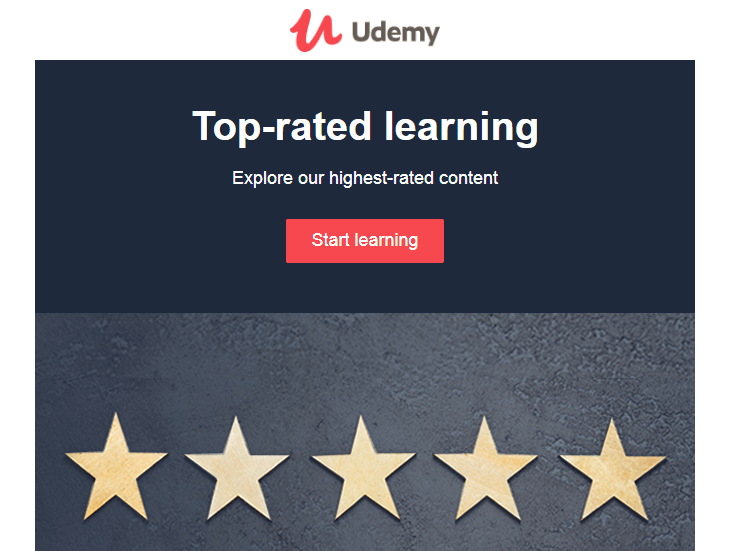 This helps avoid overwhelming new subscribers and helps them see a compelling reason why they need to remain subscribed to your email list.
2. Target emails accordingly.
If you've already prepared the content of the emails you'll be sending, the best way to efficiently send the content is to target emails accordingly.
Learn how to group your subscriber list and send only the emails you think would fit their interests.
We already know that less is more when it comes to sending emails and that same rule applies to email autoresponders.
3. Segment the emails per topic or idea.
Segmenting emails that you'll be sending needs to be done in an organized manner. The most effective way is to cut long ideas into short and easy-to-read emails. In this way, subscribers will anticipate the next part of the content you're providing.
If you have an email automation tool, the work gets easier. You can easily segment the emails and automate when it will be sent, even if you have an extremely long series of emails prepared for your subscribers.
Creative and Best Practices
Since email autoresponders isn't exactly a new thing, there should already be established practices that we know are effective. These practices incorporate the basic principles and apply them to real-life scenarios to produce the best results possible.
1. Incorporate Statistical Data from your Ecommerce Store
A significant amount of data needed for segmenting email autoresponses can come from your online store. You can check where visitors spend most of their time to know what they are into through website tracking.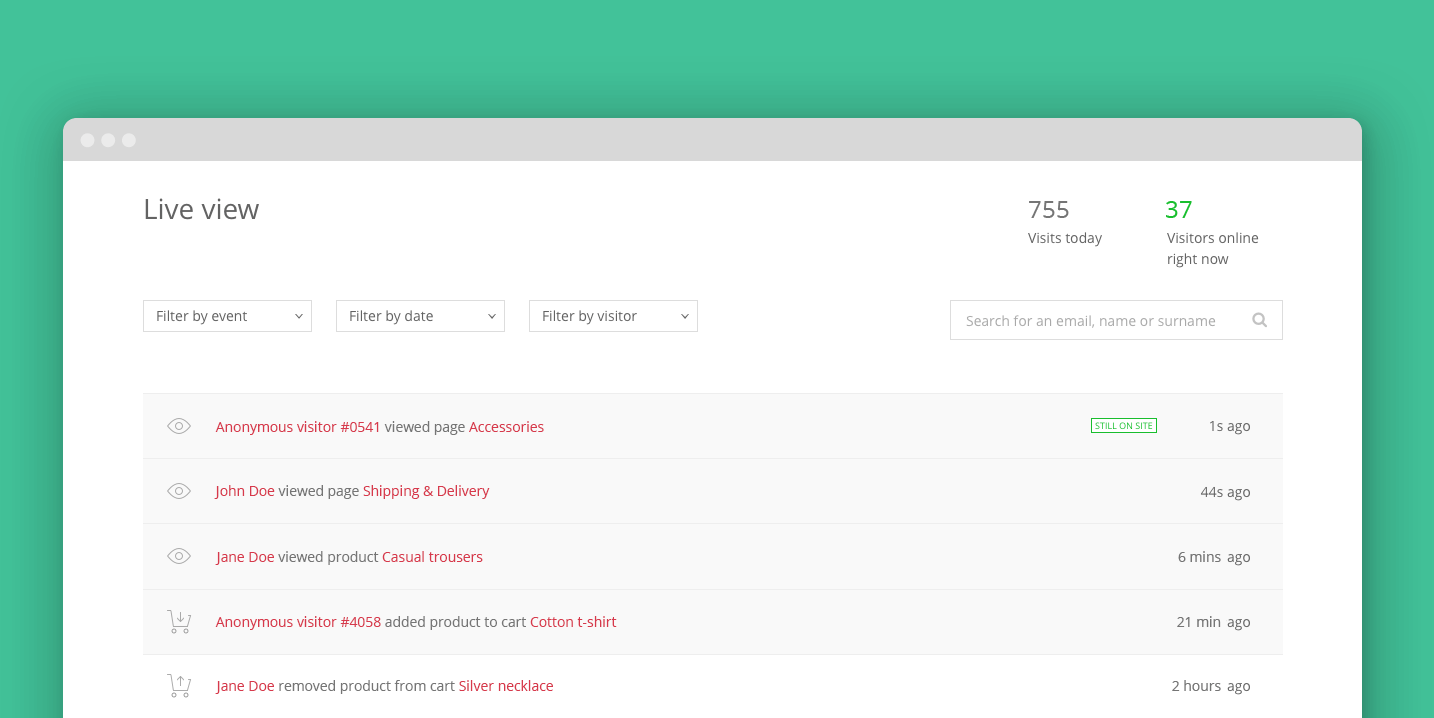 Checking the data also helps you shape content to fit your subscribers' growing interest. You might find something new to talk about that could help engage less active subscribers. Incidentally, this leads us to the next best practice.
2. Send out General Email Autoresponses for Popular and Hot Topics
Nothing can go wrong if you let everyone know what's hot and what's not. They may not have heard about it yet, but who knows if they might get interested in what you're presenting.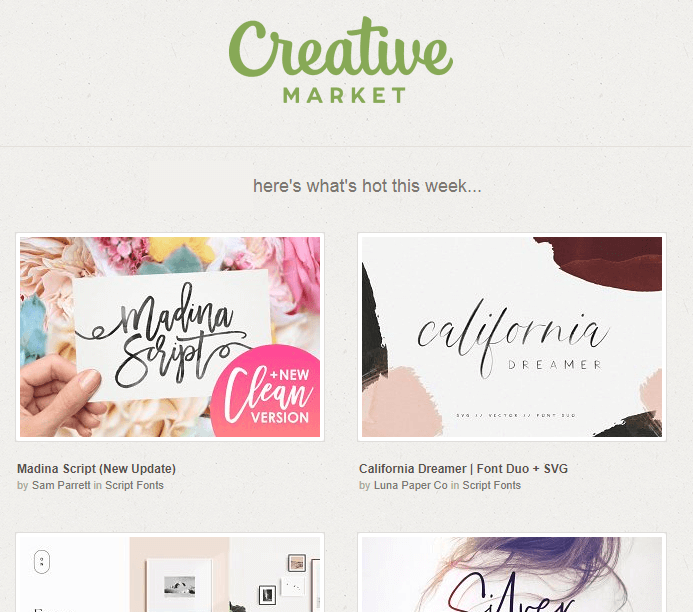 The best part is that these kinds of autoresponses are like listicles which everyone can enjoy reading. Based on the hottest trends and the information you get from your ecommerce store, you can create these top 10 lists that can attract a lot of attention.
What's the best part about it? It won't be clickbait since you've got the stats to prove what you're saying.
3. Convert Social Media Followers into Email Subscribers
Not everyone is into using their email to get the best content, but that might change if you offer them quality content that they can't resist. Social media is a good platform for engagements, but exclusive content provides more value in building a strong relationship with your followers.
Sometimes you have to divert attention into building your email list so that a lot more people can read your subscriber-only content. You can also share more personal emails such as milestones and achievements to subscribers.
How will it make your ecommerce store grow?
Email marketing is one of the tried and tested ways of helping ecommerce businesses grow. The popularity and numerous connections that email marketing gathers helps create a bigger funnel towards your ecommerce store.
If you don't believe us, then check out the numerous integrations between email marketing and ecommerce platforms.
Building the Store's Popularity
Loyal subscribers are the backbone of every store's popularity since they help shape how the store is perceived by the market. A highly engaging ecommerce website will attract more visitors due to word of mouth.
Email autoresponders creates more opportunities to let others know what your store is all about and what you can offer to them. The best part is that they won't forget about your store since you're always in constant communication with them.
Incorporating into your Automation Workflow
It's actually not just your automation workflow that can benefit from email autoresponders. There are several available marketing tools that synergize well with this form of engagement for subscribers.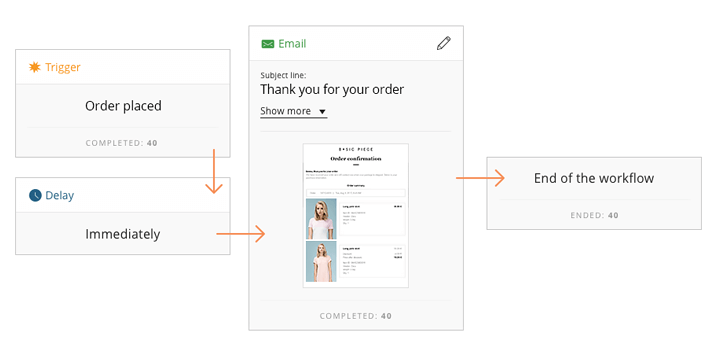 Using your automation workflow, you can incorporate all the concepts, techniques, and best practices we've provided to improve your email marketing strategy. Now, you'll be able to retain more subscribers and reach out to a larger market.
Conclusion
We've provided an overview of what email autoresponders are and what they are not. While it may seem simple to use, email autoresponders need to be mastered in order to bring out its full potential.
There are different ways on how you can use email autoresponders including follow-up messages after welcome and thank you emails. In the end, it all boils down to retention of interest and constant communication with subscribers.
Everything may seem complex but we can make life easier using automation tools. No matter what platform you want to focus on, you can use Omnisend's automation workflows to create responsive and engaging messages that will turn your subscribers' interest into actual purchases.

Get started with Omnisend today & drive sales on autopilot with pre-built automation workflows
Start Free Today