Drive sales on autopilot with ecommerce-focused features
See Features
Reading Time:
4
minutes
Email marketing is the strongest driver of customer acquisition and retention, according to 80% of online retailers.
It's also a powerful direct-marketing tool for ecommerce sellers, with 77% of consumers preferring email to other promotional messages, like text, social media, or physical mail.
However, many retailers still struggle with click-through rates, customer retention, and open rates.
As of March 2018, ecommerce industry emails average a 15.66% open rate and a measly 2.07% clicks, according to Email Marketing Benchmarks.
Furthermore, few retail email subscribers become repeat customers.
Email length plays a huge role in getting conversions, nurturing leads, and engaging with your customers.
You must master relevant, easily digestible emails to move above and beyond industry averages.
Learn how long you have to make the sale
You should have a good understanding of your customer, product, and sales cycle.
Take this information and monitor the amount of time that passes between the moment a consumer subscribes to when they make a purchase (or unsubscribe).
Having this data will help you determine how often to send emails, as well as appropriate email length and subject.
As a rule of thumb, your subscribers expect at least one email a month. In fact, Omnisend's email frequency research shows that you can send up to 19 emails per month (with good average order amounts) before your results drop dramatically.
In one study by Listrak, 90% of respondents suggested it would be helpful to be alerted when frequently purchased items go on sale, 72% are willing to receive emails featuring weekly sales, and 84% want to see personalized content.
Choosing length based on email type
The average reader is time-poor, their inbox is cluttered, they are likely reading emails from their phones, and they're doing you a favor by reading your email. You are taking up their time, and you should be respectful of that.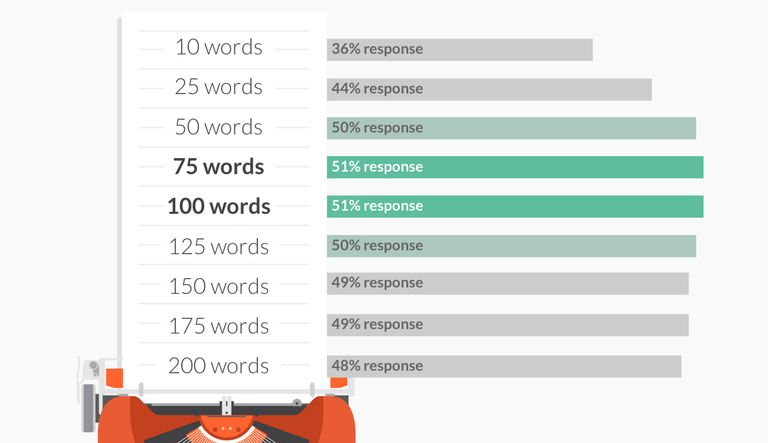 Image courtesy of Boomerang
One study by Boomerang suggests that emails between 50 and 125 words (a few sentences to one long paragraph) have the highest engagement rate.
Welcome emails
Welcome emails can be short and sweet, but still engaging. Some ecommerce sellers will limit welcome emails to about 10 words, thanking the customer for subscribing and offering an incentive. Try to aim for about 50 words, or 3 sentences.
How important is your welcome email? They drive 320% more revenue than any other promotional email, although this is in part because many are used as direct incentives to make sales.
Drip email campaigns
Drip emails typically target subscribers in the awareness stage of the buying cycle. These consumers want more information before making a purchase.
Other drip email campaigns target past customers who require more nurturing.
These emails should typically range from 50-150 words, with a focus on sales and discounts for repeat purchases. Informative or educational emails may have to be longer and should receive good open rates even if they're more than 500 words.
Promoting blogs and articles
Try aiming for a 1-sentence opening line, and 2-3 sentences about what's in the blog, followed by a concluding paragraph.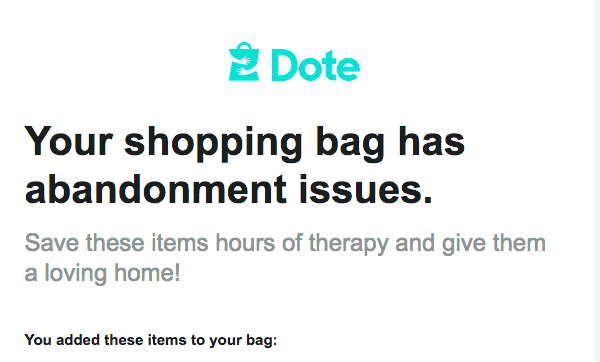 At 25 words, Dote's shopping cart abandonment email is short, effective, and to-the-point.
Announcements, updates, and product releases
Here, your goal should be to connect with the customer without annoying them with too much to read (or too little).
Aiming for about 5-10 lines of text with pictures of the products and a link to read more is a good policy.
Best practices for ecommerce emails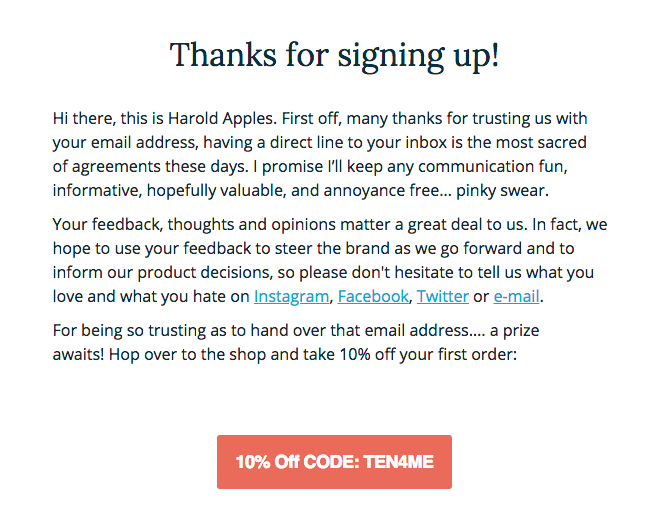 This email from National Dry Goods is 140 words.
The body of most ecommerce emails should be relatively short with body text not exceeding about 10 lines, unless you're specifically sharing information.
However, you also have to consider the length of other areas that also affect user engagement and perception.
Clear subject lines
Subject lines are possibly the most important part of the email. They are the first thing users see and sometimes the last.

The average person receives 147 emails per day and deletes 48% of them without opening. Try to stick to 50 characters and instill a sense of urgency to maximize engagement and click-through rate.
Use emotion
Creating emotional or value-ties can increase engagement and click-through rate by giving consumers incentive to click, open, and read your email.
Make your product pitch more personal to your subscribers ("Meet Our New Coffee Filter Subscription" vs. "Out of Coffee Filters?").
Responsive Design
Use analytics to track which devices your customers are using, and format accordingly. If your readers are primarily mobile, shorter emails (and horizontal images) are better.
High-quality images
Any images you include in your email must be high-quality, and not too large. Compress your images to keep them as small as possible, so they load quickly (particularly on mobile data).
Understanding appropriate ecommerce email length means considering the customer, their device, and the subject of the email to create context-based formatting.
Managing email length will help you to keep readers engaged so you can continue to drive value and sales through your email list.
About the Author:
Rachel Go is a content strategist, SEO writer, and inbound marketer for ecommerce and SaaS clients. She loves writing about remote work, productivity, and marketing strategies.
related features
Want more sales?
Omnisend has everything you need to succeed.
Start free now
No Credit Card needed.