Drive sales on autopilot with ecommerce-focused features
See Features
Reading Time:
10
minutes
Shopify has a well-earned reputation as being intuitive and easy to use, making it a popular choice for new ecommerce stores.
If you're building a store on Shopify then you'll probably feel a mixture of excitement and apprehension as launch day approaches: on the one hand, your idea is coming to life, but on the other hand, did you remember everything?
Does the store have trust signals?
Are the images optimized for SEO to help you get organic visitors?
Are the product descriptions and images all in place?
Mistakes are easy to make, and can result in delays and lost revenue. The easiest way to avoid those mistakes is to create a launch plan.
Why a Shopify launch checklist is important
As the old saying goes, "to fail to prepare is to prepare to fail." A Shopify launch checklist may not be the first thing you think of when you start planning a new store, but it can be the difference between success and failure.
A good checklist includes more than just getting set up on Shopify itself, and incorporates other details to give you the best overall chance of success—such as your story, how you'll promote the store, and ensuring that it's easy for visitors to use.
The best Shopify setup checklist will:
Streamline processes
Consider legal compliance
Plan your time and resources
Consider pre- and post-launch
Ensure that you don't forget anything
Shopify launch checklist
To help you, we've created a Shopify checklist to get your business ready for a grand opening. Because success is much more than just launching a store that looks nice, the checklist incorporates lots of additional elements to really give you the tools you need—from your domain to filing taxes. So let's dive in.
1. Choose the right sales channels
There's a popular belief these days that you need to be everywhere to generate sales. Unless you've got a dedicated team to help out, that can quickly lead to burnout and losing the desire to continue.
Instead, you only need to be where your customers already are. After all, if your customers aren't on a particular platform, how can you hope to get sales from it?
Your first step is to carry out some customer research, which will teach you where they are. If they're mainly on Facebook, then it makes sense to use the Facebook channel app, along with a steady presence there. Likewise, if they're on Google, you should use the Google Shopping app.
2. Add a custom domain
As Shopify itself says, a domain name isn't just the place people go to visit your store—it's "how you express your identity and build a brand."
Having a custom domain is important for brand recognition, so don't miss this vital step.
The first thing you want to do is make sure your domain name is both short and memorable. It also needs to be on brand, creating the appropriate emotion in your visitors. Also be mindful of how it will read as one long word in the address bar—the internet is filled with examples of domain names that inadvertently spell out something rude or embarrassing.
Simplicity is important too, so avoiding hyphens and numbers will make it easier for your audience to remember and spell. And if you find that there's not a .com available for your preferred name, you may be able to register it with other top level domains like .shop, .store, or .co.
3. Optimize product images
You probably already know that images can be the reason people buy, but did you also know they can be the reason people leave your site?
There's the obvious considerations here, like people leaving if the images have heavy pixelation or don't properly show the item. But there's also the fact that large images can increase the load time of your site—and the chance of people leaving increases 32% when page load time increases from one second to three. Three seconds doesn't sound like much, but it's enough time to cost you a lot in lost sales.
The easiest way to avoid this is to compress your images. It reduces the size of your image files, which in turn will reduce the amount of hosting space you use, as well as your load time and bounce rate. There are plenty of Shopify apps to choose from for this, including TinyIMG and Crush.pics.
To optimize further, we recommend:
Including alt attributes
Using concise and accurate image descriptions
Using smaller and widely-used file formats like PNG or JPG
4. Review the buying experience
Once your store has been designed and your products added, you'll want to run through the checkout process yourself. This way, you'll ensure everything is running smoothly and if there are any problems you'll spot them before launch. The last thing you want is for customers to be unable to complete a purchase.
When conducting the review, look out for:
Product images—do they load quickly with the correct formatting?
Security—can visitors see a safe payment trust badge?
Information including shipping, returns, and refund policy links
Payment methods—visitors expect to find common ones like Apple Pay and credit cards. It's also recommended to enable guest checkouts for easier purchasing
Shopping cart—can you edit and remove items?
Special offers—if applicable, are your discounts applied automatically?
Order confirmation—did your email arrive immediately? Did it load quickly and correctly?
5. Have a basic email marketing strategy
When you launch your Shopify store you'll need to think beyond the store itself and consider how to maximize your sales. A particularly effective way to do this is with automated email marketing, which can send confirmation emails, put new subscribers through a welcome sequence, send special offers and updates to your buyers, and even recover abandoned carts.
Welcome emails are sent to all new subscribers and can introduce them to your brand, offer discounts, and encourage them to make a first purchase.
Transactional emails are sent to buyers once a specific action has occurred—such as making a purchase, or their item dispatching. They're important for keeping your buyers updated, and because they have high open rates they're an excellent place to show additional products or offers to your customers.
Here's a dispatch example from Basic Piece: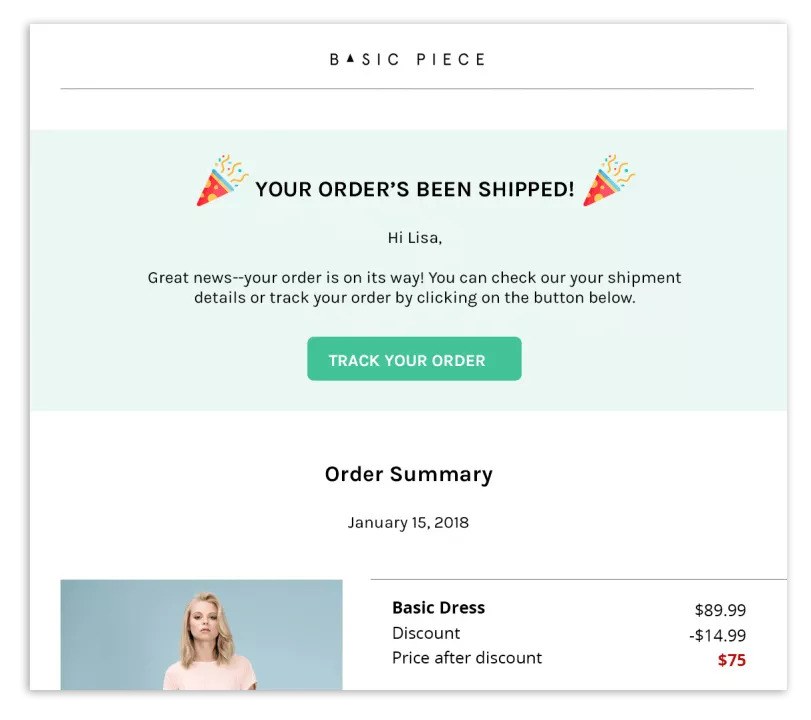 Cart recovery emails are essential if you want to increase your sales and revenue. When someone adds items to their cart but doesn't complete the purchase, an automated email or SMS can be sent out to encourage them back.
Marketing emails help to turn subscribers into buyers and buyers into repeat customers. They can showcase new items, offer special promotions, create enthusiasm with pre-orders and VIP deals, and a whole lot more.
If you're overwhelmed by the amount of options available, this guide to choosing an email marketing app will help you get started.
6. Have a system for collecting customer feedback
Research has found that 90% of consumers read online reviews, and if a business' reviews are excellent then customers are likely to spend 31% more money.
There are ways that you can gather reviews on autopilot, helping your business to grow quicker: the more reviews you have, the more people will trust your store, leading to additional reviews, which encourage more people to buy from you.
The Shopify App Store has numerous review apps including Shopify's own Product Reviews as well as Okendo, which not only collects reviews but also user-generated content. Once reviews have been collected, you can display them around your website where visitors can see them prominently, such as your sidebar and product pages.
In addition to the store itself, you can also collect customer reviews by email. Omnisend has an automated workflow for collecting customer feedback, where you can set "product purchased" as a trigger with a delay of your choice, and then ask for a review. You can even segment customers based on the feedback they leave, so you can send more targeted emails to them later.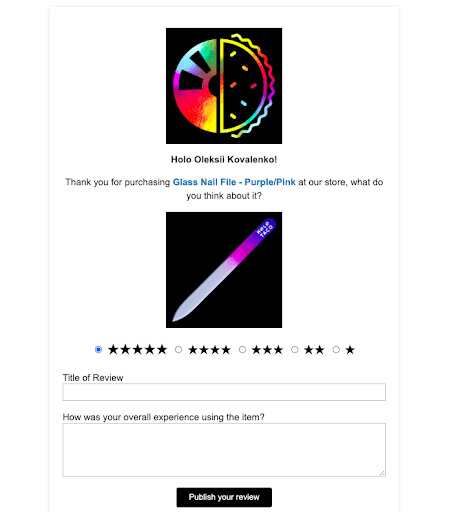 7. Build a marketing plan
A good Shopify store launch checklist will include a marketing plan, because awareness of your store is the difference between having customers and nobody knowing it exists.
The most effective approach is to split the plan into two categories: pre-launch and post-launch.
The pre-launch marketing activities will focus on building awareness and excitement, and could include things like:
Social media campaigns
Collaborating with influencers
Promotional videos and teasers
Offering discounts or free products to people who join your email list
The post-launch activities will be all the marketing that you do to bring in customers, drive sales, and raise awareness after the store is live. It may include:
Running ads
Automated emails
Social media posts
Onsite marketing e.g. popups (including exit-intent popups)
You can also use your blog to share your brand's story and promote your products, such as this example from Highway Robery: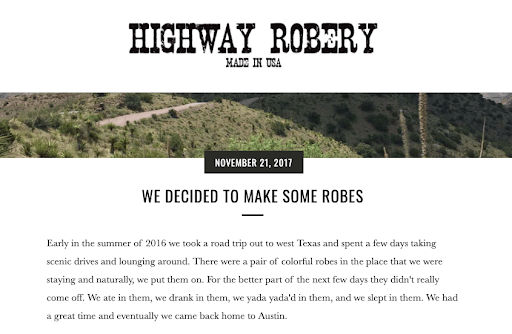 8. Check your customer support
To really succeed in ecommerce, you need to create a positive experience for your customers. Your store's usability, products, branding, and communication all play an important role in this, but the experience isn't complete without adequate customer support.
Research of 15,000 people from 12 countries found that "Speed, convenience, helpful employees and friendly service matter most, each hitting over 70% in importance to consumers."
So the goal is to have convenient ways for people to contact you and, crucially, you need to have timely and helpful responses.
Email is a standard and expected communication channel. Consumers expect there to be small delays for your response instead of it being immediate, but it should arrive within hours and not days. You can speed things up by preparing templates in advance, adjusting them for each enquiry as necessary.
Live chat is increasingly popular as it allows customers to get instant, or almost instant, answers to their questions. You can use AI to help with a lot of questions and users can also be prompted to join your email list. Shopify has multiple live chat options, such as eDesk.
Social media is another expected channel. It's good practice to use the person's name and ensure you respond to each comment. Because social media is very public, it presents the opportunity for brands to win a lot of support and goodwill by being helpful and addressing negative feedback in an empathetic manner.
Lastly, the phone is still an important support channel. If you offer a phone number, it's important that calls are answered and positive language is used when talking to customers.
9. Add a data analytics app
If you want to know how well your store is doing at attracting and retaining visitors, which pages are your most popular, and what your conversion rate is, you need to use a data analytics app.
Armed with this information, you can identify what's working and double down on it, and make improvements to the things that aren't working. This is much quicker and cheaper than trying to figure it out through trial and error.
Google Analytics integrates directly with Shopify and features ecommerce tracking, showing you data about your transactions and revenue as well as information about visitor behavior.
Getting started is as simple as following this official setup guide.
10. Set up taxes
There's a lot that Shopify can do, but there's one big thing it doesn't do: file or remit taxes. Given how much tax rates and rules can change by location, it's something that you'll need to do yourself.
However, Shopify does have a lot of helpful information on taxes that make your life easier, including steps to set up taxes in your store.
11. Write an About Us page
It's easy to get so focused on your product pages and marketing funnel that you forget about the other information your website needs. One such need is an About Us page.
The About Us page is one of the most visited, because it's where visitors learn more about the business. What they find there can prompt them to buy from you, or leave and go elsewhere. It's where they will learn if you have specific values and whether they align with their own.
But it's possible to get an About Us page very wrong: if it's boring, lacking detail, too focused on yourself rather than what you do, and corporate instead of human in its language, the page is likely to turn people away quickly.
To create a compelling page, you'll want to include the following:
Your brand story
Images of the team
Contact information
Positive reviews or awards
How you help your customers
A call to action to make a purchase
Language that's similar to how your audience would speak
Allbirds' is an example of a great About page for a clothing store, using appealing imagery and video with a concise paragraph about the origin of the brand and the creator behind it. The page also includes a picture of the team, an animation of the product with top-level notes on what makes it different, as well as its sustainability credentials.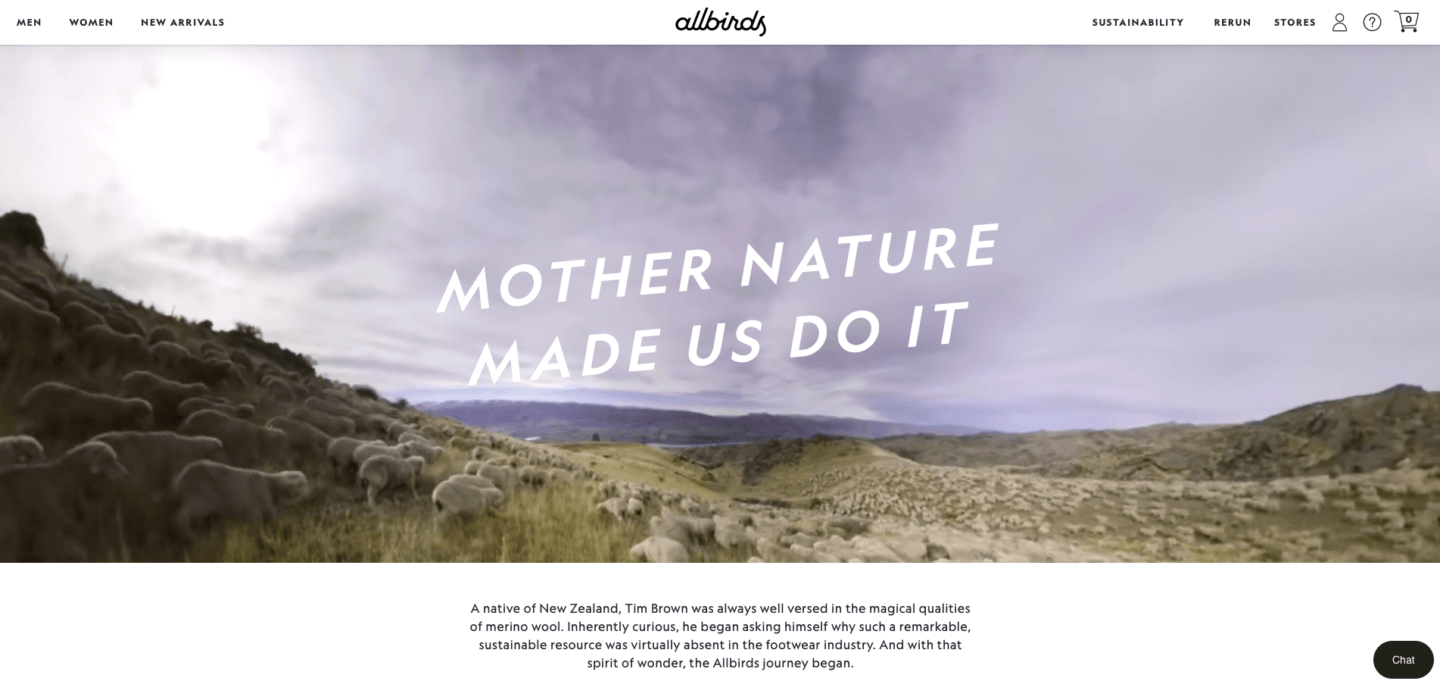 12. Check your content
At this point, you're close to launching your store and it's time to do a content check.
This is more than just a proofread: your site has content everywhere, including images, videos, and alt-tags.
Take some time to check the site thoroughly. Something as simple as a typo or a sentence that isn't clear enough can make bad first impressions and prompt visitors to leave.
To help with the check, you could use tools like Grammarly to review the written pages. You could also ask friends and family to read through it too, making sure everythings reads well and there aren't any errors. Just make sure to also check your images, alt-tags and meta descriptions, which are often the first thing visitors see.
13. Launch your Shopify store
That's it, you're done! You've gone through each item on your Shopify launch checklist and it's time to open the doors to the public. Don't forget to ask your friends and family to help spread the word, and check your analytics to make any necessary tweaks to improve performance.
Shopify checklist: Summary
Creating an ecommerce store is exciting and it's natural to want to open the doors to buyers as soon as possible. While that can still work, it'll require a lot more time making adjustments and correcting problems later on than if you followed a Shopify checklist before launching. A good checklist will cover all bases, from domain to marketing and taxes, giving you everything you need to create a thriving store.
Get started with Omnisend today & drive sales on autopilot with pre-built automation workflows
Start Free Today
related features
Want more sales?
Omnisend has everything you need to succeed.
Start free now
No Credit Card needed.