Drive sales on autopilot with ecommerce-focused features
See Features
Reading Time:
9
minutes
Millions of businesses use Shopify to create their online stores globally. Shopify is one of the biggest eCommerce platforms in the world, with a 32% market share in the US alone.
Shopify provides lots of apps to help store owners increase sales, boost revenue, and gain customer loyalty. It's no wonder many online merchants prefer it over other platforms.
There have been many famous Shopify success stories from top Shopify stores and famous companies like Fashion Nova and New York Times. But it's ecommerce success stories from the small businesses that are truly inspiring.
If you're struggling to set up your online store on Shopify or wondering if Shopify is profitable, you're in the right place.
This post will take you through a few Shopify stores and how they've managed to grow their online business.
Here are several Shopify success stories to inspire you.
Shopify success story – Naked and Famous


Founded by Brandon Svarc in 2008, Naked and Famous is a Canadian denim company. They source their denim material from Okayama Japan, the home of traditional denim craftsmanship.
Here they get raw denim material, woven using rare traditional machines and a particular eye for quality. They sell these products on their well-designed Shopify ecommerce platform.
What are they doing well?
Authenticity is what sets Naked and Famous apart from its competitors and makes it a big success story.
As opposed to most businesses in the denim industry, Naked and Famous has ample knowledge of their products. They thrive in the details, down to the thickness and weight of their denim material and all of this reflects in their products and their listings.
This and their creativity in the variety of denim they produce has only helped them grow. In addition to this, their marketing is centered around readily-available customer support. They also provide ample information about their products to their clients.
Their marketing is further enhanced by their email marketing platform which easily integrates with Shopify. This helps them send automated email campaigns, cart abandonment emails, and more, resulting in boosted conversion rates
What are the results? Key takeaways?
Here are the key takeaways from this Shopify success story:
Your first focus should be on the quality of the items you produce and or sell
Ensure your customers have the best experience
Offer holistic product experience advice
Have an effective marketing strategy
Shopify success story – Black Halo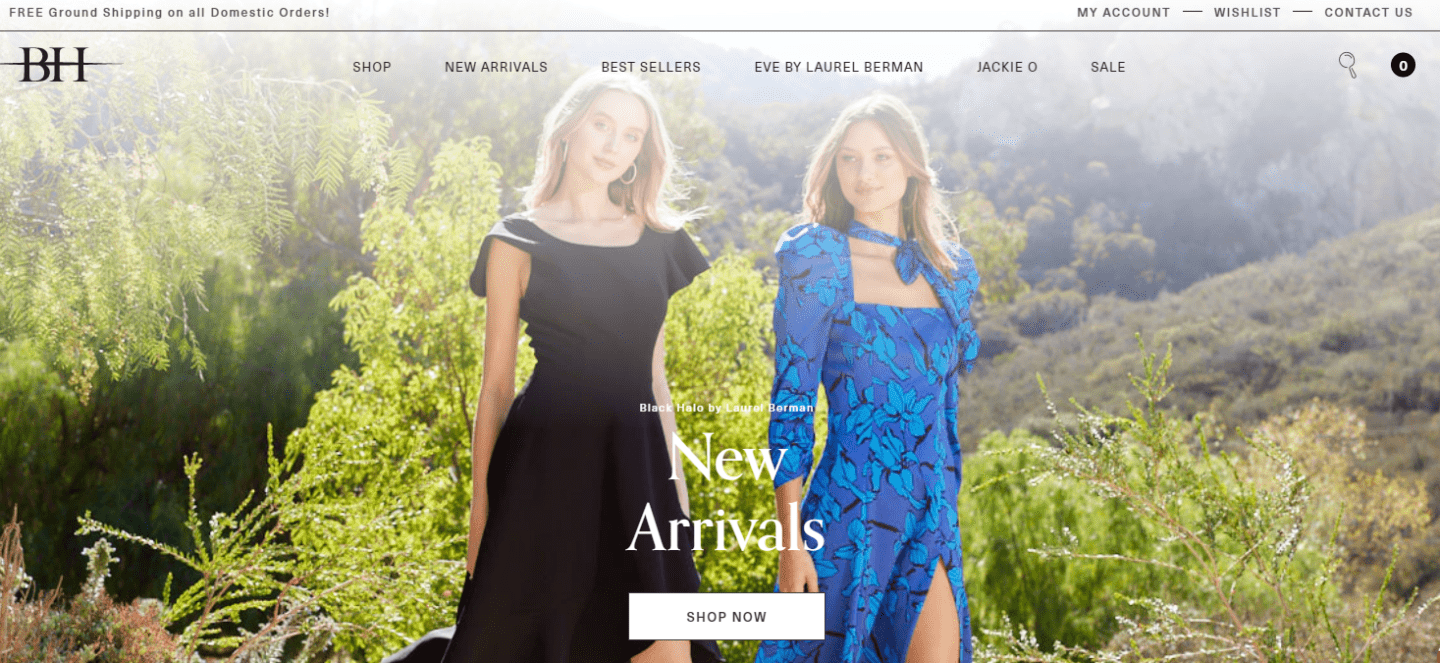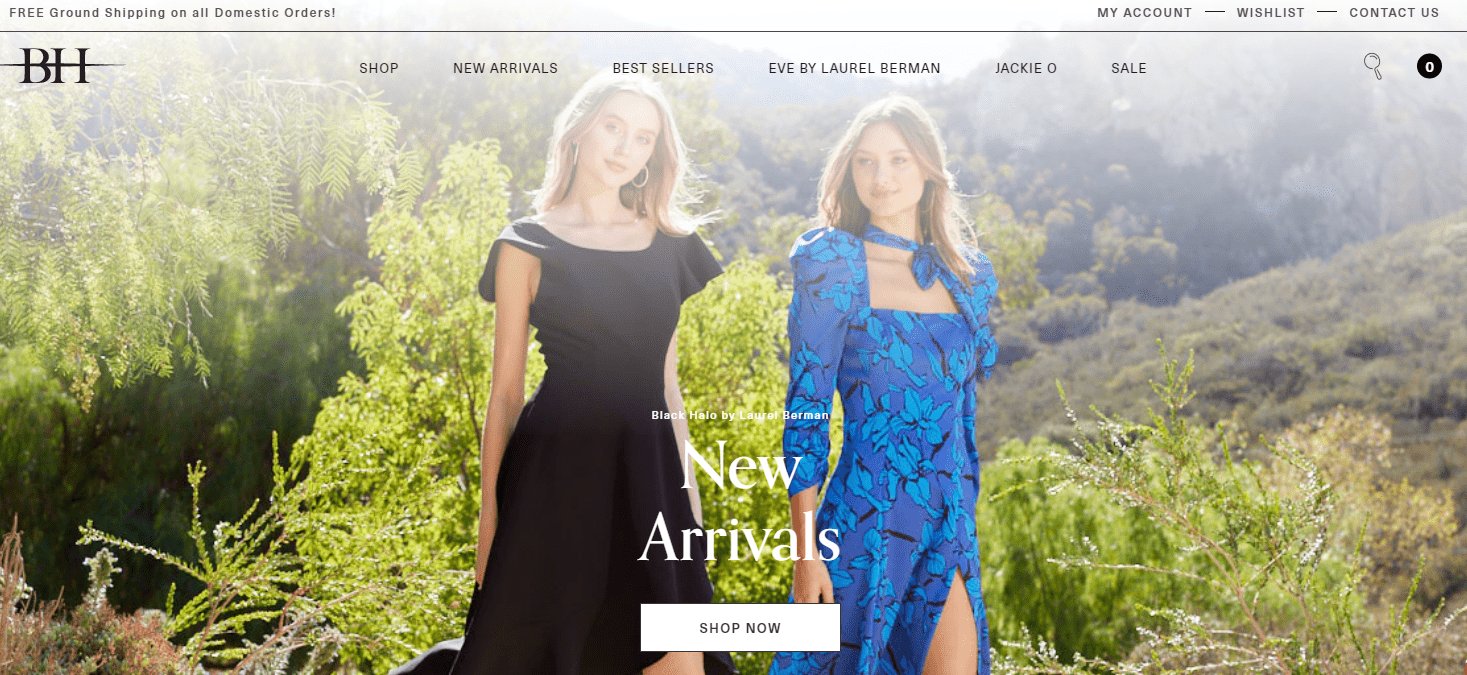 Black Halo is an LA clothing line that sells luxury clothing for women. Founded by Laurel Berman in 2002, it's known for brands such as Jackie O and other contemporary dress designs.
They're an ecommerce wholesaler of tailor-made dresses, two-piece clothes, and jumpsuits for business events, galas, cocktails, and evening parties.
It's one of the many Shopify clothing stores that have found success on the platform. Here's how they managed that.
What are they doing well?
Black Halo was formed to reach a particular market niche, the high-end market. For instance, their Jackie O dress, which has earned them publicity, has been worn by celebrities like Meghan Markle.
Besides having a specialized market niche, Black Halo's pieces were made with specific occasions in mind. Therefore, their target audience is even more niche.
Through their Shopify platform, they've been able to create a website design that represents their glamorous image. Most of their pictures are crisp and the site is easy to navigate.
What are the results? Key takeaways?
Black Halo produces the kind of quality that instills confidence in its buyers and drives their success story. This shows that they know their audience's needs and seek to fulfill them. The result is building a brand that attracts markets, just by its quality.
Part of Black Halo's success is due to their narrowed-down niche as well, which makes their marketing more specific.
Shopify success story – SM Global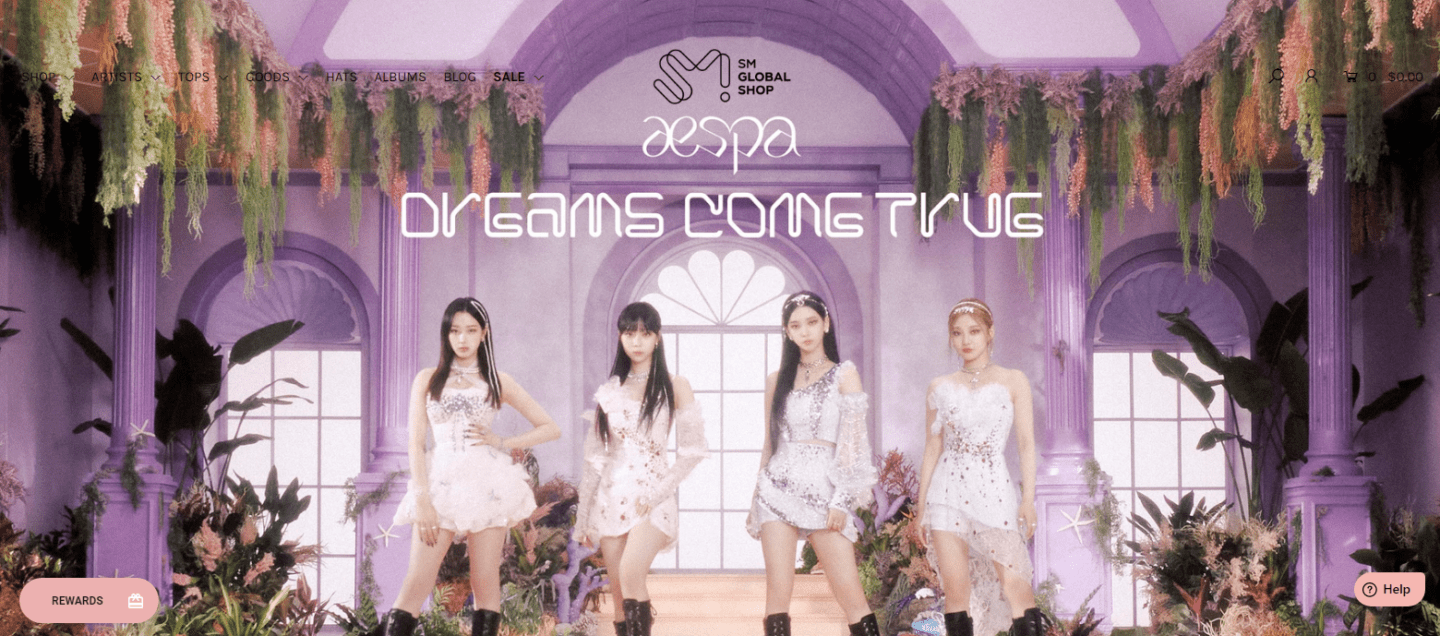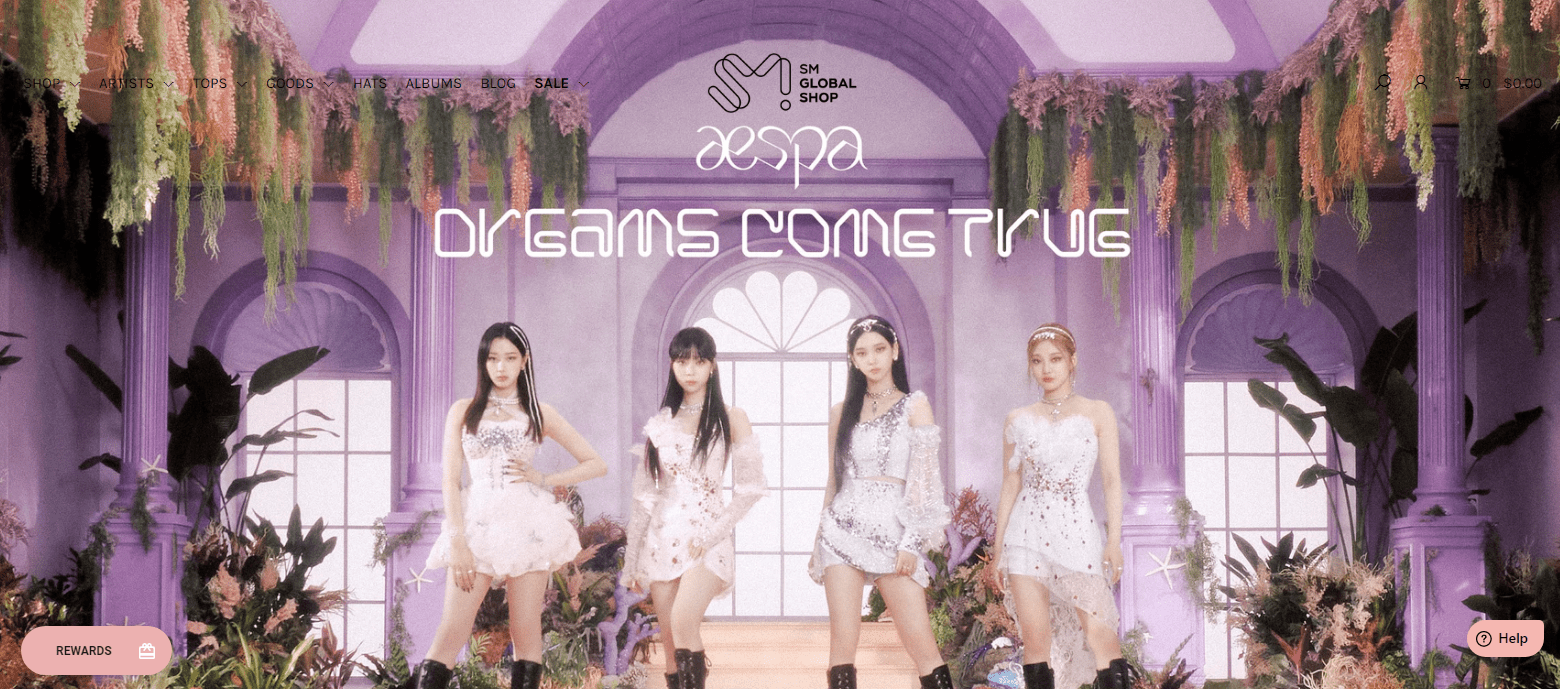 This Shopify website is the official ecommerce website for SM Entertainment, a South Korean Multinational Entertainment Company. Here, they sell K-pop artiste merchandise, albums, and other accessories.
Some of these K-pop bands include EXO, Girls Generation, and Super M.
What are they doing well?
SM Global's Shopify success story can be attributed to several factors. These include their name, digital presence, and marketing strategies.
They utilize emails and SMS-based solutions for their marketing campaigns as shown below.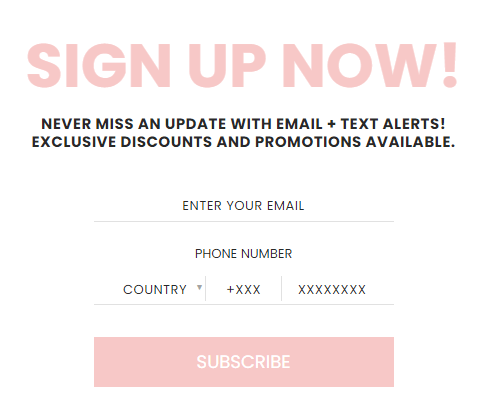 These alerts inform clients of items such as:
Cart abandonment reminders
When you're doing email marketing on Shopify, finding software such as Omnisend that easily integrates with the platform is essential.
Besides its text alerts and email campaigns, SM Global also maximizes its reviews to keep its client base. More reviews mean more people are using their products, and this creates some level of credibility for their brand which drives their success story.
They have numerous reviews on their site as shown below:

What are the results? Key takeaways?
Using marketing plugins maximizes your client's reach. Shopify's ability to integrate with other software makes this easy for your ecommerce store. The success of SM Global Shop's email and SMS campaigns is a testament to this.
Shopify success story – Baking Steel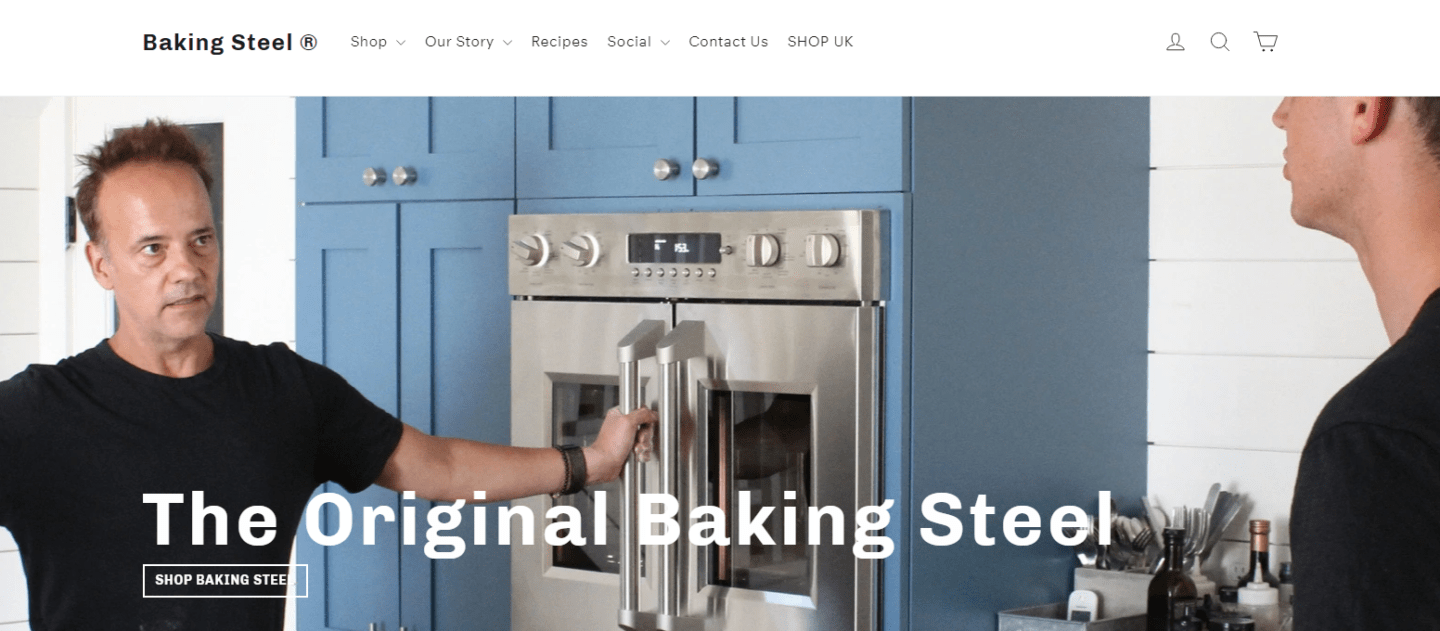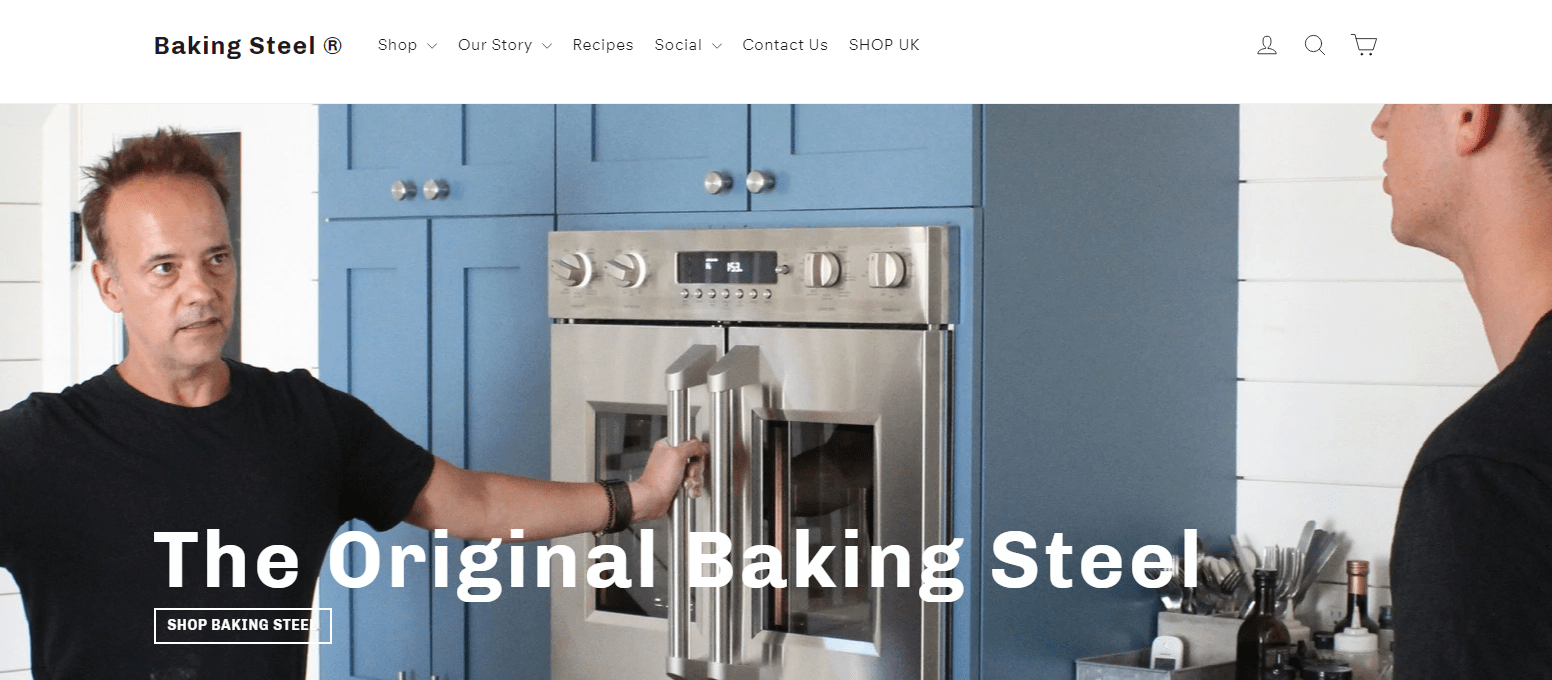 Founded by Culinary artist Andris Lagsdin, Baking Steel was formed with Pizza lovers in mind. Being a pizza enthusiast himself, Andris was obsessed with how to make the perfect crust.
The company was born from a quest to seek the perfect baking equipment for homemade pizza. One that ended in him realizing the solution had been right in front of him the whole time: steel.
Having worked in his parents' steel company growing up, this was the perfect coincidence.
Black Steel is an interesting example of a passion-meets-knowledge kind of Shopify success story.
What are they doing well?
The Baking Steel brand leverages culinary knowledge and experience to promote kitchenware and accessories. This is clear on their websites with items such as recipes and their cooking blog.
Their business is structured to target the end consumer — homemade pizza lovers — and it's the path to their success story. This way, their marketing strategy leans towards achieving this goal.
One part of it is email marketing. Baking Steel had been using Mailchimp on their Shopify platform as their email marketing plugin. On switching to Omnisend, they experienced a drastic increase in sales and revenue.
Also, social media platforms are well-integrated into their website so customers can interact with them there too.
What are the results? Key takeaways?
The result is a wider reach to their B2C market. Through email automation and personalized campaigns, a succes in the form of steady flow of income is also realized. The integration of social media further helps them develop a powerful bond with their customers.
Shopify success story – Divatress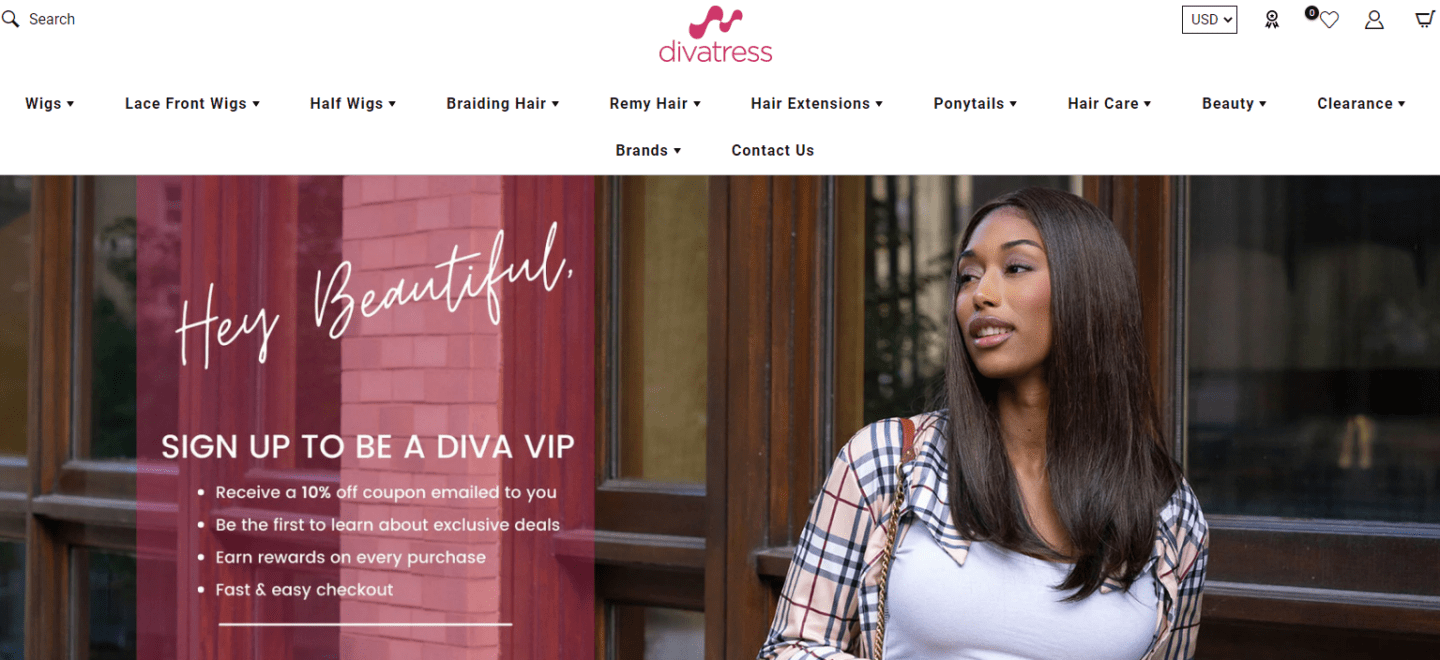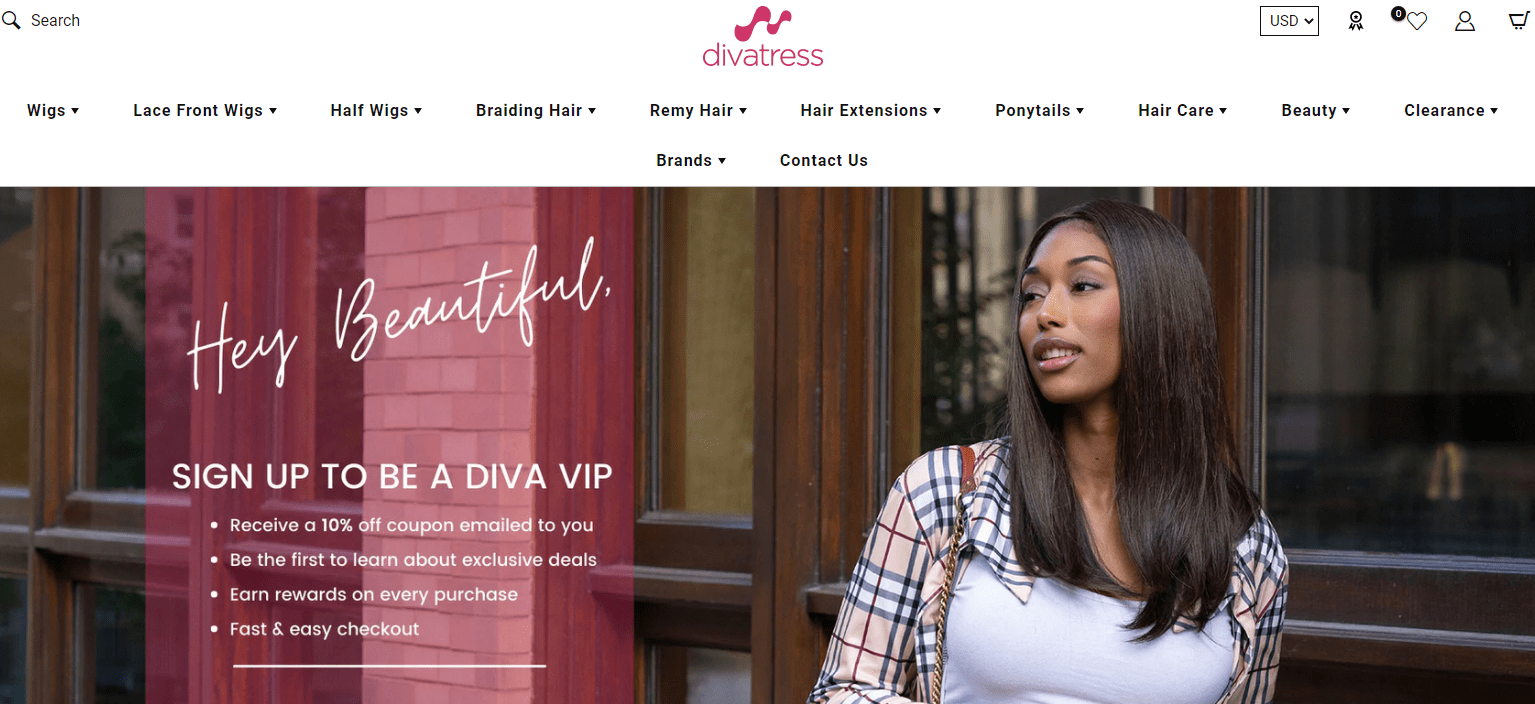 This is one of the many Shopify stores that has found success after switching from a different ecommerce platform. Divatress is a retail online store that sells everything hair, from wigs, braiding hair, and hair extensions to hair care products.
Their market niche is mostly African-American. After 10 years of using Magento, the founder, Rob Lin, moved the site to Shopify, and it has been an upward trend from there.
What are they doing well?
The store has everything under one roof. In addition to hair products, they sell beauty products as well.
Furthermore, on moving to Shopify, Divatress moved their email marketing functions from Mailchimp to Omnisend. They stopped using basic email marketing functions and opted for a more automated solution that would support their growing business.
They also embraced SMS marketing. Part of this landing page email and SMS marketing strategy involved using popups to get more visitors to convert. Here's what that looks like.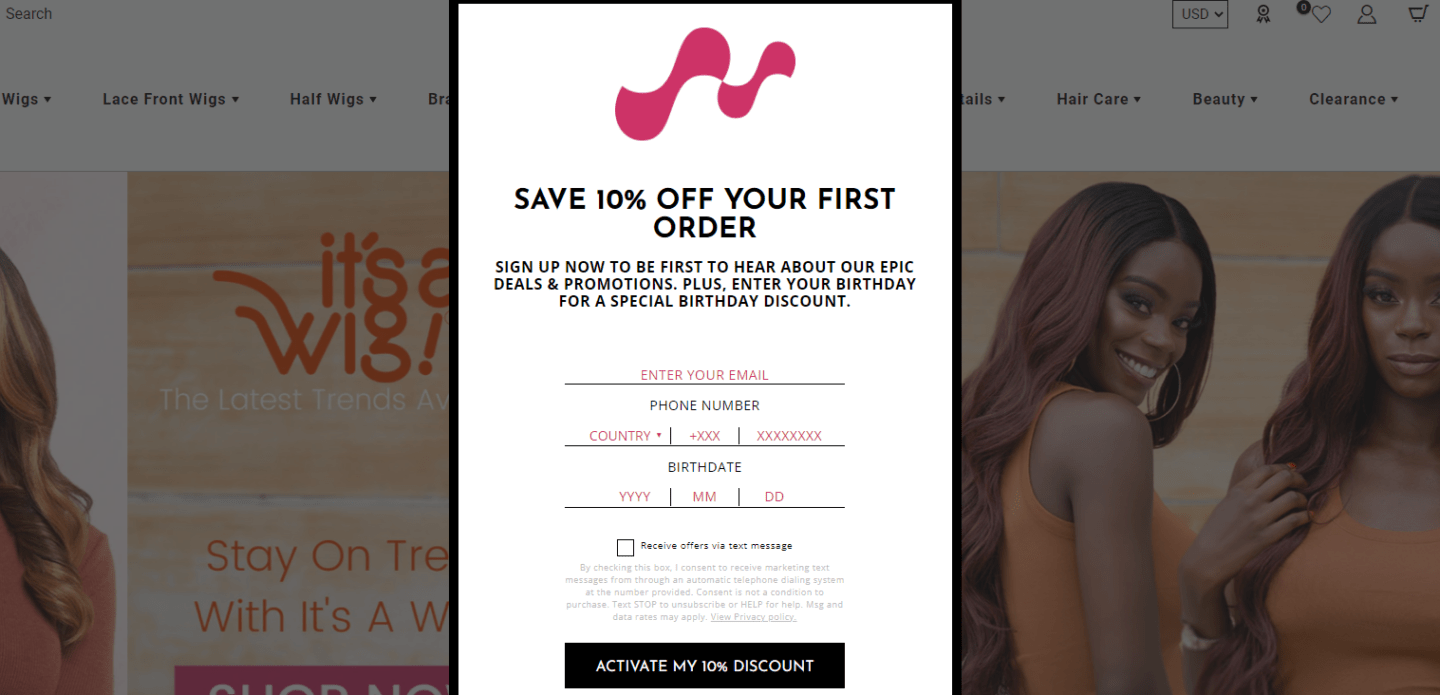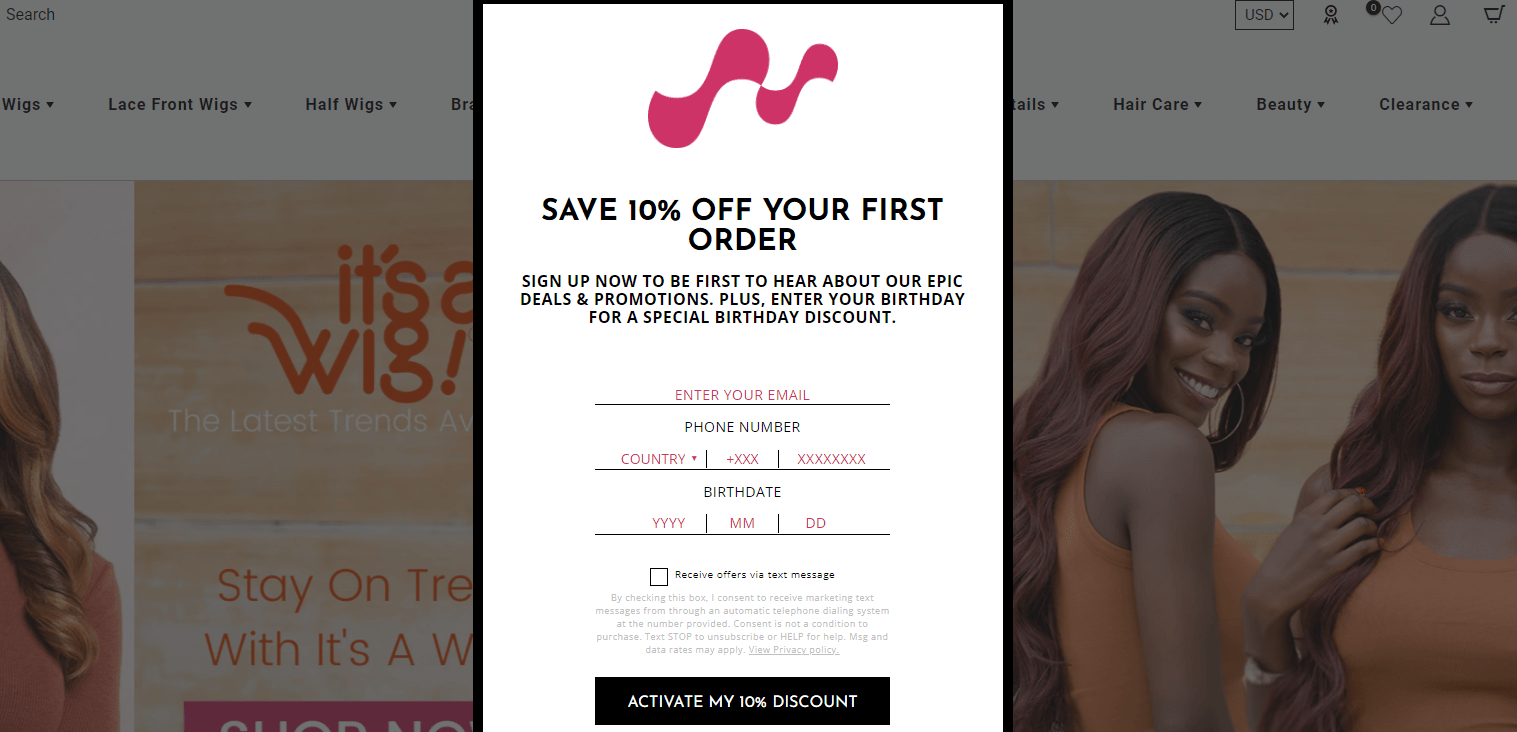 What are the results? Key takeaways?
With Shopify and Omnisend, they've been able to manage their growing customer base with their limited staff.
Part of the challenge of being a small business is not being able to employ enough people as the business grows.
But with automated marketing functions, part of the staff's work is taken care of.
Shopify success story – Island Olive Oil Company


Island Olive Oil Company is a Hawaii-based business that sells olive oil, balsamic vinegar, and other accessories.
It was founded in 2012 but acquired by its current owners in 2016. Angel and Brian are certified olive oil sommeliers who have since propelled the company's digital presence following the pandemic.
What are they doing well?
Their major drive is to provide their customers with the best shopping experience. This involves providing the best products as well as maximum customer support.
Island Olive Oil Company always aims at maintaining a physical feel, even on their ecommerce platform. They have partly managed to do this through their welcome emails and personalized email campaigns to their customers.
Part of this also involves using popup sales promotions as shown below.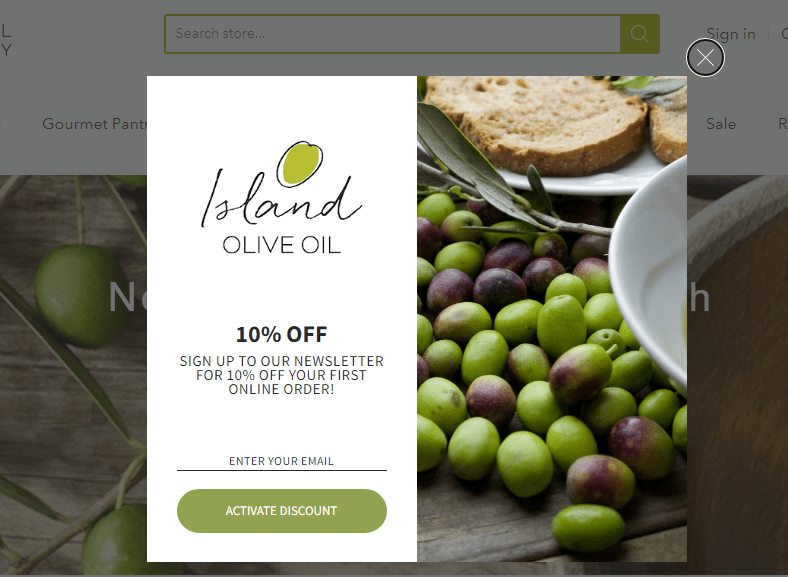 What are the results? Key takeaways?
The said practices have led to increased conversions for a company that, barely a few years ago, did not focus on ecommerce. This, in turn, has given the company a revenue boost.
They've also switched to stable email marketing weekly schedules to leverage their customer interactions to the fullest.
Shopify success story – Eat Me Guilt Free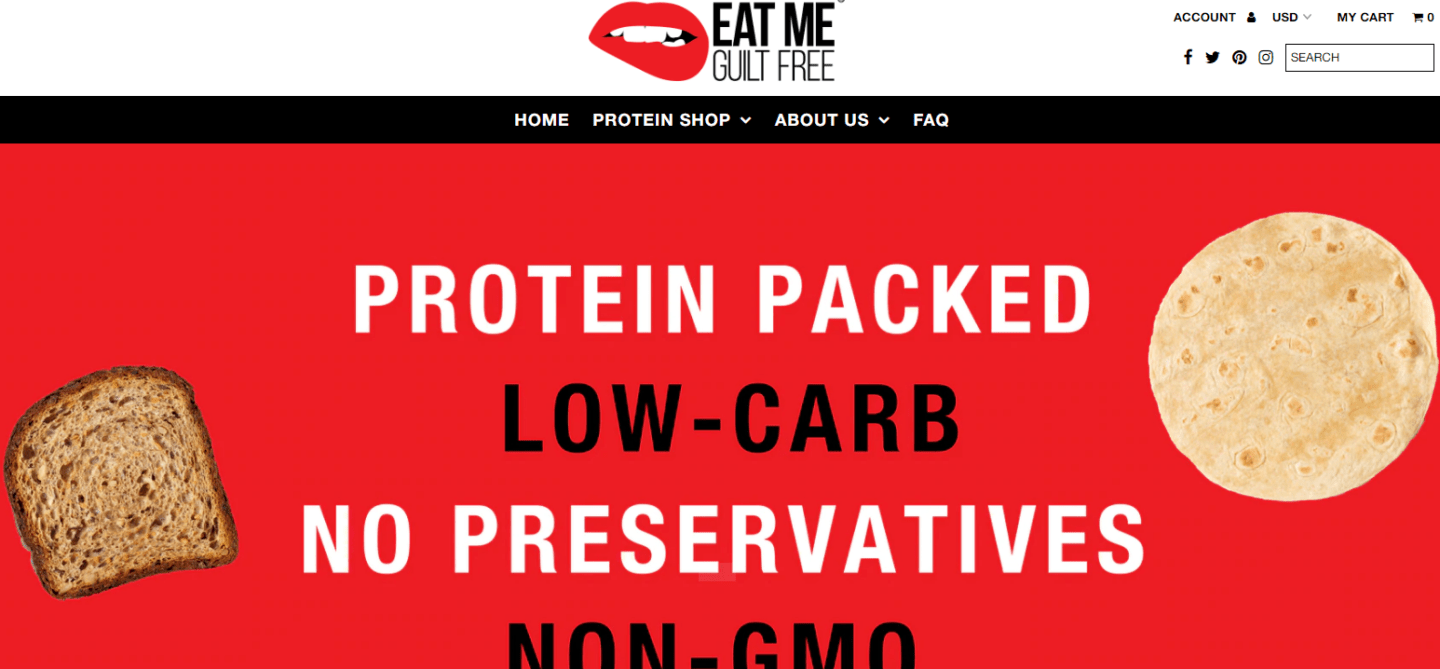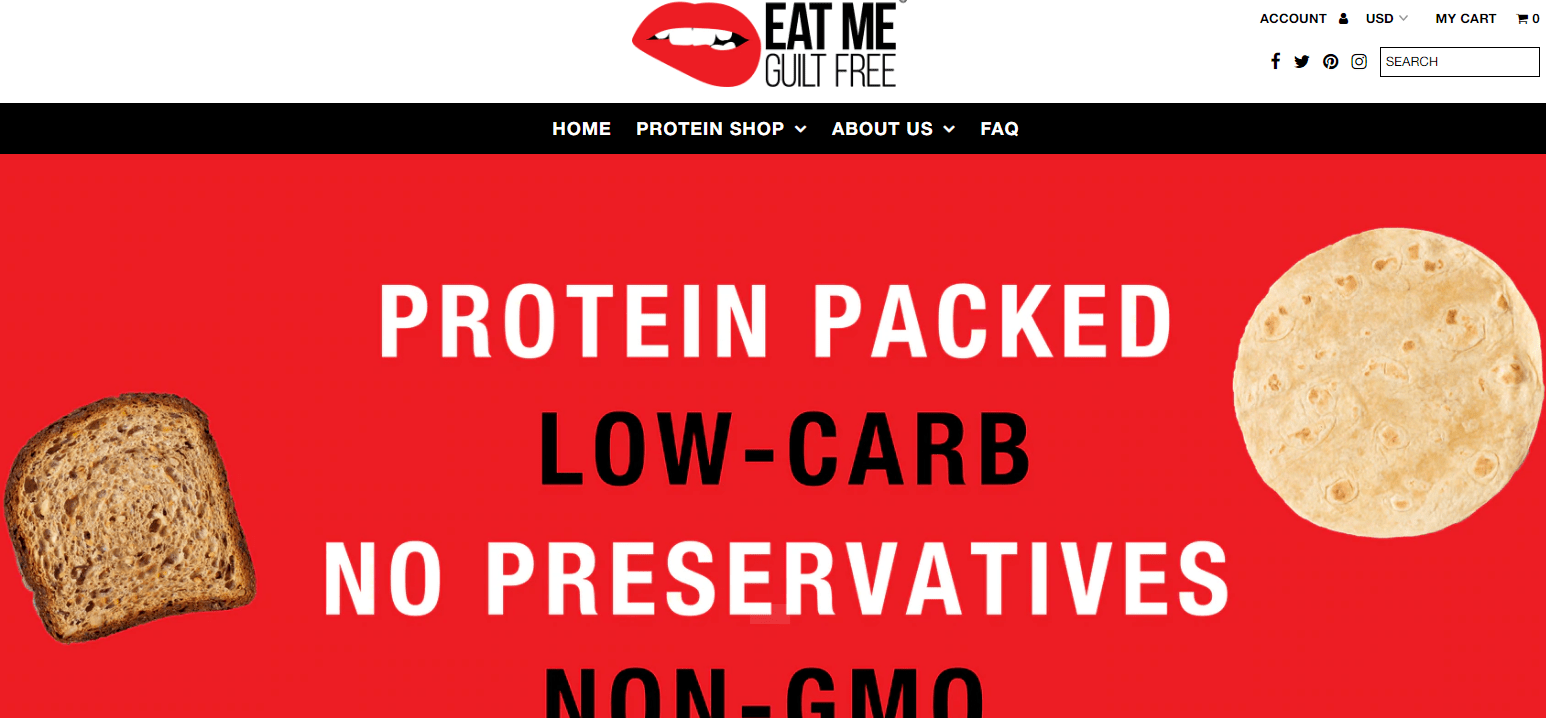 Eat Me Guilt Free is a female-founded and owned company. It was created in 2013 by a registered nurse and certified sports nutritionist, Cristie Besu.
She came up with her product line in her home kitchen. Since then, her team has grown from 2 to 30 members. The company sells baked bread, tortillas, cakes, and brownies.
Unlike your usual carb-intense snacks, they sell protein snacks. This way, you can have your snacks guilt-free, without worrying about the extra calories.
What are they doing well?
For starters, Eat Me Guilt Free is a captivating brand name that creates curiosity in the consumer's mind.
Also, Cristie's nutritionist background alone creates credibility for her products and positions her as an expert in the market.
Their product is based on consumer needs. It's based on social listening, which is important for any product as you'll be fulfilling an existent need, or fixing existing complaints.
Eat Me Guilt Free is huge on social media and they engage with their audience quite often through reposts, Stories, and tags.
They also have a subscription option for customers.
Besides social media, Eat Me Guilt Free uses these marketing methods to reach clients:
Email marketing
Affiliate marketing
On-page promotions
What are the results? Key takeaways?
Credibility and expertise create loyalty in customers.
Besides this, their marketing strategies and business models are designed for maximum client reach.
Through their marketing channels, their reach is set to grow even further. With the subscription model, they're assured of customer loyalty and recurring income.
Shopify success story – Lulu and Georgia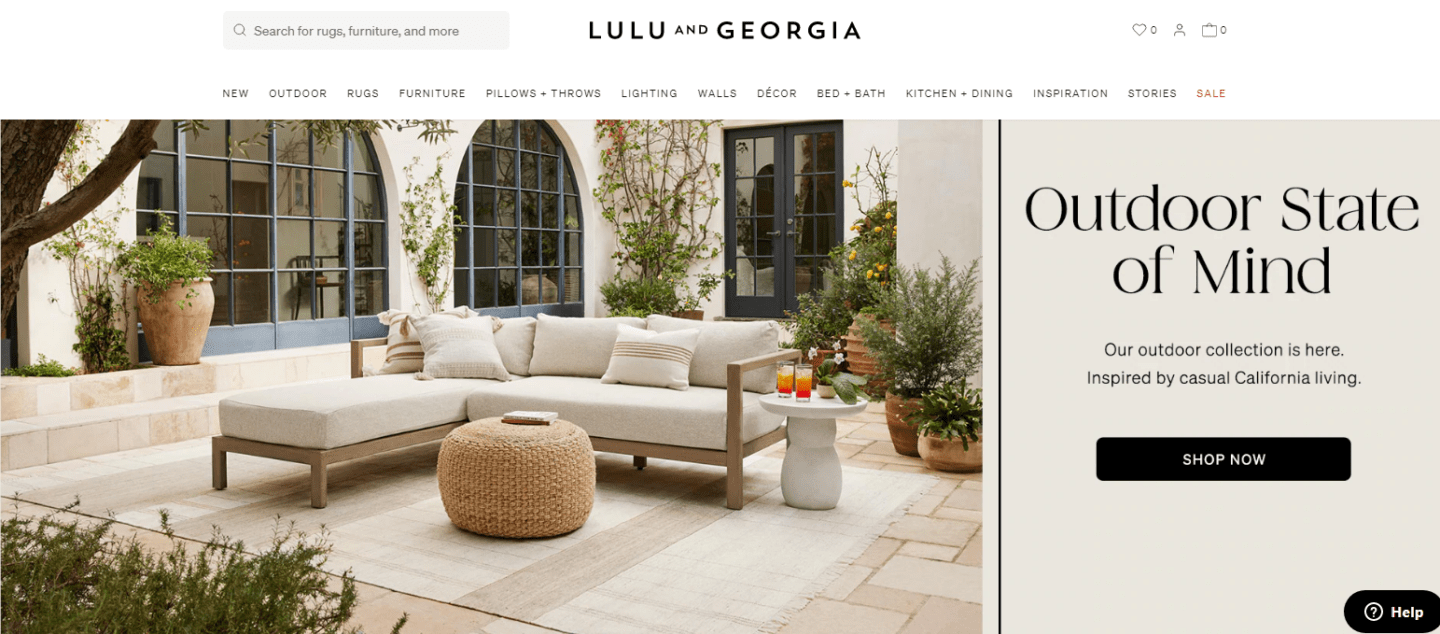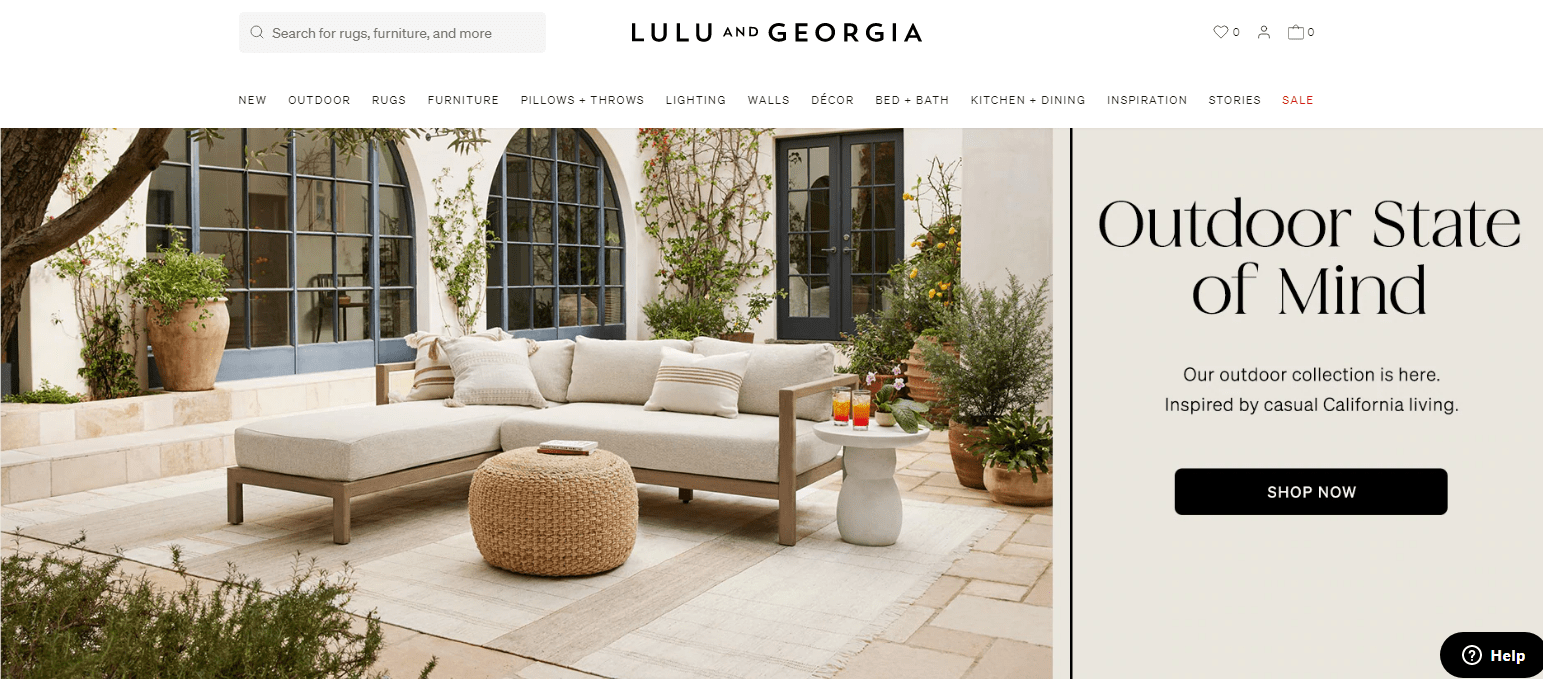 Lulu and Georgia is a home and decor company based in Los Angeles. They sell both interior and exterior home items, from furniture, rugs, throw pillows, and light pendants to everything in between. They also sell their decor services.
What are they doing well?
The website is a one-stop-shop for everything decor. Furthermore, they have a variety of items to pick from and their decor ideas are sourced from all over the world.
Their website is packed with images, which fits their product niche. Similarly, they also use promotional popups, email marketing, offers, and referrals to encourage purchases.
What are the results? Key takeaways?
The Lulu and Georgia website is designed to attract and engage customers. It's a perfect example of how to use images to boost your ecommerce sales.
Their promotional items are also compelling.
Ready to write your Shopify success story?
These Shopify success stories are an example of what successful brands do to thrive on the platform. If you've been wondering where to begin, this post should be your inspiration.
Shopify will provide all the right tools needed to make your business successful. This includes integrations that will make marketing easier for you.
Omnisend, for example, is an email marketing tool that integrates easily with Shopify. It's an all-in-one marketing tool that will automate your email and SMS campaigns.
It allows you to send cart abandonment emails, welcome emails, personalized emails, text alerts, and more. If you're looking for this kind of solution, get started here for free.
Get started with Omnisend today & drive sales on autopilot with pre-built automation workflows
Start Free Today
related features
Want more sales?
Omnisend has everything you need to succeed.
Start free now
No Credit Card needed.