Drive sales on autopilot with ecommerce-focused features
See Features
Reading Time:
7
minutes
WooCommerce is the most popular ecommerce solution. According to Builtwith, it's on 23% of websites using ecommerce technologies: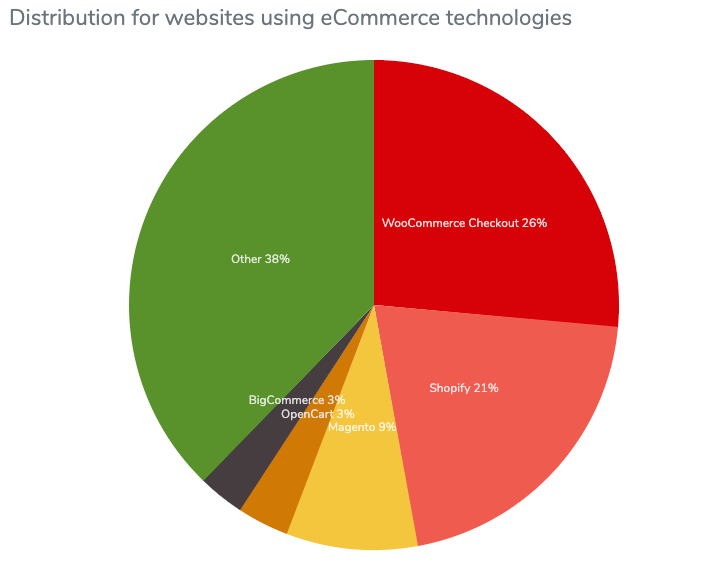 WooCommerce offers a lot of flexibility and customization options, which is one of the reasons it's in our list of the best ecommerce platforms for 2023.
Once you've set up your WooCommerce store and added all the products you'll also want to make sure it's collecting email addresses. This way, you'll grow your contact list and be able to keep in touch with visitors and shoppers—email marketing is one of the most effective ways to grow your WooCommerce store.
To get started, you just need to create a WooCommerce email popup.
Reasons to use WooCommerce popup
Embedding a WooCommerce email popup to your store gives you the power to have a 24/7 marketing machine helping you to drive sales.
How? Because most people don't make a purchase on their first visit, and you can't rely on hope that they'll remember to visit you again in the future. Some people will, but the majority will exit your store and not come back—there are too many other stores competing for our attention.
By having popups, you'll grow your email list and have a marketing method operating around the clock for you.
Popups allow you to:
Build your email list: an email list is permission to talk to people who have shown an interest in your brand or products, and popups are a highly effective way to build yours.
Boost sales by getting the timing right: instead of showing a popup within seconds of the visitor arriving on your site, you can time them. For example, once they've scrolled a percentage of the page, or viewed specific pages.
Recover abandoned carts: every ecommerce store owner knows the pain of visitors adding items to their cart, then leaving without purchasing. But automated email workflows contact those visitors, encouraging them to complete their purchase.
Segment your audience: your popups can ask specific questions about your visitors' interests or demographics, helping you to segment them into groups so that you can send them personalized offers in future.
Increase sales: you can email your list whenever you want, informing them of new products, deals, and discount codes—all of which can encourage them to place more orders.
Boost AOV: include a promotional offer for people to join your list and place an order, then include up-sells and cross-sells in your order confirmation email to increase the size of the order.
Boost your WooCommerce store's revenue by up to 85% using our email marketing plugin.
LEARN THE SECRET NOW
Set up WooCommerce popups with Omnisend
Getting started with Omnisend for WooCommerce is so simple, you'll be up and running in no time.
1. Create a WooCommerce popup
To get started quickly, you can use Omnisend's library of pre-made popup templates you can choose from. These can all be edited so don't get too caught up at this stage, just select one that's most appropriate for your needs.
For example:
a newsletter popup if you want to grow your list
an exit intent popup to stop people before they leave
a discount in exchange for their email address
2. Choose your theme
Omnisend has a powerful form builder, which you can customize to your heart's content. Choose your colors, fonts, a background image if you want one, and the placement of the content blocks. There are multiple popup themes to choose from, including holidays: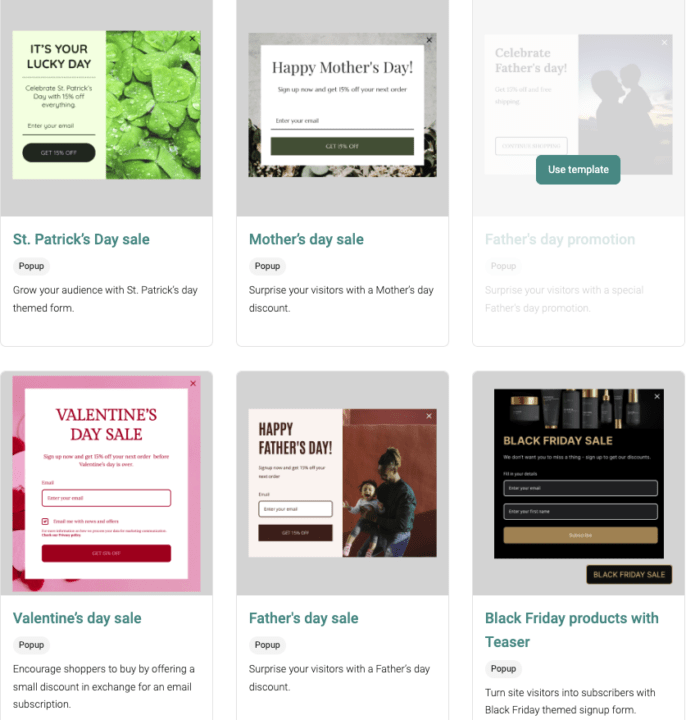 If you like the pre-made templates Omnisend offers then you can use them immediately, or customize them if you'd prefer.
3. Add your content
Remember the role of your popup is to encourage visitors to sign up to your email list. That means it needs to be compelling but concise.
There are no hard rules on what content should be on a WooCommerce popup, but we recommend:
speaking in your brand voice
clear CTAs (such as "Join us" rather than "Learn more")
being very clear with the offer
If there's any doubt, ask a friend to check your popup—if they find it confusing, there's a good chance your visitors will too.
4. Create a design
Omnisend's Form Builder was built to let you be you. In other words, you're not constrained by what we think your form should look like—you have the freedom to create!
You can:
Choose your background image and where your Woocommerce form appears
The placement of the form on your page
Select the color of your background, form, buttons, and links
Add primary, secondary, and tertiary buttons
Change the form layout with up to four columns
Edit separately for desktop and mobile screens
5. Choose your settings
Omnisend's Form Builder has a lot of powerful options, giving you total control. Forms can add specific tags to subscribers, for example, so you can send personalized emails once they're signed up. You can also set how often visitors will see a form if they visit your site more than once.
When you've got your settings as you want them, hit the "Enable" button and your WooCommerce email popup is ready to go.

How to target popups for WooCommerce with Omnisend
Building a WooCommerce popup with Omnisend is just the first step. There are various options to help you target specific people with your forms. As a result, you can send highly personalized messages to people based on their location (e.g., if you have particular URLs for different countries), viewing history, or dates they signed up.
Creating these parameters is really simple, too. Within the Form Builder, the right-hand panel has a section called Behavior with various options to choose from: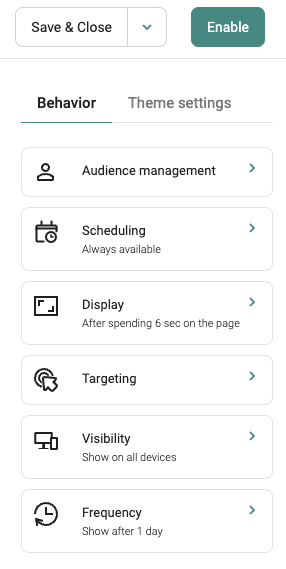 You can choose:
When the form shows, including start and end dates, how long a visitor needs to be on your site before it appears, or the number of pages they've viewed
Specific URLs for the form to show if you don't want it side-wide
Whether to show forms on all devices or not, for example to show different ones on desktop and mobile
Best tips for WooCommerce popups
Don't make the classic "set and forget" mistake. Your WooCommerce popups need to be treated like any other form of marketing: test, tweak, refine.
You can consider experimenting with:
The layout, imagery and messaging of forms
Placement of forms on your site, e.g. separate forms for different product types
CTA wording
Here are some other tips to consider to maximize the effectiveness of your WooCommerce popups:
Timing is everything
A popup's effectiveness depends on not only what it says, but when it appears.
If a visitor sees it as soon as they land on your site, they're likely to close it—they've not had enough time to know if they're interested in you yet. On the other hand, if you wait too long there's a good chance they'll leave before seeing it.
Omnisend gives you multiple options to explore, including showing after a certain amount of time on the site, once the visitor has scrolled a specified percentage of the page, or viewed a particular number of pages: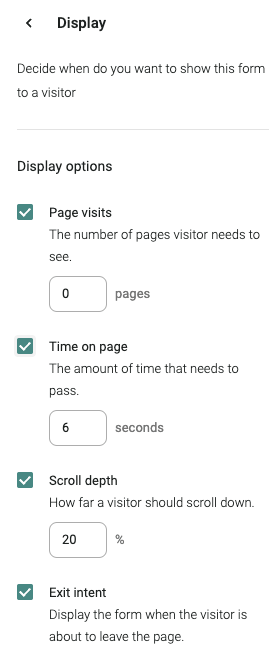 Experiment with your popup timing, and don't be afraid to have different parameters on different forms.
Capture visitors as they exit
Exit-intent popups are highly effective, converting at over eight-times more than immediate popups.
The idea behind them is simple: based on the placement of your visitor's cursor, the popup appears just as they are about to leave. It means that they have another opportunity to subscribe if they've closed previous forms, or you may choose to not show other forms, let the visitor browse uninterrupted, and show them a popup at the end.
Exit-intent popups can have specific wording that recognizes the visitor is about to leave and include a final offer, such as this example from Bakell:
Make an offer they can't refuse
There are a lot of other websites trying to get your visitors' attention, so you need to give them a good reason to sign up for your email list. If you only have a simple popup that says "sign up here," you're going to miss out on a lot of potential subscribers.
You can offer your visitors almost anything you think they'd like, and some popular options are:
Gamification
Free shipping
A discount code or special offer
VIP announcements or early access to new launches
You could also offer different incentives on different forms to find out which ones your audience is most interested in.
Don't overwhelm visitors
It's easy to think that "more is more" with popups—the more your site has, the more opportunities visitors have to sign up. In reality, they'll probably feel overwhelmed and annoyed, prompting them to leave.
Instead, use popups with deliberate intent.
A visitor that has scrolled to the end of a page is likely to be more interested in you than someone who has only just arrived, so a scroll-based popup might perform better.
Similarly, popups that appear on targeted URLs and reflect the products from those URLs will feel more relevant to the visitor, and be aligned with their interests. A discount code in exchange for signing up is a great option here.
As always, experiment with different options but have the user experience as a priority.
Wrap up
Popups are a highly effective way to grow your email list, which in turn can help to increase your store's revenue. Using Omnisend as your popup plugin will allow you to quickly create effective, elegant popups.
The powerful customization options and targeting settings mean you can experiment with not only the design of your popups, but when and where they appear.
To use Omnisend for creating your WooCommerce popups, register for free today.
related features
Want more sales?
Omnisend has everything you need to succeed.
Start free now
No Credit Card needed.