Drive sales on autopilot with ecommerce-focused features
See Features
did you know
Omnisend customers automate 32% of their email conversions. Are you maximizing sales?
automate my sales
Reading Time:
8
minutes
The birthday email is one of the simplest and most powerful automations you can add to your email marketing arsenal.
But designing creative birthday emails isn't always easy, and it can be hard sometimes to find real inspiration. That's why today we're going to share a selection of the best birthday email examples ever sent.
We'll break down each example so you can learn tricks and strategies that'll knock your customers' socks off and make their special day even better.
So, blow out those candles, make a wish, and let's jump right in!
7 amazing birthday email examples you can learn from
Great examples are gold in the world of ecommerce. We searched far and wide (and gave a lot of fake birthday dates) to get our mitts on these birthday email examples.
So feel free to right-click 'em, save' em and build your own little birthday email swipe file to reference when building out your birthday campaign.
1. The GIF-driven email: Nine Lives Bazaar
Open any email in your inbox and what do you see?
Typically, you'll see a litany of the same old boring plain text emails.
Now, don't get us wrong, plain-text emails are proven to be effective. But for a special occasion, like a birthday, it's exciting to jazz things up with a GIF.
See, after a killer subject line, a vibrant gif is the perfect way to grab your reader's attention, create a sense of celebration and entice them to click.
Case in point, this beautiful birthday email example from Nine Lives Bazaar: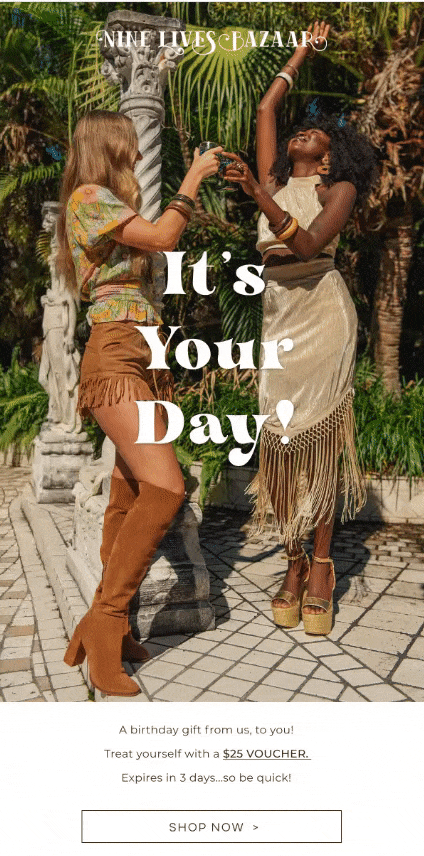 Notice how this beautiful (but simple) GIF makes you feel a little special – seriously, it's like those dancing women are celebrating your birthday!
But how to create GIFs? One great tool is Canva. If you're a beginner, Canva will help you create GIFs and overlay text (as above) in a matter of minutes.
An important thing to note when adding GIFs to your birthday emails is that they can slow down your email's loading speed (not good).
For this reason it's important to reduce the size of your GIF to less than 1MB – and if possible, aim below 0.5 for the best results.
Key Takeaway: Birthday GIFs create a sense of celebration on your customer's special day. Test adding custom-made gifs to your birthday campaign and measure their CTR vs static imagery to figure out which works best for your audience.
2. The gift card email: EQVVS
Moving from GIFs to gifts – everyone loves to get something on their birthday. And what better way to mark the day (and incentivize a purchase) than with a gift card to spend in store?
Luxury clothing retailer EQVVS leverages this strategy brilliantly. They keep their email to the point, classy and on-brand. Readers see their virtual gift card immediately upon opening.
See how that's pretty enticing?

Notice too, how EQVVS have added an expiry date to the gift card. This adds a nice sense of urgency to drive more conversions than if the giftcard was valid forever.
As always it's best to experiment, but we'd recommend setting your expiry date to no less than a week after the customer's birthday.
That way you'll have time to send a follow-up reminder email. Experian.com found that sending a reminder email can boost your CTR and purchases by 20% compared to single-email birthday campaigns.
Key Takeaway: A gift card is a great way to celebrate your customer's birthday. Add an expiry date to ramp-up urgency and drive more purchases. Remember to send a reminder email before the code expires to get even more conversions.
3. The on-brand email: Kawaii Slime Company
No matter what part of the ecommerce marketing funnel you're optimizing, a strong brand identity is essential – and birthday emails are no exception
So, when designing your email, it's critical to use images, text, colors and logos that craft a familiar identity. Kawaii Slime Company's birthday email example does this excellently. Take a look at this: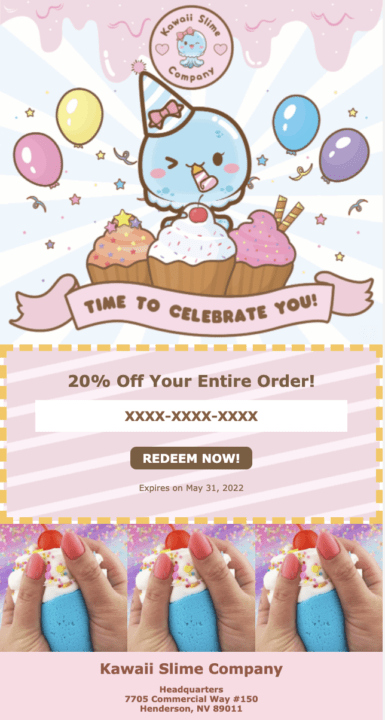 Whether you're interested in slime, or not, one thing you have to appreciate is how impressively 'branded' this email is.
Kawaii slime Co. achieves this branded feeling by:
Sticking to a single color palette
Using only their brand fonts
Including their logo & custom on-brand imagery
Keeping a consistent style
The choice of the pastel color palette creates a sense of cuteness and playfulness. While the brand mascot (little octopus) has a birthday hat on just to celebrate the day!
All of this branding comes together to create an emotional connection with the reader. That emotional connection not only delightes people on their birthday, but also increases the chances they'll treat themselves to a gift using your discount code.
Key Takeaway: Data suggests that consistent brand presentation boosts revenue by 23%. Ensure your birthday emails are on-brand to boost conversions and profits.
4. The product recommendation email: Rachel Jackson
Art-deco jewelry retailer Rachel Jackson's sells beautiful products. But equally as beautiful is the design of their birthday email.
Just like the example we had from Kawaii Slime Co, Rachel Jackson's email oozes with brand appeal. The imagery, font, color palette and brand voice are all on-point.
But what's particularly interesting about this birthday email example, is how they recommend specific products based on their customer's birth month.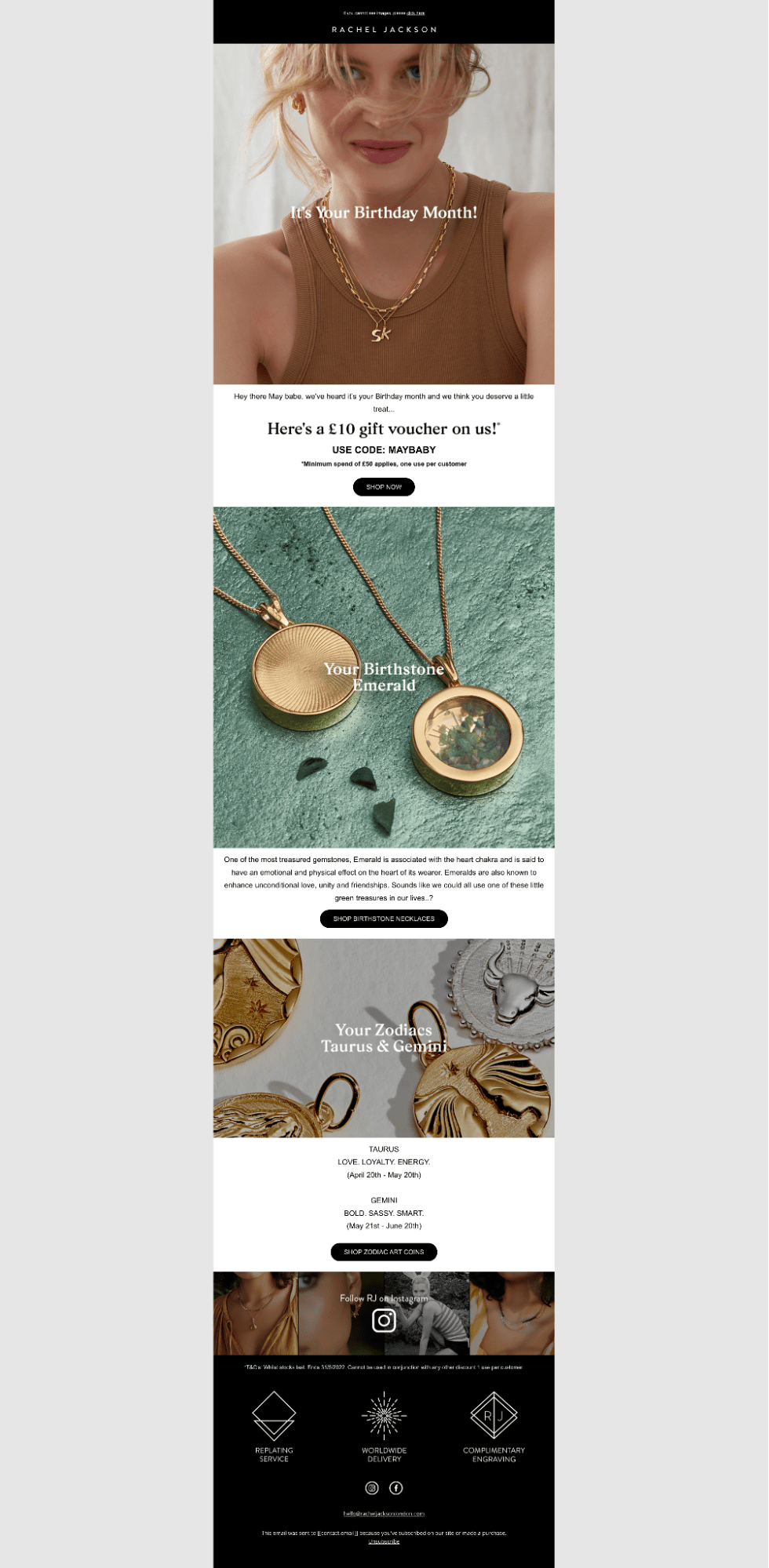 The clever level of personalization helps craft a story around the product and gives readers a more compelling reason to buy.
Now, the likelihood is that you don't sell birthstones. However, with a little creativity you can probably find a way to recommend birthday-specific products.
For example, if you sell clothing, you could geographically-segment according to the seasons. Then, send your subscribers birthday outfit ideas in advance of the big day.
If you can't think of birthday specific products, you can simply recommend products based on your subscriber's purchase history using Omnisend's Product Recommender (available to Omnisend users on all plans).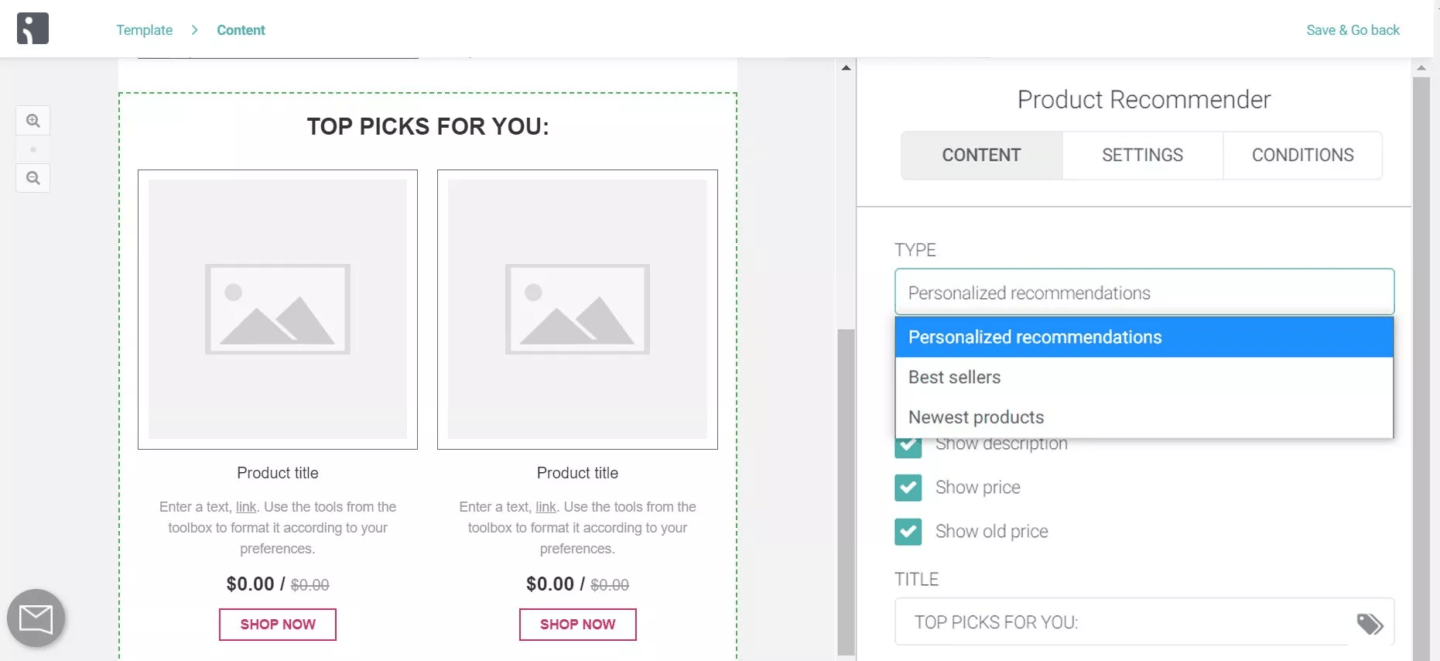 Combining your subscribers birthday, with a discount code, and relevant product suggestions will likely send your conversion rates through the roof.
Key Takeaway: Brainstorm ways to tie personalized product recommendations into your birthday campaigns to boost relevancy and drive more conversions.
5. The no-frills email: One Block Down
If you've thinking "this all seems very complicated" so far, don't worry.
An effective birthday email doesn't need to be complex to generate sales. You don't need a professional designer, and you don't need to sink hours into getting your campaign live.
Case in point, this simple birthday email example from hip clothing retailer One Block Down: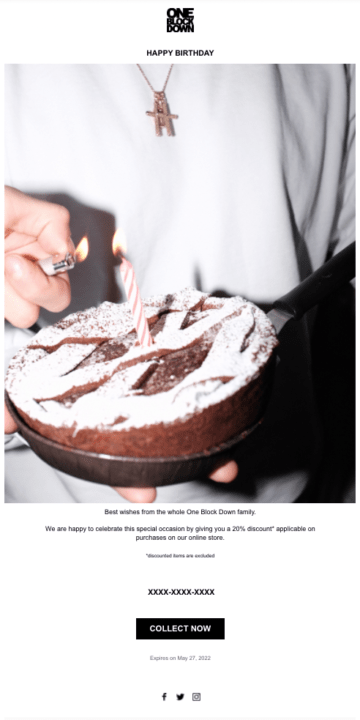 Sure, One Block Down's email isn't the fanciest on this list, but it does tick all of the basic boxes you want:
Your brand's logo
An eye-catching hero image
Short, concise copy
A 20% discount code that expires
A clear call to action button with lots of white space
Social links
So, when designing your birthday email campaign, don't get bogged down in the small stuff. The Pareto principle is your friend here.
As with most things in digital marketing, it's best to move fast, test a lot of things, discard what doesn't work and keep what does.
Key Takeaway: An unoptimized birthday email campaign that's live will produce infinitely better results than a never-perfect campaign that sits in draft. If you're not collecting customer birthdays and sending emails – start now!
6. The company birthday email: Huron
Birthday emails don't have to be all about your customers.You can also invite your subscribers to celebrate your company birthdays (and business milestones), too! Here's how men's cosmetic's brand Huron does it: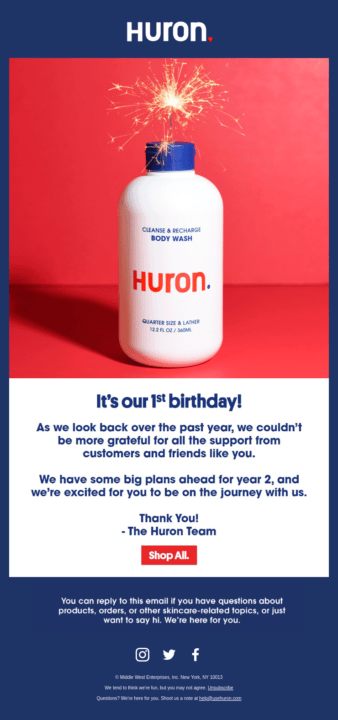 We're really digging how Hurron has used just three colors – red, navy and white to construct the whole email.
For the hero image, they've also turned their body wash into an eye-catching make-shift birthday cake (even if it tastes a bit…soapy).
The copy is simple with a warm tone – thanking customers for supporting them, and hinting that there's big things to come. Finally, they include a highly-contrasted CTA to direct customers to their webshop.
Interesting too, is that Huron doesn't include a discount or gift. While incentives can increase the likelihood of a purchase, they can also affect your bottom line. So, you should experiment by sending incentive-less emails to ensure you're not giving away money for free!
While this campaign doesn't fit neatly into the birthday email category, we think it's worth including as it's a clever way to bolster loyalty (and possibly drive a few sales).
Key Takeaway: Invite customers to celebrate your birthday too! Try thanking them for their support, sharing a few behind the scenes photos and including a small incentive to mark the occasion.
7. The creative email: Need Supply
Chances are, you're not the only one sending emails to your customer's on their birthday.
So to stand out from the crowd, it's helpful to do something a little unconventional like Need Supply does: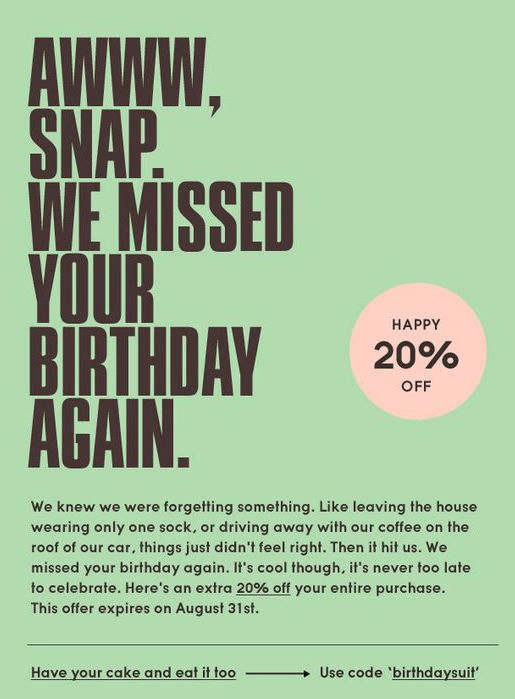 Need Supply deliberately sends their birthday emails a day late. This has two advantages:
Your recipient gets it on a day when their inbox is less busy than their birthday
It stands out as something different and makes customer's laugh
Our favorite thing about this email is the sharp copywriting that speaks to readers as if they were old friends.
The key principle here is to think outside the box.
For example, could you send your customers a plain-text birthday email that's written as if you're discussing internally what type of discount or gift they would like.
"Hey Pete, it's one of our best customer's birthdays next week (You remember Maria?). What do you think we should send her?" Dave.
Then follow up the next day with something like:
"Omg Maria, we're so sorry you got cc:d on that email!" and offer a birthday discount!
That's just one idea. We're sure if you spend a few minutes brainstorming you'll generate a couple of creative birthday email ideas to test.
Key Takeaway: A little creativity can go a long way and help you stand out when it comes to birthday emails.
Use these birthday email examples today
Everyone likes to be remembered on their birthday. Hopefully these birthday email examples give you the inspiration you need to craft a memorable campaign for your brand.
If there's one thing to take away from this article it's that there's no one size fits all approach. Above we've seen complex emails with GIFS and product recommendations. But we've also seen simple emails bearing just the core elements. All of them work.
The key is that you craft your birthday email around your customers. Staying true to the unique relationship you're building will help you craft an email that resonates well.
Another option to create a truly personal email is to offer a unique and personalized discount code for each email. You can include the code in various email versions provided in this article. Don't forget to track and measure the campaigns, so you can find the most effective version. Happy Birthday Email integration with Omnisend helps you implement unique discount codes and easily personalize your birthday emails.
Take the ideas above and think about how you can make them your own. We hope that these examples help you maximize your clicks, boost your sales, and most importantly, deepen the relationship between you and your valued customers.
Author bio
Fintan Meagher is an ecommerce entrepreneur turned content marketer who heads up the marketing team at ReConvert. When he's not working, you'll find him sloshing around the west coast of Ireland on a surfboard or trying to convince his mates to start an 80-style funk band.
related features
Want more sales?
Omnisend has everything you need to succeed.
Start free now
No Credit Card needed.