Drive sales on autopilot with ecommerce-focused features
See Features
Reading Time:
8
minutes
Retaining your current customers is up to 7x cheaper than acquiring new ones; however, many ecommerce businesses forget that. And that's a major missed opportunity.
There are many email marketing examples and strategies on how to make your clients feel special, and email marketing automation, including birthday emails, is one of them.
After analyzing the data of emails sent through Omnisend's marketing automation platform, we noticed that birthday emails are usually left behind.
This quickly became an inspiration for a comprehensive guide from which you'll learn what birthday emails are and how can they increase your online sales.
So what are birthday emails?
It's an automatically sent notification to a subscriber/customer on his/her birthday (or several days before that). Showing personal attention, as well as offering a discount for any order (+ some extra days), yields great results.
Salesforce research revealed that 75% of companies that send these kinds of emails assess them as very effective, and only 6% see little or no value in them.
Omnisend client data shows that those eCommerce businesses which implement this email marketing tactic get about a 45% open rate, 12% click rate and 3% conversion rate. Not too shabby!
The birthday email conversion rate is much higher than the average conversion of a regular bulk campaign (0.18%). This is a great example of email personalization.
The anatomy of a birthday email example
There are four key components you should keep in mind when it comes to birthday emails:
Free shipping. Free shipping should not be the gift by itself. Make it a part of the offer, combine with the actual coupon code or another offer.
A clear Call-to-action (CTA).
A discount. Don't be too cheap with very little discounts, it's a birthday, therefore a gift should be more impressive. In one of the following chapters of this guide, we'll show an example of a very weak birthday email (from RedBox video rental service) with no offer at all + customer's comments.
Extra time to redeem the discount. Make it valid for at least one more week after the birthday.
A great example of this in action is TopShop's birthday email, which offers free shipping, a 20% discount, and time to redeem the offer.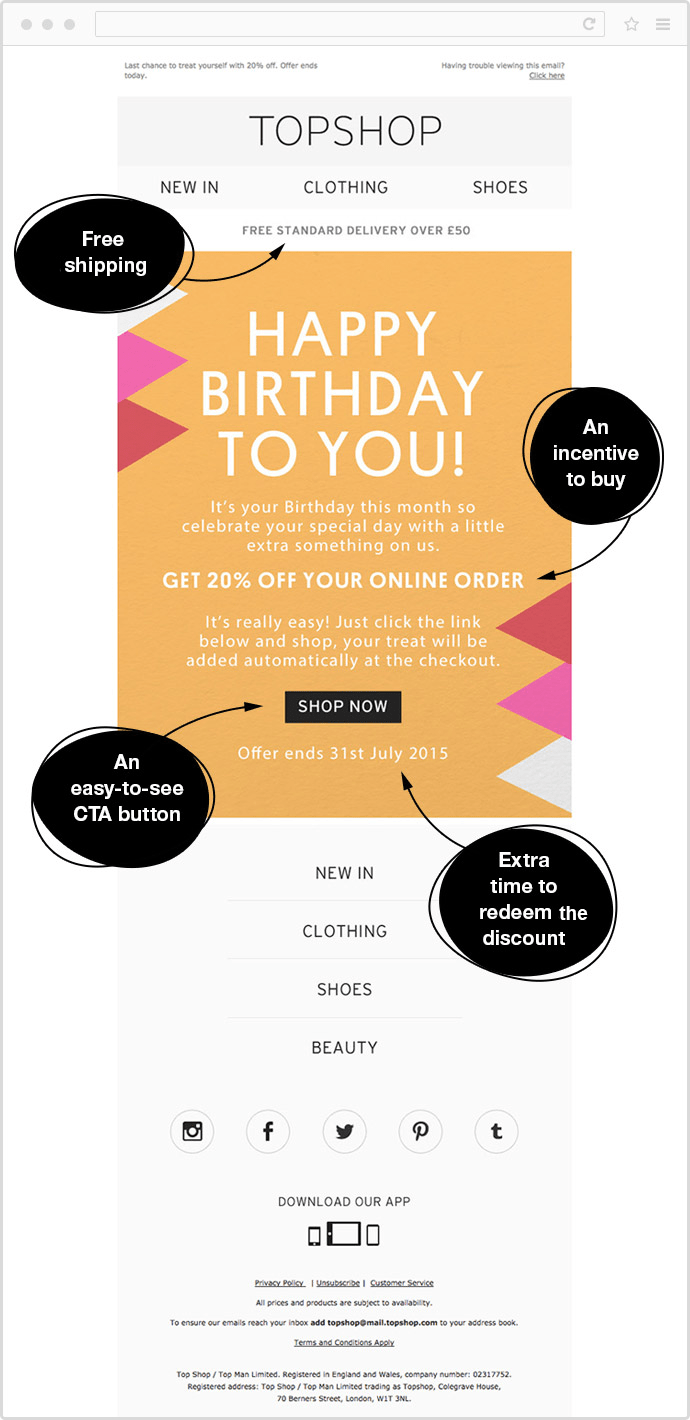 Here's another example from Best Swim Wear: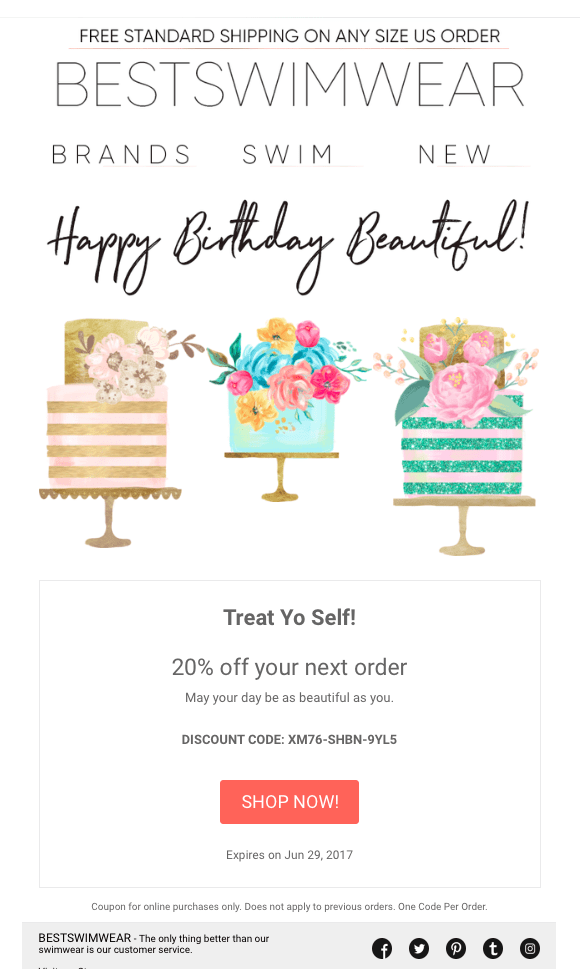 Free shipping and a coupon they can't resist
Birthdays are synonymous with gift-giving, so give your subscribers/customers something they can't resist.
Typically, birthday emails have a special deal, offer or free gift. Often, these deals can be used online or in-store and should be easy to redeem.
The more generous you are, the better your conversion rate will be.
It might be a 20% coupon off orders over $100, $15 for orders over $50, etc. It will look even more attractive if you combine this discount with free shipping, just like the alternative did in the example below.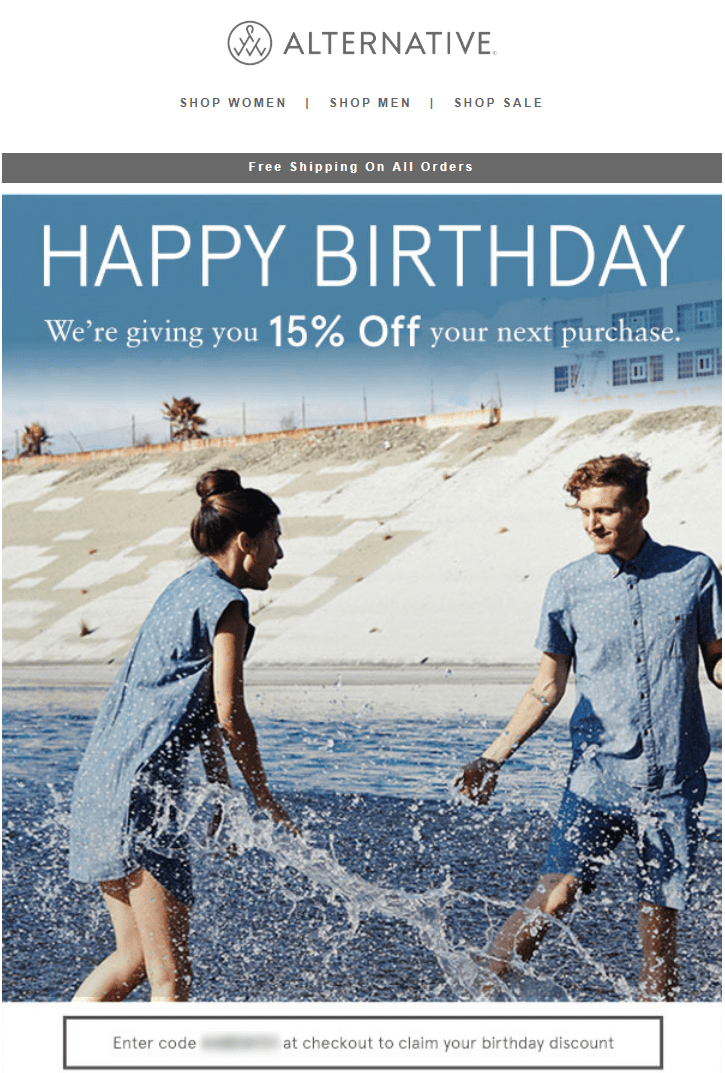 Most importantly, try not to be cheap.
Offering a $3 discount or no discount at all might actually hurt your loyal customers/subscribers.
For example, here's a birthday email from Redbox (movie rental service). Can you notice a birthday offer? Neither can we: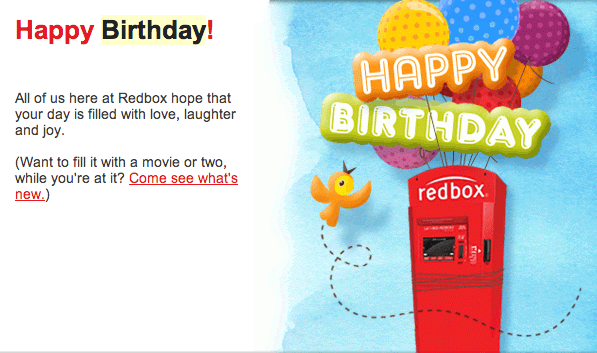 And here's a genuine response from the customer which says it all:
Seems like they are always giving away a coupon code for a free rental because it's Tuesday, garbage day, or 3 days before Easter. But here, on an actual day where it makes sense to give a free rental, they just say how they hope I am having a joyful day.
Even though this mistake is pretty old (back from 2014), it does not change the essence of the birthday email.
Don't be cheap and treat your customers/subscribers the best you can by giving a can't-resist offer.
Create a clear call-to-action
Every email (the birthday email is not an exception) should have a clear call to action. Make sure it stands out.
Consider using a button like in the email below (by Fancy).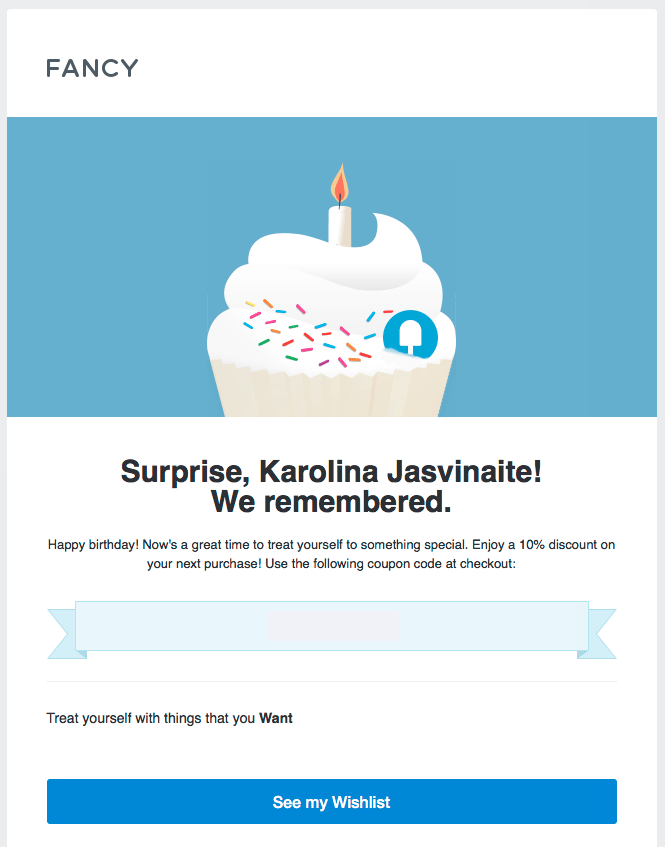 Use a color that's used sparingly for the button color and create an action-oriented call to action for your button, something like "Claim Your $30 Coupon Now" or "Redeem Your Birthday Gift", or "Shop Now".
In the example above, the button redirects to the Wishlist where the subscriber/customer keeps his/her most-wanted products.
Gamification in birthday emails
This day should be fun for your subscribers/customers, right? After all, it's their birthday! Use that opportunity and implement gamification elements in your birthday emails to increase conversion rate.
Luckily, Omnisend's got you covered with Gift Box.
Add this content block to your birthday email and cheer the recipient with some interaction. Here's how it looks: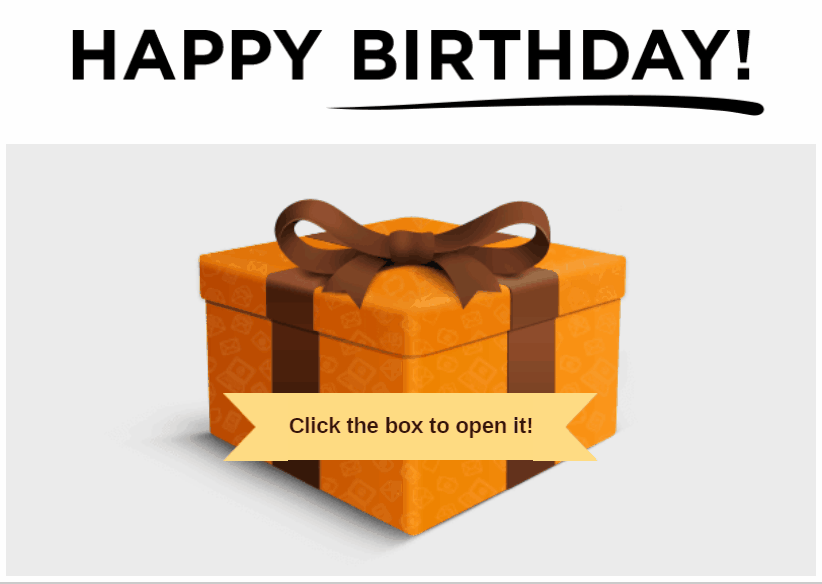 After a subscriber/customer clicks the box, he/she will be redirected to the landing page with a beautifully animated box. After it's clicked, the box opens and displays a gift (a text).
Use this opportunity to give a can't-resist coupon code or another generous gift (which also serves as an incentive to buy).
Just remember, it's not about you or your business.
It's all about the customer's birthday. Think about them first and make that gift stand out.
Keep the message short
The best birthday emails are short and simple. The message should wish the subscriber a happy birthday and explain the treat.
There's no need for long copy. Fancy.com sends a simple email with a 10% discount and catchy copywriting (P.S. we've hidden the actual coupon code):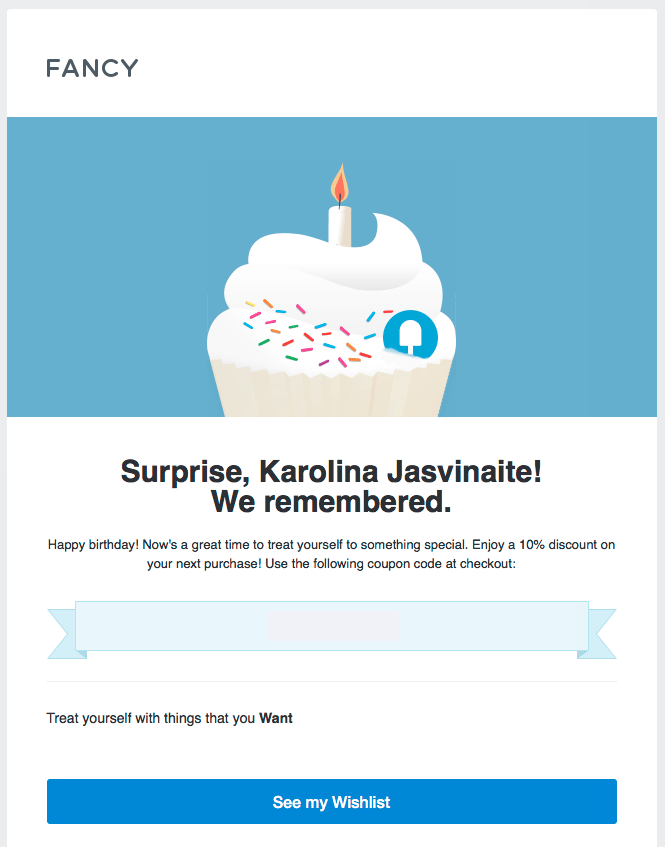 Use GIFs
Even though videos are not supported in the email landscape, animated images (GIFs) are a solid workaround.
Use them to make your birthday emails more festive and full of emotion. Here's an example you might like: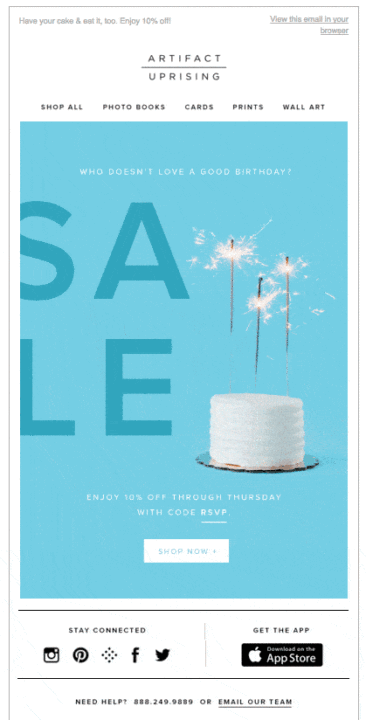 Are you looking even for more ideas on how to create that perfect birthday email? Take a look at this Pinterest board for more inspiration.
Two components of successful birthday emails
The recipe for a successful birthday email workflow consists of two ingredients, data and email content (incl. the actual offer).
Unfortunately, many businesses (especially beginners) fall into a trap here. It does not matter how awesome or compelling your birthday offer is, it's pretty much useless if you don't have collected birthdates of customers/subscribers.
Even though this sounds like a pretty obvious thing to do, many online merchants still forget that:
No birthdates in your mailing list = no automated birthday emails.
So before you rush into the creative process of crafting that super awesome and highly-converting email, think about how will you collect that birthday data? In the next chapter of this guide, we'll cover this topic in greater detail.
How to collect birthdates
After you've decided to start increasing sales with birthday emails, expand your signup forms with an additional field, birthdate.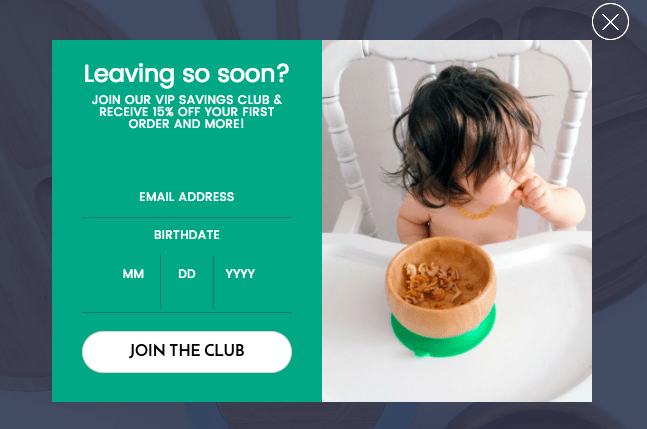 With Omnisend, customizing forms and collecting additional data has never been easier.
Just go to your Omnisend account, Forms > [Choose a form] > Content and Design > Add an additional field.
In the dialog box tick a checkbox next to Birthdate, click Add and save all changes. Done!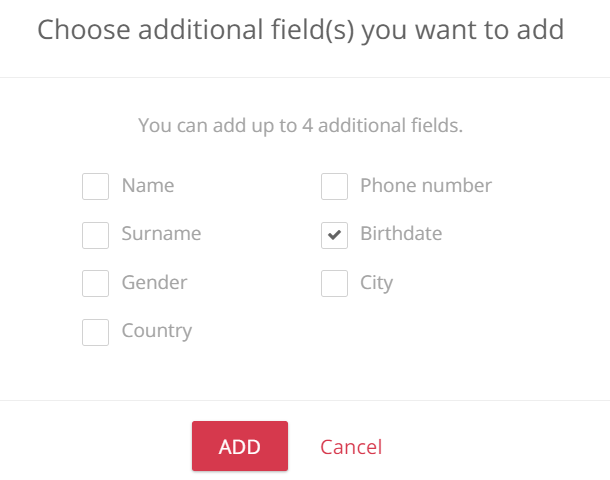 PRO TIP: Don't include too many fields in your signup form as it might drastically decrease the conversion rate.
For example, ImageScape increased its conversion rate by 120% by reducing its contact form from 11 to 4 fields.

Which form type should you use? What is the best timing to display it?
Honestly, there is no universal answer that would work for everyone regardless of their business model.
Since it all depends on your business and customers, you should try different options and see which ones provide the best result.
However, here at Omnisend, we can give you several hints for where to start.
Timing
Do not "attack" new visitors by displaying a popup right after they land on your page.
Usually, such people have never seen your brand before and are just looking around.
You should wait a bit longer for that perfect moment when they are ready to leave their email address.
We'd suggest considering:
The delay of 60 or 120 seconds. If a visitor stays long enough on a page, it's worth to automatically show a popup asking him/her for an email address and a birthdate. Of course, you'll need to offer something in return. A 20% discount or free shipping is a tempting incentive.
Show a popup after a visitor scrolls down below the threshold of 50%, this could be a great moment to offer something and ask for an email address + birthdate in return.
Show a popup after a 2nd or 3rd pageview. The fact that a visitor has viewed more than one page could be treated as a great indicator that he/she has an interest in your product/services (at least to some extent), therefore it's another good moment to ask an email with birthdate.
When a visitor is trying to leave, you can also show a popup. From our personal experience, asking for a birthdate right before a visitor leaves is not the best idea and it won't many conversions. You might want to consider asking just for an email here. Nonetheless, as we've mentioned before, there is no universal right or wrong, every business is different, therefore exit-intent popups asking for birthdates might actually work for you.
Which form types will be most effective for you? Once again, what works for one business might not work for another.
Therefore, you should try several and then figure out which one is driving the most conversions.
You can always choose a classic popup (which appears automatically) or a signup box (appears when a visitor clicks a widget attached to the screen). However, do not limit yourself just to classics and try something implementing gamification elements as well.
And that's where Omnisend comes to help.
One of our features is called Wheel of Fortune which is a really effective lead magnet.
It's super fun to use and will drive around 2-3X more conversions than regular forms. After a visitor enters his/her details, he/she can spin the wheel and win a discount.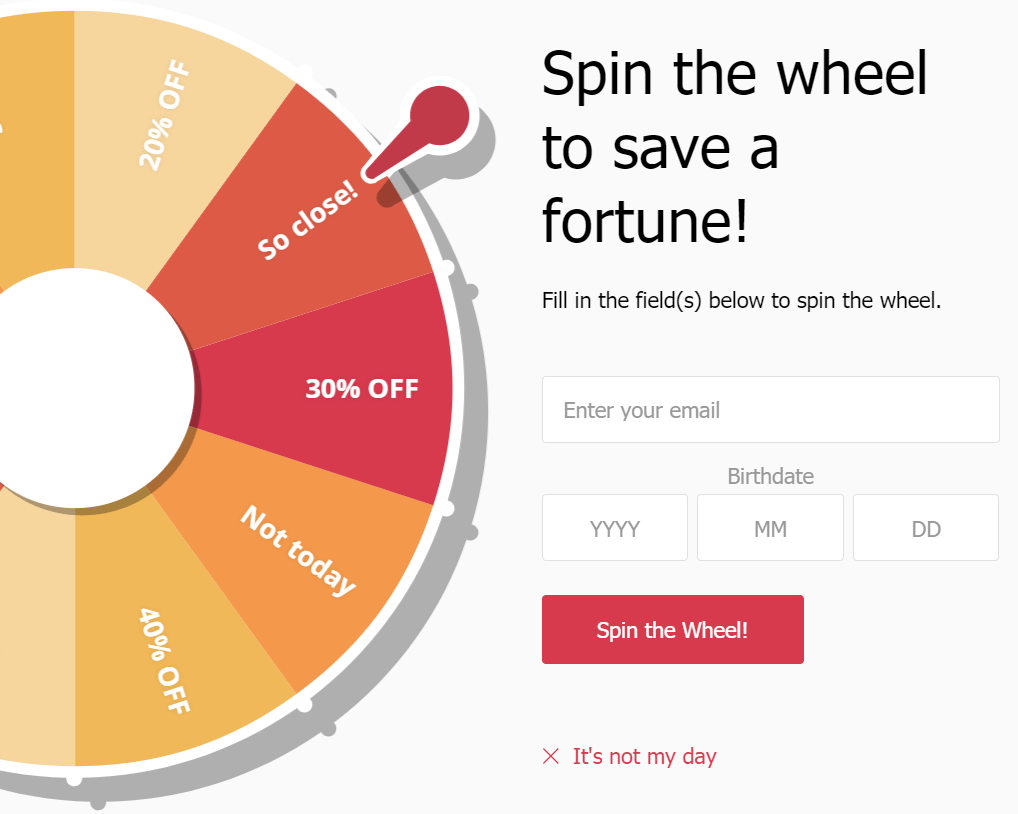 After you've set up data collection (with forms), let's proceed to the next step, crafting an email with that irresistible offer.
Birthday emails: final words
To this day, many online businesses still haven't taken the full advantage of birthday emails even though its setup isn't that complicated.
Various studies and experiments show that retaining current customers is up to 7 times cheaper than acquiring new ones, however, many eCommerce businesses forget that.
In this guide, we've outlined birthday email best practices and tips on how to achieve the best result and increase sales.
The success lies within two components: data collection (birthdates) and email content (crafting a tempting offer a customer/subscriber cannot resist).
Here are the key takeaways:
Start collecting birthdates as soon as possible. However, don't use too many fields in the form. Email address, first name, and birthdate are enough. Each additional form field might (and probably will) hurt your conversion rate.
Use different types of forms to find out which one of them works the best. Do not "attack" visitors right after they land. Wait a bit for the better moment (60 seconds, scrolling down >50%, etc.).
Try gamification elements, like the Wheel of Fortune, in order to get those precious birthdates.
On birthdays people expect gifts, so give them. Be generous, give a discount and free shipping.
Make sure your email has a clear call-to-action.
Gamification in emails is one more way to increase click-rate and sales. Use interactive elements like a Gift box.
Be clear and straight-to-the-point. There's no need to create a lengthy copy.
That's it for this time! Did we miss anything? What are your favorite birthday email tactics? Let us know in the comments below.
Don't forget to you can create custom birthday emails with Omnisend. Check it out and see we can help boost your sales through birthday emailing!

Get started with Omnisend today & drive sales on autopilot with pre-built automation workflows
Start Free Today