Drive sales on autopilot with ecommerce-focused features
See Features
did you know
Omnisend customers automate 32% of their email conversions. Are you maximizing sales?
automate my sales
Reading Time:
8
minutes
Customers expect brands to be more than just a business. They want personalized messages, timely offers, and generous discounts — in other words, birthday emails.
But this is a slept-on strategy.
Although birthday emails are rarely used by budding ecommerce brands, they're some of the most successful forms of email communication. In fact, birthday emails generate 179% more clicks, 481% more transactions, and 342% more revenue per email than your typical marketing email (according to Experian.com).
No small feat.
This became the inspiration for our comprehensive guide, where you'll learn what birthday emails are, how they increase your sales, and how to build one of your own.
Let's dive in.
So what are birthday emails?
Birthday emails are automated messages sent to subscribers on or around their birthdays. Offering personal attention and a touch of delight, the goal of a birthday email is to highlight the occasion, offer a special discount, and encourage retention and positive brand equity.
As mentioned, these messages are very valuable. Omnisend client data indicates ecommerce birthday emails have a 45% open rate, a 12% click rate and a 3% conversion rate — much higher than national averages.
What's more, the birthday email conversion rate far surpass the average conversion of bulk campaigns. While most marketing messages see rates of 0.18%, birthday emails receive a whopping 11.6%.
If you're looking for a way to retain customers, drive word of mouth, and increase storefront conversions, you need a system for sending birthday emails.
But first, you'll need a template.
Birthday email template
There are four components of a birthday email:
Free shipping. This shouldn't be the gift itself. Make it a part of the offer.
An incentive to buy. This could be a coupon code, a discount, or something else.
A clear call to action (CTA) or action button (click here to activate).
Time to redeem the discount. Make it valid for at least one week after the birthday.
With this in mind, your average birthday email template might look as follows:
Subject Line: Happy Birthday [NAME]!
Hey [NAME],
Has it been a year already? Wow, how time flies!
We're celebrating your special day with an [OFFER] just for you.
Plus, you get free shipping on whatever you buy. How's that for a special day?
Click HERE to redeem!
A great example of this email marketing in action is TopShop's custom messaging, which offers free shipping, a 20% discount, and plenty of time to redeem the offer.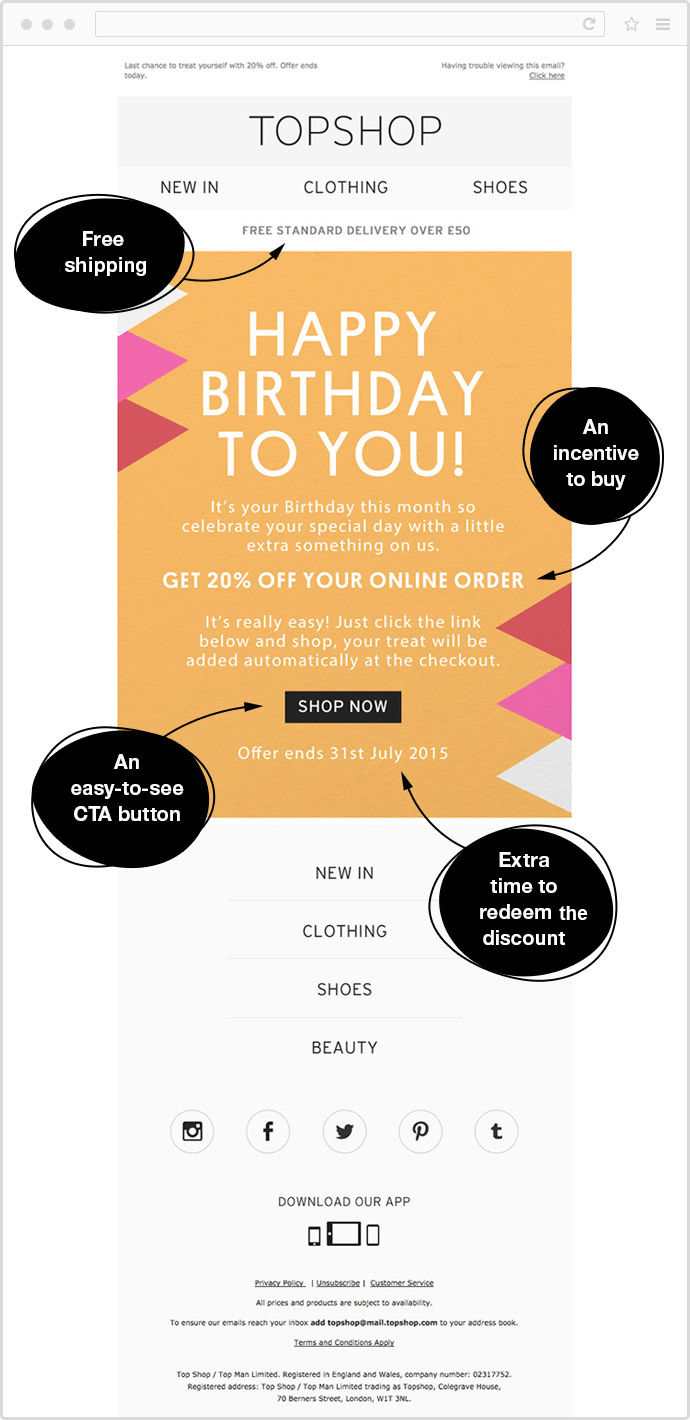 Happy birthday examples
There are quite literally hundreds of ways to construct a birthday email. Browsing successful email examples is a great way to get your bearings while gleaning expertise from others.
EQVVS, for example, does an excellent job leveraging brand colors alongside an identifiable voice and tone. The reward here is an in-store discount, which provides a flexible incentive for customers to buy.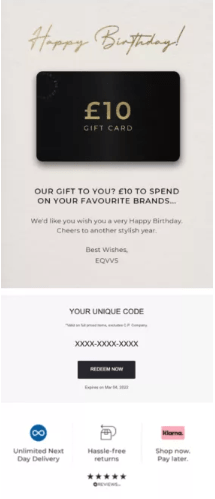 Personalization is all-but a requirement for emails these days, and for art-deco jewelry brand Rachel Jackson, this element is expertly applied.
Their special offer is followed by a personalized list of birthstones and zodiac signs, which is automatically powered by dynamic content blocks.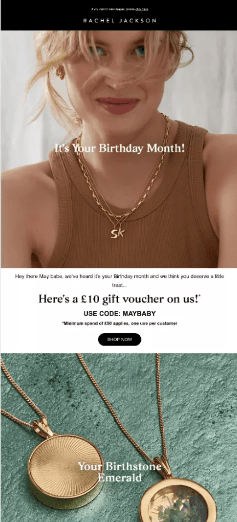 It's best to experiment with lots of different ideas while crafting your first set of birthday emails. Remember: it's your brand. Mix, match, and customize content at will.
How to collect and send birthday emails
Although it may sound obvious, many merchants forget the tried and true formula:
No birthdates in your mailing list = no automated birthday emails.
After you've decided to start increasing sales with birthday emails, you'll need to expand your signup forms with an additional field for customer birthdates.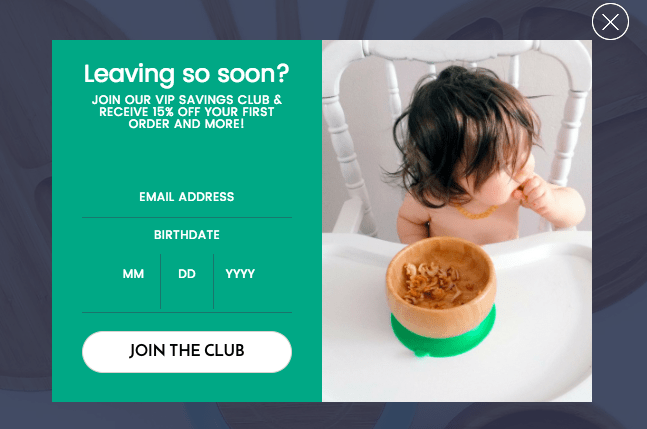 With Omnisend, customizing forms and collecting additional data has never been easier.
Just go to your Omnisend account,
In the dialog box, tick a checkbox next to 'Birthdate,' click 'Add' and save all changes. Done!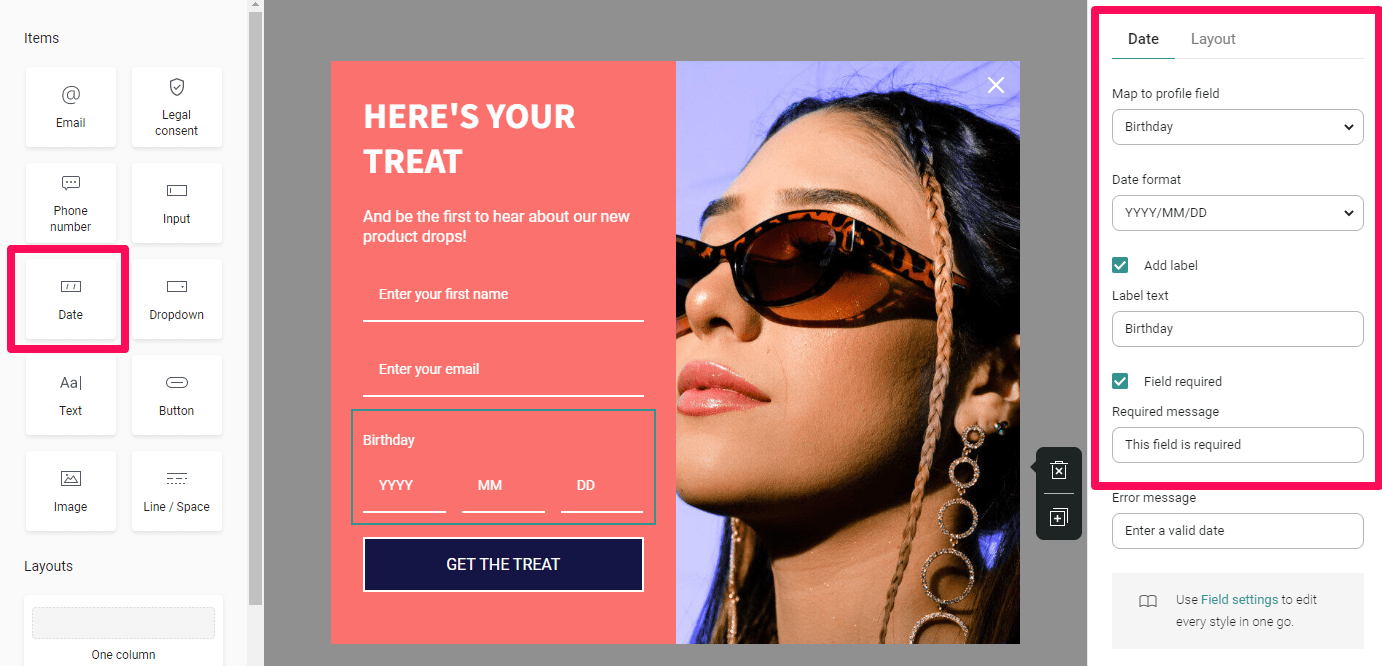 PRO TIP: Don't include too many fields in your signup form. This will overwhelm your visitors and drastically decrease conversion rates.
For example, ImageScape increased its conversion rate by 120% by reducing its contact form from 11 to 4 fields.
Alternatively, if you're collecting Birthdates with Happy Birthday Email, you can collect them on the Order Status Page after a customer places an order. This is a great way to collect additional pieces of information about your customers without slowing down the checkout process.
Check here how to set up Omnisend and Happy Birthday email integration.
How to build a better birthday email
You have a goal, a heading, and a solid collection tool. Now you need to create and deploy your content at scale.
Here are some hints for building fun, functional, and highly converting happy birthday emails.
Pick the right timing
Even during birthdays, timing is everything.
Don't 'attack' new visitors by displaying a popup right after they land on your page. This is bound to get on everyone's nerves and likely won't convert at all.
Instead, you should wait fot the perfect moment to entice customers to leave their birthdates.
We'd suggest:
A delay of 60 or 120 seconds. If a visitor stays long enough on a page, it's worth sending an automated popup to collect a lead. Of course, you'll need to offer something in return. A 20% discount or free shipping is a tempting incentive.
Showing a popup after the visitor scrolls through 50% of a page. Again, don't forget to offer something in return.
Showing a popup after the visitor's second or third page view. This is a great indicator of interest, and a good moment to ask for their email and birthdate.
Showing a popup before exit, also known as exit intent popups. From our experience, asking for birthdates before a visitors leave will probably not get many conversions. Nevertheless, every brand is different. It may be worth a try.
In terms of popup style, try testing several options to measure engagement and conversions. You can always choose a classic popup (which appears automatically), or a signup box which appears when visitors click a widget.
However, it's best not to limit yourself to classics alone. You may want to implement gamification elements that appeal to modern audiences — which Omnisend is uniquely equipped to provide.
Wheel of Fortune, one of our most popular options, is an extremely effective lead magnet for birthdates. Not only will it net 2-3X more conversions than regular forms, but it can generate positive brand equity with a chance to win a discount.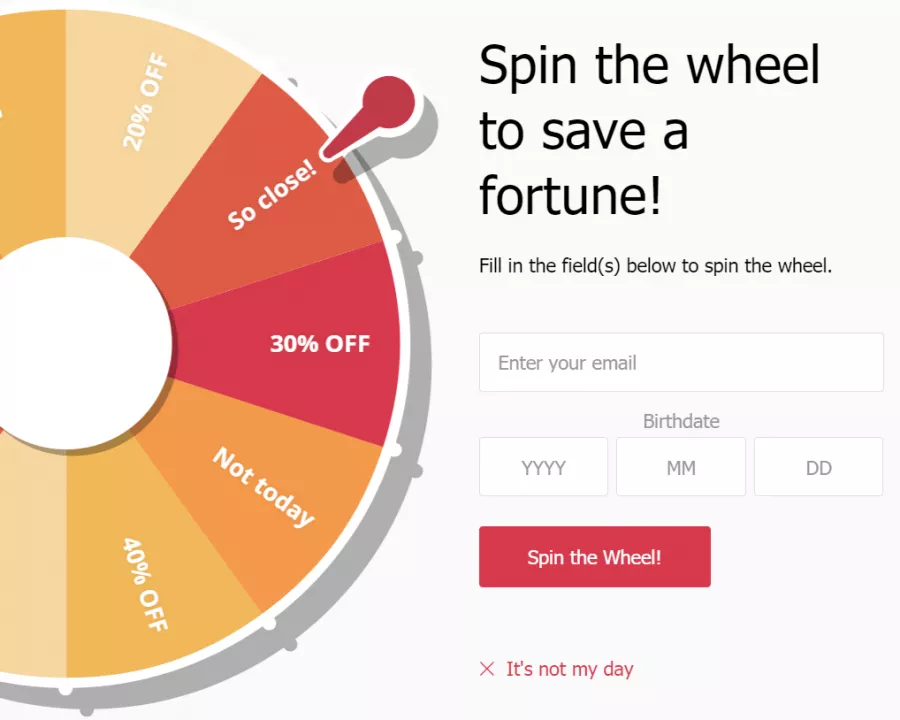 Now that you've set up sustainable data collection, let's proceed to the next step — crafting an irresistible offer.
Free shipping and a coupon they can't resist
Birthdays are synonymous with gift-giving, so when the big day rolls around, become a part of the big day with a genuinely worthwhile gift.
This gift could be virtually anything, so long as it's valuable. It might be a 20% coupon off orders over $100, $15 off orders over $50, or something else along those lines. The more generous you are, the better your conversion rate will be.
Remember that your discount will look even more attractive if you combine it with free shipping, just like Alternative did in the example below.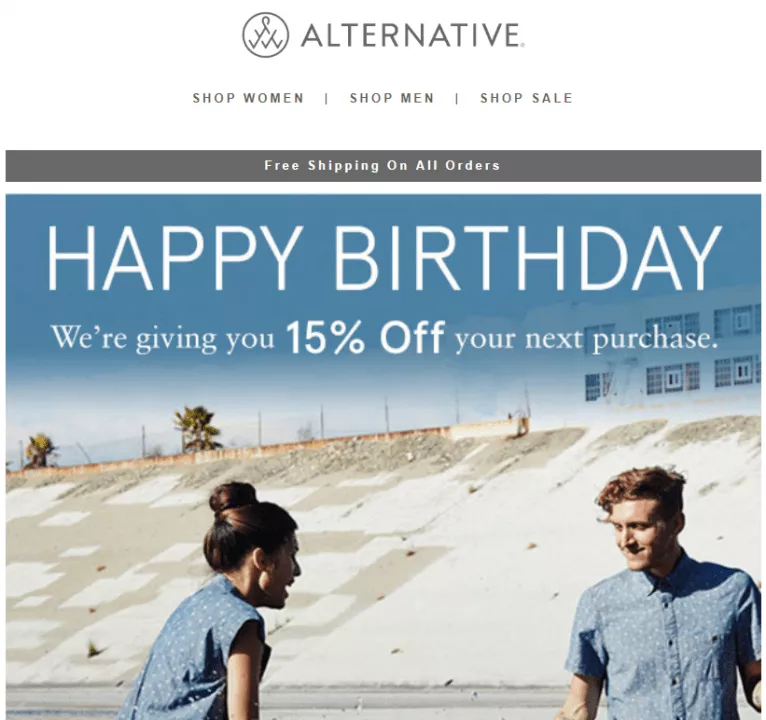 Most importantly, try not to be cheap.
Offering a $3 discount or no discount at all might actually hurt your reputation and give your brand a bad rap. In the worst case scenario, it might make customers unsubscribe.
For example, here's a happy birthday email from movie rental service Redbox. Notice a birthday offer? Neither do we: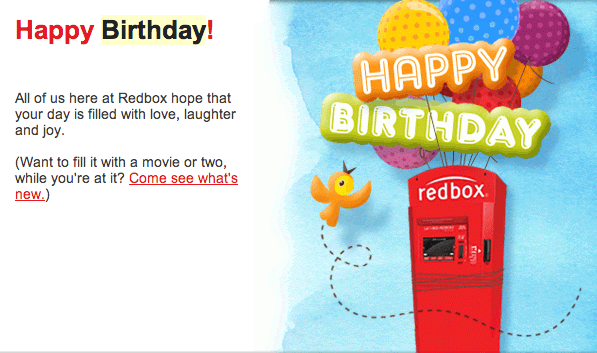 Yikes.
As you might imagine, this wasn't well received at all. Here's a genuine response from the actual customer:
"Seems like they are always giving away a coupon code for a free rental because it's Tuesday, garbage day, or 3 days before Easter. But here, on an actual day where it makes sense to give a free rental, they just say how they hope I am having a joyful day."
To summarize: don't be cheap. Treat customers and subscribers like members of your family with a well-crafted offer they'll actually want to use.
Create a clear call-to-action
Every email must have a clear call to action — and the birthday email is no exception.
You know the drill. Write a good sentence, use unique colors, and rely on special font like bold or italics to draw attention.
For a simple fix, consider using a button like ecommerce brand Fancy: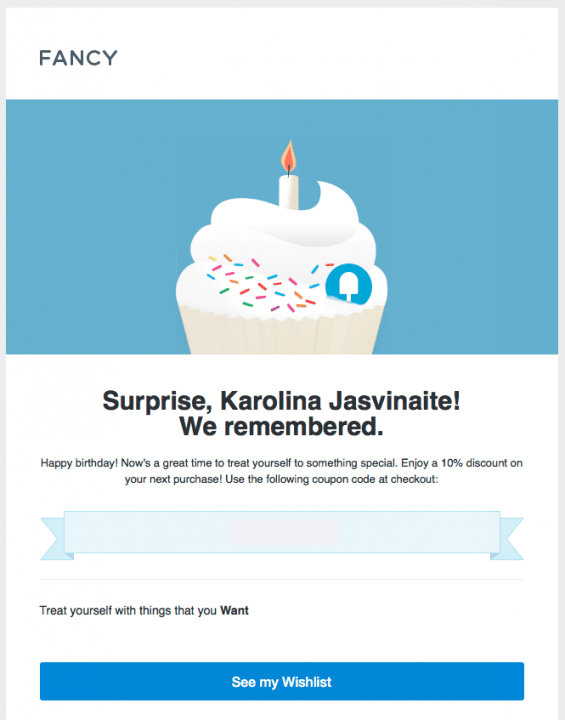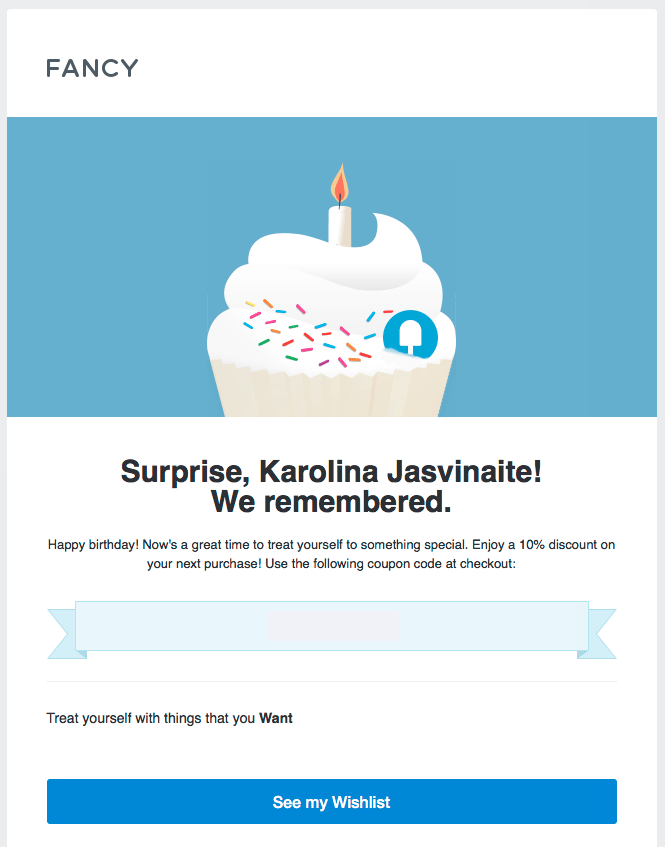 If you do use buttons, be sure you're still writing a short, pithy CTA. This might be something like 'Claim Your $30 Coupon Now,' 'Redeem Your Birthday Gift,' or even just 'Shop Now.'
Keep the message short
The best birthday emails are short and simple. Simply wish the subscriber a happy birthday and explain their special treat — nothing more, nothing less.
There's no space for long copy here. Fancy's above exemplifies this well in their emails: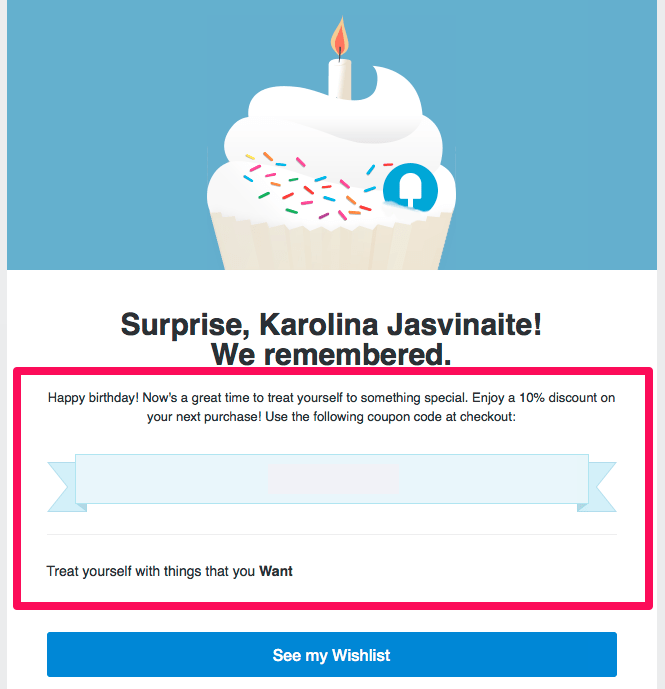 Use GIFs
Static emails are rapidly becoming a thing of the past. For outstanding messages that separate you from the crowd, you'll need to consider dynamic content — including GIFs.
GIFs present the perfect opportunity to add personalization, color, and interest to your messages. Use them to make birthday emails more festive, and lean into the emotional side of your brand to foster genuine customer relationships. Bonus points for being on brand, just like Artifact Uprising: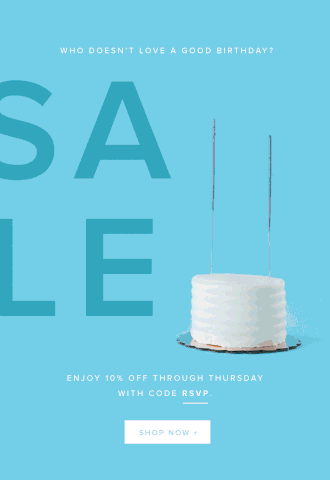 The best birthday emails take time to cultivate interest and dynamism in recipients. If you already have birthday emails in your arsenal and want to take things up a notch, GIFs may be the next step along your journey.
These birthday email examples are a great place to begin, but they won't and shouldn't take the place of a personalized campaign. Take what you need, and no more. Copycatting doesn't always result in higher conversion rates.
Looking for more ideas to glean from? Check out these eight birthday email examples to get started.
Birthday emails: final words
We've covered a lot of ground here, so let's back up and take a breather.
To build a performant birthday email, you need to:
Collect birthdates as soon as possible. But remember: too many additional form fields might (and probably will) hurt your conversion rate.
Test different forms to see what works best. There's no one formula to follow.
Avoid attacking visitors with popups when they land. Opt for time-based or scroll-based popups instead.
Try gamification elements like Wheels of Fortune to capture birthdates.
Be generous, give good discounts, and always provide free shipping.
Make sure your email has a clear CTA.
Be clear and straight to the point; no long copy needed.
Even condensed, this is still a lot to handle. For many marketers, managing the setup of birthday emails by hand simply isn't possible.
Whether you're sending salutations to an established list or a growing roster, it pays to partner with platforms that automate your emails — including Omnisend.
Custom birthday emails from Omnisend were designed to enhance and automate your preestablished system. You can easily set time delays to match regional time zones, update the email with dynamic content, and add personalized touches to seal the deal. And if you're not feeling creative, you're welcome to borrow from our giant library of birthday email templates.
Plus, Omnisend's automation workflows can be used on any plan. You're never barred from basic features on lower tiers, so you can start sending emails to customers at any stage of growth.
Ready to build your first birthday email? Sign up for Omnisend and start automating messages in minutes. Go ahead — it's free.
Get started with Omnisend today & use birthday emails in your pre-built automation workflows
Start Free Today
related features
Want more sales?
Omnisend has everything you need to succeed.
Start free now
No Credit Card needed.