Drive sales on autopilot with ecommerce-focused features
See Features
Reading Time:
5
minutes
Businesses want to build up their email lists to remain in contact with their customers. This can lead to more customer traffic, which leads to more sales. Some businesses may question the point of email campaigns. After all, no one uses email anymore, right?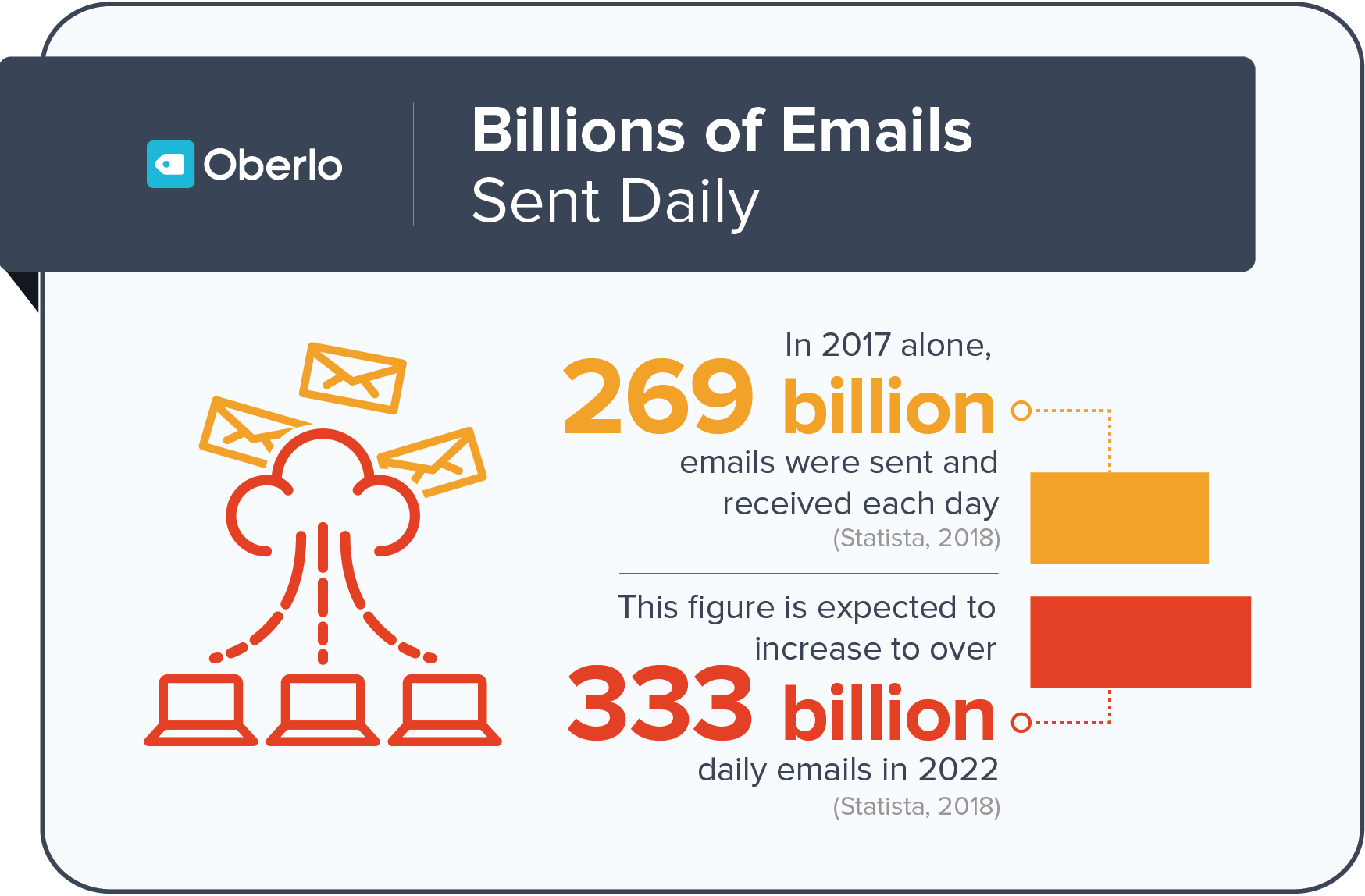 Source: Oberlo.com
Email marketing remains a strong and effective channel of communication. Not only do users send 269 billion emails daily, but that number will continue to increase with time. The email market stands strong as a prime way to communicate with others.
Your business should use email campaigns as a way to effectively communicate with your customers. Even if you don't have a large email list, you can start to build one. Look over this guide to help you with your email acquisition in the ecommerce world.
The two parts of email acquisition
When a business works on their email acquisition, they have to focus on two aspects of it.
Building up your email list.
Working on and applying your email campaign.
You need both to succeed and to build up your email marketing. As you work on your email list and your email campaign, you will see your email acquisition grow. You will gain new subscribers and increase your metrics.
When you build an email list, you seek out customers and others who show interest in receiving emails from you. The type of emails you send will depend on your company, though you can't go wrong with an email newsletter.
Also start to plan out your email campaign. As you create an effective plan, you can then execute and improve upon it. It all starts with planning your campaign so that you can send out emails that people will want to open.
These two parts make up email acquisition because they both allow you to gain something through emails. The first allows you to find potential customers and the second allows you to increase your sales, which will benefit your business. Focus on list building and working on your email campaign as you build and create an effective email acquisition strategy.
Expanding your email list
As you expand your email list, you want to add the right kind of people. After all, if you send emails to random people, then they will just mark the emails as spam and ignore your message. This ruins the point of email campaigns. Instead, focus on sending your emails to potential customers.
Some may wonder how they can find potential customers. After all, you want to find the right people to increase the odds of them opening your emails. These three points should get you started on building an email list.
Promote your email newsletter on your website
Use your social media pages
Encourage people to share
Luckily, you can promote your new email campaign through your website. Post advertisements and easy to find buttons that invite website visitors to sign up for your email campaign. Since these people are on your site, they likely have an interest in your business or products.
In fact, on your website, there are tons of different strategies you can employ to increase email sign up, like popups, landing pages, static forms, etc.
You can invite your followers on your social media page to join. Make a post explaining your email campaign to your followers and encourage them to sign up. You can also check their profile pages for email addresses to send them invites directly. If they follow you on social media, then they want to know more about your business and stay informed.
Make sure to encourage your subscribers and customers to share the email newsletter with friends. They likely know people with similar interests who want to hear about your company. As you try different strategies for email acquisition campaigns, you can find more email addresses that can turn into customers.
Email acquisition strategy
Once you have an email list, you want to turn those potential customers into returning customers. You need an effective strategy with email acquisition's best practices to draw them in. Spend some time with your team discussing different information and incentives you can add to your emails to convince customers to open them.
Consider using email segmentation as a way to maximize the success of your email acquisition campaigns. This means that you send specific emails to certain people based on their demographics. If an email directly applies to a customer, then it increases the odds of the customer opening it
However, if you don't have something that people want, then they won't open your emails.

Source: Campaigner.com
People receive multiple emails a day, so you need to give your customers a reason to open your emails. The image points out that you can provide customers with incentives to purchase products. This could include informing them about deals, providing exclusive coupons through emails, and telling them about new products.
No matter what you put into your emails, you need to focus on your customers and their desires. As you give them what they want, you improve their opinion of your business. Keep building your email acquisition strategy around convincing your subscribers to become customers.
Optimizing email acquisition campaigns
Remember that email acquisition doesn't end once you collect a list and send out emails to your potential customers. After this step, you need to focus on identifying problems with your current campaign so that you can improve it.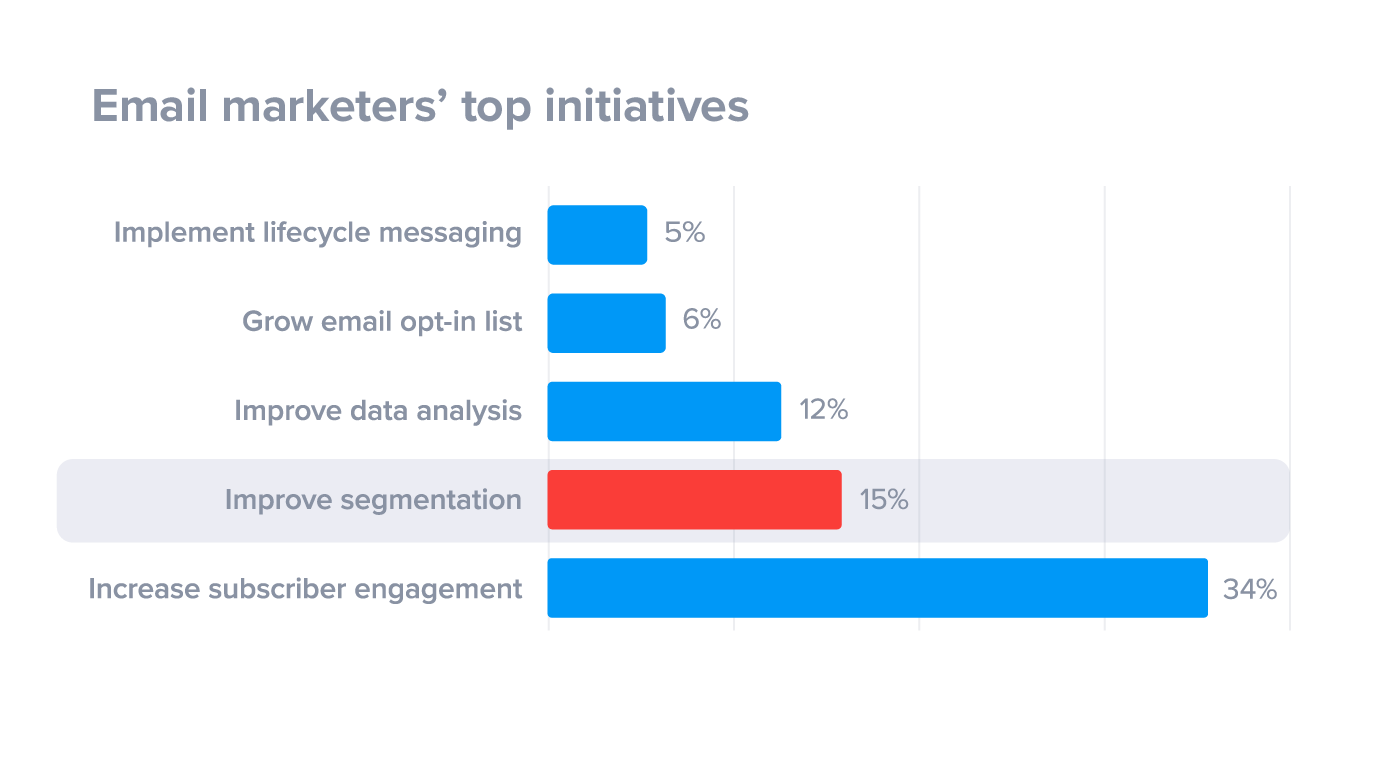 One in every three email marketers place a focus on increasing subscriber engagement. This means getting your subscribers to open emails, click the links, and interact with your business. Figure out where your strategy falls short and adjust it accordingly.
Find out what prevents you from finding more customers or increasing subscriber engagement. Even if you're happy with your metrics, you can always aim to increase them. While you can look up different ways to increase these metrics, you need to figure out what your customers want.
As you continue to build email lists and try different email marketing strategies, pay attention to your customers and how they react. How are your metrics affected by changes? As you do so, you can discover different ways to improve your email acquisition strategy.
Final tips
Email acquisition depends upon building up an effective email list and then applying strategies to convince those people to open your emails. Consider different services and programs, such as email automation software, to get emails to your customers and to encourage them to interact with your business.
As you seek to build your email list, try out different email acquisition strategies, and improve on them, you will see them affect your email metrics. Continue to build towards an email marketing strategy that works for your company while helping and benefiting your customers.

Get started with Omnisend today & drive sales on autopilot with pre-built automation workflows
Start Free Today
related features
Want more sales?
Omnisend has everything you need to succeed.
Start free now
No Credit Card needed.