Drive sales on autopilot with ecommerce-focused features
See Features
7 Hacks to Upgrade Your Email Blasts (2021 Strategies)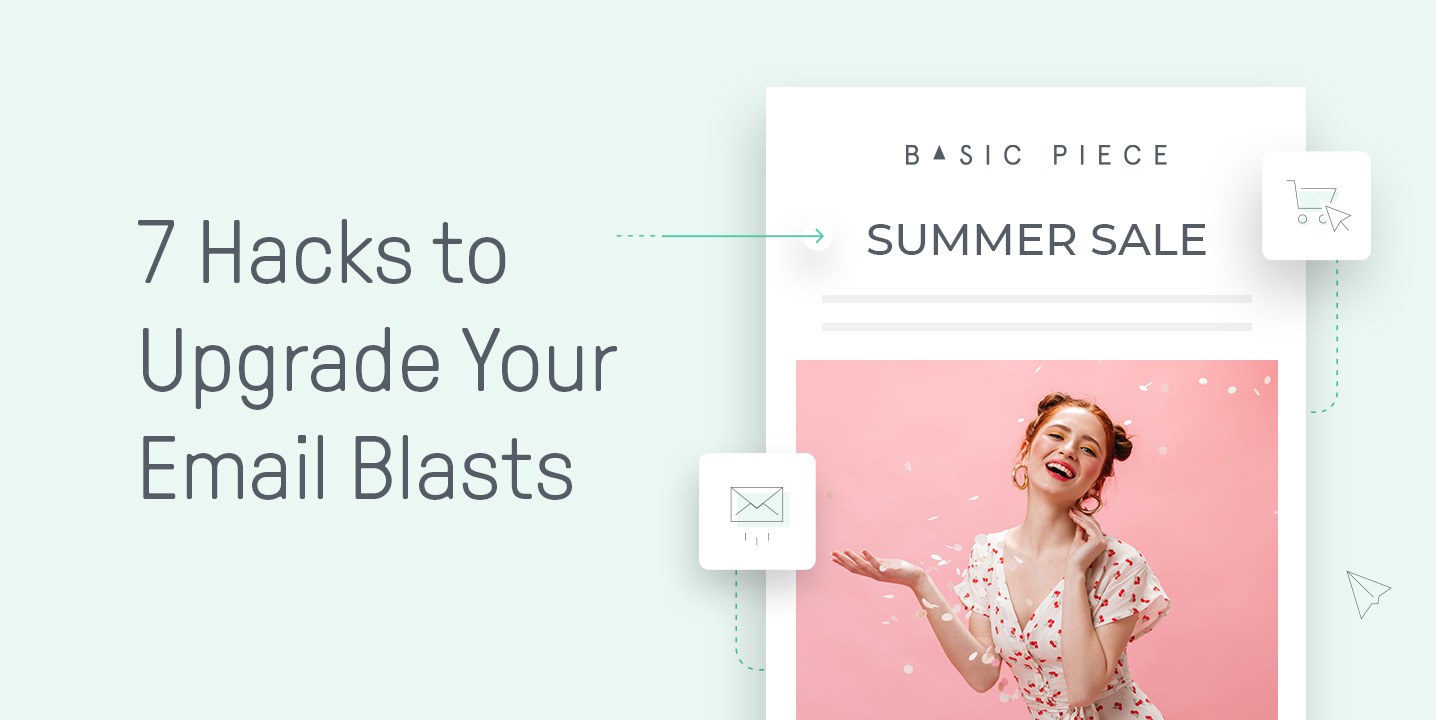 Reading Time:
9
minutes
The good old email blast is still as popular as ever.
In fact, according to our 2020 Ecommerce Statistics Report, email conversion rates continue to skyrocket year-on-year as email takes its place as the home-shopping channel of choice. With promotional email campaigns growing by 111% between 2020 and 2019, it's clear that this trusted opt-in channel is here to stay.
In this article, we're going to discuss some email blast marketing best practices, provide email blast examples, and outline seven tactics that'll help you get the biggest impact from your email marketing efforts.
What is an Email Blast?
An email blast (also known as an eblast) is an email that's sent to a large number of subscribers.
They have gained quite a negative reputation over the years, mainly because they're by nature quite random, unfocused, and potentially annoying. Email blasts used to be:
Sent out with the primary purpose of reaching many people as possible
Sent out with little regard for privacy or permission
Sent out randomly, rather than thoughtfully as part of an overall strategy
Sent out to achieve arbitrary metrics such as percentage click rates, rather than building fruitful, long-term relationships with an audience
Not exactly suited to today's more dynamic ecommerce marketing climate!
However, while many marketers have left email blasts behind to focus on targeted, automated emails sent to smaller audience segments, email blasts can still be useful in certain situations and when done correctly.
For example, sending an email blast doesn't necessarily mean random, scattershot messages with no segmentation at all. Audience segments can be quite large (male or female, under/over 35) and still well-targeted to meet specific needs.
How to Send an Email Blast
Sending an email blast is a lot easier than it seems. Once you nail the basic process, it's all about tweaking the finer details.
First things first, get yourself the very best blast email software that you can find. This software should allow you to segment your audience for more personalization, have an easy-to-use, drag-and-drop email builder, and offer a variety of pre-built automated email workflows.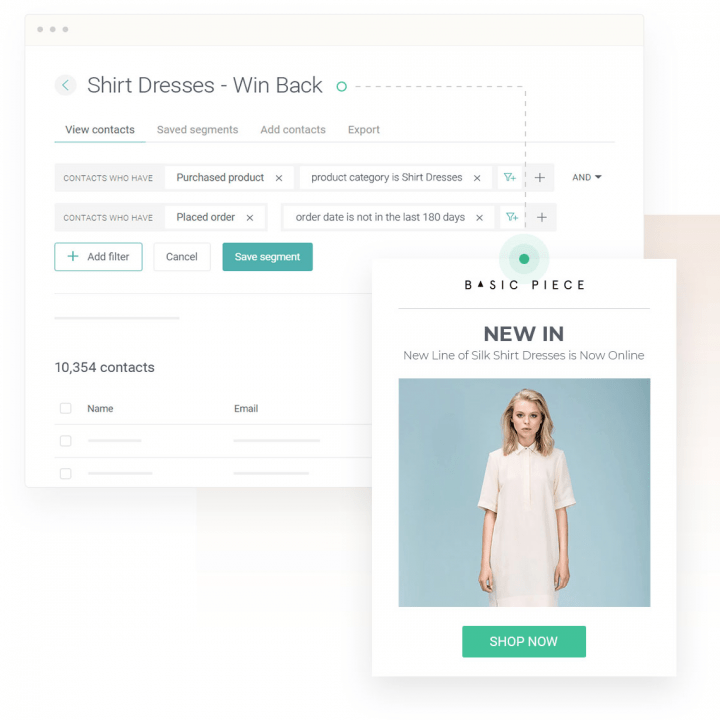 Omnisend offers all of these eblasting services and more!
Other things to consider when sending an email blast:
Create beguiling content of your email blast.
Choose your subscriber segments, and target your email blast.
Send a test email to yourself, check all of your links, images, and make good content.
Choose the best time to send your email blast, and hit send!
That's it! Once you've got the content figured out, the rest is easy.
How to Write a Great Email Blast
It can be hard to put an idea into words, and when you're sending a message to hundreds or thousands of subscribers, it's easy to get lost in wanting to get it right.
Here are a few tips to help you write the perfect email blast:
Define a purpose for your message—what do you want the recipients to do? Stick to that central idea—too many goals means you'll confuse your subscribers.
Write a compelling subject line subscribers won't be able to resist. Don't forget the preview text or the text that's seen next to the subject line.
When you create your content, keep it short, sweet, and to the point. Keep your main goal in mind.
Depending on your brand, of course, use simple language and format your text, so it's easy to read. Avoid walls of text and lengthy complicated paragraphs.
Don't touch the caps lock button. It's spammy and a big turn off for your subscribers.
Write your email like you're talking to your customer face-to-face. This helps you keep your language simple, friendly, and personal.
Play on emotions: use things like the fear of missing out; urgency; social proof and user-generated content; and personalization to appeal to your subscribers' emotions.
Check for errors by using high-quality grammar-checking software.
There are a ton of other tips you can follow to create great email blasts, but these should give you a great starting point.
Are Email Blasts Effective?
Everyone is talking about sending email blasts, but the big question is, are email blasts effective?
The short answer? It depends.
If you're using a spray and pray technique, your email blasts aren't going to be very effective. However, a targeted email blast can be quite effective as long as the message is relevant to those targeted subscribers.
What's the Best Day to Send My Email Blast?
Timing is always important for an email blast—especially if you've got a big announcement or important news for your subscribers.
So for your email blast to pack the biggest punch, you want to pay attention to the best times to send your emails:
Best time of the Month:
The beginning of the month tends to have better-performing email blasts, with the top days of the month falling on the 5th, 7th, and 12th of the month.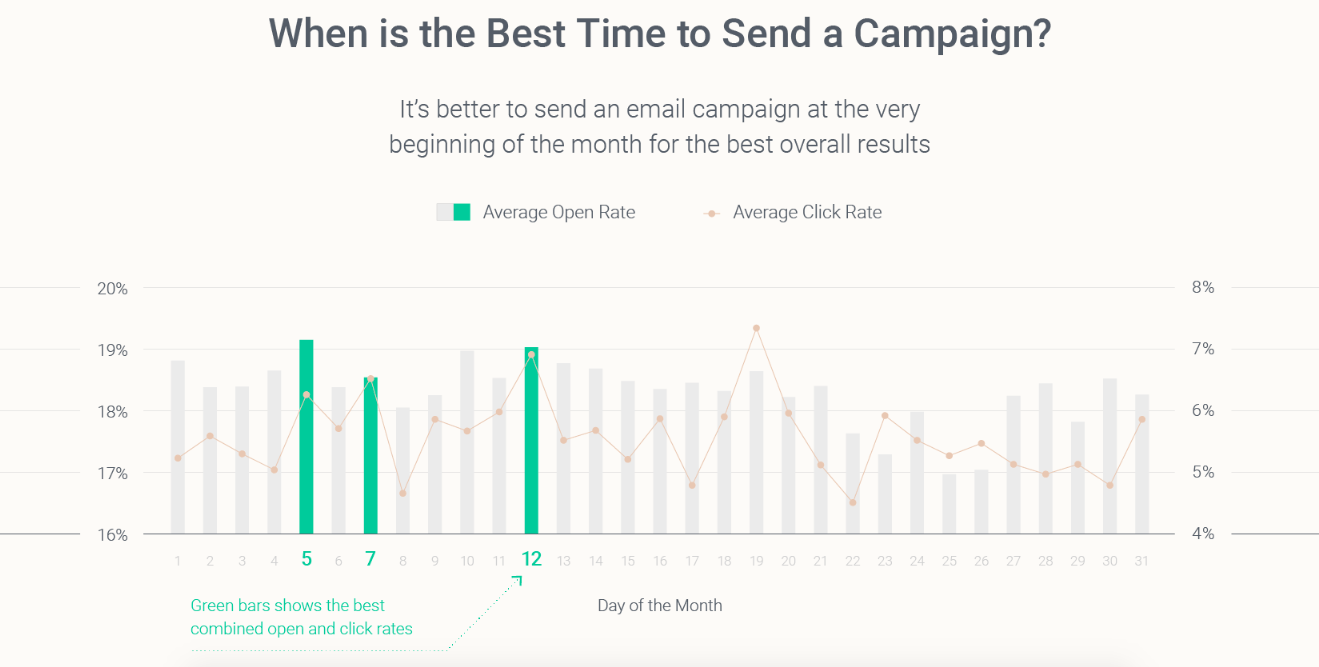 Best Time of the Week:
According to Omnisend research, the best days of the week for your email blasts fall on Thursday and Tuesday.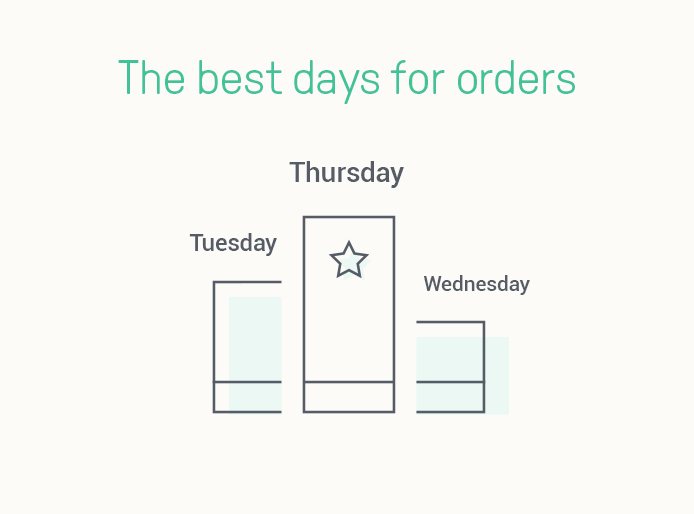 Best Time of the Day:
The best timing during the day for your email blasts falls around the typical work schedule breaks: 8 am, 1 pm, and 4 pm lead to the best open and click-through rates.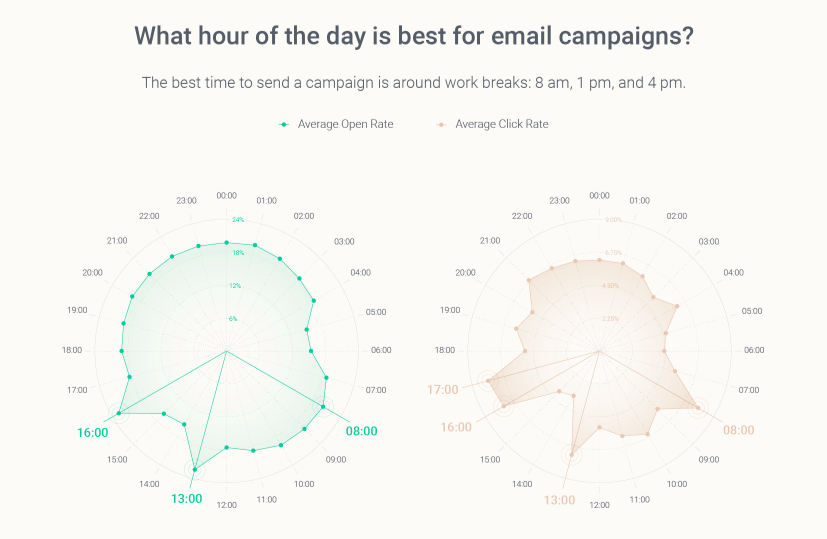 Email Blast Examples
Effective email blasts can be useful for a variety of campaign types. You could use them for things like:
Product email blasts: Send out announcements of your most popular product, a hot new release, a flash sale, or a multiproduct email showcasing a particular category that might be of interest to certain segments in your email list.
Content email blasts: Whether it's on a quarterly, monthly, or even weekly basis, your audience expects updates from you. Use blast email marketing for things like blog content, sharing your brand story, useful tips on how to use/take care of your products, or multimedia such as videos and podcasts.
Now that you have the basics on sending good email blasts, here are seven hacks to upgrade your email blasts from basic to fantastic:
7 Hacks That'll Help You Upgrade Your Email Blasts
1. Segment Your Subscriber List and Send Each One a Personalized Email
Email's gotten so competitive. According to our 2020 end of year report, the strong performance of email across all metrics has only solidified its reputation as the go-to channel for ecommerce marketing. So even though you might think your email stands out from the crowd, there's a high chance that it looks the same as any other email they're getting.
This is why you have to do more than just sending it to get the biggest impact – you still need personalization and email segmentation.
Imagine for a moment you're a customer. You'd want to feel that someone took their time and effort to personalize their services for you.
I can't tell you how tired people are of receiving the same generic promotional emails. But I can tell you that 40% don't find most promotions interesting and almost 40% delete them without even giving them a second glance. So instead, you'll need to identify and separate your customers into segments and send them personalized emails.
Now personalization can mean any number of things. It can be as in-depth as customizing content for each audience or simply grouping the audience by their interests and preferences. Either way, segmented emails earn you more revenue than mass distribution emails.
2. Focus on Having a Great Subject Line
According to research done by Smart Insights, most industries average an open rate of 20-30%. Now that's comforting if you are in the 20-30% range. But you could improve the impact your email has by tweaking the subject line.
Maybe it's a cliché, but subject lines are the biggest factor influencing email open rates. According to Email Manager, 69% of people report an email as spam based on the subject line alone.
Thankfully, there are plenty of ways to get your subject line there.
Include the recipient's name in the subject line. According to research by Marketing Sherpa, subject lines that include a recipient's name had a 4.97% higher open rate than subject lines without. Other resources claim that this doesn't work though. However, this is something you definitely should test with your emails.
Keep to a clear, concise and straightforward subject line.
If you're sending out a promotional email avoid using words that sound too spammy or too salesy to the audience.
Add a little negativity to get people's attention. Going by stats, adding a little negativity to the subject line tends to attract people's attention.
Use simple emoji gestures to add color and visual interest to the subject line.
3. Stick to One Call to Action in Every Email
Over 269 billion emails will be sent today. And while 49% of these are spam, the average recipient still receives 121 spam emails. So to break through the clutter, you need to make it obvious what you want.
One of the most promising ways to increase email open rates is to use one call to action. It could be a simple "Download Now" or "Start your Free Trial Today". Or you could focus on the benefits that the user stands to enjoy instead. Either way, the idea is to ensure that your call of action is obvious so that the subscriber knows exactly what to do.
See the great example below:
4. Provide Value in Every Email
Now that you understand the basics of upgrading your email blasts, let's talk about how to take things a notch higher. Specifically, that involves providing real value in your email.
Use what you've learned about your subscribers to customize emails that will interest them. And if you don't know what your subscribers want, don't be shy to ask. You can do this via a survey or you could do it in the very initial stages as they sign up.
It's also a good idea to nurture your subscribers with a welcome series. On this front, create a series of welcome emails to new subscribers to educate them about the brand.
But why?
74.4% of customers expect a welcome email when they subscribe. Plus it generally helps people feel more valued. And once you know more about your subscribers, segment them into appropriate lists based on their preferences and needs.
5. Accept Replies
Not everybody is comfortable with the idea of accepting replies. Because then you'll have too many replies. However, replies are an important part of email marketing.
Let's say for instance that you received an email from your icon and wanted to send a reply. But, halfway in you realize you couldn't because they don't accept replies. Would you still have the same perception of them? Probably not. Even if they gave you complimentary tickets to their show, you'd still view them in a bad light.
Your email subscribers are no different from any other fan. They buy from you, they read your emails and they make purchases even if it's just once in a while. And all they want in return is to talk to you every once in a while. Ask questions and communicate with you about things that matter most to them. The least you can do is make it easier for them to communicate with you.
Also, getting replies helps you get valuable information about what your audience wants. It helps you gain insight into what's working and what's not working. And with that information, you can adjust your strategy to offer better services.
6. Make It Easier to Unsubscribe
You should always expect that a handful of people in your email list will want out of the subscription. It's a natural part of email marketing. But what happens when you have a lot of people unsubscribing?
The answer is pretty simple. Let them go. You can't have any dead weight around when you want to increase conversions and sales. And instead of letting things get to a point where people mark your emails as spam, you should just let them go.
At a minimum, every email you send should have an unsubscribe link at the very bottom. But, you can also include unsubscribing links in your emails to make it easier.
7. Keep Your Email Design Simple
I'm sure you've heard the saying simplicity is the ultimate form of sophistication. And this is especially true when it comes to email marketing.
You want to make your emails look beautiful no doubt. But you also want to have a professionally designed template to let people know that you mean business. In fact, you can write a few lines and add a few links and that's it. Any more and you might just turn off your subscribers.
Not convinced?
69% of mobile email users will delete a message without even reading it if it doesn't display well. And with so much at stake, you obviously don't want to let a few design issues stand in the way of your email open rates.

Bottom Line
So now you have 7 hacks that can help you upgrade your email blasts. And you can start testing them right away. If you follow these strategies, we guarantee you that you will start seeing a significant impact from your emails.