Drive sales on autopilot with ecommerce-focused features
See Features
What are email blasts? Definition, how to do email blasts & examples
Reading Time:
10
minutes
We've all heard of an "email blast." Some marketers consider it an outdated email marketing strategy and use this term to describe annoying or spammy messages. Others praise e-blasts for their relatively high conversion rates.
The reality? Email blasts can be good and bad, depending on the situation.
Put simply, an email blast is a message that goes out to an entire list of subscribers at the same time. In this article, we'll explain how email blasts work and how they can help you stay more connected to your contact list.
What is an email blast (e-blast)?
Email blasts are messages that go out to a large group of recipients at the same time. That distinguishes them from emails that are sent to an individual user or in response to a specific action.
Easily send emails that really sell with Omnisend – with free access to all features.
Start free
For example, you might want to let your audience know about your best holiday sales or gift packages. In that case, your best option is to send a message to your entire contact list at the same time. This message from Bellroy is a perfect example of a holiday email blast.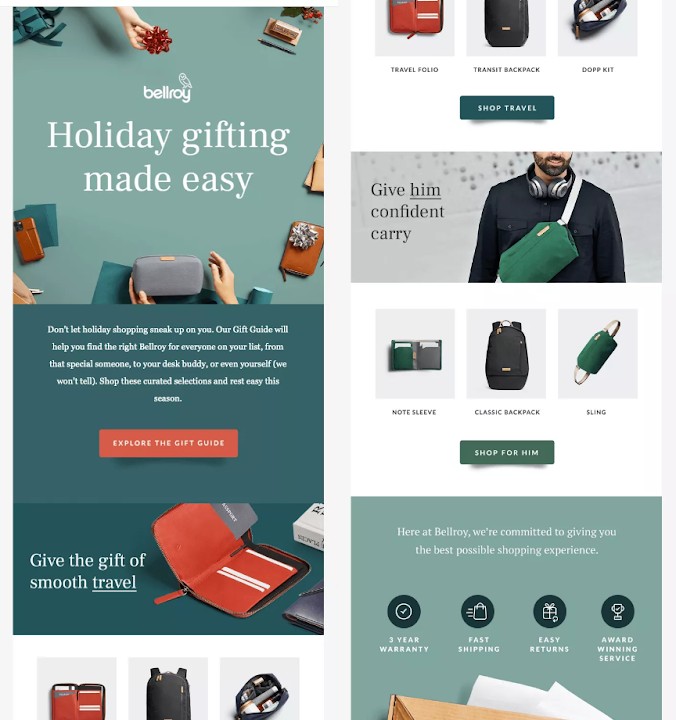 Why email blasts are a risky marketing strategy
Email blasts had their place in the spotlight in the early years of the web when most email marketers had a single goal in mind–to reach as many people as possible. These days, however, email blasts can do you more harm than good.
That's because they don't follow the STP model (short for Segmentation, Targeting, and Positioning), which is one of the pillars of modern email marketing.
Email blasts are not segmented
Segmentation is the very first step of the STP marketing model.
Email segmentation involves splitting up your email subscribers into smaller lists based on a variety of criteria to send more relevant messages to smaller groups. These criteria can include:
Location
Income
Interests, and many more
With unsegmented email blasts, however, you're sending to everyone. And if you're sending to everyone, you're sending to no one. For example, let's say you're running an online clothing store and want to announce new luxury dress arrivals in your promotional email.
Needless to say, sending this email to all of your customers regardless of their buying ability would not only be ineffective but could also potentially alienate your lower-income subscribers.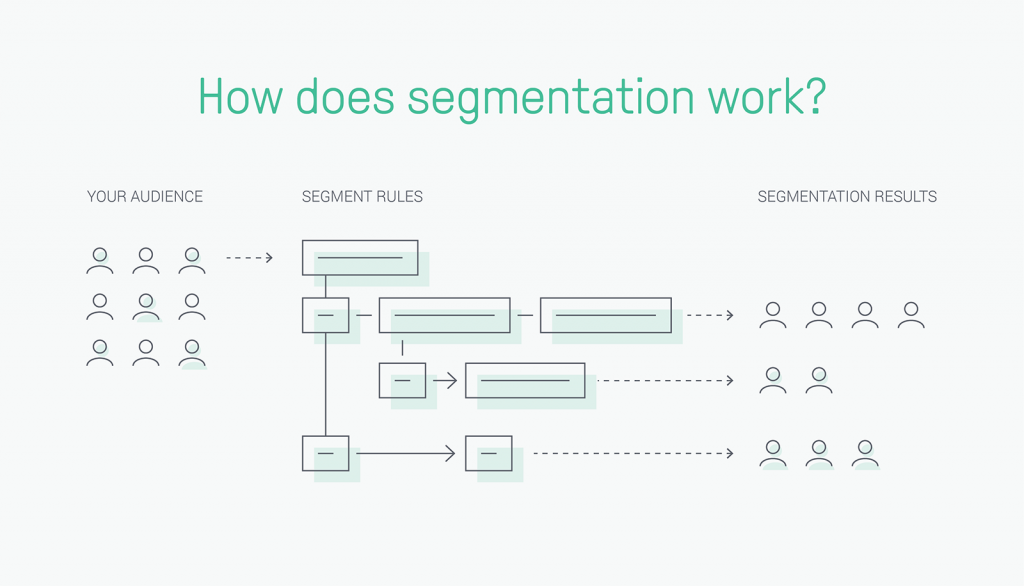 With segmentation, it becomes much easier to predict what your customers will engage with, leading to higher sales.
This is why using the right marketing platform to segment your email blasts is vital. With Omnisend, you can really get to know your customers and create highly-focused segments.
Email blasts are not targeted
Once you create different segments within your email list, you can then devise different marketing strategies according to the tastes of your target audiences within each particular segment. This way, your customers will feel more valued and convert more easily.
In order to target your email blast campaigns, you need to be able to tag your subscribers based on their experiences and how they interact with your products or services. Then, you can personalize the content of your emails according to customer data.
Clearly, email blasts don't meet the requirements for targeted marketing, so personalizing your messages isn't possible when you're email blasting.
Email blasts don't nurture customer loyalty
If you want loyal customers, your email blast campaigns need to be engaging and consistent. Nobody likes to get free-for-all emails out of nowhere, and such messages usually find their way to the Spam folder in seconds.
If you want your brand to thrive, you should establish positive emotional connections with your customers. And email blasting your entire email list once in a blue moon usually has the opposite effect:
Zero emotional connection
Resistance to unsolicited emails
Damage to the brand due to lack of sending schedule
Aren't email blasts spam?
Email blasts were extremely common in the early days of the internet as marketers tried to reach the largest possible audience. However, that dynamic quickly led to the perception of email blasts as annoying, distracting messages that users wanted to filter out of their inboxes.
Due to the lack of personalization, every email blast you send could tank your sender's reputation and email deliverability, with recipients frequently marking such emails as spam and unsubscribing from further correspondence. As a result, email blasts have a somewhat tarnished reputation to this day.
With that said, today's email blasts are much more tightly regulated. Marketers are only allowed to send messages to users who have explicitly opted into their communications. Furthermore, most contemporary email clients will automatically identify and filter out spam before it even reaches the recipient's inbox.
Even if spam wasn't being phased out through regulations and spam filters, marketers are seeing much better results when they send targeted content to a smaller group of subscribers who actually care about the brand.
How to send email blasts
1. Choose an email blast service
In order to send email blasts efficiently, you'll need reliable email software.
Omnisend offers all the tools marketers need to configure email blasts to their needs. It also includes a robust set of analytic tools to help users identify their strengths and weaknesses and continually make improvements to their digital marketing strategies.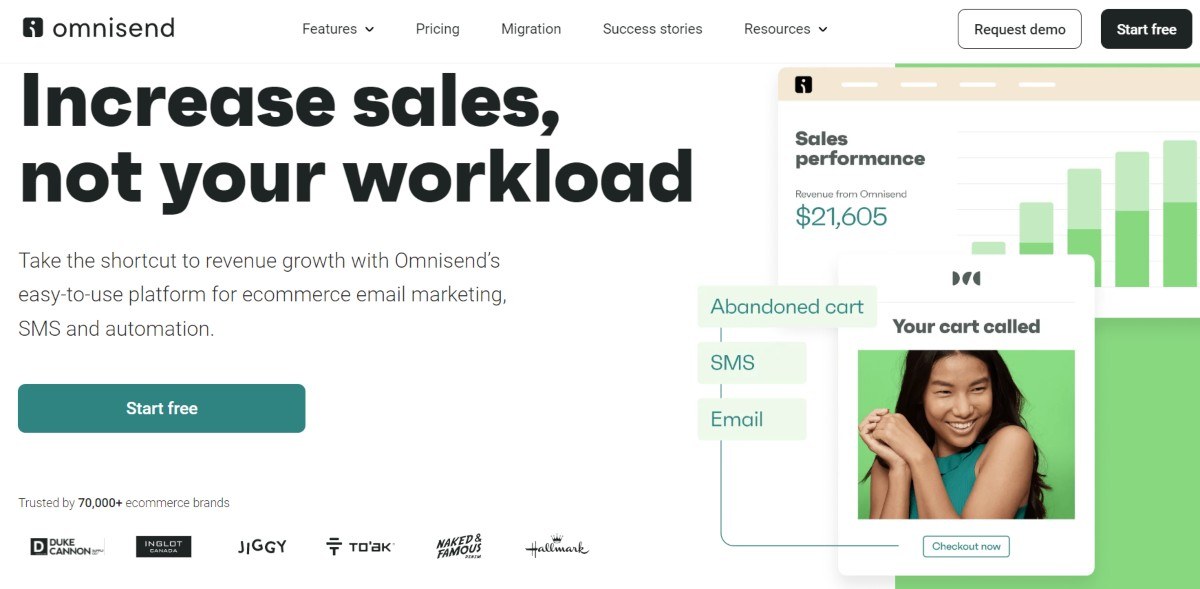 With Omnisend, you can easily set up automated email blasts and rely on the platform to send your messages to your exact specifications.
Supercharge your email blasts with Omnisend's automation features.
Start FREE
2. Define your audience
The right content for an email blast depends on the users you're sending it to. With that in mind, you need to define your target audience before you can come up with an approach that makes sense for that particular message.
Once you have a large enough email list, you'll also need to start developing segments for each campaign.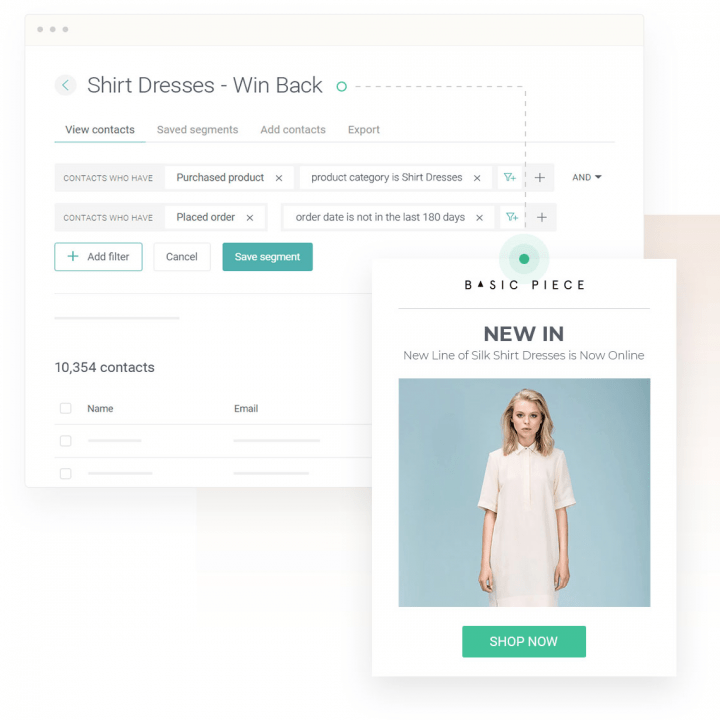 For example, users who have already bought from you might be interested in different campaigns compared to leads who are still in the browsing phase of the customer journey.
3. Choose a campaign goal
Every email blast campaign should be associated with a specific, measurable goal. Click-through rate, for example, might be the most relevant metric for a welcome message that's intended to bring users to your website for more information.
On the other hand, click-through rate won't be as meaningful for a cart abandonment email that's all about generating sales. In that case, you'll probably be more interested in the percentage of users that go on to make a purchase after receiving the message.
4. Create and personalize content
At this point, it's time to put your email together and develop an attractive design that will push readers toward the action that you identified as your campaign goal. Your email software should make it easy for you to customize messages to your needs.
Keep in mind that a single message might contain several different design elements such as text, images, and calls to action. It's important to A/B test each aspect of your emails in order to fully optimize your content.
Personalization is one of the most critical aspects of a successful email blast. For example, emails with personalized subject lines are opened nearly 20% more often compared to emails that have a generic subject.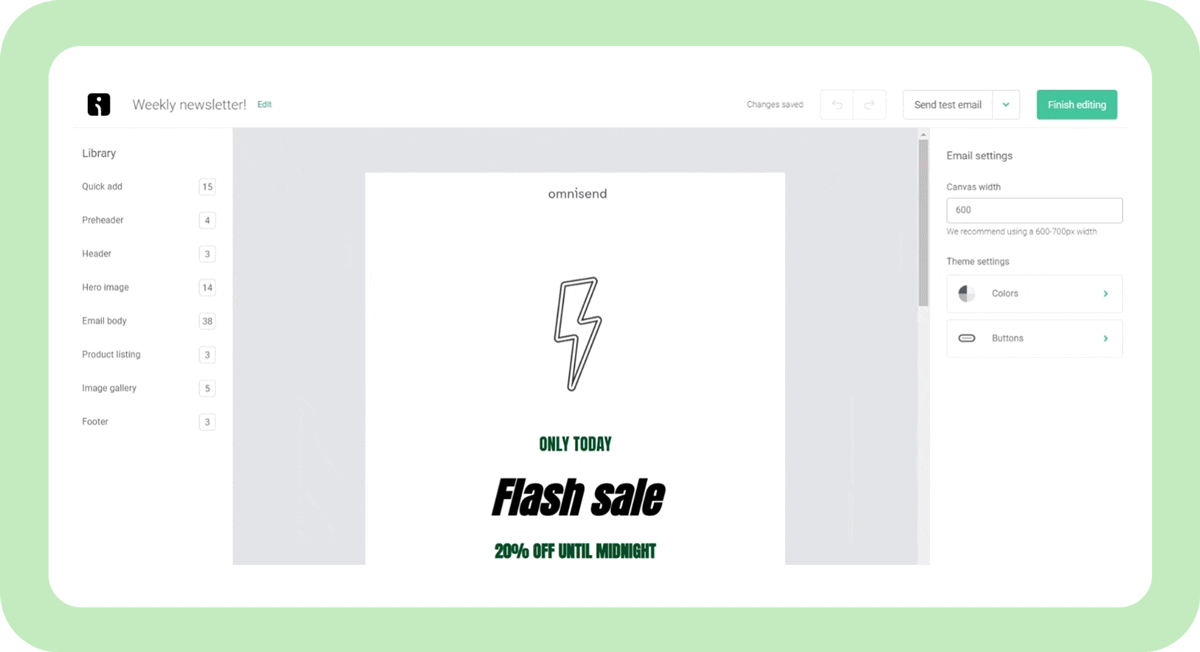 Similarly, marketing data indicates that consumers are 2.6 times as likely to place an order when they're shown product recommendations that are based on their unique purchase history. Implementing more personalization will help you create content that's more relevant to the experience of each reader.
5. Make it easy to unsubscribe
Leaving users on their list when they're no longer interested in your content will hurt your performance in every marketing metric and reduce your credibility as an email sender.
With that in mind, the unsubscribe option should always be easy for readers to find.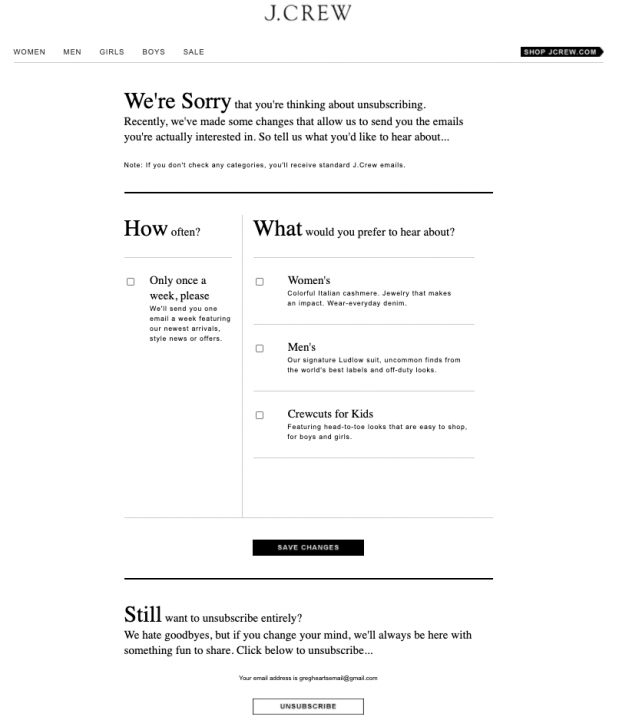 Consumers unsubscribe from newsletters for a number of reasons. For example, users might feel that they're getting too many emails from you, or that they're not interested in a specific type of message.
However, you should also give them the option to adjust their preferences without leaving your list entirely. Instead of unsubscribing, they may simply reduce their desired frequency or opt out of a certain kind of message while staying engaged with the rest of your content.
6. Send out your email blast
At this point, you should be ready to start sending out messages. Even though your content is ready, you'll still need to identify the perfect time of the day and day of the week to trigger your email blast.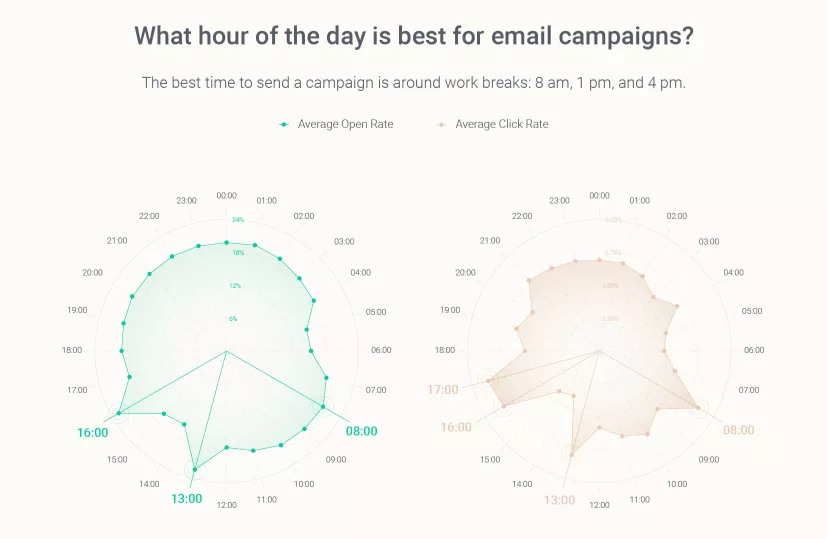 Naturally, consumers are most likely to open and engage with messages that arrive during the day. In fact, all of the best times to send email blasts come between 8 AM and 5 PM, at least in terms of opens and clicks.
7. Track campaign performance
Every message you send gives you new information that can be used to optimize future campaigns. With the right email marketing application, you'll have access to detailed information about the results of each email blast.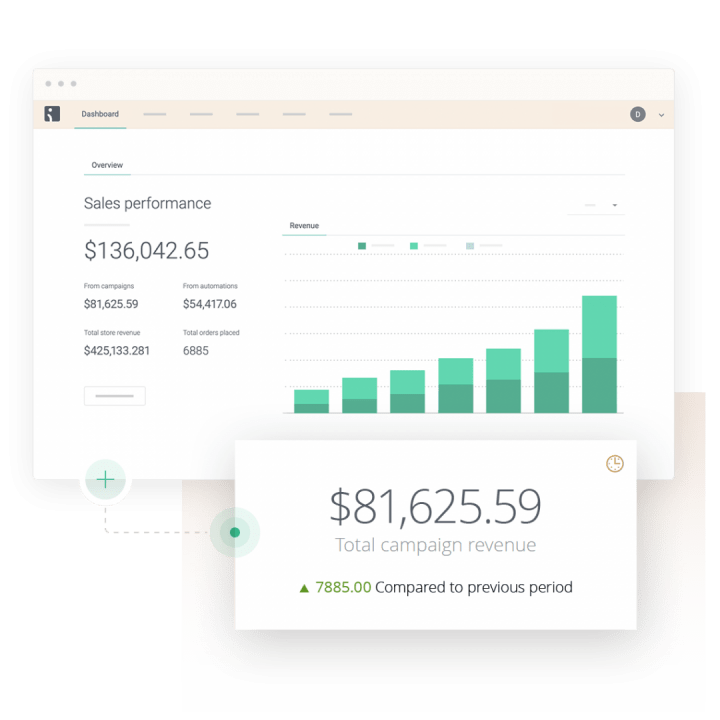 For example, let's say you're generating a strong click-through rate but having trouble turning those visitors into buyers. That's a good indication that users are interested in the content, but are running into an issue on your site that prevents them from completing their order.
A/B testing, also known as split testing or multivariate testing, is a critical element of successful campaign analytics. In an A/B test, you'll have the chance to test out different variants of each ad and compare their results on various marketing metrics.
Email blast examples
Now that we've outlined the basics of email blasts, let's take a look at how those processes play out in real campaigns.
1. Allbirds
This message from Allbirds is a perfect example of a sleek, professional email blast. It's clearly designed to encourage conversions, with a hero image of the flagship product and a link to their online store. While Allbirds offers a product description, the description is short enough for readers to scan quickly.
With that being said, this email may actually lean too far toward images rather than text. The recommended ratio is roughly 80% text to 20% images for optimal email deliverability.

It's probably fine to go a little higher than 20% if you have strong visuals, but we would recommend keeping images below half of the total content of each message.
2. Crello
For companies that provide services to other businesses, explaining what those services are and how they offer a unique value can be a major challenge.
In this email, Crello explains how their brand kit can help businesses develop a more distinctive brand voice and engage more effectively with their audiences.

Even though there's a lot of text in this email, it's split into clear sections and broken up by relevant images. Each section also comes with a link to a relevant part of the Crello website—for example, customers who are interested in a premium subscription can go directly to the site to learn more about the Pro plan.
3. Grammarly
This email blast from Grammarly lets customers know about a limited-time promotion of $75 for a year of their Premium subscription. The message has excellent visual design, with plenty of white space and clear information about the offer.
Note that the price of the subscription is printed in large font at the top of the message, while the end date is bolded so that readers know this is a limited-time offer.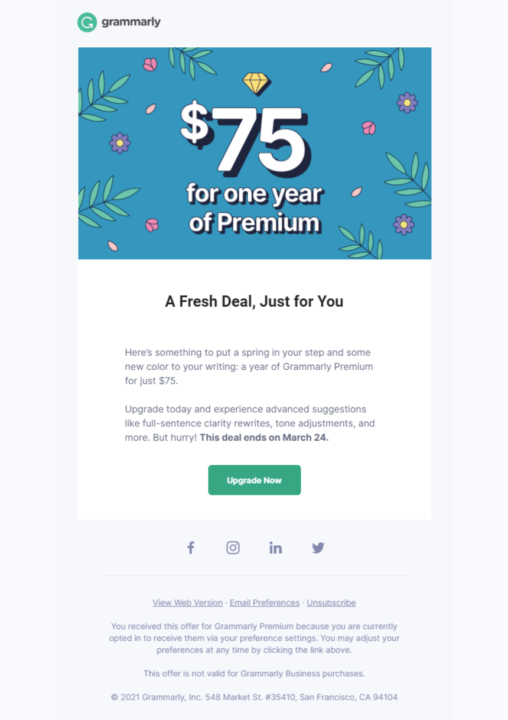 Grammarly's design might seem basic, but that approach is less likely to produce friction or make users close the message before they take the desired action. Try to err on the side of too little content rather than including so much that you distract the reader from the main point of the message.
4. ModCloth
Giving subscribers more control over their preferences is crucial for effective email blasts. ModCloth sent its contact list a blast with clear information about what to expect as a subscriber to the ModCloth newsletter.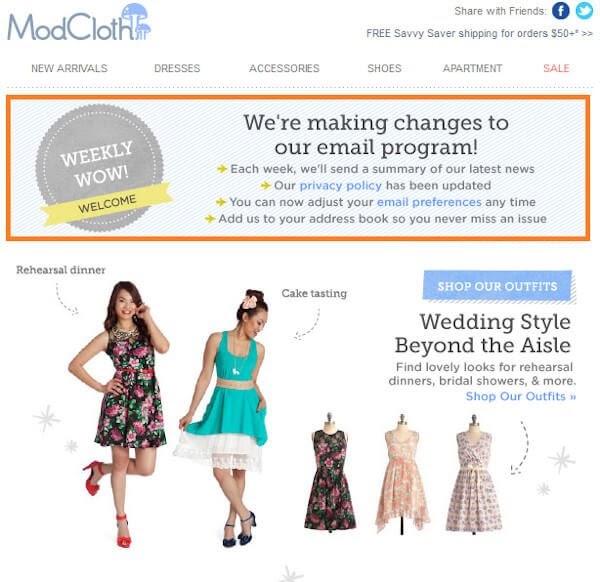 That information is shown right at the beginning of the message, giving readers an immediate sense of what the email is about. After that, there's a list of bullet points summarizing the most important details.
The main problem we identified with this email is that the ModCloth team added too many small images. There are five dresses shown, but each one is too small to give readers much of an impression. It would have been better to stick with two or three dresses and give them enough space for a larger photo.
5. Uncommon Goods
When you come up on major ecommerce holidays like Mother's Day, Father's Day, Black Friday, or Valentine's Day, you need to let customers know about your top promotions and what they should expect from you in terms of shipping and returns.
In this message, Uncommon Goods gives customers a clear deadline for purchases they want to arrive in time for Mother's Day.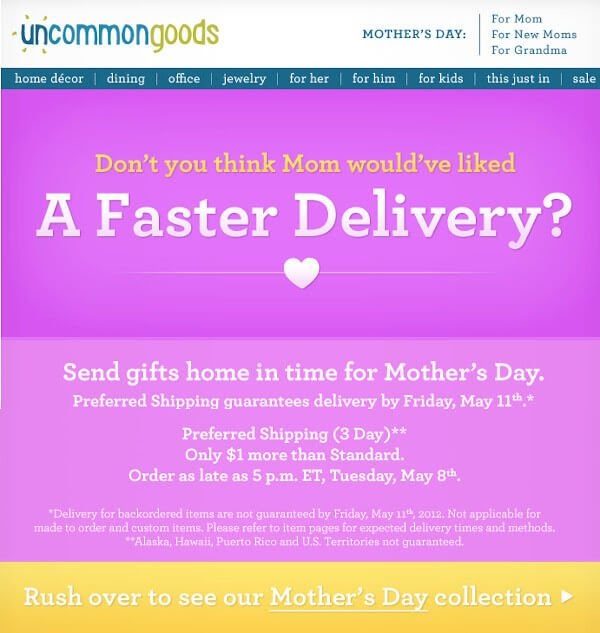 While this email offers straightforward information, there are some issues with the design that make it appear slightly less professional.
There are too many categories at the top of the message, and the only visual element other than text is the small heart near the middle of the screen.
Email blasts: Summary
Setting up your first email blasts can be confusing, but it will pay off in the long run when it comes to engaging your list.
Remember to A/B test multiple variants of each message and consistently analyze your results in order to continue improving your tactics over time.
Take your email marketing to the next level with Omnisend's pre-built automations
Start Free Today
related features
Want more sales?
Omnisend has everything you need to succeed.
Start free now
No Credit Card needed.