Drive sales on autopilot with ecommerce-focused features
See Features
Reading Time:
3
minutes
It's been two years since Gmail released the Promotions Tab and the noise among marketers has risen steadily. Let's look what influence it has had since its introduction.
Gmail Promotion Tab. How does it work?
It's quite simple. Google scans incoming mail to a user's account. According to the information received, the service assigns the email either to the Primary Inbox tab of a user, or the Social or Promotions tabs.
The idea of this filtering is to keep the user's Primary Inbox free from chaos, as well as to make it easier for users to navigate their Inbox.
Why is this an issue for email marketers?
Many Gmail users consider the Promotions Tab to be junk mail. This mindset exists as many promotional emails are mixed together with newsletters and subscriptions that were intended to be received by the user. Here we have a two-fold issue: either users ignore the promotion tab or your newsletter's title competes with other promotional letters in the same place at the same time.
Age of the mobile
Cheer up! The Promotion Tab exists in:
the Gmail web app
the mobile app in Android OS supported smartphones by default
other phones preferably, if they wish to change the default app to Gmail's one.
But…
Dear reader, did you download the Gmail app once you bought your new iPhone? Probably not.
According to Litmus statistics, 53 % of emails are opened with iPhones, iPads and other mobile devices. Here we also can add Apple Mail (8%) and the traditional Outlook desktop application (9%) which do not support Gmail tab filters and all the emails go to the same inbox. Meanwhile, with Gmail applications – only 16% of all emails are opened.
Looking at purchases from an online perspective – the conversion rates on tablets and smartphones tend to grow.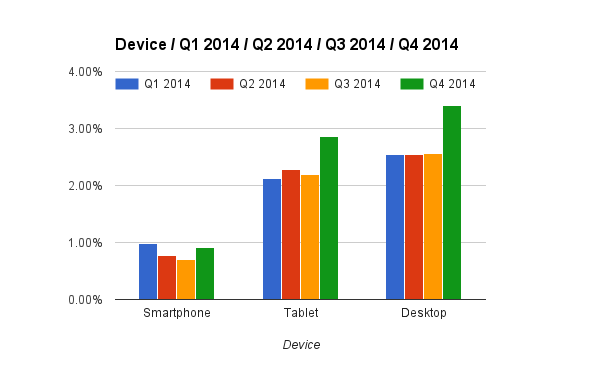 monetate.com report eq4 2014
What should you do about desktop users?
Though the use of smartphones is growing tremendously, you still need to care a lot about traditional users. If your clients are mostly using desktop applications to read their emails, there are several things that you can do:
Educate your subscriber. You can create an educational campaign for your subscribers that use Gmail.
Gmail can be trained according to the user's behavior. Teach your subscribers to train their inboxes to treat your newsletters nicely. It is easy:
a. Ask subscribers to add your Sender's email address to their Gmail contacts.
b. Ask subscribers to move your emails to the Primary inbox. This is an easy and effective way to teach Gmail to direct your emails to the Primary tab.
You may do this by dragging the email from the Promotions tab and dropping it onto the Primary tab. On the top of the page the confirmation table will appear – click YES, you want to do this for the future messages.
Gmail will understand this action and repeat it for all future emails from your domain.
Try even harder to attract your subscribers with extraordinary titles and good content.
Users go to the Promotions tab with the specific mood to become familiar with something new from newsletters or to find some good offers. So don't miss a chance to attract users with your content once they come for it.
Happily, the worry that the Gmail Promotions Tab would kill email marketing has not happened. Email marketers just have to be even more creative and determined than ever.