Drive sales on autopilot with ecommerce-focused features
See Features
Reading Time:
6
minutes
Memorial day is coming and this means that summer is really close. But before you rush to prepare grills and meat, some serious work must be done.
Memorial day is one of those times when ecommerce marketers can definitely take advantage of to increase sales.
According to Coresight research, more than a third of all Americans planned to shop on Memorial Day weekend, with 21% planning to shop in-store, 17% online. Knowing the fact that online sales are steadily growing every year, it's pretty obvious that ecommerce businesses should prepare accordingly.

But before you begin on these Memorial Day subject lines, be sure to check our proven techniques on creating the best email subject lines.
Although the content is key to a successful email campaign and increased sales, subject lines are the first step towards it.
If they are uninspiring, plain and boring, no one is going to click the email in the first place.
In this article, we'll share our top picks for Memorial Day subject lines that will increase your open rate and, therefore, take subscribers towards a purchase.
Top 5 best performing Memorial Day subject lines (based on Omnisend Research)
We searched through more than 9,000 of our bigger brands' Memorial Day email campaigns to find out what the best, highest-performing subject lines are.
Because we're dealing with subject lines, we're focusing mainly on which subject lines had the highest open and click rates.
#1 Memorial Day subject line: "30% Off Memorial Day Sale"
Open rate: 44%
Click rate: 16%
#2 Memorial Day subject line: "Memorial Day savings – save 25% off EVERYTHING!!"
Open rate: 38%
Click rate: 18%
#3 Memorial Day subject line: "HAPPY MEMORIAL DAY WEEKEND!"
Open rate: 37%
Click rate: 17%
#4 Memorial Day subject line: "Memorial Day Secrets"
Open rate: 34%
Click rate: 7%
#5 Memorial Day subject line: "MEMORIAL DAY WEEKEND PROMO: Memorialday17"
Open rate: 33%
Click rate: 4%
With Memorial Day subject lines, we see that some merchants are not willing to put a discount percentage or other obvious benefits, even though they actually worked.
Looking at the top two subject lines, a clear discount was definitely an important factor that increased the open rate.
Also, an interesting tactic was chosen in the #5 subject line. Even if the email is not opened, there's a chance that a recipient will use the discount code in the subject line.
When you're creating Memorial Day subject lines, don't hesitate to try out many different things and see what works.
Not sure which subject line to pick? How about two at the same time?
Omnisend allows online marketers to send emails with A/B testing with two different subject lines. A/B testing allows you to send out two subject lines or two different sender's names to a small percentage of your recipients so you can see which one worked best.
The one with the highest open rate (or click rate) then gets sent automatically to the rest of your recipients.
Memorial Day email examples
Looking not only for subject line inspiration, but also some great examples of Memorial Day emails? Look no further:
Vego Garden
Since Memorial Day is the official/unofficial start of summer, Vego Garden keeps it on-theme with great deals for your gardening offerings: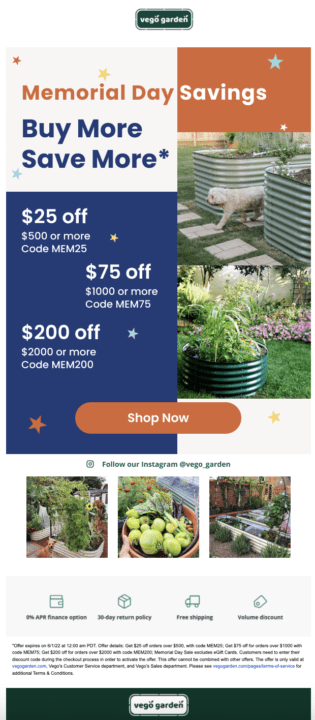 IBKÜL
IBKÜL shows off their golfing gear in this simple but colorful email that showcases large photos of their offerings:

BOA
Continuing with the summer theme, BOA highlights their shorts and include a strong incentive:

Simmons
If you didn't notice, mattresses are big during Memorial Day. Simmons offers a simple email with great colors and imagery: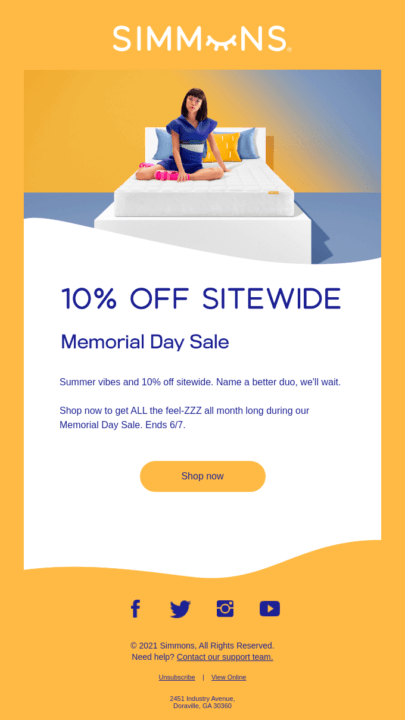 Tuft & Needle
Strong savings up to 30% off, well-laid out, and a great message for veterans, healthcare professionals and first responders.

86 additional Memorial Day subject lines
Here's a whole bunch of other subject lines for Memorial day you should consider. For your convenience, we've split them into subcategories:
Start of a sale
STARTS NOW! Memorial Day flash sale
Memorial Day Savings Start NOW!!! Save 20% with Code MEMORIAL20
The Countdown to Memorial Day Sale starts now
[Your brand name] | Memorial Day Sale Starts Now!
Memorial Day Sale Starts Today – Buy 3, Get 3 Free
Start Early! Our Huge Memorial Day Sale starts now! use code: mem30
Memorial Day Sale: Go Go Go!
Memorial Day subject lines mentioning discounts and savings
Salute-worthy savings in honor of Memorial Day 🎊
Memorial Day Sale – Additional 50% Off
Memorial Weekend Special Sale – Buy 2 Get 3rd 50% Off
Free Shipping This Weekend plus Take 20% Off Your Order in Honor of Memorial Day
yay for long weekends + big savings!
Plan your staycation! Extra 15% off [enter your product] at our Memorial Day Sale
40% Off Everything for Memorial Day
Flash Sale: 20% Off Patriotic Fanny Packs! 🇺🇸
Take 50 Off Memorial Day Sale
Memorial Day Weekend – 25% Off Hundreds of Items!
Memorial Day Sale! 15% Off All Orders Limited Time
Gigantic Memorial Day Sale! + In-Store Only Clearance Deals!
Enjoy this special discount to celebrate Memorial Day
Hooray! Up to 70% OFF for the Memorial Day
Memorial Day Weekend Super Sale | Up to 75% off
GET 10% OFF [your product] For Memorial Day. Ends May 28th
**BIG Memorial Day Weekend Sale**
Free shipping
Memorial Day Sale: Extra 15% off + Free Shipping!
Celebrate Memorial Day with free shipping on all orders 🎉
Free Shipping Now Through Monday
FREE U.S. SHIPPING…all Memorial Weekend!!
Memorial Day Savings on Select Items! – FREE Shipping on Orders $40+
Memorial Day Exclusive! Today Only – Free Shipping On All Order
Memorial Day subject lines with emojis
☺️ ⛵️ MEMORIAL DAY SALE 15% OFF SITEWIDE
❤️ MEMORIAL DAY FLASH SALE! ❤️
? Ideas for your Memorial Day BBQ ?
Memorial Day subject lines with last-minute reminders/urgency
Ends Tonight: 40-60% off EVERYTHING!
Our Sale Ends Memorial Day (Only A Few Days Left)
Memorial Day Sale! Save Up To 70%
Memorial Day Sale! Up to 75% off select items
Last day for this Memorial Day sale
Don't Forget! Up To 65% off During Our Memorial Day Sale
LAST CALL for Memorial Day Deals!
Last chance: Memorial Day sale
BIG Memorial Day Sale- 30% OFF ENDS MONDAY!
Happy Memorial Day! LAST CHANCE Sale ends TODAY!
Final Hours on the Memorial Day Sale!
Memorial Day Weekend Sale starts now! New Arrivals going fast…… use code: mem30
IT'S ALMOST OVER! | 50% Off Memorial Day Sale Ends Tonight! Coupon: MEMORIAL
Last Chance to Kick your Summer off with Memorial Day Savings!
Hurry – Memorial Day Sale and Free Shipping End Today!
Memorial Day subject lines related to BBQ & grilling
Plan a Memorial Day BBQ in just minutes 🍖
Chill, Grill & SHOP! 50% Off ALL Dresses & Rompers!
An inspiration for your Memorial Day BBQ 🍖
Open this email if you like 1) Hot dogs 2) Baseball 3) Savings
Grilling Secrets from the Pros – Plus red, white, and blueberry desserts
Other Memorial Day subject lines
Our favorite Memorial Day essential is…
Knock Knock. It's Memorial Day Doorbusters
Plans for Memorial Day?
STEP OUT FLY AND SAVE $$$ FOR MEMORIAL!
Happy Memorial Day Sitewide Sale
It's our Memorial Day Big Deal
Red, White, & NEW!
MEMORIAL SALE
Sun's out, sale's (back) on
Memorial Day Weekend is here… Handy punch list to open up the Lakehouse
Exclusive Online Preview! Memorial Day Sale & Clearance
Memorial Day Weekend SALE [Exclusive DEAL]
Shop the Memorial Day sale and save
Get ready for Memorial Day! Grab your beach towels, luggage, and more NOW
How to Host the Perfect Memorial Day Party
Enormous Memorial Day Sale!
Memorial Blow-Out Sale
Memorial Day Giveaway!
Memorial Day – A time to REMEMBER
***GLAM MEMORIAL DAY FLASH SALE***
Memorial day sale this week only
www.yourdomain.com – Memorial Day Weekend Sale (

Omnisend: replace the domain with your store's address

)
Shop our Memorial Day sale
Memorial Pick
Memorial Weekend Nostalgic Sale!
Our Savings celebration is a blast
Special Memorial Day alert
Graduation Gift Deals, Tips For Memorable Graduation Photos 🎁
America's Pastime on the Memorial Day
Since it's Memorial Day weekend…
The Perfect Memorial Day Weekend
Celebrate the Memorial Day like never before 🎉
Memorial Day Event at [your business name]!
Looking for more email subject line ideas?
Cool, you made it to the end!
Thanks for checking out this list of Memorial Day subject lines that you can use as an inspiration to increase email open rate.
If you're looking for more ideas on how to make those subject lines more compelling, read our comprehensive guide on the best spring lines ideas.
Even though the other spring holidays have passed, the blog post still contains tons of valuable tips, ideas, and inspiration.
Good luck!
related features
Want more sales?
Omnisend has everything you need to succeed.
Start free now
No Credit Card needed.