Setting Up A Subscribe Form For Shopify Newsletter In 3 Easy Steps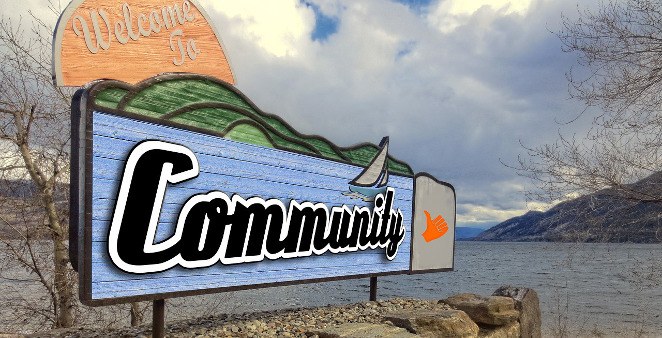 Reading Time:
4
minutes
This topic is dedicated to people selling on Shopify and looking for ways to grow their contact database as well as starting to implement email marketing – one of the most effective and cheapest ways to sell more online.
With an email marketing channel sales growth can reach 20%. Moreover, it drives traffic to your store and does not let customers forget about your brand. How does this happen?
For successful email marketing actions you need a database of subscribers – the recipients of your emails. How to get ones? There are several different ways to use signup forms at your store.
Activate a static Shopify newsletter signup form in the footer of your store. This form works only connected to your email provider.

Using extra applications specialized in collecting the contacts of subscribers and providing email marketing for e-commerce services. Currently, Omnisend provides three types: Signup Box, Popup, and Signup Page.
Many Shopify stores use both ways to generate leads more effectively.
Adding the Shopify newsletter signup form
The Shopify platform itself allows you to add a default newsletter signup form to the footer of your online store. To add this form you may need to understand a little about how the system works. This is why we have provided a step-by-step tutorial on how to do it.
Step 1: From the initial page, go to the "Online store" menu and select "Themes".
Step 2: On the top right corner click on the button "Customize theme". In the "Footer" submenu scroll down and find the line "Show newsletter sign-up". Tick it and save the changes.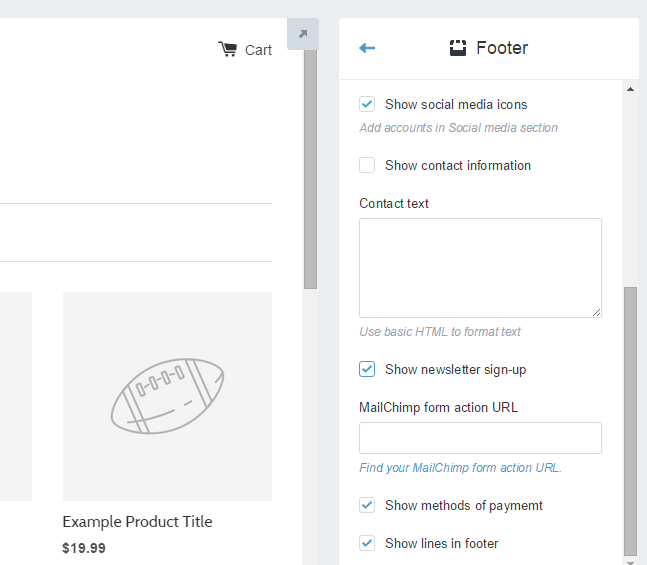 Please note: While the email service provider is not connected to the form, the form will not function. By default, the Mailchimp service is provided. Surely, you can use this bulk email sender for your email marketing. The tutorial for setup is here.
Meanwhile, Omnisend is a special email marketing tool for e-commerce. Using this tool, you will discover profit-oriented features developed for online stores. Find out why Omnisend is a good alternative to Mailchimp.
If you tend to try it do the Step 3.
Step 3: go to Shopify app store and download a free app. No additional settings and signup form activation is needed. The signup form in the footer already works. The emails received from this form will go to the list "All subscribers" in your Omnisend account.
Please note: It will function automatically if you haven't changed a code in the footer before. If you use a custom solution, you may also be interested in the opportunity to customize the signup form.
Get more than just newsletter signup forms and campaigns with Omnisend.
Connect your store today
to get your 14-day free Pro trial.
Adding Omnisend newsletter signup forms
If you want to achieve better results, you may need additional signup forms – more visible, related to user's behavior, etc. Omnisend is fully integrated with Shopify and focuses on email marketing for e-commerce.
You may be surprised how easily it works.

Signup Box is a subscribe form that encourages store visitors to become your subscribers.
There is no need to code anything. A single click is all it takes to enable this form – Omnisend will automatically add your Signup Box to your store.
The Signup Box can be customized in order to make it match your brand and the look of your store. You can change texts, colors and positioning.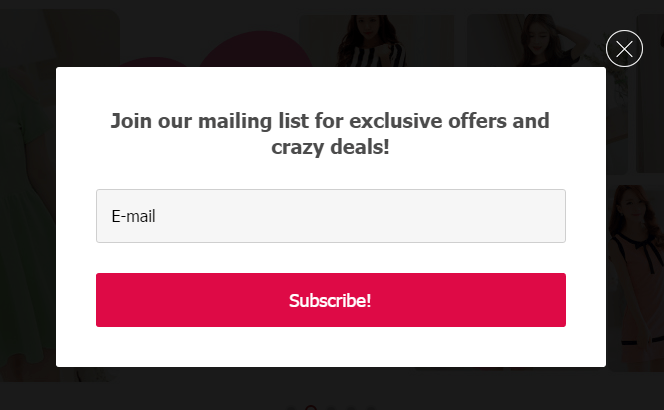 Pop-up is one more signup form provided by Omnisend. It appears in the center of the customer's device screen when you want it (either pops upon exiting or after a certain amount of time) and asks them to subscribe. As additional motivation for customers to leave an email address is to offer a special discount code. You can find a simple setup process described here.
Signup Page allows you to share a link on your social networks, website, blog, etc. Once a person clicks on that link, he (or she) will be redirected to the "Subscribe" page. An example of the signup page is displayed below. Find out how to set a Signup page up.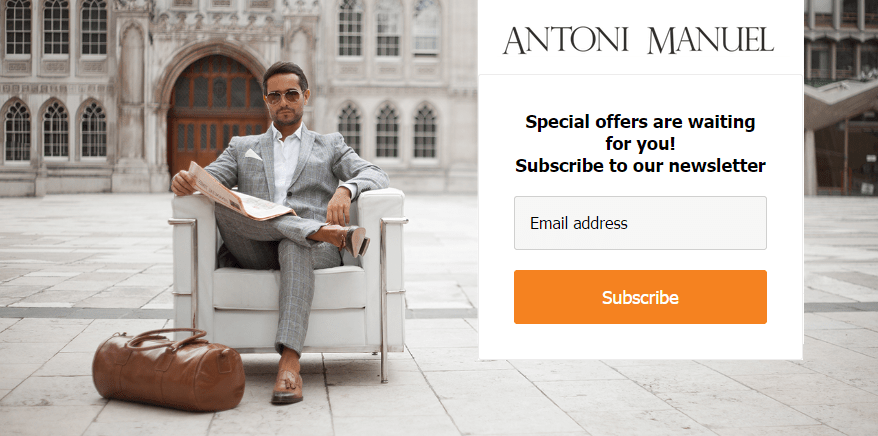 An active growing of subscriber database leads you to the email automation and lift your business up to the next marketing level.