Drive sales on autopilot with ecommerce-focused features
See Features
How to Use a Lapsed-Purchase Campaign to Increase Customer Retention
Reading Time:
6
minutes
Returning customers are, without a doubt, your most valuable customers. We already know that they have higher average order values, and are easier and cheaper to convert than first-time customers.
With what we know about the value returning customers have, it's important to recognize when they're about to churn and how we can win them back. Letting those valuable customers churn completely is simply leaving money on the table.
Luckily, there's tons of data you can use to see exactly when a customer begins to lapse. The challenge is simply organizing your data to find the patterns that identify lapsed-purchasers for your store and using email automation to reach out to them.
In this piece, I'll cover how to identify your lapsed-purchasers with your own data, how to get started on a lapsed-purchase campaign quickly, and how to segment and target your campaigns so they'll be as effective as possible.
How to Identify a Lapsed-Purchaser
The good news with a lapsed-purchaser is that you already have some data to work with. You know when they purchased, what they've purchased, and what interests them.
The first thing you should do is look at your own purchase data to see what defines a lapsed-purchaser for your store, as every customer journey looks different based on your brand, products, and customer demographics.
Not all products have the same lifespan—the customer journey can change based on seasons, promotions, products, price, and etc. Selling high-end luxury products will have a longer lifespan than high-consumption beauty and wellness products. Think about how long it should take for your customers to need more from you, and use marketing automation to anticipate those needs.
There's an easy, data-driven way to figure all of that out.
Determining When a Customer Becomes a Lapsed-Purchaser
What ultimately determines a lapsed-purchaser is going to be unique for your ecommerce store. What's considered lapsed for you?
You could run a complete RFM analysis, but that takes time and some know-how. If you're like most marketers, you don't have endless time at your disposal, Don't worry, it's still easy to figure out. You can put purchase dates for each customer into an excel spreadsheet, and find the average purchase time for all of your customers. Using your customer data, calculate the average time between the 1st and 2nd purchase. Then calculate it for the 2nd to 3rd. Then the 3rd to 4th.
Not only will it show you the average amount of time between purchases, it'll show you the average amount of time for customers as they become more loyal to your brand.
For example, if you find that the average number of days between a purchase for first-time customers is 35 days, you'd want to start sending campaigns a week or so ahead of time, around 28 days, to start getting them to come back before they lapse.
For second-time customers, perhaps your average is a bit less—28 days. Then you'd start your campaigns around 21 days.
This way, you can personalize your campaigns to each kind of customer depending on loyalty and purchase timing.
How to Quickly Get Started on a Lapsed-Purchase Campaign
It might seem daunting to reconvert a lapsed-purchaser, but according to 2020 marketing automation statistics, reactivation, or win-back campaigns, tend to perform on par with cart abandonment workflows.
On average, lapsed-purchase campaigns earn a 43.45% open rate, a 6.16% click-through rate, and a 2.13% order rate—which is among the highest order rates in the automation workflows analyzed.
Not all lapsed-purchasers are the same, however, and to appropriately target them for the most successful campaigns, you have to start with segmentation.
Segment Your Lapsed-Purchasers
First thing's first—use the purchase data you analyzed to create segments of your customers to determine which kinds of lapsed-purchase campaigns you should use.
Depending on how often they buy, you might adapt your lapsed-purchase campaign. As mentioned, knowing what they've purchased in the past also allows you to segment based on what kinds of products they purchased, and offer recommendations for similar and complementary products.
Segmentation is pretty straightforward: by adapting your campaign to target customers based on whether they're a first-time customer (lapsed-purchaser at 35 days) or a second-time customer (lapsed-purchaser by 28 days), you can personalize your campaigns and your approach to winning them back.
You might segment a first-time customer like this: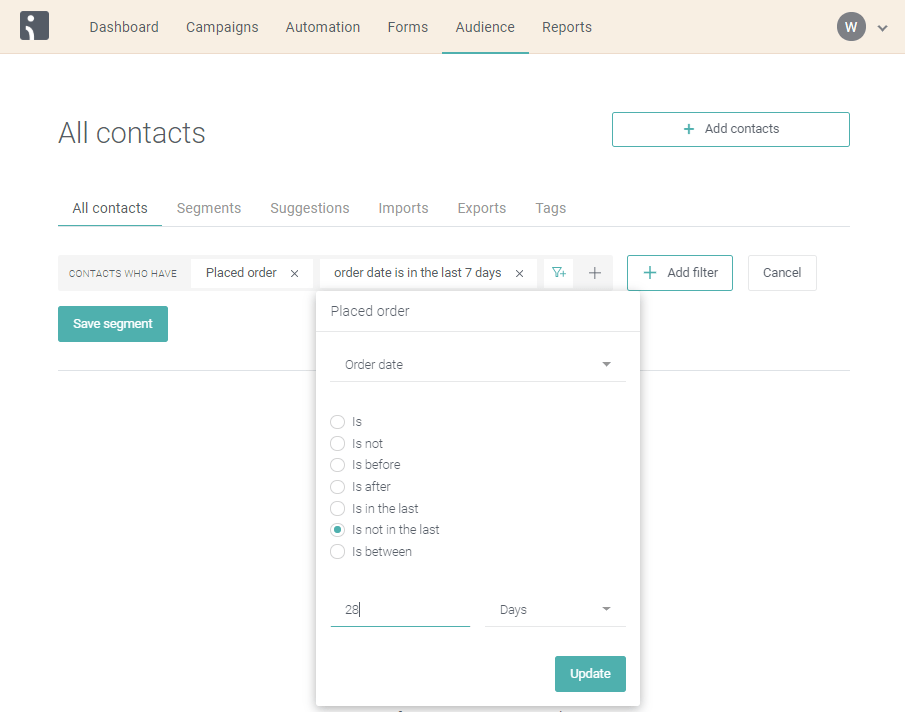 From there, you can add on or layer your segmentation to account for their average order value, how many times they've ordered from you, number of products ordered, and so on.
For example, you could segment your first-time customers even further by adding a layer of segmentation based on AOV. Perhaps you'd be more interested in reconverting customers with a higher AOV, and so you'd sweeten the incentive to reflect that.
By layering segmentation, you can make your automation workflows more sophisticated and targeted, earning more engagement from your customers.
Best Practices for Creating the Lapsed-Purchase Campaign that Wins Them Back
When it comes to an effective lapsed-purchase campaign, there are a few things to keep in mind:
Decide whether or not to offer an incentive:
Offering an incentive to purchase may not always be the best idea for your brand, products, or lapsed-purchaser.
For example, your one-time customers may not necessarily be worth the discount they receive, especially if they have a low AOV. There's no sense in devaluing your products for a customer that is likely a one-off.
However, customers with higher AOVs and purchase frequency might be worth sweetening the deal, especially if they tend to be big-spenders.
Be clear in your subject lines/offers:
If you're offering an incentive to bring your customer back, put it in your subject line or early on in your SMS message. Make sure your customer knows exactly what you're willing to do to win them back.

Tell your customers their absence is felt:
Everyone wants to be appreciated—and you should let your customers know you miss them. Make them feel important and special with the language you use in your messages.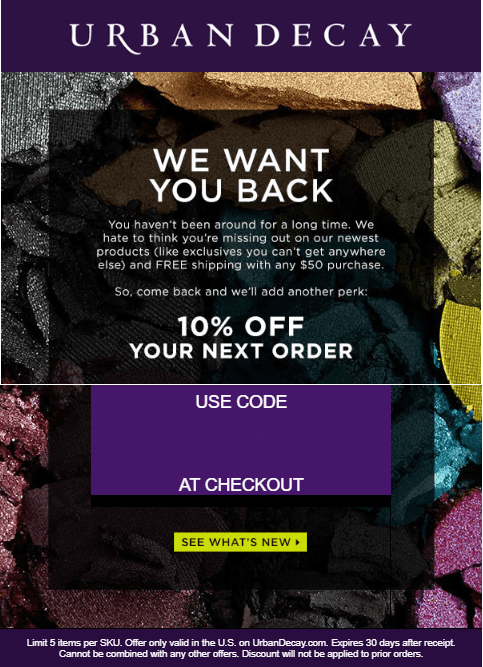 Add value in every message:
If you choose not to offer an incentive, make sure that your lapsed-purchase win-back campaign offers some kind of value. For example, "We miss you! Come back and shop" doesn't go over as well as "We miss you–and we don't want you to miss our 50% off sale."
Incorporate other channels where you can:
We know that adding in other channels improves campaign performance–—and lapsed-purchase campaigns are no exception. Try combining email with SMS or push notifications to add a sense of urgency and proximity to your customers.
However, use these more immediate channels sparingly. A lapsed-purchaser is already not the most eager of customers, so blasting them with five SMSes rapid fire isn't going to convince them.
Get the timing right:
Using the purchase frequency analysis, you know when your customers begin to grow cold. Knowing the average time between purchases allows you to send the message at the right time, as opposed to relying on arbitrary timelines that mean nothing to your brand or customers.
It also allows you to proactively target your customers and anticipate their needs before they become lapsed.
On another note, when one of your customers enters a lapsed-purchase campaign, make sure they're not receiving other automations and promotional campaigns. Inundating your lapsed customers isn't the best way to bring them back.
Send the right amount of messages:
With a lapsed-purchase campaign, sending just one message isn't always going to be enough to bring them back to purchase. Most lapsed-purchase campaigns are a series of 2-4 messages.
If you're offering an incentive, you can increase the value of the incentive with each message, which will help you determine whether your customer has lapsed for pricing or other reasons.
Discount messages are far from the only kind of messages you can send in a lapsed-purchase campaign:
Feedback requests: Find out why they're lapsing—especially for first-time customers.
What's new: Tempt your customers back with new products that might interest them.
UGC/Social proof: Remind your customers that others have had a great experience with you.
Replenishment reminders: For quick-moving consumables, anticipate your customers' needs by reminding them to reorder before they run out.
Using a bit of variety of messages and finding out what best performs for your online store will help you fine tune these lapsed-purchase campaigns as you go.
---
When running your ecommerce store, data is your best friend—as long as you know what to do with it. By running a simple analysis and using that data to segment your lapsed-purchase campaigns, you can decide how to better personalize those campaigns so they'll be more effective.
You can't win back every lapsed-purchaser, but the ones you do may just become life-long loyal customers.
Get a personal 1-on-1 demo and see how Omnisend can help you segment your lapsed-purchasers!
Get My Demo
related features
Want more sales?
Omnisend has everything you need to succeed.
Start free now
No Credit Card needed.