Drive sales on autopilot with ecommerce-focused features
See Features
Reading Time:
9
minutes
Are you planning on creating an ecommerce store with a custom Shopify domain and don't know where to start?
You've arrived at the right place.
Well, Shopify is just one of the many ecommerce platforms that you can opt for, and there are several apps for Shopify that can help you get started.
However, to run a store on this platform, you need to have a domain name. It can be challenging to settle on the right Shopify domain name when you're first starting out.
The big question is, should you or should you not buy a domain name from Shopify?
Let's find out!
What is a Shopify domain?
One of the most important things in your Shopify store's launch checklist is the domain name.
This is the address that customers will type into their browser to find your site. That's why it's essential to choose a Shopify domain that is memorable and easy to remember, as well as one that accurately represents your business.
Remember that everyone wants a store that can be accessed on any device, including mobile phones, and Shopify meets all your needs.
Steps for choosing a Shopify domain name
Come up with name ideas
First, you should come up with some ideas for names. You can use a thesaurus to come up with synonyms for your business or product or brainstorm words that describe what you do.
You could simply use your brand name as your domain name too. Once you have ideas, it's time to start checking availability.
Check if your domain name is available
You can use Shopify's domain checker to see if your chosen domain is available. If it is, great! If not, you may need to think of another name. Be sure to check the availability of both the .com and the .net (or other) versions of your chosen domain.
Generally, .com domains still seem more trustworthy for online stores than newer ones like .shop, .us, or others.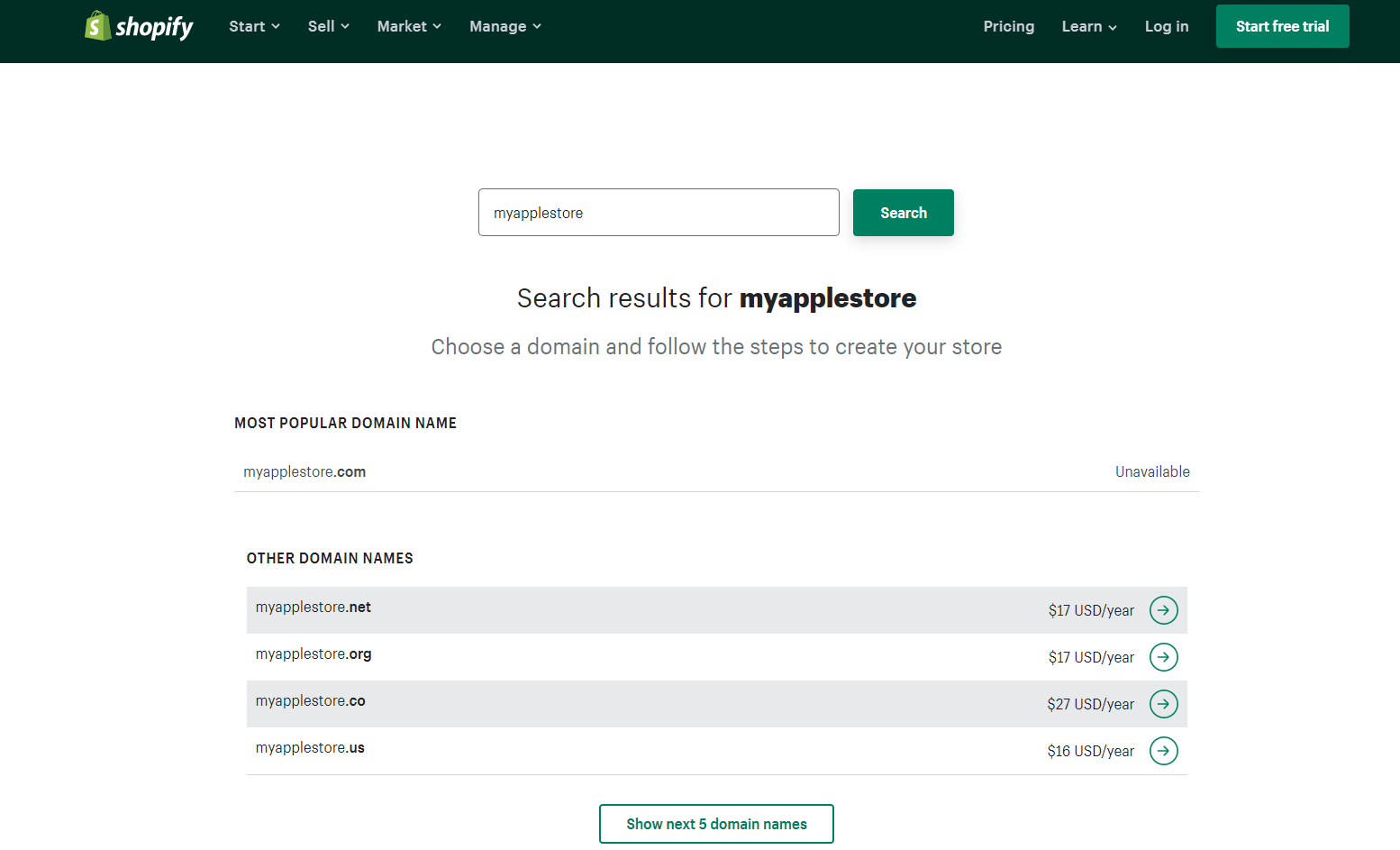 You could also leverage Shopify's WHOIS Domain Lookup tool to find out who owns the domain and when it expires. If you decide to buy a Shopify domain name, you'll also need to choose a web host.
Set up your account and configure your DNS settings
Shopify offers a number of great domain options, so be sure to choose one that fits your needs.
Once you've chosen a host, you'll need to set up your account and configure your DNS settings. Shopify's support team can help you every step of the way.
After you've set up the DNS records, it can take a few hours for them to start working. You can check your domain's status in the Domains section of the Shopify admin.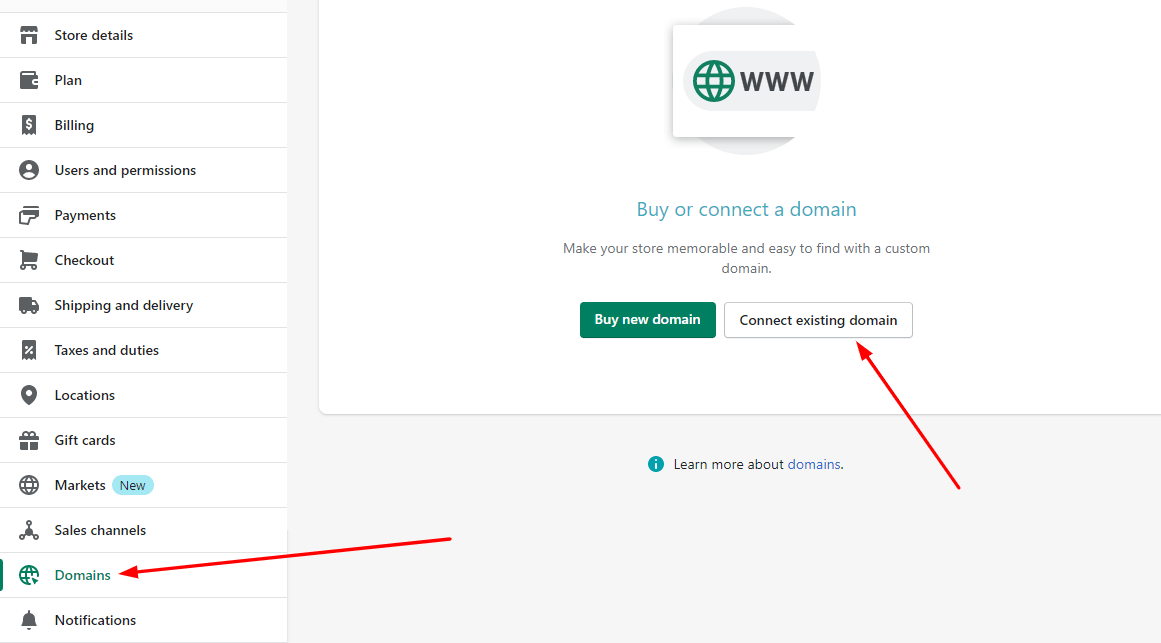 If you prefer using a subdomain instead of a root domain (for example, you want to use shop.mydomain.com instead of mydomain.com), you can set it up in the Domains section of the Shopify admin.
You can connect a custom domain to a specific Shopify store. To do this, add the domain in the Domains section of the Store settings.
However, do note that if you're using the Shopify Lite plan, you can only use a shop.shopify.com domain. You can't connect a custom domain of your choice to your store.
Add your domain to Shopify
Once your DNS settings are set up, you can add your domain to Shopify and start building your store.
In a nutshell, here is a stepwise breakdown of the whole process of choosing Shopify domains:
In the Shopify admin, click Settings.
Enter your preferred domain in the Domain name field in the Domains section.
If the domain is available, click Add domain.
If the domain is taken, try another one.
Compared to WooCommerce, Wix, and other alternatives, it's easier to add Shopify domains and work with them, thanks to its customer-friendly interface.
Considerations for choosing a domain name
There are some issues you need to consider when choosing a domain name for your Shopify shop.
Some things to consider:
Make sure the name is easy to remember
Choose a name that reflects what your shop is selling
Make sure the name isn't already taken. You can use a domain checker to see if the name you want is available
You can buy a Shopify domain name for $14.95/year, and Shopify will take care of the rest.
If you're unsure of what domain name to choose, consider using a branded subdomain. A branded subdomain is a domain name connected to your shop but that doesn't include the .shop extension.
For example, myshop.myshopify.com is a branded subdomain. Branded subdomains are a great option if the .shop extension isn't available for the domain name you want to use.
Shopify offers a free subdomain name when you set up your shop, so there's no need to worry about finding the perfect name.
Advantages and disadvantages of buying a domain name from Shopify
Let's take a look at the various advantages and disadvantages of purchasing your domain name from Shopify.
Pros
Shopify lets you create a custom ecommerce store without any coding experience.
Apart from access to the best Shopify apps, below are some merits of buying a Shopify domain name.
It's easy to use and has many features that can help you grow your business.
Shopify hosts it, so you don't need to worry about setting up and maintaining your website server.
It's a hosted platform and can be accessed and managed from anywhere in the world.
It comes with SSL encryption (HTTPS), so you don't have to set that up separately
Cons
When you plan to buy a domain name from Shopify, below are some demerits worth considering:
You're limited to the features that are available on the platform.
The Shopify domain cost for the paid plans is high compared to open-source alternatives like WooCommerce.
How to buy a domain name from Shopify
To buy a Shopify domain, here are some steps you should follow:
First, open the Shopify app and click on the 'Domains' tab.
Then, click on the 'Buy a New Domain' button.
Enter the domain name you want to buy in the search bar and click on 'Search.'
If the domain is available, click on 'Add to Cart.'
If the domain is not available, then you can try another one.
When you're ready, click on 'Checkout.'
In the checkout screen, enter your contact information and payment information.
Click on 'Confirm Order' to buy the domain.
And that's it! You've successfully purchased a domain name from Shopify.
When you select a Shopify plan, you have to make monthly payments to keep your store running.
The best part here is that the cost of using Shopify domains is fairly affordable, at only $14 per year for .com domains. You can have a basic plan at $29 per month or an upgraded plan at $79 per month.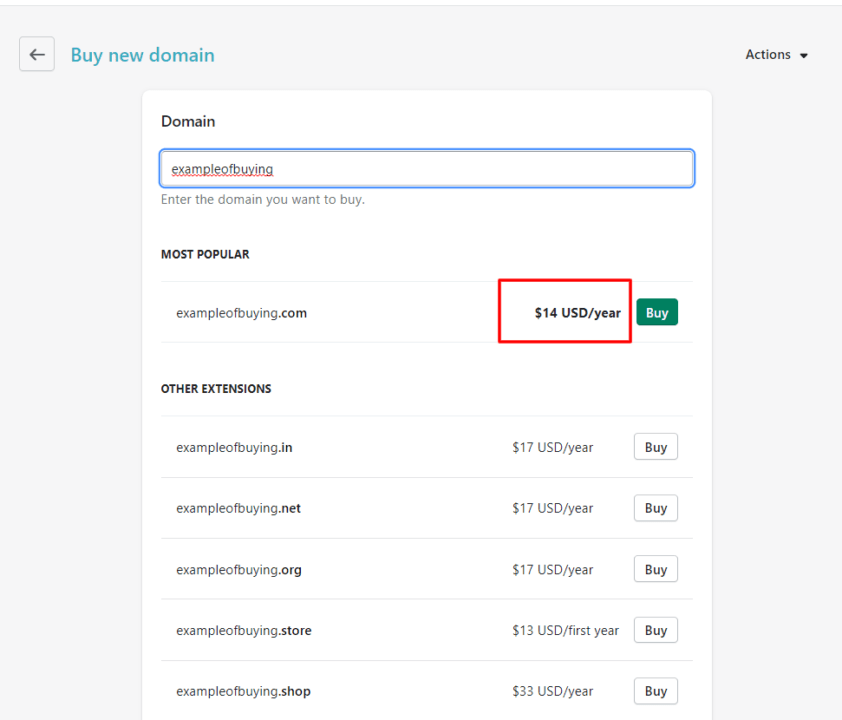 Possibility of free domain name
Creating an online store with Shopify is free, and there are no contracts or commitments required.
Businesses can choose from various paid domain names, or they can use a free Shopify domain name.
It also offers a 14-day trial, so you can test out the platform before signing up for one of the paid packages.
So, what can you do with a free Shopify domain name?
Well, there are a few things that you can do. For example:
You can use the domain name to create a blog and website for your business.
You can use it to create an online store.
If you are looking for a free domain name, Shopify is a great option. It is easy to use, and it offers a lot of features.
There are numerous top Shopify stores using either paid or free plans, and yours can be one of them if you wish.
How to change my Shopify domain name
If you want to change your Shopify domain name, follow this simple procedure, and you'll be good to go:
On your store page, go to admin > Online Store > Domains
Once you have a domain name reflected in the domain list, click the "Change primary domain" link.
Click save after entering the new domain name.
Transferring a domain name to Shopify
After registering the domain name, you will be the owner of that name as long as you continue to renew it.
But what should you do if you already have a domain name?
Thankfully, there's a straightforward process for that.
Before we dive into the process of transferring a domain to Shopify, let's first consider some of the reasons why a store owner would wish to transfer the domain name.
Security breach leading to information leakage
Very high costs
Poor customer support system
Better domain management
Now, let's dig right into the domain transferring process.
Checking domain provider's transfer policy
First, check the domain provider's transfer policy to ensure that the provider supports domain transfers. Some providers do not offer this service, so you will need to switch hosts to transfer your Shopify domain name.
So, how do you go about the transferring process?
The first step is to contact Shopify and provide them with the domain name you wish to transfer. They will then provide you with specific instructions on how to proceed.
Hosting companies usually do not allow transferred domains until after the first invoice is paid, so make sure you know any fees or contracts that will need to be signed before you successfully transfer a domain to Shopify.
Here are some additional considerations you should have in mind:
You'll pay $14 yearly for Shopify to host your domain name.
The policy of the domain name registrar that you are currently using must allow domain transfer.
You must have registered the domain name more than 60 days ago.
The server name for the domain will remain the same.
For a period of up to 20 days from the time of transfer. You will have to track and respond to important emails.
If you don't like your current host or simply want to explore other options, transferring your domain name is a quick and easy way to make the switch.
And always remember to backup your website and email data before initiating a Shopify domain name transfer, just in case something goes wrong. You'd also need to setup your Shopify email account once the domain is transferred.
Prepare domain to transfer
Provide the new host (Shopify) with the following information:
The domain name you want to transfer.
The authorization code or EPP code for your domain name
Once Shopify has this information, they will be able to begin the transfer process. It can take up to 10 days to complete the transfer, so be patient.
The next step is to access your domain name's management panel and remove all records associated with the old host.
You can now add the records for Shopify. Be sure to follow the instructions provided carefully, as there can be specific requirements to transfer the domain to Shopify.
Also, be sure to keep your Shopify domain name registrar account information up to date, as this will be needed to manage your domain in the future. Finally, check your Shopify settings to ensure they suit your needs.
Transfer the domain to Shopify
Once you successfully transfer the domain to Shopify, it'll take over responsibility for the domain name.
This means that you will no longer be able to access the website or email accounts associated with the domain name.
If you need to keep these services active, you will need to continue paying for them through Shopify.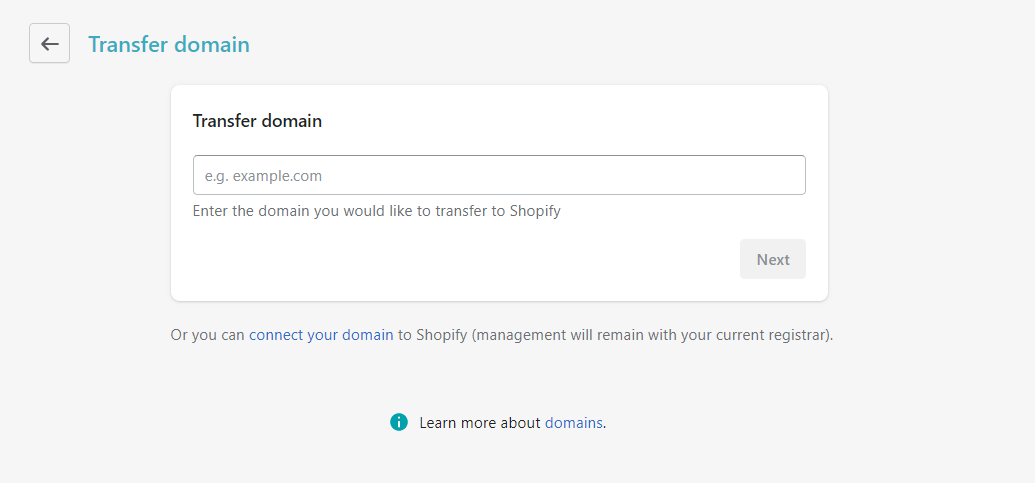 Final comments
Shopify is one of the finest ecommerce platforms but there are numerous others as well. Below is a list of top platforms and what they are best known for:
Shopify – Best for dropshipping
BigCommerce – Best for multi-channel selling
Wix – Includes marketing automation
Hostinger – No transaction fees
Shif4Shop – Better blog features
WooCommerce – Best platform for SEO
Generally, Shopify has better features, with several apps to choose from. It is one of the most popular ecommerce platforms out there, which is why many store owners prefer to own a Shopify domain name and run their stores on it.
If you're starting an online store or already own one, you'll need to market it well too. Omnisend can play a major role in helping you with email marketing. So, get started for free today.
Get started with Omnisend today & drive sales on autopilot with pre-built automation workflows
Start Free Today
related features
Want more sales?
Omnisend has everything you need to succeed.
Start free now
No Credit Card needed.