Inspire Your Marketing Team With These 7 TED Talks
Popular
·
3
min read · Feb 20, 2019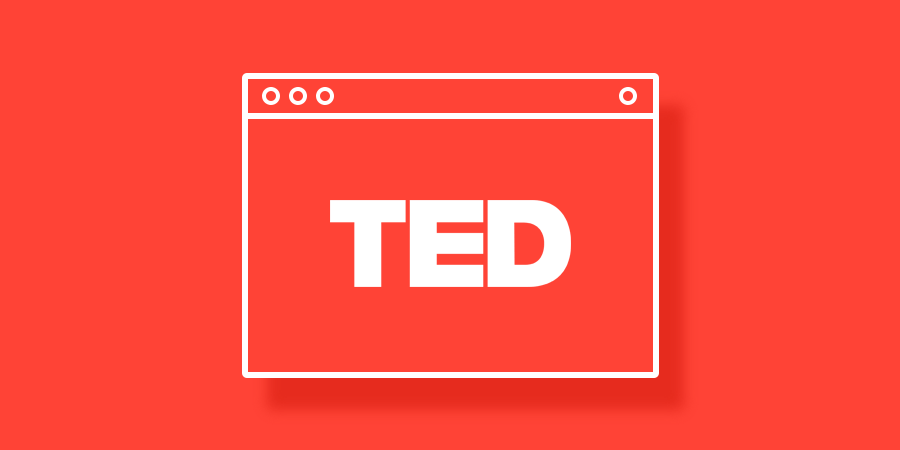 Reading Time:
3
minutes
As marketers, we love to learn new things. We love deep dives into abstract concepts like how choosing the right or wrong company name can affect your brand's perception. And we're absolute junkies for quick tips and "growth hacks." As long as they're backed up by data, of course.
But in our field, it sometimes feels like we're getting caught up in a feedback loop of the same ideas. The industry info we see on marketing blogs and on social media is often a regurgitation of the same concepts, strategies, and tactics we've all seen before.
So where can we turn for new ideas and a renewed sense of creative inspiration?
Our friend, TED!
No, not Ted from accounting.
T.E.D. (Technology, Entertainment, and Design), the nonprofit that spreads ideas in the form of short, powerful talks (20 minutes or less).
With TED talks you get the best of both worlds. The talks take high-level concepts and distilled them into thoughtful insights that make you look at the world differently.
Here at UniTel Voice, when our marketing team needs a break from website analytics, net promoter scores, and blogging about business phone systems, we love a good TED talk.
Whenever we discover a talk worth watching we slack it to the whole team. In fact, you'll find some of our favorite marketing TED talks in the shortlist below.
First, let's start with one of our all-time favorite TED talks by ad executive Rory Sutherland. In under 17 minutes, Sutherland shows us numerous examples of how advertising can add value to a product by simply changing how we perceive it, rather than the product itself.
From rebranding potatoes to boosting breakfast cereal, we see how persuasion can be more powerful than compulsion. The take-home message for marketers is that all value is relative. Marketing has the power to change people's minds about the value your product offers.
Okay, you might be thinking: What does investing in sneakers have to do with marketing? But you'll see in this 12 minute TED talk by Josh Luber that you can learn a lot about marketing from one of the most successful brands of all time, Nike.
The take-home message for marketers is that exclusivity creates demand for your products and your brand. When Nike did this with Air Jordans it created an organic affiliate marketing network and changed consumer culture.
In less than 5 mins, marketer Renny Gleeson, highlights how, through design, brands can improve customer engagement with something as simple as a 404 page.
The takehome message for marketers is that when it comes to building your brand the little things matter. Every customer touchpoint is an opportunity to shine.
In 4 minutes, "reformed marketer," Amy Lockwood shows us how the wrong messaging can kill your marketing campaign. What's the takehome message in this short, but powerful TED talk?
Know what motivates your customers to buy your product. When you don't understand who your audience is, as well as their mindset, your marketing efforts will fail. Lockwood uses her experience in the Congo to masterfully highlight these points.
In 16 minutes, Professor Sheena Iyengar lays out her research on choice overload. The takehome message for marketers is when you offer your customers too many options they freeze up and walk away.
Too many choices can kill conversions. This applies to both online and offline sales.
In less than 8 minutes, former Google marketer Dan Cobley shows us the interesting connection between the laws of physics and the principles of marketing.
As Cobley draws parallels between marketing and physics, we learn that it's much more effective to focus on what customers do, rather than what they say, and that the bigger a brand is, the harder it is to reposition.
In this 20 minute TED talk, Toy Story filmmaker Andrew Stanton shows us that storytelling is joke telling, and it can be a powerful marketing tool. In the talk, Stanton teaches us how to tell a compelling story by breaking down its elements (theme, anticipation, wit, and emotion).
The take-home message for marketers is that a good brand story can not only entertain and engage customers, it can also make people care about your business.
It's Break Time
There you have it. That's our marketing team's top picks. We're confident that any one of the above of TED talks will free you from feedback loops and inspire your marketing team.
Now it's your turn to take a break, grab some coffee, and settle in for some hardy food-for-thought.

Get a personal 1-on-1 demo (that will superpower your next campaign)!
Get a Demo